High School:

Week 3 Class 4A notes
September, 13, 2011
9/13/11
7:00
PM CT
Dallas South Oak Cliff heads into its bye week with a perfect 3-0 record. When the Golden Bears return to action, that record will be seriously tested.

South Oak Cliff opens District 11-4A play against Dallas Carter (0-3) on Sept. 22 and Dallas Kimball (3-0) on Sept. 30. Those two games will likely go a long way toward deciding the 11-4A champion.

But the Golden Bears have looked solid so far. Running back Paul Franklin has 379 yards and five touchdowns while quarterback Jevone Valentine looks like a viable dual-threat, rushing for 247 yards while passing for 412.

SOC's most impressive win came two weeks ago against a scrappy Forney team.

With the Bears trailing by a touchdown in the third quarter, Franklin popped off a 46-yard touchdown run to tie it. In the fourth, the defense pulled down an interception with Forney in the red zone, and Valentine hit Corey Callicutt for an 84-yard touchdown on the ensuing drive, giving South Oak Cliff a 28-21 win.

The Golden Bears also defeated Fort Worth Dunbar (26-13) and Dallas Roosevelt (30-8).
September, 13, 2011
9/13/11
7:00
PM CT
A gamble in double overtime helped Little Elm capture a thrilling 50-49 victory over Carrollton Creekview on Friday.

After Keaun Kinner answered a Creekview (0-3) touchdown by scoring on a 16-yard run, Little Elm (2-1) elected to go for two and the win. Kinner reached the end zone again on the ensuing attempt to clinch the victory.

Being able to win close games bodes well for the Lobos as they try to return to the playoffs after missing out in 2010.

After a breakout 2009 season that saw Little Elm reach the playoffs in a loaded district, the Lobos ceded their playoff spot in District 4-4A to Denton in 2010.

In their head-to-head matchup, Denton erased a 15-0 deficit with less than three minutes remaining in the game to shock Little Elm, 16-15. By virtue of that win, Denton made the playoffs over Little Elm.

In a much improved 4-4A, a spot in the playoffs may come down to another head-to-head matchup. Denton Ryan (3-0), Wichita Falls Rider (2-1) and Lake Dallas (2-1) look like locks for the postseason, leaving just one spot for Little Elm, Denton (1-2) and The Colony (1-2) to fight over.

Back-to-back games against The Colony (Sept. 30) and Denton (Oct. 7) could decide Little Elm's playoff fate.

The Lobos play at Denison on Friday.
September, 13, 2011
9/13/11
7:00
PM CT
By
Randy Jennings
| ESPNDallas.com
One reason District 15-4A is considered one of the most competitive for football in the state is a team like Red Oak.

The Hawks (2-1, 1-0 in 15-4A) didn't get the amount of preseason attention that went to Corsicana, Mesquite Poteet, West Mesquite or Lancaster, but Red Oak has the kind of offense that can make any opponent nervous.

Red Oak is averaging 45 points a game with its balanced attack.

In their district-opening 56-27 win over Ennis last week, the Hawks had two rushers and a receiver go over 100 yards.

Senior Charles Crosby (5-foot-7, 150 pounds) rushed for 123 yards and junior Cameron Bausley (5-11, 170) gained 116. Each had a pair of touchdowns.

Junior tight end Jeremiah Gaines (6-3, 235) caught three passes for 120 yards and scored once.

Junior quarterback Austin VanHove hit on 8-of-12 passes for 191 yards and three touchdowns.

The Hawks host Poteet (3-0, 1-0) 7:30 Friday in a rematch of a last season's swing game played at Mesquite Memorial Stadium. Red Oak no doubt has anguished over the final events of that night many times.

Poteet scored on a touchdown pass with nine seconds remaining to force overtime, and eventually won, 21-20. The difference turned out to be a Red Oak extra point kick that banged off the upright after the Hawks scored first in overtime.

Poteet went on to go five rounds deep in the playoffs. Red Oak finished fifth in 15-4A, one victory shy of qualifying for postseason.
September, 13, 2011
9/13/11
7:00
PM CT
By
Randy Jennings
| ESPNDallas.com
Birdville coach Jim Skinner expected first-year starting quarterback E.A. Northey to be productive carrying the football.
It has been the senior's development as a passer that has been a pleasant development for Skinner.
[+] Enlarge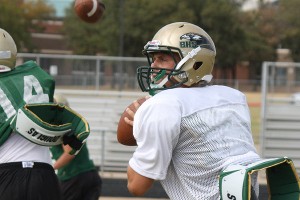 Travis L. Brown/ESPNDallas.comBirdville quarterback E.A. Northey has led the Hawks to a 3-0 start.
The Hawks have soared to a 3-0 start with nondistrict wins over Fort Worth Paschal (52-0), Richland (23-21) and Crowley (48-30).
A year ago, Northey was on the other end of the passes, as a receiver. He had 40 receptions for 448 yards.
"E.A. was our junior varsity quarterback as a sophomore, so we knew he could run,'' Skinner said. "We didn't know he would be throwing like this. He's got a good touch.''
In a limited role as a passer last season, Northey was 1-of-4 for 5 yards with one interception.
So far this season, the 5-foot-11, 185-pound senior has averaged 92 passing yards per game, completing 53 percent of his throws. He has thrown for four touchdowns.
As a ball carrier, Northey is averaging 10.4 yards per carry on 47 carries and has out-rushed running back Tyler Klutts, no small feat considering Klutts gained 1,956 yards as a junior, making him the No. 3 returning rusher state-wide in Class 4A this season.
"He's the first running quarterback we've had since 2007,'' said Skinner, who has relied on the prototype passers to get the Hawks to the playoffs in recent seasons.
Three returning starters in the offensive line have helped the Hawks ground game. So has a stable of running backs headed by Klutts, who leads the Hawks with seven touchdowns.
Collin Basinger has developed into Northey's favorite target with seven catches for 112 yards.
The Hawks, No. 4 in ESPNDallas.com's Class 4A Top 10, have a bye this week and host Trophy Club Byron Nelson (2-1) in a District 5-4A opener on Sept. 23.