High School:

Wichita Falls Rider
December, 4, 2010
12/04/10
5:51
PM CT
DENTON, Texas -- Denton Ryan had great defenses on its state title teams in the early 2000s.

Ryan's defense this season might be even better.

The unit continued its destruction of 4A offenses in a rematch against Wichita Falls Rider on Saturday, leading Ryan to a 46-15 win at C.H. Collins Athletic Complex in the Class 4A Division I Region I final.

Ryan (14-0) advances to play Wylie (11-3) at a time to be determined on Saturday at SMU's Ford Stadium.

"There's nothing else I can say about them," Ryan running back Kaylon Alexander said of his team's defense. "I feel like we have the best defense in the state of Texas."

Ryan's defense took control from the opening kickoff. Rider's offensive line, not hurting for size or strength, simply collapsed as soon as the ball was snapped against a Ryan defensive front led by Mario Edwards, Ty Hook and Damon Medcafe.

Rider's running backs were routinely met by multiple Ryan defenders before even reaching the line of scrimmage.

Of Rider's six first-half drives, five were three-and-outs and one ended in a fumble. Rider had 33 total yards at halftime.

"It's as good as defense as we've had and I've had the fortune to coach," said Ryan head coach Joey Florence.

Meanwhile, Alexander helped his team run up the score, finishing with 118 yards and two touchdowns, 111 of which came in the first half. Ryan led 17-0 at the break.

Ryan did a masterful job playing field position in the first half. Rider (9-5) punted into a stiff wind in the first quarter, setting up short fields for Ryan's offense.

"That causes a lot of concern when the head coach does that [takes the wind instead of the ball]," Florence said. "I wasn't sure I was making the right decision, but that's a belief in our defense."

If the game wasn't over by halftime, it was shortly after the second half began. After a quick three-and-out by Rider, Jerrick Harvey blocked the punt and Medcafe returned it two yards for a touchdown.

After Ryan defensive back Jonny Paramore's eighth interception of the year on Rider's next drive, Craig Moore scored on a 3-yard touchdown.

Rider took a safety on its next drive. Quarterback Nash Knight hit Sam Johnson for a 54-yard touchdown on the ensuing possession, ballooning Ryan's lead to 40-0 midway through the third quarter.

"The blocked punt kind of turned the game around," Florence said. "We worked on that all week. We'd gotten a few of those this year. We drew it up right and worked out good."

Backups took over for Ryan after that, allowing Rider to score two touchdowns.
December, 3, 2010
12/03/10
5:33
PM CT
There are just two more rounds until we reach the state championship games, and we'll be chatting here Friday and Saturday for the regional finals.

On Friday, Jeff Andrews and Travis Brown are covering Coppell-Euless Trinity, while Randy Jennings heads to Wylie-Tyler John Tyler. ESPN Dallas will also be on hand for Aledo-Stephenville.

Saturday's slate includes Denton Guyer-Southlake Carroll, Denton Ryan-Wichita Falls Rider, Bastrop-Mesquite Poteet, Longview-Mesquite Horn and De Soto-Round Rock Stony Point.


December, 2, 2010
12/02/10
2:18
PM CT
Denton Ryan and Wichita Falls Rider have developed a healthy dislike for each other over the years.
Since Ryan dropped back down to Class 4A in 2006, its annual bout with Rider usually decides the district champion.
Their next game will mean much more as the Class 4A Division I Region I title is on the line when the two meet at 2 p.m. Saturday at Denton's C.H. Collins Athletic Complex.
Ryan (13-0) has owned the rivalry of late. It crushed a rebuilding Rider team in 2009, 52-7. Rider (9-4) didn't fare much better against Ryan this season, either -- losing 35-14. Like all of Ryan's 2010 opponents, Rider couldn't get anything going on offense. Even the 14 points came in the fourth quarter against Ryan's backups.
Rider has found its game since that loss, winning six games in a row while averaging 38 points during that span. The Raiders' defense stymied a potent Birdville team in a 24-10 win last week.
But Rider will have to play its best game of the season to generate consistent offense vs. Ryan, whose defense has returned to the level of quality not seen at the school since its state title days in the early 2000s.
Ryan gives up just 165.9 yards per game this season. Since it began District 4-4A play, Ryan has given up 9.4 points per game.
Its best performance of the year may have come last week against Waco Midway. Ryan held 1,700-yard rusher B.J. Kelly to 35 yards. And outside of two big passing plays in the second quarter -- one coming on a miraculous catch and run -- Ryan's defense was impenetrable in a 19-10 win.
Not only that, but Ryan's defense scored the deciding points in the game while its offense struggled against Midway.
A third-quarter safety and a 65-yard interception returned for a touchdown by Jonny Paramore in the fourth quarter proved the difference for Ryan.
November, 30, 2010
11/30/10
8:40
PM CT


Travis L. Brown, Randy Jennings and Jeff Andrews take a look at this weekend's Class 4A regional finals games: Wichita Falls Rider-Denton Ryan and Wylie-Tyler John Tyler in Division I and Aledo-Stephenville and Bastrop-Mesquite Poteet in Division II.
November, 26, 2010
11/26/10
5:05
PM CT
ARLINGTON, Texas -- Jonny Paramore has made a career of returning interceptions for touchdowns.
Against Waco Midway on Friday, he made Denton Ryan's season with such a play.
[+] Enlarge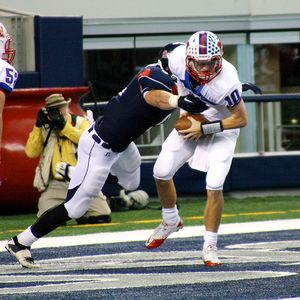 Travis L. Brown/ESPNDallas.comTy Hook pulled down Waco Midway's Ryan Smith for a safety to open the second half. The Denton Ryan defense accounted for nine points.
Paramore iced the game with a 65-yard return for a touchdown in the fourth quarter, highlighting an exceptional defensive performance that gave the Raiders a 19-10 win at Cowboys Stadium in the Class 4A Division I playoffs.
Ryan (13-0) advances to play the winner between Wichita Falls Rider and Birdville in the Region I final.
With Midway (12-1) driving and Ryan clinging to a 12-10 lead late in the fourth quarter, Paramore, nicknamed the Rattlesnake, stepped in front of a Ryan Smith pass and ran untouched for the score, sending Ryan's sideline into elation.
"They were running some switch route the last couple of plays," Paramore said of his interception. "My safety, Trey Mohair, told me it was coming. I just jumped in front."
It was Paramore's fifth interception returned for a touchdown this season and his second interception of the game.
"I've never coached a kid like that," Ryan head coach Joey Florence said. "He's scored five touchdowns. That's unbelievable. I've never had a kid do that."
Ryan's defense smothered Midway throughout the game. Midway took a 10-7 halftime lead after a scoring a touchdown set up by two big pass plays on a drive late in the second quarter.
Outside of that, Ryan didn't give Midway anything. It held running back B.J. Kelly, who had more than 1,700 rushing yards coming into the game, to 36. Midway didn't score in the second half and was held to just 52 yards after the break.
"I know there are some great defenses out there, and I'm not trying to offend anybody, but if there's a better defense then we better look out because those guys are pretty good," Florence said.
And the points Ryan's defense scored were the difference in the game. Defensive end Ty Hook, who had two sacks in the game, pulled Smith down in the end zone for a safety to open the second half, cutting Midway's lead to 10-9. Paramore's touchdown added another seven to the nine for which Ryan's defense was responsible.
"Right before I went out there, they were telling us about turnovers," Hook said of the safety. "I was hoping to make a play and it happened."
Paramore's first interception set up Ryan's opening score in the first quarter. It gave the Raiders the ball at the Midway 30-yard line. Quarterback Nash Knight hit Sam Johnson in the end zone from 3 yards out, giving Ryan a 7-0 lead.
Ryan's offense sputtered for the rest of the first half but found its game late in the third quarter when Knight was called on to throw short passes to leading receiver Michael Cudd, who was largely ignored in the first half.
"We try to get the ball to Michael," Florence said. "He's one of our better players. That's something we tried to do after halftime."
The drive set up a 32-yard field goal by Colton Gutierrez early in the fourth, giving Ryan the lead back, 12-10, before Paramore's touchdown.
"Nash is just taking care of the football," Florence said. "He's such a smart kid. he's doing what we're asking him to do. He's doing his job."
November, 26, 2010
11/26/10
12:30
PM CT
November, 1, 2010
11/01/10
7:31
PM CT
Little Elm is unquestionably a program on the rise, but after its 36-15 loss to Lake Dallas last week, the Lobos could miss the playoffs.

Lake Dallas scored 22 unanswered points in the fourth quarter in the win to clinch a playoff spot. Denton Ryan (9-0, 5-0) and Wichita Falls Rider (5-4, 4-1) have already clinched.

Little Elm (5-4, 2-3) now sits fourth in District 4-4A, one game ahead of Denton (3-6, 1-4), The Colony (3-6, 1-4) and Wichita Falls (2-7, 1-4).

The Lobos can clinch the remaining spot with a win on Friday, but they play undefeated Ryan. The Colony and Denton play each other. Wichita Falls plays Rider.

If Denton wins and Wichita Falls loses, Denton would make the playoffs having beaten Little Elm earlier in the year. Denton making the playoffs would be an extraordinary turn of events given the team's struggles the past five years.

Little Elm can still clinch if it loses, but it needs The Colony to beat Denton and Wichita Falls to lose. If Wichita Falls wins and Little Elm loses, it will force a three-way tie between those two and the Denton-The Colony winner.
October, 25, 2010
10/25/10
7:52
PM CT
Despite a turbulent start to the season, Lake Dallas clinched a playoff spot with its 51-21 win over Wichita Falls, the Falcons' third straight win.

The catalyst for Lake Dallas' turnaround has been improved play on offense. The Falcons (4-5, 3-2 District 4-4A) averaged 19.3 points per game in its first six games, going 1-5 in the process. In wins over The Colony, Denton and Wichita Falls, Lake Dallas has scored 45.7 points per game.

One reason for the improvement is lighter competition. Lake Dallas' five losses were to Richardson Pearce, Red Oak, Sherman, Denton Ryan and Wichita Falls Rider -- all strong 4A teams.

Head coach Michael Young credits improved play along the offensive line for the turnaround.

"Them getting better has been the main thing," Young said. "It's helped us play better offensively. We played pretty decent all year on defense, but our offense is really starting to come around."

The team doesn't hurt for playmakers, so the line's improvement has created space for them. Dual-threat quarterback Dalyn Williams accounted for five touchdowns against Wichita Falls. He ran for 127 yards and a score against Denton the week before.

Lake Dallas plays Little Elm (5-3, 2-2) on Friday in its last regular-season game of the year. The winner will get the top Division II seed from 4-4A, and Little Elm's speedy defense will test Lake Dallas' offensive line.