December, 16, 2011
12/16/11
9:28
PM CT
ARLINGTON, Texas -- Argyle came within inches of sending the 3A Division II state final into overtime Friday.
Argyle quarterback Austin Aune left a long, vertical pass just an inch or two short, allowing defensive back Brennen Blakemore to make an unbelievable interception to seal Wimberly's 21-14 state championship win.
[+] Enlarge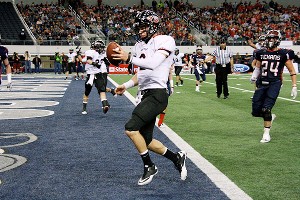 Travis L. Brown for ESPNDallas.comQuarterback Austin Aune scored Argyle's only touchdown on an 8-yard run early in the fourth quarter.
Blakemore made a full-extension dive to reel in the pass with one hand and had enough sense to transfer the ball to his opposite hand to secure the pick upon impact with the ground.
The interception gave Wimberley the ball back with 2:01 remaining in the game, just a few kneels away from the title.
"I gave it everything I got and it just wouldn't get there," Aune said. "The kid made a great play -- a one-handed catch. You've just got to tip your hat to him. It's a game of inches and if he would have missed it and we would have scored and would have been back in there."
"It's probably number one [play of my high school career]," Blakemore said. "To be at Cowboys Stadium and do something like that, it's pretty awesome."
Aune, a TCU commit, had trouble getting behind his throws because he spent the entire week leading up to the state championship with flu-like symptoms that removed him from practice and kept him under doctor's supervision in the 24 hours leading up to the game as his condition worsened.
"First half, I was real weak," Aune said. "I got an IV in me at halftime and in the second half I felt good. I wish I had felt that good in the first half -- we would have won, I promise you that. I gave it everything I had, but it wasn't enough, I guess."
The first half was a defensive struggle, ending with a 7-3 Wimberley lead at halftime.
Wimberley scored added another touchdown at the end of the third quarter on a 66-yard pass from Brady Lambert to Dennis Smith.
Aune scored his team's first and only touchdown early in the fourth quarter on an 8-yard run to the left pylon. Aune hit Chadd Bossow in the back corner of the end zone to complete the two-point conversion. Bossow was able to drag one toe to secure the catch.
Wimberley retaliated quickly with a 76-yard touchdown run by Trinity Wilson just over thirty seconds later.
Argyle brought the score within a touchdown on a 37-yard field goal by Cole Hedlund but could not find the end zone on its final two possessions with under five minutes left in the game.
However, the game came down to Blakemore's interception, which he and his teammates agreed was worthy of SportsCenter's Top 10 plays.
"I watch that every morning when I eat my Cocoa Puffs," Blakemore said. "I wouldn't mind sitting on the couch and see it run by there. That would be pretty awesome."
December, 14, 2011
12/14/11
5:38
PM CT
By
Randy Jennings
| ESPNDallas.com
ARGYLE (14-1) vs. WIMBERLEY (14-0)
4 p.m. Friday, Cowboys Stadium
What:
Class 3A Division II state final.
When we saw them last:
Quarterback Austin Aune completed 20-of-29 passes for 284 yards and two touchdowns in Argyle's 34-14 victory over Monahans in a state semifinal at Abilene Wylie. Meanwhile, Wimberley quarterback Brady Lambert tossed fourth-quarter touchdown passes of 22 and 23 yards to Brennen Blakemore, the last with 1:14 remaining, to send the Texans to a 21-14 triumph over Coldspring-Oakhurst in a state semifinal in Bastrop.
Last in the playoffs:
In 2010, Argyle lost in a Class 3A Division II regional final to eventual state champion Carthage, 44-27. Wimberley in 2010 lost to Coldspring-Oakhurst in a state semifinal, 26-14.
Key matchup:
Argyle's lethal passing attack, averaging 221 yards and over two touchdowns a game, faces a Wimberley defense that has allowed only one passing touchdown and an average of 43.5 passing yards in the Texans' last four playoff games.
Players to watch:
For Argyle, Aune has thrown for 3,172 yards and 33 touchdowns. Sophomore receiver Ian Sadler has 53 catches for 1,115 yards and 12 touchdowns. Running back Tyler Eveleth has rushed for 1,179 yards and eight touchdowns. For Wimberley, Lambert has thrown for 2,404 yards and 34 scores. Blakemore, a senior, has 49 catches for 1,112 yards and 13 touchdowns. Running back Trinity Wilson has rushed for 997 yards and 11 scores.
Prediction:
The difference between two very similar teams could be Argyle's sophomore kicker Cole Hedlund, the national single-season record-holder with 23 field goals: Argyle 33, Wimberley 30.