January, 24, 2011
1/24/11
10:09
PM CT
PLANO, Texas - - To combat Prestonwood Christian Academy's star 6-foot-8 power forward
Zach Peters
, opponents often send out a double or even triple team in hopes of controlling the Kansas recruit.
[+] Enlarge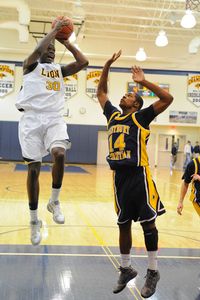 Courtesy Prestonwood Christian AcademyJulius Randle has shown a knack for attacking the rim at JBC practices.
How does Prestonwood counter that defense? By working the ball over to the Lions' other star 6-foot-8 forward, sophomore
Julius Randle
.
Both big men are among the best in their recruiting classes, according to ESPNU. Peters is ranked No. 45 in the Super 60 of the Class of 2012 and Randle holds the top spot in the Terrific 25 for the class of 2013. The tandem has not only brought the national spotlight on themselves and their school, but on private school basketball in Texas.
"It's very rare for a coach to be able to coach one player with the talent that those two guys have, and to be able to coach both of them is just a blessing for me," Prestonwood head coach Brad Freeman said. "They do a great job when they work together. It's very difficult for other teams to stop."
Freeman said the Lions' game plan changed completely last year when Randle joined the varsity squad, taking the pressure off Peters. Randle found success cutting down the lane opposite the ball, creating a two-headed monster in the post that opponents could not defend.
This season, with Prestonwood's two-man post game fully developed, Randle has gone from a freshman surprise to a court dominator, averaging a team-leading 24.6 points. Peters is next on the team, averaging 13. 7 points.
"We're both great athletes." Randle said. "We have good skill sets and we play off each other. When we're both playing well, it's pretty hard to beat our team. When we play off each other and we're both encouraging each other, we do a pretty good job."
[+] Enlarge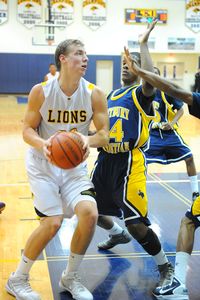 Courtesy Prestonwood Christian AcademyJunior forward Zach Peters is committed to Kansas.
With his mind already set on Kansas, Peters said he is excited to be able to focus solely on developing his skill at the high school level and helping his team become a power in the area and nationally.
The Lions don't back down from any competition. They couldn't get past area public school powerhouses Dallas Lincoln and South Grand Prairie, but they made splashes in national tournaments, finishing fourth at the National Prep Classic in Santa Maria, Calif., and third at the Beach Ball Classic in Myrtle Beach, S.C.
On Tuesday night, Prestonwood has a chance to avenge its only TAPPS District 1-5A loss of the season against Plano John Paul II.
Randle still has options to weight about where he will play after his time at Prestonwood is finished. He said he has not thought about what schools he would like to attend but he knows he wants to be surrounded by good character.
"I know I have to be able to trust the coach and trust that I know he'll develop my talent and develop me as a person also," Randle said.
Before moving on to the next level, the duo has plenty of games left to play together, a TAPPS Division I state title to defend and two top national tournaments next season -- the City of the Palms Classic in Fort Myers, Fla., and the Beach Ball Classic -- to look forward to.
"You can't get a better partner to play basketball with," Peters said of Randle. "He's just been awesome and we're going to continue to get better and we're going to have a lot of fun this year."
December, 25, 2010
12/25/10
4:48
PM CT
Plano Prestonwood Christian finished fourth at the National Prep Classic boys basketball tournament in Santa Maria, Calif., which wrapped up Wednesday.
Prestonwood won its first two games before losing in the semifinals and the third-place game.
Joel Francisco of ESPN Recruiting recapped the event, and
you can read his coverage here
.
Prestonwood has two big-time recruits in Julius Randle and Zach Peters.
Francisco cited Randle as one of the tournament's standout players. Here's what he had to say about the nation's top-ranked sophomore:
There is no doubt that Randle is a force and he still has two-and-a-half more seasons of high school basketball. The explosive lefty loves to attack off the bounce and explode to the rim. He has great instincts while finishing up, over and around defenders. He can stick the 3-point shot or glide (covers a lot of ground in a hurry) in transition for the finish as well. In addition, he made a couple of high-level passes on the break as well. For his game to go to another level, he needs to finish better with contact, improve his back-to-the-basket skill set and make defense a priority.
Here's what Francisco had to say after watching Peters, who has verbally committed to Kansas:
Zach Peters, a 6-9 junior, can finish with space. However, he doesn't have good feet and as a result he struggled scoring with his back to the basket on numerous occasions.