November, 21, 2014
Nov 21
8:53
PM CT
By
Baxter Holmes
| ESPNDallas.com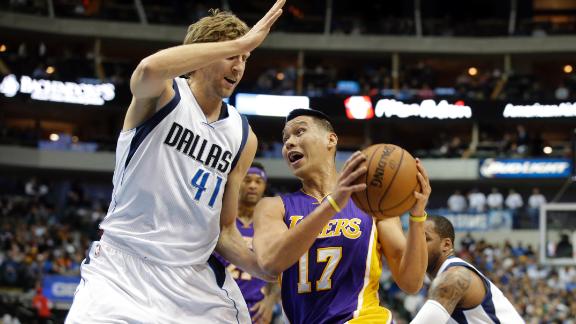 DALLAS -- On one side: a title contender whose star took less money.
On the other: a rebuilding crew, starring the NBA's highest-paid player.
For the traits that
Kobe Bryant
and
Dirk Nowitzki
share as 36-year-olds among the league's top-10 all-time leading scorers, that stark difference stood out most Friday during the
Dallas Mavericks
' 140-106 demolition of the
Los Angeles Lakers
.
Of course, it's not so simple to say that the 3-10 Lakers are struggling just because Bryant accepted a two-year, $48.5 million contract extension last season, a deal that eats a huge chunk of the Lakers' salary cap space.
[+] Enlarge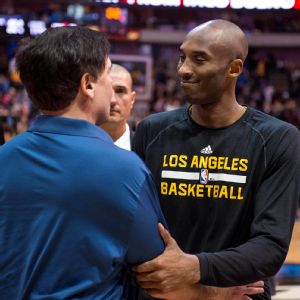 Jerome Miron/USA TODAY SportsKobe Bryant shared a few words with Mavs owner Mark Cuban after the game.
And it's also not so simple to say that the 10-3
Dallas Mavericks
are chasing a championship just because Nowitzki re-signed this summer at $25 million over three years, a bargain that allowed the team to afford other impact additions.
Other factors are many: deals that never were (
Chris Paul
, thanks to "basketball reasons") and those that never panned out (
Steve Nash
, thanks to injuries); players that didn't stay (
Dwight Howard
) and free agents who never came (
Carmelo Anthony
).
Indeed, not all has gone the Lakers' way, though they haven't done too shabby historically when you consider the 16 banners hanging in Staples Center.
But in the end, they're bound for the lottery, under construction until further notice, and Bryant and his huge deal are targeted as a key reason for their plight.
"Did I take a discount? Yeah," Bryant said after a morning shootaround here, when he discussed his contract more than at any point since signing it.
"Did I take as big a discount as some of you fans would want me to? No.
"Is it a big enough discount to help us be a contender? Yeah.
"So what we try to do is be in a situation where they take care of the player and the player takes care of the organization enough to put us in a championship predicament eventually."
Bryant almost certainly didn't mean to use the phrase "championship predicament." But if it was a Freudian slip, well, it sure was fitting.
Mavericks owner Mark Cuban stated the obvious about his squad: Nowitzki's deal made a huge impact in helping shape the roster, giving them the financial flexibility to add the high-profile and, more important, promising young free agent in
Chandler Parsons
that they had been chasing for so long.
"To me, it's not about money, it's about winning," Cuban said. "Different players have different attitudes."
Could a player make $24 million in the NBA's current punitive financial climate (as Bryant does this season) and legitimately say they're interested in winning?
"Yeah, of course, as long as you can convince everybody else that you need to come play for the minimum," Cuban said with a laugh.
Cuban has long been poking fun at the Lakers on this topic, once calling them Shaq, Kobe and the "band of merry minimum [-salaried players]" in 2000 during Cuban's first season as an owner.
Nowitzki echoed Cuban's point that his deal was about winning, not money.
"I wanted to be on a good team," Nowitzki said. "I wanted to compete my last couple of years at the highest level. Ever since after the championship, we had a couple of rough years. We missed the playoffs one year, were the eighth seed twice I think, so that was really the main decision. I wanted to play at a high level my last couple years, and it kind of worked out with getting Parsons, with getting Tyson [Chandler] back here. We feel like we've got a good group, and hopefully we can make it work."
Bryant argued that Nowitzki's deal meant the German forward "wasn't playing in Los Angeles," and that difference matters.
After all, the Lakers have a 20-year, $3 billion deal with Time Warner Cable that hinges on ratings. They need Bryant, not only for that, but to justify ticket prices, to keep interest high during lost seasons. His value goes far beyond the court.
Yet the high cost of paying their cash cow what he legitimately might be worth ultimately hurts the Lakers' efforts to build around him, to be a contender.
Nowitzki will spend his golden years chasing another ring, while Bryant, for now, is only chasing personal records. Other factors are many, of course, but that stark difference is what rose above all else Friday, as two legends headed in opposite directions, their teams following suit.
ESPNDallas.com reporter Tim MacMahon contributed to this report.