December, 21, 2014
Dec 21
12:33
AM CT
DALLAS -- So much for the theory that the addition of
Rajon Rondo
to the
Dallas Mavericks
backcourt would disrupt
Monta Ellis
' rhythm and detract from the go-to guy's game.
OK, one game certainly isn't a big enough sample size to draw any grand conclusions, but the guard duo's debut together was pretty encouraging, even though it came against the San Antonio Spurs' junior varsity squad.
"He scored 38 points, so I didn't hold him back too much," Rondo said after the Mavs pulled out a 99-93 victory Saturday night, the day after he arrived in Dallas as the headliner in a blockbuster deal with the
Boston Celtics
. "We both like to dominate the ball, but I think we played well off each other tonight."
There is ample statistical ammunition, traditional and advanced, for questioning how well Rondo and Ellis can coexist offensively. Start with Rondo's poor shooting percentages and the impact that has on the space Ellis will have to create on the pick-and-rolls that are the meat and potatoes of the Mavs' magnificent offense.
You can dive deeper into the data to make the case, citing usage percentages and Synergy stats. Just make sure to include the basketball IQs of Rondo and Mavs coach Rick Carlisle in the conversation, too.
Geniuses tend to figure out how to put puzzles together pretty well.
[+] Enlarge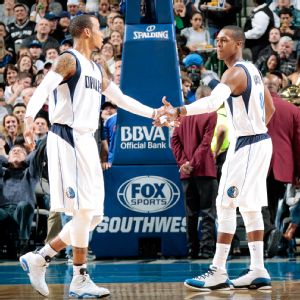 Glenn James/NBAE/Getty ImagesThe Monta Ellis-Rajon Rondo backcourt got off to a strong start in a win over the depleted Spurs.
A case in point: The zone-busting wrinkle Carlisle came up with at halftime after the Spurs junked up the game and held the highest-scoring offense in the NBA to 42 points in 24 minutes. The 6-foot-1 Rondo spent much of the second half operating from the elbows and picking apart the zone from the middle.
Dirk Nowitzki
couldn't recall the Mavs ever using that look, though Carlisle said they did occasionally with Jason Kidd. It certainly wasn't something that came up during Rondo's 24-hour crash course on the Mavs' schemes, but he executed it expertly.
"With unique players like this, you've got to come up with different ideas," Carlisle said in his office after the game. "He's just one of those unique guys that operate well in a crowd. And we were struggling. We weren't hitting outside shots, and they were in a zone. It was something we talked about at halftime, and we went to it pretty quickly, and some good things happened.
"This is one of the unique elements of his game. He's a very creative player. Sometimes you've got to come up with creative ways of using a guy like that that are a little out of the box."
One of the good things that happened with Rondo working from the middle of the zone was when he cut to the elbow, caught a pass from Nowitzki, took one hard dribble toward the basket to draw a defender and dished to an open Ellis for a corner 3-pointer.
That started "Monta Magic," as crunch time is called for the Mavs these days.
Ellis ended up scoring 11 of his season-high-tying 38 points in the final 3:32. Rondo's arrival didn't change the fact that Ellis has been the best clutch scorer in the NBA this season.
That's fact, not opinion. Per NBA.com's stats, Ellis leads the league in clutch scoring. He has put up 70 points in 59 minutes when the score was within five points in the final five minutes of a game. He's been amazingly efficient in such situations, too, and has shot 59.5 percent from the floor.
"I guess it's in my blood," Ellis said. "I've always been like that, even when I was a kid. I just love those moments, and I'll be locked in then, try to find every seam and every gap and focus on hitting the shot in the fourth quarter for the team."
Rondo is smart enough to understand the rock needs to be in Ellis' hands on a regular basis when the game is on the line. He has no problem with that.
Rondo became a ball-dominating point guard in Boston out of necessity as the Celtics started rebuilding. Asked about his role in the offense during his news conference Friday, he immediately mentioned how he needs to get the ball out of his hands as quickly as possible to put the Mavs' scorers in position to do their jobs.
Rondo didn't come to Dallas thinking he needed to reinvent an offensive wheel that's already rolling. He's here to find ways to win, and that's reflected in his first stat line as a Maverick: six points, seven rebounds, nine assists, two steals ... not to mention the four offensive fouls drawn that don't show up in the box score.
"I just try to do the intangibles," Rondo said. "I didn't make a lot of shots tonight, so I just wanted to go in on the defensive end of the floor and make plays for my team and get the ball back for more possessions."
The Mavs understand their halfcourt offense will be a work in progress as they implement Rondo, but they aren't worried about whether their two star guards will work together. Rondo is a radical defensive upgrade over the departed
Jameer Nelson
, and the Mavs figure if they get stops and get in transition or into their flow offense early, the offense will be a lot of fun for everyone.
Rondo doesn't want to take the ball out of Ellis' hands. He's trying to make it easier for Ellis to do his job as the Mavs' leading scorer and primary pick-and-roll ball handler.
"My role's not going to change," Ellis said. "I'm still going to be that playmaker who will do whatever the team needs. It just makes it so much easier for me. I can just run out, and he can hit me, and then we can get into the open floor game."
So far, so good for Dallas' guard duo.