March, 1, 2015
Mar 1
12:12
AM CT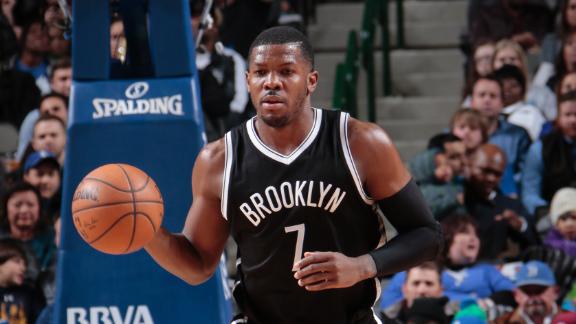 DALLAS --
Rajon Rondo
clearly didn't win his argument with coach Rick Carlisle, but it appears he at least got a couple of points across in the calmer conversations that followed.
The shouting matches -- during a timeout during Tuesday's win over the
Toronto Raptors
and an even more heated rematch in the locker room after the game -- stemmed from a dispute over who should handle play-calling duties. They resulted in a one-game suspension for Rondo, and Carlisle was still calling plays during the point guard's return Saturday night.
"That's just the way it is," Rondo said almost an hour after the
Brooklyn Nets
handed the
Dallas Mavericks
a 104-94 loss, having wrapped up an extended postgame shooting session. "That's the system. I'm still learning, and I'll find a way."
[+] Enlarge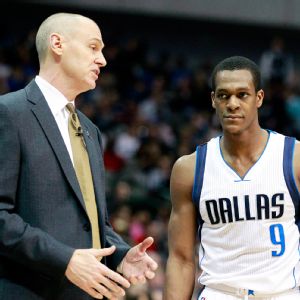 Tim Heitman/USA TODAY SportsRick Carlisle has tried to accommodate Rajon Rondo by having him run plays from the block.
Of course, it's Carlisle's job to help Rondo find a way. That's why they've spent hours talking over the past four days. Some of the plays Carlisle called proved his willingness to adjust, attempting to make the Mavs' midseason blockbuster-trade acquisition comfortable.
Case in point: Dallas repeatedly ran sets designed to run the offense through Rondo on the block, a new wrinkle for these Mavs but old hat for the four-time All-Star point guard.
"I think he's mixed some stuff up as far as what worked for me in Boston a couple of years back when we had a great run," Rondo said. "Just put the ball in my hands in different situations, not just pounding up top. Getting in the post and making plays for my teammates and for myself."
The results weren't great in Rondo's return. He posted a so-so statistical line -- eight points on 4-of-10 shooting, 7 rebounds, 6 assists and 4 turnovers -- but the Mavs were minus-22 in the 27:43 Rondo was on the floor.
In fairness, Rondo and the Mavs were forced to play without three of their regular starters. Center
Tyson Chandler
(hip) and small forward
Chandler Parsons
(ankle) wore sport coats and sat on the bench while nursing injuries. Shooting guard
Monta Ellis
(4-of-16 shooting) just didn't show up.
But perhaps the Mavs' biggest issue is figuring out how to make the square peg that is Rondo fit into the round hole that is the point guard's role in Carlisle's system.
If Carlisle had his way, the Mavs would never have to call a play. They'd just play free-flowing offense at all times. But that doesn't work with Rondo, whose shooting woes allow defenses to dare him to beat them from the perimeter, screwing up the spacing for everybody else.
So the Mavs must adjust their offensive scheme to mask Rondo's weaknesses and maximize his strengths.
"We're in a situation where his abilities mesh with our team a certain way, and there is more play-calling when he's on the floor because that's been the most successful way for us to play offensively," Carlisle said earlier this week. "He and I early on talked a lot about the right plays to call and the right tempo to play at and things like that, and we got away from it in recent games. We've got to get back to it. That's on both of us."
It's on Rondo to run the plays Carlisle calls, no questions asked and no side-eyes given. It's on Carlisle to be flexible enough to at least tinker in the final quarter of the regular season with some sets that make Rondo the most comfortable, even if that means the rest of the Mavs must adjust.
"We put some new stuff in,"
Dirk Nowitzki
said. "We need to get used to that and be efficient with it, play around with some stuff and find ways to be a good offensive team."
That's quite a challenge with a point guard who is an awkward fit, which is a much bigger problem for the Mavs than any vocal pyrotechnics.
February, 28, 2015
Feb 28
10:21
PM CT
Associated Press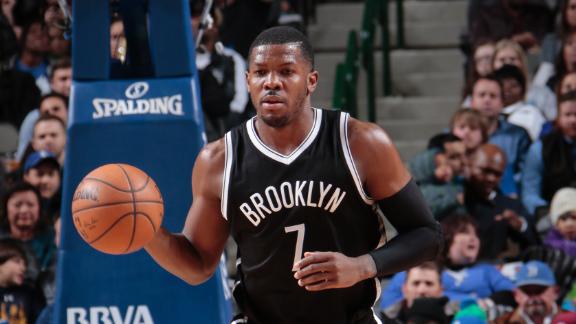 February, 28, 2015
Feb 28
7:08
PM CT
DALLAS --
Mavericks
center
Tyson Chandler
will miss his second consecutive game due to a left hip contusion.
Chandler is inactive for Saturday's game against the
Brooklyn Nets
along with small forward
Chandler Parsons
, who continues to recover from a sprain and bone bruise to his left ankle.
Chandler injured his hip when he took a charge late in Tuesday's win over the
Toronto Raptors
. He sat out Wednesday's loss to the
Atlanta Hawks
and hoped to miss only one game, but the decision was made to rest Chandler against the Nets after he received pregame treatment.
Parsons is no longer in a protective boot and has resumed basketball activities and conditioning.
"I want to be back badly, but I also don't want to rush back and have it keep lingering into the end of the season and the playoffs when the games really matter," Parsons said. "I'm trying to get back as soon as possible. At the same time, I've got to be smart about it and listen to the trainers."
February, 28, 2015
Feb 28
12:00
PM CT
By
Bryan Gutierrez
| ESPNDallas.com
Each week, ESPNDallas.com will take a look at the Texas Legends, the D-League affiliate for the Dallas Mavericks, in order to see how the two are working hand in hand to improve one another.
The Texas Legends performed some tweaks to their roster over the last week, adding new players in the mix.
The team announced last week that the returning player rights to Luke Harangody and
Jeff Adrien
as well as a 2015 second-round draft pick in a trade with the Westchester Knicks. In return, Texas sent out guard
Doron Lamb
and its own original 2015 sixth-round.
Harangody was drafted in the second round of the 2010 NBA Draft by the
Boston Celtics
. He played 28 games with the Celtics before being traded to the
Cleveland Cavaliers
. His most recent stretch of basketball saw him playing in Valencia for the Spanish ACB.
Adrien went undrafted in the 2009 NBA draft but signed with the
Golden State Warriors
in 2010, playing 23 games and averaging 2.5 points, 2.5 rebounds in 8.5 minutes. The 2013-14 season was his best as he averaged 10.9 points, 7.8 rebounds and 1.1 assists with the
Milwaukee Bucks
. Before joining Texas, Adrien spent 17 games with the
Minnesota Timberwolves
this season before joining the Chinese CBA team, Guangdong Southern.
Texas wasn't done with their roster shuffle. The Legends then announced on Wednesday that they acquired center Jarrid Famous in a trade with the Iowa Energy. In exchange, Texas sent their third-round pick in the upcoming 2015 NBA D-League Draft.
Collegiately, Famous spent two years at the University of South Florida averaging 2.4 points, 6.5 rebounds. In his rookie season in the D-League, Famous averaged 13.9 points and 9.7 rebounds in 16 games with the Iowa Energy and Fort Wayne Mad Ants. Before another stint with the Energy, which saw him average 12.4 points and 15.9 rebounds in 10 games, Famous also played in the Lebanese Division A.
Mark your calendars
The Legends will host the division-leading Austin Spurs on Saturday. The game will tip off at Dr. Pepper Arena at 7 p.m. CT. Texas will then head on the road to California as they face the Santa Cruz Warriors on Wednesday with the game tipping off at 9 p.m. CT.
Fans will be able to watch the D-League live on the NBA D-League YouTube Channel (YouTube.com/nbadleague), the Legends' website, as well as via the NBA D-League Center Court mobile app -- the league's free mobile application providing fans with access to NBA D-League content.
But not least …
After a three-game winning streak in mid-January, the Legends have struggled. After their victory on Jan. 25, Texas has lost six of their last seven games. With their most recent loss in their game against the Oklahoma City Blue, the Legends fell below .500 for the first time this season. With a record of 16-17, the Legends are at the bottom of the Southwest Division.
With 17 games left, Texas is three games out of moving into second place in the division, with the Austin Spurs a full eight games ahead to lead the division.
February, 27, 2015
Feb 27
3:24
PM CT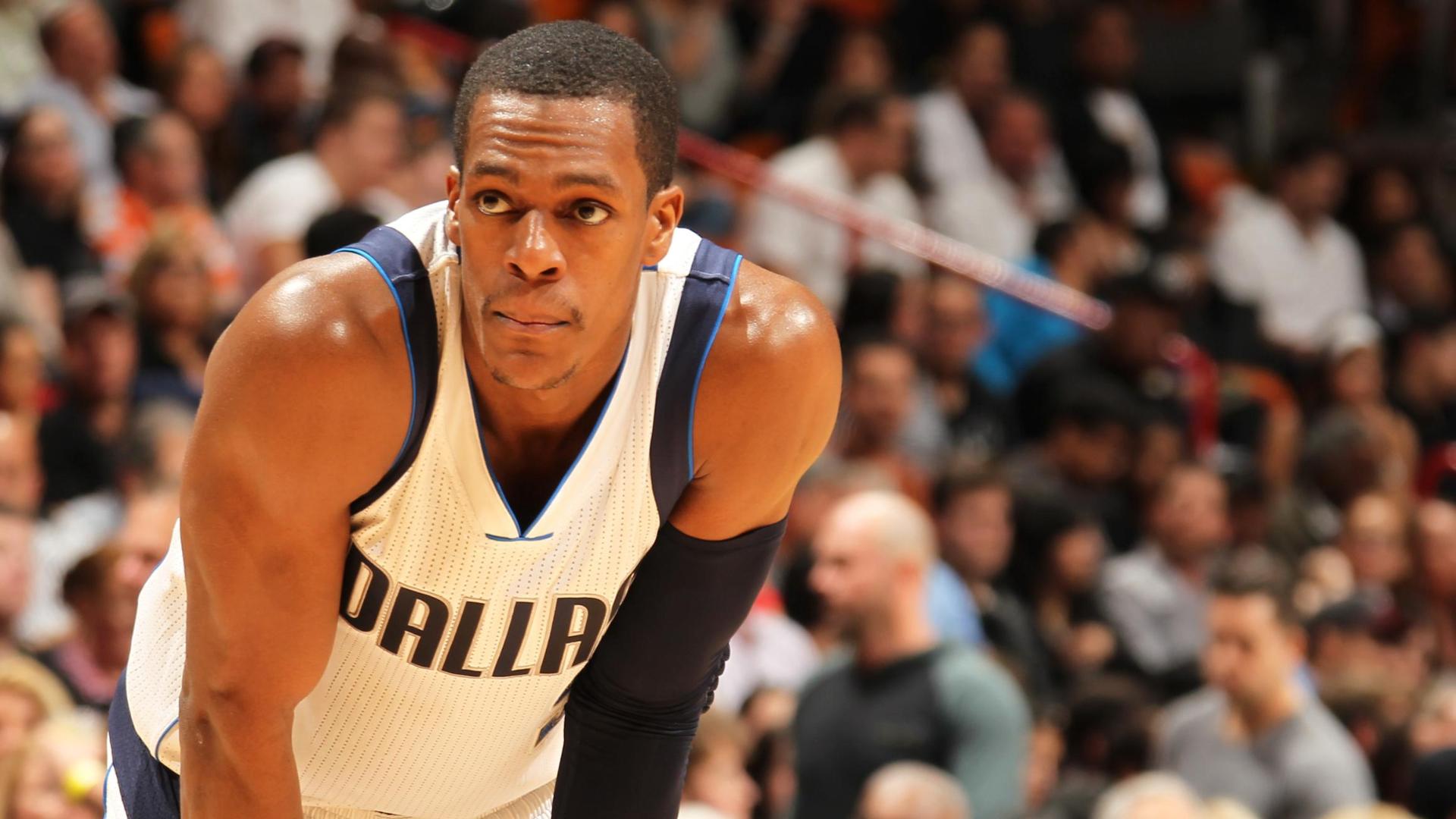 DALLAS -- Mavericks point guard Rajon Rondo declared himself ready to move on after serving a one-game suspension that stemmed from a heated dispute with coach Rick Carlisle.
"Everything is back to normal now," Rondo told reporters after Friday's practice, the first time he publicly addressed the incident.
Rondo and Carlisle got in a profane shouting match over play-calling responsibilities with 8:10 remaining in the third quarter of Tuesday's win over the Toronto Raptors. It started after Rondo ignored a play-call from Carlisle, prompting the coach to call a timeout, storm out on the court and shout at the point guard.
Rondo responded by shouting back at Carlisle, and the argument continued for most of the timeout, with assistant coach Jamahl Mosley stepping in front of Rondo to prevent him from getting in Carlisle's face. Rondo did not play the final 20:10, as the Mavs rallied from a nine-point deficit to win by seven.
Sources told ESPNDallas.com that Rondo and Carlisle had an even more heated exchange in the locker room after the game, and the Mavs announced his suspension the next afternoon.
"I just got built-up frustration," said Rondo, who has had a couple of long individual meetings with Carlisle since their blowup. "I take a lot of the blame for what I've been doing on the court, but just a little frustrated. The most important thing is communication with Coach. I've talked to a lot of the coaches, I've talked to a lot of staff members.
"Coach and I, when I first got here, we were talking a lot and watching film after every game. He's backed off a little bit with the addition of Amar'e [Stoudemire]
February, 26, 2015
Feb 26
11:01
PM CT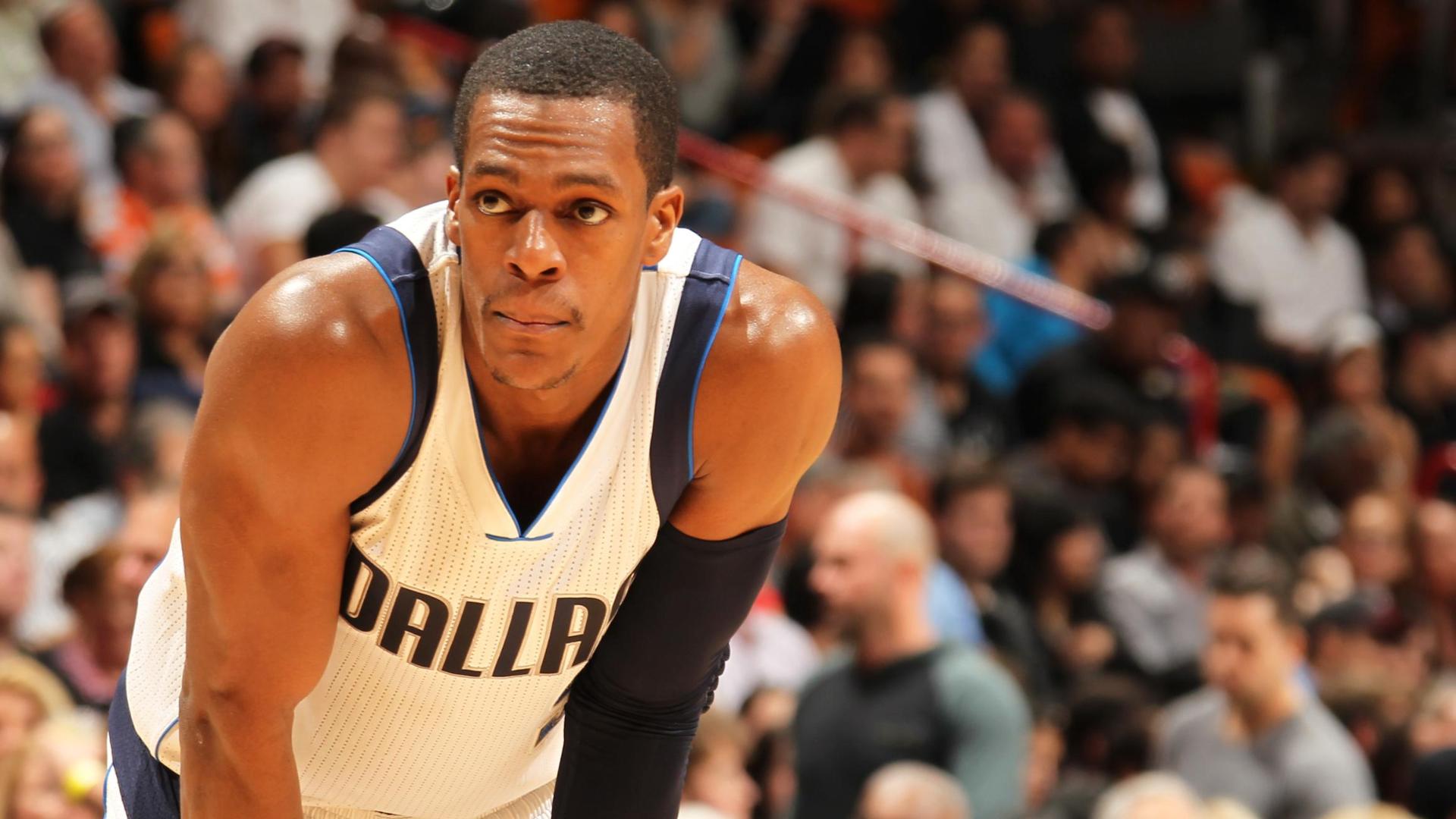 When you have a coach like Rick Carlisle, you never really get excited about a key acquisition until you get a sense for how his personality meshes with Carlisle.
The Dallas Mavericks' coach is brutally honest, something many NBA stars haven't experienced since they've been coddled since AAU ball. He can be acerbic at times, and occasionally he criticizes players in public.
Not every player can handle that.
Monta Ellis has handled it beautifully. O.J. Mayo didn't. Neither did Lamar Odom. Chandler Parsons seems to be handling it pretty well, especially when Carlisle essentially called him fat early in the season.
Well, we're about to find out if Rajon Rondo, acquired in a December trade with the Boston Celtics, can handle it.
Rondo and Carlisle had a courtside argument for the ages before a packed arena in Tuesday's win over Toronto that resulted in Rondo getting benched for the final 20 minutes.
In the locker room after the game, they reportedly had a verbal confrontation that included more expletives than a Chris Rock monologue. The Mavs suspended Rondo for Wednesday's game -- a loss to Atlanta -- and he returns Saturday night against Brooklyn.
We know Carlisle can put the incident behind him, because we've seen him do it with other players. We don't know if Rondo can do it.
If he can, then the Mavs still have a shot to make a deep playoff run. If not, they probably won't do much in the playoffs because of the tension between the point guard and the coach.
February, 26, 2015
Feb 26
11:00
PM CT
BOSTON -- At the start of the February, it felt like the honeymoon was over.
[+] Enlarge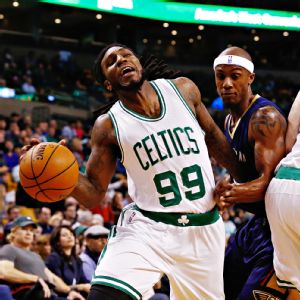 Mark L. Baer/USA TODAY Sports
Jae Crowder
, acquired by the
Boston Celtics
in mid-December as part of the deal that sent
Rajon Rondo
to the
Dallas Mavericks
, had raised eyebrows early in his Boston tenure and, when
Jeff Green
was dealt away to Memphis in early January, Crowder elevated to starting small forward.
But his production waned and, in a 10-game span beginning on Jan. 14, Crowder was a team-worse minus-71 in plus/minus and his advanced numbers were an absolute eyesore (team-worst minus-16.8 net rating when he was on the floor). On Feb. 2, coach Brad Stevens shuffled rookie
Marcus Smart
back into the starting lineup, shifted
Evan Turner
to his more natural swingman spot, and moved Crowder to a reserve role.
A weird thing happened. Crowder embraced the bench role, got increased playing time at power forward with Boston's depth eroded by injuries, and emerged as a primary reason why Boston has since won six of nine games.
In that nine-game span, Crowder is averaging 12 points, 5.8 rebounds, 2 assists, and 1 steal over 26.7 minutes per game. He's carved out his role as a versatile body that Stevens can utilize at both forward spots. His plus-7.1 net rating is the best on the team for players that have been here throughout the nine-game stretch.
While Dallas deals with the fallout from Rondo's shouting match with coach Rick Carlisle, the Celtics must privately look at the quiet Crowder and take great pleasure in what he's accomplishing. The 24-year-old forward on a budget deal has the potential to be a part of this team's young nucleus moving forward and is making the sort of progress that Boston desires to get from all its young players.
February, 26, 2015
Feb 26
3:46
PM CT
ESPN.com news services
SACRAMENTO, Calif. -- Sacramento Kings point guard Darren Collison will have surgery next week and be sidelined for at least another month.
The team said Thursday that the operation is to repair a "core muscle injury." Collison has missed the past seven games with what the team said was a strained right hip flexor.
The Kings said Collison is to meet with Dr. William Meyers on Monday in Philadelphia. Collison will have surgery Tuesday and be re-evaluated in three to six weeks.
In addition to Collison, the Kings also may be without star DeMarcus Cousins at least on Friday as the All-Star center is dealing with a sprained left ankle and a bruised left hip. He is listed as doubtful for the game against the Spurs.
Cousins limped to half court and fell down after turning his ankle in the fourth quarter of Wednesday night's 102-90 win over Memphis. He stayed in the game and showed no effects of the injury.
Collison was injured in Sacramento's loss to the Dallas Mavericks on Feb. 5.
He is averaging a career-high 16.1 points to go with 5.6 assists and 3.2 rebounds. Recently acquired Andre Miller, second-year player Ray McCallum and rookie reserve David Stockton will continue to divide time in Collison's absence.
Information from The Associated Press was used in this report.
February, 26, 2015
Feb 26
3:07
PM CT
ESPNDallas.com columnist Jean-Jacques Taylor and MavsOutsider.com Editor-in-Chief Bryan Gutierrez join Tim MacMahon each week to run a three-man weave on a few questions on the minds of Mavericks fans.
1. What kind of production do you anticipate from Amar'e Stoudemire?
Gutierrez:
Stoudemire should be good for scoring in double figures or close to it every night. This team struggles in terms of rebounding. With
Al-Farouq Aminu
, Stoudemire can surely help resolve that rebounding issue. The Mavs probably won't want to push him upward of 20 minutes a night, so a rough average should be 10 points and 4.5 rebounds a night. The Mavs will gladly take that from their backup big man.
Taylor:
Stoudemire has shown in his first two games with the Mavs that he can do the same thing with them that he did with the Knicks, which is average about 12 points and six rebounds a game. He can still jump and run the court and he gives the Mavs a low-post presence we haven't seen in forever.
MacMahon:
Surrounded by playmakers in Rick Carlisle's system, it shouldn't be a problem for Stoudemire to put up 20 points per 36 minutes. Of course, he won't come close to playing that many minutes per night. If he averages 20 minutes, it works out to about 11 points per game plus six or so rebounds.
2. Should Stoudemire see significant minutes at power forward?
Gutierrez:
It makes sense when Dallas faces bigger frontcourts. This was the thought process Rick Carlisle had when he wanted to pair
Brandan Wright
together with
Tyson Chandler
more this season. The experiment proved to be relatively effective. One way it can improve is on the offensive end of the floor as Stoudemire has a pick-and-pop threat to his game. Outside of that situation, Stoudemire should see a majority of his time at center.
Taylor:
Carlisle uses so many different combinations that I would put him at power forward or center, depending on the flow of the game and what's needed on a given night. It's not like he's interfering with Dirk's minutes. The most important thing is spacing, as long as there are some shooters on the court with him, it's all good.
MacMahon:
Only if necessary. It might make sense, say, if the Mavs get matched up with the
Memphis Grizzlies
in the playoffs and need as much bulk as possible to bang with
Zach Randolph
and
Marc Gasol
. But the backup power forward situation was pretty good before the arrival of Amar'e. Al-Farouq Aminu has been awesome as an energy guy in that role, and
Charlie Villanueva
is at least worth a look each game to see if his flamethrower is roaring.
3. What's the biggest concern about Stoudemire's fit with the Mavs?
Gutierrez:
It has to be on the defensive end of the floor. He understands he's coming here to be a role player, meaning he can fit offensively. His limitations with his body present cause for concern defensively. He can mask those shortcomings by being effective as a scorer and rebounder, but his disposition against elite teams will be something to observe down the stretch. If he's unable to hold his own there, the Mavs have to work Chandler down to the ground, which isn't a recipe for success.
Taylor:
Like any aging veteran, the biggest concern is health. He didn't play on the second night of back-to-back against Atlanta, despite limited minutes against Toronto: He missed quite a few games with the Knicks for whatever reason. The Mavs need him healthy. If he is, everything else takes care of itself.
MacMahon:
It's definitely durability. That's why the Mavs are exercising such extreme caution with Stoudemire, having him sit two games during his acclimation process, and rest on the second night of a back-to-back. The presence of superstar athletic trainer Casey Smith, whom the Mavs consider the best in the business, does somewhat ease this concern.
February, 25, 2015
Feb 25
10:44
PM CT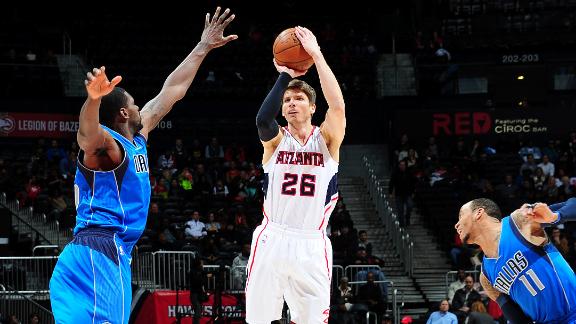 ATLANTA --
Rajon Rondo
is a renowned pain in the butt to coach. Plenty of players have cussed Rick Carlisle, either to his face or behind his back.
So it can't be considered too much of a stunner that this pair combined for the most explosive coach-player fireworks of the NBA season to this point.
Now what?
Rondo and Carlisle can either make the best of the rest of their brief time together or make a complete mess of the
Dallas Mavericks
' season. They can swallow their pride and try to squeeze all the potential out of a team that is still smack dab in the middle of the Western Conference playoff pack. Or they can keep squeezing each others' throats and guarantee they'll get out of each others' hair before the calendar flips to May.
The one sure thing: The passive-aggressive dynamic is done. All the cards are on the table after an expletive-laced shouting match for the basketball world to see and another behind closed doors that sources say was even more explosive.
[+] Enlarge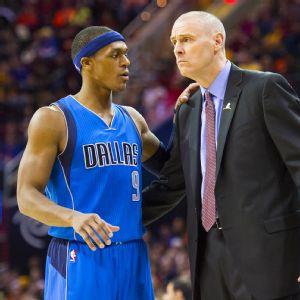 Jason Miller/Getty ImagesWill the blowup between Rick Carlisle and Rajon Rondo eventually be a good thing for the Mavericks?
"If anything, it should make the team stronger," Mavs locker room leader
Tyson Chandler
said after Rondo served his one-game suspension in Wednesday's
104-87 loss
to the
Atlanta Hawks
. "For one, it should make those two have better communication. They're not familiar with each other, so I think for the first couple of whatever all parties are tip-toeing.
"Not against each other, but two guys who are competitors, who want to win, sometimes it's better that you have a little blowout. It lets you know that you're on the same page, that you want to win."
Well, that's a pretty good positive spin, and there are at least some kernels of truth to it. This is a case of two men who think they're always the smartest guy on the court. The root of the Rondo-Carlisle crisis is a simmering disagreement about whether the Mavs were best off with the genius former Coach of the Year or brilliant four-time All-Star point guard calling the majority of the plays.
Rondo, a nine-year veteran with one of the highest basketball IQs in the league, believes that's a big part of his job as a point guard. Carlisle, one of the NBA's best offensive minds, doesn't want to hand the keys of his sports car over to a guy he just met.
It's similar to the friction between Carlisle and future Hall of Fame point guard Jason Kidd during their first season together, except they never had "SportsCenter"-leading shouting matches. Carlisle ceded control to Kidd in midseason, and that duo played prominent roles in the Mavs' title run a few years later.
Could history repeat itself? Don't hold your breath. The reality is Rondo's run with the Mavs is extremely unlikely to extend past this season.
The question is whether Carlisle and Rondo can find the common ground necessary to work together the rest of the season and provide the Mavs any hope of making a playoff run.
"We'll just wait and see how it is moving forward," said face of the franchise
Dirk Nowitzki
, who doesn't quite share Chandler's gift for finding the silver lining in tough situations. "Obviously, both sides have got to come together. That's the only way.
"We have high goals this season, obviously making the playoffs and making a long playoff run. You can't do that if guys pull in different directions. They're both smart enough to know that. We've got to be on the same page moving forward."
Carlisle, a coach determined to win a playoff series for the first time since the Mavs' 2011 title run, has accepted his share of responsibility and is on record with his commitment to working with Rondo. For the rest of the season, at least.
"I need to say this very clearly: He is an extremely important part of our team," Carlisle said. "Our efforts to get to the highest possible level largely hinge on him playing and playing well with him. He needs to play well with us, and we need to play well with him. It's a two-way street.
"The incident last night was born in large part out of poor communication between him and I. That's on both of us. We had a long talk about the situation today, and we both agreed that we need to communicate more frequently.
"We need to work on the solution for making his stint as a Dallas Maverick the most successful one possible. We're looking at 23 games here. Right now, this is a critical time for us."
We haven't heard from Rondo other than muttering what amounted to a no comment on his way out of the locker room Tuesday night.
However, Rondo would be a fool to let his feelings get in the way of putting his best foot forward. And he has proven in the past that butting heads with his head coach isn't necessarily a road block to a playoff run.
"Yeah, it happens," said Doc Rivers, who had a plenty of shouting matches and playoff wins with Rondo during their time together in Boston. "Hopefully it happens in the locker room. But it happens.
"They're both winners and they'll figure it out, I really believe that. Rick Carlisle has proven he's a championship coach, Rondo has proven he's a championship point guard. You have two champions and you figure at some point they will figure that out."
Of course, maybe the heated confrontations were a key part of the process of figuring it out.
The Mavs need more than what they've been getting from Rondo. Never mind the mediocre or worse offensive production. They need the dominant defender and relentless competitor from his best days in Boston.
This isn't the kind of spotlight that an athlete seeks, but Rondo has a history of being at his best when the most eyeballs are on him.
"I honestly expect this to light a little fire up under him," Chandler said. "Because he's a competitor. When you hear all this stuff, crap thrown around about your name, it makes you want to come back and prove everybody wrong. He's that type of guy."
Rondo proved a lot of people right by clashing with another coach. But that doesn't have to be the most memorable moment of what will probably be a brief Mavs tenure for the point guard.
February, 25, 2015
Feb 25
9:12
PM CT
Associated Press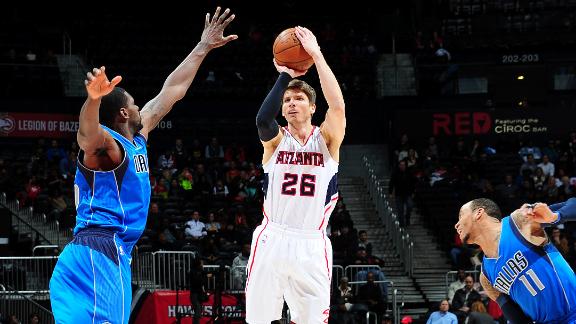 ATLANTA -- The Atlanta Hawks took the lead with a 13-0 run in the third quarter and went on to a 104-87 victory Wednesday night over the Dallas Mavericks, who were without suspended guard Rajon Rondo.
The Mavericks suspended Rondo before the game for conduct detrimental to the team. Rondo had a heated exchange on the court with coach Rick Carlisle in the third quarter of Tuesday night's win over Toronto.
Carlisle said the one-game suspension was an "organizational decision" and said Rondo will start in the Mavericks' next game against Brooklyn on Saturday.
Dennis Schroder had 17 points off the bench to lead six Atlanta players in double figures. The Eastern Conference-leading Hawks have won two straight after losing four of seven.
Monta Ellis led Dallas with 19 points.