April, 15, 2014
Apr 15
12:00
PM CT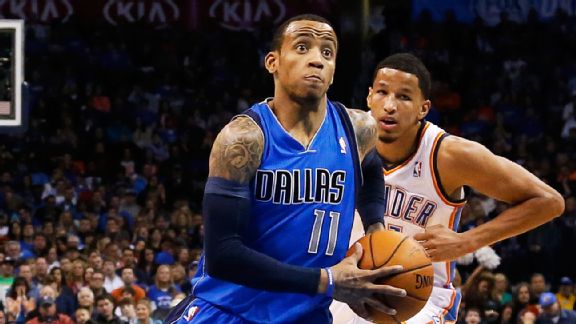 AP Photo/Sue OgrockiThis season has been a case of right coach, right situation and right time for Monta Ellis.
We couldn't ask for much better drama from a rebuilding Mavericks season.
Every game will matter with the regular-season finale deciding whether the Mavericks or
Memphis Grizzlies
get the unenviable task of opening the playoffs in San Antonio.
Frustrating as the Mavs' inability to hold leads might be, this is a fun team to watch. It's one of the best offensive teams in basketball, featuring a historically elite shooter in
Dirk Nowitzki
, one of the league's most relentless paint attackers in
Monta Ellis
and some beautiful ball movement in coach Rick Carlisle's flow system. Sure, the Mavs are a subpar defensive team, but that's entertaining, too.
Enjoy the ride. The odds of it ending with a parade through downtown Dallas are extremely slim, but at least Mavs basketball is fun again after one miserable .500 season.
On to your questions ...
I think it's pretty clear Dirk Nowitzki is best Mavs player ever. Who's the second? -- @JohnnyPablo_ on Twitter

I can make cases for
Rolando Blackman
,
Steve Nash
and Jason Kidd, but I'm going with
Mark Aguirre
.
Aguirre's Dallas departure was ugly, but the dude filled it up during his time with the Mavs. He averaged 29.5 points per game during the 1983-84 season, a franchise record that might never be broken. He averaged at least 22.6 points per game for six straight seasons.
We're talking about one of the best 6-foot-6 post scorers to ever play the game. It's too bad his No. 24 will probably never hang from the American Airlines Center rafters.
Is Monta Ellis having a great season due to him changing his game under Rick Carlisle or more of a testament to simply being surrounded by a better supporting cast like he was with the Warriors? -- Parker (Dallas)
It's a case of right coach, right situation and right time of Ellis' career. He arrived in Dallas sick and tired of losing, recognized the opportunity he had here and attacked it with an open mind.
It's not that Ellis has changed his game as much as he's simply played to his strengths. He's always excelled at attacking the basket. He just settled for way too many jumpers in recent years.
Of course, he never had a teammate that had anything close to the kind of gravitational pull on defenses that Dirk has. Ellis has much more space to operate in Dallas than he did in Milwaukee or Golden State after he became the go-to guy. Carlisle has done a great job putting Ellis in situations to play to his strengths, and Ellis has responded with a season that the Mavs front office considered a best-case scenario when they signed him.