October, 20, 2014
Oct 20
11:50
PM CT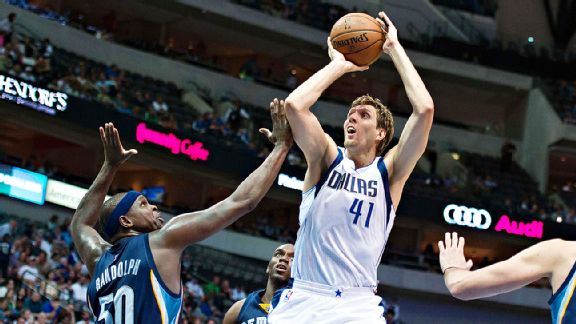 Jerome Miron/USA TODAY Sports"I think we can score with the best of 'em in this league," Dirk Nowitzki said of the upgraded Mavs.
DALLAS – These
Dallas Mavericks
will be an offensive juggernaut.
That might sound like a premature declaration, considering this starting five has played a grand total of two preseason games as a unit. But just listen to
LeBron James
, a pretty good authority on offensive awesomeness.
"If it's not the top three or four best offenses in the league, then you don't get any better than Rick Carlisle offense," James said after getting a firsthand look at the Mavs on Friday in Cleveland.
He'll get no argument from the
Memphis Grizzlies
, after one of the NBA's stingiest defensive teams struggled to get stops until the Mavs' starters iced up on the bench in the fourth quarter of Dallas' 108-103 victory Monday night.
You don't get any better than Rick Carlisle offense, but Carlisle's offense got a lot better this offseason.
The Mavs were an elite scoring team the past season, when Dallas ranked tied for second in the NBA in offensive efficiency and put up 109 points per 100 possessions. Then the Mavs made a couple major upgrades in the starting lineup.
Chandler Parsons
, the Mavs' new $15-plus-million-per-year small forward, is an all-around weapon who hurts opponents as a pick-and-roll ball handler, spot-up perimeter shooter, slasher, runner and just about any other imaginable way.
Tyson Chandler
is best known for his award-winning work on the defensive end, but he excels as a roll man who can catch and finish above the rim, a threat who sucks in defenses and creates space for the Mavs' many shooters.
Whether
Jameer Nelson
is an offensive upgrade over departed, deadeye-shooting point guard
Jose Calderon
could be subject for debate, but there's no doubt Nelson fits well in Dallas with his veteran savvy, perimeter shooting and penetration ability.
Put those new pieces and a deep bench with
Dirk Nowitkzi
and
Monta Ellis
, one of the league's premier pick-and-pop partnerships, and the Mavs have an awfully potent mix.
Not to put too much stock in preseason stats, but in the four quarters started by the Mavs' starting five, Dallas has scored an eye-popping 130 points.
The Mavs scored 91 points through three quarters against the Grizzlies, who gave up a Western Conference-low 94.6 points per game the past season. Heck, the Mavs managed to score 57 points in the first half despite their two leading scorers from the past season combining for 2-of-11 from the floor.
"I think we can score with the best of 'em in this league," said Nowitzki, who finished with 10 points on 3-of-8 shooting. "We definitely have a lot of scoring power out there. The game these days is pick-and-rolls, and we've got some great pick-and-roll players. With Tyson and
[Brandan] Wright
, we've got guys who can finish way above the rim. That sucks in a lot of the guys because they've got to protect the rim. Jameer is a knockdown shooter. We've got a lot of weapons out there."
The Mavs have a lot of weapons that mesh well. The Dallas decision-makers did a masterful job manufacturing a roster of players who perfectly complement one another.
Nowitzki, the sweetest shooting power forward to ever play the game, demands the kind of attention that will make him the focal point of any defensive game plan. Ellis, one of the league's most dynamic off-the-dribble players, is one of several Mavericks who should thrive running pick-and-pops with the 10th scorer in NBA history, a list that also includes Parsons, Nelson and sixth man
Devin Harris
. If teams cheat too much toward Nowitzki when he's spacing the floor on the weak side while the centers set picks, Chandler or Wright are highlights waiting to happen.
The Mavs, whose rotation will probably go at least 10 deep on a regular basis, plan to play at a fast pace and challenge foes to keep up.
"Rick's system is unbelievable, and I think for the personnel that we have, it's perfect," said Parsons, who had 11 points on 4-of-7 shooting and 5 assists in 28 minutes against Memphis. "It's run-and-gun, but he does have a structure. His playbook is big. He puts us in the best situations ... spots on the floor where we can thrive ...
"I think the sky's the limit for us. I think we've got to understand that we've got so many guys who can score the ball that if we lock in on the defensive end, we could be special. We have so many guys and so many weapons who can hurt you on the offensive end. If we lock in and focus, we're going to be tough to beat."