March, 3, 2015
Mar 3
1:05
PM CT
DALLAS – The
Dallas Mavericks
signed center
Bernard James
for the rest of the season, the team announced Tuesday.
James' second 10-day contract expired after Monday night's win over the
New Orleans Pelicans
, when he started in place of injured
Tyson Chandler
. The team had to either commit to James for the rest of the season or allow him to be a free agent, and the decision was made weeks ago to keep the former second-round pick.
James, who will make the veteran's minimum, has averaged 4.4 points, 4.4 rebounds and 1.8 blocks in 17.5 minutes per game since signing with the Mavs on Feb. 11. James, who played in China this season after being the Mavs' final preseason cut, was singled out for praise by coach Rick Carlisle after Monday's win.
"He was plus-23 and didn't score a point," Carlisle said. "He's another guy that plays with a lot of energy and does a lot of good things at both ends even if he's not scoring. I think it's more than noteworthy. We need guys that can step in like he did tonight in the absence of Tyson and do a lot of little things to help us win. What we did tonight was very important for us."
March, 3, 2015
Mar 3
12:39
PM CT
So far the Rajon Rondo trade has not worked out well for the Mavs, and this should come as no surprise, according to Amin Elhassan and Tom Haberstroh.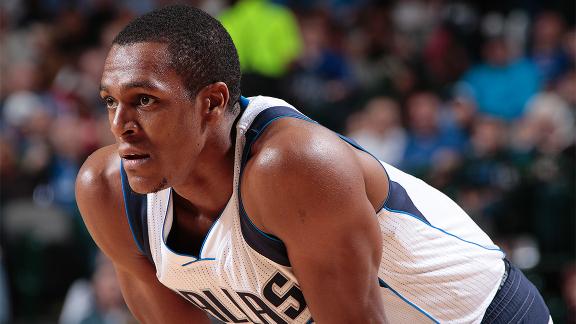 March, 2, 2015
Mar 2
11:55
PM CT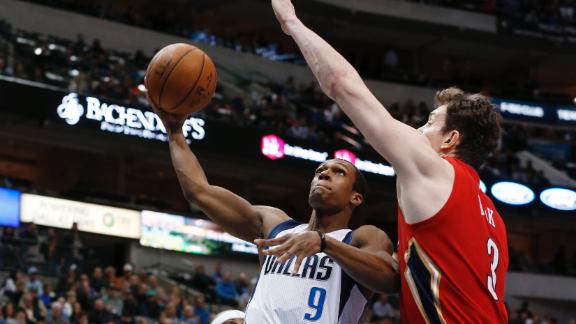 DALLAS --
Rajon Rondo
dutifully answered questions about his offensive aggression Monday night, explaining how and why he attacked off the dribble during his 19-point performance.
But Rondo's interest level seemed to rise when the discussion turned to Dallas' defense.
"Our focus is a lot more on the defensive end of the floor," Rondo said after the Mavs' 102-93 win over the
New Orleans Pelicans
. "Offense never wins championships. Scoring 108 or whatever we were scoring means nothing if you're giving up 105 or 110.
[+] Enlarge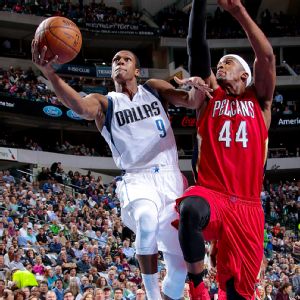 Glenn James/NBAE/Getty ImagesRajon Rondo scored 15 points in the first half Monday against the Pelicans.
"I've been trying to preach defense and get on the same page defensively as a team and just string continuous stops together. Not just trading baskets, getting two or three stops in a row, and that's what we did tonight to open up a lead in the second half."
Defense was indeed the difference for the Mavs despite center
Tyson Chandler
wearing a suit and watching from the sideline for the third consecutive game.
Rondo uncharacteristically carved up the Pelicans for 15 points in the first half -- almost doubling his Dallas scoring average for an entire game -- and it still wasn't enough to give the Mavs a lead at the break. That's because New Orleans knocked down 9-of-17 3-point attempts.
Things changed drastically in the third quarter. Perhaps it helped that the Pelicans were wrapping up a back-to-back after playing in Denver the previous night, but the Mavs tightened the defensive screws something fierce in the frame, holding New Orleans to 13 points on 5-of-19 shooting. The Mavs seized the lead with a 16-0 run and never let New Orleans regain it.
"We came out of the locker room with a lot of fire, a lot of attitude and some real disposition," coach Rick Carlisle said. "The bottom line is we've got to play an entire 48 that way."
Here's a dirty little secret: Dallas has actually developed into a pretty darn good defensive team.
Since getting lit up for 128 points in a Feb. 4 loss at Golden State, the Mavs rank seventh in the NBA in defensive rating, giving up an average of 98.5 points per 100 possessions. That's despite their best defensive guard (Rondo) and their defensive anchor (Chandler) missing significant stretches due to injury during that span.
The Mavs have allowed opponents to shoot 34.2 percent from 3-point range since Stephen Curry's 51-point explosion against them. That's about average, which is a remarkable improvement from their historically awful perimeter defense before shipping out
Jameer Nelson
as part of the package that returned Rondo.
The personnel upgrade at point guard has helped, but it doesn't explain how the Mavs managed to put together some pretty good defensive performances while Rondo recovered from facial fractures.
"Guys are understanding what we need to accomplish," reserve guard
Devin Harris
said. "Our help-side defense is impacted. We've always had Tyson in the middle, but I think we're doing a better job of closing the gaps, forcing people to shoot more jump shots, forcing skip passes and things that we've been emphasizing all year long. I think guys are really honing in on that.
"It's just repetition. We go through it in practice. Punch it in enough and it will start to sink in. I think guys are really doing a great job of recognizing it and keeping it moving forward."
After a couple of days off, the Mavs face a road back-to-back against Portland and Golden State, a pair of potent offensive teams. If Dallas can keep it going defensively in those games, it'll really be evidence of improvement on that end of the floor.
March, 2, 2015
Mar 2
10:19
PM CT
Associated Press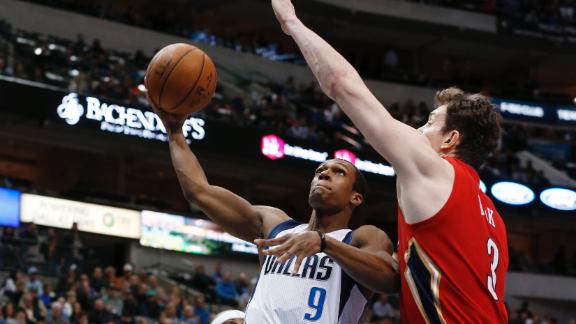 DALLAS -- Richard Jefferson tied his season high with 16 points, seven during a 16-0 Dallas run early in the third quarter, and the Mavericks raced past the New Orleans Pelicans 102-93 on Monday night.
The 34-year-old Jefferson made his fifth consecutive start in place of small forward Chandler Parsons, sidelined with a sprained left ankle, and hit five of six field goal attempts.
The Mavericks were led by Monta Ellis with 20 points. Rajon Rondo added 19 points, 15 in the first half.
The Pelicans, who entered on a five-game winning streak that equaled their longest in the last four years, were paced by Norris Cole with 19 points off the bench. Eric Gordon added 18 and Tyreke Evans 17.
March, 2, 2015
Mar 2
3:02
PM CT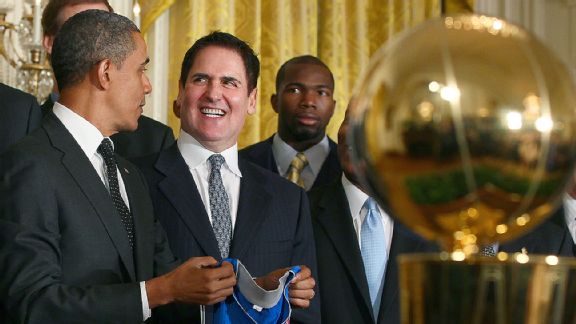 Mark Wilson/Getty ImagesMark Cuban might want to shadow Barack Obama for his latest on-camera role.
Just like a real-life sharknado -- they're real weather events, right? -- Syfy's so-bad-it's-good (?) "Sharknado" movie series can't be stopped.
No. 3 is next, and per The Hollywood Reporter and The Dallas Morning News, a rather influential sports figure will play a major role in the D.C.-set three-quel: Dallas Mavericks owner Mark Cuban, as the president of the United States.
"They asked if I wanted to play the part," Cuban told Robert Wilonsky of The Morning News. "I have been a fan of the movies. It was an easy decision."
This is a cheeky bit of casting, as Cuban's run-ins with then-NBA commissioner David Stern got him the reputation as an authority-challenger. Plus ... Mark Cuban ... "Sharknado" ... "Shark Tank" (on which he is a panelist) ... get it?
We shouldn't be surprised by Cuban's involvement, though; the man has a long-running relationship with the entertainment industry. He appeared in a couple of virtually unknown films in the 1990s, before he became a billionaire. Since, he has continued to make television series cameos (mainly as himself), most notably in "Entourage."
March, 2, 2015
Mar 2
12:30
PM CT
DALLAS -- As Rick Carlisle reminds us from time to time, there's a good reason NBA coaches make so much money.
They have hard jobs.
That's especially true for Carlisle this season due to the turnover in the
Dallas Mavericks
' roster. The Mavs started the regular season with only five players returning from last season. They shipped out two of those guys in December to acquire point guard
Rajon Rondo
in a blockbuster trade.
As the regular season enters its fourth quarter, Carlisle still faces the challenges of figuring out how to best utilize a four-time All-Star point guard who is far from a perfect fit for his offensive system and implement a former superstar reserve center who just arrived after the All-Star break.
"It's challenging, but there are challenges every single year," Carlisle said. "I think a lot of people forget the things we went through in 2011, when we ultimately made a run and won it. … So this comes with the territory.
"The important thing is to simplify as much as possible and keep everything moving in the right direction. Sometimes things don't go as quickly as you'd like, but as long as everybody is working toward one thing, you've got a chance. And our guys are working toward it."
Carlisle's high-profile personality conflict with Rondo put a spotlight on the high-maintenance nature of that relationship. They both blamed the high-decibel head-butting that resulted in a one-game suspension for Rondo on poor communication.
Rondo attributed that in part to
Amar'e Stoudemire
's arrival, which shifted Carlisle's focus to getting his new reserve center/forward ready as quickly as possible.
"Coach and I, when I first got here, we were talking a lot and watching film after every game," Rondo said last week. "He's backed off a little bit with the addition of Amar'e, trying to help get him up to speed. Our communication was great at first. Not that it wasn't so great, but it's just that we weren't communicating enough. That shouldn't be the case the rest of the season."
Rondo has been with the Mavs for more than two months, but they're still in the experimental phase of trying to figure out how to best maximize his strengths and mask his weaknesses. They're tinkering with some of the sets he had success with in Boston, in part because Rondo's poor perimeter shooting throws a wrench in Carlisle's preferred free-flowing offense.
Regardless of fit, it's difficult for any point guard to pick up a new system and adjust to new teammates in the middle of a season. The Mavs' front office recognized that it'd be even more challenging due to Rondo's offensive limitations, but they counted on Carlisle to figure it out.
"It's tough,"
Dirk Nowitzki
said. "I used [Jason] Kidd as an example already. A couple of years ago when he came midseason, it was tough for him to adjust to what we were doing, and then years later he was a key piece to us winning it all. But midseason, it's hard sometimes, but we've got to keep plugging."
With Stoudemire, Carlisle is attempting to strike the right balance between running the pick-and-rolls that are the bread and butter of the Mavs' offense and feeding him the ball on the low block. To accommodate Stoudemire, Carlisle estimates that the Mavs have trimmed down their playbook by about two-thirds when the six-time All-Star is on the floor.
"Again, simplicity to me is the biggest thing that we can bring to this," Carlisle said. "We've just got to get very good at a few things. We're not there yet, but we're going to get there."
March, 2, 2015
Mar 2
11:35
AM CT
DALLAS – The
Mavericks
will play at least one more game without their Chandlers.
Center
Tyson Chandler
and small forward
Chandler Parsons
have been ruled out for Monday's home game against the
New Orleans Pelicans
, who are on a five-game winning streak despite missing superstar power forward
Anthony Davis
and point guard
Jrue Holiday
.
It will be the third consecutive game that Chandler has missed due to a hip contusion suffered when he took a hard charge from Toronto's
Amir Johnson
during Tuesday's win over the Raptors.
This will be the fifth game Parsons has missed due to a sprain and bone bruise in his left ankle suffered during the Feb. 20 win over the
Houston Rockets
.
The Mavs are optimistic that both starters will be available for the three-game West Coast road trip that begins Thursday in Portland.
"We're kind of in a day-to-day situation with it," coach Rick Carlisle said. "Tyson's doing much better, Chandler's doing much better, but they're just both not there yet."
March, 1, 2015
Mar 1
12:12
AM CT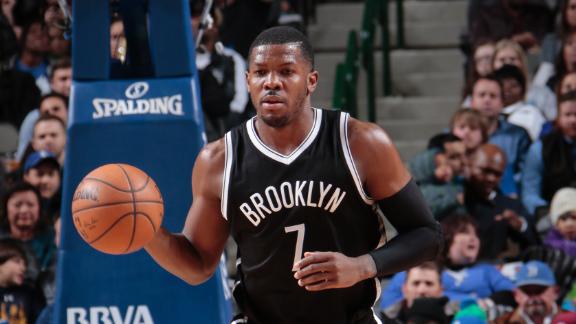 DALLAS --
Rajon Rondo
clearly didn't win his argument with coach Rick Carlisle, but it appears he at least got a couple of points across in the calmer conversations that followed.
The shouting matches -- during a timeout during Tuesday's win over the
Toronto Raptors
and an even more heated rematch in the locker room after the game -- stemmed from a dispute over who should handle play-calling duties. They resulted in a one-game suspension for Rondo, and Carlisle was still calling plays during the point guard's return Saturday night.
"That's just the way it is," Rondo said almost an hour after the
Brooklyn Nets
handed the
Dallas Mavericks
a 104-94 loss, having wrapped up an extended postgame shooting session. "That's the system. I'm still learning, and I'll find a way."
[+] Enlarge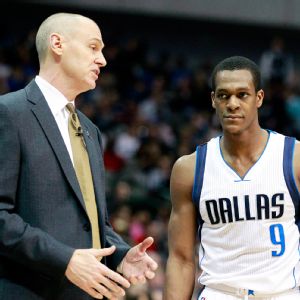 Tim Heitman/USA TODAY SportsRick Carlisle has tried to accommodate Rajon Rondo by having him run plays from the block.
Of course, it's Carlisle's job to help Rondo find a way. That's why they've spent hours talking over the past four days. Some of the plays Carlisle called proved his willingness to adjust, attempting to make the Mavs' midseason blockbuster-trade acquisition comfortable.
Case in point: Dallas repeatedly ran sets designed to run the offense through Rondo on the block, a new wrinkle for these Mavs but old hat for the four-time All-Star point guard.
"I think he's mixed some stuff up as far as what worked for me in Boston a couple of years back when we had a great run," Rondo said. "Just put the ball in my hands in different situations, not just pounding up top. Getting in the post and making plays for my teammates and for myself."
The results weren't great in Rondo's return. He posted a so-so statistical line -- eight points on 4-of-10 shooting, 7 rebounds, 6 assists and 4 turnovers -- but the Mavs were minus-22 in the 27:43 Rondo was on the floor.
In fairness, Rondo and the Mavs were forced to play without three of their regular starters. Center
Tyson Chandler
(hip) and small forward
Chandler Parsons
(ankle) wore sport coats and sat on the bench while nursing injuries. Shooting guard
Monta Ellis
(4-of-16 shooting) just didn't show up.
But perhaps the Mavs' biggest issue is figuring out how to make the square peg that is Rondo fit into the round hole that is the point guard's role in Carlisle's system.
If Carlisle had his way, the Mavs would never have to call a play. They'd just play free-flowing offense at all times. But that doesn't work with Rondo, whose shooting woes allow defenses to dare him to beat them from the perimeter, screwing up the spacing for everybody else.
So the Mavs must adjust their offensive scheme to mask Rondo's weaknesses and maximize his strengths.
"We're in a situation where his abilities mesh with our team a certain way, and there is more play-calling when he's on the floor because that's been the most successful way for us to play offensively," Carlisle said earlier this week. "He and I early on talked a lot about the right plays to call and the right tempo to play at and things like that, and we got away from it in recent games. We've got to get back to it. That's on both of us."
It's on Rondo to run the plays Carlisle calls, no questions asked and no side-eyes given. It's on Carlisle to be flexible enough to at least tinker in the final quarter of the regular season with some sets that make Rondo the most comfortable, even if that means the rest of the Mavs must adjust.
"We put some new stuff in,"
Dirk Nowitzki
said. "We need to get used to that and be efficient with it, play around with some stuff and find ways to be a good offensive team."
That's quite a challenge with a point guard who is an awkward fit, which is a much bigger problem for the Mavs than any vocal pyrotechnics.
February, 28, 2015
Feb 28
10:21
PM CT
Associated Press