August, 30, 2014
Aug 30
10:52
AM CT
[+] Enlarge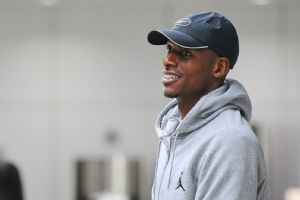 ChinaFotoPress/Getty ImagesRay Allen, who's being courted by multiple NBA teams, likely won't make a decision on his future until September.
The San Antonio Spurs and the Los Angeles Clippers are the latest elite teams to join the race to sign Ray Allen, league sources told ESPN.com.
The sources told ESPN.com this week that the Spurs and Clippers have emerged as two more rivals for the Cavaliers to worry about as Cleveland continues to try to lure Allen away from the Miami Heat.
Allen announced last month that he's still deciding whether he wants to play what would be his 19th NBA season, but that certainly hasn't done anything to limit interest in the 3-point specialist.
Clippers coach Doc Rivers is a natural Allen recruiter after coaching him in Boston. Despite possessing very limited financial flexibility, the Clippers have only 11 players under contract and certainly could use a shooter of Allen's caliber.
August, 25, 2014
Aug 25
9:59
AM CT
New
Los Angeles Clippers
owner Steve Ballmer drew comparisons to Mark Cuban with his high-fiving, chest-bumping, shouting introduction to the franchise's fan base last week.
The scene came as no surprise to the
Dallas Mavericks
owner, whose enthusiastic exhibitions had been unique among the NBA's owners.
"I've known Steve for a long time, going back into my twenties, and he's always been this way," Cuban said during an appearance on ESPN Dallas 103.3 FM's "The Afternoon Show with Cowlishaw and Mosley" last week. "So this isn't Steve Ballmer getting hyped just for the Clippers. This is just the way he is. He's going to be great for the league.
"You know, in reality, I already know, knowing him, he's going to be a lot calmer than I am. He's great hyping people up in a sales environment, but it'll be interesting to see him during a game. I hope he's crazy, but I'm not expecting it."
Ballmer, who paid $2 billion to buy the Clippers from disgraced former owner Donald Sterling, has been welcomed into the NBA ownership fraternity. That wasn't the case when Cuban brought the Mavs in 2000 and showed up to games acting like a maniac in T-shirts and jeans.
"I just wish he would have been around to give those speeches when I first came in, seen the response by all the old-timers when I came in," Cuban said. "When we were in Reunion Arena, I used to run up and down the aisles trying to exhort people to cheer and to stand up. I mean literally, I was running up and down the aisles I was so pumped up and so excited.
"I remember going into a board of governors meeting and one of the old-school guys -- I won't name him; he's since passed away -- said, 'You haven't done shinola in this league. You need to sit the eff down and shut the eff up. I never want to see you or hear from you again.' And David Stern literally had to tell him to calm down. Then he said something else, and I said, 'Well, such and such ...' and [Mavs CEO/president Terdema Ussery] taps me on the shoulder and said, 'You just got his name wrong.' It would have been interesting to see what it's like just to have Steve's energy."
August, 23, 2014
Aug 23
10:50
AM CT
[+] Enlarge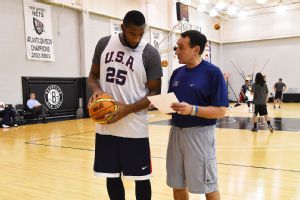 Jesse D. Garrabrant/NBAE/Getty ImagesU.S. basketball officials hope that the inclusion of Andre Drummond on the FIBA World Cup roster will allow the Americans to match up in the front court with international powerhouse Spain, which features the Gasol brothers and Serge Ibaka.
NEW YORK -- After relying so heavily on speed and athleticism in its last two major tournaments, USA Basketball officials have put an unexpected emphasis on size in its final player selections by choosing Andre Drummond to fill the last spot on a 12-man roster.
USA Basketball chairman Jerry Colangelo, in explaining the selections made official early Saturday morning, told ESPN.com before the team's afternoon flight to Spain that keeping Drummond -- along with DeMarcus Cousins and Mason Plumlee -- gives coach Mike Krzyzewski "an opportunity to throw a new look at people."
The inclusion of Drummond, Cousins and Plumlee, along with starters Anthony Davis and Kenneth Faried, all but assures that Krzyzewski will occasionally use lineups at the forthcoming FIBA World Cup that feature Davis or Plumlee at power forward next to a more traditional center.
August, 23, 2014
Aug 23
12:16
AM CT
[+] Enlarge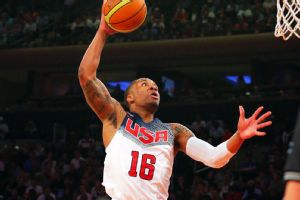 Brad Penner/USA TODAY SportsDamian Lillard won't be accompanying the U.S. team in Spain for the FIBA Basketball World Cup.
NEW YORK -- USA Basketball has decided to drop Damian Lillard, Chandler Parsons, Kyle Korver and Gordon Hayward from its roster for the FIBA World Cup in Spain.
With the moves not expected to be revealed until later Saturday, USAB instead announced its final 12-man squad for Spain in a 1 a.m. ET news release, some four hours after completing a 112-86 exhibition rout of Puerto Rico at Madison Square Garden.
August, 22, 2014
Aug 22
10:43
AM CT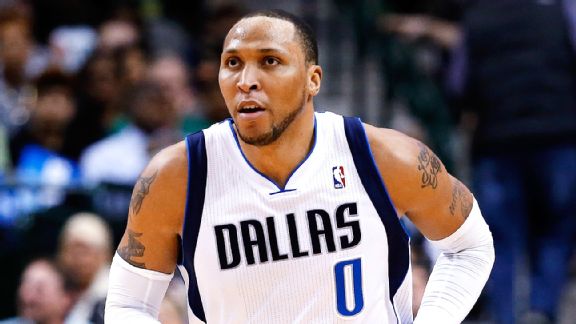 Kevin Jairaj/USA TODAY SportsIf Shawn Marion was going to take the minimum, Cleveland was the best possible fit for him.
The
Dallas Mavericks
would have been thrilled to re-sign
Shawn Marion
for the veteran's minimum.
That's what Marion got to join
LeBron James
with the
Cleveland Cavaliers
next season.
So why didn't Dallas keep Marion for the minimum? Because that was never an option for the Mavs.
"It's different when you're going back to your same team as supposed to going to a new team," Mavs owner Mark Cuban said on ESPN 103.3 FM's "The Afternoon Show with Cowlishaw and Mosley" on Thursday. "I think there's a different dynamic and different expectation.
"I have a great relationship with Shawn. We've kept in touch. We messaged yesterday. He just thought that he wanted to go to somebody that he thought, and this was all prior to signing Chandler [Parsons] and everything, that he thought was closer to a ring particularly in the Eastern Conference. He decided to go that route and we wish him nothing but the best. Trix is a champion in our eyes and always will be."
Marion, a consummate professional during his five seasons in Dallas and a critical piece of the Mavs' 2011 title team, said at the end of last season that his preference was to re-sign with the franchise. Asked what it would take for the Mavs to keep him, Marion said, "Not much."
August, 22, 2014
Aug 22
7:24
AM CT
The
Dallas Mavericks
and center
Bernard James
are finalizing a one-year deal for the veteran's minimum, a source told ESPNDallas.com.
The deal will be fully guaranteed, according to the source. That makes 15 players on the Mavs' roster with fully guaranteed contracts -- the limit for the regular season -- in addition to forwards
Eric Griffin
and
Ivan Johnson
, who have partially guaranteed deals.
This will be the 6-foot-10, 240-pound James' third consecutive season with the Mavs after being selected with the 33rd overall pick in the 2012 draft. James, 29, an Air Force veteran, averaged 2.1 points and 2.3 rebounds in 7.9 minutes per game over the last two seasons. He has played in 76 games, including 11 starts as a rookie.
James is the fourth center on the Mavs' roster. Starter
Tyson Chandler
and efficient, athletic reserve
Brandan Wright
are likely to log the vast majority of the minutes. The Mavs acquired
Greg Smith
this summer to give them a minimum-salaried banger off the bench. James' best attribute is his ability to block shots (2.7 per 36 minutes).
August, 21, 2014
Aug 21
9:55
AM CT
[+] Enlarge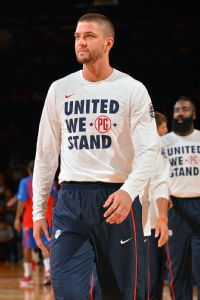 David Dow/NBAE/Getty ImagesChandler Parsons not playing Wednesday had to make Mark Cuban happy.
If
Dallas Mavericks
owner Mark Cuban watched Team USA dominate the Dominican Republic in Wednesday's exhibition, he probably liked what he saw.
Or more like what he didn't see.
Chandler Parsons
, the Mavs' new $46 million investment, did not play a minute in the rout.
Kyle Korver
and
Mason Plumlee
were the only other available Team USA players who didn't enter the game, with
Derrick Rose
sitting out due to soreness in his surgically repaired knee.
Coach Mike Krzyzewski will soon cut Team USA from 16 to 12 players.
It'd be fine with Cuban, who has repeatedly made it clear over the years that he doesn't like NBA players participating in international competition, if Parsons doesn't make the cut.
August, 20, 2014
Aug 20
7:23
PM CT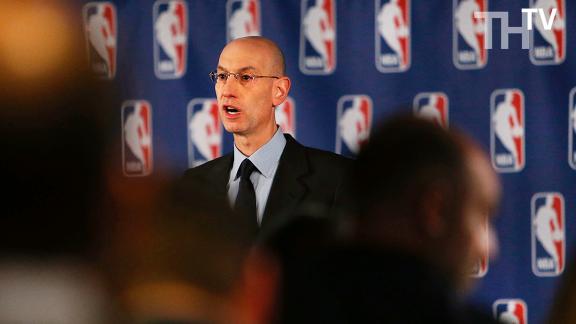 NEW YORK -- With nearly three weeks to mull the circumstance and consequences surrounding Paul George's leg injury, NBA commissioner Adam Silver says he fully understands the risk the league's players are taking in playing for their countries this summer leading up to FIBA World Cup.
But Silver reiterated that it's still up to NBA stars to make the personal decision to play for one's country.
"It is a big risk without enormous financial reward," Silver said when asked about a sentiment shared by outspoken Dallas Mavericks owner Mark Cuban during a "Commitment to Service" news conference to discuss a collaboration with the U.S. Department of Defense at Madison Square Garden.
"But I am sitting next to our highest ranking military official," Silver said of General Martin Dempsey." I'm almost embarrassed to be talking about the risk that our players face compared to what our men and women in uniform face."
The topic of the NBA's best and highest-paid stars playing internationally continues to be a hot button issue after George suffered a two-part compound fracture to his lower right leg during a Team USA basketball intrasquad scrimmage in Las Vegas on Aug. 1.
"I'll only reiterate that ultimately it is a personal decision for these players," Silver said. "I should point out that it is not just U.S. players we are referring to. Collectively we have close to 50 NBA players participating in this World Cup on behalf of their national teams."
Team USA played an exhibition against the Dominican Republic at Madison Square Garden on Wednesday night with many of its stars sitting this summer's competition out for various reasons.
August, 18, 2014
Aug 18
12:37
PM CT
The jump shot seldom betrays the pure shooter. It is the rest of the body that, with age, breaks down like a car with too much mileage. It is the ankles, battered through too many stops and starts, twists and turns. It is the knees that have endured so many liftoffs and landings. But a good jumper? That can last a lifetime.
On his best days,
Josh Howard
stopped on a dime in that perfect sequence when his defender backpedaled a step too far and help defense remained a step away. He rose, cocked, and released the ball into the awaiting nets.
He is now 34, and for the most part, his once deadly pull-up game is a memory, but not always.
He was the Howard of old for one fleeting moment last month, when he played for the
New Orleans Pelicans
at summer league in Las Vegas. He was the natural-born scorer, pushing forward for 14 points off jumpers and drives and calling out switches on defense. He was happy, eager even, to perform in a setting normally restricted for rookies, wannabes, and dreamers -- in the same gym where he had once performed as an NBA All-Star.
But he is one of the hopefuls now, looking forward to one final chance at restarting his career, appreciative of his past and optimistic about his future.
Although Howard finds himself back near the bottom of the NBA totem pole, he doesn't regret the choices he's made. Some led him to become that All-Star and a dynamic forward who played a crucial role for the almost-champion 2006
Dallas Mavericks
; others, like a handful of controversial comments, hurt his reputation and darkened the light on a once promising career.
A flood of injuries didn't help either. His NBA run seemed to end almost as soon as he had peaked.
"I've had the worst of the worst, man. I've just never let that define me," Howard said. "I say everybody's got a story. It's what you do with that story that defines a person."
Read the full story from Grantland
here
.
August, 17, 2014
Aug 17
9:52
AM CT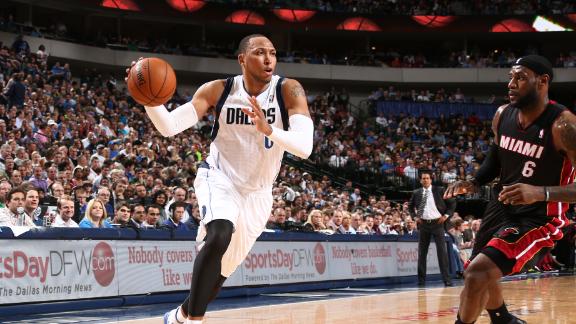 Free-agent forward Shawn Marion has committed to sign with the Cleveland Cavaliers, according to league sources.
Sources told ESPN.com that Marion informed the Cavaliers this weekend that he intends to sign with them this month, despite the fact that Cleveland can only offer him a minimum deal.
The chance to play with LeBron James and immediately compete for a championship, sources said, clinched Marion's decision to choose Cleveland in the face of a ramped-up pursuit by the Indiana Pacers.
As ESPN.com reported earlier this week, Pacers president Larry Bird invited Marion to Indianapolis earlier this week for a face-to-face recruiting pitch over dinner, with Indiana in desperate need of veteran help on the wing after the season-ending compound leg fracture suffered by star swingman Paul George on Aug. 1.
At a news conference Tuesday, Bird conceded that the Cavaliers were the favorites for Marion's signature, saying: "What I came away with was he's undecided with where he wants to play and what he wants to do. But he does want to play for a contender."
The Cavaliers have widely been considered to be the front-runners to sign Marion since it emerged that they're poised to complete a trade for Minnesota's Kevin Love later this month. Cleveland is restricted to offering Marion a minimum salary of $1.4 million this season after using all of its cap resources and exceptions elsewhere.
August, 13, 2014
Aug 13
5:10
PM CT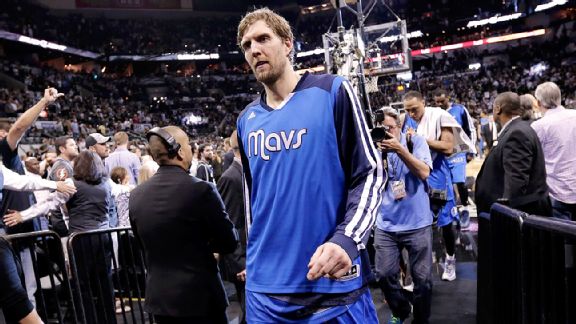 AP Photo/Eric GayThe Mavericks will begin the 2014-15 season where last season ended, in San Antonio on a night the Spurs will be presented with their championship rings.
The
Dallas Mavericks
will have a different look when the season kicks off with some new faces -- among them
Chandler Parsons
,
Raymond Felton
and
Tyson Chandler
, who is back for a second go-around -- and renewed excitement.
With that in mind, let's look at 10 games worth circling on the
Mavericks' 2014-15 schedule
, which was released Wednesday:

Mavs at San Antonio Spurs, Oct. 28:
The Spurs will get their championship rings in front of the only team to push them to seven games in last season's playoffs. The Mavs revived the Interstate 35 rivalry with a respectable showing in that series and will unveil their remodeled roster in the season opener in San Antonio.
Utah Jazz at Mavs, Oct. 30:
The NBA didn't exactly deliver a sexy opponent for the Mavs' home opener, but there should still be a buzz in the building. This will be the first time Parsons wears a Mavs uniform at American Airlines Center in a game that really matters. Chandler, the 2011 title hero who returned to Dallas via an offseason trade, might get an even louder ovation than
Dirk Nowitzki
during pregame introductions.

Miami Heat at Mavs, Nov. 9:
LeBron James
might be gone, but Dallas' hard feelings for the Heat will be strong as long as 2006 Finals MVP
Dwyane Wade
is on the Miami roster.

Mavs at Houston Rockets, Nov. 22:
The Interstate 45 rivalry has the potential to be a great one with Parsons leaving Houston for Dallas and all the verbal back-and-forths that ensued. This will be the first regular-season meeting between the teams. It will be especially interesting to hear how the Houston crowd treats Parsons, a second-round, six-figure bargain the past few seasons who cashed in as a restricted free agent.

New York Knicks at Mavs, Nov. 26:
Chandler and Felton reportedly didn't depart New York on the best terms when they were dealt to Dallas in a six-player trade this summer. This will be the first time they see their former teammates. The Mavs have nothing but fond memories of point guard
Jose Calderon
, the key player Dallas gave up in the deal.

Mavs at Cleveland Cavaliers, Jan. 4:
The Mavs' annual trip to Cleveland is a major event now that LeBron James has returned to his hometown. This also might be a chance for the Mavs to see
Shawn Marion
, a key piece on the 2011 title team and consummate pro during his five-season tenure in Dallas. The Cavs come to Dallas on March 10.

Mavs at Los Angeles Clippers, Jan. 10:
This Saturday matinee is the middle of a stretch of six road dates in seven games, including a pair of back-to-backs. The Clippers are one of the few teams in the West widely considered a strong bet to finish above the Mavs in the standings.

Mavs at Oklahoma City Thunder, Feb. 19:
The Mavs don't get to ease back into the schedule after their eight-day All-Star break. They will make the short trip across the Red River to face reigning MVP
Kevin Durant
,
Russell Westbrook
and the Thunder.

Golden State Warriors at Mavs, April 4:
All of the Mavs' April home games could have playoff feels. This matchup is in the middle of a three-game homestand between games against the Rockets and
Phoenix Suns
. It would be no surprise if
Steph Curry
's Warriors and the Mavs were fighting for the fourth seed and home-court advantage in the first round.

Portland Trail Blazers at Mavs, April 15:
LaMarcus Aldridge
's Blazers, who ended a long playoff series win drought last season, could also be competing for home-court advantage in the first round. As competitive as the West is, it would be stunning if something isn't at stake in the regular-season finale.
August, 13, 2014
Aug 13
6:05
PM CT
By
Steven Martinez & Deontay Morris, ESPN Stats & Info
Andrew D. Bernstein/NBAE/Getty ImagesKobe Bryant needs 593 points to pass Michael Jordan for 3rd on the all-time scoring list.
The
2014-15 NBA schedule
has been released and we have the chance to take a quick look at the top stats to know for this upcoming season.
The return of Kobe
After missing all but six games last season,
Kobe Bryant
will make his debut on Tuesday, October 28 when the
Los Angeles Lakers
play host to the
Houston Rockets
.
Bryant has scored 31,700 career points and if he scores at least 593 points, he'll pass
Michael Jordan
for third on the NBA's all-time scoring list.
If he averages 20 points per game, he could pass Jordan on the scoring list around the 29th or 30th game of the Lakers season.
Those games happen to be at the
Chicago Bulls
on Christmas Day and at the
Dallas Mavericks
the next day.
Last season, Bryant missed the Lakers season opener for the fifth time in his career. Ironically the Lakers have won all five of those openers.
They would prefer to have him in the lineup though as his 27.2 PPG in season openers is the most among active players and seventh-highest in NBA history (Michael Jordan holds the record, 30.8 PPG).
The King returns
Making a return of a different kind will be
LeBron James
, who returns to the
Cleveland Cavaliers
after spending the last four seasons with the
Miami Heat
.
LeBron will make his season-debut on October 30 when the Cavaliers play host to the
New York Knicks
.
Another highlight for him will be on Christmas Day when he and his teammates travel to South Beach to take on the Heat (5 ET/ABC).
When LeBron returns, he'll do so as the second-leading scorer (26.7 PPG) among active players at the American Airlines Arena, trailing only
Kevin Durant
(27.6).
LeBron's teams have not lost on Christmas day since his rookie season in 2003 (7-1 record). That year, the Cavaliers lost to the Magic.
Champions quest for repeat
The defending NBA champion
San Antonio Spurs
open their season hosting the Dallas Mavericks on October 28. The Spurs are 16-4 in their last 20 home openers.
Since
Tim Duncan
debuted in 1997, San Antonio is 16-1 in season openers, the best winning percentage (.941) among all teams in season openers over this time (their only loss was to the Suns in 2008).
The Spurs and Heat will face off for the first time since the NBA Finals on February 6 (9:30 ET on ESPN) in San Antonio.
Over the last four seasons (including regular and postseason), the New York Knicks (3-4) and Heat (9-10) are the only teams the Spurs have a losing record against.
Notable rookie debuts
Maybe
Andrew Wiggins
should get some advice from his father on avoiding first game jitters. Andrew's dad - Mitchell Wiggins - scored 26 points in his first career game with the Bulls in 1983.
Wiggins, who reportedly will be traded to the
Minnesota Timberwolves
, begins his pro career on October 29 at Memphis.
As for other notable rookies,
Jabari Parker
and the
Milwaukee Bucks
open at the
Charlotte Hornets
on October 29, while
Nerlens Noel
(who missed all of last season after recovering from a torn ACL) makes his long-awaited debut with the
Philadelphia 76ers
on October 29 at the
Indiana Pacers
.