July, 23, 2014
Jul 23
8:59
PM CT
Forward Al-Farouq Aminu has agreed to a two-year deal with the Dallas Mavericks with a player option for the second season, agent Raymond Brothers said.
The Mavs could only offer Aminu, the eighth overall pick in the 2010 draft, the veteran's minimum.
The 6-foot-9, 215-pound Aminu, 23, has averaged 6.5 points and 5.5 rebounds in four seasons for the Los Angeles Clippers and New Orleans Hornets/Pelicans. He averaged 7.2 points and 6.2 rebounds for New Orleans last season, when he was primarily a starter.
Aminu, who has twice had 16-point, 20-rebound performances against the Mavs, will provide depth for Dallas behind small forward Chandler Parsons and power forward Dirk Nowitzki.
July, 23, 2014
Jul 23
2:40
PM CT
The planned signing of point guard
Jameer Nelson
is not a sign that the Mavs will try to push
Raymond Felton
out the door.
That comes straight from owner Mark Cuban, who offered an emphatic "no" when asked whether the Mavs would look to move Felton, who was acquired along with center
Tyson Chandler
in last month's six-player trade with the
New York Knicks
.
"We like him and think he will have a great year," Cuban told ESPNDallas.com via the Cyber Dust messaging app. "Do quote me on that."
The Mavs envision Nelson, Felton and
Devin Harris
all getting significant playing time at point guard and some minutes at shooting guard behind
Monta Ellis
, as well.
Nobody, least of all Felton, denies that the nine-year veteran point guard is coming off a dreadful season in New York. Felton averaged a career-low 9.7 points and a near-career-low 5.6 assists for a disappointing Knicks team that failed to make the playoffs in the weak Eastern Conference.
Felton, who has averaged 13.1 points and 6.5 assists during his career, dealt with injury issues (a groin strain) and off-court problems (a divorce and arrest on gun charges) last season. He's healthy now and hungry to prove himself again.
"Just to show everybody that I've still got it, I still can play," Felton said on a recent conference call with Dallas reporters. "I still can play the game at this level. I still play as an elite point guard at this level. That's just all.
"When you come off a season like I had last year, there's always a point where you've got to prove yourself coming back the next season. And trust me, I look forward to it."
So do the Mavs, Cuban insists.
July, 23, 2014
Jul 23
2:22
PM CT
Get ready to watch the
Dallas Mavericks
run and gun.
The Mavs are on the verge of signing former
Orlando Magic
point guard
Jameer Nelson
using the $2.7 million cap-room exception,
ESPN.com's Marc Stein reports
, giving Dallas three veteran point guards on the roster.
[+] Enlarge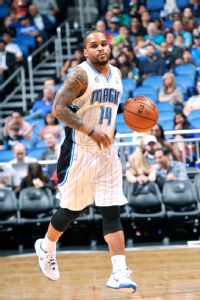 Fernando Medina/NBAE via Getty ImagesAdding Jameer Nelson to the mix should allow the Mavs to always have fresh legs at point guard.
The plan at this point, a source told ESPNDallas.com, is to rotate Nelson,
Devin Harris
and Raymond Felton at point guard and in spot duty behind
Monta Ellis
at shooting guard. The goal is to always have a fresh set of legs and an experienced hand at point guard, allowing the Mavs to play up-tempo the entire game.
That style of play fits the Mavs' personnel, particularly with Ellis and prized free-agent addition
Chandler Parsons
manning the wings. Ellis and Parsons both ranked among the league's top 20 in fast-break points last season, according to Synergy Sports stats. The Mavs have two big men in
Tyson Chandler
and
Brandan Wright
who can run and finish in transition. Power forward
Dirk Nowitzki
, 36, has never been known for his blazing speed, but he's a lethal 3-point threat as a trailer in transition.
Nelson, who averaged 12.6 points and 5.4 assists during his decade in Orlando, provides an element Dallas' other point guards lack with his perimeter shooting. That was a major need for the Mavs after they gave up
Jose Calderon
in the Tyson Chandler trade.
Nelson's 3-point accuracy dipped under 35 percent in each of the past two seasons for the rebuilding Magic, but it should trend significantly upward with the Mavs, considering the quality of his looks should be much better with the attention defenses give to the Nowitzki-Ellis-Parsons trio. Nelson is a career 37.4 percent 3-point shooter and has shot better than 40 percent from long range in four seasons, the last coming in 2010-11, when the Orlando offense revolved around
Dwight Howard
.
It'd be far too optimistic to expect Nelson, 32, to put up the kind of numbers he posted during his lone All-Star season six years ago. But, in a complementary role as part of a point guard rotation, the Mavs can rightfully anticipate very good return on the limited investment they intend to make in the veteran point guard.
July, 23, 2014
Jul 23
2:11
PM CT
[+] Enlarge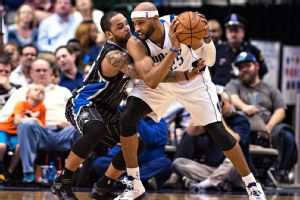 Jerome Miron/USA TODAY SportsBarring an unforeseen snag, Jameer Nelson will formalize a contract Thursday when he visits Dallas.
The Dallas Mavericks are closing in on signing former Orlando Magic point guard Jameer Nelson, according to sources briefed on the talks.
Sources told ESPN.com that Nelson and the Mavericks, barring an unforeseen snag, are on track to formalize a contract Thursday, when Nelson visits Dallas.
ESPN.com reported Tuesday that the Mavericks had arranged to fly Nelson into town for a face-to-face visit Thursday in the hopes of finalizing a deal via use of their $2.7 million room exception.
Dallas has been in the market for another veteran floor leader all summer to help fill the void created by Jose Calderon's exit in June. The Mavericks had to part with Calderon to reacquire center Tyson Chandler in a trade with the New York Knicks.
July, 23, 2014
Jul 23
12:15
PM CT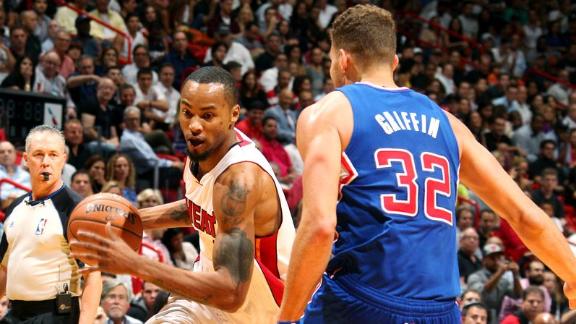 There is a void in the Mavericks' rotation after they voided Rashard Lewis' contract due to the discovery that the veteran forward needed knee surgery.
Dallas doesn't have a backup for Dirk Nowitzki.

The Mavs have gotten by in recent years without a true backup for Nowitzki by bumping
Shawn Marion
to power forward when the face of the franchise rested. The odds of Marion returning to Dallas are awfully slim at this point, but
Chandler Parsons
will play some power forward. Mavs officials have also mentioned that
Brandan Wright
will play more power forward than he has in the past few years.
Still, it'd be ideal to have a power forward with perimeter-shooting ability on the bench, giving the Mavs a backup for Nowitzki who wouldn't force fundamental changes to the offense when he's on the floor. That's why a healthy Lewis would have been a good fit for the veteran's minimum.
Some potential minimum-priced free agents who might be able to fill that role:
Charlie Villanueva: He was a disaster in Detroit after signing a five-year, $38 million contract, playing only 20 games in the final year of the deal last season. Maybe he'd benefit from a change of scenery. He's 6-foot-11, 232 pounds, turns 30 next month and has career averages of 11.5 points and 5.1 rebounds per game. He shot a career-best 38.7 percent from 3-point range in 2010-11, his last relatively productive season.
Earl Clark: The 6-foot-10, 225-pound Clark has played for five teams since the Phoenix Suns selected him with the 14th overall pick in the 2009 draft. His best season came as a part-time starter for the Los Angeles Lakers in 2012-13, when he averaged 7.3 points and 5.5 rebounds in 23.1 minutes per game. His career shooting percentages (40.4 from the floor, 33.1 from 3-point range) aren't exactly appealing.
Antawn Jamison: It's been more than a decade since Jamison's one-season stint in Dallas, when he earned the Sixth Man of the Year award. At 38, Jamison might not have any gas left in the tank. He averaged only 3.8 points and 2.5 rebounds in 22 games last season for the Los Angeles Clippers before being traded to the Atlanta Hawks before the deadline. The Hawks waived him and Jamison didn't get a job the rest of the season.
Al Harrington: At 34, the 6-foot-9 Harrington might be ready to make the transition to coaching after 16 seasons in the league. A career 35.2 percent 3-point shooter, Harrington averaged 6.6 points and 2.4 rebounds in 15 minutes per game for the Washington Wizards last season, playing in only 34 games.
July, 23, 2014
Jul 23
11:00
AM CT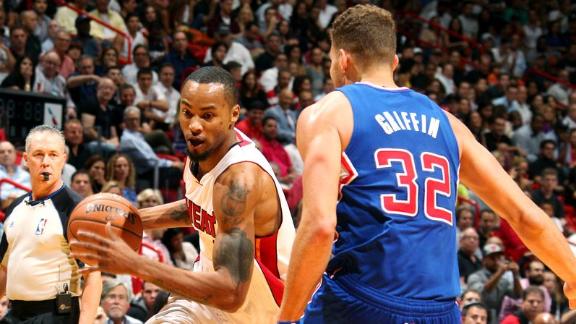 DALLAS -- The Dallas Mavericks voided the contract for Rashard Lewis after discovering that the veteran forward needed surgery on his right knee.
"It came to our attention during Rashard Lewis' physical that he is in need of a medical procedure on his right knee," Mavs president of basketball operations Donnie Nelson said in a statement released by the team. "We wish him all the best for a speedy recovery and continued success in his remarkable career."
Lewis signed a one-year contract for the veteran's minimum with the Mavs last week.
Agent Tony Dutt said they aren't certain yet about the severity of the injury or how long Lewis will be sidelined.
The Mavs signed the 34-year-old Lewis, a 16-year veteran, to back up Dirk Nowitzki at power forward. The two-time All-Star averaged 4.5 points and 1.8 rebounds in 16.2 minutes per game for the Miami Heat last season, primarily coming off the bench.
July, 23, 2014
Jul 23
10:03
AM CT
Associated Press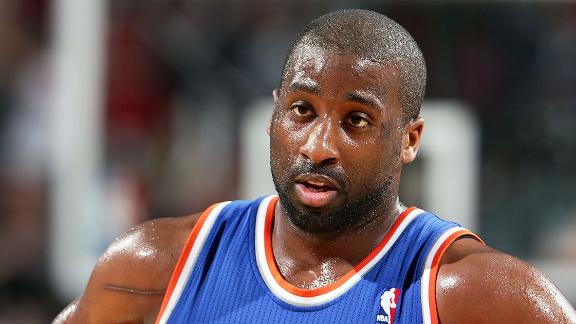 NEW YORK -- Dallas Mavericks point guard Raymond Felton pleaded guilty Wednesday in a New York gun case, taking a plea deal that involved admitting a felony but spares him jail.
Felton pleaded guilty to attempted criminal possession of a weapon and criminal possession of a firearm. He admitted he knowingly had a large-capacity ammunition magazine and a semi-automatic pistol without a license.
"Are those charges true?" Manhattan state Supreme Court Justice Larry Stephen asked.
"Yes, sir," Felton said, later adding in a soft voice: "I apologize. I realize what I did was wrong."
He was immediately sentenced to 500 hours of community service and ordered to pay a $5,000 fine. Manhattan Assistant District Attorney Jonathan Rebold said Felton will be allowed to do the service outside New York.
If he complies, the case will be closed without jail time or probation.
"At this point, Raymond is looking forward to starting the next chapter of his life and focusing on success in Dallas," his lawyer, James Walden, said after court.
The criminal case arose last winter, as Felton grappled with the breakup of his marriage and navigated a struggling season with the New York Knicks. He was traded to Dallas last month, two days after his plea plan was announced.
The team declined to comment Wednesday.
About a week after Felton's law student wife filed for divorce, her attorney brought a loaded semi-automatic handgun to a police precinct and said it was Felton's and she wanted it out of the house, authorities said. Walden has said Felton never threatened anyone with the gun.
After police contacted Felton, he turned himself in shortly after a Mavericks-Knicks game at Madison Square Garden.
July, 22, 2014
Jul 22
10:10
PM CT
The Dallas Mavericks will host free agent Jameer Nelson on a recruiting visit Thursday, as part of ongoing negotiations with the former Orlando Magic point guard, according to sources close to the situation.
Sources told ESPN.com that the Mavericks are bringing Nelson to town in hopes of finally closing a deal with him, as Dallas continues to pursue a veteran point guard to help fill the void created by Jose Calderon's exit in June.
The Mavericks had to part with Calderon to reacquire center Tyson Chandler in a trade with the New York Knicks. Since then, they have been chasing Nelson and fellow veteran Mo Williams to give coach Rick Carlisle another trusted ballhandler.
Longtime Maverick Devin Harris is the projected starter at the point, after he landed a new, four-year deal worth more than $16 million this month. Newly acquired point guard Raymond Felton and second-year point guard Gal Mekel are also on Dallas' roster, but the Mavericks have made the signing of another point guard their priority, if they are to spend the $2.7 million room exception they still have at their disposal.
July, 22, 2014
Jul 22
6:15
PM CT
DALLAS -- Forward Rashard Lewis, who signed a one-year contract with the Dallas Mavericks for the veteran's minimum last week, needs knee surgery, agent Tony Dutt confirmed.
Dutt said they aren't certain yet about the severity of the injury or how long Lewis will be sidelined.
The Mavs signed Lewis, 34, a 16-year veteran, to back up Dirk Nowitzki at power forward. The two-time All-Star averaged 4.5 points and 1.8 rebounds in 16.2 minutes per game for the Miami Heat last season, primarily coming off the bench.
Yahoo! Sports earlier reported that Lewis needed surgery.
July, 22, 2014
Jul 22
1:37
PM CT
DALLAS -- The
Dallas Mavericks
are in discussions with a couple of candidates for their $2.7 million cap-room exception, but owner Mark Cuban made it clear that the team isn't desperate to fill that slot this summer.
"We're talking to a couple of players, but it's one of those things that if we don't get the right player, we'll just hold it so that during the season when a player gets cut, we'll have that opportunity to offer," Cuban said during a Tuesday appearance on ESPN Dallas 103.3 FM's "Fitzsimmons and Friedo."
There has been mutual interest between the Mavs and guard
Mo Williams
throughout the free-agency period. However, Williams has offers for more than the $2.7 million salary the Mavs can offer, sources said.
A source also told ESPNDallas.com recently that Williams wasn't the Mavs' top target for their $2.7 million exception, declining to elaborate on the player who is a higher priority. (
Jameer Nelson
?)
If the Mavs opt not to use the exception this summer, they'd be positioned to outbid many teams for veteran players who receive midseason buyouts. That is how the Mavs acquired swingman
Corey Brewer
during the 2011 title season.
July, 22, 2014
Jul 22
2:12
PM CT
Veteran small forward
Shawn Marion
remains unsigned, to the surprise of many around the industry. So which teams still might be interested in the 36-year-old? Here's the latest on that.
July, 21, 2014
Jul 21
1:42
PM CT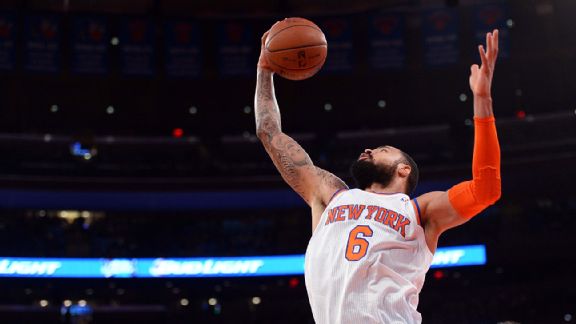 Joe Camporeale/USA TODAY SportsTyson Chandler has been working hard this summer to improve physically and mentally.
Did the
Dallas Mavericks
trade for damaged goods in
Tyson Chandler
?
It's a legitimate question, just like it was four years ago. The Mavs hope the evidence to the contrary is just as conclusive as it was during Chandler's first stint in Dallas.
During his last season in New York, Chandler didn't really resemble the center who was such a critical piece to the 2011 Mavs' championship puzzle, much less the 2012 Defensive Player of the Year or 2013 All-Star. His production in an injury-plagued season (averages of 8.7 points and 9.6 rebounds in only 55 games) was his worst since his lone season in Charlotte, just before the Mavs acquired Chandler in a salary-dump deal.
Yet Chandler, who turns 32 in October, has no doubt he can be the big man Mavs fans remember from four seasons ago. He's physically healthy -- and hopes to stay that way with the help of the Mavs' outstanding medical staff -- and mentally rejuvenated after the dysfunctional Knicks traded him back to Dallas.
"I think I can be better." Chandler said during his conference call with Dallas reporters last month. "I finished the season healthy, so this summer I was able to start earlier. I took a couple of weeks off and then I already started getting back in the gym and improving things. I want to get back to thinking and moving the way I moved. I started correcting things mentally and physically. I was already looking forward to this summer because I felt like there was so many things I could improve on.
"Then once I started in the gym, I've already seen in the six weeks or two months I've been working out so much improvement already that I'm truly excited. When this happened and I know I'm putting myself in a situation again to really have a shot at making a run, it just gives me more to work on and more excitement and more drive."
July, 21, 2014
Jul 21
9:00
AM CT
By
Bryan Gutierrez
| ESPNDallas.com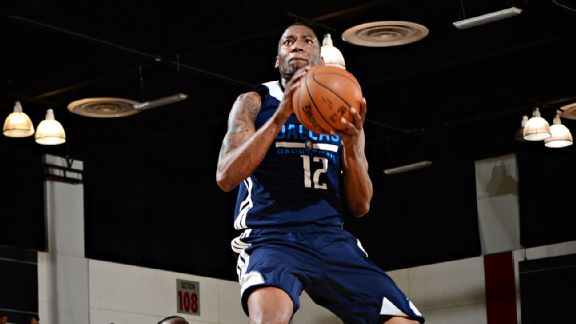 Garrett Ellwood/NBAE/Getty ImagesEric Griffin's Vegas high-wire act earned him a one-year deal with the Mavericks.
LAS VEGAS -- With 10 days in the desert now complete, here are some passing thoughts on players of intrigue who made noise one way or another for the
Dallas Mavericks
in Las Vegas during summer-league play.
Yuki Togashi
The 5-foot-8 Japanese guard is a perfect fit for the Texas Legends, Dallas' NBA Development League affiliate. The diminutive prospect certainly has game, but is clearly limited due to his small frame. He will have to fight an uphill battle, much like former Dallas point guard J.J. Barea did, if he wants any shot at making an NBA roster. Togashi made it clear after the Vegas finale that he will not play in Japan and hopes to be selected in the D-League draft. Mavericks president of basketball operations Donnie Nelson is a co-owner of the Legends, so it's a relatively safe bet to assume that Togashi lands in Frisco, Texas.
Eric Griffin
The high-flying standout earned himself a non-guaranteed, one-year contract with the Mavs over the weekend after separating himself from the pack with his athletic play on both ends of the floor. In a sense, his athleticism is reminiscent of forward
Shawn Marion
; the comparison is particularly apt on offense in that a coach won't have to draw up plays for either forward. On the other end, Griffin is a solid help-side defender, closing up real estate to the opposition in a hurry. Griffin impressed the cast in Las Vegas; he'll have to do the same with the likes of owner Mark Cuban and coach Rick Carlisle if he wants to make the 15-man roster. If he doesn't, he'll join the Texas Legends. Don't be surprised if forward
Ivan Johnson
also earns an invite to training camp.
Bernard James
Sources told ESPNDallas.com's Tim MacMahon that the Mavs are expected to re-sign James. Nelson said he believes James' play in Vegas has garnered interest around the league and that the Mavs are at the top of the list. James did not play in the team's final game in Vegas, and Nelson was quick to note that it wasn't because the team had reached an agreement with the center. Rather, Nelson said, it was an opportunity for James to get a "well-deserved" break for his summer-league efforts. Assuming the sides reach a mutually beneficial deal, James should return to fill out the back end of the roster.
[+] Enlarge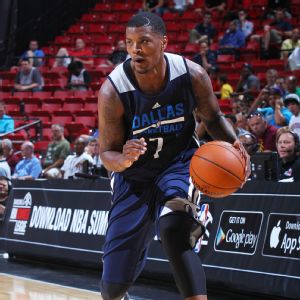 Jack Arent/NBAE/Getty ImagesA 15-point, nine-assist summer-league finale showcased Ricky Ledo's developing chops.
Ricky Ledo
Ledo's summer-league performance had plenty of highs and lows. The swingman, 21, ended his run with an impressive all-around performance in the Mavs' Vegas finale, scoring 15 points on 6-of-13 shooting and adding a game-high nine assists. (The rest of the players on both teams combined for only 11 assists.) Ledo is still probably another season away from being a rotational player at the NBA level, but the coaching staff was pleased with his effort in Las Vegas. He will just need to continue trending in the right direction.
Gal Mekel
After dealing with a knee surgery and subsequent setback to his calf late last season, Mekel said his conditioning was much better by the end of his Vegas stint. His goal will be to continue adapting to the speed of the NBA game and working on his shooting mechanics. Mekel left the team over the weekend to be with his family in his native Israel. While there, he will join the Israeli national team, which has begun its training camp and will start international play in August. Mekel plans to stay there until early September, then return to Dallas to prepare for training camp.
Greg Smith
The 6-foot-10, 250-pounder will replace
DeJuan Blair
as the banging backup. The Mavs hope Smith can create some constructive chaos -- much as Blair did -- on the defensive end. Smith will have to prove that his knees are healthy and able to endure the beating of an 82-game season. If he's able to make it through, Dallas might have an intriguing big-man combination.
Richard Jefferson/Rashard Lewis
For the league minimum, you could certainly do a lot worse than acquiring both Jefferson and Lewis. Both are expected to provide perimeter shooting and bench depth for Dallas. The departures of
Vince Carter
, Blair and
Wayne Ellington
took a bite out of said depth, a Mavericks' strength in recent seasons. Based on Carlisle's reserve options going forward, there very well could be stretches of games in which either Jefferson or Lewis don't see time on the floor.
Devin Harris
The Mavs will hope that Harris doesn't suffer an injury setback like he did last summer, when he lost half of the regular season. Dallas will need Harris ready to go, because the team is still dealing with relative instability at the point-guard position. Given his chemistry with
Brandan Wright
, it's very possible that Harris will come off the bench, leaving
Raymond Felton
as the starting point guard.
Chandler Parsons
The Mavs were able to strike a deal with Parsons as the summer league was in its opening stages. Making his first address to the Dallas media last week, it's quite apparent that the forward has a chip on his shoulder after coming over from the
Houston Rockets
. It will be quite interesting to see how Carlisle decides to use the versatile Parsons. It's safe to assume that Parsons and
Dirk Nowitzki
will create a rather formidable two-man game. At 25, one must wonder whether, assuming he continues to mature and develop as a player, Parsons could become the new face of the Mavericks. Time will tell.
Dirk Nowitzki
Dallas' star continued to show that he is one of a kind by agreeing to a deal that was lower than expected -- three years, $25 million -- to remain in Dallas. The 36-year-old turned down max offers from the Rockets and
Los Angeles Lakers
to show how committed he is to the only NBA organization for which he has played.