August, 18, 2014
Aug 18
12:37
PM CT
The jump shot seldom betrays the pure shooter. It is the rest of the body that, with age, breaks down like a car with too much mileage. It is the ankles, battered through too many stops and starts, twists and turns. It is the knees that have endured so many liftoffs and landings. But a good jumper? That can last a lifetime.
On his best days,
Josh Howard
stopped on a dime in that perfect sequence when his defender backpedaled a step too far and help defense remained a step away. He rose, cocked, and released the ball into the awaiting nets.
He is now 34, and for the most part, his once deadly pull-up game is a memory, but not always.
He was the Howard of old for one fleeting moment last month, when he played for the
New Orleans Pelicans
at summer league in Las Vegas. He was the natural-born scorer, pushing forward for 14 points off jumpers and drives and calling out switches on defense. He was happy, eager even, to perform in a setting normally restricted for rookies, wannabes, and dreamers -- in the same gym where he had once performed as an NBA All-Star.
But he is one of the hopefuls now, looking forward to one final chance at restarting his career, appreciative of his past and optimistic about his future.
Although Howard finds himself back near the bottom of the NBA totem pole, he doesn't regret the choices he's made. Some led him to become that All-Star and a dynamic forward who played a crucial role for the almost-champion 2006
Dallas Mavericks
; others, like a handful of controversial comments, hurt his reputation and darkened the light on a once promising career.
A flood of injuries didn't help either. His NBA run seemed to end almost as soon as he had peaked.
"I've had the worst of the worst, man. I've just never let that define me," Howard said. "I say everybody's got a story. It's what you do with that story that defines a person."
Read the full story from Grantland
here
.
August, 17, 2014
Aug 17
9:48
AM CT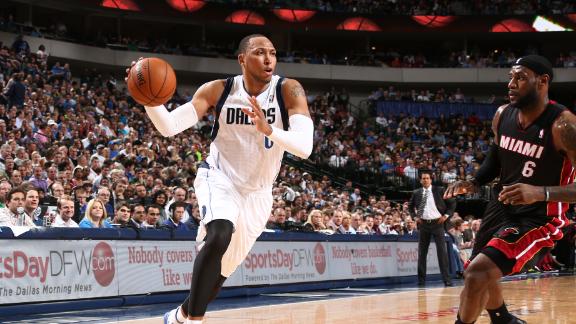 Free-agent forward Shawn Marion has committed to sign with the Cleveland Cavaliers, according to league sources.
Sources told ESPN.com that Marion informed the Cavaliers this weekend that he intends to sign with them this month, despite the fact that Cleveland can only offer him a minimum deal.
The chance to play with LeBron James and immediately compete for a championship, sources said, clinched Marion's decision to choose Cleveland in the face of a ramped-up pursuit by the Indiana Pacers.
As ESPN.com reported earlier this week, Pacers president Larry Bird invited Marion to Indianapolis earlier this week for a face-to-face recruiting pitch over dinner, with Indiana in desperate need of veteran help on the wing after the season-ending compound leg fracture suffered by star swingman Paul George on Aug. 1.
At a news conference Tuesday, Bird conceded that the Cavaliers were the favorites for Marion's signature, saying: "What I came away with was he's undecided with where he wants to play and what he wants to do. But he does want to play for a contender."
The Cavaliers have widely been considered to be the front-runners to sign Marion since it emerged that they're poised to complete a trade for Minnesota's Kevin Love later this month. Cleveland is restricted to offering Marion a minimum salary of $1.4 million this season after using all of its cap resources and exceptions elsewhere.
August, 13, 2014
Aug 13
5:10
PM CT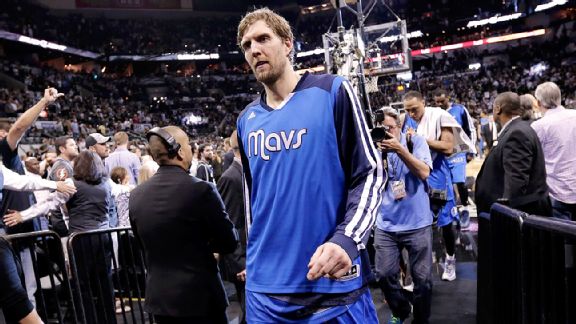 AP Photo/Eric GayThe Mavericks will begin the 2014-15 season where last season ended, in San Antonio on a night the Spurs will be presented with their championship rings.
The
Dallas Mavericks
will have a different look when the season kicks off with some new faces -- among them
Chandler Parsons
,
Raymond Felton
and
Tyson Chandler
, who is back for a second go-around -- and renewed excitement.
With that in mind, let's look at 10 games worth circling on the
Mavericks' 2014-15 schedule
, which was released Wednesday:

Mavs at San Antonio Spurs, Oct. 28:
The Spurs will get their championship rings in front of the only team to push them to seven games in last season's playoffs. The Mavs revived the Interstate 35 rivalry with a respectable showing in that series and will unveil their remodeled roster in the season opener in San Antonio.
Utah Jazz at Mavs, Oct. 30:
The NBA didn't exactly deliver a sexy opponent for the Mavs' home opener, but there should still be a buzz in the building. This will be the first time Parsons wears a Mavs uniform at American Airlines Center in a game that really matters. Chandler, the 2011 title hero who returned to Dallas via an offseason trade, might get an even louder ovation than
Dirk Nowitzki
during pregame introductions.

Miami Heat at Mavs, Nov. 9:
LeBron James
might be gone, but Dallas' hard feelings for the Heat will be strong as long as 2006 Finals MVP
Dwyane Wade
is on the Miami roster.

Mavs at Houston Rockets, Nov. 22:
The Interstate 45 rivalry has the potential to be a great one with Parsons leaving Houston for Dallas and all the verbal back-and-forths that ensued. This will be the first regular-season meeting between the teams. It will be especially interesting to hear how the Houston crowd treats Parsons, a second-round, six-figure bargain the past few seasons who cashed in as a restricted free agent.

New York Knicks at Mavs, Nov. 26:
Chandler and Felton reportedly didn't depart New York on the best terms when they were dealt to Dallas in a six-player trade this summer. This will be the first time they see their former teammates. The Mavs have nothing but fond memories of point guard
Jose Calderon
, the key player Dallas gave up in the deal.

Mavs at Cleveland Cavaliers, Jan. 4:
The Mavs' annual trip to Cleveland is a major event now that LeBron James has returned to his hometown. This also might be a chance for the Mavs to see
Shawn Marion
, a key piece on the 2011 title team and consummate pro during his five-season tenure in Dallas. The Cavs come to Dallas on March 10.

Mavs at Los Angeles Clippers, Jan. 10:
This Saturday matinee is the middle of a stretch of six road dates in seven games, including a pair of back-to-backs. The Clippers are one of the few teams in the West widely considered a strong bet to finish above the Mavs in the standings.

Mavs at Oklahoma City Thunder, Feb. 19:
The Mavs don't get to ease back into the schedule after their eight-day All-Star break. They will make the short trip across the Red River to face reigning MVP
Kevin Durant
,
Russell Westbrook
and the Thunder.

Golden State Warriors at Mavs, April 4:
All of the Mavs' April home games could have playoff feels. This matchup is in the middle of a three-game homestand between games against the Rockets and
Phoenix Suns
. It would be no surprise if
Steph Curry
's Warriors and the Mavs were fighting for the fourth seed and home-court advantage in the first round.

Portland Trail Blazers at Mavs, April 15:
LaMarcus Aldridge
's Blazers, who ended a long playoff series win drought last season, could also be competing for home-court advantage in the first round. As competitive as the West is, it would be stunning if something isn't at stake in the regular-season finale.
August, 13, 2014
Aug 13
6:05
PM CT
By
Steven Martinez & Deontay Morris, ESPN Stats & Info
Andrew D. Bernstein/NBAE/Getty ImagesKobe Bryant needs 593 points to pass Michael Jordan for 3rd on the all-time scoring list.
The
2014-15 NBA schedule
has been released and we have the chance to take a quick look at the top stats to know for this upcoming season.
The return of Kobe
After missing all but six games last season,
Kobe Bryant
will make his debut on Tuesday, October 28 when the
Los Angeles Lakers
play host to the
Houston Rockets
.
Bryant has scored 31,700 career points and if he scores at least 593 points, he'll pass
Michael Jordan
for third on the NBA's all-time scoring list.
If he averages 20 points per game, he could pass Jordan on the scoring list around the 29th or 30th game of the Lakers season.
Those games happen to be at the
Chicago Bulls
on Christmas Day and at the
Dallas Mavericks
the next day.
Last season, Bryant missed the Lakers season opener for the fifth time in his career. Ironically the Lakers have won all five of those openers.
They would prefer to have him in the lineup though as his 27.2 PPG in season openers is the most among active players and seventh-highest in NBA history (Michael Jordan holds the record, 30.8 PPG).
The King returns
Making a return of a different kind will be
LeBron James
, who returns to the
Cleveland Cavaliers
after spending the last four seasons with the
Miami Heat
.
LeBron will make his season-debut on October 30 when the Cavaliers play host to the
New York Knicks
.
Another highlight for him will be on Christmas Day when he and his teammates travel to South Beach to take on the Heat (5 ET/ABC).
When LeBron returns, he'll do so as the second-leading scorer (26.7 PPG) among active players at the American Airlines Arena, trailing only
Kevin Durant
(27.6).
LeBron's teams have not lost on Christmas day since his rookie season in 2003 (7-1 record). That year, the Cavaliers lost to the Magic.
Champions quest for repeat
The defending NBA champion
San Antonio Spurs
open their season hosting the Dallas Mavericks on October 28. The Spurs are 16-4 in their last 20 home openers.
Since
Tim Duncan
debuted in 1997, San Antonio is 16-1 in season openers, the best winning percentage (.941) among all teams in season openers over this time (their only loss was to the Suns in 2008).
The Spurs and Heat will face off for the first time since the NBA Finals on February 6 (9:30 ET on ESPN) in San Antonio.
Over the last four seasons (including regular and postseason), the New York Knicks (3-4) and Heat (9-10) are the only teams the Spurs have a losing record against.
Notable rookie debuts
Maybe
Andrew Wiggins
should get some advice from his father on avoiding first game jitters. Andrew's dad - Mitchell Wiggins - scored 26 points in his first career game with the Bulls in 1983.
Wiggins, who reportedly will be traded to the
Minnesota Timberwolves
, begins his pro career on October 29 at Memphis.
As for other notable rookies,
Jabari Parker
and the
Milwaukee Bucks
open at the
Charlotte Hornets
on October 29, while
Nerlens Noel
(who missed all of last season after recovering from a torn ACL) makes his long-awaited debut with the
Philadelphia 76ers
on October 29 at the
Indiana Pacers
.
August, 13, 2014
Aug 13
3:36
PM CT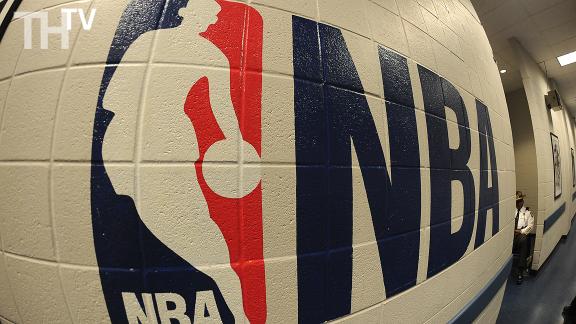 Playoff rematches, star players returning from injuries and a heavy dose of the new-look Cleveland Cavaliers are among the highlights of the NBA's early schedule, the full version of which was released Wednesday.
The always-anticipated Christmas Day schedule includes LeBron James' return to Miami as the featured game at 5 p.m. ET on ABC, a renewal of the Western Conference finals with the Oklahoma City Thunder visiting the reigning champion San Antonio Spurs and a rivalry game between the Golden State Warriors and Los Angeles Clippers.
Perhaps the highlight of the schedule for players, though, is new commissioner Adam Silver's response to stars' request for a lengthier midseason break. Each team now will have a full week off around All-Star Weekend in February so players who take part in the events in New York still will receive some additional time off.
The season will open Tuesday, Oct. 28, with the traditional ring night ceremony as the Spurs host the Dallas Mavericks
August, 12, 2014
Aug 12
3:34
PM CT
[+] Enlarge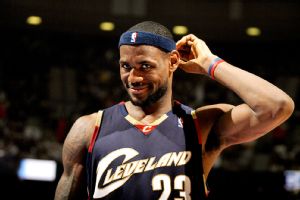 Nathaniel S. Butler/NBAE/Getty ImagesEarly present for fans? LeBron James will be taking the Cavs back to Miami with him to face the Heat on Christmas Day, according to sources.
The NBA will announce Wednesday that LeBron James will play his first game in Miami since returning to the Cleveland Cavaliers on Christmas Day, according to sources briefed on the league's new schedule.
Sources told ESPN.com Tuesday that the NBA's 2014-15 schedule -- which will be released in full Wednesday at 6 p.m. ET in an NBA TV special -- predictably sends James back to South Beach to face Dwyane Wade, Chris Bosh and the rest of the Miami Heat on the marquee date of the league's regular-season calendar after James' decision last month to re-sign with his home-state Cavaliers.
The Los Angeles Times reported earlier this week that the L.A. Clippers and Golden State Warriors also will square off in one of the league's Christmas Day games in a renewal of the growing rivalry between the Pacific Division clubs.
August, 11, 2014
Aug 11
1:14
PM CT
Expect to see a lot of Rick Carlisle's impression of a third base coach sending a runner home next season.
That's what the
Dallas Mavericks
coach does when he wants his team to get out in transition, cranking his arm around and around. His shoulder might be sore if the Mavs play at the pace Carlisle wants next season.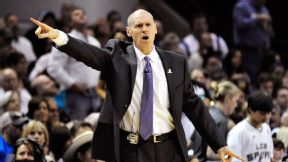 Brendan Maloney/USA TODAY SportsThe Mavericks believe an increased pace will help them be even more efficient on offense.
Then again, if the Mavs get the message, maybe Carlisle won't have to wave as he watches his team push the tempo on a consistent basis.
The Mavs ranked in the
middle of the pack in pace last season
, averaging 95.7 possessions per game, almost six fewer than the team that played at the fastest tempo. Carlisle hopes the remodeled Mavs, a team he believes is built to run, will be among the leaders next season.
"We want to play faster," Carlisle said. "We're going to have to do it by playing with our depth and playing with intelligence. We should be able to do that because we've got a lot of high-IQ players."
That includes three point guards with significant starting experience in
Jameer Nelson
,
Raymond Felton
and
Devin Harris
. Of that trio, only Harris could be considered fast by NBA point guard standards. However, the Mavs' hope is that their three-man rotation at the position gives their point guards the luxury of playing at maximum speed without concern for conserving energy.
The idea isn't necessarily for the point guards to run the transition offense on a regular basis anyway. The best way for them to push the pace is often via the pass, something
Jason Kidd
was a master of as an old man during his second tenure in Dallas.
August, 10, 2014
Aug 10
10:42
AM CT
ESPN.com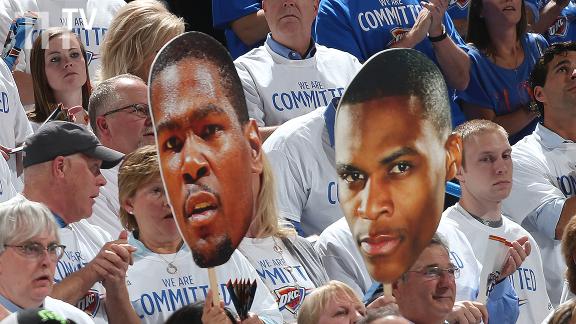 On Monday, we unveiled our projected Eastern Conference standings for 2014-15. Today, our Summer Forecast takes a look at how the Western Conference stacks up after a busy offseason. Will the defending champion Spurs finish with the West's best record again?
For our results, we surveyed our ESPN Forecast panel. We'll announce one team every half-hour (from 1 to 15), starting at noon ET.
To participate in the discussion and perhaps get your opinion published on this page, #ESPNForecast is the Twitter hashtag to use. Or you can just follow along @ESPNNBA.
During the next two weeks, we'll also roll out our predictions for the 2013-14 rookie of the year, best newcomer, worst newcomer, MVP, conference champions and NBA champion. In addition, we'll examine which teams will make the biggest turnarounds this season and which teams could be in for the most turmoil.
Without further ado, here's how the West will shake out in the regular season:
August, 8, 2014
Aug 8
11:21
AM CT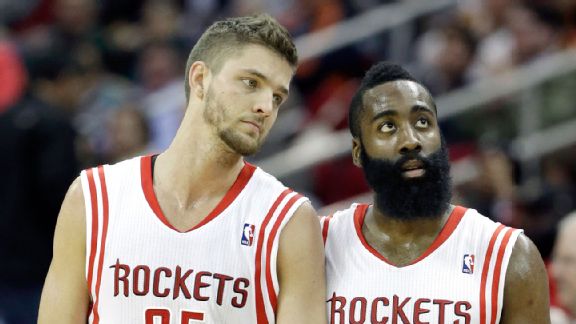 AP Photo/Pat SullivanA move to Dallas could benefit Chandler Parsons, just as leaving for Houston helped James Harden.
The
Dallas Mavericks
paid a premium rate for
Chandler Parsons
' potential.
It's a luxury the Mavs had due to
Dirk Nowitzki
's hometown discount deal. It was a requirement to prevent the
Houston Rockets
from exercising their right to match the Mavs' offer to the restricted free agent.
[+] Enlarge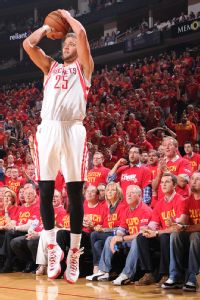 Bill Baptist/NBAE/Getty ImagesChandler Parson's numbers have improved each of the last three seasons, but the Mavs believe he can still reach another level.
But based purely on Parsons' production so far in his career, he'll be significantly overpaid while making $46 million over the next three seasons. The Mavs aren't paying Parsons for his production in Houston, though. They bid big based on the belief that Parsons will blossom in Dallas.
"We think he can take his game to a whole 'nother level," Mavs owner Mark Cuban said recently.
There's sound reason for such optimism. Parsons, who turns 26 in October, improved his scoring, rebounding and assists total in each of his three seasons in Houston. He averaged 16.6 points, 5.5 rebounds and 4.0 assists as a complementary piece last season, and the Mavs anticipate that his production will spike as a featured attraction in Dallas.
Call it the
James Harden
phenomenon. After the Rockets star downplayed the impact of Parsons' departure, essentially labeling him a role player, Parsons noted that Harden of all people should understand how much room for growth he gained by changing teams. After all, Harden's numbers soared when he left Oklahoma City for Houston, jumping from 16.8 points, 4.1 rebounds and 3.7 assists as the third option in 2011-12 to 25.9 points, 4.9 rebounds and 5.8 assists as the go-to guy the next season.
Parsons isn't going to be the clear-cut go-to guy in a starting lineup that includes Nowitzki and
Monta Ellis
, but he'll have the ball in his hands and the offense run through him much more often than he did with the Rockets.
"I think he'll be far better," Cuban said. "I think he'll have the opportunity to showcase a lot more of his talent. He's a good passer, he can drive the ball, he was top two or three in terms of finishing using floaters at the bucket. He doesn't get to the foul line enough, but that's something we're going to work on with him."
The Mavs consider coaching a major key to Parsons' potential for improvement. They're counting on Rick Carlisle, one of the NBA's elite coaches, to schematically put Parsons in positions to utilize his talent and to help him enhance his skills.
The Mavs think their up-tempo, movement-based offense perfectly fits Parsons. Carlisle plans to work with Parsons on footwork and 1-on-1 concepts to make him a more effective scorer in late-shot-clock situations. And Carlisle will certainly push Parsons, who has bulked up to almost 240 pounds, to be a better defender.
"I think defensively I can get much better," Parsons said during a recent appearance on ESPN Dallas 103.3 FM's "The Afternoon Show." "I think I can guard pretty much one through four. You have the luxury of switching pick-and-rolls with me. I'm 6-9, 6-10; I can really use my length on smaller guys. I've just got to be locked in out there for as long as I'm out there. I can really cause havoc on the defensive end.
"Offensively, I just want be able to do it all. I want to continue to be one of the more versatile players in the league and knock down shots and facilitate and play-make and just make the game easier for others. I think the sky's the limit, and I haven't even scratched the surface of how good I can be."
August, 7, 2014
Aug 7
2:27
PM CT
[+] Enlarge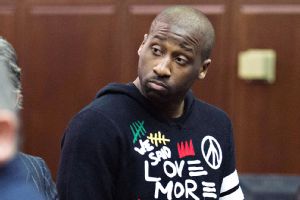 AP Photo/New York Post, Steven Hirsch, PoolRaymond Felton was suspended for the first four games of next season after pleading guilty to gun charges in New York.
Dallas Mavericks guard Raymond Felton has been suspended for the first four games of next season after pleading guilty to gun charges in New York while a member of the Knicks, the NBA announced Thursday.
Felton pleaded guilty last month to attempted criminal possession of a weapon and criminal possession of a firearm. As part of a plea deal that allowed him to avoid jail time, Felton admitted he knowingly had a large-capacity ammunition magazine and a semi-automatic pistol without a license.
"I demonstrated poor judgment and I take full responsibility for my actions," Felton said in a statement released Thursday by the Mavs. "Moving forward, I'm eager to get to Dallas, to start fresh and make a positive impact in the Dallas metropolitan area."
The criminal case arose last winter, when Felton was in the midst of the breakup of his marriage and a poor season with New York. He was traded to Dallas along with Tyson Chandler in a six-player deal in June.
Felton had to pay a $5,000 fine and must do 500 hours of community service to satisfy the terms of his plea deal.
August, 3, 2014
Aug 3
4:22
PM CT
Dallas Mavericks
owner Mark Cuban has made his stance against NBA players participating in international competition clear over the years,
reiterating it
after
Paul George
gruesomely broke his leg in Friday's Team USA scrimmage.
Yet there is
Chandler Parsons
, the Mavs' prized free-agent addition, in Las Vegas attempting to make the Team USA squad.
Parsons' participation isn't Cuban's preference, but Cuban does not have the power to deny Parsons from playing, as was the case for the many summers that
Dirk Nowitzki
suited up for Germany.
"Like Dirk, I can't stop him," Cuban said in an email reply to ESPNDallas.com. "It's his decision."
Cuban said he did not specifically tell Parsons that he didn't want the small forward playing for Team USA after signing a three-year, $46 million deal with Dallas. Cuban didn't think it was necessary and isn't allowed to pressure players to not play international ball.
"He knows how I feel," Cuban said.
As was the case for Nowitzki for many years, the opportunity to represent his country was more important to Parsons than appeasing his billionaire boss.
August, 2, 2014
Aug 2
10:55
AM CT