January, 25, 2015
Jan 25
10:43
PM CT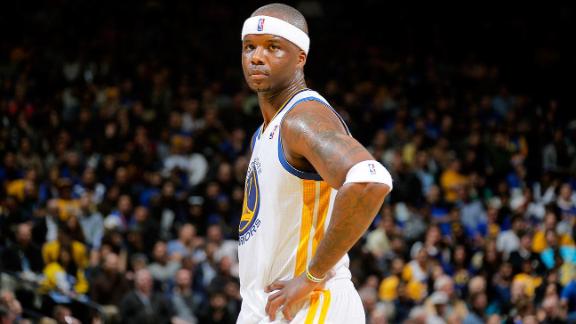 NEW ORLEANS -- The Dallas Mavericks are confident they are inching closer to the eventual signing of veteran center Jermaine O'Neal, according to team sources.
Sources told ESPN.com that the Mavericks -- who continue to closely monitor the 36-year-old center as O'Neal works out in preparation for a comeback -- hope to sign him by the All-Star break.
"We'll let you know when there's any breaking news, but right now, there's none," Mavs coach Rick Carlisle said Sunday about Dallas' pursuit of O'Neal.
Sources say O'Neal has made it clear to interested teams that he doesn't intend to sign anywhere until he is closer to NBA game shape. After taking the first few months of the season to focus on family time and business trips, O'Neal has been working out intensely since the start of 2015 out of his home gym in Southlake, Texas, a suburb of Dallas.
O'Neal also traveled to Germany earlier this month for the same treatment on his knees that he credits for contributing to his success last season in Golden State. He posted pictures of the treatments on Instagram and wrote: "If you know me then you know what this means! But this is the 2nd step in a 3 step process!"
ESPN.com reported earlier this month that the Portland Trail Blazers, who drafted O'Neal out of high school in 1996, have also been trying to secure a commitment from the free-agent big man. But sources say the Mavericks firmly believe they have the inside track.
January, 25, 2015
Jan 25
9:28
PM CT
[+] Enlarge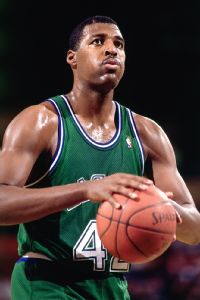 Nathaniel S. Butler/NBAE/Getty ImagesRoy Tarpley seemed destined for greatness but played only 280 games as a Maverick.
Roy Tarpley died in an Arlington, Texas, hospital earlier this month, with little fanfare for a player who should've been lumped with Dirk Nowitzki and Mark Aguirre as the best players ever to wear a Dallas Mavericks uniform.
Instead, the 6-foot-11 basketball savant teased fans with his immense talent and tormented them by regularly failing the drug tests that eventually ended his career in Dallas and in the NBA.
Tarpley, the seventh pick in the 1986 draft, played just 280 games for the Mavs. Really, all that's left from his time in Dallas are the memories of a couple of stellar regular seasons and his dynamic performance in the 1988 playoffs, when he averaged 17.9 points and 12.9 rebounds as the Mavs advanced to the Western Conference finals.
Josh Gordon, the Cleveland Browns receiver who reportedly violated the league's substance abuse policy again by testing positive for alcohol, reminds me of Tarpley.
January, 25, 2015
Jan 25
8:45
PM CT
NEW ORLEANS – This magnificent
Monta Ellis
performance had a miserable ending for the
Dallas Mavericks
.
They couldn't even get the ball to their go-to guy when they had a chance to win the game. Heck, the Mavs couldn't get the ball inbounds, period. And unlike the
New Orleans Pelicans
on the previous possession, the Mavs didn't get any assistance from a whistle.
Those final 12.3 seconds, when Murphy's Law seemed to strike the Mavs, made Sunday's 109-106 loss especially tough to swallow. It also meant Ellis' 36 points went to waste.
"I thought it was breathtaking," Mavs coach Rick Carlisle said of Ellis' outing. "It was just a great performance. It was just unfortunate that we couldn't get the ball in his hands on the last possession."
[+] Enlarge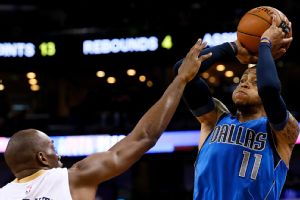 AP Photo/Jonathan BachmanMonta Ellis scored 36 points against the Pelicans, but it was all for naught.
Added Ellis: "We didn't win, so it doesn't matter."
Ellis, who was 16-of-27 from the floor, twice gave the Mavs a one-point lead with driving layups in the final minute.
But the Pelicans went ahead for good when star power forward
Anthony Davis
hit a pair of free throws with 12.3 seconds remaining, after referee Leon Wood called a foul on
Tyson Chandler
that prompted much complaining from the Mavs. Chandler attempted to deny an inbounds pass to Davis when he was called for the foul about 30 feet from the basket.
"The difference in the game was the whistles, really, the calls that were made," Carlisle said. "Sometimes, that's how it goes."
Dirk Nowitzki
described the foul call as "a tough one" and said that kind of contact happens at least 20 times per game.
"Especially down the stretch, there's always some holding going on -- always," Nowitzki said. "That's part of being physical out there, especially down the stretch. I haven't seen a whistle like that in a while, but nothing's going to be given to us on the road. We still had enough chances."
The Mavs had a chance to win on the next possession, when everyone in the Smoothie King Center knew Dallas wanted to put the ball in the hands of Ellis, whose 94 clutch points this season lead the league, according to NBA.com's statistics.
"I was ready for it," Ellis said. "I love those moments."
The Pelicans were ready for it too. The combination of New Orleans' stifling defense and a mental blunder by the Mavs prevented Dallas from successfully inbounding the ball -- twice.
With New Orleans double-teaming Ellis, inbounds passer
Chandler Parsons
still attempted to give the shooting guard the ball, but it was deflected out of bounds. Point guard
Rajon Rondo
then decided to replace Parsons as the inbounds passer, a role Parsons has played all season. With no timeouts and nobody open, Rondo was forced to throw a risky pass to Nowitzki, which Davis intercepted.
"That's an easy play where you call a timeout, but we didn't have another one left, so we kind of had to throw it up," Nowitzki said. "It's hard to lob it up over one of the longest guys in the league."
The simple solution would have been for Ellis to bolt into the backcourt to catch the ball. However, Ellis incorrectly thought it would have been a backcourt violation, which made him much easier to cover.
"It's on me because I've got to make sure I remind our guys that we can throw it in the backcourt," Carlisle said. "Monta was trying to catch it in the frontcourt and just ran out of space, so we ended up in a scrambled possession, and Davis intercepted the ball. That's my responsibility."
Said Ellis: "As players, you have to know as well that you're able to get backcourt. I forgot about it. There's no one to blame."
After Davis pushed the Pelicans' lead to three by hitting another pair of free throws with 7.7 seconds remaining, Ellis had a chance to send the game into overtime.
But it wasn't much of a chance: His 27-foot runner didn't even hit the rim, so his 36 points before that didn't matter.
January, 25, 2015
Jan 25
7:52
PM CT
Associated Press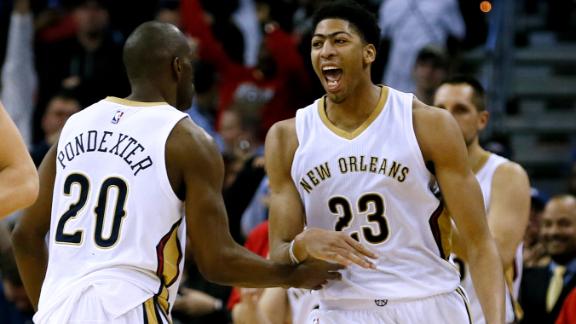 NEW ORLEANS -- Anthony Davis capped a 28-point, 10-rebound outing with go-ahead free throws in the final seconds and a pivotal steal, and the New Orleans Pelicans won their third straight game, 109-106 over the Dallas Mavericks on Sunday night.
Tyreke Evans scored 24 points, including a clutch running hook in the final half-minute, and Ryan Anderson added 18 points.
Monta Ellis scored 36 points, giving Dallas a 106-105 lead with a running scoop over Quincy Pondexter and Omer Asik with 12.3 seconds left, but Davis drew a foul from Tyson Chandler while receiving Evans' inbound pass and hit the go-ahead free throws.
Davis, who had five steals, then intercepted Rajon Rondo's inbound pass intended for Dirk Nowitzki and added two more free throws.
Ellis had one more chance to tie it, but his 27-foot shot missed in the final seconds.
Nowitzki scored 24 points for Dallas, which has lost two straight.
January, 25, 2015
Jan 25
6:49
PM CT
NEW ORLEANS –
Dallas Mavericks
center
Tyson Chandler
left Sunday's game against the
New Orleans Pelicans
due to a left knee injury but returned in the fourth quarter after X-rays were negative.
Chandler exited the game with 7:33 remaining in the third quarter. He went down during a defensive possession after banging knees with Pelicans star Anthony Davis and needed assistance to leave the floor. Chandler put no pressure on his left leg as he left the floor.
"We're very fortunate," coach Rick Carlisle said. "He banged knees and the fact he's able to come back was huge. It's a sigh of relief that he's OK. At least he appears to be OK."
Chandler, a 14-year veteran who was a critical piece of the Mavs' 2011 title run and returned to Dallas this summer in a trade, is having one of the best seasons of his career. He is averaging 10.7 points, ranks fourth in the NBA with 12.2 rebounds per game and serves as Dallas' defensive anchor.
January, 25, 2015
Jan 25
4:35
PM CT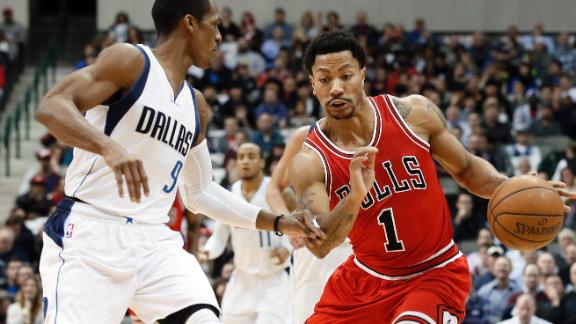 NEW ORLEANS -- Dallas Mavericks coach Rick Carlisle said he plans to play Rajon Rondo in crunch time on a regular basis even though he benched the four-time All-Star point guard for the final 5:12 of Friday night's 102-98 loss to the Chicago Bulls.
"The other night's an aberration most likely," Carlisle said before Sunday's game against the New Orleans Pelicans. "We have a closing five. I just deviated from it the other night. I don't expect that to happen very often.
"Going forward, we play the whole game to set up the last five or six minutes to have a chance to win or catch somebody or close it out with a lead. Rondo's going to be in there most of the time. There's no doubt about that."
Carlisle explained Rondo's benching Friday as a "coach's decision" and declined to elaborate on his logic other than saying he went with a gut feeling.
Carlisle and the Mavs' front office have repeatedly raved about Rondo's proven clutch prowess since they acquired him from the Boston Celtics in a December blockbuster deal, saying his ability to find multiple ways to make critical plays reminded them of former Dallas point guard Jason Kidd.
The Mavs have succeeded with Rondo on the floor in clutch situations -- the final five minutes of a game with the score within five points -- outscoring opponents by 29 points in 28 minutes
January, 25, 2015
Jan 25
4:48
PM CT
By
ESPN Stats & Information
David Banks/USA TodayHassan Whiteside (21) set a Heat franchise record with 12 blocked shots.
A player who entered this season with 19 games of NBA experience had one of the most impressive all-around games in
Miami Heat
history Sunday.
Hassan Whiteside
came off the bench for the Heat and registered 14 points, 13 rebounds and 12 blocked shots in their 96-84 win over the
Chicago Bulls
.
Whiteside became the first player with at least 12 points, 12 rebounds and 12 blocked shots in a game since
Shawn Bradley
in 1997-98 with the
Dallas Mavericks
. In the past 25 years, the only other players to meet those marks have been Shaquille O'Neal (1993-94, with the
Orlando Magic
) and
Dikembe Mutombo
(1992-93,
Denver Nuggets
). Like Whiteside, Bradley came off the bench when he had his triple-dozen.
Whiteside broke the Heat franchise record of nine blocked shots (done by Alonzo Mourning six times). He had the first triple-double that includes blocked shots since
Joakim Noah
, who had 23 points, 21 rebounds and 11 blocked shots on Feb. 28, 2013.
All 12 of Whiteside's blocked shots were within six feet of the basket. Seven came when he was a help defender.
Taj Gibson
was particularly affected by Whiteside. Five of Gibson's 10 shots were blocked by Whiteside. No team had blocked five Gibson shots in a game before Sunday.
Whiteside's defense helped the Heat hold the Bulls to their third-worst field goal shooting percentage (35.6 percent) this season. The Bulls shot 33.3 percent in a loss to the Utah Jazz on Jan. 7 and 34.5 percent in a victory at Indiana on Dec. 29.
Whiteside played 19 games with the
Sacramento Kings
in 2010-11 and 2011-12 and was out of the NBA for two seasons. He became the eighth player in Heat history to post a triple-double, joining
LeBron James
,
Dwyane Wade
, O'Neal, Lamar Odom,
Billy Owens
, Steve Smith and Rory Sparrow.
Whiteside got all of that accomplished in 25 minutes on the court. The last player with 12 or more blocks in 25 minutes or less was Manute Bol in March 1989 for the Golden State Warriors against the Portland Trail Blazers (13 blocks in 20 minutes).
January, 24, 2015
Jan 24
12:55
AM CT
DALLAS -- The two point guards the
Dallas Mavericks
acquired in blockbuster trades since the end of last season sat next to each other on the bench during crunch time Friday night.
It's certainly no surprise to see
Raymond Felton
, the tax in the
Tyson Chandler
trade, riding pine with the game on the line. But it's rather alarming to see
Rajon Rondo
sitting with his warm-ups on and a towel over his head for the final 5:12 when his teammates are trying -- and failing -- to pull out a hard-fought win over the
Chicago Bulls
.
[+] Enlarge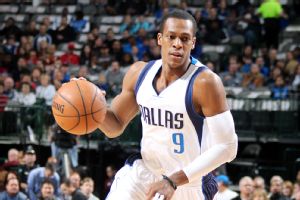 Danny Bollinger/NBAE/Getty ImagesRajon Rondo was not on the court late as the Bulls won in Dallas.
After all, owner Mark Cuban and coach Rick Carlisle often rave about Rondo's proven clutch prowess after Dallas' nearly-two-year pursuit of the four-time All-Star finally ended in a deal being consummated with the
Boston Celtics
in mid-December. The Mavs coveted Rondo because he reminded them so much of Jason Kidd, a savvy point guard who consistently rose to the moment in crunch time.
So why the heck was Rondo a highly-paid courtside spectator when it mattered most against the Bulls?
"Coach's decision," Carlisle said after the
102-98 loss
at the American Airlines Center.
Good, then we're asking the right guy. What was the logic behind that decision?
"A decision that the coach makes," Carlisle said, and that little dance went on for a few more questions, making for some entertaining sound bites but revealing nothing.
That, of course, leaves the door wide open for speculation. Kind of like opponents often leave Rondo, a notoriously poor shooter, wide open on the perimeter.
And that leads directly to the most plausible theory for not playing Rondo down the stretch against the Bulls.
The Mavs were in comeback mode, trailing by eight points, when Carlisle decided to replace Rondo with
Devin Harris
. Shooting and floor spacing were at a premium in that situation, and Harris is a much more effective 3-point threat.
Would it be wise for Carlisle to say that for public consumption? Of course not.
Just ask former Mavs coach Avery Johnson. That was the reason he provided after benching Kidd for the final 34 seconds of a loss to the
San Antonio Spurs
soon after the Mavs made a blockbuster trade for a former All-Star point guard in 2008. That certainly didn't go over well in the locker room or work out long term for Johnson, who was fired after the Mavs' first-round exit that season.
Let's be clear here: That's where the comparisons to that Kidd crunch-time benching and Rondo riding pine with Friday's game on the line should end.
There isn't any friction brewing behind the scenes between Carlisle and Rondo, who made a point to say he appreciates what his coach has done for him during their brief time together and attempted to downplay the issue.
"Life is too short to complain about not playing five minutes of a big game," said Rondo, noting that he has the maturity to handle these sort of situations now, unlike when he bumped heads with Doc Rivers early in his career with the Celtics. "Like I said, I'm a competitor. I'm pretty sure you guys know that I wanted to be in the game, but it didn't happen. I did my best to cheer my teammates on."
Of course, benching Kidd seven years ago was a factually flawed decision. By that point of his career, Kidd had become a pretty good 3-point shooter, better than Jerry Stackhouse, whom Johnson put on the floor instead of Kidd in that crunch-time situation in San Antonio.
Rondo, with his funky form, is still at least a summer's work away from being even a mediocre 3-point shooter. Many cited Rondo's poor shooting -- 25.9 percent from long range for his career -- as reason for concern about his fit within the Mavs' high-powered flow offense when the trade was made.
The Mavs' offensive efficiency has slipped from sky-high before the trade to pretty good since Rondo's arrival. Their defensive efficiency has improved dramatically, addressing a glaring need for the Mavs, but Rondo didn't have a great night on that end, either, as evidenced by Bulls point guard
Derrick Rose
's 20 points, 18 of which were scored in the first half.
So a case can be made that Carlisle made the right decision, especially considering that Rondo wasn't effective in his 26 minutes, finishing with 6 points on 3-of-9 shooting, 4 assists, 2 rebounds and 2 turnovers.
However, it directly contradicts his comments after Rondo played a key role in the Mavs' 14-4 run to close out the
Memphis Grizzlies
on Monday, when he struggled most of the game before sparking the critical spurt with a floater and baseline jumper. ("A guy like that, you've just got to put him in there in crunch time and let him do what he does," Carlisle said then.)
It can also easily be argued that the best rebounding guard in basketball shouldn't have been watching from the bench on the final possession. Rondo couldn't do anything to prevent Rose from grabbing the offensive rebound with 4.7 seconds remaining that essentially sealed Chicago's victory, forcing the Mavs to foul.
If Rondo had been in the game on that possession, the odds of Carlisle getting the opportunity to draw up a potential game-tying or winning play for the dynamic, clutch scoring duo of
Monta Ellis
and
Dirk Nowitzki
would have dramatically increased.
This actually isn't the first time Rondo has been a crunch-time spectator for the Mavs. He sat the final 51.2 seconds of the Mavs' 108-104 overtime win over the
Sacramento Kings
on Jan. 13 despite making an improbable stepback 3 with 1:14 remaining to give Dallas the lead for good.
Carlisle explained that by saying Rondo had a sore Achilles tendon. The Mavs cited that ailment when Rondo sat out the next night's loss against the
Denver Nuggets
, but that didn't stop some skeptics from being suspicious that the Mavs feared the Kings intentionally fouling the point guard, who is shooting 30.2 from the free throw line this season.
If Rondo's shooting is indeed the reason for Carlisle sitting him down the stretch, it presents some other questions. Two pop to mind.
Is this going to be a somewhat regular thing? We'll find out as the season goes on.
If so, how much is Rondo really worth to the Mavs? We'll find out this summer when it's time to talk money with the pending free agent.
January, 23, 2015
Jan 23
11:41
PM CT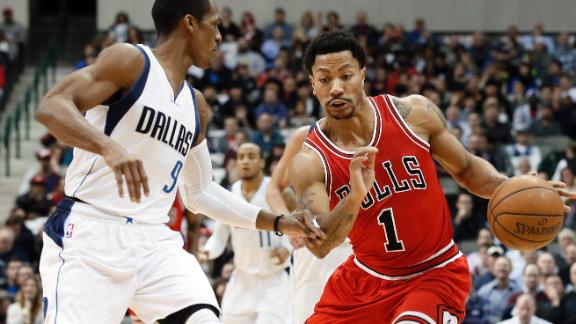 DALLAS -- Rajon Rondo, the four-time All-Star point guard whose prowess in the clutch was cited by the Dallas Mavericks' brass when they acquired him in a December blockbuster trade, was benched for the final 5:12 of Friday night's 102-98 loss to the Chicago Bulls.
Coach Rick Carlisle repeatedly referred to Rondo's crunch-time benching as a "coach's decision" during his postgame news conference and declined to discuss the strategic logic of not playing Rondo down the stretch.
"It's called coach's decision, and that's how we're going to roll," Carlisle said after the fifth question on the subject. "Next question."
Rondo acknowledged he wants the chance to contribute in closing situations, in which he excelled during his eight-plus-season tenure with the Boston Celtics, who he helped win the 2008 championship and advance to the 2010 NBA Finals.
In Rondo's 28 clutch minutes with the Mavs -- using NBA.com's definition of "clutch" as the last five minutes of a game with the score within five points -- Dallas has outscored opponents by 29 points.
But Rondo stressed he wasn't upset with Carlisle.
"Coach made a decision. It's as simple as that," said Rondo, who had six points on 3-of-9 shooting, four assists and two rebounds in 27 minutes. "I've been in this game a long time. It's not like it's the end of the world. I like what Coach Carlisle has done for me this year. I don't have any regrets."
This was the second time this week that Rondo, who has averaged 10.1 points, 7.1 assists and 5.1 rebounds in 16 games for the Mavs, didn't play well through three and a half quarters against a high-quality opponent. However, in Monday's road win against the Memphis Grizzlies
January, 23, 2015
Jan 23
9:48
PM CT
Associated Press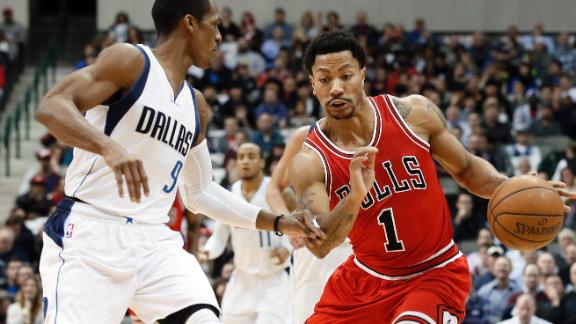 DALLAS -- Derrick Rose scored 20 points, Jimmy Butler had 14 of his 20 in the second half and the Chicago Bulls beat the Dallas Mavericks 102-98 Friday night.
The Bulls beat a Western Conference playoff contender for the second night in a row after losing six of their previous eight games. They handed defending champion San Antonio its most lopsided loss of the season in Chicago on Thursday.
Pau Gasol had 13 points and 16 rebounds, and Joakim Noah added six points and seven boards in his return after missing four games with a sprained right ankle.
Dirk Nowitzki scored 24 points to lead the Mavericks, who had won three straight and were trying to get coach Rick Carlisle his 600th career victory.