Dallas Mavericks:

2013-14 3 Points
January, 15, 2014
Jan 15
12:00
PM CT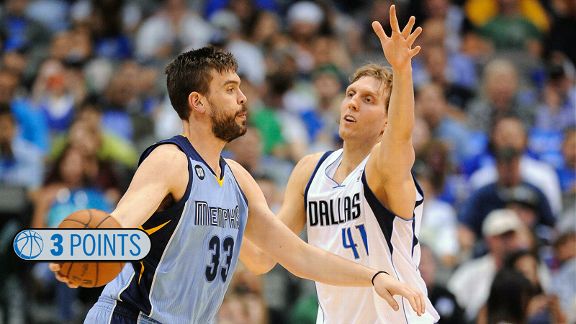 Jerome Miron/USA TODAY SportsThe return of Marc Gasol makes the Grizzlies a more formidable obstacle for the Mavs getting into the playoffs.
ESPNDallas.com columnist Jean-Jacques Taylor and MavsOutsider.com editor-in-chief Bryan Gutierrez will join me each week to run a three-man weave on a few questions on the minds of Mavs fans.
1. Which teams are the biggest threats to the Mavs' quest to make the playoffs?
Gutierrez:
The only team behind Dallas right now that might bring some cause for concern is Memphis. That's due to the fact that
Marc Gasol
, the reigning NBA Defensive Player of the Year, returned to action after spraining a left knee ligament less than eight weeks ago. Their defensive tenacity can help them get back in gear, but they may be too far behind in the pack. I'm going to take an indirect route for the answer and say that the Mavericks themselves are the biggest threat to their quest to make the playoffs. They have the ability to score on any given night, but their own shortcomings on defense and in terms of rebound really derail their potential. It's up to them to decide how far they can really go.
Taylor:
Denver and Minnesota are the best bets to improve and get better over the course of the season, which makes them the biggest threats to the Mavs. Denver has a new coach in Brian Shaw and it always takes teams time to adjust to a new coach and a new system. It takes time for all the players to find a role and get comfortable in it. The Nuggets are just 11-8 at home, where they have traditionally been outstanding. Once they play better at home, they'll start putting some winning streaks together. Minnesota's biggest problem is it doesn't know how to win.
Kevin Love
is among the league's best players. If they can continue to get strong performances from
Ricky Rubio
and
Kevin Martin
, they will eventually make a push for the playoffs. Rick Adelman is a terrific coach and sooner or later he'll get the most from that team's talent.
MacMahon:
The Grizzlies are by far the biggest threat with Gasol back. I figured Memphis as a playoff lock before the season started. The Grizzlies got off to a disappointing start and struggled without their best player, but they are only one game below .500 and completely capable of still getting to 48 or 49 wins. The Nuggets and Timberwolves can't be discounted, but the Nuggets' inconsistency and Timberwolves' stunning inability to win close games (0-11 in games decided by four points or fewer) make them lesser threats.
---
2. Should the Mavs want Andrew Bynum if he'll take the minimum?
[+] Enlarge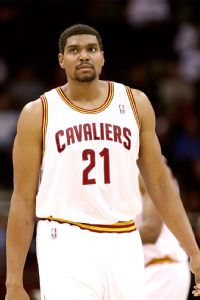 AP Photo/Mark DuncanWould Andrew Bynum be worth the risk for the Mavericks?
Gutierrez:
Hypothetical or not, Dallas doesn't really need to go after Bynum. Do they need a legitimate big man? The answer is obviously yes, but I don't consider Bynum to be that anymore. Mark Cuban has created a culture and locker room over the last decade-plus that has withstood a lot. The only thing it can't seem to withstand is when former L.A. Lakers have to change colors and become Mavericks. Dallas hasn't had any significant luck, mainly just aggravation, when it comes to bringing in players who used to wear the purple and gold. Fans who remember see Bynum as the "thug" who took a cheap shot on
J.J. Barea
during the conference semifinals of the 2011 playoffs. For those who haven't really kept up with him this year, the analytics say that Bynum isn't worth the hassle, even at the minimum. He doesn't radically improve the team defensively or in terms of rebounding. The culture has worked with various players, even this year with
Monta Ellis
, but past results in a specific category suggest that this isn't worth the hassle.
Taylor:
I wouldn't want Bynum under any circumstances. He has a loser mentality and there's been no indication he loves the game -- only what it can prove him materially. The Mavs under Cuban, and especially under Carlisle, has been a franchise that plays with maximum effort. Lamar Odom drove Carlisle and Cuban crazy. Bynum would do it faster.
MacMahon:
Yes. The Mavs were right -- and I was wrong at the time -- for not making Bynum an offer this summer when it would have taken significant guaranteed money to get him. Bynum obviously wasn't worth that risk. But there would be no risk with a minimum contract. The best-case scenario is that you get a center who can provide scoring punch, rebounding and an interior defensive presence for around 20 minutes per night. If he causes problems, cut him. For me, it comes down to this: Would you rather have
Bernard James
or Bynum?
---
3. Should the Mavs be buyers or sellers in the trade market?
Gutierrez:
They should be buyers, but I don't really see what they can buy that makes a substantial difference. They have nice assets, but the assets likely won't fix what ails them unless they radically shift the makeup of their roster. Defense is clearly the issue, so they would have to give up key pieces to their offense to fill that void. It doesn't make sense to trade pieces such as
Jose Calderon
or Monta Ellis because they're new pieces to your core. When you look on the other side, guys such as
DeJuan Blair
,
Vince Carter
,
Samuel Dalembert
and
Shawn Marion
have contracts that are expendable, but they all provide something of substantial value to the team. It's a precarious spot for the Mavericks. They can't be sellers because they have a solid chance to be a playoff team, but their assets don't provide the foundation to provide a quick shot in the arm as buyers.
Taylor:
This depends on what they're getting. If it's a high-end lottery draft pick, then be sellers because they have zero chance to win a title this season. If it's a low first-round pick, then the Mavs might as well try to have the best season they can and ruin someone else's season in the postseason.
MacMahon:
They can't be sellers. Not if they want to avoid the wrath of a certain 7-foot German. Cuban is too competitive to do anything to reduce the Mavs' chances to get back in the playoffs anyway. But I don't think it's realistic to expect the Mavs to be buyers, either, unless a team is really motivated to dump salary. The Mavs just don't have the assets to be aggressive in the trade market, especially because they can't trade future first-round picks since they're still being handcuffed by the Odom deal.
December, 18, 2013
12/18/13
10:00
AM CT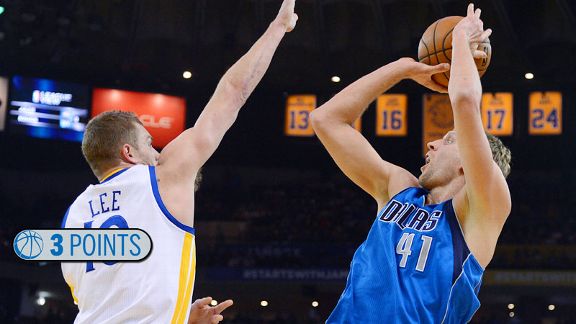 Kyle Terada/USA TODAY SportsDirk Nowitzki leads the Mavs with 21.1 points per game, followed closely by Monta Ellis' 20.8.
ESPNDallas.com columnist Jean-Jacques Taylor and MavsOutsider.com editor in chief Bryan Gutierrez will join me each week to run a three-man weave on a few questions on the minds of Mavs fans.
Don't look now, but Dirk Nowitzki is the Mavs' leading scorer again. Will that be the case at the end of the season for the 14th straight year?
Gutierrez:
Michael Finley
averaged 22.6 points per game while Nowitzki averaged 17.5 in 1999-00. I certainly don't see the margin being that wide between Nowitzki and
Monta Ellis
. Nowitzki is flirting with joining the 50-40-90 (shooting percentages) club for the second time in his career. An efficient Nowitzki will lead to plenty of points. It will be close, but I think Nowitzki maintains his leading scorer title for the Mavericks.
Taylor:
When the season ends, Ellis will be the leading scorer because Dirk will allow the offense to flow through. Ellis has shown he can be a playmaker, especially in the pick-and-roll. As the season goes on, we should expect the 35-year-old star to slow down just a little because of the NBA grind while Ellis will probably maintain his performance. The key for the Mavs was to get a legit sidekick for Dirk, and that's just what they have.
MacMahon:
This will be a neck-to-neck race, although they're really not competing against each other. I'll go with Dirk for a couple of reasons. I figure November, when he averaged 20.4 points per game, will be perhaps his toughest month of the season because of a schedule pace that he called "brutal." Nowitzki will also be a much more consistent scorer over the duration of the season than Ellis, a streaky shooter who will mix in the occasional single-digit dud like Saturday night.
What are reasonable expectations for Brandan Wright?
[+] Enlarge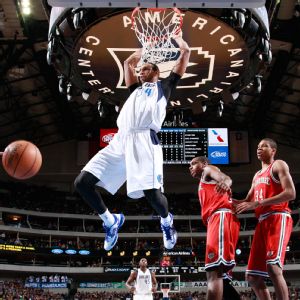 Danny Bollinger/NBAE/Getty ImagesCan Brandan Wright make the jump to being a really good player?
Gutierrez:
A point per minute isn't reasonable? Oh, OK. Wright averaged 11.3 points, 5.5 rebounds, 1.7 blocks and 23.8 minutes in the final 24 games last season. He shot 57.8 percent from the field in that span. Whether he starts or comes off the bench, Wright will see an uptick in scoring average from that span last season without a drop-off in efficiency. An improvement in the rebounding numbers would be huge but is not entirely expected. He'll be a huge insurance policy in scoring for the Mavericks when they need to get Nowitzki rest, especially in the fourth quarter.
Taylor:
Wright is a lively body who should average double figures because he can run the court and he has a nice jumper. If the Mavs can get him to 6-7 rebounds a game, they would really be excited. He's a good player. The question is whether he can make the jump to really good player, which will happen if he can get his rebounding numbers in line.
MacMahon:
I love Wright referring to his late-season production as a minimum expectation. It should be. He returned to Dallas stronger and with a little more range on his jumper, not to mention much richer after signing a two-year, $10 million deal this summer. The next time Rick Carlisle asks for my advice, I'll tell him to start Wright at center to pair him with Nowitzki as often as possible. That's a tremendously effective offensive tandem. Whether that happens or not, don't be surprised if Wright is the Mavs' third-leading scorer.
Fast-forwarding to the summer, who is the free agent not named LeBron you'd most like to see land in Dallas?
Gutierrez:
Shawn Marion
will be a free agent, thus creating a hole there.
Luol Deng
makes sense, but I'm not sure he's worth the perceived price tag. Dallas will need to continue working on its center position as well. This will probably be an underwhelming selection, but put me down for seeing
Marcin Gortat
as the free agent I'd like to see land in Dallas. The Mavericks were close to getting him in the summer of 2009 as a restricted free agent. As an outright free agent, they'll have just as good of a shot as anyone else to land him.
Taylor:
The Mavs, for the most part, have been looking for a center forever. They might be able to get a solid wide body in free agency. Gortat would be a good choice because he's big enough to bang and has a solid offensive game.
Spencer Hawes
might also be intriguing because of his ability to hit the jumper and spread the court. I just don't want to hear Mark Cuban tell me how they're going to get
LeBron James
signed.
MacMahon:
I'll go out of the box a bit and say
Eric Bledsoe
. He's a restricted free agent, so this might be a pipe dream, but he's a blossoming star. So what if the Mavs signed
Jose Calderon
and Ellis last summer? Bring Calderon off the bench and keep his minutes in the mid-20s as he gets into his mid-30s. Bledsoe and Ellis would be a phenomenally fun, explosive backcourt. Bledsoe would solve a bunch of problems defensively, and he's averaging 19.5 points and 6.4 assists for the Suns this season. He would be worth an eight-figure annual investment over four years.
December, 4, 2013
12/04/13
1:07
PM CT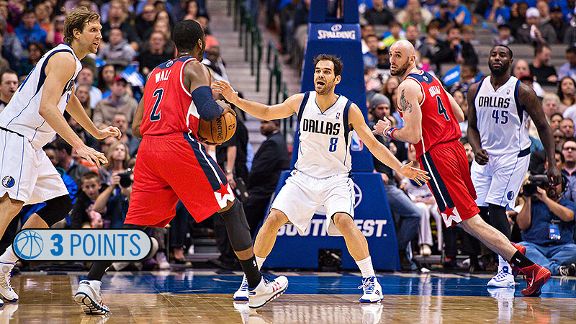 Jerome Miron/USA TODAY SportsNewcomers Jose Calderon and DeJuan Blair have provided a nice complement to Dirk Nowitzki and Co.
ESPNDallas.com columnist Jean-Jacques Taylor and MavsOutsider.com editor in chief Bryan Gutierrez will join me each week to run a three-man weave on a few questions on the minds of Mavs fans.
Who is the most valuable player who averages fewer than 20 points per game on this team?

Gutierrez:
I almost want to say that it's
DeJuan Blair
, but I would be falling into the trap of not appreciating what
Shawn Marion
brings to the team. If it weren't for Blair, Marion would be leading the team once again in rebounds. Nobody saw Marion's reintroduction of his 3-point shot coming, and that certainly adds more value. Add that to his defensive disposition and you've got a multidimensional asset.
Taylor:
DeJuan Blair has been so much better than expected. I knew the reputation as a grinder and rebounder, but it's not hyperbole to talk about him being a beast this year for the Mavs. He has four double-doubles. He's also had five other games with at least eight rebounds. He plays hard and he's relentless on the boards. He's the reason the Mavs have held their own on the boards, when I figured they'd get slaughtered much of the season.
MacMahon:
I give you guys a layup and you blow it. OK,
Jose Calderon
can't make a layup either, but he's the easy answer. Did you see the Mavs fall apart without him in the fourth quarter Friday night in Atlanta? There's a reason
Dirk Nowitzki
essentially demanded that the Mavs get a proven point guard over the summer. Calderon's experience, ability to get the Mavs into their sets and the threat he presents as a perimeter shooter have immense value to the Mavs, especially when his only backups are rookies.
November, 27, 2013
11/27/13
12:00
PM CT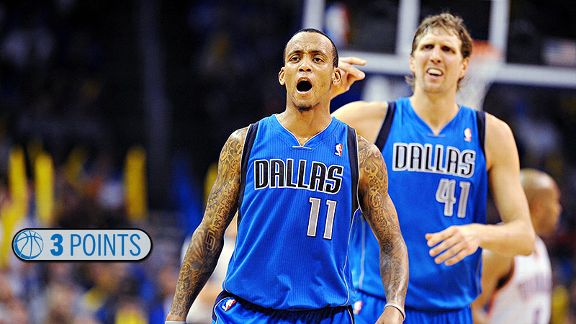 Mark D. Smith/USA TODAY SportsDirk Nowitzki and Monta Ellis have proven to be a potent duo so far this season.
ESPNDallas.com columnist Jean-Jacques Taylor and MavsOutsider.com editor in chief Bryan Gutierrez will join me each week to run a three-man weave on a few questions on the minds of Mavs fans.
Has Monta Ellis taken the torch from Dirk Nowitzki as the Mavs' best player?
Gutierrez:
It may pain some fans to hear this, but Ellis is the team's best player through 15 games. That's not to say that Dirk is done. This is the plan the Mavs have been looking to implement for quite some time: reducing Nowitzki's role. Ellis' ability to penetrate and finish in addition to making his teammates better with his facilitating is the perfect companion to Nowitzki's offensive game. Ideally, the plan would work out perfectly if they run neck-and-neck with the torch.

Taylor:
I'm not ready to go there yet. Not when the Mavs have played fewer than 20 games. He's off to a fantastic start, but just like I said about
Jae Crowder
a couple of weeks ago, consistency is the key. We need to see a body of work from Monta that's three or four months of the same aggressive, attacking style, while making Dirk and others better. Do that, and he might supplant Dirk as the best player. He's headed in the right direction.
MacMahon:
Wonder why Ellis is so much better in Dallas than he was in Milwaukee? The big German has a whole lot to do with that. Ellis/Nowitzki is by far the Mavs' best plus-minus duo this season at plus-81. Nowitzki is half of the Mavs' five next best tandems, too. Nowitzki is part of eight of the top 12 duos; Ellis is half of only two of the top 12. Plus-minus isn't a perfect stat, but it makes it pretty clear that Dirk remains the Mavs' MVP.
November, 20, 2013
11/20/13
12:00
PM CT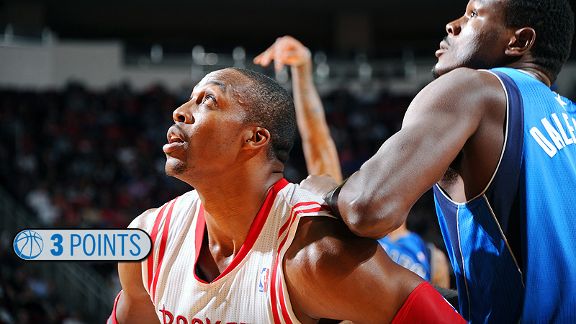 Bill Baptist/NBAE/Getty ImagesWould depth have had to be sacrificed if the Mavericks landed Dwight Howard over the summer?
ESPNDallas.com columnist Jean-Jacques Taylor and MavsOutsider.com editor in chief Bryan Gutierrez will join me each week to run a three-man weave on a few questions on the minds of Mavs fans.
Mark Cuban claimed the Mavericks ended up putting together a better roster for this season than they would have been able to had they signed Dwight Howard. Is he right?
Gutierrez:
It's obviously going to be hard to suggest that not getting the superstar is better. The Mavs would have been front-loaded with Dwight Howard. They probably could have still gotten
Jose Calderon
, but I don't think they would necessarily have the depth that they have at the moment.
Monta Ellis
already has proven that he can be an impact player for the team. With Ellis and depth, the other side of the coin isn't looking so wrong.

Taylor:
I don't think there's much question about that. If the Mavs had Howard, he would be great -- but they wouldn't have an explosive scorer such as Ellis, who makes
Dirk Nowitzki
better with his ability to run the pick-and-roll and get him easy shots. They also wouldn't have Jose Calderon, who also makes Dirk's job easier. No doubt, Howard is easily the better player, but his game wouldn't necessarily make Dirk's life easier or the Mavs a better overall team. Besides,
Samuel Dalembert
and
DeJuan Blair
are averaging a combined 16.3 points and 14.3 rebounds in 38 minutes. The Mavericks are doing just fine at center without Howard.
MacMahon:
I get what Cuban was trying to say -- as clumsily as it came out, from a PR perspective -- and Ellis' early impact with the Mavs makes this a more interesting discussion than anticipated. Would the Mavs be better off with Howard in the middle instead of Calderon and Ellis in the backcourt? Maybe they would have shipped
Shawn Marion
off in a salary-dump deal and still signed Calderon, but Ellis would not have been in Dallas if Howard accepted the Mavs' max offer. The Mavs would be a much better defensive team, but they'd be counting on 35-year-old Nowitzki to carry the offense every night. Either way, the Mavs would have been one of several teams fighting for one of the last few playoff spots in the West.
Rick Carlisle referred to the Mavs' big three as Nowitzki, Ellis and Vince Carter. What do you make of Carter being included in that group?
[+] Enlarge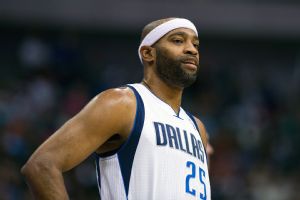 Jerome Miron/USA TODAY SportsVince Carter is averaging 11.4 points off the bench for the Mavs.
Gutierrez:
I look at it as them classifying him as a leader of the team. Marion is a Swiss army knife of a player, but he's not necessarily a Type-A leader. That's not to say Ellis is, but he's shown more than most probably expected. Carter is considered to be a warrior and the leader of that second unit. If Carlisle is saying that in terms of expecting more results from Carter, that's a recipe for danger. It's hard to expect more from a player who will turn 37 in early 2014.
Taylor:
Carter still has his moments, but he's scored more than 20 points just twice this season and his game is so perimeter-based these days that his offense can be inconsistent. I'd lean more toward Marion with his all-around game being more important to the entire team than Carter. Marion can impact a game with offense, defense or rebounding. He's the best all-around player on the team, which is different than being the best player. Carter only impacts the Mavs on offense.
MacMahon:
It's an awfully optimistic projection, considering that it's been five years and three teams since Carter last averaged 20 points per game. To his credit, Carter has embraced the role of a sixth man who plays about 25 minutes per night in his golden years. It's probably a stretch to include him in Sixth Man of the Year discussions, but not too much of one. It's certainly a stretch to still call him a star, although he's still capable of the occasional scoring spree.
Should Shane Larkin jump ahead of Gal Mekel on the depth chart, now that the first-round pick is cleared to play?
[+] Enlarge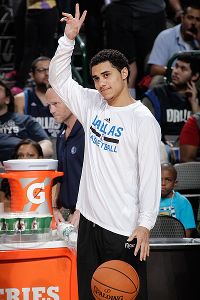 Glenn James/NBAE/Getty ImagesShane Larkin made his NBA debut against the 76ers on Monday.
Gutierrez:
He likely will, but I see
Devin Harris
as the one who could truly be on the outside looking in. Carlisle likes options and versatility within the specific positions. Calderon is the pure point guard and Mekel provides some of the same at a lower level. Harris and Larkin are the speed and athleticism options. Having both of them roll would seem to be redundant. Whoever works better out of Harris and Larkin will get their share of minutes, as will Mekel.
Taylor:
Larkin's play will determine how many minutes he gets. Carlisle demands accountability, which is why he's one of my all-time favorite coaches. If Larkin plays better than Mekel, then he'll get minutes. If he doesn't, he won't. But he must earn those minutes in practice and then play well, when given an opportunity. Mekel has done a solid job overall in limited playing time. It's up to Larkin to demand more minutes with his performance.
MacMahon:
Let's find out how good Larkin can be right now. His electrifying quickness and explosiveness can change games. Mekel doesn't have those traits. I'd love to see Larkin get a legitimate shot to prove he can be productive in J.J. Barea's old role. (Disclaimer: I'll be hesitant to criticize the way Carlisle handles the rookie guards regardless of their roles. Call it the Roddy B. Reflex.)
November, 13, 2013
11/13/13
12:00
PM CT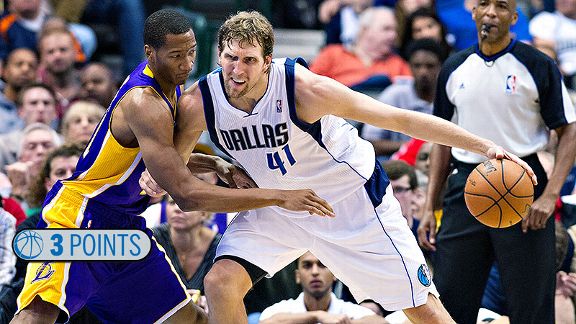 Jerome Miron/USA TODAY SportsDirk Nowitzki is averaging 18.3 points and shooting 43.2 percent from the floor in eight games this season.
ESPNDallas.com columnist Jean-Jacques Taylor and MavsOutsider.com editor in chief Bryan Gutierrez will join me each week to run a three-man weave on a few questions on the minds of Mavs fans.
1. Does Dirk Nowitzki need to be more assertive offensively?
Gutierrez:
At this point in the season, I don't think he needs to necessarily be more assertive on offense. What have the Mavs been saying since they won the title? Their goal was to make Nowitzki the second-best player on the team. It's extremely early, but now that he is, everyone is concerned about Nowitzki? New players are being incorporated and he's letting everyone find their groove. There's no need to panic. Dirk Nowitzki will be fine.
Taylor:
I don't know if the answer is assertive, but I do know heading into the Washington game Dirk had not made more than five baskets in the last four games, which is not nearly enough. So whether Dirk needs to be more assertive or whether Rick Carlisle needs to call more plays that give him opportunities, all I know is Dirk needs to be more involved in the offense.
MacMahon:
Yes. Dirk doesn't need to ever pass up a decent look. There have been times this season that he's passed to an open teammate instead of taking a jumper when he had a little room. There's no need for that. You're the sweetest-shooting 7-footer in NBA history. When in doubt, let it fly.
2. Jae Crowder is clearly the most improved Maverick. What are your expectations for Crowder the rest of the season?
[+] Enlarge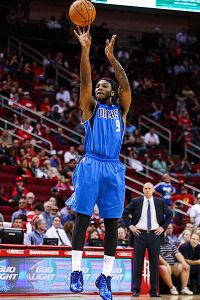 Troy Taormina/USA TODAY SportsJae Crowder is shooting 54.2 percent from three-point range.
Gutierrez:
Crowder will regress to the mean over the next few weeks, but we'll have to wait and see what the mean actually is. He shot 38.4 percent from the field and 32.8 percent from beyond the arc during his rookie season. Coming into the league, Crowder didn't have a jumper. If he can hover around being an average 3-point shooter, which I think is possible, that's a big development for the Mavs. The jury is still out on whether he can be an all-around threat for the team.
Taylor:
In the NBA, the name of the game is consistency. I love the work Crowder has done in the offseason to make himself a true 3-point threat, but he was 2-for-5 with four points against Milwaukee and again against Washington. I think he'll be a consistent member of the rotation and he'll eventually get up to about 25 minutes a game.
MacMahon:
He can be a quality rotation player, a guy who gives the Mavs about 20 good minutes per night. His shooting percentages are obviously going to drop -- he's sitting at .583 from the floor and .542 from 3-point range -- but he's put in enough work on his shot and his body to be a complementary offensive threat. The key to Crowder being a consistent contributor, however, is for him to be a mini-Matrix on defense. The Mavs need him to be versatile enough to guard good scorers at a few different positions. He's been up to the task so far.
3. How concerning are Vince Carter's early-season struggles?
Gutierrez:
There's a mild concern when you think about the fact that Carter is going to turn 37 in early 2014. That's a lot of tread on the tires. That said, I'm going to chalk up the early-season struggles to a slump. Carter's shot looked very nice during the preseason, so he showed that he's still got it. The Mavs have enough depth on the bench this season that can help alleviate when someone is slumping. He should come around.
Taylor:
Vince is what he is at this point of his career. On the nights he feels it, he can play 25 minutes and get you 16 points. On those nights he doesn't, he needs to play 15 minutes. This is what age does to a player. On a given night, he can still explode for 25, you just have no idea when it will happen. Vinsanity has retired.
Vince Carter
can still help the Mavs.
MacMahon:
Carter snapped out of a mini-slump with 16 points on 6-of-13 shooting in Tuesday's win over the Wizards. The Mavs need that kind of performance to be closer to the norm for their sixth man. Father Time will be a factor some nights, but the Mavs will keep Carter's minutes in the mid-20s to make sure he's as fresh as possible and are counting on him to be productive in that limited time.
October, 30, 2013
10/30/13
12:00
PM CT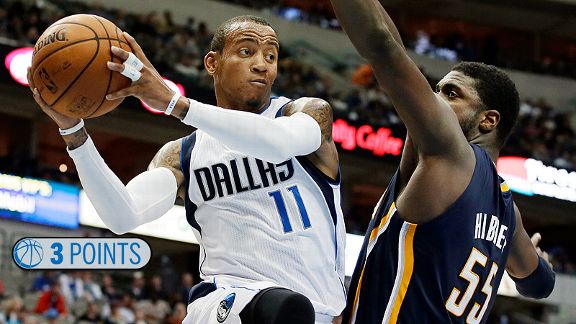 AP Photo/Tony GutierrezThe Mavs are hoping Monta Ellis can be a high-scoring sidekick for Dirk Nowitzki.
ESPN.com senior NBA writer Marc Stein and MavsOutsider.com editor in chief Bryan Gutierrez will join me each week to weigh in on three questions that are on the minds of Mavericks followers.
1. Other than Dirk Nowitzki, which Maverick is most important to the team's success this season?
Gutierrez:
Monta Ellis
is the easy answer, but I'm going to take
Samuel Dalembert
. The Mavs have the potential to be scary on offense, but they need help on defense. If Dalembert can provide them with 25-to-28 minutes/game, that bodes well for them. If not, Dallas is playing a style that isn't optimal for success
Stein:
I think Mark Cuban already answered this for us. Wasn't it just last week that he was referring to Samuel Dalembert as "the key" to the season? Given the limited depth behind Dalembert and all the questions about the Mavs' team D, it's hard to argue with the premise that they've got to keep him on the floor and get a tangible contribution from him ... unsettling as it must be to have so much riding on a player who, to put it charitably, has always been up-and-down.
MacMahon:
If Dalembert is more important than Ellis, why is the big man making less than half as much money? You boys are so easily brainwashed. Dallas is not going to be a good defensive team. They're going to have to be potent offensively to be a playoff threat, and that means Ellis must be a high-scoring sidekick for Dirk -- and much more efficient than he was in Milwaukee.
2. What are reasonable expectations for Nowitzki at age 35?
[+] Enlarge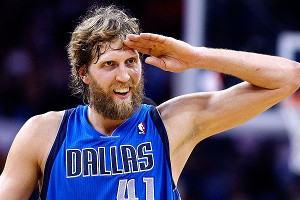 AP Photo/Jonathan Bachman)Dirk Nowitzki celebrates after scoring his 25,000th career point during the first half against the New Orleans Hornets on Sunday.
Gutierrez:
If he's healthy, Nowitzki's post All-Star break numbers of last season -- 18.9 points, 7.7 boards on .505 shooting from the field, .433 from 3-point range -- are reasonable. Those percentages might be high, but Nowitzki has the potential to get some great looks at the basket. Doubters will likely fuel his fire to a massive bounce-back season.
Stein:
Don't get so hung up on the age thing. Nowitzki starts the season in much better shape at 35 than he did at 34. I honestly can't remember too many preseasons in the past where he looked this sharp this early. It's only natural that his rebounding numbers will dip a bit in Year 16, but as I've said countless times in the past, he's the last Mav that any Mav Lover should be worrying about.
MacMahon:
It'll be a major disappointment if Dirk isn't seriously considered for his 12th All-Star appearance after taking a midseason trip to a Mexican beach last season instead. He proved after the break that he can still put up impressive numbers in economical fashion. No reason he can't boost that scoring average back into the 20s with the help of competent point-guard play.
3. How will the Mavs finish the season?
Gutierrez:
The Western Conference is still tough as nails, but downgrades by the Nuggets and Lakers open the door for the Mavs to climb back into the playoffs. After a one-year absence, Dallas returns to the playoffs. Put me down for them finishing the year as the seventh seed with a record of 46-36.
Stein:
They will be back among the West's playoff teams. I feel pretty confident about that after watching last season's motley crew squeeze out a 41-41 record with Dirk missing nearly 30 games. The ceiling is realistically 45 to 47 wins in a conference with at least 12 teams with legit playoff aspirations -- and it's all a far cry from what the organization and their fans are used to around here -- but Dallas' outlook isn't nearly as dire as many are projecting.
MacMahon:
I see a team that wins 45-48 games, which should be good enough to claim one of the West's last couple of playoff spots. The Mavs will have to pull off a major upset to escape the first round. That would fall far short of the standards established by the franchise during the Dirk era, but it'd definitely be a step in the right direction of last year's miserable mediocrity.