Dallas Mavericks:

3 Points
March, 12, 2014
Mar 12
12:00
PM CT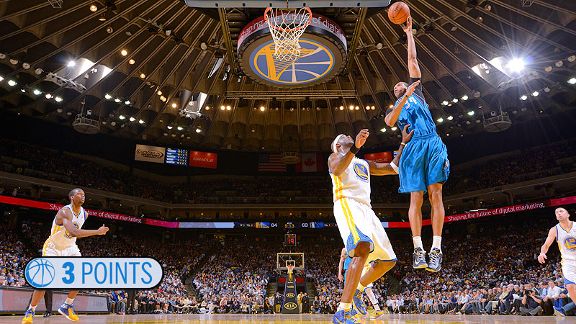 Rocky Widner/NBAE via Getty ImagesBrandan Wright is making the most of his minutes with the Mavericks.
ESPNDallas.com columnist Jean-Jacques Taylor and MavsOutsider.com editor-in-chief Bryan Gutierrez will join me each week to run a three-man weave on a few questions on the minds of Mavs fans.
1. Brandan Wright ranks among the top 10 players in PER this season. Is that evidence that he deserves more minutes or that Rick Carlisle is doing a masterful job picking spots to play Wright?
Gutierrez:
It's evidence he's effective in situations where he's poised to succeed. If you look at the matchups against Portland and Indiana, they involved bigger players who were comfortable working in the post. He's generally ineffective against those players because they impose their will in the paint and that provides easy buckets for the opposition. The positioning is also an issue when it comes to rebounding. Look at Carlisle's track record. Rodrigue Beaubois, DeShawn Stevenson,
J.J. Barea
, Carlisle picked his spots with those players and put them in situations to succeed. Wright deserves minutes when they're advantageous for the team.
Taylor:
Wright, for the time being, is really nice role player. But his role is limited to certain situations because he's a true tweener. He can't bang against the big boys and that means Carlisle feels comfortable playing him only with certain other players, so the spacing remains good on offense. Wright could force Carlisle to play him more if he was a better and more consistent rebounder, but we haven't seen that yet.
MacMahon:
I've got a condition I call the Roddy B. Reflex that makes me very hesitant to second-guess Carlisle's rotations. I lobbied hard for Beaubois to get a bigger role as a rookie, and we all know how he wilted when his minutes increased. Having said all that, I'd like to see Wright in the 25-minute-per-game range. He earned his two-year, $10 million deal by flourishing in an increased role down the stretch last season, and his net rating (plus-6.1 points per 100 possessions) is by far the best of the Mavs' centers. Next time Carlisle asks my advice, I'll tell him to stop using
DeJuan Blair
as the first big off the bench and give those minutes to Wright.
[+] Enlarge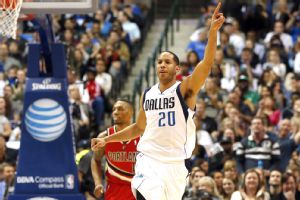 AP Photo/John F. RhodesSince his return, Devin Harris has impressed when his Achilles isn't bothering him.
2. Should Devin Harris be in the closing lineup on a consistent basis?
Gutierrez:
A sore right Achilles halted Harris' night in Golden State and easily leaves him questionable for the game against Utah. If he's able to avoid missing a lot of time, he's primed to be a factor in the closing lineup. Harris is a quasi-DeShawn Stevenson or maybe even a mixture of Stevenson and
Jason Terry
. Back in 2011, Stevenson set the tone in terms of defense to start games, and Terry didn't care about starting games during his time in Dallas -- he cared about being out there during crunch time. If Harris can bring some dribble penetration and bring some defensive disposition, it's the best of both worlds.
Jose Calderon
appears to be the one who will draw the short straw in terms of closing minutes, but he's a veteran and is willing to do what is best for the team. Health permitting, it appears
Monta Ellis
and Harris could be the closing backcourt during the stretch run.
Taylor:
Well, we saw the problem with Harris in Tuesday night's blowout loss to Golden State. We can't trust his health yet. This is the second time he's had a sore Achilles. The best thing to do, right now, regarding Harris is just accept what he can give you on a game-by-game basis. No expectations. When he can play and he's playing well, then use him in fourth quarter. But until we can trust his health it's hard to define his role.
MacMahon:
This sore Achilles is pretty poorly timed, but the Mavs don't believe it's serious. If Harris is healthy enough to play, he should be part of the Mavs' closing lineup unless Calderon is just lighting it up that night. Harris earned those opportunities with his clutch heroics over the weekend. He's the Mavs' best defensive guard and his ability to create off the dribble makes a major difference in crunch time. Calderon has been just a floor-spacer during closing time this season -- and not particularly effective in that role. This is an easy decision unless Harris' health complicates the issue.

3. Which West team should the Mavs most want to avoid in the playoffs?
Gutierrez:
It's clear that both San Antonio and Oklahoma City are the teams Dallas needs to avoid. If you're forcing me to pick one, I'm going to go with Dallas needing to avoid San Antonio. They have so much depth at their disposal and that depth can negate Dallas' strength in numbers approach. As we saw in the matchup just over a week ago, the ball movement and pick-and-roll action they create puts the Mavericks in an incredible bind. San Antonio is a machine and Dallas doesn't have the components to slow them down. To avoid both, Dallas needs to emerge as the sixth seed in the West.
Taylor:
It's a tie. The Mavs have no chance to beat San Antonio because the Spurs are too smart, and they have no chance to beat Oklahoma City because the Thunder are too athletic. If the Mavs played a lick of defense they'd have a sliver of a chance against these two teams. Since they don't, they would be lucky to force either series to six games.
MacMahon:
The Spurs and Thunder are both horrific matchups for the Mavs, but I'd call Oklahoma City the greater of the two evils. There is high potential for humiliation if you face a team with two premier young superstars such as
Kevin Durant
and
Russell Westbrook
in a playoff series. Side note: Bricktown is better than that muddy-beep thing they call the Riverwalk.
March, 5, 2014
Mar 5
12:34
PM CT
ESPNDallas.com columnist Jean-Jacques Taylor and MavsOutsider.com editor-in-chief Bryan Gutierrez will join me each week to run a three-man weave on a few questions on the minds of Mavs fans.
1. Who will be the odd team out among the four squads fighting for the West's final few playoff spots?

Gutierrez:
I still think Memphis ends up being the odd team out. They're a team that is still relatively stuck in identity limbo. They've been known for their defense, but they're no longer a top-10 team in terms of defensive efficiency. Earlier in the season Memphis flirted with the idea of pushing the tempo on offense, but they don't have the personnel to function in that style. That leads to them being in the bottom half of offensive efficiency. The Mavericks also hold the tiebreaker over the Grizzlies, putting Memphis farther behind the eight ball. The Mavericks have a brutal stretch ahead of them to finish out the season, but they at least have a top-level offense to hang their hat on. They'll struggle but find a way to hold on. If for some reason they fall flat on their face to finish the season, that will open the door for Memphis to sneak in.
Taylor:
It's going to be a tight race all the way until the final game or two, but I don't believe in Phoenix. They're fading, having lost seven of 13, and they don't have a true star that can carry a team late in the season. The Suns weren't supposed to be a playoff team this year, and they may be coming back to the pack after a fantastic start.
MacMahon:
The schedule isn't doing any favors for any of these teams, but at least the Mavs play the majority of their games at home the rest of the way. The Grizzlies (14 of 23) and Suns (14 of 22) will be road warriors the rest of the way. Given the Grizzlies' significant advantage in experience, I'll also pick the Suns to slide out of the playoff picture and into the lottery.
2. Is Mark Cuban correct that elite prospects would be better served by playing in the D-League instead of a one-and-done college career?
Gutierrez:
Cuban is on the right track. If the goal is the NBA, a teenager's best interest isn't by being a part of an NCAA team. The NBA ecosystem, which includes the D-League, and allows players to get proper practice, further understanding of the game, access to state of the art training facilities and steady, consistent time for playing. Players get to compete against others who are pursuing the same goal. These players would be competing against professionals or semi-professionals, thus playing against better talent and giving them a better chance to improve. There are things that the D-League needs to improve on, but I think it's headed in the right direction. There would be complete transparency with Cuban's idea, something that is clearly lacking in the NCAA.
Taylor:
That's a complicated question because the NCAA doesn't care about the kids and neither does the NBA. Each entity sees players only as currency that will make its product better. There's something to be said for going to school – even if it's for a year or a semester. Then again, there's something to be said for immersing yourself in your chosen field and seeing how good you can be. I wouldn't mind kids who have no interest in school going to a developmental league.
MacMahon:
It's a fascinating idea that would need a lot of follow-up work. If the NBA wants elite prospects to go straight to the D-League – and maybe the league office doesn't – then it needs to take major steps to enhance the D-League. This can't be a situation that some teams take seriously and some don't. It has to be a league-wide effort. Cuban is on point about the NCAA being a bunch of hypocrites, but it's hard to argue that D-League coaches are superior than the coaches at college basketball powerhouses.
3. What do you make of the D-League dominance by Jae Crowder and Bernard James?
[+] Enlarge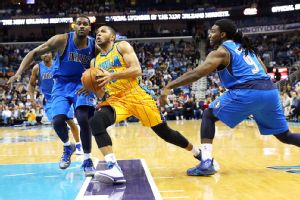 Crystal LoGiudice/USA TODAY SportsBernard James and Jae Crowder dominated in the
D-League, but how much does that really mean?
Gutierrez:
I make of it that they're doing what they're supposed to do. They're players that know what it takes to perform at an NBA level, so they should be able to thrive at a level below that. Cuban said it best -- if they lollygag or don't perform as expected, they'll find themselves making more trips to Frisco. James is project center who still needs to learn the fundamentals on offense, but he's on the older side of the spectrum as a project. Crowder still needs to find his way in becoming an all-around threat. He can defend, but he's not overly great at anything else. The Mavericks are likely pumping a dry well when it comes to James. The question then becomes, can Crowder evolve to become a consistent option as a rotational player? Dominance in Frisco likely won't help answer that question, but it will allow him to get more time to play and work on his game.
Taylor:
Nothing. They're still basically end-of-the-bench NBA guys. It would be like me getting impressed if a bench warmer or role player at Duke went to Division II and average 25 points a game. No different than guys who hammer Triple-A pitching but can't get it done in the big leagues.
MacMahon:
If guys flunk the
J.J. Barea
test, they won't ever amount to anything in the NBA. In other words, if you've got a chance to be a quality NBA role player, you better dominate in the D-League. It'd have been disappointing if Crowder (two triple-doubles) and James (38 points, 18 rebounds in his one game) didn't tear it up for the Texas Legends. (It's a red flag that
Shane Larkin
and
Ricky Ledo
haven't had bigger impacts in the D-League.) It's evidence that Crowder and James have some potential, not proof that they should be in the Mavs' rotation right now.