Dallas Mavericks:

Matt Carroll
February, 25, 2011
2/25/11
10:45
AM CT
By
Jeff Caplan
| ESPNDallas.com
DALLAS -- For years,
Dallas Mavericks
owner Mark Cuban has spared no expense to acquire talent. It wasn't always money well spent, but it was money spent in the name of doing whatever it takes to put a winner on the floor.
The lone glaring exception, of course, was Cuban's decision to let
Steve Nash
walk for big cash in
Phoenix
. But, back in the summer of 2004, few media voices blamed Cuban, and most even agreed that Nash, who had yet to hit is two-time MVP form, was a health liability moving forward. Nash, of course, has made all those people look foolish, and ESPN.com's Marc Stein reported in the weeks leading up to the trade deadline that the Mavs were interested in bringing Nash back if the Suns were ready to deal.
Money, and more precisely how it's spent, now seems to matter far more to Cuban. The obvious reason is the expiring CBA and the assumption that a hard cap is on the way. For years, the Mavs have ranked at the top of the league with the
New York Knicks
in payroll and Cuban has coughed up millions more each season in dollar-for-dollar luxury tax.
Looking at the 2011-2012 season (assuming all or at least a partial season is played after a potential lockout), the Mavs have around $57 million locked into eight players. The (soft) salary cap this season is $58 million and the Mavs' payroll hovers around $86 million. If a hard cap is enacted and is set at, say, around $60 million -- and it might not be that high -- taking on additional salary now can be extemely limiting over the next few seasons.
And, in particular, this offseason when the Mavs will pull out all the stops to keep center
Tyson Chandler
after he becomes the most sought-after big man on the free agent market.
We saw a harder financial stance taken by Cuban last offseason when the Mavs had
Al Jefferson
targeted in a potential trade with Minnesota, but balked at taking on Jefferson's three-year, $42 million contract without the Timberwolves helping out and taking back some of the Mavs' bad contrats. Charlotte eventually did, taking
Matt Carroll
and
Eduardo Najera
off Dallas' books in the deal that sent Chandler and his expiring $12.6 million contract. Utah landed Jefferson because it didn't need to dump salaries back on Minnesota.
Money was again a factor at the trade deadline. The Mavs seem to have dug in regarding taking on salary, which is why seemingly difference-maker-type players such as
Stephen Jackson
, who has two more years at some $19 million left on his contract, never got a serious sniff despite the immediate impact he could have made offensively and defensively at the wing position. And why
Tayshaun Prince
, with an expiring contract, was much more palatable. Detroit, however, hung on to Prince.
The Mavs were willing to take on
Devin Harris
and his remaining $18 million only because they viewed him as a gateway to possibly acquiring
Deron Williams
.
Mavs president Donnie Nelson said after Thursday's 2 p.m. trade deadline passed with the Mavs standing pat, that the organization did not draw a line in the sand regarding taking on salary.
"No. I think that in a couple years there's certainly an argument for having some room," Nelson said. "But, again it's talent first, second, third. So, if there was a talented player that went into that cap space we were willing to look at that."
Instead of adding big money, the Mavs signed
Peja Stojakovic
on the cheap after the
Toronto Raptors
bought out his eight-figure salary on the final year of his deal. And the return of
Roddy Beaubois
the week leading into the All-Star break provides what the Mavs hope will be a super-impact player at the bargain-basement price of $1.2 million.
February, 9, 2011
2/09/11
11:38
AM CT
Maybe, just maybe the Mavericks will get a chance to kind of correct the biggest personnel mistake in franchise history.
They'll never be able to get back the last six and a half seasons, but there are at least murmurs about the Mavericks bringing Nash back to Big D in a trade.
ESPN.com's
Marc Stein mentions the possibility in the Weekend Dime
, making it clear that the only way it could happen was if Nash demanded to be dealt. Nash insists he has no intention of taking such a hard stance with the Suns' front office.
But, as Stein writes …
It should be noted, though, that there are a handful of Nash associates who greet such statements with undeniable skepticism. Multiple sources close to the Suns' QB told ESPN.com in recent days that they believe Nash is too competitive not to eventually tire of this season's struggle just to get Phoenix into the playoffs. There's a distinct belief in that circle that Nash could still push for a trade before the deadline -- preferably with his good buddy Grant Hill attached to the deal -- and that he can't help but be intrigued by the concept of a Big D reunion with two of his all-time favorite teammates besides Hill: Dirk Nowitzki and Jason Kidd.
This would be the best-case trade scenario for the Mavs this season. Yes, better than pulling off a deal that ends the Melo Drama.
Carmelo Anthony
would be worth the risk as a rental, because he'd be the best player ever to be paired with Dirk. But it could be a poor fit from a chemistry standpoint. And the odds are he'd head to New York this summer.
With Nash, the Mavs would know they're getting a great player for at least the next season and a half. They also know they're getting a team-first guy who already has great relationships with two of the Mavs' most important players … and you can bet
Tyson Chandler
would welcome another of the NBA's best passers with outstretched arms, high above the rim.
[+] Enlarge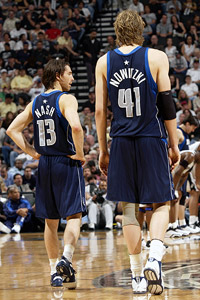 D. Clarke Evans/NBAE/Getty ImagesIt's a long-shot, but a reunion of Steve Nash and Dirk Nowitzki is the Mavs' best-case trade scenario.
What might it take to get Nash? ESPN.com's Bill Simmons came up with a realistic deal while covering all the sweet storylines of a Nash/Mavs reunion in
his recent mailbag
.
The Mavs could offer Rodrigue Beaubois (a legitimate trade chip), Caron Butler's expiring deal, DeShawn Stevenson's expiring, their 2011 No. 1 pick and $3 million for Nash, Grant Hill and Josh Childress (whose unseemly contract would be the Trade Tax for giving up Nash and Hill).
The math on that deal works, thanks to the trade exception the Mavs got for dumping
Matt Carroll
while taking Chandler off of Charlotte's hands. The Childress' contract ($27 million over next four seasons) would be tough to swallow, but the only real reason for hesitation is to part with promising Roddy B. for a guard who turned 37 this week.
Mark Cuban – who, by the way, blames Don Nelson's misevaluation for letting Nash leave in the first place -- is on the record as saying he won't trade Beaubois unless he gets an All-Star in his prime in return. Well, Nash fits the bill, even though he's technically not an All-Star this season.
Yes, he's in his prime at 37, crazy as that sounds. Just look at the stats he's putting up without a lot of talent around him for the Suns this season. He's averaging 16.7 points per game with ridiculous efficiency (.523 FG, .403 3-point) while dishing out 11.1 assists per night. His game hasn't dropped off since his two MVP seasons.
From a basketball perspective, Nash would be a phenomenal fit. He could be paired with good buddy Kidd in the best passing backcourt in NBA history, with Kidd guarding 2s and Nash playing off the ball on offense, giving the Mavs a premier penetrator. The Mavs would also have the luxury of limiting the minutes of both Kidd and Nash, making sure they're fresh for the playoffs.
The Mavs' mission over the next four years – the length of Dirk's deal – is maximizing their chances to win a championship while the window is open for the best player in franchise history. The best possible way they could improve those odds over the next couple of weeks is to pull off a deal to bring back a man who never should have left.
December, 3, 2010
12/03/10
9:44
AM CT
By
Jeff Caplan
| ESPNDallas.com
The
Utah Jazz
have undergone some changes.
Carlos Boozer
and
Kyle Korver
defected to Chicago. But, in came big
Al Jefferson
and veteran agitator
Raja Bell
, and the Jazz might be better than ever.
With arguably the league's best point guard,
Deron Williams
, running the show, the Jazz are off to a 15-5 start, have won seven in a row and are always one of the most difficult road games for the
Dallas Mavericks
to leave a winner.
Also riding a seven-game win streak, the Mavs (14-4) will shoot for their first win at Utah in six games tonight in what should be an action-packed showdown at 9:30 p.m. (ESPN). Utah has won four straight at home. The Mavs are 6-1 on the road.
"They're winning games and we are, too," Mavs forward
Caron Butler
said, "so it should be a good one."
Utah has won 10 of the last 13 over Dallas at home and have had a habit of breaking out to fast starts, working their crowd into a lather while putting the Mavs on their heels. And, of course, strange things seem to happen in Utah. In successive years,
Dirk Nowitzki
left Salt Lake City with a one-game suspension. In 2007, a rough takedown of
Andrei Kirilenko
under the basket got Nowitzki suspended, but not ejected. The next season, an incident with
Matt Harpring
got him ejected and suspended.
Harpring no longer plays for the Jazz, but the always antagonistic Kirilenko does, although his new-look, long, stringy hairy makes him difficult to recognize.
'"They're always one of the best teams in the West, obviously well-coached," Nowitzki said. "They always play hard there, their fans are great, so it's definitely a great test for us. But, if we can just keep doing what we're doing we should be all right. If we defend well, get the rebounds and then spread the ball around, let everybody touch it, let everybody score, we're a tough team to beat."
The Mavs had serious interest during the offseason in dealing for the 6-foot-10 Jefferson, but the
Minnesota Timberwolves
preferred the Jazz's offer that included no salary dumps. The Mavs were determined to ship
Matt Carroll
and his overpriced salary in any trade. So Jefferson is with the Jazz and is averaging 16.8 points and 8.7 rebounds. He and
Paul Millsap
(18.4, 8.5) form a tough-to-handle combo at the 4-5 positions.
Dallas ended up trading Carroll's salary and
Erick Dampier
to
Charlotte
for 7-foot-1 center
Tyson Chandler
, and the Mavs are pretty happy with how that's worked out.
The Jazz make their first visit to Dallas in eight days, but in this first of four meetings, the Mavs are expecting a Jazz team to be at their high-energy, agitating best.
"They make you play on every single possession and in many cases they make you play 22, 23 seconds," Mavs coach Rick Carlisle said. "You can never relax against this team."
November, 8, 2010
11/08/10
12:49
PM CT
By
Jeff Caplan
| ESPNDallas.com
DALLAS -- The Big Shamrock, the latest incarnation of
Shaquille O'Neal
, is not expected to play tonight when the
Boston Celtics
, nine-point winners over the
Oklahoma City Thunder
on Sunday night, make their lone trip to the American Airlines Center to play the
Dallas Mavericks
.
O'Neal's been out since Oct. 29 because of a right knee bruise sustained when he collided with
New York Knicks
center
Amare Stoudemire
. Shaq got off to a pretty good start with his latest team through three games. Starting all three, he averaged 8.7 points and 5.3 rebounds in 20.7 minutes.
If he doesn't play tonight, it's too bad since the big man is always fun to see on the court and he loves to clown around with Mavs owner Mark Cuban. That doesn't mean Shaq won't have his fun. In fact, he already has. Shaq took to his Twitter account Sunday night and sent a tweet to Cuban that included an attached video.
The tweet read: "
Dear mark Cuban I'm leavin Oklahoma driving to Dallas rt now, it's on"
The accompanying
2 1/2-minute video
is Shaq filming himself in the car theatrically lip-synching to some rock ballad blaring from his stereo.
Weird, wild stuff.
August, 9, 2010
8/09/10
11:22
AM CT
By
Jeff Caplan
| ESPNDallas.com
Injured
Dallas Mavericks
guard
Roddy Beaubois
is on his way back to Dallas from France and upon arrival later will have his broken left foot examined by team physician Richard S. Levy on Monday.
PODCAST
Mark Cuban talks about making a play for the Rangers and Roddy B's status on The Ben and Skin Show.

Listen

Beaubois broke the fifth metatarsal bone last week while training with the French National team for the FIBA World Championships later this month. Initial estimates were that Beaubois could miss up to three months. Mavs training camp opens in late September and the regular season starts in late October.
Mavs owner Mark Cuban, appearing Monday on the "Ben & Skin Show" on 103.3 FM ESPN, said he's not overly concerned because of the amount of time that remains until the start of the season.
"No, it wasn't a huge setback," Cuban said. "He broke his foot, he didn't have it amputated."
Cuban said he is also not concerned with Beaubois' progress at point guard despite what appeared to be a somewhat disappointing summer league in Las Vegas. Cuban said Beaubois will play better when surrounded by
Jason Kidd
,
Caron Butler
and
Dirk Nowitzki
as opposed to playing with a makeshift roster of guys who will mostly be headed overseas.
"Those guys are going to make a point guard look a whole lot better than Omar [Samhan]," Cuban said, referring to the Saint Mary's center who played on the Mavs' summer-league team and will begin his pro career in Lithuania.
Cuban hit on a couple of other subjects:
*The owner said he was excited about acquiring center
Tyson Chandler
in a trade: "We traded Matt [Carroll] and Eddie [Najera], two guys that barely got off the bench, for the starting center on Team USA," Cuban said. Chandler does appear to be a lock as the starting center for Team USA as it competes in the World Championships in Turkey beginning on Aug. 28. Cuban said Mavs head athletic trainier Casey Smith, a member of the Team USA medical staff, has reported that Chandler appears to have regained the explosion he had prior to ankle injuries that ruined the past two seasons.
*Cuban said rookie shooting guard
Dominique Jones
is in Dallas and working out. "We're excited about him," Cuban said.
*Regarding Nowitzki's new, four-year, $80 million deal, Cuban said his 7-foot forward was never about the money (he could have signed for as much as $96 million) and that they discussed ways to improve the team through a major trade. That didn't happen this summer, but Cuban said the two also discussed how the bigger deals typically happen near the trade deadline in February. The Mavs have made two big deadline deals over the past three seasons. "That's when the over-the-top trades happen," Cuban said.
July, 13, 2010
7/13/10
2:54
PM CT
By
Jeff Caplan
| ESPNDallas.com
Clearly this is part of an on-the-fly master plan moving forward because relinquishing the coveted $13 million
Erick Dampier
trade chip for
Charlotte Bobcats
centers
Tyson Chandler
and underachieving 2008 first-round draft pick
Alexis Ajinca
would seem a move solely to create financial flexibility.
Headed to Charlotte with Dampier is the
Dallas Mavericks
' lone backup power forward
Eduardo Najera
and, interestingly, bench-warmer
Matt Carroll
, who returns to his previous team the day after Minnesota general manager David Kahn killed a Mavs trade proposal for
Al Jefferson
by refusing to take on Carroll's remaining $11.7 million over the next three years.
ESPN.com's Marc Stein reports that the Mavs are now looking to shore up the power-forward position by signing
Al Harrington
, a strong, physical presence and a good scorer, starting at the full mid-level exception of $5.8 million next season. Harrington made $10 million last season and averaged 17.7 points and 5.6 rebounds for the New York Knicks, but with a shrinking market, the MLE will likely be his best offer. The 12-year veteran was part of the Golden State team that took down the No. 1-seeded Mavs in the 2007 playoffs.
Stein also reports that the trade was made to create as much financial flexibility as possible to keep pursuing a major deal, such as New Orleans'
Chris Paul
if the struggling franchise, as remote as it would seem, reverses field and decides to part ways with its star.
Among Chandler ($12.6 million),
Caron Butler
($10.8 million),
DeShawn Stevenson
($4.1 million) and
J.J. Barea
($1.8 million), the Mavs currently hold nearly $30 million in expiring contracts.
The Bobcats will waive Dampier and reap the $13 million savings (although Stein reports Charlotte might try to shop Dampier first to fill another void). Dampier will then become an unrestricted free agent and it is not expected that he will return to Dallas, a source with knowledge of Dampier's thinking said, which would end his six-year stint with the franchise.
The 7-foot-1 Chandler, who played so well for New Orleans, blocking shots and slamming lob passes from Paul during the 2008 season when the Hornets ousted the Mavs in the first round, has dealt with multiple injuries, but has said he's eager to show teams that he is healthy again as he enters a big contract year.
Chandler, at $12.6 million in the final year of his contract, becomes the highest-paid of four 7-foot centers now on the roster.
Brendan Haywood
was promised the starting job before he signed a six-year, $55 million deal. The other two centers are both projects from France, Ajinca, and
Ian Mahinmi
, who was signed on Monday to a minimum contract.
This should also finally put to rest any further speculation that
Shaquille O'Neal
is or ever was a Mavs target.
As badly as the Mavs and their fans wanted to see a significant free-agent splash come from the Dampier chip, it became obvious that it just wasn't going to happen. This trade, at best, gives the Mavs a second athletic center in Chandler, who, if healthy, can be an intriguing piece, as well as keeping the door open with additional financial flexibility to wheel-and-deal and further re-make the team moving forward.
July, 13, 2010
7/13/10
2:32
PM CT
The Mavs entered the offseason hoping for fireworks, optimistic that they'd be able to acquire a co-star for
Dirk Nowitzki
with one of the most attractive trade assets in the market.
But the
Erick Dampier
chip turned out to be a dud.
The Mavs were never serious contenders to land any of the free-agent superstars in a sign-and-trade deal. They tried to land
Al Jefferson
, only to have the
Utah Jazz
seize the opportunity in the late stages of talks with the Timberwolves.
Less than 24 hours later, the Mavs settled for another overpaid center and a project.
This deal makes financial sense for Mark Cuban.
Tyson Chandler
, the injury-prone big man on his way from Charlotte to Dallas, will make $12.6 million this season in the final year of his contract.
Alexis Ajinca
, who will join
Ian Mahinmi
as former first-round pick French project centers who sit on the pine, will make $1.47 in the final guaranteed season of his rookie deal.
The Bobcats were willing to take
Matt Carroll
(three years, $11.7 million) and
Eduardo Najera
(two years, $5.75 million) as the price for improving their bottom line this season.
If healthy, Chandler would combine with
Brendan Haywood
to make a solid center tandem, although neither big man is an offensive weapon other than finishing around the rim. But that's a big, big if. He's missed more than 30 games in each of the last two seasons, when his rebounding rates have dropped drastically.
An optimist might hold out hope that Cuban and Co. will be able to flip Chandler's expiring contract for an impact player before the trade deadline.
A pessimist – or perhaps a realist – is simply disappointed that the Mavs couldn't make better use of Dampier's evaporating contract.
July, 13, 2010
7/13/10
6:03
AM CT
By
Jeff Caplan
| ESPNDallas.com
Yes, big
Al Jefferson
comes with a price tag to match, $42 million over the next three seasons. Not to mention the cost to get him: The $13 million
Erick Dampier
trade chip and two conditional first-round draft picks.
A reasonable arguement exists that it is too steep a price to pay for a 25-year-old, 6-foot-10, 265-pound power forward/center that can dominate the low block, score, rebound and perhaps, even with a past knee injury, prove to be a perennial All-Star. To that end, patience will be preached by the
Dallas Mavericks
in hopes of using the Dampier trade chip down the road to commit
Pau Gasol
-like thievery and fleece a financially desperate franchise of its star.
Mavericks owner Mark Cuban is hailed, and rightly so, as a big spender and a risk-taker. He will absorb unsightly contracts in the name of winning and winning now. He proved it with the 2008 Jason Kidd trade and again in 2009 with the
Caron Butler
-
Brendan Haywood
-
DeShawn Stevenson
deal.
Yet, in 2004, the heart of the franchise,
Steve Nash
, walked without a fight. Now what must Dirk Nowitzki be thinking? He recently preached caution to Cuban about doling out unwarranted contracts and becoming trapped under them. His new four-year deal, Nowitzki rationalized, affords time to acquire heavy hitters, if not this summer. But, how welcoming would Big Al on the blocks be to Nowitzki; a dominant, young scorer and rebounderwho could relieve responsibility from Nowitzki's broad shoulders as he heads into the latter years of his career? Never has the Mavs' unconventional power forward played with such a low-post force.
The shame is past decisions to take on salary has hindered the franchise as opportunity knocked. Two summers ago, the Mavs spent their entire mid-level exception on happy-go-lucky center DeSagana Diop not long after they traded him to New Jersey. A couple months into the season, the Mavs shipped the underwhelming 7-footer to Charlotte for 3-point shooter Matt Carroll and his suprisingly large, long-term contract, plus skinny, developmental center Ryan Hollins.
Hollins is long gone. The affable Carroll, meanwhile, remains a fixture, in full sweats, at the end of the Mavs' bench despite being due $4.3 million next year. That's actually $8.6 million when figuring the dollar-for-dollar luxury-tax penalty and a whopping $23.4 million total over his remaining three seasons (Carroll is owed $11.7 million in salary) if the Mavs continue to remain north of the luxury tax.
Cuban played hardball with Minnesota Timberwolves general manager David Kahn, demanding Kahn absorb Carroll and Stevenson if the Mavs were to agree to relinquish two first-round draft picks. Carroll's albatross of a contract ultimately made a deal for Jefferson unpalatable for Kahn, a man who just signed Darko Milicic to a four-year, $20-million contract. It's possible that Kahn would have agreed to take Stevenson's expiring contract ($4.1 million), but Carroll's money was too much. Both parties stood firm.
The
Utah Jazz
, armed with a valuable trade exception, was capable of completing the trade without forcing bad contracts on the Wolves. Deal. Utah essentially replaced the departed free agent
Carlos Boozer
with Jefferson, and a main Western Conference competitor got better than it was the day before.
Jefferson's flimsy defense and the health of his knee are real concerns. So is the fact that former 15th overall draft pick might be a luxury-priced reserve in Dallas, playing behind Nowitzki and Haywood, who was promised the starting job at center before signing his six-year, $55-million deal.
Picking starters and divvying up playing time is coach Rick Carlisle's challenge, one he just might have enjoyed with a frontcourt of Nowitzki, Haywood and Jefferson, who averaged 17.1 points and 9.3 rebounds last season. Carlisle will have to sit tight. Suddenly, a franchise that bills itself as living in the moment, always prepared to drop the hammer, is preaching patience and frugality, from Cuban to Nowitzki, at a time when going all in would have been completely -- and enthusiastically -- justified.
June, 19, 2010
6/19/10
7:34
AM CT
By
Jeff Caplan
| ESPNDallas.com
Jon Scheyer
played four years at Duke so there's no questioning his intelligence and fundamentals when it comes to the game of basketball.
But, the NBA ain't college.
"The biggest red flag is he going to be able to defend big two guards or points?" said Ryan Blake, the NBA's director of scouting. "Is he a guy that can come off the bench at 6-5, 6-6 and run? He has the mental capability to do it and he knows how to play, better than most of the people out here, most of the top players out here. But it's the physical things that you have the concerns about."
The
Dallas Mavericks
brought the Dukie to town earlier in the week for a workout, so clearly the 6-foot-5, 180-pound Scheyer is on the Mavs' radar. Dallas doesn't select until the 50th pick in Thursday's draft.
And why wouldn't Scheyer be on the radar? After all, vice president of basketball operations Donnie Nelson has a saying: You can't have too many shooters. Scheyer is projected as a late second-round pick or to go undrafted. If it's the latter, he's certain to find his way onto some team's summer-league squad for a shot to make a training camp roster.
Scheyer can shoot it. He averaged 18.2 points and shot 38.3 percent from beyond the 3-point line for the NCAA national champion Blue Devils. He is a tremendously efficient scorer and makes up for his lack of quickness with his obvious savvy.
Scheyer turned himself into quite a combo guard and had one of the best turnover-to-assist ratios in the nation. His biggest knock, as Blake pointed out, is who is he going to guard at the next level? But, tick of the names of backup point guards and shooting guards and ask yourself if Scheyer can handle them. Maybe, maybe not.
But, with the 50th pick, you don't expect to take a guy that's going to play a major role for your team anyway. Just try and find the Mavs' past second-round picks. Scheyer could be an intriguing pick for the Mavs, who could have used a few more dead-eye shooters in the first-round playoff loss against the Spurs.
A few years ago, when little-used Mavs guard
Matt Carroll
was regularly knocking down 3-pointers for Charlottle, you might have compared Scheyer to him. Some compare him to Orlando's
J.J. Redick
, a former Dukie himself.
And really, if Scheyer can be a guy that hits between 38.9 percent and 43.6 percent of his 3s as Carroll did during a three-year stretch, the Mavs would probably be pretty happy.
June, 8, 2010
6/08/10
3:38
PM CT
By
Jeff "Skin" Wade
| ESPNDallas.com
For Part V of our fantasy offseason series, we continue with the philosophy that Dallas will have to utilize Erick Dampier's non-guaranteed contract trade asset for something other than a superstar in a sign-and-trade.
In Week One,
we rolled out the thought process of using
Brendan Haywood
as a sign-and-trade asset himself as opposed to the team's primary center. We'll continue with that theme and look at a replacement. Target:
Andris Biedrins
.
[+] Enlarge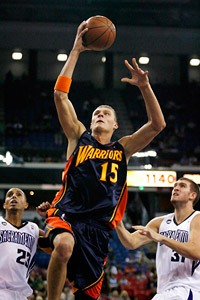 Cary Edmondson/US PresswireAndris Biedrins is one season removed from averaging 11 and 11 at the age of 23, and the Mavs could surely use his lively body along their front line as they try to add youth to this team.
The Basics:
There's plenty to like about Biedrins. He's a young guy (24) who goes hard. He's a big time rebounder, averaging 8 per 24 minutes for his career. He's not polished offensively by any means, but he knows his limitations as evidenced by his career 60 percent shooting clip. There are also some red flags. He's missed 69 games the last two seasons and he'll be paid a healthy $9 million a year for the next four seasons. And he finds himself in foul trouble frequently (3.4 per 24 minutes for his career). But he's one season removed from averaging 11 and 11 at the age of 23, and the Mavs could surely use his lively body along their front line as they try to add youth to this team.
The How:
This would be a straight salary dump move for the
Golden State Warriors
, so the Mavericks would have to ask for a little salary relief as well. Dallas would send Dampier and
Matt Carroll
(owed $4.3 million next season and $7.4 million for the next two seasons after that) plus some cash for Biedrins and
Vladimir Radmanovic
(one year remaining at $6.9 million).
The Why:
For Dallas this would be about getting a lively young frontline player with good size (6-11/240 lbs) that's had some success in the league. Dallas would still bring back Damp at minimal money to have a rotation of bigs. And it'd allow them to utilize Haywood in a sign-and-trade.
Golden State was rumored to want to move Biedrins at the trade deadline last February to get out from underneath his big contract. If they don't get a good young big at #6 in the draft in a few weeks, they're supposedly interested in flipping
Anthony Randolph
for
Kevin Love
. If the Mavericks could talk Golden State into Carroll's inclusion (the deal could be done without him from a salary cap standpoint) and giving them the cash to ease the burden for this upcoming season, then the Warriors would still save close to $11.5 million for next season. For a team pushing closer to new ownership, that's a tidy sum to spend. They could use it to keep their good young players like
Anthony Morrow
or
C.J. Watson
or it could be utilized in another trade or in pursuit of other free agents on the market.
The Bottom Line:
Again, this certainly isn't as exciting as acquiring a premiere free agent through sign-and-trade means, but Dallas would improve their roster while still maintaining the flexibility to make other moves with Haywood as S&T bait and approximately $24 million in expiring deals for 2011. It's more realistic than the wonderful dream of the superstar. But is it enough to keep Mavs fans optimistic about the future?