April, 19, 2014
Apr 19
8:00
AM CT
DALLAS -- There's only one debatable question that prevents
Dirk Nowitzki
from firmly declaring who deserves to be considered the best power forward in NBA history:
Should
Tim Duncan
be classified as a power forward or a center?
There is no question that Nowitzki's name appears near the top of any list of all-time great power forwards.
As the two future Hall of Famers prepare to face each other in a playoff series for the sixth time, let's take a look at how they stack up against each other statistically.
Regular-season statistics
Games:
Duncan 1,254; Nowitzki 1,188
Points:
Nowitzki 26,786; Duncan 24,904
Points per game:
Nowitzki 22.5; Duncan 19.9
Rebounds:
Duncan 13,940; Nowitzki 9,594
Rebounds per game:
Duncan 11.1; Nowitzki 8.1
Assists:
Duncan 3,832; Nowitzki 3,139
Assists per game:
Duncan 3.1; Nowitzki 2.6
Blocks:
Duncan 2,715; Nowitzki 1,095
Blocks per game:
Duncan 2.2; Nowitzki 0.9
Steals:
Nowitzki 1,037; Duncan 915
Steals per game:
Nowitzki 0.9; Duncan 0.7
Field goal percentage:
Duncan 50.6; Nowitzki 47.6
3-point percentage:
Nowitzki 38.3; Duncan 17.6
[+] Enlarge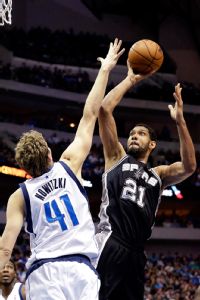 AP Photo/LM OteroDirk Nowitzki and Tim Duncan have put up comparable numbers when going head-to-head in the playoffs.
Playoff statistics
Games:
Duncan 211; Nowitzki 128
Titles:
Duncan 4; Nowitzki 1
NBA Finals appearances:
Duncan 5; Nowitzki 2
Points:
Duncan 4,614; Nowitzki 3,321
Points per game:
Nowitzki 25.9; Duncan 21.9
Rebounds:
Duncan 2,522; Nowitzki 1,314
Rebounds per game:
Duncan 12.0; Nowitzki 10.3
Assists:
Duncan 682; Nowitzki 329
Assists per game:
Duncan 3.2; Nowitzki 2.6
Blocks:
Duncan 516; Nowitzki 118
Blocks per game:
Duncan 2.4; Nowitzki 0.9
Steals:
Duncan 150; Nowitzki 139
Steals per game:
Nowitzki 1.1; Duncan 0.7
Field goal percentage:
Duncan 49.9; Nowitzki 46.3
3-point percentage:
Nowitzki 38.0; Duncan 15.6
2013-14 statistics
Games:
Nowitzki 80; Duncan 74
Minutes per game:
Nowitzki 32.9; Duncan 29.2
Points per game:
Nowitzki 21.7; Duncan 15.1
Rebounds per game:
Duncan 9.7; Nowitzki 6.2
Assists per game:
Duncan 3.0; Nowitzki 2.7
Blocks per game:
Duncan 1.9; Nowitzki 0.6
Steals per game:
Nowitzki 0.9; Duncan 0.6
Field goal percentage:
Nowitzki 49.7; Duncan 49.0
3-point percentage:
Nowitzki 39.8; Duncan 0.0
Honors
All-Star appearances:
Duncan 14; Nowitzki 12
MVP:
Duncan 2; Nowitzki 1
Finals MVP:
Duncan 3; Nowitzki 1
Rookie of the year:
Duncan 1; Nowitzki 0
All-Defensive team:
Duncan 14 (eight first team); Nowitzki 0
All-NBA:
Duncan 14 (10 first team); Nowitzki 12 (four first team)
Player of the week:
Duncan 22; Nowitzki 16
Player of the month:
Nowitzki 6; Duncan 3
Regular season head-to-head
Points per game:
Duncan 21.6; Nowitzki 21.3
Rebounds per game:
Duncan 11.3; Nowitzki 8.3
Assists per game:
Duncan 3.0; Nowitzki 2.4
Blocks per game:
Duncan 1.8; Nowitzki 1.0
Steals per game:
Nowitzki 0.8; Duncan 0.6
Field-goal percentage:
Duncan 51.3; Nowitzki 45.6
3-point percentage:
Duncan 40.0; Nowitzki 37.5
Wins:
Duncan 31; Nowitzki 21
Playoffs head-to-head
Points per game:
Duncan 26.0; Nowitzki 24.5
Rebounds per game:
Duncan 12.3; Nowitzki 10.1
Assists per game:
Duncan 3.6; Nowitzki 2.3
Blocks per game:
Duncan 1.9; Nowitzki 0.6
Steals per game:
Nowitzki 1.3; Duncan 0.8
Field-goal percentage:
Duncan 53.9; Nowitzki 49.8
3-point percentage:
Nowitzki 22.9; Duncan 0.0
Wins:
Duncan 14; Nowitzki 12