Dallas Mavericks:

Yi Jianlian
February, 1, 2012
2/01/12
9:00
AM CT
By
Jeff Caplan
| ESPNDallas.com
Our weekly look at the Mavericks' young players:
Whether
Jason Kidd
's second injury of the season is truly a blessing in disguise, as
Jason Terry
put it, might have to be answered by Kidd. Yet, even he acknowledged that being forced to the sideline will give
Rodrigue Beaubois
a chance to play prime point guard minutes he might otherwise not be afforded.
That is true. Beaubois has logged 24, 36 and 36 minutes in the last three games, respectively with Kidd nursing a strained left calf. Prior to Kidd's injury that took him out of Friday's game barely two minutes into it, Beaubois, averaging 16.9 minutes, had logged 20 or more minutes three times all season. He's getting valuable court time in a variety of pressure situations, such as Sunday's overtime win against the Spurs in which he made crucial plays late at both ends.
"It was great for Roddy Beaubois to be in the situation he was [Sunday night], a playoff-type atmosphere," Terry said. "Those are experiences you're only going to get in a game. He'll learn and grow from it."
Beaubois passed a tough test against the Spurs'
Tony Parker
and tonight he gets
Oklahoma City Thunder
point guard
Russell Westbrook
, arguably the game's most explosive guard at getting to the rack.
As for the other member of the French Connection, center
Ian Mahinmi
, could he be slowing down just a tad? Since his 17-point, nine-rebound game against Phoenix on January 23, he has matched his longest streak of the season, four games, without scoring in double figures. His minutes are right about at his season average, but he's averaged just five points in those four games with a field-goal percentage of just 42.1 (8-of-19), well below his 62.1 percent season average. And, he's made just 4-of-10 free throws.
Then again, his rebounds are up a tick to 6.0 a game in the last four-game stretch.
Other Mavs youngsters such as
Brandan Wright
and
Yi Jianlian
received some extra minutes during
Dirk Nowitzki
's four-game absence, but since then neither has found much of place in hearty matchups against the likes of the Spurs, and that would likely include little to no playing time -- unless foul trouble dictates otherwise -- tonight against the Thunder.
January, 29, 2012
1/29/12
1:00
PM CT
By
Jeff Caplan
| ESPNDallas.com
DALLAS -- One side benefit to Dirk Nowitkzi missing the last four games was it provided opportunity at power forward for
Brandan Wright
and
Yi Jianlian
.
Wright has displayed some ridiculous skywalking ability, while Yi has shown a soft mid-range jumper. But the 7-footer from China also revealed that he can get up -- or at least get up as much as a 7-footer needs to to throw down a slam. Late in the fourth quarter with the Mavs pulling away from Utah in Friday's 15-point win, Yi faced up Jazz rookie big man
Enes Kanter
on the baseline, drove by him and finished with a two-hand slam.
[+] Enlarge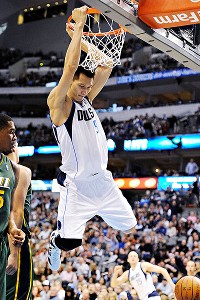 Jerome Miron/US PresswireYi Jianlian, who's seen more playing time in Dirk Nowitzki's absence, jams home two of his eight points against the Jazz.
Yi then balled his right hand and pounded his fist, American style, over his heart.
"That felt great," Yi said. "To get a dunk and win the game is exciting."
He drained a 15-foot jumper soon after to give him eight points for the game on 4-of-9 shooting. He also had four points in the second quarter on a pair of arching jumpers and pulled down five rebounds, two on the offensive glass. The shot that has been most available for Yi is the 18-to-20-foot jumper from the top or side of the circle, the shot that he and the coaching staff work on most, the elbow jumper.
Yi was 4-of-11 from the floor in Wednesday's game, but many of those shots he missed were clean looks that could have gone down. As the last addition to the team, Yi has had to learn everything on the fly, and that included a brief stop with the D-League Texas Legends before officially joining the big club.
"The first couple weeks I was learning the team and running the plays, offensive and defensive things," said Yi, whose English is not half bad. "The players and coaches have really been helping me. This season with the schedule you don't have real practice time, so for me it's just watching and watching."
With Nowitzki expected to return to the starting lineup tonight, which would push
Lamar Odom
back to a reserve role, it's uncertain how much time will be available for Yi and Wright. Carlisle called it a coin flip over the last four games as to which big man would get more run with Dirk out.
Carlisle said he likes the way Yi is coming along in a short period of time.
"We're spending a lot of time with him on his shooting and there's some things I really like about him," Carlisle said. "I love his size, his aggression. He really understands what we're doing defensively. He's physical and puts his body on people and he's working hard on the midrange shots. Those are the shots that are going to be there for him."
With Dirk set to return, now we'll just have to see how many minutes are going to be there.
January, 26, 2012
1/26/12
9:00
AM CT
DALLAS -- Wanna find a bright spot after the Mavs got their butts kicked at home by a team with a losing record? Look no further than
Brandan Wright
.
Wright, the lottery pick-turned-Mavs reclamation project, had his second consecutive impressive performance in limited playing time.
The long-limbed, high-leaping Wright was a major reason the Mavs built a 14-point lead in the first half. He finished with nine points on 4-of-6 shooting -- included an underhanded alley-oop from
Jason Terry
that will get a lot of SportsCenter run -- with two rebounds and two blocked shots in 12:37. That comes on the heels of a five-point, three-rebound performance in 8:35 in Monday's win over the Suns.
"He's playing well in certain situations with certain groups of players," coach Rick Carlisle said. "We've got to keep looking at him. He brings energy, he's a different kind of athlete and he's doing positive things."
A few other notes from a 15-point loss that
Shawn Marion
called "[expletive] embarrassing":
1. Celebration stinkers:
The banner-raising ceremony was followed by the
Miami Heat
running the Mavs out of the American Airlines Center in the season opener. The ring ceremony, which featured brief, touching tributes to each player from Carlisle, was spoiled by the Timberwolves. "I think we're all happy that we don't have any more ceremonies for our championship,"
Jason Kidd
quipped.
2. Lopsided at the line:
Timberwolves star
Kevin Love
attempted as many free throws (10) as the Mavericks. Minnesota enjoyed a 33-10 advantage on free throws attempted. Carlisle wondered aloud if
Lamar Odom
might have been fouled on some of his drives to the basket, but the coach certainly didn't blame the officiating for the disparity. "The bottom line: Minnesota was more aggressive," Carlisle said. "The more aggressive team is going to win most NBA games."
3. Yi yo-yo:
Forward/center
Yi Jianlian
, another lottery pick-turned-Mavs reclamation project, showed flashes of his intriguing potential by scoring six points on 3-of-5 shooting in six minutes before halftime. The second half offered a hint about why the 7-footer is playing for his fourth team in five NBA season. He missed five of six shots in the second half, all but one of which were midrange jumpers.
January, 18, 2012
1/18/12
11:00
AM CT
By
Jeff Caplan
| ESPNDallas.com
LOS ANGELES -- Rick Carlisle has used 13 players more than once and he's gone as deep as 11 before halftime. But, in meaningful, high-intensity games, it is apparent that Carlisle will shorten his bench, too.
That's what he did in Monday's loss at the
Los Angeles Lakers
. Carlisle matched L.A. by limiting his bench to four players. Carlisle ultimately played his reserves longer, with
Jason Terry
logging a team-high 34:21 and
Lamar Odom
and
Ian Mahinmi
each playing about 24 minutes.
Mahinmi, it is clear, is the one young
Dallas Mavericks
player who has earned consistent playing time, and even more time in some games, than starter
Brendan Haywood
. A most intriguing aspect to Mahinmi is his ability to catch the basketball, make a fluid move and score. He's shown smooth moves down low and going off the glass as well as a soft jumper from the baseline and up top.
Mahinmi has made Carlisle's life a bit easier by shoring up the center position after
Tyson Chandler
's departure. The Mavs desperately tried to add big bodies just in case, but Mahinmi's progress has meant
Sean Williams
is playing in the D-League and
Brandan Wright
being relegated mostly to garbage time.
Against the Lakers, Mahinmi had nine points and 10 rebounds, while Haywood managed a free throw and seven boards.
The Mavs' other young players will just have to take their minutes when they can get them, against weaker opponents, in garbage time, in back-to-backs or at the end of long stretches like this season's popular four-games-in-five-nights sequence.
Dominique Jones
was assigned to the Texas Legends on Sunday and even with
Vince Carter
's sprained foot taking him out of the lineup for at least one game and likely more, Jones won't be recalled just yet. And then there's
Rodrigue Beaubois
, the third-year guard who did not get off the bench in Monday's game, but could be looking at another window of opportunity in light of Carter's injury.
Jason Kidd
's recent four-game hiatus with back spasms allowed Beaubois to get increased minutes and after some initial criticism by his coach, Beaubois turned in some steady performances the Mavs will need as Carlisle carefully navigates minutes through the compressed schedule.
"I don't know the way he is going to use me, so I have to be ready," Beaubois said after Tuesday's practice. "I have to bring my energy on D."
The lithe, 6-foot-2 combo guard is averaging 5.3 minutes on just 37.3 percent shooting (and worse on 3s), but he did have a 15-point outburst last week and Carlisle credited him for playing a more disciplined brand of defense.
"He's in the picture always," Carlisle said of Beaubois' status in the rotation.
Only now, for a second time in as many weeks, he has a chance to bring more clarity to his role.
January, 15, 2012
1/15/12
9:00
AM CT
DALLAS --
Lamar Odom
doesn't want to make a big deal out of his return to Los Angeles.
Odom certainly doesn't want to wax poetic about his seven seasons with the Lakers before the Mavericks' Martin Luther King Day matchup with the team they swept in the West semifinals last season.
"It'll be the first time I go home to my house and have to play for another team," Odom said. "I mean, it is what it is. The only way I can truly help this team is to move on."
Odom isn't sweating how he'll perform against the Lakers. His focus is on trying to build with the Mavericks, and there have been signs of progress recently, including his nine-point, seven-rebound, two-assist performance in Saturday's rout of the Kings.
The reigning Sixth Man of the Year, who helped the Lakers win a couple of championships, shrugged off a question about what kind of reception he expected from the fans at the Staples Center.
"I'm sure he's going to get a standing ovation,"
Dirk Nowitzki
said. "He deserves it."
A few notes from the Mavs' record-setting rout of the Kings:
1. The depth in Dallas was on full display during this home back-to-back. The Mavs' bench outscored the starters in both blowout wins over the Bucks and Kings. The Mavs' reserves scored 55 points against Milwaukee and a season-high 68 against the Kings. Sixth man
Jason Terry
led the Mavs in scoring in both games, averaging 19 points on 59.1 percent shooting.
2.
Vince Carter
says he'll play with a starter's mentality no matter what. Returning to a reserve role with
Jason Kidd
back into the lineup certainly didn't affect Carter's game. He scored 16 points on 7-of-10 shooting Friday night as a starter and followed that by producing 16 points on 6-of-8 shooting off the bench. Carter added another high-flying dunk to his highlight reel, taking off from hear the dotted line to throw it down in traffic against the Kings.
3.
Yi Jianlian
got some minutes early in the third quarter, as coach Rick Carlisle took advantage of a comfortable lead to experiment with a lineup that featured Yi and four regulars. Yi, the former lottery pick/journeyman who has become an instant fan favorite in Dallas, isn't putting up efficient offensive numbers but has impressed Carlisle with his energy. Yi had five points on 1-of-4 shooting and seven rebounds in 12 minutes against the Kings. "He's a guy that's in your face defensively and that's something we need," Carlisle said.
January, 13, 2012
1/13/12
11:14
PM CT
By
Jeff Caplan
| ESPNDallas.com
DALLAS -- There's a new fan favorite in town.
Yi Jianlian
made his home debut for the
Dallas Mavericks
midway through the fourth quarter of Friday's rout of the
Milwaukee Bucks
to a rousing standing ovation.
Then, every time the 7-foot Chinese center/forward touched the ball, the sellout crowd at the American Airlines Center went nuts.
"It felt great," Yi said. "I'm really excited to be on a championship team."
Yi scored his first points as a Maverick on 16-foot jumper with 4:27 left. It made the score 99-69 and the crowd practically went into hysterics.
He finished the game 1-of-3 from the floor and 1-of-2 at the free throw line for three points. He also managed a steal, a turnover and two fouls as the Mavs' reserves closed out the 102-76 victory.
Yi is more accustomed to playing forward, but Mavs coach Rick Carlisle said he will play more center. Yi, more of a perimeter shooter and a physical, inside presence, said that's fine by him.
"For me, it doesn't matter, I can play both positions," Yi said. "I'm just going to go do my thing."
January, 10, 2012
1/10/12
2:00
PM CT
By
Jeff Caplan
| ESPNDallas.com
We already know that the
Dallas Mavericks
are the oldest team in the NBA, boasting a mature average of 30.3 years and a starting lineup that averages 32.8 years (and
Delonte West
, 28, lowered that when he took over for 34-year-old
Vince Carter
).
But what about the tallest team in the NBA? Yes, it appears that Dallas, with its recent signing of 7-foot Chinese center
Yi Jianlian
, can also claim this distinction (if not in total feet and inches, which they might, than in total number of tall players). Seven -- virtually half of the Mavs' 15-man roster -- stand 6-10 or taller. Dallas is the rare team with three 7-footers (Yi,
Dirk Nowitzki
and
Brendan Haywood
), plus 6-11 center
Ian Mahinmi
and three 6-10 forwards and/or centers in
Lamar Odom
,
Brandan Wright
and
Sean Williams
.
Dallas has already shown a lineup that includes Odom, Nowitzki and Mahinmi, or darn near 21 feet of front-line players.
The league average for the number of players 6-10 or taller on a team is 4.2.
Four teams -- the
New York Knicks
, thanks to the addition of 7-1 center
Tyson Chandler
, the
Orlando Magic
(with five players at 6-10), the
Washington Wizards
and the
Minnesota Timberwolves
-- all have six.
Two teams -- the
Chicago Bulls
and
Indiana Pacers
-- have just two players at 6-10 or taller.
Six teams, including tonight's opponent, the
Detroit Pistons
, have five, six have three, 11 teams -- including the entire Pacific Division -- have four, but just one team stands the tallest with seven.
What does it all mean? Probably not a whole lot. Three of the Mavs' tallest players -- Yi, Williams and Wright -- are role players at best at the moment. Williams is playing for the Mavs' D-League affiliate. Wright has seen limited action of late and Yi could see his first action tonight.
However, the addition of Odom, who is still trying to find his footing in Dallas, does give Mavs coach Rick Carlisle intriguing versatility, such as using Odom to bring the ball up the floor and initiate the offense. And Haywood and Mahinmi are showing to be a nicer-than-expected combo at center. Williams and Wright do provide additional bodies to use in the middle in case of foul trouble.
So, take it for what it's worth. The Mavs have a lot of tall guys.
January, 10, 2012
1/10/12
12:05
PM CT
By
Jeff Caplan
| ESPNDallas.com
Yi Jianlian
joined his new teammates for the first time Tuesday for the
Dallas Mavericks
' morning shootaround in preparation for tonight's game against the
Detroit Pistons
.
Afterward, coach Rick Carlisle was promptly asked for his thoughts on the 7-foot Chinese center.
"I've only seen him for like an hour," Carlisle said. "We've just got to get him involved with whatever practice time we have. And tonight, before the game get a group out there and start going through our offensive and defensive stuff, and pretty much on the fly is how we're going to have to do it."
Yi, signed last Friday to a one-year deal, burned up the D-League in two games with the Texas Legends, the Mavs' affiliate in Frisco. Yi posted 17 points and 11 rebounds in his debut and then 29 points and 13 rebounds in his second and final game. His game won't translate as easily or quickly on the big club.
His assignment to the D-League was to get some instant conditioning. Yi had been playing in China and sustained a minor knee injury, so he had not played in some time. Whether he sees action tonight might depend on the score or perhaps potential foul issues or simply how curious Carlisle is to see his new player.
"We like him as a prospect," Carlisle said, using similar language when the team signed 6-10 forward-center
Sean Williams
, who remains with the Legends. "I like his size, skill, he's a hard-playing guy which is something that will always help any team. We're going to work with him."
January, 9, 2012
1/09/12
1:17
PM CT
By
Jeff Caplan
| ESPNDallas.com
Having dominated the D-League in his two games,
Yi Jianlian
got the call to join the big club Monday.
The newly acquired
Dallas Mavericks
forward will be in Detroit for Tuesday night's game against the Pistons after two wildly successful games playing for the team's D-League affiliate, the Texas Legends.
Yi had 29 points and 13 rebounds in Sunday's 113-102 loss to the Maine Red Claws. That followed up his 17-point, 11-rebound outing in his debut Friday night. Yi was coming off a minor knee injury sustained while playing in China prior to the Mavs signing him to a one-year contract, but that appears to be well behind him.
Dallas assigned Yi to the D-League team after officially signing him on Friday to work on his conditioning and get acquainted with the Mavs' sets under Legends coach Del Harris, who coached Yi in 2008 on the Chinese national team.
Dallas had also assigned forward-center
Sean Williams
to the Legends on Friday. He was not recalled by the Mavs. In two games in the D-League, Williams has averaged 16.3 points and 10.3 rebounds. In three games with the Mavs, Williams averaged 4.7 points and 2.0 rebounds.
January, 6, 2012
1/06/12
2:31
PM CT
By
Jeff Caplan
| ESPNDallas.com
The next time
Sean Williams
gets in a game it will be for the Texas Legends in Frisco. The
Dallas Mavericks
plan to assign Williams and just-signed forward
Yi Jianlian
to the Dallas Mavericks' D-League affiliate today.
They'll be available to play in Sunday's game when the Legends return home to face the Maine Red Claws.
Williams, a 6-10 forward/center has not been active in the Mavs' last two games after getting off to somewhat of a flashy start. The former Mansfield High School star, who was out of the NBA a year ago, has played in three games and is averaging 4.7 points and 2.0 rebounds in 5.7 minutes.
The Mavs plan to allow Yi to work his way into playing shape with the D-League team. Yi played for Legends coach, and former Mavs assistant, Del Harris, who coached China to an eighth-place finish at the 2004 Olympics in Athens.
January, 2, 2012
1/02/12
11:53
PM CT
By
Jeff Caplan
| ESPNDallas.com
DALLAS --
Yi Jianlian
, the 6-foot-10 Chinese forward the
Dallas Mavericks
have long coveted and have agreed to sign to a one-year deal, is in Dallas and attended Monday's 100-87 win over the
Oklahoma City Thunder
.
Coach Rick Carlisle said Jianlian will likely first be sent to the Frisco-based Texas Legends of the D-League and that a timetable for his debut with the Mavs isn't known.
"Time will determine that," Carlisle said. "It's going to take him awhile to get used to what we're doing. He may spend some time in the D-League initially. And so, I can't give an accurate answer right now as far as when exactly he's going to be up and on the roster."
Jianlian will become the 15th and final player on the Mavs' roster. He was playing in China and is recovering from a minor knee injury. He has played four seasons in the NBA with three teams prior to joining Dallas.