How do you grade Mark Cuban, Donnie Nelson?
July, 31, 2012
7/31/12
4:00
PM CT
By
Jeff Caplan
| ESPNDallas.com
The
Dallas Mavericks
entered the offseason knowing major roster changes were coming, yet every move would have to wait for and hinge on
Deron Williams
' decision.

When Williams tweeted on the night of July 3 that he would remain with the
Brooklyn Nets
, Mavs owner Mark Cuban and president of basketball operations Donnie Nelson were forced to take a step back, reorganize and reach for those filed-away contingency plans.
Then they watched the
Los Angeles Lakers
bulk up by bringing in
Steve Nash
, Dallas' top choice after Williams.
Jason Terry
agreed to terms with the
Boston Celtics
.
Brendan Haywood
was amnestied.
Jason Kidd
, well, no matter what he was headed back to Dallas to finish his career where it started and where he won that elusive championship.
Oops.
So here we are at the end of a long and wild month. The Mavs started it with just seven players under contract. Now they have a complete 15-man roster. It's not the one they set out to build for the long haul, but with eight of their 12 players under contract (excluding the three rookies) on one-year contracts or on the final year of their deals it is flexible and under the luxury tax for the first time in Cuban's ownership.
How did Cuban and Nelson do? Did whiffing on Williams automatically sink the summer? Or did their rebound efforts save it?
Let's take a look at how things unfolded:
[+] Enlarge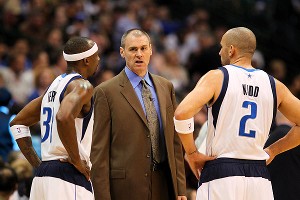 Matthew Emmons/US PresswireAfter eventually signing a new four-year contract, Rick Carlisle returns to the Mavs minus two of his key contributors -- Jason Terry and Jason Kidd.
CARLISLE RETURNS:
This was a no-brainer, although inking Rick Carlisle to a new four-year contract in mid-May took longer than most expected. It led to speculation of perhaps a gulf in salary expectations between the two sides, or that Carlisle might be interested in looking into other opportunities, including the still-open
Portland Trail Blazers
job for which Dallas assistant Terry Stotts is reportedly in the running.
The big question: Did Carlisle ever think he'd be coaching a team with two contributors left from the 2011 title team?
THREE-FOR-ONE DRAFT:
Dallas made a big deal about getting a solid rotation player with the No. 17 pick, its highest draft position in a decade. So it came as a surprise when the Mavs traded down to No. 24 and even then seemed willing to unload that pick. Ultimately, they took combo guard
Jared Cunningham
at No. 24, but it might be the two second-rounders,
Bernard James
(No. 33) and
Jae Crowder
(No. 34), who contribute sooner.
The big question: Will Carlisle have the patience to stick through growing pains of James and Crowder to get contributions out of them this season? Will he have a choice?
D-WILL REJECTION:
The Mavs' triumvirate of Carlisle, Nelson and
Michael Finley
met with Williams in Manhattan on July 2, prior to the Nets' brass getting their shot. As the Mavs met with him, Brooklyn was busy completing a trade to acquire handsomely paid shooting guard
Joe Johnson
from the Hawks. While some in these parts ridiculed the move because of the $89 million left on Johnson's contract and the potential roster inflexibility that will come with it under the new CBA, Williams later said the move was key in keeping him.
The big question: Could the Mavs have done anything more to convince Williams to come home? Did Mark Cuban's inability to leave Los Angeles and the taping of the TV show Shark Tank send the wrong message?
JET TAKES OFF/KIDD MAKES U-TURN:
After eight seasons, Terry never wanted to leave Dallas, but the Mavs made it clear to the soon-to-be 35-year-old that he was not in their long-range plans so he signed a three-year deal for $15 million with the Boston Celtics. The length of the contract more than the money was the key deterrent for Dallas. Still, they were prepared to hand a three-year, $9-million deal to 39-year-old point guard Jason Kidd (and thought they had), who at the last minute turned it down for a similar deal with the Knicks.
The big question: Did the Mavs commit to the wrong Jason and will they miss the bench scoring and fourth-quarter prowess of the sixth man who will pad his career 3-point shooting numbers with the Celtics?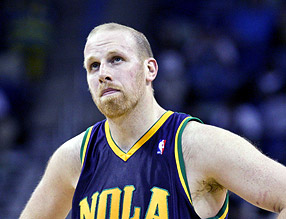 Derick E. Hingle/US PresswireIf he avoids injury, Chris Kaman will give the Mavs a dangerous low-post presence.
KAMAN SIGNS/HAYWOOD AMNESTIED:
Kaman, the 7-foot center who teamed with
Dirk Nowitzki
on the German national team for the 2008 Olympics agreed to a one-year deal for $8 million to start at center. The move signaled the end of the line for Brendan Haywood, who was officially waived the next day via the amnesty clause.
The big question: The former No. 6 pick in 2003 is a one-time All-Star but is known best for his injury history. When healthy, he's a dangerous low-post scorer who can finish with both hands, and a smart defender and rebounder. So, can he stay healthy?
GUARD COMBO VIA S&T:
On the same day the Mavs signed Kaman, they pulled off a sign-and-trade with the
Indiana Pacers
, netting 24-year-old point guard
Darren Collison
and veteran shooting guard
Dahntay Jones
for backup center
Ian Mahinmi
, who was headed out the door anyway. Considering the Pacers could have signed Mahinmi outright, for the Mavs to pull out a starting-caliber point guard and a defensive-minded shooting guard was quite the coup.
The big question: Collison has averaged 5.2 assists during his four NBA seasons, which is about what Jason Kidd averaged last season, an 18-year career low. Nowitzki lobbied hard to acquire Kidd in 2008 because he said he and others had to work too hard to score with low-assist, penetrating point guard Devin Harris running the show. Can Collison, a quick-footed penetrator, make the game easy enough to satisfy a now 34-year-old Nowitzki and company?
BRAND LANDS:
The Mavs won the amnesty bid for 33-year-old power forward
Elton Brand
after talking up how "aggressive" they planned to bid. At $2.1 million for next season (his overall salary is $18 million with the balance paid by Philadelphia), the Mavs got a steal for a high-character player off the bench and can play power forward and center.
The big question: Brand said he wanted to play in Dallas so he knew he'd be splitting time behind Nowitzki and Kaman, his former teammate with the Clippers. But will Brand ultimately be happy coming off the bench and quite possibly playing the fewest minutes of his 13-year career?
PASS THE MAYO:
As stunning as the Collison deal was, the signing of
O.J. Mayo
at a discount rate took the cake. The Suns had designs on him, but Mayo took a two-year deal with Dallas with the second year being a player option. His addition softens the blow of losing Terry's 3-point shooting and Mayo instantly becomes the most athletic 2-guard since the days of Finley.
The big question: The Grizzlies had Mayo on the trade block more than once and some suggest that Mayo was highly overrated as the No. 3 pick in 2008 and that he remains that way. Can Mayo, expected to start at shooting guard, be a team-oriented contributor and become Dallas' trusted second-scoring option?
So there's the rundown of a busy couple of months. What say you? What grade do you give Cuban and Nelson?