Mavs fade in fourth quarter vs. tough Bulls
February, 28, 2014
2/28/14
11:35
PM CT
DALLAS -- The
Mavericks
didn't need to finish strong in several of their February wins, frequently building large enough leads for their core thirty-somethings to grab a seat on the bench down the stretch.
Those kinds of games will likely be few and far between for the rest of the regular season with the Mavs facing one of the league's most difficult schedules for the next month and a half.
[+] Enlarge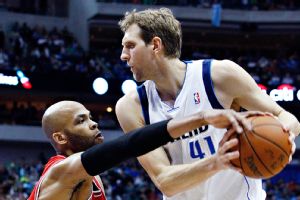 Richard W. Rodriguez/Getty Images"We weren't particularly shooting the ball very well tonight," said Dirk Nowitzki, who was held by the Bulls to 15 points on 7-of-18 shooting.
The step up in competition started Friday night against the
Chicago Bulls
, a rugged bunch of players that has quietly put together the Eastern Conference's best record since New Year's Day. The Mavs didn't land nearly enough punches late in this 15-round fight, suffering a 100-91 loss at the American Airlines Center.
For Dallas, the fourth quarter was about as ugly as the bushy beards the .500 edition of the Mavs sported at this time last season. The Mavs scored only 15 points in the final 12 minutes, when they shot an unsightly 25 percent from the floor as the Bulls finished them off.
"We got nothing but good looks," said
Monta Ellis
, who led the Mavs with 20 points but was only 7-of-19 from the floor, including 2-of-6 in the fourth quarter. "We missed a lot of layups, a lot of shots at the nail, at the free throw line. We missed a lot of wide-open ones. They just weren't going down for us."
Actually, more than anything, the Mavs missed a lot of 3-pointers. They were 2-of-12 from long distance in the fourth quarter, when a
Joakim Noah
-led Chicago defense made it difficult to get anything done in the paint.
And one of those 3-pointers was by Ellis with 24.9 seconds remaining, when the Mavs needed a miracle to make a comeback.
"They're a good defensive team," said
Dirk Nowitzki
, who was held to 15 points on 7-of-18 shooting. "That's how they win. They're smart, they're long at every position and we weren't particularly shooting the ball very well tonight."
Shooting isn't a problem for the Mavs most nights, as they ranked fourth in the league in offensive rating (108.5 points per 100 possessions), fifth in field goal percentage (47.3) and seventh in 3-point percentage (37.7).
But the Bulls are a much different kind of defensive beast than the Mavs had faced for most of their run of 10 wins in 12 games entering Friday night. Bulls coach Tom Thibodeau's tough-nosed team has the league's second-best defensive rating (97.7).
That sort of smothering defense, however, is the new norm for the Mavs during this tough stretch of schedule. Four of their next seven opponents -- the
San Antonio Spurs
,
Indiana Pacers
,
Golden State Warriors
and
Oklahoma City Thunder
-- feature top-five defenses. Three of those games will be on the road.
"Some nights team miss shots and you have to hang in with grit, guts, defense and rebounding," Mavs coach Rick Carlisle said.
That's how the Bulls, who didn't lead until late in the third quarter, hung in with the Mavs on Friday night. Then the Bulls turned up the defensive intensity to an even higher level down the stretch -- or the Mavs simply couldn't get a good look to fall, depending on whom you ask.
The Mavs' last lead came after Ellis' steal and breakaway dunk with 5:07 remaining. Dallas followed that with a scoreless drought that lasted longer than four minutes.
"I just figured from there, we're going to find a way to win," Nowitzki said, referring to Ellis' go-ahead bucket. "But we didn't. You've got to give them credit. They kept getting stops."
The Bulls made it tough on the Mavs. It won't get much easier Sunday evening in San Antonio.