Who can eventually catch Dirk?
March, 14, 2014
Mar 14
8:00
AM CT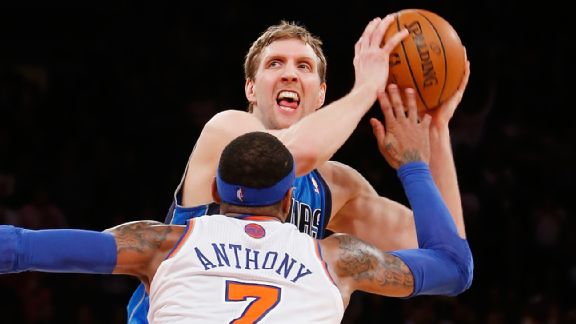 AP Photo/Jason DeCrowWill Carmelo Anthony one day catch Dirk Nowitzki on the NBA's all-time scoring list?
Dirk Nowitzki
is not nearly done shooting up the NBA's all-time scoring list.
The big German has already bumped five NBA legends down a spot this season and is on pace to pass
Dominique Wilkins
and Oscar Robertson before the playoffs begin. It's fun to try to figure out how high Dirk will climb.
It's a safe bet that Nowitzki will finish next season in seventh place, passing
Hakeem Olajuwon
, Elvin Hayes and
Moses Malone
. Shaquille O'Neal and the No. 6 spot should be well within Nowitzki's reach in the 2015-16 season, as Dirk has publicly declared he'll play at least that long.
Will Nowitzki keeping lacing 'em up long enough to join the 30,000-point club? To crack the top five?
We won't have to wait too long for those answers. Here's a question that will require much more patience to get answers: Which active players will eventually pass Nowitzki?
A look at the select few who have a legitimate chance, with Nowitzki's point totals at the end of the season when he was their age:
LeBron James
Career points:
22,692
Age:
29
Dirk points at that age:
16,990
He's 29 years old and already 28th on the all-time scoring list. How ridiculous is that? King James has scored more than 2,000 points in all but two of his 11 NBA seasons -- his rookie campaign as a 19-year-old and the lockout-shortened season. It doesn't seem like the four-time MVP is slowing down anytime soon. There's little doubt that James will pass Nowitzki. The question is whether he'll catch
Kareem Abdul-Jabbar
.
Carmelo Anthony
Career points:
19,616
Age:
29
Dirk points at that age:
16,990
How gracefully will Melo age? Will he sacrifice shots for a chance to play for a championship contender? Considering his 3,000-point pad before hitting 30, he'll probably end up passing Nowitzki regardless of the answer to those questions. And Anthony's development as a 3-point threat (career-best .418 from long range this season) provides another reason to believe that he'll put up big numbers well into his thirties.
Kevin Durant
Career points:
14,294
Age:
25
Dirk points at that age:
9,074
Put it this way: If LeBron doesn't catch Kareem first, put my money down on Durant. He projects to hit 30,000 points while he's still in his prime.
Kevin Love
Career points:
6,569
Age:
25
Dirk points at that age:
9,074
Can he avoid the injury bug that has bitten him so often? Love has already missed more games due to injury than Nowitzki despite Dirk having an extra decade of NBA experience. Love's 3-point shooting should stand the test of time. However, it's hard to see him being such a dominant offensive rebounder a decade from now.
Blake Griffin
Career points:
6,266
Age:
24
Dirk points at that age:
7,394
His development as a midrange threat gives Griffin a chance. But catching up to Dirk is doubtful for Griffin in large part because his game relies so heavily on athleticism. It won't be Lob City for Griffin when he gets to be Nowitzki's age.
James Harden
Career points:
6,214
Age:
24
Dirk points at that age:
7,394
Harden got off to a relatively slow start as the sixth man -- and third option -- in Oklahoma City, but he'll be the go-to guy for a high-powered Houston offense for the foreseeable future. This is still a stretch, though. No matter how many wine metaphors
Kobe Bryant
wants to make, the aging process is particularly hard on high-scoring shooting guards.
Michael Jordan
is the only guard in NBA history to average at least 20 points while playing the majority of the games in a season at age 35 or older.
Anthony Davis
Career points:
2,030
Age:
20
Dirk points at that age:
385
Durability is an issue for a power forward who has missed 28 games in less than two NBA seasons, but Davis is a special talent. He jumped more than seven points per game from his rookie year and still has plenty of room left to grow. Davis is already a tremendous threat over the rim, off the dribble and as a midrange shooter. Look out if he stretches his range to the 3-point line and adds a go-to low-post move or two to his arsenal. It's a lot of projection, but the potential is there.