December, 27, 2014
Dec 27
12:30
AM CT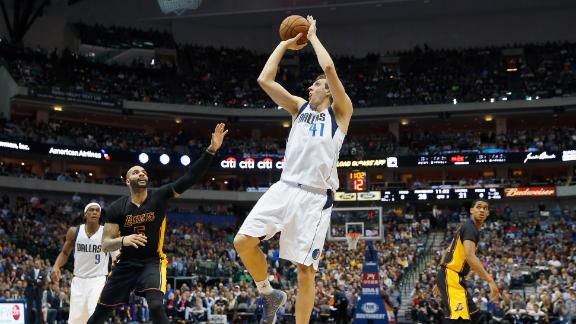 DALLAS --
Rajon Rondo
developed a reputation for being stubborn and somewhat stuck in his ways in Boston, but he's been more than willing to follow directions in Dallas.
The pass-first point guard's performance in Friday night's 102-98 win over the
Los Angeles Lakers
proved that.
"Coach has been telling me to be aggressive," Rondo said. "I haven't been scoring as much in the past in Boston, but here he told me to be a little bit more aggressive."
In his fourth game since joining the
Dallas Mavericks
in a blockbuster deal, Rondo scored a season-high 21 points on 10-of-17 shooting, mixing in a few jump shots with several drives to the basket. He also had eight rebounds and seven assists.
The rebounds and assists won't surprise anyone. After all, Rondo leads the NBA in assists (10.5 per game) and all guards in rebounding (7.3) this season.
The points? Rondo hadn't scored that many in a game since Feb. 26, so don't count on him dropping 21 on a regular basis.
But the Mavs' message has gotten through to Rondo loud and clear: He must be a threat to score for Dallas' league-leading offense to flow as designed.
"I liked his aggression tonight," coach Rick Carlisle said.
[+] Enlarge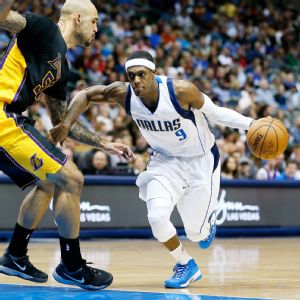 Kevin Jairaj/USA TODAY SportsRajon Rondo has a season-high 21 points in his fourth game with the Mavericks.
"We need him to do that," small forward
Chandler Parsons
said. "We can't have teams sagging off of him and going under screens and him not being a threat. He's got to be aggressive. He's in the gym working on his shot every single day. We want him to shoot the ball. We want him to look to score. Once he does that, everything else will open up and become easier."
The Mavs understood that it'd be an occasionally bumpy process to mesh with a starting point guard acquired in midseason. Some of those growing pains were apparent in back-to-back losses to the
Atlanta Hawks
and
Phoenix Suns
this week.
The quality of competition must be taken into account -- the lousy Lakers are 9-21 -- but there were encouraging displays of Rondo developing chemistry with his teammates of one week. That's especially true with center
Tyson Chandler
(15 points, 12 rebounds), who was on the receiving end of a pair of Rondo lobs in the first three minutes and another late in the game.
And Rondo showed no signs of hesitancy, heeding the strong advice of his coaches and teammates to attack when presented such opportunities.
"He's starting to run a great show," power forward
Dirk Nowitzki
said. "He's starting to understand when he needs to be aggressive, get in the lane, when he needs to shoot when they go under and he's open. And he still has obviously the great passing gene that you need as a great point guard. He looks pretty sharp, and we've got to keep it going, get used to each other even more as the competition gets stiffer."
It won't take long for the competition to get stiffer. The Mavs' next two opponents feature arguably the premier point guards in each conference:
Russell Westbrook
of the
Oklahoma City Thunder
and
John Wall
of the Washington Wizards.
"It never stops at this position," Rondo said. "That's what you want as a point guard. You want the challenge. I look forward to every night playing against the best."
The Mavs look forward to more relentlessness from Rondo.
December, 26, 2014
Dec 26
11:34
PM CT
By
Jose De Leon
| ESPNDallas.com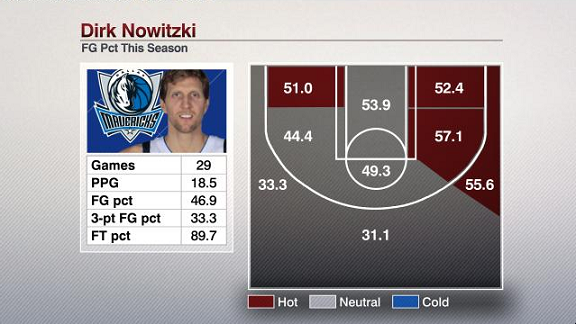 Add Elvin Hayes to the list of players
Dirk Nowitzki
has passed on his way up the NBA's all-time scoring list.
With his 14 points in the
Dallas Mavericks
win over the Lakers on Friday night, Nowitzki moved into the eighth spot on the scoring list and now trails Moses Malone by 87 points for seventh.
At his current scoring average of 18.5 points per game, Nowitzki should move past Malone by early January. Barring a significant scoring outburst over the last few months of the season, Nowitzki will have to wait until next season to eclipse Shaquille O'Neal for sixth on the all-time scoring list.
Assuming Nowitzki matches his career average of 74 games played this season and continues to average 18.5 points per game, he will end the season with 28,153 career points, 443 points shy of passing O'Neal.
After O'Neal come the five 30,000-point scorers in NBA history: Kareem Abdul-Jabbar, Karl Malone,
Kobe Bryant
,
Michael Jordan
and Wilt Chamberlain. Before his career is over, Nowitzki could very well be the sixth member of that exclusive club.
Considering he is surrounded by scorers like
Monta Ellis
and
Chandler Parsons
, Nowitzki has likely seen his last 20 points-per-game season. But that might not matter as he chases down 30,000 points.
If he can play 74 games and average 18 points per game next season, he will score 1,332 points. Add that to the estimated 28,153 career points he is likely to have by the end of this season and that would put him 515 points shy of 30,000 as he enters the final year of his contract. He would need to average only 7.0 points per game over 74 games at age 38 during the 2016-17 season to join the current five-man club.
There's reason to believe Nowitzki can hit the 30,000-point milestone by simply taking a look at his zone chart (atop this article). Statistically he has ranked as the league's top shooter from the right side. And he has no cold zones.
All those hot zones outside the paint are a testament to his elite shooting ability. This season, he's creating fewer shots for himself and capitalizing on passes from his teammates. One hundred thirty five of his 197 field goals have been assisted on. Nearly 70 percent of his two-point field goals have been the result of an assist.
He remains an efficient scorer despite taking longer shots. For the second year in a row, his average field goal attempt is coming from about 17 feet from the rim. That's his longest average field goal attempt distance over the last 15 seasons.
Based on his rookie numbers, it's hard to imagine too many people thought Nowitzki would come close to 30,000 career points. In his first season in the league, Nowitzki played 47 games and averaged 8.2 points per game. That's the third-lowest scoring average in a rookie season among the top-25 scorers in league history. Only Alex English (5.2 points) and Kobe Bryant (7.6) averaged fewer.
December, 26, 2014
Dec 26
10:09
PM CT
Associated Press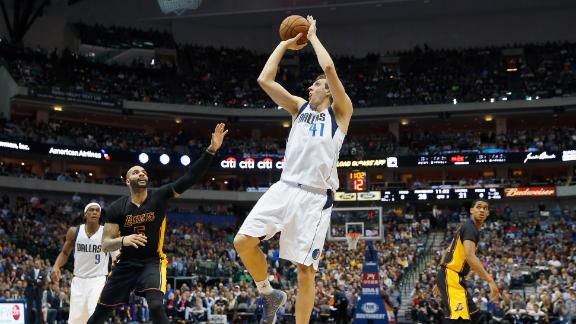 DALLAS -- Rajon Rondo scored a season-high 21 points in his fourth game with Dallas and Dirk Nowitzki added 14 to move up another spot on the NBA's scoring list in the Mavericks' 102-98 victory over the Los Angeles Lakers on Friday night.
Rondo, traded from Boston last week, also had eight rebounds and seven assists in Dallas' franchise-best fifth straight win against the Lakers in the regular season.
Kobe Bryant missed his third straight game for Los Angeles to rest his sore body. He could return Sunday at home against Phoenix.
Carlos Boozer scored 18 points for the Lakers, who lost again on the second night of a back-to-back after beating NBA-leading Golden State in the first game without Bryant.
December, 26, 2014
Dec 26
9:03
PM CT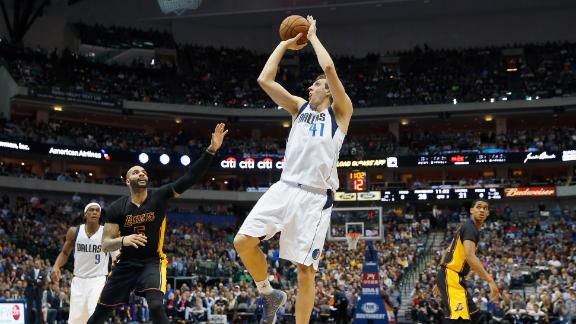 DALLAS -- On the night he moved up another spot on the NBA's all-time scoring list, Dirk Nowitzki briefly chatted with Kobe Bryant and offered a playful warning to the only active player with more career points than him.
"I told him that I was going to catch him," Nowitzki said after his Dallas Mavericks defeated the Los Angeles Lakers 102-98 with Bryant resting and watching from the bench. "But that's going to be tough."
Nowitzki now stands eighth among scorers in NBA history, five spots behind Bryant, after passing Hall of Fame forward Elvin Hayes on Friday night.
Nowitzki needed six points entering the game to pass Hayes, who finished his career with 27,313 points, and did so on a midrange jumper off a feed from Monta Ellis on the opening possession of the second half.
Nowitzki, who has been battling a stomach illness for about two weeks, finished the game with 14 points in 24 minutes, giving him 27,322 points in his career.
"I'm fortunate to have great teammates to put me in position to keep scoring, even as I'm older," said Nowitzki, a 36-year-old who has spent his entire 17-year career with the Mavs. "It's been fun. Still competing at a high level and hopefully will win a lot more games these last couple of years, which really means more to me right now than all the points. But it's definitely been a fun ride."
Hayes is the second top-10 all-time scorer passed by Nowitzki this season. Nowitzki bumped Hakeem Olajuwon
December, 26, 2014
Dec 26
6:24
PM CT
Associated Press
DALLAS -- Kobe Bryant sat out his third straight game to rest his sore body but could be back in the lineup when the Lakers return home for their next outing.
Bryant was ruled out of Friday night's eventual 102-98 loss at Dallas, but coach Byron Scott said his star "feels pretty good about going" Sunday night against Phoenix.
The 36-year-old Bryant has said his knees, feet, back and Achilles tendons are all sore.
He was sidelined Tuesday night when Los Angeles beat NBA-leading Golden State at home, then again Christmas night at Chicago. The game against the Mavericks was the third in four nights for the Lakers.
"If he had felt good he would have gone last night and tonight as well," Scott said before the Lakers faced the Mavericks, who beat them 140-106 last month in Dallas. "Just didn't feel good last night and back-to-back 24 hours, not going to feel a whole lot better. I think he feels pretty good about going for Sunday's game."
Scott said a reduction in Bryant's minutes was likely a consideration when he returns. He's averaging a team-high 35.5 minutes, about 3 fewer per game than his past two full seasons in 2011-2012 and 2012-13.
Bryant tore his left Achilles late in the 2012-13 season, and played just six games last season after breaking a bone in his left knee last December.
"We both thought that 30-40 minute mark was pretty good," Scott said. "Obviously we're going to have to adjust that a little bit. But this is new for both of us."
In his 19th NBA season, Bryant entered Friday third in the league in scoring at 24.6 points per game. He passed Michael Jordan for third place on the career scoring list Dec. 14 at Minnesota.
December, 26, 2014
Dec 26
11:45
AM CT
UPDATE: Coach Rick Carlisle announced pregame that both players would be active.
DALLAS – The Mavericks might be without their two leading scorers Friday night against the
Los Angeles Lakers
.
Shooting guard
Monta Ellis
and power forward
Dirk Nowitzki
did not participate in the Mavs' morning shootaround because of illnesses.
"Hopefully they'll be OK, but I won't know until game time," coach Rick Carlisle said.
Carlisle said Nowitzki, who is six points shy of passing Elvin Hayes for eighth place on the NBA's all-time scoring list, has been dealing with a stomach issue. Carlisle wasn't certain of the nature of the illness for Ellis, who is averaging a team-high 20.9 points per game.
The Lakers are expected to play without their leading scorer.
Kobe Bryant
has missed the past two games because of general soreness and told reporters on Thursday night that there is a "very slim" chance he plays against the Mavs.
December, 24, 2014
Dec 24
12:00
PM CT
ESPNDallas.com columnist Jean-Jacques Taylor and MavsOutsider.com editor-in-chief Bryan Gutierrez join Tim MacMahon each week to run a three-man weave on a few questions on the minds of Mavericks fans.
1. What is the standard for the Rajon Rondo deal to be considered a success for the Mavericks?
Gutierrez:
Progression without radical regression. It feels like a two-year process due to the fact Dallas has to deal with a sudden depth depletion as well as the Rondo assimilation.
Brandan Wright
was a legitimate scoring threat off the bench and provided big man depth.
Jae Crowder
was a rotational fixture of sorts to Dallas, too. If the starting five can mesh and Dallas works to rebuild its bench over the next few months, the Mavs will be poised to be serious contenders going into next season.
Taylor:
They gave up a really nice backup and a rotational player for a legit quality point guard. There really is no downside to the deal unless you don't sign him to a long-term deal. He's one more quality piece to take pressure off
Dirk Nowitzki
. That said, a trip to the Western Conference finals would be a fantastic year and reaching at least the second round would be a good year because the West is loaded.
MacMahon:
The goal of this trade is to make the Mavs a legitimate force in the West for the next few years. That's how it should be judged. This isn't a championship-or-bust trade like the Jason Kidd deal, because the Mavs didn't give up nearly as much. The acquisition of Rondo was supposed to solidify the Mavs' starting five for the next few years and give Nowitzki a legitimate shot to compete for a ring in his golden years.
2. What is the most interesting aspect of Rondo meshing with the Mavs?
Gutierrez:
The most interesting aspect is seeing how he will mesh with
Monta Ellis
. It was a tale of two games for Rondo as it seemed like both guards were clicking against the San Antonio Spurs only to see them look discombobulated against the
Atlanta Hawks
. There will be ups and downs and growing pains as they adapt to playing alongside each other, but watching them work together will be the thing that everyone examines.
Taylor:
By all accounts Rondo has a prickly personality. Well, the head coach has a little bit of a quirky personality, but we know he doesn't take any mess. Rick Carlisle is also a smart guy who understands he needs to let some guys run free, while still maintaining his authority. Heck, he gets along with Mark Cuban. Watching him find a common ground with Rondo will be fascinating.
MacMahon:
I'm fascinated to see the brilliant offensive minds of Carlisle and Rondo attempt to figure out how to minimize the major spacing challenges presented by his poor shooting. It's been messy so far. The context of a small sample size and only one practice since the trade must be considered, but the starting five's offensive rating with Rondo is 97.9 points per 100 possessions. It was 116.4 with
Jameer Nelson
. The Rondo transition has been especially rough on
Chandler Parsons
. He was averaging 22.2 points and 2.8 assists while shooting 52.1 percent from the floor and 49 percent from 3-point range in December before the deal. In the three games with Rondo, Parsons' numbers have plummeted to 9.0 points and 1.3 assists, shooting 36.7 percent from the floor and 16.7 percent from 3-point range.
3. What stats do you project Rondo to put up for the rest of the season?
Gutierrez:
I'm expecting him to hover around numbers that always have him flirting with a triple-double. I can see him averaging nearly 8 points, 8 rebounds and 10 assists a night for the Mavericks. The rebounds and assists will likely be the easiest things for him to produce on a nightly basis. The points will be challenging, but teams will give him open space to shoot. He'll need to knock them down in order to bring some balance in terms of spacing.
Taylor:
He still can't shoot, but the way Rick wants to play he should be getting a lot more fast-break layups so he'll get about 10.4 points per game with 9.7 assists because he's got Dirk and Parsons as shooters and
Tyson Chandler
to catch lobs. Plus, he'll get a couple of steals per game.
MacMahon:
In his first three games in Dallas, Rondo averaged 10.7 points, 9.3 assists and 5.7 rebounds. It wouldn't surprise me if the assists slipped -- and that might be best for the Mavs. This offense is based on great ball movement. If it's humming, a lot of Rondo's good looks will end up being hockey assists and won't count in the box score.
December, 23, 2014
Dec 23
10:49
PM CT
Associated Press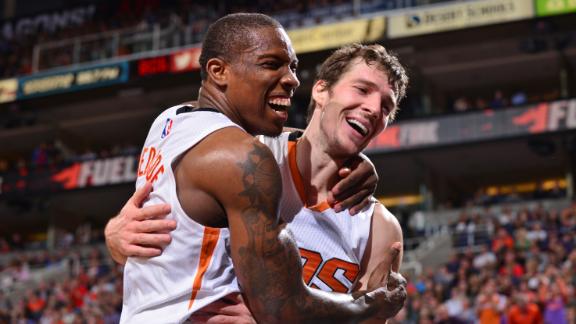 PHOENIX -- Eric Bledsoe got his second career triple-double and Phoenix won its fourth in a row, beating the Dallas Mavericks 124-115 on Tuesday night in the Suns' highest-scoring game of the season.
Bledsoe had 16 points and 11 assists, then grabbed his 10th rebound away from teammate Goran Dragic with 31 seconds to play.
Dragic scored 25 and Gerald Green 22 for the Suns, coming off a 3-0 trip to the East. Alex Len added 17, two shy of his career high.
Dirk Nowitzki and Tyson Chandler scored 22 apiece for the Mavericks, losers at home to Atlanta the previous night.
Rajon Rondo had 13 points, eight assists and six rebounds before fouling out with 1:37 to play in his third game since coming to Dallas from Boston.
December, 23, 2014
Dec 23
7:28
PM CT
DALLAS -- President of basketball operations Donnie Nelson expressed confidence that the Dallas Mavericks would soon bolster their bench by adding Jermaine O'Neal or Josh Smith.
The Mavs, who are searching to replace traded backup center Brandan Wright in their rotation, are among several teams who have expressed interest in O'Neal and Smith, a pair of available high-profile veterans.
"I feel pretty good that we'll be able to come to terms with one," Nelson said Tuesday on ESPN Dallas 103.3 FM. "Certainly to come up with both would be just hitting a grand slam home run. Look, there's a long line for suitors on both fronts.
"I think the fact that Jermaine has chosen Dallas to be his home in the long term certainly has its place and resonates with time with family and such. And here's a guy who has a long history not only with our coach but with our point guard/quarterback. That certainly has a place.
"With Josh, again, we're one of a number of potential teams and suitors. It's got to be right with him and with us. We're kind of in the swings of putting our best foot forward. If we're able to hit that one home, it just would be a real, real nice get for us."
Sources told ESPN.com's Marc Stein that the Houston Rockets are confident that they have the inside track to land Smith, who was released by the Detroit Pistons on Monday less than halfway into his four-year, $54 million contract and is expected to clear waivers Wednesday.
The Rockets have their biannual exception, valued at $2.1 million, to offer Smith, who is 29. The Mavs can offer only the veteran's minimum of $1.45 million.
Both franchises have one of Smith's closest friends to aid their recruiting pitch. Smith played AAU basketball with Houston center Dwight Howard
December, 23, 2014
Dec 23
12:45
AM CT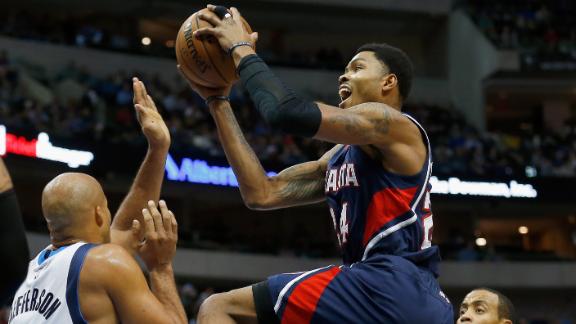 DALLAS -- It'd be ridiculously premature to reach for the panic button one practice, two games and four days after a blockbuster trade to acquire a four-time All-Star point guard.
So the 105-102 loss Monday night to the
Atlanta Hawks
-- a game much more lopsided than the final score indicates -- is certainly no reason to declare the
Rajon Rondo
deal a disaster for the
Dallas Mavericks
.
However, all the concerns cited by critics of the trade reared their ugly heads during the Mavs' miserable first three quarters, in which Dallas dug a 24-point hole it couldn't rally to overcome.
A quick summary of those fears: Rondo's tendency to dominate the ball and poor perimeter touch would bog down the league's best offense, and his defense has dropped off drastically over the past couple years.
The Mavs' offense was a mess most of the night against an Atlanta team that has played the best December defense in the league. Dallas shot 37.3 percent from the floor through three quarters before exploding for 39 points in the too-little, too-late final frame. The spacing in halfcourt sets was way out of whack, with the Hawks sagging way off Rondo, daring him to shoot and clogging things up for the Mavs' scoring threats.
"It's going to take time, and we knew that," said small forward
Chandler Parsons
, who finished with only four points on 2-of-6 shooting, a far cry from the spectacular statistics he's been putting up in December. "It's going to have its ups and downs, but we definitely want a player like him. We'll get it down."
Frankly, the Mavs are more concerned about the other end of the floor. One of the primary reasons the Mavs pulled the trigger on the Rondo deal was they needed a pit bull to defend all the dominant point guards in the Western Conference.
Well, backup Hawks point guard
Dennis Schroder
scored 22 points on 9-of-15 shooting and dished out six assists in a spot start while
Jeff Teague
nursed a strained hamstring.
"Our pick-and-roll coverage can get a lot better," said Rondo, whose latest of four straight All-Defensive team selections came after the 2011-12 season. "It starts with me. I'm going to continue to build and learn from this game and get better."
It's not like Rondo's night was all bad. He stuffed the box score with 13 points, 11 assists, four rebounds, three steals and a block. He was a catalyst in the Mavs' near-miraculous comeback bid, as he scored twice on driving scoop shots, dished out five assists, grabbed two rebounds, racked up a steal and a block, and drew two offensive fouls in the fourth quarter.
But it's painfully obvious opponents will dare Rondo to beat them with his jumper until he proves he's capable of doing it. That's a problem for a player shooting 31.5 percent from outside the restricted area this season.
"If they just go way under like that and give him elbow shots, then he's just got to step into them," said
Dirk Nowitzki
, who scored 16 points on 6-of-13 shooting. "There's nowhere to drive, nowhere to do anything if somebody goes under an elbow jump shot. He's going to have to step into those and be aggressive."
The Hawks went under every screen set for Rondo and sagged almost comically far off him when he was on the perimeter, even when he had the ball in his hands. That's why he had as many shots as
Monta Ellis
and Parsons combined in the first half -- when the point guard was 3-of-10 from the floor -- and a major reason the Mavs scored only 38 points in the first 24 minutes.
"He's got to take rhythm shots when he's there," coach Rick Carlisle said. "He knows that. We're spending a lot of time on it. This is a beginning for him here.
"He's got a different set of teammates. He wasn't seeing this kind of coverage quite like this, playing with Dirk and playing with Ellis and some of these other guys. Look, I like his aggression. I like the way he played tonight. He's going to continue to shoot the ball better as we go along."
As Carlisle stressed, with Rondo in the starting lineup, it's a must for the Mavs to be solid defensively and generate offense by getting stops and getting out in transition.
That's what this starting five is best suited to do. Ellis, Parsons and Chandler all have excellent speed for their positions, with the wings also handling the ball well in transition. Nowitzki won't win many races, but he's lethal as a trailer 3-point threat. And Rondo is a remarkable athlete with court vision so rare Carlisle keeps comparing him to Jason Kidd.
"He's going to pass first," Carlisle said. "But it's hard to be an effective pass-first point guard taking it out of the other team's goal."
Of course, the Mavs can't make a playoff run just by running. They need to work out the kinks in their halfcourt offense that come with adding a pass-first, poor-shooting point guard in the middle of the season.
"It's going to take time," Rondo said, "But it won't take too much longer."
December, 23, 2014
Dec 23
12:19
AM CT
The Miami Heat have formally applied to the league office for a Disabled Player Exception in the wake of Josh McRoberts' season-ending knee injury in a move they hope will help them land free agent Josh Smith, according to league sources.
Sources told ESPN.com on Monday night that the Heat have launched the application process in hopes of being granted the exception before Smith picks his next team once he clears waivers.
At present, Miami can offer only a $1.4 million veteran minimum contract to Smith, but a DPE after losing McRoberts would be valued at $2.65 million.
Sources say the Houston Rockets, however, remain confident they have the inside track to land Smith even if Miami is granted a DPE this week, given Houston's clear need at power forward and Smith's close friendship with Rockets center Dwight Howard.
The Rockets still have their biannual exception available, valued at nearly $2.1 million, to offer Smith, who was stunningly waived Monday by the Detroit Pistons with $26 million left on his contract over the next two seasons after this one.
Sources say the Rockets, with Howard leading their recruiting pitch, believe Smith will ultimately choose Houston over Miami and the Dallas Mavericks
December, 22, 2014
Dec 22
10:39
PM CT
Associated Press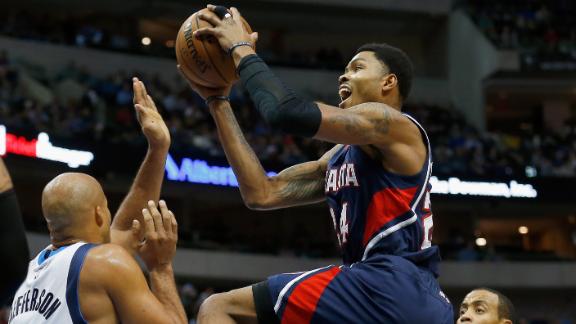 DALLAS -- Dennis Schroder scored a career-high 22 points and the Atlanta Hawks held off the Dallas Mavericks for a 105-102 victory on Monday night.
Atlanta led by as many as 24 points in the third quarter. The Mavericks pulled to 96-88 before second-year player Schroder hit a jump shot and two free throws for a 12-point lead with 1:08 to play.
The Hawks (20-7) won all three games on their road trip. The Southeast Division leaders have a four-game winning streak overall, and have won 13 of their last 14.
All five Atlanta starters scored in double figures. Kyle Korver scored 18, Al Horford had 17, DeMarre Carroll put in 15 and Paul Millsap added 13 points and 12 rebounds.
Monta Ellis led the Mavericks with 18 points, 11 in a fourth quarter when they outscored the Hawks 39-23.