Dallas Mavericks:

2010 free agency
July, 11, 2010
7/11/10
11:28
AM CT
By
Jeff Caplan
| ESPNDallas.com
The first wave of free agency is history and the
Dallas Mavericks
did what they could and what they had to in re-signing
Dirk Nowitzki
and
Brendan Haywood
.
While fans might have become intoxicated with talk of landing
LeBron James
or another high-caliber free-agent, the odds were stacked against the Mavs, who have no cap space and must work a sign-and-trade to acquire a free agent that will command more than the mid-level exception ($5.765 million).
As the Mavs move into the next phase of free agency, which amounts to targeting one or more players to fit in the MLE, plus other low-salary free agents (and, don't forget about
Erick Dampier
's non-guaranteed contract that the Mavs will try to trade for an impact player), let's take a look at what the club's roster looks like as of today:
Guards (8):
Jason Kidd
($8.5M);
Caron Butler
($10.8M);
Jason Terry
($10.4M);
Roddy Beaubois
($1.15M);
DeShawn Stevenson
($4.15M);
J.J. Barea
($1.8M);
Matt Carroll
($4.3M); Dominique Jones (not yet signed).
Forwards (3):
Dirk Nowitzki ($17.3M);
Shawn Marion
($7.15M);
Eduardo Najera
($3.0M).
Centers (2):
Brendan Haywood ($7.0M); Erick Dampier ($13M).
By the start of the 2010-11 season, the roster could look a lot different or virtually the same. At the least, Dampier will not make $13 million. Because his contract is non-guaranteed, he will either be traded (and than waived by the team he's traded to) or cut. Dampier can then re-sign with the Mavs -- or any other team -- at a greatly reduced rate. Butler, Stevenson, Barea and even Terry and Carroll are trade chips to varying degrees, with Butler's expiring contract and Dampier's non-guaranteed contract at the top of the list.
We know the Mavs have had at least initial talks regarding unrestricted free agents
Rasual Butler
and
Matt Barnes
.
Udonis Haslem
is a target, but it appears the Miami Heat have found a way to keep him.
Dallas has also shown interest in a potential trade for Minnesota forward/center
Al Jefferson
.
The rest of July, and even beyond, will be an interesting time. The Mavs have little to spend in a pool of free agents that don't offer much excitement. Dallas boasts attractive trade chips that they will try to make work, but hold no guarantees.
July, 6, 2010
7/06/10
11:39
PM CT
Raja Bell
hasn't quite created a LeBron-level free agency frenzy, but several teams have expressed interest in the veteran shooting guard.
The Mavs are one of them, Bell said during
Tuesday's appearance on Galloway & Company
. The feeling is mutual.
"Dallas is definitely in the top three for me," said Bell, who mentioned that Miami and Orlando are also among his preferred destinations due to having so much family in Florida.
Bell, who turns 34 in September, has fond memories of spending the 2002-03 season with the Mavs. He said he and his wife enjoyed the city, and he has a lot of respect for the way Mark Cuban runs the franchise. He also wants to play for a winner after not participating in the last two postseasons.
NBA front-office sources told ESPN.com's Marc Stein that Bell has been contacted by several other contending teams, including Boston, San Antonio and Portland. He has also been personally lobbied by longtime former nemesis
Kobe Bryant
, who reached out to Bell recently urging him to join forces with Bryant with the Lakers. But sources say L.A.'s recent agreement to sign guard
Steve Blake
as well as its intention to re-sign perennial playoff stalwart
Derek Fisher
leaves Bryant's team with little spending money to compete with so many suitors.
Bell missed almost all of last season after undergoing surgery on his left (non-shooting) wrist, but he reports that it feels fine. He's taken hits on it during workouts without any problems, and it doesn't limit his weight training.
Bell has started for the last several years but said it's not important for him to retain that status as long as he has a role. If he comes to Dallas, he'd be joining a crowded wing mix that includes
Caron Butler
,
Shawn Marion
,
Jason Terry
,
Rodrigue Beaubois
and Dominique Jones, although it's possible that one or two of those players could be moved in trades.
"Where I'm at now, it's not so much whether I start or not," Bell said. "I've had that conversation with myself and with my wife. Sometimes that means more to your family and your friends than it does to you. It's not about starting necessarily. It's about being able to contribute and being a piece of the puzzle that they need."
It's easy to see why several contenders have touched base with Bell. Who couldn't use a career .411 3-point shooter who prides himself on playing lockdown D? He's basically a combination of the best attributes of Mavs benchwarmers
Matt Carroll
and
DeShawn Stevenson
.
"The good thing about what I do, I think, is that there are not a whole lot of guys who do it," Bell said. "I can always hang my hat on if there are 100 shooters on the team, I can be the one shooter who will go out there and just try to die to keep my man from getting a bucket."
Bell sidestepped a question about what kind of money it'd take for him to return to Dallas. If the answer is the bi-annual exception of a little more than $2 million, he'd make a nice addition for the Mavs.
July, 3, 2010
7/03/10
8:56
PM CT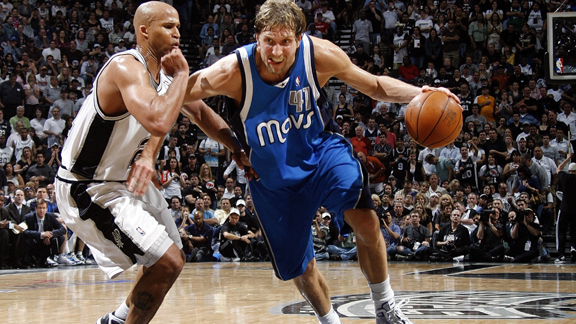 Dirk Nowitzki
cemented his status as the league's most unselfish superstar.
The greatest Maverick of all time gave Mark Cuban a significant hometown discount for two reasons: He's extremely loyal, and he desperately wants to leave a legacy of a champion in Dallas.
ESPN.com's Marc Stein reports
that Dirk agreed to a four-year, $80 million contract -- $16.2 million less than a max deal he could have demanded. And he did so without even flirting with another franchise despite the Mavs' repeated early playoff exits in recent years.
Dirk and Cuban are essentially partners in the mission to make the Mavs champions. The discount eases the financial burden Cuban would assume by acquiring a legitimate superstar to pair with his future Hall of Fame power forward.
Dirk has done his part, sending a strong message to potential sign-and-trade targets in the process: He's more than willing to sacrifice to win.