Dallas Mavericks:

2010 NBA playoffs
April, 18, 2010
4/18/10
12:07
PM CT
By
Jeff Caplan
| ESPNDallas.com
DALLAS -- Officially, the
San Antonio Spurs
have 6-foot-6 rookie D-League grad
Garrett Temple
listed as the starting point guard for tonight's Game 1 against the
Mavericks
at American Airlines Center.
Officially, Spurs coach Gregg Popovich deemed second-year guard
George Hill
a game-time decison. "He's probably 50-50."
Officially, that's hogwash.
"He says he's going to play," Spurs guard
Manu Ginobili
said after this morning's shootaround of his injured teammate, an key cog in the Spurs' grand scheme. "He's a little hesitant right now. We only had 1 1/2 practices, so it's hard after you've been out to come back. It's not going to be that easy."
Hill, who declined to chat with reporters, missed four games with a sprained right ankle before returning in Wednesday's regular-season finale in Dallas. He re-aggravated the injury after he tripped over a cameraman along the baseline in the first quarter.
Judging by Ginobili, it sounds as if Hill will start at point guard with Ginobili at shooting guard, leaving the always dangerous
Tony Parker
, who actually came out Friday to tell the world that Hill planned to play, to bring his slashing attack off the bench.
Parker has played in just six games, all in a reserve rolle, since returning from a month-long absence due to a broken right hand. Popovich officially declared Parker to be at full strength.
"Tony's ready to go," Popovich said.
April, 18, 2010
4/18/10
6:32
AM CT
By
Jeff Caplan
| ESPNDallas.com
DALLAS --
Shawn Marion
plays small forward and
Manu Ginobili
plays shooting guard, but there's little doubt who'll check whom when the
Mavericks
and
Spurs
tip off their first-round playoff series tonight.
"I think so," said Marion, the Mavs' defensive stopper throughout the season. "He's a slippery guy. Guys that are scorers, you've got to make them play defense and take away the easy buckets. We've got to make sure we put him in pick-and-rolls and situations where he has to play defense as well. You can't just let guys have free range on both ends of the floor. At the same time it's just a matter of us buckling down."
Forcing Ginobili to work on the defensive end will likely fall more to Mavs shooting guard
Caron Butler
, who will also get his time, along with
DeShawn Stevenson
,
Jason Kidd
and possibly
Roddy Beaubois
against the shifty, whirling-Argentine, who will play in his 108th playoff game after missing all of last season's series against the Mavs.
"It was my first playoff games that I ever missed. It was really heartbreaking watching it from the outside," Ginobili said.
"Dallas is special. We play so many times with them the last few years it makes it exciting. They have a lot of talent, they've been playing great, they have the home-court advantage. It's going to be rough, but we're looking forward to the challenge."
For the first time in two years, the 6-foot-6 Ginobili is healthy and playing like it. After a slow and cautious start to his eighth season after ankle surgery, Ginobili, 32, has relieved all doubts -- including his own -- that he could return to his slashing, attacking, playmaking form.
"I wasn't thinking about my ankles, my fracture or anything, I just wasn't thinking that I was going to be able to get to the rim," Ginobili said, referring to the first half of the season. "I get to the rim, I shot bad shots, I wasn't going over the bigs well, and it started happening in February and I really didn't do anything different. I guess it was just a matter of time."
Since the All-Star break, Ginobili has increased his scoring from 13.4 points a game to 21.4 and his shooting percentage jumped from 40.3 to 48.1.
"Ginobili has been their motor lately," Mavs forward
Dirk Nowitzki
said.
He's had no choice. Point guard
Tony Parker
missed a quarter of the season with various injuries, including a month-long stretch from ealry March to early April with a broken right hand. That's when Ginobili really came alive and led the Spurs to their best month of the season that included wins against Cleveland, Boston, Orlando and a 19-point blowout of the Lakers in Los Angeles.
"When Tony went down I found the ball in my hands for long times and I knew I was going to close out games with the possiblity of making most of the deicisons," Ginobili said. "And that really helped."
It would be hard to imagine Spurs coach removing Ginobili from the starting lineup at this point. So the question is who will start with him in the backcourt.
George Hill
, who played brilliantly in moving from starting shooting guard to point guard in Parker's absence, is a game-time decision with a sprained right ankle. Parker has filled a reserve role in the six games he's played since returning and there was some thought that Hill would continue to start in the playoffs.
Either way, Ginobili, the flying Argentine once again, will be the center attention.
April, 17, 2010
4/17/10
3:56
PM CT
By
Jeff Caplan
| ESPNDallas.com
DALLAS --
J.J. Barea
believes he's positioned himself well to log the majority of minutes behind
Jason Kidd
in the upcoming first round playoff series against the
Spurs
.
And if there's any doubt, he hopes
Dallas Mavericks
coach Rick Carlisle consults the video tape from last year's victorious first-round series against San Antonio.
Barea had an excellent series. He started three of the five games and averaged 10.0 points and 4.6 assists in 26.4 minutes, numbers that fared favorable to those of Kidd, who averaged 10.0 points and 5.6 assists (of course, Kidd had 30 rebounds compared to Barea's 10 and 12 steals compared to two). Barea consistently got to the basket and his ability to again keep the offense scoring points while Kidd rests is critical.
Barea thinks he knows why he had success against the Spurs.
"They do a good job of guarding set plays, but they don't do a good job of guarding pick-and-rolls, I think, on top especially with Dirk setting the screens," Barea said. "So I think we need to do a good job of attacking the paint against them. That's what I was able to do last year and it worked for us."
April, 17, 2010
4/17/10
3:41
PM CT
By
Jeff Caplan
| ESPNDallas.com
DALLAS --
Jason Terry
will wear the hard plastic protective mask he's used since returning from facial surgery on March 17 when the
Mavericks
open the playoffs Sunday night against the
Spurs
.
"I've got to wear the mask just to protect my face, so I'll have it on," Terry said. "I'm doing it to not have to go back to surgery. That's the biggest thing."
Since donning the mask after having surgery to repair a broken orbital bone, Terry is shooting 44.4 percent from the field (84-of-189) and 36.6 percent from the 3-point arc (26-of-71), which is actually a slight improvement over his season averages of 43.8 percent and 36.5 percent, respectively.
Mask or no mask, Terry is looking for a better playoff run than last season when he averaged 14.3 points and shot just 38.9 percent from the floor.
Terry had talked about ditching the mask for the playoffs, but a few close calls have made him realize it's best to keep the mask on.
"Eddie Najera's elbow two practices ago definitely reinforced it," Terry said. "Every time I get ready to take it off I get hit and it makes me keep it on. Until I'm comfortable enough, I'll keep it on."
April, 17, 2010
4/17/10
9:36
AM CT
By
Jeff Caplan
| ESPNDallas.com
Officially, the
San Antonio Spurs
are calling
George Hill
(sprained right ankle) a game-time decision, but
Tony Parker
on Friday had a more definitive status report:
"He's going to play," Parker told reporters at the Spurs' practice in San Antonio. "He needs to play. I'm not worried about that. George is a tough guy."
Hill missed four games before returning in Wednesday night's regular-season finale at Dallas. Early in the first quarter Hill tripped over a cameraman along the baseline and left the game. He practiced Friday, but was limited.
"It's not as bad as it was the first time, but it did set him back a bit," Spurs coach Gregg Popovich said. "We'll see how it's feeling. It's a little bit better every day."
Mavericks coach Rick Carlisle didn't hesitate when asked if he believed Hill would play.
"I expect he'll play," Carlisle said.
April, 17, 2010
4/17/10
6:30
AM CT
By
Jeff Caplan
| ESPNDallas.com
DALLAS -- Once a franchise and its star player arrive at the NBA Finals, win or lose, anything else short of making it back is deemed a failure.
That's just the way it is in sports, and that's where the
Dallas Mavericks
and
Dirk Nowitzki
once again find themselves as their latest postseason trek commences Sunday against the rival
San Antonio Spurs
.
"It's going to be another disappointing season for me if we don't win it, so that's how I look at it," Nowitzki said. "Losing in the first round, second round or third round, it doesn't matter. If we don't win it all that's another lost opportunity, another year in my prime gone, so you know you just got to go for it, get on the same page, play hard and go for it."
The Mavs celebrated a 10th consecutive season of at least 50 victories, a proud milestone to be sure, but also somewhat of a hollow one with no ring to crown the achievement. President of basketball operations Donnie Nelson and owner Mark Cuban have done an excellent job of making moves and spending money (Dallas still has the second-highest payroll in the NBA at close to $87 million, well over the league's luxury-tax threshold) to keep the championship window open as its star enters the latter portion of his prime. Nowitzki, still dogged by critics who say he can't lead a team to a title, turns 32 this summer.
[+] Enlarge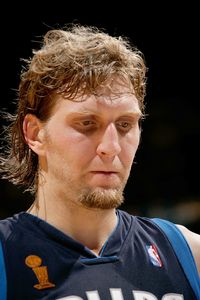 Nathaniel S. Butler/Getty ImagesDirk Nowitzki and the Mavs have not advanced past the second round since the 2006 NBA Finals season.
Just two others --
Jason Terry
and
Erick Dampier
-- remain from the 2006 NBA Finals team, but the roster is reinforced by 37-year-old future Hall of Fame point guard
Jason Kidd
,
Shawn Marion
and
Caron Butler
from the club's latest blockbuster deal. Nowitzki makes no guarantees, but says he likes his chances more than in recent seasons.
"I've said it all week, we're suited for the playoffs," said Nowitzki, who another stellar regular season, averaging 25.0 points, while shooting 48.1 from the floor and 42.1 percent from 3-point range, plus 7.7 rebounds. "We're more physical, we're bigger in the paint with two shot blockers, Caron is one of the biggest 2s now that there is in the league and as physical, so I think we should be ready for a slower, grind-it-out kind of game even though we still want to speed the game up. You know they're [San Antonio] going to do a good job of getting back and forcing us into a half-court game here and there, and so I think we're ready for it and we've got enough weapons."
Second-year Mavs coach Rick Carlisle has had to pick up the pieces from a mentally ravaged team coming off the Finals debacle, the first-round implosion the following season and then the firing of former coach Avery Johnson after the 2007-08 final meltdown.
After a 2-7 start last year, Carlisle has steered a sometimes smooth and a sometimes wobbly ship. Remarkably, through a second season of significant peaks and valleys that included the long-coming departure of
Josh Howard
, and a loosening of the playbook that truly has put the keys in Kidd's hands, Carlisle's Mavs managed to lock up the Western Conference's No. 2 seed on the final day of the regular season.
The high seed brings renewed expectations of a return trip to the Western Conference finals against, presumably, the top-seeded and defending champion
Los Angeles Lakers
. The Mavs have not advanced past the second round since the 2006 Finals season and have bowed out in the first round in two of the last three seasons.
"We're very serious about the playoffs and what it's about," Carlisle said. "Look, playoff basketball in the NBA is the greatest thing in any sport in my opinion. It's great competition, the coaching is at a high level, the buildings are full, there's a lot of activity, a lot you noise, you know, it's awesome, and we're looking forward to playing. I'm sure San Antonio is too, but all that whatever about the past is really insignificant to our situation right now. We have another day-and-a-half to prepare and so does San Antonio and then hey, let's throw it up."
The catch this season is that the West's playoff teams are incredibly balanced. The No. 7 seed Spurs still possess the core of their four championship teams and this version won 50 games despite a rash of injuries. So how much of an upset is it really if San Antonio were to knock out the Mavs over the next two weeks? It certainly ratchets up the pressure.
And what if the Mavs are one-and-done? What happens to a roster that's largely been overturned once since Carlisle arrived and still has numerous pieces that can be shipped out? What happens to Carlisle, who has two more years remaining on his contract?
"If you don't love pressure, you shouldn't be in this," Carlisle said. "I don't look at it as pressure. I just feel a real obligation to prepare our team as best as possible to give them the best chance to win and give Mark the best chance to win and our fans, that's what it's really all about. But, if you're going to sit around and talk about pressure and worry about pressure, you shouldn't be in this. You should be doing something else."
And so it all gets started all over again Sunday night at the American Airlines Center. Mavs vs. Spurs: One franchise's relentless and all-too-often painful pursuit of a title against another's persistent drive to add to its dynasty.
"I don't care about that," Nowitzki said. "To me, this is another opportunity at my goal, hopefully another championship run, that's how I look at it. Last year is gone, the Finals year is gone, there's nothing you can do about it. So to me, it's another opportunity and we'll just go for it and see what happens at the end."
April, 16, 2010
4/16/10
3:57
PM CT
By
Jeff Caplan
| ESPNDallas.com
DALLAS --
Dirk Nowitzki
was being asked a question about the how he thinks the
San Antonio Spurs
will try to defend him now that Bruce Bowen is no longer there to...
"Trip people?" Nowitzki interrupted.
Um, well, sure. Or as Avery Johnson said during the great 2006 series, to put a "bear hug" on Nowitzki.
The
Dallas Mavericks
power forward and leading scorer has put up big numbers against the Spurs this season, averaging 28.8 points a game. Yet, the Spurs have made him work for it. Nowitzki's 40.4 percent field-goal percentage in four games against San Antonio is his second-lowest shooting percentage against any Western Conference team this season (
Denver
, 36.7).
"I've got to be ready for anything with Pop," Nowitzki said, referring to Spurs coach Gregg Popovich. "He's a defensive genius and he comes up with a lot of coverages and I've basically seen it all over the last couple of years facing them. So, I just got to take whatever they give me, see how they start off. You know they're going to adjust during games sometimes and switch it up in timeouts, and I've just got to be ready for it."
Judging much off of the regular-season series is difficult. Because of key Spurs injuries and then the Mavs' All-Star break trade, the first three games were played with radically different lineups than will be seen when Game 1 tips at 7 p.m. Sunday at the American Airlines Center.
And, nothing can be made of the regular-season finale earlier in the week when Popovich at the last minute scratched
Tim Duncan
and
Manu Ginobili
.
The Spurs forward/centers
Antonio McDyess
and
Matt Bonner
will see the most time on Nowitzki, but at times
Tim Duncan
gets the call and even the smaller
Richard Jefferson
took Nowitzki in smaller lineups.
"They didn't have McDyess the last couple of years," Nowitzki said. "He's a long, crafty defender, but I'm sure he's [Popovich] going to throw a lot of bodies like he already did in the regular season. Popovich comes up with a lot of schemes. I think I've seen it all over the last couple years. Last year even, anywhere I caught the ball on the 3-point line they were double-teaming me so I'm sure he's going to look at some schemes this year."
April, 15, 2010
4/15/10
10:45
PM CT
By
Jeff Caplan
| ESPNDallas.com
Jason Kidd
wasn't thrilled with the way things were going as this season progressed, but he still believed the
Dallas Mavericks
, as constructed prior to the All-Star break trade, had a chance to do big things.
But, he said, "It was going to be tough. I thought we still had the pieces before the trade, but we just couldn't get it going on a consistent basis, and on top of that we were always fighting from behind."
Kidd's individual game, particularly his scoring, has soared
since the trade that sent
Josh Howard
to
Washington
and brought in
Caron Butler
,
Brendan Haywood
and
DeShawn Stevenson
. The team has done pretty well, too, going 23-7 since the trade heading into playoffs as the No. 2 seed in the Western Conference.
"With the trade everybody got to maybe relax for a minute and we didn't have time to really ask, 'Where would you like the ball?'" Kidd said. "We just had to play, so it was just play basketball and I think everybody got to do what they love to do and that was just play...We're playing. We start the game off just playing basketball, everybody gets to touch it, run and try to explore and try to get an easy basket off the bat."
Kidd's two-plus years back in Dallas have been a wild ride. He joined a team coming off consecutive monumental disappointments in the 2006 NBA Finals debacle and the 2007 first-round implosion after a 67-win regular season. When Kidd arrived with championship hopes, the season spiraled down the stretch and the Mavs were wiped out of the first round in five games by the
New Orleans Hornets
. The day after, Johnson was fired.
"At the trade I thought it was going to be a great opportunity with Avery and Dirk [Nowitzki] and the rest of the guys," Kidd said. "But, it was a different situation. They were fresh off coming out of that Finals where they felt they should have won, there was a lot of expectations right after that trade and it just didn't work out the way it was supposed to and I think we all got a chance to learn something and understand that you might have to just be patient, and we put ourselves right back in that situation this year."
Having just completed his second full season with the Mavs, Kidd never could have fathomed that he'd be playing for his second head coach and with just four players who were on the roster when he arrived:
Dirk Nowitzki
,
Jason Terry
,
Erick Dampier
and
J.J Barea
.
Since his return to Dallas, Kidd has preferred to assume a low profile, saying he's just one piece to the puzzle, but with the new roster, it is clear he has assumed a significant leadership role.
"He's our motor every night. He always plays hard at both ends of the floor," Nowitzki said. "Sometimes we can stick him on their best offensive player, that's the kind of competitor he is. He's a warrior, you can't say enough about him. He does it all for us. He pushes the tempo, he rebounds, he obviously sets an unselfish tone every night by passing the ball. We knew what we were going to get and that's leadership on the court."
April, 14, 2010
4/14/10
12:14
AM CT
By
Jeff Caplan
| ESPNDallas.com
If the
Dallas Mavericks
want to keep the No. 2 seed they'll have to lock it down tonight against the
San Antonio Spurs
.
Any thoughts of the Mavs resting their regulars in the regular-season finale went out the window with wins Tuesday night by
Utah
and
Phoenix
. The No. 2 seed remains in play for a possible Jazz takeover on the final night of the season.
Spurs-Mavs tip off at 7 p.m., more than two hours before the Suns-Jazz get going, so Dallas has to play it full tilt, assuming the Jazz will win on their home court. If the Mavs (54-27) win, whatever the Jazz (53-28) does later in the night is moot, Dallas will clinch the No. 2 seed. However, a Mavs loss and a Utah win awards the Jazz -- who holds the tiebreak over the Mavs -- the No. 2 seed and Dallas settles for the No. 3 seed.
Rest assured, the Mavs have no interest in sliding behind the Jazz and setting up a second-round scenario with four games slated in hostile Salt Lake City. Also be certain that the Jazz want that 2-seed. Otherwise, they tumble to fifth, start the first round on the road at
Denver
(1-3 vs. Nuggets this season) and would have to go through the
Lakers
in the second round.
San Antonio has an interesting situation in front of it. Would the Spurs rather open the playoffs against their in-state rival or against a Jazz team that snookered them, 4-0 (although their last meeting was back on Jan. 20 before the Spurs got hot, and Jazz forward
Carlos Boozer
left Tuesday's game with a rib injury)?
The Spurs (50-31), currently No. 7, have to assume that
Portland
(50-31), currently No. 6, will win its late game at home against
Golden State
. Portland owns the head-to-head tiebreak against the Spurs.
So, if San Antonio and Portland both win (and assuming the Jazz win to take the No. 2 seed), then the Blazers take the No. 6 seed and a first-round matchup against No. 3 Dallas, while the No. 7 Spurs would face the No. 2 Jazz.
If Phoenix beats Utah, the Suns would move up to No. 3, Denver would finish at No. 4 and Utah would slide to No. 5. In that case, even a Spurs win over the Mavs would pit the two rivals in a first-round showdown (assuming, of course, Portland wins its game).
Does your head hurt, yet?
Mine, too.
Here's tonight's final games for seeds 2-7:
2 Dallas (54-27):
vs. San Antonio
3 Utah: (53-28)
vs. Phoenix
4 Phoenix (53-28):
@Utah
5 Denver (53-29):
End of season
6 Portland (50-31):
vs. Golden State
7 San Antonio (50-31):
@Dallas
April, 13, 2010
4/13/10
5:10
PM CT
By
Jeff Caplan
| ESPNDallas.com
For old foes, the present versions of the
Dallas Mavericks
and
San Antonio Spurs
are practically strangers.
OK, maybe strangers is too dramatic, but consider:
All three meetings this season occurred prior to the Mavs shipping four players, including
Josh Howard
, to
Washington
as Dallas recast its team on the fly with
Caron Butler
,
Brendan Haywood
and
DeShawn Stevenson
. The Spurs also haven't seen hustling forward
Eduardo Najera
in a Mavs uniform since 2004.
[+] Enlarge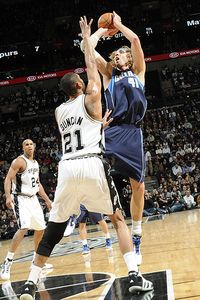 D. Clarke Evans/NBAE/Getty ImagesDirk Nowitzki has averaged 32 points against Tim Duncan and the Spurs this season.
The first meeting between these two division rivals came way back on Nov. 11 in San Antonio, and the Spurs won 92-83 despite
Tony Parker
and
Tim Duncan
being sidelined with injuries.
In the second meeting just one week later in Dallas, a 99-94 Mavs win, Parker again didn't play and
Manu Ginobili
lasted just 7:28 before a groin injury forced him out. As for the Mavs? Howard,
Shawn Marion
and
Erick Dampier
did not play. Check out this starting lineup:
Jason Kidd
,
Roddy Beaubois
,
Quinton Ross
,
Dirk Nowitzki
and
Drew Gooden
. Off the bench, the Mavs used
Jason Terry
,
J.J Barea
,
Kris Humphries
and
Tim Thomas
.
Honk if that lineup sounds familier.
On to the third meeting more than three months ago in San Antonio. It was actually the healthiest either team had been in the series, but it still predated significant changes by both clubs. The Mavs, obviously, made the blockbuster trade during All-Star weekend. San Antonio still had yet to move second-year guard
George Hill
into the starting lineup, where he's blossomed as a dangerous scorer, and Ginobili had yet to catch fire as a starter after Parker went down with a broken hand in the first week of March. Defensive-minded guard
Keith Bogans
and rookie center
DeJuan Blair
are now key role players off the bench instead of everyday starters.
The one constant in all three games? Nowitzki, who averaged 32.0 points and 9.7 rebounds and remains a nightmare matchup for the Spurs.
So the final meeting at 7 tonight at the American Airlines Center ultimately is rife with the potential for another playoff series and numerous new storylines for two Texas franchises that have slugged it out for the better part of a decade.
After an underachieving start, the Spurs have won 19 of 27, almost magically peaking under coach Gregg Popovich once again at the right time. They enter Wednesday's game looking for a sweep of the NBA's six division leaders within the past three weeks.
Parker is back but has come off the bench in each of the five games he's played. Hill is also back earlier than expected from a sprained ankle. Popovich immediately returned Hill to the starting lineup as the point guard, where he was brilliant in place of Parker and with Ginobili as his backcourt partner.
Richard Jefferson
still has his struggles but also shows flashes of being the scorer the Spurs had hoped. And as Duncan's scoring has declined for a second consecutive season after the All-Star break, he remains a dominant low-post threat.
"As much as people said we had a bad season, I think we're ready to battle anybody in the West," Hill told reporters after the Spurs clobbered Minnesota on Monday, 133-111. "I think our whole team is pretty confident we can go against anybody and give our best punch and take their best punch."
The Mavericks have won four in a row, most impressively having taken
Portland
's best punch last Friday, and restored hope for a long playoff run after a 5-6 mark followed a 13-game winning streak. That's how good, but also unsteady, this team has been, especially and suprisingly on its home floor, where it will meet the Spurs for Game 82 of the regular season Wednesday night and quite possibly for Game 1 of the postseason this weekend.
Stay tuned.
April, 13, 2010
4/13/10
11:45
AM CT
By
Jeff Caplan
| ESPNDallas.com
For tonight, at least, the
Dallas Mavericks
will root for the
Denver Nuggets
and
Golden State Warriors
.
Two scenarios tonight could clinch the No. 2 seed for the Mavs:
If the Nuggets win at the
Phoenix Suns
, the Nuggets will win the Northwest Division, lock up the No. 3 seed and lock out the
Utah Jazz
from the No. 2 seed. The Jazz is the only team that can bump the Mavs out of the No. 2 seed. If the Jazz loses at
Golden State
, it would also assure the Mavs of the No. 2 seed.
A potential interesting dilemma for the Mavs is that if the Jazz win tonight at Golden State, the Mavs-Spurs game will tip well before Jazz-Suns on Wednesday night, so Mavs will have no choice but to play to win. Utah will then find out as it plays Phoenix if it still has a shot at No. 2.
Here's a handy playoff pairings primer that the good folks at the Jazz sent out:
WESTERN CONFERENCE
1. LOS ANGELES LAKERS
2. Dallas or Utah
3. Denver, Phoenix, Dallas or Utah
4. Utah, Denver or Phoenix
5. Phoenix, Denver or Utah
6. Portland or San Antonio
7. San Antonio or Portland
8. OKLAHOMA CITY THUNDER
CAPS:
locked into position
Dallas will be seeded:
#2 if Mavericks win OR Denver wins OR Utah loses a game
#3 if Mavericks and Denver loses and Utah wins both games
Utah will be seeded:
#2 if Jazz wins both games and Mavericks and Nuggets lose.
#3 if Jazz wins both games, Mavericks win and Nuggets lose.
#4 if Denver wins and Utah beats Phoenix OR if Denver loses and Utah loses to Golden State and beats Phoenix.
#5 if Utah loses to Phoenix.
Denver will be seeded:
#3 if Nuggets win OR if Jazz lose to Warriors and Suns lose to the Jazz.
#4 if Nuggets lose and Suns beat the Jazz.
#5 if Nuggets lose and Jazz win both games.
Phoenix will be seeded:
#3 if Nuggets lose and Suns win both games.
#4 if Suns lose to the Nuggets and beat the Jazz OR Suns beat Nuggets, lose to the Jazz and Jazz beats the Warriors.
#5 if Suns lose both games OR if Suns beat Nuggets and lose to Jazz and Jazz loses to Warriors.
Portland will be seeded:
#6 if Blazers win OR Spurs lose
#7 if Blazers lose and Spurs win
San Antonio will be seeded:
#6 if Spurs win and Blazers lose
#7 if Spurs lose OR Blazers win
Here's the remaining schedules for seeds 2-7:
2 Dallas (54-27):
vs. San Antonio (Wed)
3 Denver (53-28):
@Phoenix (tonight)
4 Utah: (52-28)
@Golden State (tonight); vs. Phoenix (Wed)
5 Phoenix (52-28):
vs. Denver (tonight); @Utah (Wed)
6 Portland (50-31):
vs. Golden State (Wed)
7 San Antonio (50-31):
@Dallas (Wed)