Dallas Mavericks:

2011-12 Countdown
December, 23, 2011
12/23/11
12:15
AM CT
By
Jeff Caplan
| ESPNDallas.com
DALLAS -- On Thursday, just three days before the
Dallas Mavericks
are to begin their title defense against the
Miami Heat
, coach Rick Carlisle said the secret to any early success for his retooled team on the fly starts with simplicity.

"Simplicity has got to be the thing that helps mitigate the short period of prep time," Carlisle said. "We'll add things piecemeal as we need to, but we can't throw too much at these guys in a short period of time. And our emphasis has got to be on transition defense, staying in the front of the ball and getting rebounds. Those things lead to the good things that happen for us offensively."
He also said the hope is that defense can carry the team through the opening weeks when the offense might look ragged because of the lack of time for the newcomers to learn the plays and the tendencies of their teammates. That's interesting because so much of the Mavs' success last year was credited to precision team defense that included a smothering zone employed at strategic points, including late in close games.
"My hope is our defense will be ahead of our offense, and in that way I think it helps our overall situation," Carlisle said. "We've got two more days [of practice] and we can still gain ground, and that's what our goal's going to be."
Sunday's opener will start with the raising of the 2010-11 championship banner. From there, the day gets much tougher against a Heat team that remained intact and added
Shane Battier
and
Eddy Curry
.
Jason Terry
said the roster, the short training camp ... none of it matters when the ball goes up at 1:30 p.m.
"Our advantage is that we do know our roles, we do know what guys need to do for us to be successful out there and I think coach has made that evident," Terry said. "I think going forward, guys just have to come out and do it, there's just no other way. And there's no other way to do it than in live action at a high level. You can't get any higher than on Christmas Day against the Miami Heat."
Let's get to three key areas to watch:
1. Who starts and how deep does Carlisle go?
A logical starting lineup would see
Jason Kidd
and
Vince Carter
in the backcourt,
Shawn Marion
and
Dirk Nowitzki
at the forward positions and
Brendan Haywood
at center. The only deviation that makes much sense would be to start
Lamar Odom
at small forward in front of Marion, but Odom, the reigning Sixth Man of the Year, is accustomed to coming off the bench and could be the first off the pine to give Nowitzki a breather.
Delonte West
will back up Kidd, and Terry will be first off the bench at shooting guard. After that it could get interesting. How quickly does Carlisle turn to
Rodrigue Beaubois
, and does he play it safe by pairing him with Kidd? Does
Dominique Jones
get any playing time at the point against an excellent defensive team? And what about the center rotation? Haywood has hardly been impressive during the two preseason games, but there's no other option as the starter. Does
Ian Mahinmi
get first crack or has
Brandan Wright
, who had a nice showing in his lone preseason appearance Tuesday, bumped himself into a second-string role?
2. With DeShawn Stevenson now playing for the New Jersey Nets, who will help Marion guard LeBron James?
There's no doubt that Stevenson gave James fits in the NBA Finals. So much so that Carlisle actually took Stevenson out of the starting lineup at shooting guard and had him back up Marion at small forward to check James. Stevenson also helped Kidd defend
Dwyane Wade
, a responsibility that will now seemingly fall on Kidd and Carter, which for the nearly 35-year-old Carter could be a mismatch. But back to LeBron -- the Mavs just don't have another rugged defender to go toe-to-toe with him and that could be a major problem.
3. Which of the Mavs' newcomers is positioned to have the biggest impact?
Lamar Odom. In his first preseason game, with little working knowledge of the Mavs' offensive system, he put up 14 points and seven rebounds. In Tuesday's second game, Odom had just eight points and three rebounds, yet said he actually felt more comfortable. Because of the shooters Dallas can put on the court at any time, Odom's ability to put it on the floor and hit the 3-pointer should see him as a focal point of the offense. Most interesting should be when the 6-foot-10 Odom and 7-foot Nowitzki are on the floor together, a pairing that should create some matchup problems for the Heat.
December, 22, 2011
12/22/11
12:01
AM CT
By
Jeff Caplan
| ESPNDallas.com
Prediction time. And, wow, how do you predict how this revamped
Dallas Mavericks
team will finish a 66-game regular-season schedule over 123 days when the full squad didn't even play one preseason game together?

In fact, the Mavs didn't even finish off the roster until
Sean Williams
signed Wednesday. Training camp opened Dec. 9, yet
Lamar Odom
and
Vince Carter
didn't arrive until a few days later, and
Delonte West
after that, so coach Rick Carlisle has had his full unit for all of about a week. Add to it that illness kept
Brian Cardinal
from practicing one day,
Brandan Wright
from playing in the first exhibition game and
Jason Terry
and West from playing in the second.
Then there's still the shock factor involved in the deflating losses of
Tyson Chandler
,
J.J. Barea
,
DeShawn Stevenson
and also
Caron Butler
. Odom has his own shock factor to overcome in no longer playing for the
Los Angeles Lakers
, where he won two titles and played the last seven seasons and probably figured he'd play seven more.
PODCAST
Ben and Skin discuss what can be taken away from the Mavs' two preseason losses including: Lamar Odom's surprising leadership and the depth of the roster.

Listen

And what about
Vince Carter
? Can this guy still get it done?
With that, Dallas Mavericks, get out there and defend your title.
Could things be any zanier with the season opener quickly approaching on Christmas Day against the -- by comparison -- remarkably stable
Miami Heat
?
The Mavs might be in flux, but as defending champions they know there will be no sympathy. Hey, it's a jungle out there.
"The constant this year is going to be that the teams we play are going to have the increased edge because they're playing the champions," Carlisle said. "I went through this in 1986-87 -- the year after we won the title in Boston. We saw how it was. Every night it's a championship game. I can talk about it all day long and try to get the guys ready for it. But until the games start coming, we won't really know what it's about. And it's going to add to the challenge. But that's part of it."
The Mavs' two preseason losses to the
Oklahoma City Thunder
, who like the Heat did not undergo major changes -- in fact no changes at all -- did lend credence to the notion that Dallas won't get off to a roaring start. The first 15 games will be played in 23 days and includes matchups against Miami, Denver, two against Oklahoma City, San Antonio, Boston, the Lakers and the new-and-improved Clippers.
And, oh yeah, 12 of those games are back-to-back sets.
"Of course, we've got to get a feel for where the new guys are going to be at and situations and stuff like that, but for the most part we just walk in and play ball," forward
Shawn Marion
said. "There's always going to be some waves. At the same time, you've got to be able to take the good with the bad and learn from it."
So, let's get on with the predictions.
Jeff Caplan, ESPN Dallas beat writer
Like everyone else, I expect the Mavs to have their issues early on as assimilation proves challenging. After the lockout, the roster reshaping was fast and furious and inconveniently intertwined with training camp. Carlisle has proven to be quite proficient in finding workable combinations and mixing and matching to suit different situations. He has a deep team at his disposal and he will find lineups that work. The big question is whether he can implore this team to discover a defensive backbone with Chandler now supplying one for
Amare Stoudemire
and
Carmelo Anthony
. My guess is probably not as strong as they will need, and that's going to produce a lot of shootouts, but in the end it won't be a team capable of repeating.
Predicted record: 40-26
Tim MacMahon, ESPN Dallas beat writer
A slow start should probably be expected from a team fitting in new pieces, especially after seeing the Mavs struggle in the preseason. There will be bumps down the road, too, as the Mavs make resting old legs a priority. The goal is to peak for the playoffs again.
Predicted record: 40-26
Marc Stein, ESPN.com senior NBA writer
The Mavs won't slip as far without Tyson Chandler as you think. Especially not in the regular season because they've still got a lot of depth and versatility after the arrival of Lamar Odom -- one of the best players in league history with zero All-Star invites on his resume -- as a one-year bridge between Chandler and whoever Mark Cuban lands with all that cap space he's amassing. The streak of 11 consecutive 50-win seasons is going to perish thanks to the 66-game condensed schedule. The dropoff in rim protection minus Tyson, furthermore, will eventually punish Dallas in the playoffs. But this group can still get to the West finals. Bank on 41 wins for Dirk and his Mavs at worst.
Predicted record: 41-25
Chuck Cooperstein, Mavs play-by-play voice
After a bumpy start which will see them naturally struggle to assimilate their new pieces, the Mavericks will finish strong and will be a very entertaining team to watch. They will be like the Nellie teams of '02-'05, with a better defensive presence. But, like the Nellie teams (and every other Mavericks team besides 2011), they don't have the necessary presence in the middle to take them all the way.
Predicted record: 43-23
Jeff "Skin" Wade, co-host of "Ben & Skin Show" 103.3 FM ESPN and Mavs TV sideline reporter
The Mavs will once again have a strong playoff run riding the shoulders of the Big German, but their age and demanding schedule prove too tough to overcome and they eventually run out of gas against a younger, hungrier team. But, it'll be a solid year for a franchise transitioning into their next phase with over $20 million in cap space in the summer of 2012 to build a squad for the few remaining years of Dirk's peak. The real trick is for Dallas to know for certain by the end of the season what they have in Roddy B, DoJo and possibly even Brandan Wright.
Predicted record: 40-26
December, 20, 2011
12/20/11
11:30
PM CT
DALLAS -- The "but" has been removed from the sentence.

Dirk Nowitzki
is one of the all-time greats. Period.
His critics -- an army that included
Miami Heat
star
Dwyane Wade
, who called out Nowitzki for failing to come through as a closer in the 2006 Finals -- have to give Dirk all the credit he deserves after the Mavs finally reached the NBA mountaintop.
"I think he's played awesome, man," Wade said after the Mavs finished off the Heat in this summer's Finals. "Obviously Dirk, five years ago, it burned in him. He learned from that experience. ...
"So there's no question he's been a great individual player, and now that he's a champion, it goes without saying what it does for his career."
Nowitzki, who ranks 23rd in NBA history with 22,792 career points and will probably be in the top 10 after the three remaining seasons of his contract, filled in the final line of his surefire Hall of Fame resume by earning a championship ring.
He answered every question about his clutch shots by coming through when it mattered most time after time during the title run, averaging 10.0 points in fourth quarters during the 2011 playoffs and leading several stunning comebacks.
Nowitzki has long been known as arguably the most unique 7-footer to ever play the game, a big man whose best attribute was his ability to shoot the ball. For years, he was stereotyped as soft. No more.
Not after consistently displaying killer instinct during the Mavs' spectacular, shocking playoff run. That actually continued a trend from the previous several seasons, but the basketball world can't deny Nowitzki's clutch chops after they were displayed on the game's biggest stage.
Nowitzki admits he wasn't always that way. He's as proud of his evolution in that role as anything he's accomplished.
"I was almost a little scared to be in that position," Nowitzki said, "and then when [veterans like
Steve Nash
and
Michael Finley
] all left, I was kind of put in that position to be a man down the stretch. At the beginning, it took me a while to get used to it, but now I really enjoy the situations to get the ball and everybody's looking towards and you have to make that decision.
"That's a fun situation to be in now, but obviously it takes some hard work."
That's a "but" that has never bothered the face of the Mavs' franchise.
December, 19, 2011
12/19/11
11:25
PM CT
By
Jeff Caplan
| ESPNDallas.com
Brendan Haywood
says he's ready to do whatever is needed.
Ian Mahinmi
says he hopes the coaches believe in him as the primary backup.
We'll see.

The center position is the most glaring area of concern as the
Dallas Mavericks
seek to defend their title without defensive leader
Tyson Chandler
. Haywood takes over as the starter. Mahinmi will be joined by a couple of 6-foot-10 power forwards/centers looking to move their so-far underwhelming careers forward,
Brandan Wright
and the newest acquisition
Sean Williams
.
The 235-pound Williams is a solid shot-blocker and rebounder who hails from nearby Mansfield, Texas, and could be the bigger threat to Mahinmi's potential playing time.
The possibility remains that Dallas could add another true center before long.
With smaller lineups,
Lamar Odom
and
Dirk Nowitzki
can fill time at center, but huge responsibility now falls into the hands of Haywood and likely the fourth-year Mahinmi, who has never been more than a third-string depth player.
"I'm pretty confident in myself and Brendan. We know each other and we know what we can do for the team," Mahinmi said. "I hope it, but if it's not we'll have to work with it and be ready to play."
The most obvious concern is fouls. Haywood has been known to pick up some quickies. And as far as the energetic Mahinmi, well, quickies doesn't describe the rate with which he hacks. Last season he nearly equaled his rebound total (120) with his foul total (105) and that's not going to cut it if he's second in line.
Mahinmi finished with five fouls in 25 minutes of Sunday's preseason opener.
"I'm thinking of two fouls I could have avoided, that little foul where I bumped [
Kendrick] Perkins
going down the lane and the other when I pushed into [
Nick] Collison
," Mahinmi said afterward. "Those were two fouls that I could have avoided. This is really something that I have to get better at. If it's going to be me and Brendan, I need to make sure that I stay away from those fouls."
Haywood is coming off his least productive statistical season. He admitted at the end of the season that it took him some time to mentally adjust from thinking he was the starter to suddenly backing up Chandler, who quickly won the job and won over the locker room as a demonstrative difference-maker.
If anything, Haywood should enter the season enthused about starting for the defending champs and seeing his minutes increase from about 18 a game last season to potentially around 30 a game. If Haywood provides the steadiness and Mahinmi the exuberance while also limiting his foul trouble, Dallas could find itself with a serviceable tandem.
But, that is to be determined.
December, 19, 2011
12/19/11
12:14
AM CT
By
Jeff Caplan
| ESPNDallas.com
Mavs coach Rick Carlisle said
Shawn Marion
,
Lamar Odom
and
Dirk Nowitzki
form the best forward group in the league, and if you look around, it's hard to argue.

Collectively, they own four championships, 14 All-Star appearances, one league MVP, one Finals MVP and one Sixth Man of the Year award. What really stands out and makes the three a lethal combination for the
Dallas Mavericks
this season is that all three bring vastly different styles and skills.
The 6-foot-7 Marion can run the floor, post up and rebound at both ends. The 6-foot-10 Odom can handle the ball like few big men and brings the added dimension of being able to initiate the offense. He doesn't need plays called for him to be a central figure in the offense. He can step out and bury the 3-pointer as effectively as a dip of the shoulder and drive.
As for the 7-foot Nowitzki, well, entering his 14th season, there's little need to list his litany of devastating powers.
Combined, the three averaged 49.9 points, 22.6 rebounds and 7.0 assists a game last season.
The forward position should be one of greater strength than last season, when small forward beyond Marion became a revolving door after
Caron Butler
's New Year's Day knee injury took him out for the rest of the season. Marion eventually became the full-time starter after
Sasha Pavlovic
played out two 10-day contracts and
Peja Stojakovic
hurt his neck.
Carlisle holds his plans close to the vest, but Marion would seem the likely candidate to remain a starter with Odom coming off the bench to defend his sixth man title won last season with the
Los Angeles Lakers
. A glimpse at both forward positions:
Small forward:
The position belongs to Marion and Odom now that youngster
Corey Brewer
is playing for the
Denver Nuggets
. Carlisle will likely approach the tandem like he did with Marion and Butler before the injury, managing their minutes and going with the hot hand in the fourth quarter or whichever matchup is best suited for the situation. If needed, the 6-6
Vince Carter
can slide over.
Power forward:
A year ago, Marion was the de facto backup to Nowitzki, and he did a fine job of playing the bigger position. This season, Odom might find himself doing the switch more than Marion. Dallas also acquired
Brandan Wright
, a former lottery pick who hasn't lived up to that status in his brief career and, of course, there is fan favorite
Brian Cardinal
, who will always play sturdy defense, take and give a hard foul and nail a corner 3-pointer.
December, 17, 2011
12/17/11
11:30
PM CT
By
Jeff Caplan
| ESPNDallas.com
DALLAS -- This is what we know about the
Dallas Mavericks
' backcourt: It will have more size, star power and (presumably) firepower than any duo since
Steve Nash
paired with
Michael Finley
.

Jason Kidd
and 6-foot-6 eight-time All-Star
Vince Carter
are back together, although a bit older, maybe even slower, and both definitely don't jump as high as they once did. But everyone knows how cunning the stout, 6-foot-4 Kidd is, and his tremendous postseason run at both ends of the court put an end to any notion that he was too old or slow to complete the job.
As for Carter, a human highlight reel for the duration of his career, he said he is learning how to play the game effectively from a somewhat lower vantage point.
"Just smarter," Carter said of the evolution of his game. "I've taken pride in trying to learn the game of basketball throughout the years. I've come from a great program [North Carolina] where I was taught the game anyway, so for me it's just continue to find ways to be effective. I'm not really into trying to jump over people anymore."
Dallas boasted a terrific backcourt last season with players of varying skills and expertise. Gone is the mad-dog defender
DeShawn Stevenson
, who developed quite a lethal 3-pointer, as well. Gone is
J.J. Barea
, who frustrated defenses with his quick attacks to the basket and became as equally proficient passing it out or dumping it off as he did finishing off drives himself.
Carter, a superior offensive threat, effectively replaces Stevenson, with
Delonte West
taking over Barea's job as Kidd's backup.
Let's break down the two guard positions:
Point guard:
If Stevenson was thought to be a bit on the extreme side, how best to describe West? Well, the Mavs hope the slender 6-foot-3 veteran can handle the basketball, hit a few shots and defend. His priority is to allow Kidd the rest he'll need during a 66-game schedule that will be played in a whirlwind 123 days. In his seven seasons, West, who recently described himself as a "poor man's Jason Kidd," hasn't exactly been a durable workhorse over his career, having only once played as many as 71 games in a season and six times having played 69 games or fewer. The goal is to keep Kidd's minutes around 30 or fewer per game, and there might be times throughout 20 back-to-backs and one back-to-back-to-back that Kidd might get a night off.
"With Delonte, he's a veteran guy that can knock down a shot, he can defend anybody. He knows how to play, he's been in the game a while now," Kidd said. "So we all trust him and understand he plays well with the ball or without the ball."
If West isn't in the lineup on the majority of nights, it will put tremendous pressure on
Rodrigue Beaubois
to make massive strides at point guard. Beaubois remains a far more confident player at shooting guard and it could be too much to ask him to take on large chunks of time at the point. Second-year combo guard
Dominique Jones
could also see time at point.
Shooting guard:
"Vinsanity" takes over at 2-guard -- at least he would seem the obvious candidate with
Jason Terry
entrenched as the sixth man. The Mavs have long searched for a big, capable scorer at the 2. Last season with Stevenson, they certainly got bigger and more tenacious on the defensive end, but Stevenson certainly wasn't an explosive, create-his-own-shot type of player. With Carter, the Mavs might have the size and offense they've always craved, but they might run into defensive matchup issues. Dallas likes to use Kidd on shooting guards because, at 38, he just can't keep up with many of the young point guards in the league, while the 2-guard takes the opposing point. Carter, at his size and with knee issues, is not a candidate to slide over on the point guard. Terry, obviously, allows that flip and so, too, would either Beaubois or Jones. Carter's presence should allow Terry to dip his minutes some, but crunch time will be the most interesting time to see how coach Rick Carlisle plays things.
Terry loves late-game pressure and has all kinds of skins on the wall, and he won't want to lose that responsibility to Carter or anyone else.
December, 16, 2011
12/16/11
11:45
PM CT
DALLAS --
Lamar Odom
can't do all the things
Tyson Chandler
did for the Mavericks during the franchise's first championship march.

The intense big man the Mavs let go and the versatile forward they acquired are completely different kinds of players. But, if the Mavs are going to repeat, they need Odom's impact to be just as strong as Chandler's last season.
The Mavs are counting on swingman
Vince Carter
and guard
Delonte West
to be solid contributors. They'll need Odom, the Sixth Man of the Year with the Lakers last season, to play a starring role to earn another ring.
Chandler's role was easily defined: Be the Mavs' defensive backbone, battle on the boards, finish strong on the offensive end and serve as an inspirational leader. Odom's role will basically be to do a little of everything.
Odom will probably come off the bench again, playing significant minutes at both forward spots. He'll play some center in small-ball units. He'll frequently have point guard responsibilities, especially when coach Rick Carlisle wants to play shoot-first
Jason Terry
or
Rodrigue Beaubois
at the 1 with the second unit.
The Mavs need Odom to be one of their best scorers, distributors, rebounders and defenders. And he needs to get up to speed at pretty much every position in a new system by Christmas Day, even though he and his famous wife might not even have a place to call home in Dallas by then.
"This is more responsibility than I've ever had to put on a player's shoulders, but he's very capable of doing it," Carlisle said. "His versatility is going to be one of the real plusses for our team."
The Mavs aren't asking Odom, a 6-foot-11 dude who idolized
Jason Kidd
as a kid and has the skills to prove it, to do anything he hasn't done before. They'd be thrilled if he continues to produce like he did for the Lakers last season, when he averaged 14.4 points, 8.6 rebounds, 3.0 assists and shot a career-best 53.0 percent from the floor and 38.2 percent from 3-point range.
Of course, that's quite a challenge for a guy getting to know new teammates as he makes the transition from the triangle offense to Carlisle's flow-oriented sets.
"At the end of the day, it's basketball," said Odom, the rare player who is comfortable and effective on either end of a pick-and-roll. "These guys do a great job of just moving the ball and playing off each other. Hopefully, I can find my niche really quick.
"I can just play ball. I don't have to worry about how many shots I make and how many shots I take. I don't have to score the ball to be effective. I can be effective in so many different ways. Just have fun, just go out there and play the game."
December, 16, 2011
12/16/11
12:01
AM CT
DALLAS -- Rick Carlisle will remind anybody who listens that the commitment to defense was the primary reason the Dallas Mavericks won a championship last season.

His biggest challenge might be to get his team to continue that commitment without some major pieces to the puzzle.
Tyson Chandler, the defensive backbone and emotional leader, is the New York Knicks' new big man. Defensive coordinator Dwane Casey is the Toronto Raptors' head coach.
Now Carlisle has to figure out how to fit in several new pieces, adjusting to suit the skill sets of Lamar Odom and Vince Carter, while maintaining the same attitude and disposition that allowed the Mavs to rank eighth in defensive efficiency last season.
PODCAST
Ben and Skin welcome new Mavs guard Delonte West to the Metroplex and promptly get schooled on Texas Pete hot sauce.

Listen

"We won the championship last year partly because we were uncomfortable all the time," Carlisle said. "Part of my job is to make sure that we have a healthy discomfort every day, knowing that there's things that we're going to have to do extremely well, even better than last year, to put ourselves in position to defend. With a lot of new pieces, we've got a lot of challenges here."
Mavs president of basketball operations Donnie Nelson points out that Jason Kidd and Shawn Marion were never known as defensive stoppers until the Mavs' title run. That pair of veterans played key roles in containing superstars such as Kobe Bryant, Kevin Durant, LeBron James and Dwyane Wade, especially in crunch time during the playoffs.
That, Nelson said, is a credit to Carlisle. That's why Nelson thinks the Mavs will still be a stingy defensive team with Brendan Haywood as the Mavs' only true big man.
"That's what coaching is all about," Nelson said. "If anybody can do it, Rick Carlisle can."
Nelson, who can't think of another coach as creative with his lineups, with the possible exception of his dad Don Nelson, is just as confident that Carlisle will maximize the Mavs' immense offensive potential. It will be especially interesting to see the variety of ways that Carlisle utilizes Odom's point forward skills.
Perhaps the most important thing Carlisle did last season was getting a veteran team to buy into a selfless style. He credits Marion for setting that tone by embracing a bench role until Caron Butler's knee injury forced a lineup shuffle.
Now Carlisle has to get a title-defending team, with a couple of high-profile additions, to buy in again.
"It's not just the definition of roles, it's the acceptance of roles," Carlisle said. "You can define roles all you want, but if you have guys that are hesitant or unwilling to accept them, then you're going to have problems."
Carlisle doesn't envision problems. He embraces challenges.
"I'm not looking for it to be easy," Carlisle said. "I promise you that."
December, 15, 2011
12/15/11
12:01
AM CT
DALLAS -- All bets are off for the
Dallas Mavericks
if the remarkably durable
Dirk Nowitzki
suffers a significant injury this season.

Let's assume Nowitzki, who has never missed more games in a season than the nine games he sat out last season after spraining his knee, stays healthy. The defending-champion Mavericks are at the minimum a playoff team.
The worst-case scenario is that they'll be another version of the 2003-04 Mavs. That one-and-done playoff squad will always be remembered for the Antoines. Or the Antawns.
See, they couldn't even get on the same page regarding the spelling of the shared first name for their two major offseason additions. Adding
Antoine Walker
and
Antawn Jamison
to the mix was a failed chemistry experiment.
The Mavs hope that isn't the case with
Lamar Odom
and
Vince Carter
, a couple of similarly accomplished players who are a little further along in their careers.
"That's fair," Mavs president of basketball operations Donnie Nelson said. "The problem with that is we had two guys who couldn't pass. One wasn't willing, and one wasn't able."
Nelson laughed as he made the point, but he's not kidding when he says he thinks Odom and Carter have the unselfish mentality to mesh well with the Mavs, who became the symbol for the power of team basketball while beating the superstar-studded
Miami Heat
in the NBA Finals.
Another significant difference between these Mavs and their '03-04 predecessors is that coach Rick Carlisle knows he has a starting-caliber center in
Brendan Haywood
. Don Nelson went the "mad scientist" route at center in that season, splitting time between wide-body
Danny Fortson
, creaky
Scott Williams
, 7-foot-6 stiff
Shawn Bradley
and various small-ball lineups. The result then was a defensive disaster, as the Mavs ranked second to last in points allowed.
The Mavs'
Tyson Chandler
-led defense made a parade in downtown Dallas possible last season. If Haywood can step up to provide a stiff defensive backbone, the Mavs could be the team to beat in the Western Conference. If he can't, the Mavs could revert back to one-and-done mode.
December, 13, 2011
12/13/11
12:01
AM CT
By
Jeff Caplan
| ESPNDallas.com
Picture this: A quarter of a million people cram into downtown Dallas. The Mavericks ride through the streets on floats and wave to the screaming masses.
Dirk Nowitzki
and his teammates emerge onto the balcony overlooking the American Airlines Center's South Plaza and the 7-foot German belts out as best he can, "We are the Champions."

Oh, you've seen this picture before?
Exactly.
Repeat.
Just a few days ago as it became apparent that
Tyson Chandler
and the rest of the Mavs' free agents -- excluding
Brian Cardinal
-- were hitting the streets, the doomsayers railed on a lost season to come. The closest the Mavs would come to back-to-back, many thought, was the 20 they'd play during this rapid-fire, 66-game regular season.
Then came a flurry of activity --
Vince Carter
,
Lamar Odom
,
Delonte West
to spice things up. And suddenly, not only has hope risen for this season's championship hopes, but next summer now promises to be must-see as Dallas will be positioned well below the salary cap and as well as any team to nab one of the big three potential free agents --
Chris Paul
,
Deron Williams
and
Dwight Howard
.
But let's keep things focused on the here and now. Job No. 1 for the Mavs' front office was to give coach Rick Carlisle another deep team. They've done that. Carlisle has the necessary bodies to navigate through the regular season and, barring injury, he should be able to steer this ship into the playoffs with a roster that's ready to roll.
"It's going to be really a matter in my mind," Carlisle said, "of the deepest team that can stay healthy and stay together is going to be the team that's going to have the best chance of coming out of the West."
On paper, there is no team is deeper than the Mavs. Consider that two of the last three NBA sixth men of the year will be coming off the Mavs' bench in the ultra-versatile, 6-foot-10 Odom and gunner
Jason Terry
. West, a veteran with a needed edginess, will back up
Jason Kidd
. Shooting guard is loaded with Carter, Terry and a finally healthy
Rodrigue Beaubois
. Center is the lone question mark, but after Dallas dealt wings
Rudy Fernandez
and
Corey Brewer
to the
Denver Nuggets
on Tuesday, it now has roster space to go after depth in the middle.
There's no such thing as paper champions, but just days ago despair had set in among the fandom. Now, the Mavs suddenly look like bona fide contenders in the Western Conference. It's a conference that boasts some dangerous young squads like the
Oklahoma City Thunder
and the rising
Memphis Grizzlies
, as well as the old guard in the
San Antonio Spurs
team that's a year older and made no moves of consequence, and the
Los Angeles Lakers
, who lost Odom to Dallas, but still can't be counted out simply because of
Kobe Bryant
(and a Paul deal that's apparently not dead yet).
Still, no dominant team exists to overcome. That only benefits these quickly retooled Mavs who, best-case scenario, will have a June to remember as they repeat.
December, 12, 2011
12/12/11
11:00
PM CT
By
Jeff Caplan
| ESPNDallas.com
DALLAS -- Finally, the old sports cliche' about the season being a marathon, not a sprint, is turned on its head. Starting on Christmas Day, the NBA gets a shotgun start and the
Dallas Mavericks
begin 66 games in 123 days.

Dirk Nowitzki
said it's going to feel like 66 games in 67 days.
Jason Kidd
said you don't need to even look at the schedule; you just got to know where you're going.
It will be a whirlwind for sure, and Kidd, who will turn 39 during a particularly brutal stretch in March, will be most affected by the sprint to the April 26 regular-season finish line, which is followed by the postseason two days later. Anyone who saw Kidd play during the final month of last season saw a tired, dragging player. We know Kidd must be fresh entering the playoffs for the Mavs to stand a chance.
We also know that keeping Kidd as spry as possible begins right now during training camp.
"We're not going to kill him in training camp," Mavs coach Rick Carlisle said. "We're going to make sure we have him for 66 games."
Dallas has good depth at shooting guard and both forward spots, and they wouldn't mind adding another serviceable center. As of Monday night, the Mavs addressed a gaping hole behind Kidd by signing
Delonte West
, 28, to a one-year deal. Otherwise, Dallas was looking at likely forcing
Jason Terry
to split time between the guard spots because
Rodrigue Beaubois
and
Dominique Jones
just haven't developed yet as reliable point guards for a team gunning for a repeat.
And to repeat, Kidd must be well-rested by the time April 28 rolls around. That's the day the playoffs start.
Kidd averaged about 36 minutes per game two seasons ago and was a mess in the first-round loss to the
San Antonio Spurs
. Carlisle recognized that and was able to reduce Kidd's minutes to about 33 per game last season. The plan this season is to get him down to 30 or fewer.
With
J.J. Barea
now playing in Minnesota, ensuring that the future Hall of Famer gets the rest he needs is in the hands of Delonte West.
December, 12, 2011
12/12/11
9:00
AM CT
By
Jeff Caplan
| ESPNDallas.com
DALLAS -- The 2011-12
Dallas Mavericks
storyline changed almost as quickly as the Texas weather last weekend. Out-of-nowhere acquisitions of
Vince Carter
and particularly
Lamar Odom
quickly recharged what appeared to be a weakened world champion after the departure of heart-and-soul center
Tyson Chandler
and other key title pieces.
[+] Enlarge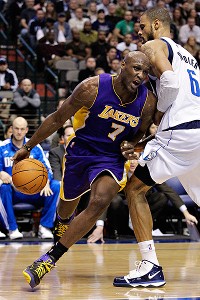 AP Photo/Tony GutierrezWill Lamar Odom be able to help replace some of the defensive leadership the Mavericks lost with the departure of Tyson Chandler?
Fans were in a tizzy. Owner Mark Cuban offered a plan.
Now it's coach Rick Carlisle's job to figure out how all the pieces fit together on what is again a deep, veteran roster. That depth will be crucial during the compacted, 66-game schedule.
However, Carlisle's biggest challenges will be getting this group of mostly offensive-minded talents to discover the defensive backbone of last season's club as well as demanding vocal leadership, two areas spearheaded by the fiery, 7-foot Chandler. The Mavs' defense finished in the top 10 in the league in both scoring average and shooting percentage last season.
"We're a world champion because we became a defense-first team and our system is what carried us," Carlisle said. "And the guys that play in this system are going to have to be just as persistent and tough-minded as the guys that did it last year. That's really the beginning and end of it."
Along with missing Chandler, bulldog defender
DeShawn Stevenson
, who played such gritty defense on
Russell Westbrook
and
LeBron James
in the postseason, is also gone. He is replaced by
Rudy Fernandez
and Carter, neither of whom is known for bringing that brand of defensive tenacity.
At center,
Brendan Haywood
holds his own, but he doesn't bring Chandler's passion or demand accountability from teammates.
Ian Mahinmi
is a developing player who brings energy, but is not yet a reliable, consistent performer.
Brandan Wright
is a young, unaccomplished power forward that Carlisle will try at center.
Still, for the first time in the
Dirk Nowitzki
era, the Mavs have size all around. Fernandez and Carter are both 6-6 at shooting guard.
Jason Kidd
is a rugged 6-4, Odom is 6-10 at small forward and Nowitzki and Haywood are both 7-footers.
"Shawn has probably been our best perimeter defender with Kidd, and Lamar can guard 3s, can guard 4s and 5s also," Nowitzki said. "So, defensively we're long and we can be active."
But, can they be good? In 21 postseason games en route to the title, the Mavs held their opponent under 100 points in their first 10 games and in 17 of 21. So big in that run was Chandler's intensity, his in-your-face approach and ability to get teammates to follow his lead.
That's why Chandler was so often referred to as the defensive anchor and the one player who changed the defensive culture of the team.
We'll find out over the course of 66 games in 123 days if Chandler took all of that with him to the Big Apple.
"Playing against Lamar over the years, I think he's more of a quiet guy, too. He's more of a quiet leader, plays hard, comes to play every night, but he's not a guy that pumps his chest out there like Tyson used to do," Nowitzki said. "We just have to wait and see. We'll do it by committee and push each other every night. I think that's what it comes down to. If you're an older team, sometimes you might be tired or whatever, you don't really feel like playing since there's like 66 games in 67 nights it feels like, so some nights we're going to have to push each other."