Dallas Mavericks:

2012 sizing up West
August, 27, 2012
8/27/12
11:54
AM CT
By
Jeff Caplan
| ESPNDallas.com
Two weeks ago I shared my
2012-2013 Western Conference rankings
, in which I put the
Dallas Mavericks
sixth. Last week I analyzed
what's changed with the five teams ranked ahead of them
and how the new-look Mavs match up.
The most push back I received was slipping the
Memphis Grizzlies
to the eight-hole after they finished fourth last season. Those who disagreed mostly suggested that the Grizz will be the sixth seed, finishing ahead of the Mavs and my No. 7 pick, the
Minnesota Timberwolves
, and could even push into the top five.
[+] Enlarge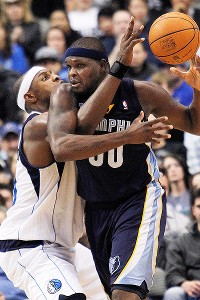 AP Photo/Tim SharpGrizzlies big man Zach Randolph's size has posed problems for the Mavericks.
The argument revolves mainly around a healthy
Zach Randolph
, who missed all but the final 28 games last season with a knee injury and was never the force we're accustomed to throughout the first-round playoff loss to the
Los Angeles Clippers
, my No. 3 pick for the coming season. Ultimately, I dropped Memphis to No. 8 to hold it accountable for the horrific home playoff losses in Games 1 and 7 against the Clips, and returning this season without their best 3-point threat and new Mavs starting shooting guard,
O.J. Mayo
.
Is the sixth seed a bit generous for a totally re-tooled Mavs team? Perhaps. But, with a rested
Dirk Nowitzki
, youth and speed in the backcourt, a scoring center in
Chris Kaman
, two-thirds of the roster in a contract year and coach Rick Carlisle at the controls, Dallas is an intriguing outfit with upside.
Still, it doesn't guarantee Dallas will improve upon last season's disappointing seventh seed. This should be a hotly contested race for the top eight spots with enough good teams, including my sleeper team, the
Utah Jazz
, to shove the Mavs or the Wolves, or any team in the bottom four that has a misstep, out of the playoffs.
The last time Dallas wasn't in the postseason: 1999-2000.
Here's a quick glance at how the Mavs match up against the teams I've ranked behind them:
No. 7 Minnesota Timberwolves
Last season's results (Wolves won, 2-1):
@Wolves 99, Mavs 82; Wolves 105, @Mavs 90; Mavs 104, @Wolves 97
This season's games:
Nov. 12 vs Wolves; Dec. 15 @ Wolves; Jan. 14 vs. Wolves; March 10 @ Wolves
What's changed:
A lot under Rick Adelman, starting with malcontent
Michael Beasley
being shipped off and
Chase Budinger
and
Andrei Kirilenko
coming in. The
Brandon Roy
experiment will be interesting to watch. The Wolves expect center
Nikola Pekovic
to continue to emerge and
Kevin Love
to continue to be a scoring and rebounding force, but all hope for a playoff berth rests on the recovery and return date of point guard
Ricky Rubio
coming off the ACL injury. Rubio's status makes this a tricky, if not an overly ambitious, pick.
How the Mavs match up:
The Wolves turned the tables on Dallas last season after years of dominance. Like with most teams in the West, Dallas' backcourt youth movement should allow it to compete better defensively against clubs with top point guards. The Wolves should be an excellent rebounding team, which has to be one of the big concerns for Dallas and its 30-something frontcourt.
No. 8 Memphis Grizzlies
Last season's results (Grizzlies won, 2-1):
@Grizzlies 96, Mavs 85; @Mavs 95, Grizzlies 85; @Grizzlies 84, Mavs 89
This season's games:
Dec. 21 @Grizzlies; Jan. 12 vs. Grizzlies; Feb. 27 @ Grizzlies; April 15 vs. Grizzlies
What's changed:
The Grizzlies' best 3-point shooter, Mayo, now plays for the Mavs. Memphis brought in guards
Jerryd Bayless
and
Wayne Ellington
, but they have no sure-fire shooting guard behind defensive-minded
Tony Allen
. Memphis ranked 27th in 3s made last season and remain a non-threat from beyond the arc.
How the Mavs match up:
The sheer size of 260-pound Randolph and 7-foot-1
Marc Gasol
are going to again cause massive paint problems. Behind center Chris Kaman, the Mavs turn to undersized power forward
Elton Brand
and underweight
Brandan Wright
. On the perimeter,
Darren Collison
and Mayo should be fun to watch against
Mike Conley
and Allen with
Shawn Marion
and
Rudy Gay
going at it on the wing.
No. 9 Utah Jazz
Last season's results (Mavs won, 2-1):
Mavs 94, @Jazz 91; @Mavs 102, Jazz 96; @Jazz 123, Mavs 121 (3OT)
This season's games:
Oct. 31 @ Jazz; Jan. 7 @ Jazz; March 24 vs. Jazz
What's changed:
Devin Harris
is no longer running the point and that's probably a good thing for Utah.
Mo Williams
and
Randy Foye
join
Earl Watson
and should provide more energy and much better perimeter shooting as the Jazz finally possess 3-point threats to go with a strong interior of
Al Jefferson
,
Paul Millsap
, up-and-comers
Derrick Favors
and
Enes Kanter
and newcomer
Marvin Williams
.
How the Mavs match up:
Up front, the Jazz hold a significant edge and should be able to do damage on the boards. They ranked No. 3 in the league in rebound differential last season and could be even better. Perimeter defense will be key as Utah can now bomb from the outside with Williams, Foye and
Gordon Hayward
. The great equalizer remains Dirk Nowitzki, who averaged 30.7 points on 54.2 percent shooting last season against Utah.
August, 24, 2012
8/24/12
12:01
AM CT
By
Jeff Caplan
| ESPNDallas.com
Last in a series looking at the five teams ahead of the Dallas Mavericks in our early 2012-13 Western Conference rankings and how the revamped Mavs match up.
No. 1 Los Angeles Lakers
Move along, nothing here to see. Yeah, right. Luxury tax be damned, the Lakers are must-see TV this season with their retooled roster that reads like an All-Star team or an Olympic squad or, if you will, a future Hall of Fame roll call. General manager Mitch Kupchak, who in 2008 acquired
Pau Gasol
from Memphis -- a deal long-ridiculed as thievery although the Grizzlies did get
Marc Gasol
-- finagled
Steve Nash
for draft picks. He then landed the most dominant defensive big man in the league,
Dwight Howard
, who has also averaged 20 points or more in four of the last six seasons. So the Lakers will roll out a starting five of Nash,
Kobe Bryant
,
Metta World Peace
, Pau Gasol and Howard. The Lakers were a middle-of-the-pack defensive team last year and that should begin to change the moment Howard returns from back surgery. Offensively, this should be a lot of fun with Nash running the show and making life super easy for Kobe, Pau and Howard. Move over
Chris Paul
and
Blake Griffin
, a new Lob City might be taking up residence at Staples Center.
[+] Enlarge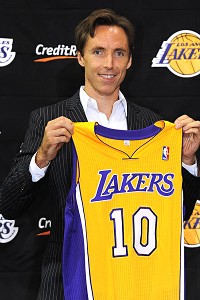 Andrew D. Bernstein/NBAE/Getty ImagesThe Lakers acquired Steve Nash (above) and Dwight Howard in the offseason, but it's the reinforced bench that will vault L.A. to the top.
Last season's results (Lakers won, 4-0)
@Lakers 73, Mavs 70
Lakers 96, @Mavs 91
Lakers 109, @Mavs 93
@Lakers 112, Mavs 108 (OT)
This season's games
Oct. 30: @ Lakers
Nov. 24: vs. Lakers
Feb. 24: vs. Lakers
Apr. 2: @ Lakers
What's changed?
Obviously, the marquee moves the Lakers made with Nash and Howard have everyone talking. But it's the ancillary acquisitions to bolster the bench that pushed me to hand L.A. my No. 1 ranking ahead of West champion Oklahoma City. Bringing in veteran forward
Antawn Jamison
and 3-point specialist
Jodie Meeks
to join guard
Steve Blake
and energetic young forward
Jordan Hill
gives the Lakers' second unit proven scoring and some muscle. There's lots of talk that the Lakers could challenge the 1995-96
Chicago Bulls
' record 72 wins, but considering Howard will probably miss the beginning of the season recuperating from back surgery, the age of key stars such as Nash and Kobe and time needed to jell, that feat doesn't seem terribly likely. That's not the goal anyway. The end-game is fitting Kobe for a sixth ring to match
Michael Jordan
and getting Nash and Howard their first. The intriguing aspect is how second-year Lakers coach Mike Brown will handle this gift of talent and how he'll adjust offensively. For instance, Mavs coach Rick Carlisle, as time went on with
Jason Kidd
, relinquished most of the play-calling and allowed the offensive to "flow" from Kidd. Nash's presence as the primary ball handler will also be a major adjustment for Bryant, who can take on the role of a more traditional shooting guard playing off the ball. It should greatly benefit Bryant, who turned 34 on Thursday.
How the Mavs match up
The Mavs will get an early look when they open the season in L.A. in what should be quite a Hollywood scene. This Lakers squad brings just about everything: Star power, size, skill, strength, savvy and doses of athleticism that will be difficult for any team to match. Howard probably won't be ready to go just yet, but Nash will be primed for a big opener with his new club. As big a problem as
Andrew Bynum
was for the Mavs to handle defensively and on the boards (he averaged 17.0 points and 13.0 rebounds last season vs. Mavs) and as difficult as Howard will be, Gasol was a killer last season.
Dirk Nowitzki
is often saddled with guarding Gasol, arguably the most skilled 7-foot low-post player in the league. Gasol averaged 19.8 points and 8.5 boards in four games against Dallas and shot 55.9 percent from the field. Against teams Gasol played more than two times last season, he shot a higher percentage against only Houston and Minnesota.
Chris Kaman
will probably get Gasol in the opener, but when Howard's in the lineup, Kaman will have that nasty assignment with Nowitzki on Gasol.
Shawn Marion
will be happy to get help from newcomers
Dahntay Jones
and
O.J. Mayo
when it comes to guarding Bryant. Any way you slice it, this is going to be a tough matchup -- and the Mavs are lucky enough to try it four times this season.
Previous entries
No. 5:
Denver Nuggets
No. 4
San Antonio Spurs
No. 3
Los Angeles Clippers
No. 2
Oklahoma City Thunder
August, 23, 2012
8/23/12
12:01
AM CT
By
Jeff Caplan
| ESPNDallas.com
Fourth in a series looking at the five teams ahead of the Dallas Mavericks in our early 2012-13 Western Conference rankings and how the revamped Mavs match up.
No. 2 Oklahoma City Thunder
Somehow, some way, the Thunder have to be moved out of the Northwest Division and into the Southwest. The proximity is just too enticing and so is the growing rivalry, even if OKC now holds the decisive advantage. At least the Thunder and Mavs will meet four times again this season, just as they would as division rivals, as opposed to three meetings. It pained me to rank the Thunder, with their youthful Big Three --
Kevin Durant
,
Russell Westbrook
and
James Harden
-- and newly extended fourth core member --
Serge Ibaka
-- a rung behind the new-look Lakers. The West champs, who could easily win 65 games this season, probably don't deserve such a fate. But concerns remain about the limited places this team can go to score points. Yes, OKC ranked third in the league in scoring during the regular season (103.1), but it dropped nearly two points throughout the playoffs and five points in the Finals against the Heat's rugged defense. The Thunder remain ridiculously talented but also a perimeter-oriented team with questionable depth.
[+] Enlarge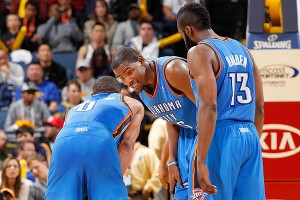 Rocky Widner/NBAE/Getty ImagesThe Thunder's Big Three (Russell Westbrook, Kevin Durant and James Harden) are young and formidable, but depth is an issue for the defending Western Conference champions.
Last season's results (Thunder won, 3-1)
@Thunder 104, Mavs 102
@Mavs 100, Thunder 87
Thunder 95, @Mavs 86
@Thunder 95, Mavs 91
Thunder swept Mavs in first round
This season's games
Dec. 27: @ Thunder
Jan. 18: vs. Thunder
Feb. 4: @ Thunder
March 17: vs. Thunder
What's changed?
The Thunder will largely be the same club we saw roll through the Western Conference before being stopped cold by
LeBron James
and the Heat. The return of guard
Eric Maynor
-- he played just the first nine games last season due to injury -- will definitely help the team's backcourt depth, but he has averaged less than five points in his previous 1 1/2 seasons with the Thunder. Rookie
Perry Jones
will be closely watched. The Duncanville and Baylor product dropped into the Thunder's lap at No. 28, giving OKC another big man behind Ibaka and the perpetually perturbed
Kendrick Perkins
.
Hasheem Thabeet
, a lottery bust at this point, was brought in as a depth player who's still young enough to possibly improve. Otherwise, the changes will come from within. What move will Kevin Durant bring back from the summer? Last season he copied
Dirk Nowitzki
's one-legged fadeaway. How will Westbrook's game rise to another level? How will a contract year affect Harden? Having agreed to an extension, will Ibaka again challenge for defensive player of the year while continuing to upgrade his offensive arsenal?
How the Mavs match up
The Thunder exposed Dallas' weakest positions during the first-round sweep. No one came close to covering Westbrook and Harden, particularly in the Game 4 fourth-quarter clincher. They drove unabated and untouched to the rim time after time. The Mavs feel they're better equipped to deal with those threats this season with speedy
Darren Collison
at point guard and
Chris Kaman
and
Elton Brand
protecting the rim. But look, OKC is a matchup nightmare. Ever catch Durant standing next to 7-footer Dirk Nowitzki? Let's just say Durant is not 6-9 as he's officially listed, and he acts like a 2-guard.
Shawn Marion
will again get the call to guard Durant, and at 34, that job doesn't get any easier. The 6-3 Westbrook might have the quickest first step in the league. Collison's speed will be a welcome asset for the Mavs in the backcourt, but at 6-foot, Collison will be hard-pressed to keep the ridiculously bouncy Westbrook from freely launching his free-throw jumper right over him. The Mavs will have to take advantage with potentially their best-scoring frontcourt in Nowitzki's career. Chris Kaman and Elton Brand will give Perkins and Ibaka challenges they didn't face with previous Mavs teams.
Previous entries
No. 5:
Denver Nuggets
No. 4
San Antonio Spurs
No. 3
Los Angeles Clippers
August, 22, 2012
8/22/12
12:01
AM CT
By
Jeff Caplan
| ESPNDallas.com
Third in a series looking at the five teams ahead of the Dallas Mavericks in our early 2012-13 Western Conference rankings and how the revamped Mavs match up.
No. 3 Los Angeles Clippers
There is not a more beleaguered coach in the league than Vinny Del Negro. During a particularly trying spell last season in which the Clippers went 7-12 bridging February and March, some pundit on a daily basis was calling for Del Negro's head on a platter, and it even seemed as though the players were fed up, too. But then something happened.
Chris Paul
,
Blake Griffin
and Co., won six in a row to right the ship, and they closed out the final 19 regular-season games with a 14-5 record. They produced one of the most remarkable comebacks in playoff history in Game 1 on the
Memphis Grizzlies
' floor and then won there again in Game 7 despite Paul and Griffin being badly banged up. Sure, the Clips were easy pickings for the rolling
San Antonio Spurs
in the second round, but Del Negro -- for better or worse -- kept his job. The Clippers, who won 40 games for the first time since 2006-07 despite playing just 66 games and at least that many for just the sixth time in Clippers franchise history, look to have the pieces in place to build upon that this season.
[+] Enlarge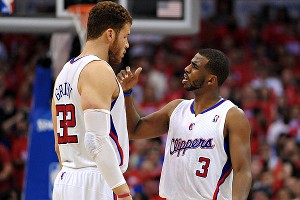 Kirby Lee/US PresswireThe Clippers hope Blake Griffin is healthy and can expand his offensive game, which would make him and Chris Paul an even more formidable combo.
Last season's results (Clippers won, 2-1)
@Clippers 91, Mavs 89
@Mavs 96, Clippers 92
Clippers 94, @Mavs 75
This season's games
Dec. 5: @Clippers
Jan. 9: @Clippers
March 26: vs. Clippers
What's changed?
First off, the Clippers hope the knee injury Griffin sustained in July working out with Team USA is a non-issue when training camp opens (as well as Paul's surgically repaired thumb). It might also serve as another signal for Griffin to find less violent ways to play the game and score the basketball. The All-Star power forward is widely criticized for possessing little offensive prowess outside of catching lobs and punishing defenders on his way to a posterizing dunk. Even so, Griffin has averaged a double-double in each of his first two seasons, averaging at least 20 points in both. He averaged 22.5 points and 12.1 rebounds last season, so if he does develop a true low-post game, the 6-foot-10, 251-pounder will be downright scary if not indefensible. The Clippers believe they've enhanced their roster, starting with the return of veteran guard
Chauncey Billups
, who missed 46 games last season with an Achilles injury.
Grant Hill
is one of several new additions. The 39-year-old was brought on board for his heady defense and his steady head. They also signed sharpshooter
Jamal Crawford
to replace
Randy Foye
and
Mo Williams
. The wild card acquisition was taking
Lamar Odom
off the Mavs' hands. The Clips will pay Odom his full $8.2 million and they hope to get a rejuvenated effort out of one of the league's most versatile forwards.
How the Mavs match up
No one can seriously claim they match up well with CP3, but as with the Nuggets'
Ty Lawson
and the Spurs'
Tony Parker
, Dallas can now at least shadow Paul with the youth and quickness of
Darren Collison
, as well as
O.J. Mayo
. L.A.'s backcourt could be dynamic with Paul fresh off winning the gold medal, Billups returning,
Eric Bledsoe
healthy again and Crawford popping 3s off the bench. The front court will also be a load. Mavs center
Chris Kaman
will likely be assigned to Griffin, just as
Brendan Haywood
was last season, allowing
Dirk Nowitzki
to handle the mostly negligible offensive threat of Clips center
DeAndre Jordan
. Sturdy defender
Elton Brand
will be a welcome addition to take turns on Griffin as well as Odom, whom Mavs president of basketball operations Donnie Nelson has predicted a big season for in his return to his cherished L.A. And then there's still the toughness of
Caron Butler
, who played in the postseason with a broken wrist, and the declining but still dangerous mid-range game of old man Hill. At least
Shawn Marion
knows he won't have to tackle Paul this time around. All-in-all, the Mavs possess more speed and athleticism on the perimeter to play with the Clips, but this looks to be a very difficult matchup, particularly in a seven-game playoff series.
Previous entries
No. 5: Denver Nuggets
No. 4 San Antonio Spurs
August, 21, 2012
8/21/12
12:01
AM CT
By
Jeff Caplan
| ESPNDallas.com
Second in a series looking at the five teams ahead of the Dallas Mavericks in our early 2012-13 Western Conference rankings and how the revamped Mavs match up.
No. 4 San Antonio Spurs
Perhaps no team was lavished upon more last season than the Spurs for their ability to retool on the fly, adjust their on-court philosophy and still manage to remain a top contender. For the second consecutive season, the Spurs owned the West's best regular-season record and extended their string of 50-win seasons to 13 in a row despite the 66-game schedule. They swept the Jazz and Clippers and had a 2-0 lead in the West finals, appearing to be on their way for a shot at a fifth title in the
Tim Duncan
-Gregg Popovich era. But then the
Oklahoma City Thunder
rose up to win four in a row. Back to a normal 82-game season, Popovich will no doubt pace his team as he has as the Big Three of Duncan,
Tony Parker
and
Manu Ginobili
get older. The Spurs should again hit the 50-win mark, but last season's dominance seems unrealistic. Still, each new season seems to be the last of this group's window of opportunity, only until it's not. Here we go again.
[+] Enlarge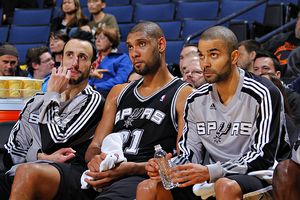 Rocky Widner/Getty ImagesSan Antonio's Big Three of Manu Ginobili, Tim Duncan and Tony Parker will return for their 11th season together.
Last season's results (tied, 2-2)
@Spurs 93, Mavs 71
@Mavs 101, Spurs 100 (OT)
@Mavs 106, Spurs 99
@Spurs 104, Mavs 87
This season's games
Dec. 23: @ Spurs
Dec. 30: vs. Spurs
Jan. 25: vs. Spurs
March 14: @ Spurs
What's changed?
Much more with the Mavs than the Spurs, who bring back the Big Three for an 11th consecutive season after Tim Duncan re-upped for three more years. The supporting cast remains the same after the midseason maneuverings that brought back former Spur
Stephen Jackson
and added Parker's French buddy
Boris Diaw
. Another Frenchman, 25-year-old
Nando Colo
, a 6-foot-5 guard who played on the French Olympic team in London, joins the Spurs this season. He's another one of those late international picks San Antonio specializes in, taken 53rd overall in 2009. With the Big Three another year older, including Ginobili having turned 35 in July, the Spurs will rely on the continued improvement of guards
Gary Neal
and Danny Green and forwards
Tiago Splitter
and
Kawhi Leonard
, last season's rookie sensation in South Texas.
How the Mavs match up
The first thing that comes to mind is that Duncan will have to expend energy on defense like never before against the Mavs. San Antonio typically has gotten away with Duncan defending the Mavs' center, who, from
Erick Dampier
to
DeSagana Diop
to
Brendan Haywood
to
Tyson Chandler
and back to Haywood, has not been an offensive threat. So someone other than Duncan has mostly had the privilege of guarding
Dirk Nowitzki
. This season if, say, Diaw, draws Dirk, Duncan won't have the luxury of only casually defending the Mavs' center. He will now face
Chris Kaman
, a legitimate back-to-the-basket threat and the most offensively skilled of the Mavs' long list of 7-foot centers. From a Mavs defensive standpoint, new point guard
Darren Collison
brings needed speed to combat Parker's penetrations and shooting guard
O.J. Mayo
and
Dahntay Jones
will be better equipped to help defend Ginobili than the options -- mainly
Shawn Marion
-- the Mavs had last season.
Previous entries
No. 5: Denver Nuggets
August, 20, 2012
8/20/12
12:01
AM CT
By
Jeff Caplan
| ESPNDallas.com
First in a series looking at the five teams ahead of the Dallas Mavericks in our early 2012-13 Western Conference rankings and how the revamped Mavs match up.
No. 5 Denver Nuggets
George Karl's group plays it fast and loose and likes to have fun -- and Karl is having more fun ever since the exits of
Carmelo Anthony
and
J.R. Smith
. The Nuggets showed it in a steamroller performance on Dec. 26, the second game of the season, with a 115-93 whiplashing of the Mavs. Of course, the Nuggets weren't as good as that game might have suggested and the Mavs weren't as bad. Dallas took the next three meetings with both teams missing various key players in each game. Much has changed since their last meeting on March 19 starting with center
JaVale McGee
's arrival and
Nene
's departure a few days earlier -- although the sometimes comically erratic McGee didn't play in that series finale against Dallas -- as both squads bring new looks into the 2012-13 season.
[+] Enlarge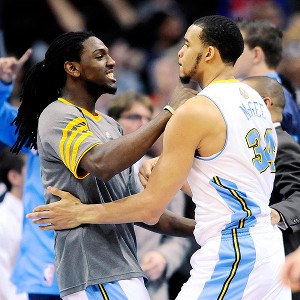 Ron Chenoy/US PresswireLast season's addition of JaVale McGee, right, gives Denver a long and versatile frontcourt.
Last season's results (Mavs won 3-1)
Nuggets 115, @Mavs 93
Mavs 105, @Nuggets 95
@Mavs 102, Nuggets 84
Mavs 112, @Nuggets 95
This season's games
Dec. 28: @Nuggets
April 4: vs. Nuggets
April 12: vs. Nuggets
What's changed?
The Nuggets had a deep roster dotted with impressive players last season, but boasted not an All-Star among them. That changed last week with the four-team blockbuster
Dwight Howard
deal that sent longtime 76ers wing
Andre Iguodala
to Denver with the Nuggets sending shooting guard
Arron Afflalo
and reserve forward
Al Harrington
to Orlando. Iguodala, a 2012 All-Star and member of gold-medal winning Team USA, will share the backcourt with speedster point guard
Ty Lawson
and he'll bring a missing defensive mentality that can only help the league's top scoring team last season that finished 29th in scoring defense. A long and versatile frontcourt includes
Danilo Gallinari
,
Wilson Chandler
,
Kenneth Faried
and the 7-foot McGee. Denver also made a nice pickup with 6-11 Dallas native
Anthony Randolph
to add to a solid bench that includes ever-steady point guard
Andre Miller
, Chandler -- if Karl chooses to make him the sixth man --
Corey Brewer
and a couple of 7-footers in
Timofey Mozgov
and
Kosta Koufos
.
How the Mavs match up
New Mavs point guard
Darren Collison
, a 6-foot, 180-pound blur, certainly gives the Mavs more backcourt speed than ever before to stick with the shifty 5-foot-11 Lawson. That should come as music to the ears of small forward
Shawn Marion
, who too many times last season was asked to take the opposing point guard because
Jason Kidd
and
Vince Carter
simply couldn't. Marion won't be singing long now that Iguodala gives the Nuggets a formidable trio at the wing with Gallinari and Chandler now potentially popping off the bench. This type of squad could be a situation in which Mavs rookie forward
Jae Crowder
becomes a valuable addition as a strong, 6-6 wing defender to assist Marion. Shooting guard
Dahntay Jones
also gives Dallas another defensive option on the perimeter it didn't have last season. Iguodala really helps the Nuggets' defensive situation. Against the Mavs he'll be able to stick
O.J. Mayo
, who the Mavs hope will emerge as the second scorer behind
Dirk Nowitzki
. Denver still has no answer for Dirk, not that many teams do. Last season against the Nuggets, Nowitzki averaged 22.5 points in 29.3 minutes and shot 53.8 percent from the floor, well above his season average of 45.7 percent.