Dallas Mavericks:

2013 free agents
June, 29, 2013
Jun 29
10:01
AM CT
The fifth in ESPNDallas.com's position-by-position series previewing the free agency market that opens July 1:
The Mavericks are preparing to make their best pitch to
Dwight Howard
.
Dirk Nowitzki
will make it clear that he's more than willing to shift into sidekick mode and gush about how great it is to the The Man for a franchise owned by Mark Cuban. And Dirk will stress that he plans to take a huge pay cut next summer to create the cap space necessary to construct a championship-caliber supporting cast.
Proven championship coach Rick Carlisle, whose concrete job security could appeal to a superstar who is sensitive about his developing coach-killer reputation, will explain exactly how the Mavs intend to tweak their offense to get the big man a bunch of touches.
Cuban and Donnie Nelson will emphasize their experience in building and sustaining a contender around a superstar. They'll remind Howard of the Mavs' recent run of 11 consecutive 50-win seasons, capped by the 2011 title, and get his imagination racing about the possibilities with him as the centerpiece and unofficial assistant GM in Dallas.
Cuban, the NBA's favorite
Shark Tank
star, will also play to Howard's fun-loving personality and desire to be loved. He'll discuss a marketing strategy for Dwight in Dallas to help boost a Q rating that has taken hits during the last two injury-riddled, indecisive seasons. Cuban will also mention his history of taking PR bullets for his players – or just creating media firestorms to shift the attention – when the heat is on.
And Cuban might just subtly hint at some reasons the
Houston Rockets
might not be such a great fit for Howard, such as James Harden's Kobe-like offensive game and Kevin McHale's lack of coaching credentials.
What if all of that doesn't work? Well, the Mavs still need to find a starting center.
Some big man candidates who will be in the free-agent market this summer:
Chris Kaman:
Just kidding. Ain't no way he's coming back to Dallas after last season's $8 million disaster.
Andrew Bynum:
Feeling lucky? Want to take a chance on an occasionally dominant 25-year-old center with bad knees and attitude issues?
PODCAST
Dirk Nowitzki and ESPN's Chris Broussard join Fitzsimmons and Durrett to discuss the possibility of Dwight Howard joining the Mavericks and how Dallas should approach the situation.

Listen

The Mavs' answer would depend on several factors: Dwight's decision, their doctor's opinion, the market for Bynum and how much they could manage the risk in his contract.
The 7-foot, 285-pound Bynum is talented enough to merit serious consideration even with all of those concerns. He averaged 18.7 points, 11.8 rebounds and 1.9 blocks in 2011-12 for the Lakers before being traded to the 76ers and sitting out all of last season.
Cuban proudly considers his medical staff the best in the NBA. Look at how
Tyson Chandler
thrived after arriving in Dallas with major foot and ankle problems. That could – and should – be appealing to Bynum.
As far as money goes, Bynum lost a ton of leverage when Philly's new management pulled off a draft-night blockbuster deal to acquire Kentucky center
Nerlens Noel
. Will somebody still pay Bynum in the range of $12-14 million per year? Probably.
If that's the case, the language of the contract will be key. It's hard to imagine Cuban paying that kind of money to an injury-riddled headcase without team outs in the deal, perhaps with guarantees based on games played.
Al Jefferson:
The Mavs almost traded for him before acquiring Chandler. Nowitzki has mentioned his name several times this week as a potential backup plan if the Mavs miss out on Howard.
The 6-foot-10, 289-pound Jefferson, who averaged 17.8 points and 9.2 rebounds for the Jazz last season, would be by far the best low-block scorer to ever be paired with Nowitzki. He's vastly improved as a passer out of double-teams the last couple of years, increasing his assists and cutting down his turnovers. He'd take a ton of pressure off the 35-year-old face of the franchise on the offensive end.
What about defense? Oh, boy, a Dirk/Jefferson pairing might be a disaster. Despite being a little short for a big man, Jefferson is an adequate rim protector, but he's Kaman-esque as a pick-and-roll defender. That isn't going to get any better if his ample backside expands as the 28-year-old Jefferson ages.
The defensive concerns, along with dollars and the draft picks Minnesota was demanding, caused the Mavs to back away from trade talks involving Jefferson in the summer of 2010. But he might end up being the Mavs' best big-man option this summer, especially if the price tag is around $10 million per year.
Tiago Splitter:
The Mavs and their analytics really like the 28-year-old Brazilian. But so do the Spurs, and they'll have the right to match any offer to the restricted free agent.
The 6-foot-11, 240-pound Splitter (10.3 points, 6.4 rebounds in 24.7 minutes last season) isn't a go-to guy but is an outstanding roll man on pick-and-rolls. He has defensive limitations due to a lack of mobility, but Splitter's toughness and intelligence also fit the mold of what the Mavs want.
Would the Spurs match an $8 million per year offer? We might find out.
Nikola Pekovic:
There are a lot of reasons to love a rock-solid, 6-foot-11, 290-pound 27-year-old who averaged 16.3 points and 8.8 rebounds last season. But Minnesota is expected to match any offers for the restricted free agent unless perhaps a team decides to max him out. That won't be the Mavs.
J.J. Hickson:
He was a $4 million bargain last season, putting up 12.7 points and 10.4 rebounds for Portland. He'll probably get at least a 100 percent raise. But Hickson is far from an ideal fit for the Mavs. At 6-foot-9, 242 pounds, he's really a power forward who has played a lot of center. His size is a problem defensively as a center, and so is his tendency to make a ton of mental mistakes.
Brandan Wright:
The Mavs and Wright have expressed mutual interest in him returning as a high-flying weapon off the bench. This could happen even if the Mavs sign Howard.
The Mavs have Wright's Early Bird rights
, so they can exceed the salary cap to sign him to a contract up to the league average ($5.3 million last season). They probably won't go that high in the bidding for him, but if he ends up in the
Ian Mahinmi
range (four years, $16 million), there's a better than average chance that Wright returns to Dallas.
Greg Oden:
It sounds likely that the Oden reclamation project will happen in Miami, but the Mavs have been tracking his progress since he left Portland. They'll continue to do so and could make a bid on him, depending on their doctor's opinion. Obviously, they wouldn't count on Oden to come in as a starter.
Elton Brand:
The Mavs have much respect for the 6-foot-9, 254-pound Brand. He was a good solider and great presence in the locker room while averaging 7.2 points and 6.0 rebounds as an undersized backup center last season. They wouldn't mind having him back in that role, but they just wouldn't pay much to bring him back. Maybe not more than the minimum.
June, 27, 2013
Jun 27
9:58
AM CT
The fourth in ESPNDallas.com's position-by-position series previewing the free agency market that opens July 1:
The only certainty about the Mavericks' roster next season is that
Dirk Nowitzki
will start at power forward.
That means the Mavs aren't in the market for established power forwards such as
Josh Smith
,
Paul Millsap
and
David West
. (No, they aren't interested in Smith as a small forward. Especially not for the kind of money that he wants.)
The Mavs will explore budget-friendly possibilities to back up Nowitzki, preferably a guy with pick-and-pop ability. Some potential fits:
Matt Bonner:
He's an elite 3-point shooter, shooting 41.7 percent from long range in his career and better than that during his last three seasons in San Antonio. He'll never be described as athletic and certainly isn't a one-on-one defensive stopper, but he's better than you might think on that end of the floor because he grasps team concepts so well. As a rebounder, he makes Dirk look like
Dennis Rodman
. The Spurs need to make a decision on Bonner by Saturday. That's the deadline for buying out his $3.95 million salary for next season. He might be a fit for the Mavs in the $2 million range.
PODCAST
Tim MacMahon joins Galloway and Company to discuss the NBA draft and the possibility of Dwight Howard joining the Mavericks.

Listen

Andray Blatche:
He was a renowned knucklehead in Washington, prompting the Wizards to dump Blatche via the amnesty clause, but the 26-year-old was productive as a minimum-salary guy in Brooklyn, averaging 10.3 points and 5.1 rebounds in 19 minutes per game. He could also serve as a backup center. The Mavs have shown some interest in the 6-foot-11, 260-pound Blatche in the past. He could make sense for the room midlevel ($2.65 million).
Earl Clark:
The 6-foot-10, 225-pound Clark has decent size and athleticism and showed the ability to at least be a streaky 3-point shooter last season. But the chances of him coming to Dallas are awfully slim. The Mavs don't have enough interest in him to pay more than what the Lakers can give Clark.
June, 26, 2013
Jun 26
10:13
AM CT
The third in ESPNDallas.com's position-by-position series previewing the free agency market that opens July 1:
This isn't an immediate need for the Mavericks … unless they move
Shawn Marion
to create more space under the salary cap.
Another possible scenario: The Mavs could decide to move the 35-year-old Marion and his $9.32 million salary after acquiring a small forward they feel is an upgrade.
There are only one or two small forwards on the market – depending on a decision made in Boston – who are in that class. A look at those players and some other small forwards who low-dollar fits for the Dallas bench: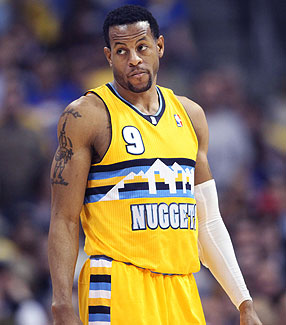 Chris Humphreys/USA TODAY SportsAndre Iguodala is an outstanding finisher at the basket and is one of few wings who are arguably better perimeter defenders than the Mavericks' Shawn Marion.
Andre Iguodala:
You can make a strong case that he's the third-best player in this free agency class behind
Chris Paul
and
Dwight Howard
. The 29-year-old Iguodala's athleticism, defensive prowess and passing certainly make him intriguing to the Mavs' front office.
The 6-foot-6, 207-pound Iguodala is a premier athlete, blessed with speed, quickness and leaping ability that allow him to excel in transition and as a defender.
Iguodala's explosiveness makes him an outstanding finisher. According to hoopdata.com, he made 74.1 percent of his shots at the rim last season. Only five starting wings (including Marion, by the way) converted a higher percentage of those rim attacks.
Iguodala is one of precious few wings who are arguably better perimeter defenders than Marion, although Iguodala doesn't have the versatility to occasionally cover power forwards. Former Nuggets GM Masai Ujiri called Iguodala's omission from the All-Defensive team "mind-boggling," pointing out that the U.S. Olympic team called on him when it needed a defensive stopper.
PODCAST
Chuck Cooperstein joins the show to talk about the Dallas Mavericks and how he thinks the NBA draft will turn out.

Listen

Other than
LeBron James
, there isn't a better passing wing in the NBA. Iguodala averaged 5.4 assists per game last season, which is about the norm for him over the last seven years. He's intelligent, unselfish and has the ability to create for himself and others.
Iguodala's biggest flaw: He's a below-average perimeter shooter (31.7 percent on 3s, 31.0 percent on long 2s last season). That limits him as a halfcourt offensive threat and would make it difficult to play him with Marion if the Mavs ended up with both players on their roster.
Iguodala isn't going to come cheap, either. He exercised his early termination option instead of making a $16.2 million salary in Denver next season. He won't get that much per year again, but he'll get at least $40 million over four years.
Paul Pierce:
It remains to be seen whether the longtime Celtics star will hit the open market. He's due to make $15.3 million in the final year of his deal this season, but Boston can buy him out for $5 million as the Celtics begin the rebuilding process. Pierce has also been the subject of a lot of trade talks.

The Mavs almost traded for Pierce at the deadline last season, but the Celtics backed out of a deal that would have sent Atlanta's
Josh Smith
to Boston and Pierce to Dallas. The security of Pierce's buyout was a small factor in the Mavs' interest at the time.
There is no question that Pierce, who turns 36 in October, can still play. He averaged 18.6 points, 6.3 rebounds and 4.8 assists for a playoff team last season. But does he fit Mark Cuban's two-year plan?
Even if the Mavs pursue Pierce, the interest might not be mutual. At this point of his career, would a two-year plan to contend appeal to him? Of course, the fact that the Mavs could offer more money than most, if not all, readymade contenders could affect Pierce's thought process.
Carlos Delfino:
He was relatively effective as a 3-point-firing sixth man for the Rockets, but Houston will decline his team option as they try to carve out enough cap space to get in the Dwight derby. Donnie Nelson says you can never have enough shooters, and the 6-foot-6, 230-pound Delfino hit 37.5 percent of his 421 long-range attempts last season. He's also a savvy player, which makes him intriguing as the Mavs attempt to drastically improve their basketball IQ.
But Delfino is limited athletically, can be exposed defensively and has seen his rebounding numbers drop significantly in recent years (3.3 per game in 25.2 minutes last season). The room midlevel exception ($2.652 million) might be a decent value for Delfino.
Chase Budinger:
He could be a good buy as a low-risk, high-upside guy. The 25-year-old Budinger has good size (6-foot-7, 218 pounds) and is a great leaper. He's shown the ability to score (9.4 points in 21.6 minutes per game in his career), but his offensive game could certainly benefit from the kind of one-on-one time
Corey Brewer
put in with Rick Carlisle. There are knocks on Budinger about his inconsistent motor, and he went into free agency on a low note after injuries limited him to 23 games for Minnesota last season.
C.J. Miles:
It's uncertain whether the Dallas Skyline product will be a free agent. He's Cleveland property, but his $2.25 million salary is fully unguaranteed. The Mavs had discussions with Miles last summer. He's a high-character guy who averaged 11.2 points and shot 38.4 percent from 3-point range for the Cavaliers last season. If nothing else, he'd be a great guy to have coming off the bench for the veteran's minimum.
Dorell Wright:
The 6-foot-9 Wright is just a perimeter shooter offensively. He's a decent rebounder and not a dreadful defender. If the money is right – meaning not much – he could make sense for the Mavs as a bench player.
Corey Maggette:
He has scored more than 13,000 points while playing most of his career on bad teams. He essentially took last season off, playing only 18 games for the Pistons. Not sure if the Mavs would want a declining player with a selfish rep on the roster, even at the minimum.
June, 25, 2013
Jun 25
9:53
AM CT
The second in ESPNDallas.com's position-by-position series previewing the free agency market that opens July 1.
How much is
O.J. Mayo
worth to the Mavericks?
Probably not enough to get into a bidding war with the
Minnesota Timberwolves
and other teams who will pursue Mayo during the free-agency period.
PODCAST
Chuck Cooperstein joins the show to talk about the Dallas Mavericks and how he thinks the NBA draft will turn out.

Listen

Mayo was the Mavs' best player before the All-Star break last season, looking like a bargain after signing a one-year, $4 million deal with a player option for next season that he declined to exercise. His 2012-13 numbers (15.3 points, 4.4 assists, 3.5 rebounds, .449 FG, .407 3s) look pretty good as a whole. But Mayo faded badly in the final quarter of the season, and his defensive issues, inconsistent intensity and mental lapses were sources of great frustration to the Mavs' coaching staff and front office.
Coach Rick Carlisle is on record saying he'd like Mayo back in Dallas, but it will come down to money. If the offers for Mayo exceed $6 million per year, expect the Mavs to shop elsewhere for a shooting guard. They might need to look at other, less expensive alternatives anyway, depending on how the rest of their free agency shopping goes.
Some other shooting guard options on the market this summer:
J.J. Redick:
You can make a strong case that Redick would be a better fit than Mayo for the Mavs, who are putting a high premium on basketball IQ.
Redick isn't exactly an explosive athlete. (Remember Mayo's "It's just J.J. Redick" comment after his critical chase-down block keyed the Mavs' home win over Orlando?) But the 6-foot-4, 190-pound Redick is a good shooter (.390 on 3s in his career) with great savvy. He doesn't commit many turnovers, has a firm understanding of floor spacing and ball movement and is a solid team defender because he's rarely out of position.
The market for Redick could be in the $6 million-per-year range.

Kevin Martin:
He'd have to take a huge pay cut from the $12.4 million he made last season – like half of that, at least -- to fit into the Mavs' plans. Of course, the same is probably true for Martin to stay in Oklahoma City.
The 30-year-old Martin remains a knockdown 3-point shooter, having hit 42.6 percent from long distance last season. Martin's ability to draw fouls has been his best attributes over the years, but his free throws attempted have plummeted in the last two years (8.4 per game to 4.5 to 3.2), a trend that started when he was the Rockets' primary scoring threat.
The 6-foot-7, 185-pound Martin has never been anything more than an average defender and passer.
J.R. Smith:
I have it on high authority that the Mavs aren't interested in the reigning Sixth Man of the Year no matter the price due to his knucklehead tendencies. So we'll skip the analysis of how his athleticism, ability to create and long-range shooting could give the Mavs an offensive boost.
Tyreke Evans:
The 6-foot-5 combo guard is expected to return to Sacramento after signing an offer sheet, allowing him to test the market as an unrestricted free agent next summer. We might re-visit this name as a potential midseason trade target.
Tony Allen:
The NBA's most dominant defensive shooting guard is such a part of the Grizzlies' fabric that it's extremely difficult to imagine Memphis management letting him get away. He's very limited offensively, but his tenaciousness and toughness would certainly be appreciated by Rick Carlisle if for some unforeseen reason he doesn't stay in Memphis.
Nick Young:
The 6-foot-7 Young is a relatively intriguing talent at 28 years old, but he's pretty much just be a shooter without a conscience so far in his career. Could Carlisle get more out of him? Maybe we'll find out if he's cheap enough ($3 million per?) to be an option for the Mavs.
Marco Belinelli:
The 27-year-old Italian is a pretty good perimeter shooter (.387 career 3s) and ballhandler who made $1.957 million for the Bulls last season. He's not a bad buy at that price, but he'll likely return to the Bulls if he can't get more money elsewhere.
Wesley Johnson:
The 25-year-old Corsicana native was a major bust as the fourth overall pick in the 2010 draft. (Picking him over guys like
DeMarcus Cousins
,
Greg Monroe
and
Paul George
is a pretty good way for a GM to get fired.) Could he be a
Brandan Wright
-type of minimum-salary reclamation project for the Mavs? It'd be worth a shot for a 6-foot-7, 215-pound athlete who can at least be a solid defender off the bench.
Gary Neal:
If you're looking for a bargain, it's probably best not to go with a guy who had big games on the Finals stage. The Mavs could use Neal's perimeter shooting, but he'll either be overpaid or return to the Spurs.
June, 24, 2013
Jun 24
10:10
AM CT
The first in ESPNDallas.com's position-by-position series previewing the free agency market that opens July 1.
Barring a one-in-a-million type of miracle, the Mavericks must move on to Plan B.
With Doc Rivers re-locating to Los Angeles,
Chris Paul
maximizing his money by re-signing with the Clippers is all but a done deal. There's a steep drop from CP3 to the rest of the point guards available in free agency -- and maybe the Mavs acquire their starter via a trade – but upgrading this position ranks right up there with center among the Mavs' top priorities.
A look at potential PG fits for the Mavs in free agency:
Jose Calderon:
The Mavs were intrigued enough by the 31-year-old Spaniard to engage in trade talks about him with the Raptors before and during last season. Calderon, who has a career assist-to-turnover ratio of 7.2/1.7, would give the Mavs a significant boost of basketball IQ and get
Dirk Nowitzki
the ball at the right spot and right time on a regular basis. Calderon can also consistently knock down open jumpers, as evidenced by his career percentages that are outstanding by point guard standards (.483 FG, .399 3s).
The concerns with Calderon: He'll remind Mavs fans of the biggest flaws of the two best point guards who have played with Dirk. Calderon has never been a good creator or defender, and that's putting it kindly. His hesitation/inability to penetrate is Kidd-like; his 0.9 attempts per game at the rim were the lowest among starting point guards last season, according to hoopdata.com. He's a Nash-like liability at the defensive end, especially against explosive guards. Those issues aren't going to improve as Calderon ages.
Nevertheless, Calderon could be the best fit for the Mavs in the market, assuming the price drops significantly from the $11 million he made last season. Estimated cost: three years, $18 million.

Monta Ellis:
He's the most talented point guard in the market who isn't a perennial All-Star. The problem: It's a stretch to call Ellis a point guard. He's a scorer first and foremost, probably best suited for a
Jason Terry
-type of role as instant offense off the bench.
The Mavs have major question marks about how Ellis would fit as the starting point guard alongside Nowitzki. Ellis is a premier penetrator in his prime, which makes him intriguing, but he's never averaged more than six assists per game and is a high-volume, low-efficiency jump shooter. His 3-point percentage last season (.287) was the worst among any player with more than 170 attempts. He shot more long 2s than any point guard other than
John Wall
but hit only 34 percent of them, per hoopdata.com.
Ellis gets a lot of steals, but he'll never be confused with a defensive stopper.
He'd give the Mavs the kind of athleticism they haven't had at point guard since
Devin Harris
. Of course, you might remember Nowitzki lobbying hard behind the scenes for the Jason Kidd trade because he wanted a more cerebral partner at point guard.
The Mavs will pass if Ellis gets something close to the four-year, $40 million deal he's rumored to be seeking. If he slips through the cracks like
O.J. Mayo
last season, the Mavs could be waiting with a short-term offer in the $6 million-per-year range.
Jarrett Jack:
He excelled as the Warriors' sixth man this season, often running the point next to
Stephen Curry
during crunch time. That's a role that suits him well.
While he struggles to defend quick foes and isn't a pass-first guy, there are reasons to be intrigued about the 29-year-old Jack's potential as the Mavs' point guard. He's an outstanding midrange shooter (48 percent last season) and has a knack for knocking down floaters in the lane. Those are the kind of shots that come in bunches when running pick-and-pops with Dirk. And Jack has the type of tough-minded mentality that would mesh well with the Mavs' vets and coach Rick Carlisle.
A four-year, $24 million deal for Jack would make sense for the Mavs. However, it's a long shot at best that he'd leave Golden State for that kind of money. With Golden State's ownership promising to spend to sustain success now that the Bay Area is buzzing about the Dubs, another team would probably have to overpay to get Jack.
Mo Williams:
The 30-year-old Williams is really a score-first combo guard, not a pure point. He's a good catch-and-shoot 3-point shooter (.386 career) who also likes midrange jumpers off the dribble but isn't much of a threat to drive. He's an average passer (6.2 assists per game last season) and mediocre defender. And he's injury prone, missing at least a dozen games in seven of the last eight seasons.
Williams would be a stopgap starter, not a long-term solution. The Mavs probably wouldn't be willing to pay more than $5 million per year for his services.
Brandon Jennings:
The Mavs had mild interest in Jennings before the trade deadline and he's made it clear that he'd love to play in Dallas. Let's hold off on the debate about how much the 6-foot-1, 169-pound, lightning-quick, low-percentage-shooting Jennings would benefit from playing with Dirk. Jennings, a restricted free agent, is expected to sign an offer sheet to play one more season with the Bucks before having the freedom to be a free agent with no strings attached. If he's a Mav this season, it almost certainly means there's been a trade. (Same goes with Sacramento's
Tyreke Evans
, but we'll classify him as a shooting guard.)
Jeff Teague:
There's a lot to like about a 25-year-old who averaged 14.6 points and 7.2 assists while playing good defense for a playoff team, which is why Atlanta is expected to re-sign the restricted free agent. He's only an option for the Mavs if the Hawks strike it rich in free agency and are forced to renounce Teague's rights. You could do a lot worse than signing Teague to a four-year, $30 million deal.
Darren Collison:
He clearly considers himself a starting point guard and will search for a team that agrees with him this summer. The Mavs do not. If he slips through the free agency cracks, the Mavs would welcome him back as a backup for the kind of money that reflects that role.
Devin Harris:
There's a lot of love in the Mavs organization for Harris as a person. However, he isn't perceived to be a starting point guard at this point of his injury-prone career. He averaged 9.9 points and 3.4 assists as a part-time starter for the Hawks last season. The Mavs wouldn't mind bringing Harris back to Dallas, but it'd have to be as a $3 million-per-year backup.
Nate Robinson:
He's like a turbo edition of
J.J. Barea
with baggage that has caused Robinson to bounce around to five teams in the last five seasons. He was arguably the best minimum-salary bargain in the league last season, averaging 13.1 points and 4.4 assists off the bench for the Bulls and starring in some playoff wins. How much did Robinson boost his value? The Mavs wouldn't spend big on him, but if he's in the $2 million salary range, he'd be a great fit.
Chauncey Billups:
His career really took off during his season playing for Rick Carlisle with the Pistons, so there's a strong tie there. But he's 36 years old and wasn't close to being the same player when he came back from a torn Achilles tendon last season. The Mavs might value his veteran savvy enough to offer Billups the bi-annual exception of a little more than $2 million.
Shaun Livingston:
The 6-foot-7 former straight-outta-high school high lotto pick whose career was destroyed by a devastating knee injury wouldn't be a bad, low-dollar backup. He's not a good shooter, but Livingston is a solid defender, passer and rebounder.
Will Bynum:
The 30-year-old, who averaged 9.8 points and 3.6 assists off the Pistons' bench last season, is a poor man's Barea. If he's getting offers for the minimum, the Mavs should be interested.
Mike James:
The 38-year-old who ended the season as the Mavs' starter is an option as a minimum-salary backup.
Daniel Gibson:
"Boobie" is a bench shooter who would pique the Mavs' interest as a minimum guy.