Dallas Mavericks:

2014 big picture
June, 6, 2014
Jun 6
10:00
AM CT
By
Bryan Gutierrez
| ESPNDallas.com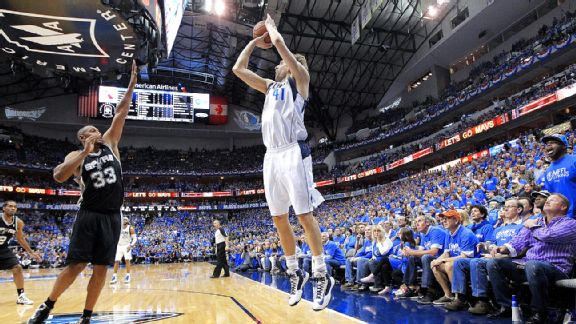 Fort Worth Star-Telegram/Zumapress/Icon SMIDirk Nowitzki, 35, is a free agent, but the smart money is on him returning to Dallas.
Now that the dust has settled on the Dallas Mavericks' season, ESPNDallas.com will explain the big-picture outlook the Mavs need to analyze as they look ahead to the offseason and beyond.
Ever since the 2011 championship, the Mavs have been involved in various installments of the franchise's "biggest summer ever." They've made their attempts to lure free agents such as
LeBron James
,
Deron Williams
,
Chris Paul
and
Dwight Howard
. They came up short in those attempts but have done a valiant job in putting together rosters that remained competitive. Be that as it may, the organization doesn't see just being competitive as the goal.
Sports mortality might make this summer one in which Dallas needs more hits than misses.
Dirk Nowitzki
is a free agent, but the safe money is on him re-signing with the Mavs. That said, this is likely the last contract Nowitzki will sign with the idea of him playing at a very high level. There's also a possibility that this is the last contract the 35-year-old signs altogether. With that in mind, the Mavericks have to look at players who can fit during this window as capable supporting mates for Nowitzki, or those who could take on larger roles on the back end of their deals.
Reports are circulating that the
Houston Rockets
will make another attempt at acquiring Nowitzki. The odds of them getting Nowitzki to turn on the Mavs are about as good as those of sinking a full-court, buzzer-beating shot. The Mavs will re-sign Nowitzki for a number that is respectful for him and the team in regard to preserving cap space. The additional focus will be on retaining
Shawn Marion
,
Vince Carter
and
Devin Harris
on team-friendly deals. The cap space will be an intriguing thing to keep track of.
Dallas could theoretically use all the usual avenues of improving a team -- free agency, trade and the draft -- and each path could yield players of impact.
[+] Enlarge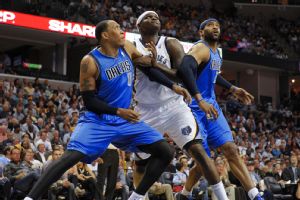 Justin Ford/USA TODAY SportsGetting Shawn Marion, left, and Vince Carter, right, back at team-friendly prices is key for Dallas.
Teams around the league could inquire about some of the Mavs' cap-friendly trade assets such as
Brandan Wright
,
Wayne Ellington
and point guards
Shane Larkin
and
Gal Mekel
. None of them will fetch an elite player in return, but a specific combination of them, money and other assets to the right team could net a valuable rotational player and free up a roster space. In terms of other assets, one ace in the hole for Dallas is that it can finally get back into the trade market with a first-round pick at its disposal.
The first-round pick Dallas gave up in the trade to acquire
Lamar Odom
ended up in the possession of the
Oklahoma City Thunder
after it was shipped to the
Los Angeles Lakers
and the Rockets, and is now finally paid in full. That means the Mavs won't have a first-round pick this season and will have one next season. Due to rules in the collective bargaining agreement, a team can't trade its first-round pick in consecutive drafts. That means Dallas can officially offer its 2016 first-round pick in deals. First-round picks are now the most coveted form of currency among general managers, and Dallas has shown it's not afraid to wheel and deal.
Speaking of the draft, Dallas has the 34th and 51st picks -- both in the second round -- this year. While second-round picks don't necessarily guarantee success, they give teams suitable amounts of wiggle room. Second-round picks aren't guaranteed roster spaces or contracts, thus giving a team like Dallas the potential to go either way with both assets. That might not mean much on the surface, but roster spaces become more and more valuable as the summer moves along.
While ammunition isn't at maximum value, Dallas has enough wiggle room and flexibility to be a player this summer. That's a good position to be in, but this is a summer in which there isn't a definitive route to take through free agency. While there have been big-name free agents available in past offseasons, there's a strong possibility there won't be one out there this summer. In addition, there's always the uncertainty of the trade market. You just never know what will happen in that realm or who will actually be available or is on the trade block.
With roughly $30.5 million in cap space, other assets and no definitive direction in free agency, this summer appears to be filled with unknowns. If that's the case, it's good to be in a position like the one Dallas finds itself in, in which it can strike via free agency, draft or trade. The mantra has always been that the Mavs will be opportunistic. Time dictates that opportunity has to strike now.
June, 5, 2014
Jun 5
10:00
AM CT
By
Bryan Gutierrez
| ESPNDallas.com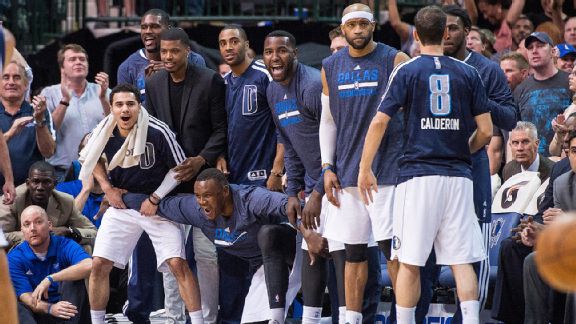 Jerome Miron/USA TODAY SportsThe Mavs need legitimate backups for Dirk Nowitzki, because the only way Dallas can contend is if Nowitzki plays fewer minutes to stay fresh.
Now that the dust has settled on the Dallas Mavericks' season, ESPNDallas.com will explain the big-picture outlook the Mavs need to analyze as they look ahead to the offseason and beyond.
Dirk Nowitzki
's regular-season performance showed that he clearly wasn't done being an elite scoring weapon.
He averaged 21.7 points per game on 49.7 percent shooting from the field, 39.8 percent from 3-point range and 89.9 percent from the free throw line. The series against the
San Antonio Spurs
proved to be a matchup issue for Nowitzki, and his postseason numbers saw a steep drop in terms of percentages. He scored 19.1 points per game in the seven-game series against the Spurs, but shot just 42.9 percent from the field, 8.3 percent from 3-point range and 80.6 percent from the free throw line.
It was a matchup problem, but it also shined a light on what will be a lingering problem for the golden years of his career: He will struggle against teams that take away his airspace.
There won't be a cure-all to fix this problem, but the Mavs can work to keep him fresh as the playoffs approach by continuing to reduce his minutes during the regular season. He averaged 32.9 minutes this season, right within the boundary that Mavs coach Rick Carlisle was shooting for. Not accounting for last season, where he missed more than a third of the season due to knee surgery, the 32.9 minutes average was the lowest Nowitzki logged since his rookie season.
Dallas' quandary is finding a legitimate backup for its star. The Mavs have been in constant pursuit of an option that can make him the second-best player or a player who could run alongside him. They've found the running mate in
Monta Ellis
. They must now shift the emphasis to finding a player who can spare him during the regular season. They have to do it because the 16 to 18 minutes that Nowitzki isn't on the floor is when the balance of the game can easily swing.
The situation with
Shawn Marion
presents a ripple effect because he's primarily been Nowitzki's main backup since 2009. Before then, you saw the likes of
Brandon Bass
,
Keith Van Horn
and
Austin Croshere
. The basic theme of those options is that the team is looking for someone who can stretch the floor while Nowitzki is resting. They've essentially been searching for a Dirk-lite.
When fully healthy, Dallas has been a team that has had one of the better benches over recent league history. Even so, Nowitzki's backup has still been one of the weakest links. It's understandable to not put as much of an emphasis on finding an understudy for someone who logs as many minutes as Nowitzki does, but the time has come to make it more of a priority.
Replicating his ability to stretch the floor might be a challenge, based on the available options. The market presents more in terms of traditional power forwards, with those who can shoot with some range, but not at the level or consistency that Nowitzki can.
Boris Diaw
,
Ed Davis
,
Patrick Patterson
and
Mike Scott
are potential options. While they don't fit the qualifications of being a Dirk-lite, they do present legitimate options as backups. Maybe things work out and Marion can return simply as a backup power forward, giving him the summer to truly prepare for that position.
With so many areas of need to fill this summer, finding a true backup for Nowitzki may be a tricky situation. Be that as it may, this is one area of need where the Mavericks can't cut any corners.
June, 4, 2014
Jun 4
10:00
AM CT
By
Bryan Gutierrez
| ESPNDallas.com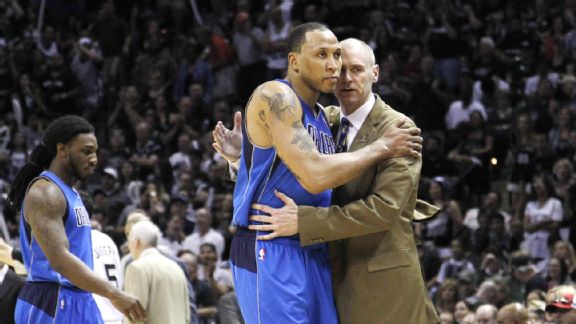 Chris Covatta/Getty ImagesThe Mavericks will have to consider moving on from Shawn Marion, who turned 36 in early May.
Now that the dust has settled on the Dallas Mavericks' season, ESPNDallas.com will explain the big-picture outlook the Mavs need to analyze as they look ahead to the offseason and beyond.
Shawn Marion
has been the anchor for the Mavs' defensive approach since he arrived in 2009. Over time, he emerged as one of the most versatile options on the team, both offensively and defensively. Alongside
Dirk Nowitzki
, he is one of the lone pieces remaining from the 2011 championship roster. He now approaches free agency, a place he hasn't been since 2009. Having been able to rely on Marion as a constant at small forward, the Mavs will have to decide if they need to start anew at the position.
Along the lines
discussed earlier
in this series, bringing
Devin Harris
back and possibly inserting him into the starting lineup creates new opportunities, but it also creates more problems. While he will boost the team's versatility, speed and defensive disposition, he shrinks the floor in terms of perimeter shooting. Both Harris and
Monta Ellis
will cause chaos for the opposition with their penetration, but coaches can counter that by giving them space, daring them to shoot. At that point, it's essential to have a small forward who can space the floor. You can't expect Nowitzki to be the lone weapon who consistently stretches the floor.
To his credit, Marion expanded his game and tried to stretch the floor this season as he hit 58 3-pointers. That's a tremendous uptick in production from beyond the arc as he made a total of 51 treys in his previous four seasons with Dallas (23 in 2012-13, 20 in 2011-12, five in 2010-11 and three in 2009-10). Marion's 35.8 percent shooting from 3-point range was his highest since he shot 38.7 percent for the
Phoenix Suns
during the 2002-03 season.
[+] Enlarge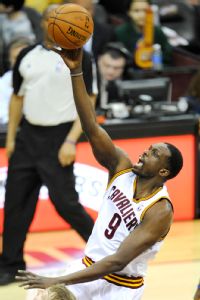 David Richard/USA TODAY SportsLuol Deng has been linked to the Mavs, but he likely would come with a heavier impact on Dallas' salary cap.
The problem is, Marion is 36 and has already said he's willing to consider retirement after two more seasons. That means Dallas has to consider moving on from Marion to find the heir apparent at small forward. There have been options linked to the Mavs such as
Luol Deng
and
Trevor Ariza
, both as potential replacements for Marion. There have been pie-in-the-sky options such as
Carmelo Anthony
and other options such as
Gordon Hayward
,
Chandler Parsons
,
Thabo Sefolosha
,
P.J. Tucker
and
Al-Farouq Aminu
, but it likely comes down to Deng and Ariza as the primary targets.
Deng would likely come with a heavier impact on the salary cap for Dallas, but at 29 years old, he provides a much younger option. He is a legitimate two-way player and a strong veteran presence in the locker room. Unfortunately, there are concerns about his durability. On top of that, he didn't exactly turn things around in Cleveland with the Cavaliers when he was traded there in January. While he is versatile, he doesn't have the same elasticity that Marion has when it comes to defending smaller players, though he's skilled against small forward-like options in a variety of defensive settings.
Ariza played the probably best stretch of basketball of his career during the
Washington Wizards
' playoff run. He was a skilled defender on the perimeter and shot an incredibly efficient 44.6 percent from 3-point range in the playoffs. There is concern because his 40.7 percent shooting from long range this season was a career high. Was it a turning of the corner or a contract-year aberration? Where Deng might struggle with smaller players on defense, Ariza can be effective. Taking size and versatility into account, Ariza might be the best defensive option of the three.
Marion said it wouldn't take Dallas "too much" for him to return during the team's exit interviews. That might be the case, but teams such as the
Miami Heat
,
Oklahoma City Thunder
and
Los Angeles Clippers
could easily come and call, offering championship contender opportunities. Marion and the Mavs are at a crossroads, and both must decide if it is best to part ways. If that decision is made, it will have a ripple effect on the entire roster.
June, 3, 2014
Jun 3
10:00
AM CT
By
Bryan Gutierrez
| ESPNDallas.com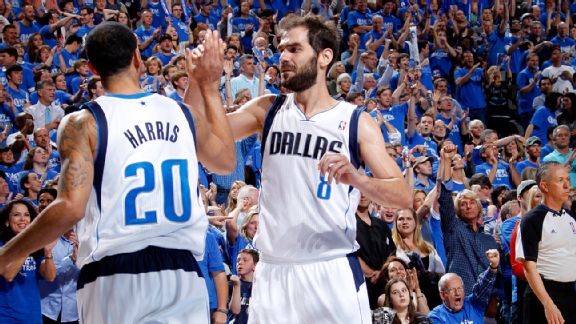 Glenn James/NBAE/Getty ImagesAssuming Devin Harris re-signs, starting him over Jose Calderon should improve Dallas' defense.
Now that the dust has settled on the Dallas Mavericks' season, ESPNDallas.com will explain the big-picture outlook the Mavs need to analyze as they look ahead to the offseason and beyond.
Monta Ellis
and
Jose Calderon
are now part of the new core for Dallas. Mavs owner Mark Cuban made that so by giving them multiyear contracts going into the 2013-14 season. It's established that they were part of the problem when it came to Dallas' issues on the defensive end of the floor. Veteran guard
Devin Harris
was one other cog of the guard rotation. Though he enters free agency this summer, there is still a sense of optimism that Harris will re-sign with the Mavs. If Dallas works up a deal similar to the one Harris was willing to sign last summer -- three years and $9 million dollars -- he'll be in a Mavericks uniform next season.
If that's the case, one subtle move the Mavs could make to improve their defense is moving Harris into the starting lineup in place of Calderon. If Harris hadn't missed half of the season due to his toe surgery, it's not out of line to think that coach Rick Carlisle would have considered a lineup change. The fact that the Mavericks were battling for their playoff lives and had already established a rotation and substitution pattern, however, figuratively squashed the idea of making a change.
Calderon's numbers prior to Harris' debut Jan. 18 look solid. He averaged 31.5 minutes, scoring 11.9 points per game on 46.3 percent shooting from the field and 45.9 percent shooting from 3-point range.
Once Harris returned, Calderon averaged 29.4 minutes per game, scoring 11.0 points per game on 44.9 percent shooting from the field and 43.9 percent shooting from 3-point range. There's a bit of a drop-off, but the bigger issue comes in Calderon's defensive rating. On average, he gave up 106.8 points per 100 possessions prior to Harris' debut. Once Harris came back, Calderon gave up 109.6 points per 100 possessions. A number of factors might have come into play, but there was a notable difference in his productivity on defense.
June, 2, 2014
Jun 2
11:00
AM CT
By
Bryan Gutierrez
| ESPNDallas.com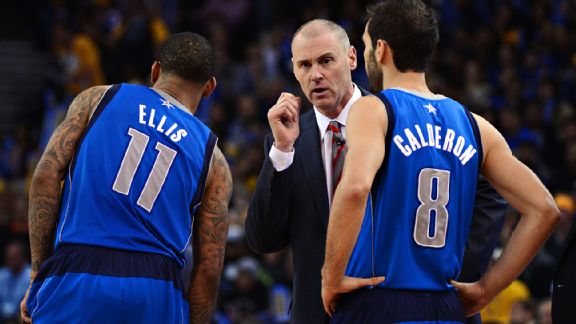 Kyle Terada/USA TODAY SportsWhile Monta Ellis and Jose Calderon thrived offensively, they struggled defensively.
Now that the dust has settled on the Dallas Mavericks' season, ESPNDallas.com will explain the big-picture outlook the Mavs need to analyze as they look ahead to the offseason and beyond.
Offensive efficiency was an area in which Dallas thrived over the course of the season. Many expected the Mavs to boast a potent offense, and the team exceeded those expectations as it tied for second in the entire league with an offensive rating of 109.0.
The inclusion of new pieces such as
Monta Ellis
and
Jose Calderon
really took the pressure off
Dirk Nowitzki
to be the scoring leader. Their inclusion on the roster also brought another expectation to the Mavs: that they would be ineffective on the defensive end of the floor.
In the end, Dallas ranked 22nd in the league with a defensive rating of 105.9 during the regular season, meaning the Mavs gave up 105.9 points per 100 possessions. That ranked as the worst defensive rating for any team that made the postseason. Considering the rankings, Dallas' league ranking was its personal worst over the past five seasons, outdoing its ranking of No. 20 in 2012-13.
While Ellis and Calderon thrived offensively, they were near the root cause in terms of the defensive breakdowns. The duo held a defensive rating of 107.9 during the regular season. Of the 10 two-man combinations that logged the heavier minutes for Dallas in the regular season, either Ellis or Calderon were involved in eight of the pairings.
With those known limitations, many expected the Mavs to suffer a cruel fate when they faced the
San Antonio Spurs
in the opening round of the Western Conference playoffs. Instead, the Mavs baffled the Spurs. Much of that credit has to go to coach Rick Carlisle as he put together a defensive approach that confused Gregg Popovich and the Spurs.