Dallas Mavericks:

2014 free agency preview
June, 27, 2014
Jun 27
10:58
AM CT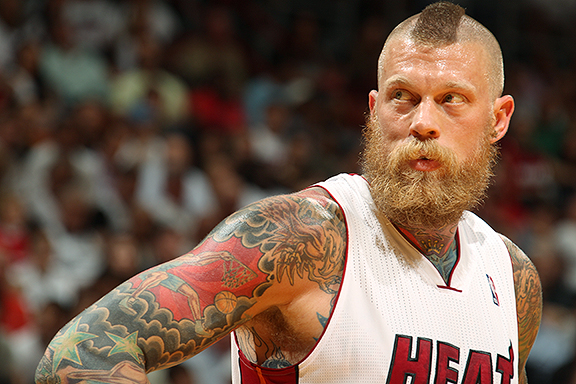 Issac Baldizon/Getty ImagesThe Mavericks have been rumored to have interest in "Birdman," a high-energy rebounder.
The
Dallas Mavericks
made a major upgrade in the middle before free agency began by trading for
Tyson Chandler
.
They have a productive backup on the roster in
Brandan Wright
, the lanky, high-leaping lefty who has ranked among the league's most efficient reserves the last few seasons.
The search for center depth isn't a top priority for Dallas in free agency, but it's definitely on the Mavs' checklist.
If the Mavs don't succeed in their quest to sign a superstar, they'd still be
interested in pursuing
Pau Gasol
. He'd get some playing time at center, but the majority of his minutes would probably come at power forward while
Dirk Nowitzki
rests his 36-year-old legs.
The more likely scenario is that the Mavs sign a low-priced banger to be the final piece of a three-headed center rotation. A look at some of the potential fits:
DeJuan Blair:
The 6-foot-7, 260-plus-pound Blair was a bargain banger as a minimum-salaried Mav last season, averaging 6.4 points and 4.7 rebounds in 15.6 minutes per game. He put up a pair of double-doubles in the playoff series against the
San Antonio Spurs
, his former team that was simply too physical for Wright.
The Mavs value Blair's toughness and tenacity. They just aren't willing to pay a premium price for it, particularly after bringing Chandler back to Dallas.
Blair would obviously like to be paid more than the minimum, but if that's his price tag, he'd be welcomed back in the Mavs' locker room.
Chris Andersen:
The Mavs have been rumored to have interest in "Birdman," a high-energy rebounder and rim protector who doesn't fly quite as high as he used to. However, for the money the Mavs would offer, it's hard to envision Andersen leaving Miami unless
LeBron James
goes elsewhere.
Andersen would be excellent insurance for the Mavs given Chandler's durability issues. Bringing Birdman on board would assure the Mavs of always having an athletic, physical, intelligent, long, defensive-minded center available.
June, 26, 2014
Jun 26
8:00
AM CT
The
Dallas Mavericks
haven't had a real backup power forward behind
Dirk Nowitzki
for years.
Shawn Marion
has typically slid over to power forward over the last five years when Nowitzki rested. The Mavs would love to continue that type of rotation with
LeBron James
or
Carmelo Anthony
, both of whom have significant experience playing power forward in small-ball lineups.
[+] Enlarge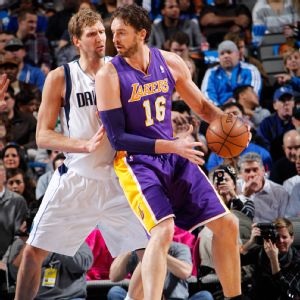 Glenn James/NBAE/Getty ImagesPau Gasol could be an option for the Mavs if they can't lure LeBron James or Carmelo Anthony.
It's also possible if the Mavs sign
Luol Deng
or bring back Marion. Maybe it'd work at times with
Trevor Ariza
, although he's awfully slender to play power forward.
The Mavs certainly wouldn't mind having a legitimate power forward with a reliable jumper to spell Nowitzki without requiring a change in offensive philosophy.
Some of those possibilities:
Pau Gasol:
The Mavs believe
the trade
for
Tyson Chandler
increases their odds of reeling in one of the big fish, but sources told ESPNDallas.com that it did not eliminate their interest in Gasol.
Landing James or Anthony is the Mavs' clear-cut priority, and there'd be no room left for Gasol if they were successful. However, the two-time champion with the Lakers could factor into the Mavs' backup plans, in free agency and on the floor next season.
It's unknown whether Gasol would be willing to come off the bench at the age of 34, but it's feasible to project him playing about 28 minutes per game for the Mavs. The Mavs don't want Nowitzki averaging more than 32 minutes, so Gasol could play 16 minutes per game at power forward. He'd likely get another dozen or so minutes at center, maybe more against certain matchups.
The way the Mavs' rotation is structured, Gasol and Nowitzki could play some together against opposing second units, diminishing the concerns about their flaws as a defensive duo.
The Mavs would hope to get Gasol, who averaged 17.4 points, 9.7 rebounds and 3.4 assists last season, for about $8 million per year.
Channing Frye:
Frye, who declined an option to make $6.8 million from the
Phoenix Suns
next season, could be a similar two-position fit in the Mavs' rotation.
The 6-foot-11 Frye is a poor rebounder for his size (5.1 per game last season), but he's one of the best stretch-shooting bigs in the league. He has a career 3-point percentage of 38.5, a fraction of a percentage better than Nowitzki.
At this point in his career, Frye launches more than half his field-goal attempts from 3-point range. The Mavs can use all the shooting they can get after giving up 3-point marksman
Jose Calderon
in the Chandler deal.
Marvin Williams:
He never lived up to expectations as a No. 2 overall pick, but Williams is a decent rotation player who can be used at either forward position, averaging 9.1 points and 5.1 rebounds in 25.4 minutes per game last season. He could be an option at a relatively low salary.
Anthony Tolliver:
He's a little undersized for a power forward at 6-foot-8, but he's a floor-spacer who might be available for the minimum. He shot 41.3 percent from 3-point range as a Charlotte reserve last season, shooting almost exclusively from long range. The 29-year-old journeyman had a season-high 22 points against the Mavs.
Boris Diaw:
It's unlikely he'd leave San Antonio after his career revival and the Spurs' title run. If he looked for another home for some reason, his passing and shooting would fit well in Rick Carlisle's flow system.
June, 25, 2014
Jun 25
8:30
AM CT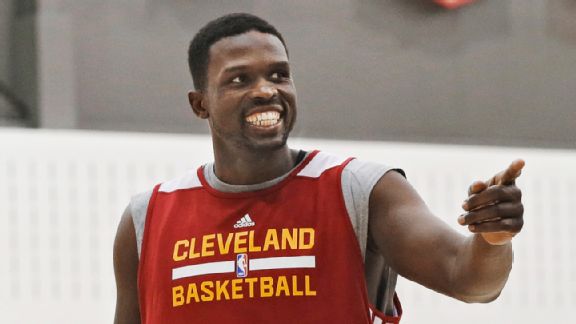 AP Photo/Mark DuncanLuol Deng is one of the few players in the league as defensively versatile as Shawn Marion.
The
Dallas Mavericks
hope to finally land a big fish in free agency.
They also firmly understand that they're in a long line of teams trying to sign
LeBron James
or
Carmelo Anthony
. Put it this way: The Mavs had better odds of getting
Deron Williams
or
Dwight Howard
the last couple of offseasons than signing one of the superstars available this summer.
The Mavs are on a short list of teams that have the cap space to offer a full max contract to either of the available in-their-prime, future Hall of Fame small forwards, but several teams can maneuver to create room. And the superstars' current teams can trump offers from anyone with contracts featuring an extra year and more than $30 million. Plus, don't assume that the Mavs would be willing to give Anthony a full max offer with a starting salary of more than $22 million.
The Dallas front office isn't approaching this summer with a big fish-or-bust mentality. They'll have strong Plans B, C, D, etc. in place, particularly at small forward.
One of those is re-signing
Shawn Marion
, the Mavs' best defender and rebounder over the last five seasons and a critical piece of the 2011 championship puzzle. There is strong mutual interest in Marion's return, although it is uncertain whether the 36-year-old "Matrix" would be enthusiastic about staying in Dallas if the Mavs envision him as a reserve.
The Mavs are optimistic that they'll re-sign sixth man
Vince Carter
, who plays the majority of his minutes at small forward.
A look at some of the Mavs' other small forward options in free agency:
Luol Deng:
There's a lot to like about the 6-foot-8, 29-year-old Deng. He's one of the few players in this league as defensively versatile as Marion, but he's seven years younger and a much more productive offensive player at this point of their careers.
As Rick Carlisle said when Deng came to Dallas with the Cavs last season, any coach would love to have Deng on their roster due to his toughness, intelligence and talent.
June, 24, 2014
Jun 24
8:00
AM CT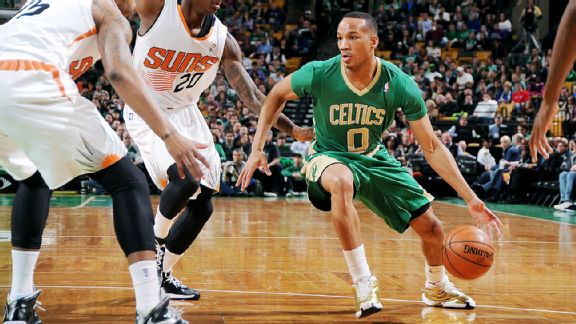 Brian Babineau/NBAE/Getty ImagesAvery Bradley could fill a hole for the Mavericks. But would the rebuilding Celtics let him go?
Shooting guard is not a priority position for the
Dallas Mavericks
.
It's a safe bet that
Monta Ellis
will lead the Mavs in minutes for the second consecutive season.
Wayne Ellington
, a solid perimeter shooter and defender who played sparingly this past season, also remains on the roster.
There's a good chance the Mavs re-sign both
Devin Harris
and
Vince Carter
. They get most of their minutes at other positions -- Harris at point guard, Carter at small forward -- but they'll probably split most of the shooting guard minutes not logged by Ellis.
The Mavs have zero interest in Indiana's
Lance Stephenson
, arguably the most talented unrestricted free agent in this summer's crop. He could easily slide to small forward, but the Mavs simply aren't interested in making a significant investment in a known knucklehead, particularly one who tends to dominate the ball by over-dribbling.
Dallas president of basketball operations Donnie Nelson often says you can never have enough shooting, but the Mavs don't intend to get in on the bidding for gunners
Nick Young
and
Jordan Crawford
, either.
There are, however, a handful of shooting guards who might fit the Mavs, if they fall through the cracks in free agency:
Avery Bradley:
As one of the best on-ball defenders in the NBA, Bradley would directly address one of the Mavs' most glaring weaknesses. But he's a restricted free agent, and it's hard to imagine Boston letting a 23-year-old contributor go if all the Celtics have to do to keep him is match a bargain offer.

Rodney Stuckey:
Remember when he was one of the NBA's best young guards? His production for the Pistons plummeted the past couple of seasons (13.9 ppg, 2.1 apg, .436 FG in 2013-14), and he lost his starting job, but the 6-foot-5, 205-pound Stuckey is still only 28 years old and versatile enough to play multiple positions. He might benefit from a change of scenery.
Jodie Meeks:
He's a shooter who averaged a career-best 15.7 points per game for a terrible Lakers team this past season and made 46.3 percent of his field goal attempts and 40.1 percent from 3-point range. He's never been confused for a lockdown defender, but he's not awful on that end of the floor either.
C.J. Miles:
The Mavs had talks with Miles, a 6-foot-6 lefty who grew up in Dallas, when he was a free agent two summers ago. He's a nine-year veteran but only 27 years old, he can play both wing positions, and he is a good perimeter shooter. He hit 39.3 percent of his 3-pointers this past season, when he averaged 9.9 points for the Cavaliers.
Thabo Sefolosha:
The 6-foot-5 Sefolosha could be considered a bigger, more physical and more experienced version of Ellington. He lost his 3-point touch in 2013-14 (31.6 percent) after shooting better than 40 percent from long distance the previous two years. He's a 3-and-D player who is strictly a spot-up shooter on offense, but he's among the NBA's better wing stoppers.
June, 23, 2014
Jun 23
8:00
AM CT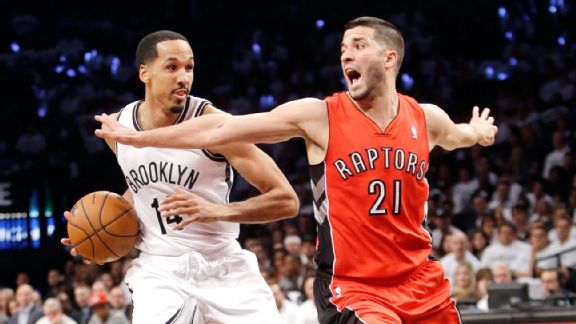 AP Photo/Frank Franklin IIShaun Livingston, left, can ably fill both guard spots; Greivis Vasquez is a proven assists man.
The
Dallas Mavericks
' plan is to re-sign
Devin Harris
as
Jose Calderon
's change-of-pace backup at point guard for 2014-15.
The mutual interest between the Mavericks and Harris is strong, so there is a high probability that he will return. The negotiations have a natural starting point of a three-year deal worth a little more than $9 million. Harris and the Mavs originally agreed to the offer last summer before the discovery that he needed complicated toe surgery, which led to Harris signing a one-year contract for the veteran's minimum salary and missing the first half of the season.
The Mavs want Harris back because he's one of the league's better backup point guards, is a high-character fit for their culture, has excellent chemistry with his teammates and has corporate knowledge of coach Rick Carlisle's schemes. However, if for some reason the Mavs can't hammer out a deal for Harris, there should be several quality backup point guards available with similar or perhaps even lower price tags.
The Mavs, who are pleased with Calderon as their starter, will not be in the market for Toronto's
Kyle Lowry
. They'd love to land Phoenix's
Eric Bledsoe
, a dynamically athletic 24-year-old with star potential, but the Suns are expected to match any offer the restricted free agent receives.
Some point guards who could be fits for the Mavs if Harris heads elsewhere:
Shaun Livingston:
The fourth pick in 2004 has seen his career derailed by a devastating knee injury, but he's worked his way into being a quality role player, averaging 8.3 points and 3.2 assists in 26 minutes per game for the
Brooklyn Nets
last season. Like Harris, the 6-foot-7 Livingston, 28, is capable of providing quality minutes at both guard positions.
Steve Blake:
The 34-year-old Blake's intelligence and competitiveness made him a
Kobe Bryant
favorite during his time with the
Los Angeles Lakers
, but he's declined as an athlete. He's a decent 3-point shooter and passer, but he's not nearly the off-the-dribble threat that Harris is. Heck, he might not even be the off-the-dribble threat that Calderon is.
Patty Mills:
In his fifth NBA season, Mills emerged as a lethal shooter off the Spurs' bench, playing an important role in their title season. But unless another team overpays him, why wouldn't Mills re-sign with San Antonio and try to help them repeat for the first time in franchise history?
[+] Enlarge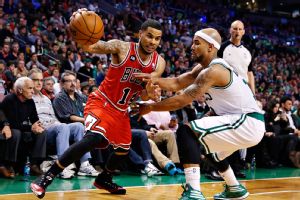 AP Photo/Michael DwyerD.J. Augustin, a former Longhorn, likely earned a big raise with last season's performance; Jerryd Bayless, right, brings athleticism but is lacking defensively and as a playmaker.
Mario Chalmers:
His Miami tenure might come to an end after he played so poorly in the Finals that he was benched for Game 5. He's still a solid point guard with career averages of 8.6 points and 3.8 assists in 27.5 minutes per game. Would he accept a reserve role after recently starting for two title teams?
Mo Williams:
Williams has career averages of 13.3 points and 4.9 assists per game and has performed well as a sixth man for teams that have made the Western Conference semifinals -- the Clippers and Trail Blazers -- in two of the past three seasons. The 31-year-old is capable of running an offense and playing off the ball. But he's looking for a raise after declining an option to make $2.8 million in Portland next season.
Kirk Hinrich:
He's a less-athletic, better-perimeter-shooting version of Harris and a smart veteran capable of playing both guard spots. Hinrich averaged 9.1 points and 3.9 assists per game for the Bulls last season, serving primarily as a starter due to
Derrick Rose
's injury. He's earned a reputation as a good defender, but at 33 with a long injury history, how much tread is left on his tires?
Ramon Sessions:
Sessions has put up pretty good numbers (11.7 PPG, 4.7 APG) mostly for bad teams throughout his career, having made the playoffs only once in his seven years. The Mavs had discussions with his agent two summers ago but weren't willing to make more than a one-year offer.
Greivis Vasquez:
The 6-foot-6 Vasquez has played for four teams in four seasons despite leading the league in assists in 2012-13, averaging 13.9 points and 9.0 assists per game for a 27-55 New Orleans team. Vasquez, a restricted free agent, has made it clear that he hopes to return to Toronto.
Jordan Farmar:
A reserve on the Lakers' two most recent title teams, Farmar was out of the NBA for a year before returning to L.A. last season and averaging 10.1 points and 4.9 assists in 41 games. He's a decent defender and has the quickness to create off the dribble plays.
Jerryd Bayless:
The 6-foot-3, 200-pound Bayless is a big point guard with explosive athleticism and can occasionally score in bunches, but he's bounced around to five teams during his six-year career. He's not much of a playmaker (2.9 assists per game in his career) and doesn't defend as well as a guard with his physical gifts should.
Brian Roberts:
Roberts, a 28-year-old with only two seasons of NBA experience after playing overseas for several years, averaged 9.4 points and 3.3 assists per game as a part-time starter in New Orleans last season. He's a good spot-up shooter but doesn't penetrate well and is challenged defensively due to his size (6-foot-1, 180 pounds).
D.J. Augustin:
A lottery pick in 2008, the 26-year-old former Texas star rejuvenated his career coming off the Bulls' bench last season. Averaging 14.9 points and 5.0 assists in 30.4 minutes per game after signing in mid-December, Augustin was one of the league's best minimum-salary bargains. How big of a raise will he get?
Beno Udrih:
The veteran lefty, who turns 32 in July, has come up in trade talks with the Mavs a few times over the years. He averaged 7.9 points in 16.4 minutes per game in the playoffs for the Grizzlies after
Nick Calathes
' suspension forced Memphis to give backup minutes to a midseason addition. If the Mavs miss out on other veterans, Udrih could be a fit for the veteran's minimum.