March, 24, 2010
3/24/10
2:59
PM CT
Ex-Mav Jim Jackson played for an NBA-record 12 teams and shares that distinction with Chucky Brown and Tony Massenburg.
Drew Gooden
has played for nine teams in eight seasons and sees the inevitable.
[+] Enlarge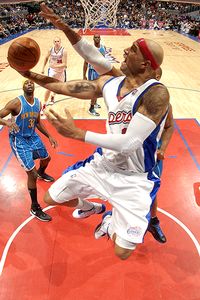 Andrew D. Bernstein/NBAE/Getty ImagesDrew Gooden has taken advantage of his time with the Clippers, averaging a career-best 14.7 points and 9.7 rebounds in his 16 games with L.A.
"I'm on my way to breaking that record," Gooden said with a laugh Tuesday night. "I'm on my ninth team now, and I'm a free agent this summer."
Gooden had just delivered his best individual performance of the season -- 26 points and 20 rebounds -- in the
Los Angeles Clippers
' 106-96 loss to the Mavericks, slamming home precisely why Dallas was so hopeful of re-signing him after Gooden was packaged with
Josh Howard
,
Quinton Ross
and
James Singleton
to Washington in the Feb. 13 trade that netted
Caron Butler
,
Brendan Haywood
and
DeShawn Stevenson
.
Had the Wizards reached a buyout with the veteran power forward, as they later did with
Zydrunas Ilgauskas
after acquiring Big Z from Cleveland in the
Antawn Jamison
deal, Gooden would almost certainly be back with a previous employer for the first time in his career. As he said many times before and after Tuesday's homecoming game at American Airlines Center, Gooden never wanted to leave Dallas and still hopes that the Mavs will consider re-signing him this summer.
The Wizards, though, didn't buy Gooden out. Instead they routed him to the Clippers as part of the three-way Jamison swap before the league's Feb. 18 trading deadline. And there would be no buyout in L.A. because the Clips, looking to bolster a front line weakened by rookie
Blake Griffin
's season-ending knee injury and the trade of
Marcus Camby
to Portland, told Gooden immediately that they needed to keep him for the rest of the season.
"It wasn't as easy it was last year for me with Sacramento," Gooden said, recalling how the Kings quickly bought out his contract after acquiring Gooden from Chicago at the deadline, enabling Gooden to sign with San Antonio for the stretch run.
"I think everybody knew that once I got a buyout that I would want to go back to Dallas and help [the Mavs] out even more. I think there [were] teams that didn't want Dallas to have their cake and eat it, too.
"I miss Dallas. I miss those guys over there. I committed myself to this team and left something on the table that was unfinished business for me. But that's the business."
The solace for Gooden is that his play with the Clippers isn't exactly discouraging the Mavs -- or prospective team No. 10 -- from keeping the 28-year-old in their offseason thoughts. Gooden is averaging a healthy 14.7 points and 9.7 rebounds in 16 games with the Clippers, which would represent the highest averages of his career in both categories if sustained for a full season.
"I've got to make sure I don't take for granted the opportunity I have now," Gooden said. "Even though, let's face it, we're not going to be a playoff team this year, I'm getting an opportunity to play and I'm going to do well.
"I do feel like I'm playing my best [basketball]. Maybe I don't jump as high as I used to, but my mental game is so much stronger than when I first got into the league. Even though I've been on a lot of teams, playing a lot of different roles, I've gotten better within those roles."
Asked if the Mavs miss Gooden's contributions off the bench,
Dirk Nowitzki
said: "Hell, yeah."
Oklahoma City's
Kevin Ollie
-- another Mavs alumnus -- has played for 11 teams, so Gooden isn't even No. 1 among active NBA vagabonds. The people who track such matters at the Elias Sports Bureau, furthermore, say Gooden doesn't get credit for making a stop in Washington because, even though he was issued a No. 90 jersey from the Wizards, he never played in a game for them.
Ollie, though, is 37. He's running out of time to get to 12 teams.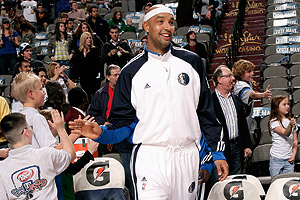 Glenn James/NBAE/Getty ImagesDrew Gooden misses the Mavericks, and his former teammates miss him. "I miss the guys over there," Gooden said. "I committed myself to this team and left something on the table that was unfinished business for me. But that's the business."
Gooden is nearly a decade younger and has only enhanced his reputation this season as a player who can produce when he starts and serve as the offensive focal point for a second unit. Playing for 13 teams certainly seems within reach, which isn't a prospect that insults Gooden.
"I was a victim of basketball [business]," Gooden said of the deal swung by the Mavs to get Butler and Haywood, which materialized about a month after Gooden and his partially guaranteed one-year contract in Dallas at $4.5 million was offered to Utah in an attempt
to swipe
Carlos Boozer
from the Jazz.
"I was never locked into a long-term deal," Gooden continued. "I was always a guy that was talked about at every trade deadline, no matter if I was playing well or not. But there's been nothing bad about what happened for me, playing on a lot of different teams."
He was quickly schooled on the business of basketball as a rookie, when Memphis -- after taking Gooden with the fourth overall pick in the 2002 draft -- traded him to Orlando before his first season was finished.
"That was a situation that I kind of liked [being traded]," Gooden said. "All the other times that I got traded, I didn't want to get traded. But it wasn't the right situation for me in Memphis. I was playing small forward and I felt like I was more of a power forward playing out of position."
Gooden's selection by then-Grizzlies president Jerry West in West's first draft in Memphis is one of the few second-guessed picks of West's storied front-office career, since the Grizz already had
Pau Gasol
and
Stromile Swift
on the roster.
"I didn't think I was going to have that Memphis hat on long that night that I got drafted," Gooden said. "But Jerry West always said he was going to take the best player available."
Marc Stein covers the NBA for ESPN.com and is a frequent contributor to ESPNDallas.com.
November, 19, 2009
11/19/09
8:40
AM CT
By
Jeff Wade
| ESPNDallas.com
The Mavericks are feeling pretty good about themselves these days. That's the kind of thing a coach hates to hear and will quickly pick you apart for sheepishly mentioning after a practice, but it's impossible to deny. You can see it on the faces of the players and team employees.
Despite a tiring stretch that saw Dallas play five games in seven nights, folks 'round AAC way have a little bit of a bounce in their step. And an overtime victory against those hated Spurs on ESPN last night makes a lovely lead-in for a promising weekend with a young and inexperienced Sacramento team heading in Friday.
Good vibes, my people. Good vibes.
And why not? Considering the injuries and offensive inconsistency we've seen to start the season, 9-3 is a rather tasty treat. Much of early campaign Mav talk centered on what the identity of this team will be with
Shawn Marion
and
Josh Howard
running the wings and filling the lanes on a potentially potent offense that experienced some significant grindage last year.
Thing is, that hasn't really materialized. Josh has played a total of 66 minutes thus far and is back on the shelf indefinitely with ankle pain. And Marion, who had yet to really find that ballin-outta-control groove he displayed in the preseason before his calf started going funky on him, twisted his ankle right out the gate in The Good Land and didn't return for the second half.
That's an MIA list that also includes a uniquely hush-hush
Erick Dampier
ailment that is requiring the attention of unidentified specialists and test results that won't be seen for another week. And that means 60 percent of your "starting lineup" ain't available.
So how extra-tasty is 9-3 is sounding now?
We can go on and on about Dirk once again carrying this team's offensive fortunes on his shoulders -- 73 points and a ridiculous array of clutch fourth quarter and OT buckets in a 48-hour span has pretty much come to be expected with that dude. If he's not bringing the big-time these days, wins will be tough to come by. That's a given.
But these Mavs are winning despite not finding the basket. The Mavs lead the league in winning games in which they shot below 44 percent. That'd be six lucky lotto tickets for a team that isn't too accustomed to getting it done when the shots aren't dropping.
A little deductive reason tells you that good things are happening on the defensive end of the floor. The Mavericks are bringing energy, effort and smarts to their defensive approach and it's paying off while the basket stays tiny for them. That won't be the case when they have all their guys. Others besides Dirk will start making some shots.
The really intriguing question is what happens to the minutes when everyone does come back -- assuming they do. The electric performances of French rookie Roddy Beaubois and offseason free-agent acquisition
Drew Gooden
seems to indicate that they need to be an important part of the rotation.
Not that we expect Gooden to consistently put up numbers like the absurd stretch of these last three starts of almost 17 points and 11 boards. But if he brings the type of intensity and effort we've seen here lately to the party every night -- then Damp and Drew is a center rotation worth getting excited about.
And as for the current Roddy lovefest that's gripping Mavs Nation? Well, I'd like to be cautiously optimistic. But the more I see of him, the more my reality becomes clouded with dreams of something special with this guy. And he hasn't even scratched the surface.
Now that's a 9-3 that is magically delicious.