Dallas Mavericks:

Adrian Dantley
April, 12, 2014
Apr 12
8:15
PM CT
DALLAS -- A friendly face joined
Dirk Nowitzki
among the top 25 scorers in NBA history.
Dallas Mavericks
teammate
Vince Carter
passed Adrian Dantley on a 3-pointer with 9:23 remaining in the second quarter of Saturday night's game against the
Phoenix Suns
. Carter has 23,181 points in his 16-year career after scoring 10 in Saturday's playoff-clinching win over the Phoenix Suns.
"I'm speechless," Carter said. "To accomplish something like that is just amazing. Some of the people I've passed I've grown up watching and respected and considered them some of the all-time greats. When you throw those names out there – 'You just passed such and such' – it's like, 'Me? Really?' So I'm very thankful. To do it in a big game like this, it was awesome. Just a great moment. Glad we won."
Nowitzki cracked the top 10 all time in Tuesday's win over the
Utah Jazz
, passing Oscar Robertson.
Kobe Bryant
, Nowitzki,
Kevin Garnett
,
Paul Pierce
,
Tim Duncan
and
Ray Allen
are the only active players with more points than Carter.
Carter, an eight-time All-Star, is averaging 12.1 points per game as the Mavs' sixth man this season. He averaged more than 20 points per game in 10 consecutive seasons earlier in his career.
February, 8, 2012
2/08/12
10:20
PM CT
How it happened:
The Mavs are tough to beat when they're this balanced.


Five Mavericks scored in double figures to key a relatively easy win at the Pepsi Center. The Mavs are 9-2 this season when at least five players put up double figures.
Dirk Nowitzki
, who suddenly looks like a 10-time All-Star again, led the way with 25 points on 11-of-20 shooting.
Vince Carter
added 17 points (7-12 FG) and a season-high eight assists. The other Mavs in double figures:
Rodrigue Beaubois
(13 points, 5-7 FG),
Shawn Marion
(13 points, 5-8 FG) and
Brandan Wright
(10 points, 5-8 FG).
The Mavs had their second-highest scoring first half of the season, scoring 64 points before the break. Their offensive production tailed off each quarter, but the Nuggets never made enough of a run to put Dallas' lead in serious jeopardy.
What it means:
The streak is over. The Mavs avoided losing a fourth straight game for the first time this season by beating a banged-up Western Conference playoff contender. And all indications are that Nowitzki is back in All-Star form for the long haul. He has scored 79 points in the last three games, his most productive offensive stretch of the season.
Play of the game:
The Nuggets were on a 12-3 run when
Jason Terry
penetrated and kicked to Shawn Marion in the right corner. Marion knocked down the 3-pointer to stretch the Mavs' lead back to double digits and halt the Nuggets' momentum with seconds remaining in the first half.
Stat of the night:
Nowitzki surpassed Adrian Dantley for 21st on the NBA's all-time scoring list. Nowitzki's 25 points gave him 23,179 for his career, two more than Dantley had.
Robert Parish
is next on the all-time list at 23,334 points.
March, 29, 2010
3/29/10
9:20
AM CT
By
Jeff "Skin" Wade
| ESPNDallas.com
It's Monday, and it's time for The Come Up -- you know, the one we've been carrying on about for over a month now. We thought tonight's matchup against the
Denver Nuggets
would likely be the determining factor behind being a two or three seed when the playoffs start. But Denver has been in a serious funk (they're 5-6 in games Adrian Dantley has coached, which is cool since he owes us one for the Mark Aguirre trade). They weren't particularly good at Orlando in a loss Sunday. Utah is breathing down that neck and everything is in a constant state of flux.
And it go a 'lil summin' like this:
Who's the best team going?
Aside from the Lakers, it's the teams in the bottom half of the Western bracket doing the most damage. Phoenix has been on a tear and is now only one game out of second place in the conference standings. The Suns beat Minnesota on Sunday night to bring their current league-leading win streak to seven. They should have people's attention.
The Spurs refuse to go down without a fight as they've beaten Boston, LA and OKC in their last four games, with only a loss to the Lakers sandwiched in that stretch. And Mavs fans got a good dose last week of how well the Blazers are playing. Portland emerged from OKC with a tough win Sunday night. The jumble at the bottom of the bracket is just as convoluted as 2-5.
Standings watching at this point is pretty futile. There's no sense in worrying about what anyone else is doing. All the Mavs have to do is protect their home floor from here on out and they'll be in a great position. That would mean beating Orlando, OKC and San Antone at the AAC, but it all starts with a road-weary and punch-drunk Denver team tonight. This is a chance to hit someone square in their nose while they're already falling. Do they have the wherewithal to back up all that "tougher now" talk? Magically delicious …
[+] Enlarge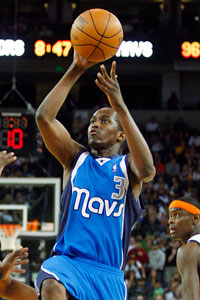 AP Photo/Ben MargotRodrigue Beaubois set an NBA rookie record with nine 3-pointers during his 40-point outburst against the Golden State Warriors on Saturday night.
Will Roddy be in the ring throwing punches?
Incredulous Roddy B supporters have been assembling en masse ready to run Rick Carlisle out of town for the way he's been shuffling the rookie in and out of the lineup. Beaubois' 40-point explosion Saturday night against the Warriors wasn't some Tony Dumas one-shining-moment type bidness. He's had plenty of "wow" moments this season. Saturday was an expansion on the show he put on in against Chicago three weeks before when he dropped 18 in the third quarter.
He had a stellar performance against Sacramento and a couple of 17-point gems against Minnesota. What he hasn't had is a great performance in a game against a top-tier opponent -- his performance against Milwaukee earlier in the season was probably his closest to a clutch performance against a top-notch team. But it's not by any fault of his own. Carlisle hasn't been comfortable playing him in those situations.
I don't know that I blame him. All Roddy's truly great ball has come in bursts at the two, and the Mavs are a veteran team with championship aspirations loaded with veterans at that position. Ahead of Roddy on the depth chart is last year's Sixth Man of the Year in
Jason Terry
and newly acquired starter
Caron Butler
, a former All-Star who has added a tough mentality and physicality to the position.
But what's interesting to note is that Rick has mentioned (paraphrasing here) that he likes guys to feel uncomfortable about their status and believes competition for playing time is a good thing. So then wouldn't Roddy's continued emergence put said uncomfortable pressure on Butler and JET to perform at an elite level? And with all due respect to JET, who has had some brilliant playoff moments in a Mavs uniform, last year's second season was rather forgettable for Terry.
But I more than get Carlisle being apprehensive to play Roddy in big games down the stretch run -- all these games
are
playoff games with seeding being as critical as it is. I was trying to think of scenarios where rookies beat out key veterans for playing time down the stretch on team's viewed as contenders. Byron Scott came to mind for a Laker team that lost in the Finals his rookie season. He's a rare exception getting 20 minutes a night during the playoffs, but the Lakers had traded away starter Norm Nixon to get him in the first place so the comp wasn't like this.
But Roddy is going to have to beat out proven clutch performers ensconced on a veteran team in order to get this burn. It's way different torching awful Golden State and Clippers squads than it is to show and prove in Portland on TNT when your go-to guys are getting snuffed and every shot is contested. We'd all like to see what he could do in that situation -- he's a blast to watch.
He's clearly the future (
I'm already on record saying he's your likely starter next year
). But history is against him doing it now. He'd be annihilating the odds. What a story it'd be, right? Do we get to see more of that story unfold tonight? This game has been circled on the schedule for a long time. A loooonnnngggg time. What a story it'd be, right?