Dallas Mavericks:

Al Horford
February, 22, 2013
2/22/13
11:26
AM CT
DALLAS –
Dirk Nowitzki
described the Lakers as a "perfect situation" for
Dwight Howard
earlier this season, which isn't exactly the best way to begin the recruiting pitch in an attempt to bring the NBA's best big man to Dallas.
[+] Enlarge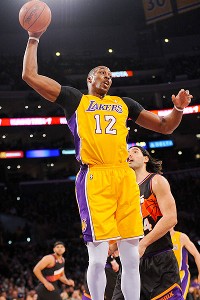 Noah Graham/NBAE/Getty ImagesIf Dwight Howard opts to leave L.A., will the Mavs be able to sell him on Dallas?
Of course, there's been a ton of drama in Los Angeles since Dirk made that comment while venting frustration and expressing doubt about the Mavericks' plan to "build around hope." With the Lakers on the outside of the playoff picture looking in and Howard continuing to butt heads with
Kobe Bryant
, there's legitimate reason to believe that Howard will seriously consider leaving $30-plus million on the table and leaving L.A. this summer.
"I guess you never know," Nowitzki told ESPNDallas.com this week. "That's up to Dwight. You never know what's in a player's mind. I don't know him. I guess we just have to wait and see how the season ends for them. That's something that's out of our control.
"We'll have to wait and see what happens there. They've had some issues -- everybody's following them -- but I still think they're so talented. I still think they're going to make a run at it."
For the sake of discussion, let's say the Lakers don't make a run at it. Let's assume that Howard gets so sick of the prima-donna power struggle with Kobe that he walks this summer.
Can the Mavericks convince Howard that Dallas is the best destination for him? Of the teams that can create enough cap space to sign him, the
Atlanta Hawks
and
Houston Rockets
would seem to be the stiffest competition.
PODCAST
Mavericks GM Donnie Nelson joins Galloway & Company to discuss the team's recent trade for Anthony Morrow and push for the playoffs.

Listen

The Hawks and Rockets have a key ingredient the Mavs don't: a franchise cornerstone in his prime who is locked into a long-term deal.
Atlanta's 26-year-old double-double machine
Al Horford
could slide over to his natural power forward position and form arguably the NBA's best 4-5 duo with Howard. Houston's 23-year-old All-Star shooting guard
James Harden
and Howard might be the best one-two punch, period, outside of Miami and Oklahoma City.
The Hawks, Howard's hometown team, also have fellow Atlanta native
Lou Williams
to provide scoring firepower off the bench for the next two seasons. Atlanta will have enough cap space to sign Howard and make other moves in free agency, perhaps including re-signing point guard
Jeff Teague
or all-around forward/Howard friend
Josh Smith
.
PODCAST
The day after the NBA trade deadline, Dallas Mavericks owner Mark Cuban joins The Ben & Skin Show to talk about the trades made and the Mavericks' future.

Listen

The Rockets have a ready-made supporting cast with
Jeremy Lin
,
Chandler Parsons
and several recent first-round picks, plus whatever assets they could get if they move productive center
Omer Asik
.
What do the Mavs have to sell other than the chance to play next to Dirk, a Hall of Famer in decline, and the opportunity to play for an elite coach in Rick Carlisle?
"Same thing we always sell -- that our focus is winning first, second and last, and that we can go out and get whatever assets on the court and off the court that we need to, hopefully in unique ways that other teams can't match," Mark Cuban said, speaking in general about a potential summer pitch to a superstar but not specifically Howard.
Deron Williams
didn't take that bait last summer. He opted to move to Brooklyn with the Nets, swayed in large part by the Nets' trade for
Joe Johnson
.
Of course, Cuban wasn't part of the Mavs' face-to-face pitch to Williams due to his commitment to film a reality show ("freakin' Shark Tank," Dirk calls it) on the West Coast. The Mavs' billionaire boss told his TV producers months ago that he needed his schedule to be clear for the first couple weeks of July this summer.
Nowitzki, who would love nothing more than to pass the face-of-the-franchise baton to another star this summer, is also ready to play a supporting role in the recruiting process.
"If it gets to the point and Mark and Donnie want to fly somewhere, I'm in," said Nowitzki, whose contract expires, along with
Shawn Marion
's, after the 2013-14 season, making the Mavs potentially major players in that summer market as well. "If they need me, I'll be here."
The Mavs are really selling Cuban -- "Mark's commitment to championships," Donnie Nelson says -- as much as anything else in free agency. If given the chance, they'll try to convince Howard that they can build a long-term contender around him, just like they did for a dozen years around Dirk.
"You look at what we've done over the years in terms of making the best use of our assets, whether they be players, cap space," Nelson said. "We've been blessed and fortunate enough to make two runs to the Finals, and those teams were completely different in a lot of respects.
"You know when you're playing for Mark Cuban that he'll do whatever it takes to punch it into the end zone. I think those things are pretty evident. Players know that. They see. They've been around. They see what kind of run we've had over the past 13 years or whatever.
"This is a place that people want to come."
This summer would be a perfect time to prove that to be true. It'd take a heck of a recruiting pitch to make it happen with Howard.
November, 30, 2009
11/30/09
8:18
AM CT
By
Jeff "Skin" Wade
| ESPNDallas.com
It's Monday, and that means it's time for "The Come Up" -- we look ahead at how the week lays out for the
Dallas Mavericks
.
Will
Erick Dampier
get the clearance to put the mystery illness behind him and take the floor? When will the mystery of Josh Howard's ankle pain be solved? Three sub-.500 squads followed by one of the beasts of the East on this week's schedule -- and it go a 'lil summin' like this …
Is The Answer the answer?
On Monday night, the Mavericks will host a Sixers team mired in a mountain of controversy, injuries and losing. The controversy, of course, is about whether or not the Sixers should bring
Allen Iverson
back into the fold. One report that surfaced last week had Sixers coach Eddie Jordan flying out to meet with A.I. immediately following tonight's game against Dallas.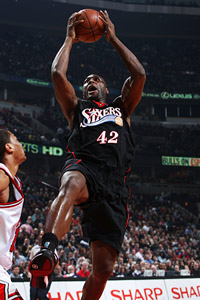 Gary Dineen/NBAE/Getty ImagesElton Brand
The reason the A.I. question is being posed is because the Sixers have been slowed early by injuries.
Marreese Speights
was off to a great offensive start before a partial MCL tear in his left knee sidelined him until sometime in early 2010.
Lou Williams
was good for 17 a night on 50 percent shooting before a broken grill put him on the shelf for eight weeks. Early reports are that
Elton Brand
will return tonight after missing three games with a sore hammy.
As you may have suspected, the injuries have been followed by the losing. At 5-12, Philly is one of the worst teams in the East and roll into town for the second night of a back-to-back after San Antonio dropped them for their sixth consecutive loss last night.
Andre Iguodala
stuffs the stat sheet every night (last night he delivered 21/8/7 with 5 steals and 3 blocks) but there's just not enough help right now.
Then again, if things were going well would anyone have even remotely entertained the idea of The Answer? Exactly.
Historic night
Remember last year when the Mavs went to Jersey in December and
Devin Harris
dropped 41 and 13 as The Nets rolled by 24? It'll be a pretty different vibe this year.
On Wednesday night, the Nets will be playing to avoid the worst start by any team in league history at 0-18. And the Mavs will be playing to not be
that
team -- you know, the one that lost to the Nets.
How bad are they? Heading into last night's loss to the Lakers, the Nets were averaging an NBA-low 85.6 points and shooting an also league-worst 40.3 percent from the field.
The good news is that
Brook Lopez
is really emerging as a nice inside presence going for 18 and 9 a night with 2.5 blocks for good measure. I also think
Chris Douglas-Roberts
and
Terrence Williams
have nice futures in the NBA. It just must seem so far off in the distant, distant future for those two dudes.
Both teams will put enormous pressure on themselves not to lose -- way more than normal. If the Mavs drop this one, it'll make the Golden State loss last week seem respectable by comparison.
Friday night BBQ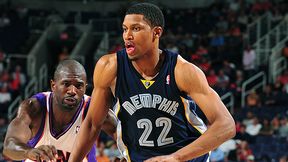 Barry Gossage/NBAE/Getty ImagesRudy Gay
The Mavs head to Memphis for the first time this season Friday night. They have no excuse to look past the Grizz towards Saturday night's game against Hotlanta considering they dropped both of their roadies at Memphis last year.
Memphis is actually a pretty salty offensive team with scoring machines
Rudy Gay
and
Zach Randolph
dropping a combined 40 a night. The problem is that both of those dudes hate playing defense like it was going to keep them from feeding their families. But that's a team-wide issue as well. Grizz opponents shoot a shade under 50 percent from the field, a shade under 40 percent from behind the arc, and score a shade under 107 a night.
Marc Gasol
and
O.J. Mayo
are outstanding young players.
Mike Conley
is still an enormous question mark and actually seems to be trending down. And surely I'm not the only one amused by the Grizz parting ways with A.I. only to replace him with
Jamaal Tinsley
. Now that's leadership. Good luck kids.
One of the elite?
Dallas and Atlanta came into this season in similar positions -- teams that were regarded as good but a tick or two below the so-called best teams in their conference. And while it's early, both teams have spent some time in first place in their respective conferences so far.
The Hawks are absolutely loaded with dudes who can stick the ball in the basket. Their only major difference at the top of their regular rotation of guys is that
Jamal Crawford
has replaced Flip Murray as designated bench scorer and he is second on the team in that department to Joe Johnson's 21.7 with 16.8 of his own.
They are extremely long and athletic along their frontline with
Marvin Williams
,
Josh Smith
and
Al Horford
-- which affords them the opportunity to competently "switch" screen situations on defense.
Assuming Josh isn't back by Saturday, Carlisle might lean towards giving
Quinton Ross
the start ahead of
Rodrigue Beaubois
so that Dallas can have the extra length in defending Johnson. Both teams will be on the second nights of a back-to-backs and both teams will be eager to throw down the gauntlet against a quality opponent. Get ready for a little Uptown Saturday Night action -– this is easily the best game of the week.