Dallas Mavericks:

Andrei Kirilenko
November, 12, 2012
11/12/12
2:30
PM CT
Tough break for people who bought tickets for this game.
Most of the marquee attractions will either be wearing a suit while sitting on the Mavs' bench or watching from their couch in Minnesota.
No
Dirk Nowitzki
or
Shawn Marion
for the Mavs. No
Kevin Love
or
Ricky Rubio
for the Timberwolves, who are also missing key contributors J.J. Barea and
Chase Budinger
.
But it's still a game featuring two teams with winning records, which could be considered a major surprise considering how heavily the Mavs and T-Wolves depend on their All-Star power forwards who have yet to play a minute this season.
The Mavs need a win to stay above .500 and to stop the bleeding after an 0-2 road trip. The Mavs are 3-0 at the American Airlines Center this season.
Records:
Mavs (4-3); Timberwolves (4-2)
When:
7:30 p.m.
Where:
American Airlines Center
TV:
FSSW
Radio:
ESPN Dallas 103.3 FM/1270 AM (Spanish)
What to watch:
If the Mavs get a chance, can they close against the Timberwolves? That's a huge question mark after the Mavs' debacle down the stretch allowed the Bobcats to beat Dallas for the first time in 17 tries. "We've got a long to learn about winning," coach Rick Carlisle said Saturday night. "This was a painful lesson."
Key matchup:
Jae Crowder
vs.
Andrei Kirilenko
-- Crowder, the rookie second-rounder filling in for Marion as a starter, is coming off a rough road trip. New York's
Carmelo Anthony
(31 points, seven rebounds) and Charlotte's
Michael Kidd-Gilchrist
(25 points, 12 rebounds) put up big numbers in wins over the Mavs. Crowder had a total of 11 points and four rebounds during the 0-2 trip. Kirilenko, the longtime member of the Jazz who played last season in his native Russia, is a versatile player who the Timberwolves need to step up as a scorer. He's an excellent rebounder for a small forward, averaging 7.7 per game this season, which could be especially troubling for the Mavs.
Injuries:
Mavs -- PF Dirk Nowitzki (knee) and F Shawn Marion (knee) are out. Timberwolves -- PF Kevin Love (hand), PG Ricky Rubio (knee), G J.J. Barea (foot) and F Chase Budinger (knee) are out. SG
Brandon Roy
(knee) is questionable.
Up next:
vs.
Washington Wizards
, 7:30 p.m. Wednesday
May, 15, 2012
5/15/12
11:49
AM CT
By
Jeff Caplan
| ESPNDallas.com
From now until the start of NBA free agency on July 1, there will be enough tea leaves to read regarding
Deron Williams
' future to build a tea-leaf bridge stretching from Dallas to Brooklyn to Moscow.
Moscow?
PODCAST
Mavs C Brendan Haywood discusses flopping and the foul called at the end of the Sixers-Celtics game, updates us on the latest with Deron Williams and more.

Listen

That's where the perennial All-Star point guard and his wife Amy are this week (and they tweeted their Ritz-Carlton room view of the Kremlin to prove it) after a brief stop in Turkey, where Williams played for Besiktas prior to the lockout. The couple was accompanied in Turkey by Nets owner/Russian billionaire Mikhail Prokhorov and Nets general manager Billy King, the
New York Post
reported.
While in Istanbul, Williams watched former Jazz teammate and Russian native
Andrei Kirilenko
-- who has a relationship with Prokhorov -- suffer a devastating last-second defeat playing for CSKA Moscow in the Euroleague title game. Now it appears that Kirilenko and his wife, Masha, are playing host to the Williamses in their home country.
According to Nets Daily, Masha Kirilenko said last week that the two couples would be going to Russia together.
Tea leaves anyone?
"Last I heard he was partying overseas with Nets management, with Prokhorov and them," Mavs center
Brendan Haywood
said of Williams on Tuesday morning during an appearance on ESPN Dallas 103.3 FM's Ben & Skin Show. "If he's leaning towards Dallas, he's got a funny way of showing it. So we don't know what D-Will's doing. I think that's the million-dollar question everybody wants to know. I don't even know if he knows right now. He has a very interesting summer ahead of him."
So is Kirilenko on the Nets' radar as part of a plan to keep Williams? King recently denied reports that the team is close to agreeing on a deal for Kirilenko. King's main purpose for being in Turkey was to watch Nets 2011 second-round draft pick Bojan Bogdanovic, who plays in the Turkish League.
The Nets will surely spin the Williams couple's European vacation as a positive sign as Brooklyn desperately attempts to keep the North Texas native. The Mavs will be desperate to woo Williams back home -- he grew up in the Dallas suburb The Colony -- to pair with
Dirk Nowitzki
after owner Mark Cuban dismantled the title team to create cap space to make a run at a prized free agent such as Williams.
We'll see where the tea leaves -- and Williams and his wife -- land next.
March, 27, 2011
3/27/11
12:38
AM CT
By
Jeff Caplan
| ESPNDallas.com
SALT LAKE CITY --
Dallas Mavericks
coach Rick Carlisle called Saturday's 94-77 win against a depleted
Utah Jazz
team that led 70-68 with 6:21 to play a "great game."
In this case, great is relative.
"I felt like we were watching the NCAA tournament. At the end of the third quarter, it was 60-58," forward
Shawn Marion
said. "I was like, 'Whoa.' But, at least we hit 90."
But even Marion went on to say that it was a great win and a great way to start a six-game road trip that continues Sunday night at the
Phoenix Suns
.
"I thought we looked good. Besides the turnovers, we did good," Marion said. "It was a halfcourt game. It was a grind. It was a possession game throughout the whole time until we got that last six-minute stretch and we just opened it up. We did what we had to do to get the win."
The Mavs finally looked like a team serious about starting the playoffs in three weeks with a whirlwind final 6:21. It took shape with a lineup that may not have played together all season, and might never hit the floor together in a playoff game. Yet the three-guard lineup of
Jason Kidd
,
Jason Terry
,
J.J. Barea
, plus Marion and
Tyson Chandler
, finally fuel-injected the Mavs, who weren't thrilled by being pushed at home by the
Minnesota Timberwolves
just two nights earlier.
Playoff ready? Well, Carlisle and the Mavs, who are 6-5 in their last 11 games with three straight wins over lottery-bound teams, touted Saturday's game as a playoff-type slog -- physical, grinding and tight -- that they can carry forward.
"This is what we need," Carlisle said. "I mean this is a playoff-style game and very emotional. It's all about hanging in there."
If the 26-7 finishing kick is what Carlisle had in mind when he preached the importance of persistence heading into this season-long road trip, then chalk this one up as a momentous step forward. And maybe it will be a springboard to better basketball for a team trying to re-discover its edge and identity as the playoffs creep closer.
But it certainly wasn't pretty. There were 19 more turnovers -- five in the first half on offensive fouls -- that Utah only managed to turn into 12 points. The good news is only seven came in the second half when the Mavs played better defense, held the Jazz to 30 points and 30.8 percent shooting.
The pessimist will point out that the Jazz started a lineup of
Earl Watson
,
Raja Bell
,
C.J. Miles
,
Paul Millsap
and
Al Jefferson
.
Devin Harris
and
Andrei Kirilenko
were out with injuries as Utah fell for a fifth consecutive time and dropped their 17th home game at what was once one of the most intimidating venues in the NBA.
The Mavs again could not seize a lead and continually fell behind against an undermanned opponent, and managed just 15 points in a brutal third quarter in which the Jazz scored only 13. Both teams combined for 10 field goals and nine turnovers.
The optimist will point out that the Mavs (51-21) found a way to win when they didn't have it going offensively much of the night. Dallas won for only the 12th time this season when scoring less than 100 points (12-27). The Mavs hadn't held a single opponent under 80 points all season and now have done it twice in the last three games (holding Golden State to 73 points a week ago). And, it is the first time in franchise history to sweep a four-game season series from the Jazz. Energy Solutions Arena has been a house of horrors in the past.
"Tonight the level of intensity was like the playoffs, but as far us just getting out and getting a good lead on them, it wasn't happening for us, so that was kind of frustrating," said Jason Terry, who had a game-high 22 points on just seven shots. "But, there in the fourth quarter we locked in on both ends of the floor and did what we had to do to get the win."
Against better teams it might have been too late to salvage. For now, the Mavs have a game at Phoenix, an off-day Monday and a practice Tuesday in the desert, then a game at the
Los Angeles Clippers
on Wednesday to straighten out issues before another huge test against
Los Angeles Lakers
on Thursday. Again, that game could ultimately give the Lakers the No. 2 seed, or put Dallas on the brink of taking it back.
But before then, the fact of the matter is Dallas is finally fully healthy and just now working in another new lineup with Marion starting and
Peja Stojakovic
coming off the bench.
Rodrigue Beaubois
continues to try to find a comfort level and Carlisle is searching for stability with the rotation and roles.
That was blown out of the water early because of foul trouble to multiple players.
"We've got 10 games left and we've got to work through that," Kidd said. "But, we're a veteran ballclub and we understand that, again, we put ourselves in that position [against the Jazz] by turning the ball over. But, once we took care of the ball and got shots, we started to push forward and got a little breathing room."
The only problem is it took 41 1/2 minutes to do it.
March, 26, 2011
3/26/11
11:59
AM CT
By
Jeff Caplan
| ESPNDallas.com
SALT LAKE CITY -- Well, the
Dallas Mavericks
should be able to start off this six-game road trip with a pretty easy go of things in Utah.
OK, nothing for the Mavs seems to come easily, but not only will they be facing a
Utah Jazz
team in total disarray, but point guard
Devin Harris
(right hamstring strain) and forward
Andrei Kirilenko
(bruised left knee) will not play tonight, according to the
Salt Lake Tribune
. They join center
Mehmet Okur
, who is out for the season, in street clothes.
The Jazz will start
Earl Watson
,
Raja Bell
,
C.J. Miles
,
Paul Millsap
, and
Al Jefferson
.
So a team with no Jerry Sloan on the bench and no
Deron Williams
providing the point-guard punch, shouldn't provide much resistance even on their once-formidable home court. The Jazz (36-37) are incredibly just 20-16 at home this season.
December, 3, 2010
12/03/10
9:44
AM CT
By
Jeff Caplan
| ESPNDallas.com
The
Utah Jazz
have undergone some changes.
Carlos Boozer
and
Kyle Korver
defected to Chicago. But, in came big
Al Jefferson
and veteran agitator
Raja Bell
, and the Jazz might be better than ever.
With arguably the league's best point guard,
Deron Williams
, running the show, the Jazz are off to a 15-5 start, have won seven in a row and are always one of the most difficult road games for the
Dallas Mavericks
to leave a winner.
Also riding a seven-game win streak, the Mavs (14-4) will shoot for their first win at Utah in six games tonight in what should be an action-packed showdown at 9:30 p.m. (ESPN). Utah has won four straight at home. The Mavs are 6-1 on the road.
"They're winning games and we are, too," Mavs forward
Caron Butler
said, "so it should be a good one."
Utah has won 10 of the last 13 over Dallas at home and have had a habit of breaking out to fast starts, working their crowd into a lather while putting the Mavs on their heels. And, of course, strange things seem to happen in Utah. In successive years,
Dirk Nowitzki
left Salt Lake City with a one-game suspension. In 2007, a rough takedown of
Andrei Kirilenko
under the basket got Nowitzki suspended, but not ejected. The next season, an incident with
Matt Harpring
got him ejected and suspended.
Harpring no longer plays for the Jazz, but the always antagonistic Kirilenko does, although his new-look, long, stringy hairy makes him difficult to recognize.
'"They're always one of the best teams in the West, obviously well-coached," Nowitzki said. "They always play hard there, their fans are great, so it's definitely a great test for us. But, if we can just keep doing what we're doing we should be all right. If we defend well, get the rebounds and then spread the ball around, let everybody touch it, let everybody score, we're a tough team to beat."
The Mavs had serious interest during the offseason in dealing for the 6-foot-10 Jefferson, but the
Minnesota Timberwolves
preferred the Jazz's offer that included no salary dumps. The Mavs were determined to ship
Matt Carroll
and his overpriced salary in any trade. So Jefferson is with the Jazz and is averaging 16.8 points and 8.7 rebounds. He and
Paul Millsap
(18.4, 8.5) form a tough-to-handle combo at the 4-5 positions.
Dallas ended up trading Carroll's salary and
Erick Dampier
to
Charlotte
for 7-foot-1 center
Tyson Chandler
, and the Mavs are pretty happy with how that's worked out.
The Jazz make their first visit to Dallas in eight days, but in this first of four meetings, the Mavs are expecting a Jazz team to be at their high-energy, agitating best.
"They make you play on every single possession and in many cases they make you play 22, 23 seconds," Mavs coach Rick Carlisle said. "You can never relax against this team."
June, 1, 2010
6/01/10
5:03
PM CT
By
Jeff "Skin" Wade
| ESPNDallas.com
For Part IV of our fantasy GM offseason series, we go the route of the Mavericks knowing for certain that
Erick Dampier
's non-guaranteed contract will not aid them in netting one of the big-name free agents via a sign-and-trade maneuver. Would Dallas feel compelled to try and squeeze some value out of that contract even if it meant taking on an overpaid player for one season just to get a late lottery pick?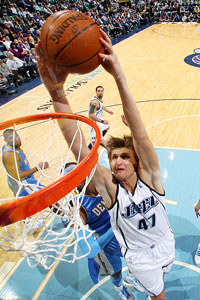 Melissa Majchrzak/NBAE/Getty ImagesUtah's Andrei Kirilenko is owed $17.8 million in the final year of his contract.
The Basics:
This one is worthy of some lively debate, even if Mav fans would be disappointed that Damp brings back no immediate dividends. Could Mark Cuban stomach
Andrei Kirilenko
's massive contract for one season? The Mavericks would look to take on a contract that prohibits the Jazz from signing their own free agents in exchange for a youth injection from the draft and a little long-term financial flexibility. Some would say it's a waste of Dampier's contract, but if there are no other options I think I like the idea. I think.
The How:
The play would be Damp's contract,
Shawn Marion
(Owed $7.3 million next season/$33 million over the next four) and Dallas' 2011 first-round pick for Kirilenko (owed $17.8 million in his final year) and the No. 9 pick in this year's draft. The tricky part of this deal is when it would happen. Unless agents are giving up the goods before they're supposed to, Dallas wouldn't know it's not in play for a big free agent until after the draft. This is only valid if Utah were to draft a guy at No. 9 that Dallas coveted. But we all agree that Dallas needs blue-chip youth, so for the sake of conversation we'll assume Dallas likes the guy Utah has drafted.
The Why:
For Utah it's obvious: The Jazz are at $60 million in payroll before they even consider resigning
Carlos Boozer
,
Kyle Korver
or
Wes Matthews
-- three major playoff contributors while Kirilenko looked on, hurt. This move would take Utah down around $50 million in salary and afford them the opportunity to either sign all three or keep Matthews and Korver while entertaining some sign-and-trade possibilities with Boozer that entailed them getting lower-salaried players who could help. The Jazz would hate the length of Marion's contract, but it would give them the current flexibility to not take a huge step back in talent. Marion's and Kirilenko's stats are a wash and they're the same type of player, but Marion is three years older where Kirilenko stays hurt. For the Mavs, they take a financial hit this year to add some youth and not have to worry about Marion's productivity three years from now.
The Bottom Line:
It's not splashy and I'm sure Mav fans have much bigger dreams for Damp's contract as a trade asset, but in my estimation it beats the alternative of simply releasing him if all other options fail. Dallas would still have over $30 million in 2011 expirings and the possibility of an Avery Bradley, Al-Farouq Aminu or (knowing Utah) Cole Aldrich. For Utah, I'd say losing Boozer and Korver is a pretty major step backwards. Maybe whomever they draft at No. 9 is a good enough replacement. I doubt it. Or maybe Rip Hamilton and the No. 7 pick for Big Damp is more your cup of tea. Surely the Pistons wouldn't give you a lottery pick just to escape Rip's deal, would they? Or maybe you do the Utah deal and also the Detroit deal with
Caron Butler
replacing Damp in the Detroit scenario? What just happened? Did we just net Dallas two lottery picks and an aging two-guard with a bad contract? Is it possible to get older and younger at the same time? Freelance fantasy wheeling and dealing is intoxicating. I feel like Nellie.