Dallas Mavericks:

Anthony Randolph
August, 20, 2012
8/20/12
12:01
AM CT
By
Jeff Caplan
| ESPNDallas.com
First in a series looking at the five teams ahead of the Dallas Mavericks in our early 2012-13 Western Conference rankings and how the revamped Mavs match up.
No. 5 Denver Nuggets
George Karl's group plays it fast and loose and likes to have fun -- and Karl is having more fun ever since the exits of
Carmelo Anthony
and
J.R. Smith
. The Nuggets showed it in a steamroller performance on Dec. 26, the second game of the season, with a 115-93 whiplashing of the Mavs. Of course, the Nuggets weren't as good as that game might have suggested and the Mavs weren't as bad. Dallas took the next three meetings with both teams missing various key players in each game. Much has changed since their last meeting on March 19 starting with center
JaVale McGee
's arrival and
Nene
's departure a few days earlier -- although the sometimes comically erratic McGee didn't play in that series finale against Dallas -- as both squads bring new looks into the 2012-13 season.
[+] Enlarge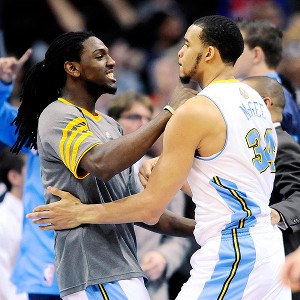 Ron Chenoy/US PresswireLast season's addition of JaVale McGee, right, gives Denver a long and versatile frontcourt.
Last season's results (Mavs won 3-1)
Nuggets 115, @Mavs 93
Mavs 105, @Nuggets 95
@Mavs 102, Nuggets 84
Mavs 112, @Nuggets 95
This season's games
Dec. 28: @Nuggets
April 4: vs. Nuggets
April 12: vs. Nuggets
What's changed?
The Nuggets had a deep roster dotted with impressive players last season, but boasted not an All-Star among them. That changed last week with the four-team blockbuster
Dwight Howard
deal that sent longtime 76ers wing
Andre Iguodala
to Denver with the Nuggets sending shooting guard
Arron Afflalo
and reserve forward
Al Harrington
to Orlando. Iguodala, a 2012 All-Star and member of gold-medal winning Team USA, will share the backcourt with speedster point guard
Ty Lawson
and he'll bring a missing defensive mentality that can only help the league's top scoring team last season that finished 29th in scoring defense. A long and versatile frontcourt includes
Danilo Gallinari
,
Wilson Chandler
,
Kenneth Faried
and the 7-foot McGee. Denver also made a nice pickup with 6-11 Dallas native
Anthony Randolph
to add to a solid bench that includes ever-steady point guard
Andre Miller
, Chandler -- if Karl chooses to make him the sixth man --
Corey Brewer
and a couple of 7-footers in
Timofey Mozgov
and
Kosta Koufos
.
How the Mavs match up
New Mavs point guard
Darren Collison
, a 6-foot, 180-pound blur, certainly gives the Mavs more backcourt speed than ever before to stick with the shifty 5-foot-11 Lawson. That should come as music to the ears of small forward
Shawn Marion
, who too many times last season was asked to take the opposing point guard because
Jason Kidd
and
Vince Carter
simply couldn't. Marion won't be singing long now that Iguodala gives the Nuggets a formidable trio at the wing with Gallinari and Chandler now potentially popping off the bench. This type of squad could be a situation in which Mavs rookie forward
Jae Crowder
becomes a valuable addition as a strong, 6-6 wing defender to assist Marion. Shooting guard
Dahntay Jones
also gives Dallas another defensive option on the perimeter it didn't have last season. Iguodala really helps the Nuggets' defensive situation. Against the Mavs he'll be able to stick
O.J. Mayo
, who the Mavs hope will emerge as the second scorer behind
Dirk Nowitzki
. Denver still has no answer for Dirk, not that many teams do. Last season against the Nuggets, Nowitzki averaged 22.5 points in 29.3 minutes and shot 53.8 percent from the floor, well above his season average of 45.7 percent.
July, 27, 2012
7/27/12
12:30
PM CT
By
Jeff Caplan
| ESPNDallas.com
Deron Williams
was the obvious headliner among Dallas-area products who could potentially come home and play for the
Dallas Mavericks
next season.
Williams, the three-time All-Star who starred at The Colony High School, chose to remain with the
Brooklyn Nets
. Still, three other local lads also hit free agency on July 1, plus one former Mavs forward. All remain on the market.
Unfortunately for them, the Mavs have filled their 15-man roster.
Mavs coach Rick Carlisle had dinner in New York on July 1 with Skyline High star and
Utah Jazz
shooting guard
C.J. Miles
, who is just 25 years old. Dallas showed initial interest in
Minnesota Timberwolves
big man and Woodrow Wilson product
Anthony Randolph
, just 23. And the elder statesman of the Dallas group, power forward and Bryan Adams product
Kenyon Martin
, is still looking for work at 34.
Josh Howard
, drafted by the Mavs with the 29th pick in 2003, is also still without a team. He played last season with the Jazz.
July, 10, 2012
7/10/12
11:30
AM CT
By
Jeff Caplan
| ESPNDallas.com
After a big-money flurry during free agency's first week, things have slowed down considerably in week two, and those players still left on the market might be looking at lesser deals they didn't think they'd have to take.
With the coming crunch of the new tax penalty, teams are becoming increasingly wary of handing out multiyear contracts. As
Dallas Mavericks
fan have quickly come to realize, the local plan is to sign up players preferably on one-year deals. Dallas might be able to hand out a higher salary for the one year than a player might be able to make in the first year of a multiyear deal with another team, then setting the player up to become a free agent again in 2013.
That's the type of decision with which a player such as point guard
Ramon Sessions
is likely to grapple. He wants to start, and the security of a multiyear was initially high on his priority list. The Mavs can offer a starting job, but not the security.
Over the last few days, some players have been taken off the board and others added.
Here's a look at five players at each position who remain on the board. Some are realistic options for the Mavs and some might not be. Dallas, still with just seven players under contract -- plus three draft picks -- needs reinforcements just about everywhere.
Point guard
Ramon Sessions
Raymond Felton
Randy Foye
Leandro Barbosa
C.J. Watson
Shooting guard
Lou Williams
O.J. Mayo
C.J. Miles
Courtney Lee
Marco Belinelli
Small forward
Josh Howard
Sam Young
Anthony Tolliver
Donte Green
Matt Barnes
Power forward
Kenyon Martin
Carl Landry
Anthony Randolph
Jordan Hill
Ronny Turiaf
Center
Chris Kaman
Mehmet Okur
Daniel Orton
Nazr Mohammed
Tony Battie
July, 6, 2012
7/06/12
11:40
AM CT
By
Jeff Caplan
| ESPNDallas.com
The offseason plan
Dallas Mavericks
fans never envisioned has arrived with a thud.

The grand plan had its merits. Owner Mark Cuban saw the new collective bargaining agreement coming, understanding that significantly harsher tax penalties and more restrictive rules for luxury violators that void sign-and-trades and devalue exceptions would be the law of the land.
Cuban strategically organized his payroll to create cap space for this summer and beyond, the weapon needed to chase elite-level free agents like
Deron Williams
.
But what happens when the All-Star free-agent says no?
Mavs fans are finding out, and it isn't pretty. How can you not call the current state rebuilding? Meanwhile, around the league, money is being thrown around as if a bitter lockout never happened. Will the Nets, Knicks and Lakers get caught in an inflexible financial pickle in three or four years while the cautious Mavs have the last laugh?
Maybe. But Plan A was to land that star now to chase another title in the latter portion of
Dirk Nowitzki
's prime.
PODCAST
TNT NBA analyst Steve Kerr shares his thoughts on the Mavericks losing out on top free agents. Plus, Kerr says Steve Nash is the hardest-working player he's ever seen.

Listen

So what now?
Cuban is determined to keep cap space open for next summer when
Chris Paul
and
Dwight Howard
potentially hit the market. It's why he refused to engage in a bidding war for a player such as
Goran Dragic
, who signed a four-year, $34 million deal with Phoenix. Still, there are no guarantees that CP3 and D12 will ever reach free agency in '13. When Cuban decided not to re-sign
Tyson Chandler
after the 2011 title to pursue a star this summer, Paul and Howard were set to join Williams as free agents now.
Free agency now becomes a pursuit of young talent on the cheap, players the Mavs can sign for one season, maybe two depending on price, with an eye on next summer.
Dallas has interest in point guard
Ramon Sessions
, shooting guard and Dallas native
C.J. Miles
and small forward
Anthony Randolph
, among others. They have four of their own free agents still unsigned in
Delonte West
, who figures to be a strong candidate to return unless he gets the security of more years elsewhere, backup center
Ian Mahinmi
,
Brian Cardinal
and
Yi Jianlian
.
The Mavs have interest in claiming Philadelphia forward
Elton Brand
through the amnesty waiver process, according to ESPN.com's Marc Stein. Teams under the salary cap will have first shot to bid for Brand. The Sixers can't officially amnesty him until next Wednesday when the NBA resumes business operations.
It is indeed a new day for the Dallas Mavericks.
July, 1, 2012
7/01/12
1:47
AM CT
By
Jeff Caplan
| ESPNDallas.com
Seeking out young, athletic talent, the
Dallas Mavericks
are showing interest in local product
Anthony Randolph
, a source with knowledge of the situation confirmed.
Randolph, who turns 23 on July 15, did not receive a qualifying offer from the
Minnesota Timberwolves
, making him an unrestricted free agent. The former Woodrow Wilson High School standout in Dallas played sporadically for Minnesota last season after averaging 11.7 points and 5.2 rebounds in 34 games after coming over in a trade from the
New York Knicks
the previous season.
The 6-foot-10, 205-pound Randolph was the 14th overall pick in 2008 draft by the
Golden State Warriors
and will be heading to his fourth team in five years.
He averaged just 7.4 points and 3.6 rebounds in 34 games last season with the Wolves. He earned $2.9 million.
At least one report has surfaced that stated the Mavs may also have interest in Randolph's former Minnesota teammate,
Michael Beasley
, who also became an unrestricted free agent after not getting a qualifying offer.
June, 8, 2010
6/08/10
3:38
PM CT
By
Jeff "Skin" Wade
| ESPNDallas.com
For Part V of our fantasy offseason series, we continue with the philosophy that Dallas will have to utilize Erick Dampier's non-guaranteed contract trade asset for something other than a superstar in a sign-and-trade.
In Week One,
we rolled out the thought process of using
Brendan Haywood
as a sign-and-trade asset himself as opposed to the team's primary center. We'll continue with that theme and look at a replacement. Target:
Andris Biedrins
.
[+] Enlarge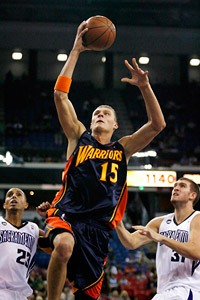 Cary Edmondson/US PresswireAndris Biedrins is one season removed from averaging 11 and 11 at the age of 23, and the Mavs could surely use his lively body along their front line as they try to add youth to this team.
The Basics:
There's plenty to like about Biedrins. He's a young guy (24) who goes hard. He's a big time rebounder, averaging 8 per 24 minutes for his career. He's not polished offensively by any means, but he knows his limitations as evidenced by his career 60 percent shooting clip. There are also some red flags. He's missed 69 games the last two seasons and he'll be paid a healthy $9 million a year for the next four seasons. And he finds himself in foul trouble frequently (3.4 per 24 minutes for his career). But he's one season removed from averaging 11 and 11 at the age of 23, and the Mavs could surely use his lively body along their front line as they try to add youth to this team.
The How:
This would be a straight salary dump move for the
Golden State Warriors
, so the Mavericks would have to ask for a little salary relief as well. Dallas would send Dampier and
Matt Carroll
(owed $4.3 million next season and $7.4 million for the next two seasons after that) plus some cash for Biedrins and
Vladimir Radmanovic
(one year remaining at $6.9 million).
The Why:
For Dallas this would be about getting a lively young frontline player with good size (6-11/240 lbs) that's had some success in the league. Dallas would still bring back Damp at minimal money to have a rotation of bigs. And it'd allow them to utilize Haywood in a sign-and-trade.
Golden State was rumored to want to move Biedrins at the trade deadline last February to get out from underneath his big contract. If they don't get a good young big at #6 in the draft in a few weeks, they're supposedly interested in flipping
Anthony Randolph
for
Kevin Love
. If the Mavericks could talk Golden State into Carroll's inclusion (the deal could be done without him from a salary cap standpoint) and giving them the cash to ease the burden for this upcoming season, then the Warriors would still save close to $11.5 million for next season. For a team pushing closer to new ownership, that's a tidy sum to spend. They could use it to keep their good young players like
Anthony Morrow
or
C.J. Watson
or it could be utilized in another trade or in pursuit of other free agents on the market.
The Bottom Line:
Again, this certainly isn't as exciting as acquiring a premiere free agent through sign-and-trade means, but Dallas would improve their roster while still maintaining the flexibility to make other moves with Haywood as S&T bait and approximately $24 million in expiring deals for 2011. It's more realistic than the wonderful dream of the superstar. But is it enough to keep Mavs fans optimistic about the future?