Dallas Mavericks:

Barack Obama
June, 19, 2013
6/19/13
3:35
PM CT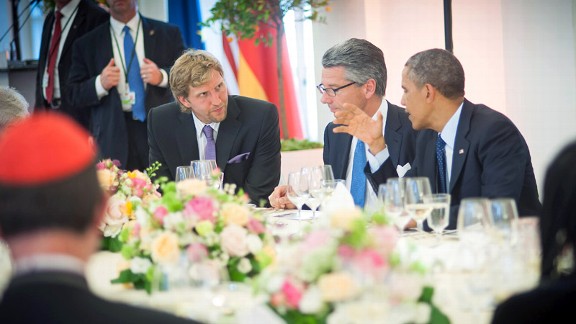 Guido Bergmann/Bundesregierung/Getty ImagesU.S. President Barack Obama talks with Dallas Mavericks star Dirk Nowitzki and president of the Federation of German Industries Ulrich Grillo (center) at the beginning of a dinner in Berlin on Wednesday.
Dirk Nowitzki
celebrated his 35th birthday in Berlin by dining with President Barack Obama, First Lady Michelle Obama and German Chancellor Angela Merkel.
Obama was in Berlin to make a speech at Brandenberg Gate. Afterward, he sat down to dinner with Nowitzki and several German dignitaries.
It isn't the first time Nowitzki and Obama have met. They got to know each other a bit during the Mavericks' trip to the White House after winning the 2011 NBA title.
January, 9, 2012
1/09/12
11:49
AM CT
By
Jeff Caplan
| ESPNDallas.com
With the returning members of the
Dallas Mavericks
smiling behind him and owner Mark Cuban to his left, President Barack Obama paid full credit to Cuban for making the traditional White House trip for the reigning champions happen.
PODCAST
President Barack Obama congratulates the Dallas Mavericks on the franchise's first NBA Championship.

Listen

"Not only did Mark help to put together an outstanding group of players and coaches, he was also responsible for making this event happen today. So we are thrilled to have you guys here," Obama said during Monday's ceremony. "It turns out that because of the lockout, Dallas wasn't scheduled to play in Washington this season. That did not sit well with Mark. He knew his team had worked hard. He wanted them to get all the perks of a world championship, including a visit to the White House.
"It is tough to say no to Mark Cuban. And so they made a separate trip and he we are. And I'm glad it worked out because this is a special group."
Last week, Cuban, who Obama jokingly called the "shy and retiring owner of the Dallas Mavericks," said he was irked when the NBA released its 66-game schedule and did not have the Mavs playing at the Wizards, which would have been the ideal time to work out scheduling for the team to visit the White House. Ironically, the Wizards will play in Dallas in March.
Cuban said he then had team CEO Terdema Ussery call the White House to work out an alternative.
Cuban said the White House came up with today as the day and the rest is history. But, then the NBA league office jumped in to say that it had actually discovered that Obama had availability today, and that it took the lead in the scheduling.
Not that it really matters in the end, but Obama certainly made it a point to recognize Cuban's efforts to get the champs to the White House.
January, 8, 2012
1/08/12
3:59
PM CT
By
Jeff Caplan
| ESPNDallas.com
DALLAS -- A lower back injury might keep
Jason Kidd
from playing on the upcoming two-game road trip, but it won't keep him from making Monday's trip to the White House with the NBA champion
Dallas Mavericks
.
Kidd was on the practice floor Sunday, but only watched as he continues to rehab a back injury sustained Thursday night that he termed as back spasms. He said the injury occurred as he battled
San Antonio Spurs
center
DeJuan Blair
for position to corral a rebound. Kidd was waking stiffly and said he hopes to be ready for Friday's game when the Mavs return home to play the
Milwaukee Bucks
. Kidd will return to Dallas after the White House visit while the team heads to Detroit.
The Mavs left for Washington D.C. following Sunday's practice and have a late Monday morning tour scheduled at the White House followed by a visit with President Barack Obama.
The NBA did not schedule the Mavs to play at the Washington Wizards. The White House carved out availability Monday, before the team plays at Detroit on Tuesday and at Boston on Wednesday, to honor the Mavs as champions, an American sports tradition that dates back more than 100 years.
Delonte West
, signed by the Mavs prior to this season, will not be able to join the team because of a criminal record that did not pass the White House's background check, the Mavs confirmed Sunday. In 2009, West was arrested after being pulled over riding a three-wheel motorcycle. Police found three guns stashed in a guitar case he was carrying. He later pleaded guilty to weapons and traffic charges.
West, who is from the D.C. area, will visit his home, which is located near the White House. The rest of the team will make the trip, including the nine remaining players from the title team. The six players that did not return, will not be present.
On the court, West has arguably been the most consistent player among the team's three key newcomers that include
Lamar Odom
and
Vince Carter
.
Brought in to back up Kidd at point guard, West moved into the starting lineup at shooting guard in the second game of the season.
Coach Rick Carlisle praised West's work, calling him the team's best defender. West is averaging 8.0 points and 3.1 assists in nine games.
October, 18, 2011
10/18/11
10:00
AM CT
As part of AskMen.com's sixth annual survey to pinpoint the most influential men in the world, Mavericks forward
Dirk Nowitzki
is the only NBA player to make the 49-man list.
The web site's Top 49 Most Influential Men of 2011 has Nowitzki at No. 39, with Mavs owner Mark Cuban at No. 32. More than 200,000 readers voted in this year's poll, which did not include Lakers star
Kobe Bryant
after Bryant ranked No. 45 in 2010.
Apple founder Steve Jobs, who died earlier this month, tops the list after a monthlong voting process that began in early September. Actor George Clooney is the only man to be named to the top 49 in all six years of the pool.
Other sports figures include Barcelona soccer star
Lionel Messi
(No. 10), Barcelona manager Pep Guardiola (No. 18), tennis champion
Novak Djokovic
(No. 19), UFC president Dana White (No. 38), New England Patriots quarterback Tom Brady (No. 42), golfer
Rory McIlroy
(No. 45) and Oscar Pistorius, who placed No. 48 as a runner competing internationally with two prosthetic legs.
President Barack Obama placed 21st.
June, 14, 2011
6/14/11
1:56
PM CT
President Barack Obama, making the first appearance by a U.S. president in Puerto Rico since 1961, took time during his speech Tuesday to single out Dallas Mavericks guard J.J. Barea, a native of the U.S. commonwealth.

"That guy can play," President Obama said.

Barea averaged 8.9 points during the postseason, and torched the Miami Heat in Games 5 and 6 of the NBA Finals for 32 combined points.