Dallas Mavericks:

Baron Davis
March, 7, 2012
3/07/12
11:00
AM CT
By
Jeff Caplan
| ESPNDallas.com
Our weekly look at the Mavericks' young players:
DALLAS -- The flashes came fast and bright once again.
Rodrigue Beaubois
streaking to the basket. Rodrigue Beaubois splashing 3s. Rodrigue Beaubois scoring with ease.
Linsanity slammed on the brakes as Roddy B stole the show Tuesday night in just 20 minutes of high-speed action. It was exactly the jolt the Mavericks needed during this physically grueling, mentally grinding stretch of nine games in 12 days that has produced a lopsided ledger of losses. Dallas needs Beaubois to be an impact player at the point guard position now more than ever with
Delonte West
sitting on the sideline with a healing right ring finger.
"I told him before the game I thought he was going to have a good game," Jason Kidd said. "I thought he was going to score 24; that was my prediction for him to be aggressive. He started off great and, again, he got to the basket. I told him he's got to make free throws."
Beaubois got to the free throw line a season-best six times in the 95-85 win. He tied his season-high with four points at the free throw line. He had 18 overall on 6-of-11 shooting. He made his first 3-pointer moments after checking in late in the first quarter, but then went 1-of-5 from beyond the arc, probably putting up too many deep balls when he was having so much success driving, especially when matched up against
Baron Davis
.
"As a point guard, if you're going to have the ball 90 percent of the time, for your growth you have to be able to accept when to take shots and when not to and so he's going through that," Kidd said. "We need him to be aggressive like he has been and just understanding that you can't play with the ball dribbling-wise, you've got to be aggressive. He's the fastest player out there and he has to use that tool. If he doesn't he might as well sit down."
He did just that early in the fourth quarter Tuesday when coach Rick Carlisle lost patience with Beaubois after a momentarily lapse of concentration. After a near turnover, Carlisle yelled at Beaubois to wake up. Then Beaubois got tied up in the lane, got into a jump ball, which he lost and the Knicks scored at the other end as part of their 15-0 burst to start the fourth quarter.
Carlisle called for Kidd to get back in the game around the nine-minute mark, earlier than he wanted, which took Kidd's minutes a littler higher than Carlisle likes, at 32.
"We couldn't have won without him. He was the second-leading scorer, but again, he's out there and a lot of things are happening," Carlisle said. "He had some situations where he was a little casual with the ball and all of a sudden he's in the middle of everything and it's part of the learning thing when you play the point position. Obviously we need him and he's responded well when he's had situations where he's had these dynamic learning opportunities develop, for lack of a negative term."
And ultimately that's a positive.
March, 30, 2011
3/30/11
1:51
PM CT
LOS ANGELES – The most memorable moment from the last Clippers-Mavs meeting was a heated argument between
Baron Davis
and Rick Carlisle that featured the classic line, "Go have some lunch!"
Those two won't go another round tonight, as Davis was shipped to Cleveland before the trade deadline. But it's a pretty good bet that the instigator of that scene will get under somebody's skin again.
That would be J.J. Barea, who ruffled Davis' feathers by drawing an offensive foul near midcourt. As Barea often does, he made sure the referee noticed Davis' push-off, reacting in animated fashion by flailing his arms and falling back.
"They think they're bigger than me, so they really push off and I take advantage," Barea said. "And I make sure the officials see it. Sometimes I scream, sometimes I look at them in the eye when I'm falling back. It works out."
It's worked out for 46 offensive fouls drawn this season, which ranks Barea fourth in the NBA in that category. He finished in the top five each of the last two seasons, too.
He's just one of the NBA's best pests.
Unlike most offensive fouls, the ones drawn by Barea are usually pain-free, although he has taken a few elbows upside the head. The vast majority of the calls are made because opposing point guards push him away like he's an annoying little brother.
"He gets in position, and for whatever reason, because he's a little bit smaller guy, guys tend to shove him off," coach Rick Carlisle said. "When they do that, that's a foul. He does a good job of being in position to take it.
"So often, they're momentum-changing plays or game-defining plays. They're generally big plays when they happen."
January, 26, 2011
1/26/11
10:33
AM CT
By
Jeff Caplan
| ESPNDallas.com
DALLAS -- There's no more scrutinized a player on the
Dallas Mavericks
than sub-6-foot point guard
J.J. Barea
, and
Jason Terry
nailed why.
"You look at him and I've got guys challenging J.J., from family and friends to guys at the YMCA at the rec," Terry said after Barea lit up the
Los Angeles Clippers
and
Baron Davis
for 25 points, second only to Terry's 28 in Tuesday's 112-105 victory. "They want to take his spot. But ain't nobody taking his spot. He's one of the toughest players on the team."
Perception is not reality in the case of Barea. Line him up at the Y with a bunch of guys on lunch break and Barea might get passed up when picking sides. But, whatever. Tuesday he picked up where he left off in the fourth quarter in New Jersey where he hit two big 3-pointers and again providing the energy boost that was otherwise lacking.
Against the Clippers, the Mavs' starters got down 21-10. Barea had 14 points in the second quarter and 18 at halftime, blowing by Davis on penetrations and knocking down 3-pointers. Because of it the Mavs were quite fortunate to trail by just eight at halftime.
"We started really slow and I remember saying we, the bench, needed to come out with a lot of energy," Barea said. "I just went out there, coach put me in a little bit earlier, and I just played with energy and things were opening up for me. My big guys were setting great screens all night."
And then there's Barea's pesky defense that triggered a frustrated Davis forearm/elbow into Barea's chest. Barea took full advantage and thrust his body to the floor. The incident sparked a stare-down and cuss-out between Davis and Mavs coach Rick Carlisle. It was nothing new for Barea, who has been at the top of the league rankings in drawing charges all season.
No doubt he leads the league in forearm/elbow shoves to the chest. Why? Because bigger, taller, stronger opponents think Barea should be playing pickup games at the Y, and then he annoys the heck out of them.
"No question," Barea said of drawing an inordinate amount of forearm/elbow shoves to the chest. "But, that's my job. That's my forte on defense. I like to stay in front and make bigger guys push off."
January, 25, 2011
1/25/11
11:43
PM CT
DALLAS -- Mavericks coach Rick Carlisle felt no need for elaboration or explanation after his exchange of expletives and dagger stares with
Baron Davis
.
"I'm not going to talk about that," Carlisle said after the Mavs' emotionally charged 112-105 win over the Clippers. "It was … whatever."
J.J. Barea had another word to describe the incident that resulted in double technical fouls: "Awesome."
It began when the pesky Barea baited Davis into an offensive foul near midcourt with 8:40 remaining in the fourth quarter and momentum firmly in the Mavs' grasp. Barea sensed Davis was frustrated that he didn't get a call the previous possession, felt him push off and responded by getting breath-smelling close to Davis' bearded grill.
[+] Enlarge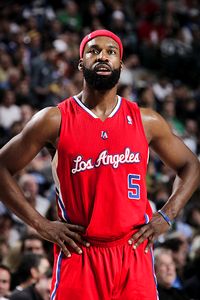 Glenn James/Getty ImagesMavs coach Rick Carlisle and the Clippers' Baron Davis got into a heated exchange during Tuesday's game. "He started cussing me out," Davis said. "I told him, 'Go have some lunch.'"
As intended, Davis didn't appreciate that and wildly swung his elbow. Barea hit the hardwood like he'd been run over by a tank -- or at least
Blake Griffin
– and was angrily accused by Davis of flopping. Barea, by the way, didn't exactly deny that charge after the game.
"I didn't have to go down, but when you get hit like that, you go down," Barea said with a grin. "It's basketball."
Things really got heated during the ensuing timeout. Carlisle wouldn't provide any details, but Davis offered his unique perspective on the exchange.
"He started cussing me out," Davis said. "I told him, 'Go have some lunch.'"
Davis acknowledged that he sprinkled in some colorful language as well. Carlisle certainly didn't back down, appearing ready to brawl with the brawny point guard, reflecting the Mavs' intensity during their defensively dominant second half.
"I've got his back," big man
Tyson Chandler
said. "He's all right."
It didn't escalate that point, but the coach's intensity clearly inspired the Mavs. They responded with a 10-0 run out of the break to turn a tight game into a blowout.
"Man, that's it. Guys see it and we get fired up from it,"
Jason Terry
said. "This team has been looking for some personality. When it comes from your head coach, that's big. You know he has your back, but that's just another example of it."
Considering Carlisle's reputation for having a robotic personality and the rarity of coach-opposing player scraps, the outburst came as a pretty big surprise. At least to outsiders.
"Everybody thinks Rick is this calm-demeanor guy, no emotion," Terry said. "He shows tons of emotion and tonight was an example of that."
January, 25, 2011
1/25/11
7:03
AM CT
By
Jeff Caplan
| ESPNDallas.com
DALLAS -- Of all the stupefying slam dunks and sick power drives
Blake Griffin
is supplying seemingly on a nightly basis, perhaps most impressive in the rock-solid rookie's arsenal -- aside from engaging enigmatic point guard
Baron Davis
-- is his ridiculous ability to snare offensive rebounds.
Blake is fifth in the league in offensive rebounds, grabbing four a game, and he's fourth overall in rebounding at 12.9 to go with a 22.8-point average.
"Right now, he is a human highlight reel,"
Dallas Mavericks
coach Rick Carlisle said. "And when he gets into the lob dunks and the drives and the flying up above the square to get the offensive rebound, they enter a different stratosphere as a team."
The last time the Mavs saw Blake and the Clippers was on Halloween in L.A. Griffin had a good game, finishing with 16 rebounds, making just 4-of-15 shots, and nine rebounds -- four offensive. But, it was just the third game of the season, Blake was coming off a devastating injury that ruined what should have been his rookie season and know one could foresee what would transpire over the past two-plus months.
Suddenly, the Clippers are relevant, even a draw. Their record as L.A. Lite comes to the American Airlines Center tonight, 17-26 and 13th in the Western Conference, doesn't accurately portray the spirit in which the Clips are playing, thanks mainly to the 6-foot-10, 251-pound Griffin, who some say is a combination of
Karl Malone
's brawn and
Dominique Wilkins
' athleticism.
The Clippers are 7-3 in their past 10, including wins over the
Denver Nuggets
,
Miami Heat
and
Los Angeles Lakers
.
"He has that Karl Malone-type game where he's physical," Mavs guard
Jason Kidd
said. "I don't know if Karl played above the rim like that when he was his age, but he's a guy who comes to play every night and as a rookie you don't find that that much in this league and he's doing it.
"He definitely puts up some highlights. He does some things that are very special -- offensive rebounding, being able to pass to his teammates. He has a good grasp of the game to be young. The future is very bright for himself and his team."
While Griffin is forcing his way onto a possible spot on the West All-Star roster, most important for the Mavs as they try to steady themselves is not to take these new Clippers as a welcome mat to kick off this four-game homestand.
"They're a completely different team than when we saw them the last time," Carlisle said. "Their last 10 or 15 games, they've been winning about 70 percent of the time. They're extremely athletic. They've gotten better offensive and defensively and they present major problems on the boards, in large part because of Griffin."
March, 25, 2010
3/25/10
3:57
PM CT
Remember the public clamor around town for Philadelphia's
Andre Iguodala
before last month's trading deadline?
You won't hear any regret now -- from Mavs fans or the Mavs themselves -- after Dallas managed to acquire two front-line players (
Caron Butler
and
Brendan Haywood
) and some additional depth (
DeShawn Stevenson
) in the trade they did end up swinging with Washington.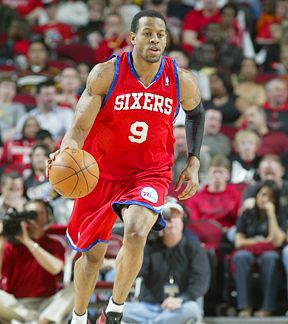 Bill Baptist/Getty ImagesAndre Iguodala has attempted 274 3-pointers this season, but is shooting only 28.5 percent -- including only 3 of 33 from beyond the arc in the past 10 games.
The Mavs might be in the midst of a 2-3 funk since their 13-game winning streak, but Iguodala is in the midst of the sort of shooting slump -- making just 3 of 33 attempts from 3-point range over the past 10 games -- that from the start had at least a few local observers (hello!) questioning the wisdom of Dallas taking on the four years and $56 million remaining on the Philly swingman's contract after this season.
Iguodala's defensive potential is considerable. Ditto for his versatility. There's also little doubt he'd get better looks from the perimeter than he's ever seen playing alongside
Dirk Nowitzki
, just as
Jason Kidd
has discovered.
Yet the question persists whether he shoots the ball well enough at his position to justify that contract, especially since the Mavs have at times been punished in recent years for their lack of floor-spreading options outside of Nowitzki beyond
Jason Terry
and the ever-improving Kidd. The Sixers have been imploring Iguodala for years to attack the rim more, but he: (A) continues to hoist; and (B) insists his overall game has been hampered by a worsening case of plantar fasciitis in his right foot.
Seventy-one players have attempted at least 200 triples this season ... but Iguodala is one of just five such players shooting less than 30 percent from 3. Those five:
Rasheed Wallace
(Boston) 27.8 percent
Baron Davis
(
Los Angeles Clippers
) 28.4 percent
Andre Iguodala (Philadelphia) 28.5 percent
Dwyane Wade
(Miami) 29.3 percent
Mike Dunleavy
(Indiana) 29.7 percent