Dallas Mavericks:

Beno Udrih
February, 21, 2013
Feb 21
11:22
AM CT
[+] Enlarge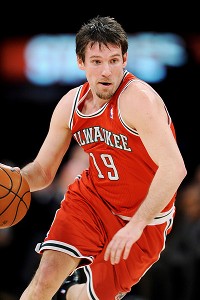 Jayne Kamin-Oncea/USA TODAY Sports Dahntay Jones and Rodrigue Beaubois could be headed to Milwaukee if the Mavs pull off a deal for the Bucks' Beno Udrih.
The odds of the Mavericks pulling off a blockbuster deal before the trade deadline are still extremely slim, but Dallas has been in discussions about upgrading its backup point guard spot.
The Mavs have targeted Milwaukee's
Beno Udrih
, ESPN.com's Marc Stein reports.
However, the Bucks have much bigger priorities -- trying to land Atlanta forward
Josh Smith
– and could need Udrih's $7.4 million expiring contract to make that deal work.
If the Mavs deal for Udrih,
Dahntay Jones
and
Rodrigue Beaubois
could be headed to Milwaukee, although those terms aren't set in stone.
The 30-year-old Udrih is averaging 6.7 points and 3.5 assists while shooting 47.5 percent from the floor in 18.4 minutes per game this season. Udrih, a starter in Sacramento for three years before joining the Bucks last season, has career averages of 9.1 points and 3.5 assists.
June, 29, 2011
6/29/11
2:49
PM CT
By
Jeff Caplan
| ESPNDallas.com
If the NBA labor struggle goes deep into the summer and appears headed into the fall,
Dallas Mavericks
guard
J.J. Barea
said he might look to take his talents to Spain.
"I guess my plan B would be Spain, but I hope that does not happen," Barea said in a joint video chat Wednesday with
El Nuevo Día and Primera Hora as his celebrity media tour throughout his home of Puerto Rico rolls on.
Barea went on to say that he doesn't think the league's owners and players will take things to such a dire situation.
If things were good for the backup point guard last year, this coming year stands to be even better. Barea turned 27 on Sunday and life has never been better. Although in his fifth season, Barea introduced himself to fans around the NBA with excellent postseason series against the
Los Angeles Lakers
and
Miami Heat
in the NBA Finals.
It just so happens that Barea listed the Lakers and Heat -- along with the
New York Knicks
-- as teams he would like to play for if things don't go as planned in negotiations with his first love -- the Mavs.
Barea hits free agency Thursday night at 11 p.m. CST. He has reiterated his desire to remain in Dallas even though more lucrative offers could come from elsewhere. The Mavs might have no choice but to pony up to keep him considering they have no one beyond Barea to back up
Jason Kidd
, who coach Rick Carlisle will look to curtail his minutes even more next season.
Not that anyone had much confidence in
Rodrigue Beaubois
to slip into that role next season, his recent second surgery on his left foot makes that practically impossible now, and the draft-night trade for
Rudy Fernandez
does nothing to bolster the backup point guard spot.
In the interview, Barea said he believes Sacramento, which traded
Beno Udrih
on draft night, is interested in signing him.
However, everything will have to wait assuming the league shuts down by the end of Thursday.
January, 6, 2011
1/06/11
8:41
AM CT
By
Jeff "Skin" Wade
| ESPNDallas.com
Most
Dallas Mavericks
fans are focused on some sort of vintage Cuban-era, headline-grabbing trade in the wake of
Caron Butler
's season-ending knee injury. I guess it's what we've come to expect. In this case, however, I'm not sure it's what makes the most sense.
Ace homie Marc Stein did a nice job of
laying out the trade landscape
. Unless the Mavericks are acquiring a young stud, I don't see the point in completely changing the dynamic of this team for an older player. While
Stephen Jackson
remains a seemingly good fit if the price were right -- right being expiring contract, pick and cash -- I wouldn't mess with my chemistry too much if I were the Mavs. And be realistic, they probably don't have the trade assets to get a young stud who can do what they need anyhow.
What they need is a healthy Roddy Beaubois. Mavs Nation was abuzz Wednesday
that Beaubois was actually shooting jumpers.
I know that sounds ridiculous to get all excited about the idea that a guy many of us thought would be back by Thanksgiving is just now leaving the floor during casual shooting, but we're starved for what he could deliver. He's the guy to break down a halfcourt defense with his effortless penetration and money jumper.
[+] Enlarge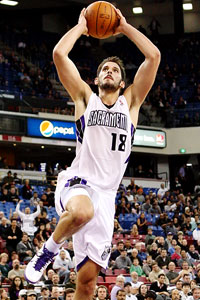 Greg Ashman/Icon SMIOmri Casspi is averaging 8.9 points and 3.9 rebounds for the Sacramento Kings this season.
Aside from everyone's personal feelings for Butler, from a team perspective, it wasn't devastating that Dallas lost its current #2 scoring threat to Dirk (when does he return again?). It was devastating that someone as good as Butler was probably going to be the third scoring option behind Beaubois come May. And JET was the spark off the bench. Put that picture in the frame along with the Mavs' stellar D and
Jason Kidd
's guidance and you have the makings of a deep playoff run. But without Butler and with the uncertainty of Beaubois' situation and, well, it looks like the Mavs are going to need a bigger boat.
But don't put me in the boat with those that think the Mavs need to immediately start shopping. I like the idea of what Stein is reporting as the most likely plan, which is to try and buy a couple of fancy life rafts. The target team that intrigues me the most is Sacramento. Them boys are bad. Not Run DMC bad. I mean hard to watch bad. It's disappointing really, considering I kind of dug what they were doing last year. But this season has definitely been tough sledding. Stein has mentioned that
Omri Casspi
and
Carl Landry
are both movable at the right price. I'd love to get both, if that seems a tad unrealistic, but it's worth work-shopping in this here space.
Acquiring Landry seems easier to pull off. He's in the last year of his $3 million dollar deal and highly unlikely to resign there. What's the point of the Kings keeping him around? Doghouse be damned, he shouldn't be getting any of
Jason Thompson
's minutes. That dude needs to be a positive for them. And if Thompson is going to get back on the right developmental path, he needs as many minutes as he can get. It makes sense to ship Landry elsewhere. Why for the Mavs? Because he's a solid scoring option. Not in the same ways that Butler was, but he can stick the ball in the basket. He's crafty in the paint and just plain goes hard. If he's soaking up all the power forward minutes that Dirk isn't, then
Shawn Marion
plays exclusively at small forward for the remainder of the season. That's better for him defensively anyway, even if it doesn't suit his offensive game.
What would get it done? According to the
superbeast salary resource ShamSports
, the Mavs have a $3 million dollar trade exception from the
Eduardo Najera
deal that would allow them to take on Landry's salary without sending another player back. If they send back cash plus a future first-rounder and a future second-rounder then that's a pretty nice financial swing for giving up a player that in no way helps their rebuilding efforts. Is that enough to get it done?
[+] Enlarge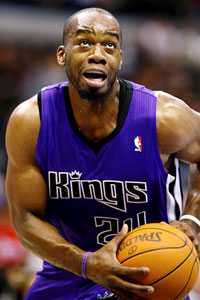 Craig Bennett/Icon SMICarl Landry is averaging 11.8 points this season with Sacramento after averaging 18 points in 28 games after joining the Kings last season.
How about the whole enchilada? Getting Landry and Casspi? You could offer a second deal of another future first-round and second-round pick and seldom used but immensely intriguing former first rounder
Alexis Ajinca
-- who makes right at the same dough as Casspi. Before I saw Ajinca on a regular basis, I thought he was a total bust of a pick for Charlotte. Now I realize he'd just been Larry Browned there. He's got a nice feathery touch from the outside and he's a solid athlete for his 7-foot frame. I think he may have a future, he just needs playing time to develop. That ain't gonna happen here, son.
So final tally after swapping, Dallas receives Casspi and Landry to address depth at the three and the four, and Sacramento receives Ajinca, a positive plus $5 million dollar swing, and two probably late first-round picks and two second-round picks.
Is that enough for both players? Hard to know what Sacramento is getting offered for Casspi but my instinct says its borderline at best. Most indications are that Sacramento is asking a lot for Casspi. The move that has a better chance to get the deal done would be for the Mavs to send Butler, J.J. Barea and Ajinca (or one of those guys if Sac wants) plus a pick for Landry, Casspi and
Beno Udrih
-- all three years and plus $20 million dollars of him. While I think it's a fantastic talent grab for Dallas, I think the Mavs would be way against Udrih's contract and even more reluctant to move the extremely well-liked Barea. And as Tyson Chandler pointed out Wednesday on the Ben and Skin Show, Butler is still very much a part of this team and still emotionally invested as a teammate. And seeing the way these guys have fought for one another this year, I think that'd be a tough move for the front-office to make and one that would disappoint "the room."
Not sure if I'd do it or not. I do think the roster would be upgraded. It's a big expense financially and emotionally, and I'm not sure it'd put them close enough to the top. It's definitely intriguing.
January, 22, 2010
1/22/10
1:31
AM CT
The
Sacramento Kings
continue to insist that
Kevin Martin
is not going to be made available to interested teams before the Feb. 18 trading deadline.
The Mavericks, according to NBA front-office sources, continue to tell the Kings that they want a call back if that stance changes.
Sources close to the situation told ESPN.com that Dallas -- reluctant until recently to make
Josh Howard
available in trade discussions -- is prepared to part with the struggling former All-Star swingman in a deal for Martin.
Rocky Widner/NBAE/Getty ImagesKevin Martin
The Kings, though, have been telling teams that they are not ready to field offers for Martin, determined to give his fledging backcourt partnership with hot-shot rookie
Tyreke Evans
an extended period of evaluation.
If that position changes between now and the Feb. 18 trading deadline, Dallas is expected to be one of the league's most determined Martin suitors.
The Sacramento Bee's Sam Amick recently listed Houston, Toronto, Cleveland and Phoenix as teams tracking Martin along with Dallas.
It remains to be seen whether the Kings will bow to that interest in the next few weeks or if they'll become more open to the idea of trading Martin if they hear that they can also shed another one of their long-term contracts -- such as
Andres Nocioni
or
Beno Udrih
-- in the process.
One hypothetical trade scenario could see Dallas offer Howard,
Drew Gooden
, J.J. Barea and cash to the Kings for Martin and Nocioni. That, however, is a lot of long-term salary for the Mavs to add. It's also not known if a combination of payroll relief, Barea and the opportunity to resurrect Howard's career would ultimately be enough to satisfy Sacramento even if Dallas was willing to take on Nocioni as well.
Such a swap, though, would raise the possibility of the Mavs reacquiring Gooden. If the Kings waived him immediately, Gooden could re-sign with Dallas as long as he waited 30 days after his release instead of signing elsewhere, just as
Antonio McDyess
did last season with Detroit.
UPDATE: One source close to the situation said Friday that the Mavs would have no interest in a Martin deal if the Kings insisted they take on an additional player with a long-term contract such as Nocioni or Udrih.
It's believed that the Mavericks could also join the bidding for Philadelphia's
Andre Iguodala
and Washington's
Caron Butler
by putting Howard and his cap-friendly contract (next season's $11.8 million salary is a team option) on the table.
But there is some sentiment within the organization to keep Howard along with
Erick Dampier
(whose $13.1 million salary next season is fully
unguaranteed
) for the rest of this season, preserving them as a combo-pack of assets for an offseason trade splash.