June, 19, 2013
6/19/13
3:35
PM CT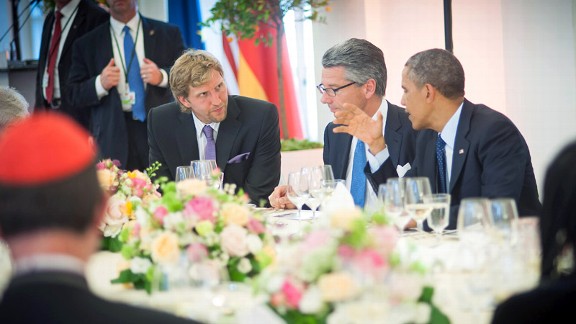 Guido Bergmann/Bundesregierung/Getty ImagesU.S. President Barack Obama talks with Dallas Mavericks star Dirk Nowitzki and president of the Federation of German Industries Ulrich Grillo (center) at the beginning of a dinner in Berlin on Wednesday.
Dirk Nowitzki
celebrated his 35th birthday in Berlin by dining with President Barack Obama, First Lady Michelle Obama and German Chancellor Angela Merkel.
Obama was in Berlin to make a speech at Brandenberg Gate. Afterward, he sat down to dinner with Nowitzki and several German dignitaries.
It isn't the first time Nowitzki and Obama have met. They got to know each other a bit during the Mavericks' trip to the White House after winning the 2011 NBA title.
October, 4, 2012
10/04/12
3:45
PM CT
By
Chuck Cooperstein
| ESPNDallas.com
ESPN Dallas 103.3 FM's Chuck Cooperstein, aka "The Voice of the Mavericks", is with the Dallas Mavericks on their first European excursion and will blog on the team's events daily for ESPNDallas.com.
It does seem a little crazy that it has taken 15 years for the greatest pure international player ever produced (both
Hakeem Olajuwon
and
Steve Nash
were products of United States college basketball) to finally play with his NBA team in Europe. Such is life for
Dirk Nowitzki
, but he says the wait has been worth it.
"It is fun, I mean it is a good feeling inside, you know?," Nowitzki said. "Bringing out the passport I was the only one with the red passport, which means I'm the only German besides
(Chris) Kaman
, but I think he left his at home. So yeah, it is a good feeling to finally be home and have a game at home with the Mavericks here. Obviously (I've) played over the years with the German National team many many times but not with the Mavericks, so this is something new."
But, of course, nothing is totally perfect.
"Unfortunately, the weather is not great," Nowitzki said. "We'd wish a little better weather, but we got to deal with it. But it's exciting and looking forward to a great week with our teammates."
PODCAST
Mavs play-by-play voice Chuck Cooperstein calls in from Berlin to talk about the team's preseason slate abroad.

Listen

In meeting with the media for 15 minutes before the Mavericks' evening practice at the O2 Arena, Dirk also addressed his legacy to the game in Germany, which has to fight for its attention.
"Over a decade that I've played, I wanted to take basketball to a more known status," Nowitzki said. "I've played (on the) national team as much as I could over the last, whatever, 12, 13 years, and just trying to make the game more popular and win more kids over to our sport. That's what I've tried to do."
Exactly how much has he succeeded?
"I think sometimes it is hard since I don't play here. I'm not here for like eight months out of the year," Nowitzki said. "Sometimes it is hard to only be here for a month and play a couple games for the national team and then leave again. Sometimes that impact is just not long enough, but I feel like I tried, we all tried.
"We had some great results with the National teams over the years. We won a silver medal at the Euros, we won a bronze medal at the Worlds, we went to the Beijing Olympics, so I think we tried everything in our power to grow the game as much as we could."
Notes:
Former Mav
Peja Stojakovic
greeted the team at the hotel upon its return from practice. ... The Mavericks practiced for about 75 minutes. Coach Rick Carlisle said it was important for the players to get moving around and counter the effects of jet lag. They will have a more extensive practice Friday morning (Berlin time). Both Kaman (sprained back) and
Brandan Wright
(quadriceps) remain questionable for Saturday night's game with Alba Berlin. Both say they're feeling much better but won't know until they try to go through the Friday practice whether they will be able to play.
October, 4, 2012
10/04/12
8:59
AM CT
By
Chuck Cooperstein
| ESPNDallas.com
ESPN Dallas 103.3 FM's Chuck Cooperstein, aka "The Voice of the Mavericks", is with the Dallas Mavericks on their first European excursion and will blog on the team's events daily for ESPNDallas.com.
The Dallas Mavericks are on German soil.
Their overnight flight touched down at Schonefeld Airport at 8:42 local time (1:42 AM Dallas time), after an intermediate stop in Goose Bay, Newfoundland for refueling. About an hour later, they were at their hotel, in the shadow of the historic Brandenburg Gate.
Dirk Nowitzki
was first off the team bus, and was cheered as about 100 people lining the entrance to the hotel looked on.
After breakfast, there was a quick autograph session where several balls and jerseys commemorating the Mavericks first European trip were signed. Later Thursday, as part of NBA Cares, the Mavericks will head to the outskirts of the city to dedicate the refurbishing of an outdoor basketball court. Nowitzki will hold a media session for German reporters, and the team will briefly practice at the O2 Arena, where they will play Alba Berlin on Saturday night at 8:00 (1:00 PM Dallas time)
October, 3, 2012
10/03/12
2:32
PM CT
DALLAS –
Dirk Nowitzki
considered the Mavericks' trip to play in his native Germany "a dream come true."
"Now that I've seen my schedule, I wonder what am I wishing for?" Nowitzki joked Wednesday afternoon, just before the Mavs hopped on the team jet for a 14-hour flight to Berlin via Newfoundland. "No, it's going to be busy, but also fun."
This is a business trip for the remodeled Mavs, who see the week overseas and games against Alba Berlin and FC Barcelona Regal as an opportunity to bond and get better. It's also a tribute trip for the most accomplished European player in NBA history, although Nowitzki doesn't look at it that way.
The three days in Berlin will make Nowitzki's stint as the unofficial host of All-Star Weekend in Dallas seem like a breeze. His every step has essentially been planned, from the moment he arrives at the team hotel and holds a press conference with the German media.
Nowitzki will also meet with executives from a German media conglomerate, make an appearance at a Nike store, refurbish a park with his teammates at an NBA Cares event and receive an award at a black-tie dinner. Oh, and the Mavs practice twice, have a shootaround and play Saturday night before leaving for Barcelona.
"The only thing not scheduled for him is sleep," quipped Mavs PR man Scott Tomlin, whose primary responsibility in Berlin will be whisking Nowitzki from appearance to appearance.
There won't be much time for Nowitzki, whose hometown of Wurzburg is about five hours from Berlin, to socialize. However, he needs about 100 tickets for friends and family to attend Saturday's night game, which sold out in less than an hour.
"That's not bad for having never played in Germany," Nowitzki said. "I told the NBA, for all the crap I've been doing for them for 14 years, they better hook me up with a bunch of tickets."
Those aren't the only tickets Nowitzki wants during the Mavs' European journey. The part of the trip he might be looking forward to the most will occur after the Mavs' arrival in Barcelona on Sunday, when he plans to attend "El Clasico," the twice-annual match between soccer superpowers FC Barcelona and Real Madrid.
"It'll be great," Nowitzki said.
It'll be his first chance to relax after the Mavs' plane lands in Europe.