Dallas Mavericks:

Boris Diaw
June, 26, 2014
Jun 26
8:00
AM CT
The
Dallas Mavericks
haven't had a real backup power forward behind
Dirk Nowitzki
for years.
Shawn Marion
has typically slid over to power forward over the last five years when Nowitzki rested. The Mavs would love to continue that type of rotation with
LeBron James
or
Carmelo Anthony
, both of whom have significant experience playing power forward in small-ball lineups.
[+] Enlarge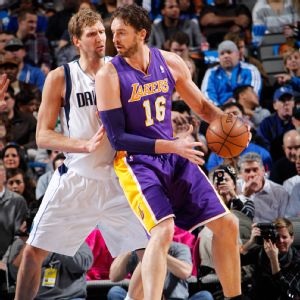 Glenn James/NBAE/Getty ImagesPau Gasol could be an option for the Mavs if they can't lure LeBron James or Carmelo Anthony.
It's also possible if the Mavs sign
Luol Deng
or bring back Marion. Maybe it'd work at times with
Trevor Ariza
, although he's awfully slender to play power forward.
The Mavs certainly wouldn't mind having a legitimate power forward with a reliable jumper to spell Nowitzki without requiring a change in offensive philosophy.
Some of those possibilities:
Pau Gasol:
The Mavs believe
the trade
for
Tyson Chandler
increases their odds of reeling in one of the big fish, but sources told ESPNDallas.com that it did not eliminate their interest in Gasol.
Landing James or Anthony is the Mavs' clear-cut priority, and there'd be no room left for Gasol if they were successful. However, the two-time champion with the Lakers could factor into the Mavs' backup plans, in free agency and on the floor next season.
It's unknown whether Gasol would be willing to come off the bench at the age of 34, but it's feasible to project him playing about 28 minutes per game for the Mavs. The Mavs don't want Nowitzki averaging more than 32 minutes, so Gasol could play 16 minutes per game at power forward. He'd likely get another dozen or so minutes at center, maybe more against certain matchups.
The way the Mavs' rotation is structured, Gasol and Nowitzki could play some together against opposing second units, diminishing the concerns about their flaws as a defensive duo.
The Mavs would hope to get Gasol, who averaged 17.4 points, 9.7 rebounds and 3.4 assists last season, for about $8 million per year.
Channing Frye:
Frye, who declined an option to make $6.8 million from the
Phoenix Suns
next season, could be a similar two-position fit in the Mavs' rotation.
The 6-foot-11 Frye is a poor rebounder for his size (5.1 per game last season), but he's one of the best stretch-shooting bigs in the league. He has a career 3-point percentage of 38.5, a fraction of a percentage better than Nowitzki.
At this point in his career, Frye launches more than half his field-goal attempts from 3-point range. The Mavs can use all the shooting they can get after giving up 3-point marksman
Jose Calderon
in the Chandler deal.
Marvin Williams:
He never lived up to expectations as a No. 2 overall pick, but Williams is a decent rotation player who can be used at either forward position, averaging 9.1 points and 5.1 rebounds in 25.4 minutes per game last season. He could be an option at a relatively low salary.
Anthony Tolliver:
He's a little undersized for a power forward at 6-foot-8, but he's a floor-spacer who might be available for the minimum. He shot 41.3 percent from 3-point range as a Charlotte reserve last season, shooting almost exclusively from long range. The 29-year-old journeyman had a season-high 22 points against the Mavs.
Boris Diaw:
It's unlikely he'd leave San Antonio after his career revival and the Spurs' title run. If he looked for another home for some reason, his passing and shooting would fit well in Rick Carlisle's flow system.
April, 18, 2014
Apr 18
8:00
AM CT
A look at the matchups in the
Dallas Mavericks
-
San Antonio Spurs
series:
POINT GUARD
Jose Calderon vs. Tony Parker:
This is the biggest mismatch of the series. Calderon, a subpar defender, struggles to guard a lot of point guards. He really gets exploited by Parker, who averaged 23.3 points on 54.2 percent shooting in three games against the Mavs this season. That was Parker's highest scoring average against any team he faced more than once this season. Parker loves pushing the pace and running pick-and-rolls, both of which present major problems for Calderon, whose plus-minus was minus-40 in the Mavs' four losses to the Spurs, including minus-25 in 86 minutes with Parker on the floor. If Calderon isn't lighting it up from long range, coach Rick Carlisle should seriously consider giving
Devin Harris
a bigger share of the minutes.
EDGE:
Spurs
[+] Enlarge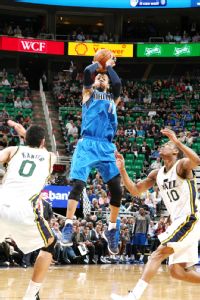 Melissa Majchrzak/NBAE via Getty ImagesThe Mavericks probably wouldn't be in the playoffs without Monta Ellis, who gives them the edge at shooting guard.
SHOOTING GUARD
Monta Ellis vs. Danny Green:
On paper, this is the Mavs' best matchup. It hasn't worked out that way on the floor, however. Green is a lethal 3-point shooter who has especially lit it up against the Mavs, going 12-of-20 from long distance against Dallas this season. The numbers indicate he has also done a good job defending Ellis, who has shot only 38.9 percent from the field when Green is in the game. The Mavs have been outscored by 60 points in the 81 minutes in which Ellis and Green have both been on the court. The Mavs probably wouldn't be in the playoffs without Ellis, a better fit than the Dallas front office believed even when they signed him to a three-year, $25 million deal. They'll need a huge series from Ellis -- who seems to thrive under pressure -- to have a chance to pull off a stunning upset over the Spurs.
EDGE:
Mavs
SMALL FORWARD
Shawn Marion vs. Kawhi Leonard:
Leonard looks a lot like a young Marion -- a freakish, 6-foot-7 athlete who is a versatile defender and efficient offensive weapon. That's an awfully tough matchup for the 35-year-old version of "The Matrix." Leonard gets overshadowed by the Spurs' living legends on the roster, but he's a 22-year-old rising star. His all-around skills were on full display during the Spurs' recent trip to Dallas, on which Leonard stuffed the box score for 16 points, 16 rebounds, 5 assists and 2 steals. By comparison, Marion had a total of 21 points, 13 rebounds and two assists in three games against San Antonio this season.
EDGE:
Spurs
POWER FORWARD
Dirk Nowitzki vs. Tim Duncan:
The two all-time greats don't actually match up with each other much these days, but it will be a treat to watch a pair of surefire Hall of Famers compete in a playoff series for the sixth time in their careers. The 37-year-old Duncan's numbers have dipped in recent seasons, but that's primarily because the priority for him is being as fresh as possible for the playoffs. He's still a dominant defensive presence and capable of putting up a 20-point, 15-rebound line, the way he did in the Spurs' last win over the Mavs. Nowitzki, an All-Star again this season after a one-year, injury-related hiatus, remains one of the most distinct and effective offensive threats in the league. However, Nowitzki has averaged only 15.4 points against the Spurs in the past three seasons, during which San Antonio has won 10 of 12 meetings.
EDGE:
Even
January, 9, 2014
Jan 9
10:00
AM CT
SAN ANTONIO -- Perhaps it's not surprising that
Dirk Nowitzki
's worst offensive performance of the season came against the
San Antonio Spurs
.
Nowitzki was held to a season-low eight points in Wednesday night's loss, matching his poorest shooting night of 2013-14 with a 3-of-14 night from the field.
It's the third time during the
Dallas Mavericks
' seven-game losing streak against the Spurs that Nowitzki has scored only eight points. He has averaged 14.4 points on 39.1 percent shooting in those seven games, numbers that are far below his norm.
His scoring against the Spurs is not a trend that ranks near the top of Nowitzki's list of worries, though.
"I just didn't have it today," Nowitzki said. "I had some great shots. I don't think he was doing anything different than he did last week, when I had 25. I just ran into quicksand out there today. I just never got going."
As Nowitzki noted, he scored 25 points on 10-of-17 shooting in the Mavs' previous loss to the Spurs. That performance is the exception for him recently in this series.
That hasn't always been the case, however. Spurs coach Gregg Popovich certainly couldn't figure out how to shut down the Mavs' all-time leading scorer for most of his career. Nowitzki has averaged 21.2 points against the Spurs over the course of his career. He has scored more than 40 twice against San Antonio and at least 30 on 19 occasions, including playoffs, most memorably a 37-point masterpiece in the Mavs' Game 7 win in the 2006 West semifinals.
It's not as if the Spurs have suddenly come up with exotic schemes to deal with Dirk, either.
"I think they double-teamed me a lot more in the past, come from the low side some, but now they're just living with a couple of jump shots and covering me one-on-one," Nowitzki said. "That's it."
In this case, the Spurs gave power forward
Boris Diaw
the bulk of the credit for Nowitzki's off night.
Tim Duncan
and Popovich used the same word to describe Diaw's defense: "magnificent."
The Mavs don't have much of a chance to upset the team with the West's best record unless Nowitzki is magnificent. For whatever reason, he has been far from that for the most part against the Spurs in recent memory.
June, 11, 2013
6/11/13
11:30
PM CT
By
Bryan Gutierrez
| ESPNDallas.com
With the NBA Finals in full swing, the Mavericks are watching two familiar foes -- the San Antonio Spurs and the Miami Heat -- battle it out for the chance to hoist the Larry O'Brien Trophy. Both teams have key components that established them as championship contenders. Let's point out those components and how the Mavericks can learn from them.
Both Miami and San Antonio have depth at their disposal. On top of that, their depth is versatile. Whether it is
Kawhi Leonard
,
Ray Allen
,
Matt Bonner
or
Shane Battier
, each team has multiple options who are solid at multiple facets of the game.
PODCAST
ESPN senior NBA analyst Marc Stein joins Fitzsimmons & Durrett to discuss the NBA Finals and latest Mavericks news.

Listen

Each team's respective big three carry the load, but the role players can step up in big situations. If
LeBron James
has to be relied upon to bring more offense, Miami has someone in Battier who can take on a larger defensive responsibility and still be viewed as a threat from beyond the arc. San Antonio's
Boris Diaw
can bring versatility as a big man if the Spurs have to adjust to a shrinking lineup Miami might throw at them.
Mavs coach Rick Carlisle isn't very fond of judging players by the old, by-the-book way of thinking. "He's a basketball player" is a phrase that often comes out of the coach's mouth. The game is shifting away from defined labels for players based on position. Carlisle, as well as the two coaches involved in the NBA Finals, have recognized this and often try to find the best lineups that can be placed out on the floor, regardless of the traditional positions.
[+] Enlarge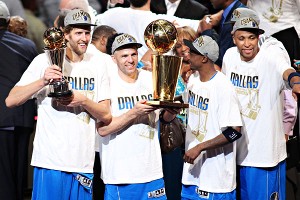 Marc Serota/Getty ImagesThe Mavs have to choose wisely with their open roster spots if they want to make a return Frinals trip.
Neither Miami nor San Antonio rely on a dominant big man down on the block. Both teams faced challenges in their respective conference finals against clubs that had menacing big men. If either team lost, that might have shifted the balance in the future in regards to teams trying to gear more towards a traditional big man down on the low post. With San Antonio and Miami in the Finals, "small ball" prevails.
Now, Dallas has to try to find the right pieces that can bring true depth. The pieces they had this season didn't amount to much, as they were depleted at the point guard and center positions. They have a relatively clean slate to work with. You have
Dirk Nowitzki
as the focal point and
Shawn Marion
and
Vince Carter
as the veterans. Those two could easily be moved in the offseason, but they also work perfectly in what the Mavs would need to do if they're building a roster based on depth and versatility.
The championship team of 2011 provides an additional example of how the depth can be advantageous. The Mavs had players such as
DeShawn Stevenson
and Brian Cardinal who could provide tough defense and perimeter shooting. While
Tyson Chandler
was seen as the major big man,
Brendan Haywood
was a solid rim protector who could hold his own in the rebounding department. Like the Heat and the Spurs, the Mavs' title squad had enough depth to withstand whatever challenges came their way.
Depth has delivered success to Miami and San Antonio. It clearly delivered to Dallas back in 2011. With a roster full of holes, the front office must choose wisely with their open spots.
Bryan Gutierrez currently covers the Dallas Mavericks for The Two Man Game, an ESPN affiliate blog on the TrueHoop Network. Gutierrez, who has covered the Mavs since 2010, studied journalism and psychology at Texas Tech University.
August, 21, 2012
8/21/12
12:01
AM CT
By
Jeff Caplan
| ESPNDallas.com
Second in a series looking at the five teams ahead of the Dallas Mavericks in our early 2012-13 Western Conference rankings and how the revamped Mavs match up.
No. 4 San Antonio Spurs
Perhaps no team was lavished upon more last season than the Spurs for their ability to retool on the fly, adjust their on-court philosophy and still manage to remain a top contender. For the second consecutive season, the Spurs owned the West's best regular-season record and extended their string of 50-win seasons to 13 in a row despite the 66-game schedule. They swept the Jazz and Clippers and had a 2-0 lead in the West finals, appearing to be on their way for a shot at a fifth title in the
Tim Duncan
-Gregg Popovich era. But then the
Oklahoma City Thunder
rose up to win four in a row. Back to a normal 82-game season, Popovich will no doubt pace his team as he has as the Big Three of Duncan,
Tony Parker
and
Manu Ginobili
get older. The Spurs should again hit the 50-win mark, but last season's dominance seems unrealistic. Still, each new season seems to be the last of this group's window of opportunity, only until it's not. Here we go again.
[+] Enlarge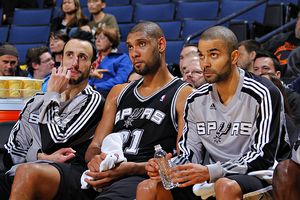 Rocky Widner/Getty ImagesSan Antonio's Big Three of Manu Ginobili, Tim Duncan and Tony Parker will return for their 11th season together.
Last season's results (tied, 2-2)
@Spurs 93, Mavs 71
@Mavs 101, Spurs 100 (OT)
@Mavs 106, Spurs 99
@Spurs 104, Mavs 87
This season's games
Dec. 23: @ Spurs
Dec. 30: vs. Spurs
Jan. 25: vs. Spurs
March 14: @ Spurs
What's changed?
Much more with the Mavs than the Spurs, who bring back the Big Three for an 11th consecutive season after Tim Duncan re-upped for three more years. The supporting cast remains the same after the midseason maneuverings that brought back former Spur
Stephen Jackson
and added Parker's French buddy
Boris Diaw
. Another Frenchman, 25-year-old
Nando Colo
, a 6-foot-5 guard who played on the French Olympic team in London, joins the Spurs this season. He's another one of those late international picks San Antonio specializes in, taken 53rd overall in 2009. With the Big Three another year older, including Ginobili having turned 35 in July, the Spurs will rely on the continued improvement of guards
Gary Neal
and Danny Green and forwards
Tiago Splitter
and
Kawhi Leonard
, last season's rookie sensation in South Texas.
How the Mavs match up
The first thing that comes to mind is that Duncan will have to expend energy on defense like never before against the Mavs. San Antonio typically has gotten away with Duncan defending the Mavs' center, who, from
Erick Dampier
to
DeSagana Diop
to
Brendan Haywood
to
Tyson Chandler
and back to Haywood, has not been an offensive threat. So someone other than Duncan has mostly had the privilege of guarding
Dirk Nowitzki
. This season if, say, Diaw, draws Dirk, Duncan won't have the luxury of only casually defending the Mavs' center. He will now face
Chris Kaman
, a legitimate back-to-the-basket threat and the most offensively skilled of the Mavs' long list of 7-foot centers. From a Mavs defensive standpoint, new point guard
Darren Collison
brings needed speed to combat Parker's penetrations and shooting guard
O.J. Mayo
and
Dahntay Jones
will be better equipped to help defend Ginobili than the options -- mainly
Shawn Marion
-- the Mavs had last season.
Previous entries
No. 5: Denver Nuggets
March, 9, 2012
3/09/12
12:32
PM CT
A suggested deal from John Hollinger's
ESPN Insider column on deadline trades that should happen
:
Lamar Odom
for Charlotte's
Boris Diaw
.
Hollinger's take on the potential trade, which at this point is a figment of his imagination:
A simple problem with a simple solution. Odom has worn out his welcome in record time in Dallas, while Diaw has done similar work in his fourth year in Charlotte. For the Mavs, this at least brings in somebody with a pulse for the playoffs, and Diaw is especially helpful since he can take shifts at center with Dirk at the 4. Also, Diaw's adorable little habit of passing up open layups to kick out to jump shooters won't be as problematic in Dallas as it would in, oh, say, Charlotte.

As for Odom, the cash in the deal allows Charlotte to pay his buyout and removes $2 million from the Mavs' salary-cap tab next summer when they go free-agent shopping. For their trouble, the Bobcats pocket whatever they can from Odom's buyout amount for the rest of the season. The only lingering problem would be Dallas wanting a handshake agreement that Odom would go someplace in the East (i.e., New York) once he's bought out and not haunt them in the Western Conference playoffs.
Here's the thing, though. The Mavs aren't ready to give up on Odom yet, at least not those in decision-making roles. There is still hope that Odom's efficient 15-point performance against the Suns is a sign of things to come in the playoffs, never mind the mountain of negative evidence so far this season.