Dallas Mavericks:

Bruce Pearl
August, 30, 2011
8/30/11
2:49
PM CT
By
Jeff Caplan
| ESPNDallas.com
Bruce Pearl will not be the next head coach of the D-League Texas Legends.
The former Tennessee coach informed Legends co-owner and Dallas Mavericks president of basketball operations Donnie Nelson that he was turning down the job because he chose not to leave his children in Knoxville, Tenn. He will join the private sector as vice president of marketing for the H.T. Hackney Co. in Knoxville.
ESPN.com's Andy Katz spoke to Pearl on Tuesday
.
"Donnie Nelson was unbelievably gracious and provided a terrific opportunity," Pearl told ESPN.com Tuesday. "I really thought that was what I was going to do. But I couldn't leave my children.
"He's a father and he understood," Pearl said. "I've made a great friend in basketball that I didn't really know before."
Nelson, who offered Pearl an unprecedented contract worth in excess of $500,000, said he understood Pearl's decision.
"There's nothing more important to the Legends than family," Nelson said. "We totally understand and respect Bruce's decision to stay close to home. There's been an overwhelming response to our head coaching position. We hope to have some exciting news in the near future."
The D-League announced its 2011-12 schedule on Monday. The Legends start the season on Nov. 26 at home against Austin.
August, 10, 2011
8/10/11
3:33
PM CT
By
Jeff Caplan
| ESPNDallas.com
Last we saw of Bruce Pearl he was smiling and answering questions at a news conference to announce that he was interested in Donnie Nelson's whale of an offer to coach his D-League Texas Legends in Frisco.
It's been awfully quiet since then as
Nelson's half-million-dollar-plus contract offer
(Nelson, the president of basketball operations for the Dallas Mavericks is co-owner of the Legends) awaits Pearl's signature. The question is: Does the fired Tennessee coach, who is awaiting punishment from the NCAA while also trying to land a TV analyst gig, want the Legends job?
Well, Pearl seems to be wrangling with the decision.
He made a radio appearance on a Nashville radio station Monday
and talked about his future.
Asked if he was leaning toward taking the job he said:
"Prior to going down to Dallas for my interview the lean was that I was probably not going to do it. But having been there and met the people the lean now is that it's a possibility. It's a family decision. I'd have to leave my family, I'm a divorced dad, and there'd be some kids that aren't out of school yet and in college yet that are encouraging me that are saying, "Daddy it's only six months, you should go."
Asked if he expects to coach college basketball again, Pearl said:
"Yeah, I would. I certainly would." As soon as I'm allowed it [coaching in college] would be my intention. I've been doing it my entire life and I would like to think that the good outweighs the bad. And the good has very little to do with winning or losing, it has to do with ... six kids graduating this year."
August, 5, 2011
8/05/11
3:00
PM CT
By
Jeff Caplan
| ESPNDallas.com
Hiring Nancy Lieberman as the first coach of the Texas Legends was a masterful, groundbreaking stroke by franchise co-owner Donnie Nelson. Lieberman, a Hall of Famer who has remained active in basketball and resides in Dallas, became the first woman to coach an NBA-affiliated team.
She stepped down after the season and will join the front office. Nelson quickly targeted Bruce Pearl, the hyper-energetic and effusively engaging college coach who transformed an irrelevant Tennessee program on a die-hard football campus into a perennial hot ticket and NCAA Tournament team.
However, Pearl's successful six-year run in Knoxville came crashing down when the school decided to fire him after NCAA violations and Pearl's admitted lying to investigators. Pearl is awaiting the NCAA's punishment, which most seem to think will include at least a one-year college coaching ban.
Nelson is not simply offering a guy down on his luck a chance to stay in the game.
He is showering Pearl with an unprecedented, one-year package valued at more than $500,000
(D-League coaches typically earn less than $100,000). Nelson on Thursday described the total package as "lucrative and creative" as well as "flexible" when he oddly, and somewhat awkwardly, introduced Pearl as his "A-man" for the job at a pre-scheduled news conference on the Dallas Mavericks practice floor in the basement of the American Airlines Center.
[+] Enlarge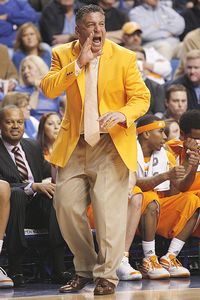 Mark Zerof/US PresswireFormer Tennessee coach is mulling over the Texas Legends' reported $500,000 offer while waiting for potential offers to be a television analyst.
"The Lord works in mysterious ways," Pearl said.
Pearl is back in Knoxville thinking it over. He is also accepting offers for a television analyst gig, and -- while on ESPN's "Pardon The Interruption" on Wednesday -- he playfully prodded Michael Wilbon and Tony Kornheiser to put in a good word to their bosses. Still, Pearl said Thursday that his heart remains in coaching.
Nelson, the Mavs' president of basketball operations, is pulling out all the stops, including Thursday's media stop, to fawn over Pearl. When asked if he'll accept the job in short order, Pearl said, "Well, it sounds like Donnie wants to wrap it up in short order."
Nelson made no bones that this is a full-court press for visibility for his franchise and the D-League.
So, what exactly does Pearl do for the Legends? He's certainly made a name for himself in college circles -- by winning at mid-majors, by taking Tennessee to the tourney every year and by painting his body orange and joining a jumping student body at a Lady Vols game -- but is he a draw in North Texas? It's not like he's Bob Knight, and you never know what he might say or do next.
The Legends averaged 3,328 fans (6,000 capacity) at 24 home games last season, just shy of the club's stated goal of 3,500 in the Texas Legends Partnership Overview. It would figure that attendance might naturally increase in Year 2 and the potential of NBA games being wiped out could also help ticket sales in Frisco.
But does Pearl necessarily attract more fans than Lieberman would have in a second year? Or, a young developing coach -- as is the mission of the D-League in the first place?
The Legends would have to sell plenty more tickets to justify Nelson's half-million-dollar offer (which includes a base salary and money earned through other avenues such as radio spots, something akin to a college football coach). If the NBA contends its franchises are cash-strapped while locking out players, the D-League certainly is no cash cow.
Pearl would almost certainly be the coach for next season only. He could then join the Mavs in some capacity, perhaps on Carlisle's bench -- there is a current opening with Dwane Casey now the head coach of the Toronto Raptors -- or with another team (not unlike former Oklahoma coach Kelvin Sampson). Or Pearl can return to college if a potential suspension is lifted and a school is willing to hire him. Or perhaps a more lucrative TV deal could beckon.
Yes, it's easy to see why Pearl would see this as a plum deal. Why Nelson desperately wants him -- and feels compelled to knock his socks off to get him -- is a bit more curious.