Dallas Mavericks:

C.J. Miles
June, 24, 2014
6/24/14
8:00
AM CT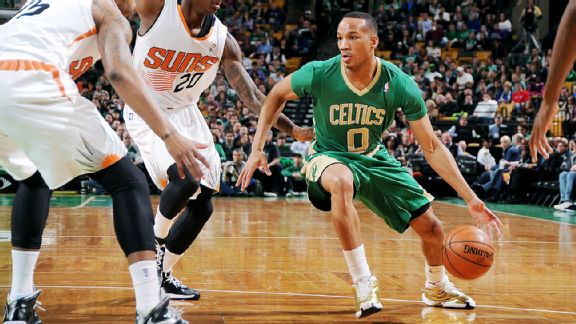 Brian Babineau/NBAE/Getty ImagesAvery Bradley could fill a hole for the Mavericks. But would the rebuilding Celtics let him go?
Shooting guard is not a priority position for the
Dallas Mavericks
.
It's a safe bet that
Monta Ellis
will lead the Mavs in minutes for the second consecutive season.
Wayne Ellington
, a solid perimeter shooter and defender who played sparingly this past season, also remains on the roster.
There's a good chance the Mavs re-sign both
Devin Harris
and
Vince Carter
. They get most of their minutes at other positions -- Harris at point guard, Carter at small forward -- but they'll probably split most of the shooting guard minutes not logged by Ellis.
The Mavs have zero interest in Indiana's
Lance Stephenson
, arguably the most talented unrestricted free agent in this summer's crop. He could easily slide to small forward, but the Mavs simply aren't interested in making a significant investment in a known knucklehead, particularly one who tends to dominate the ball by over-dribbling.
Dallas president of basketball operations Donnie Nelson often says you can never have enough shooting, but the Mavs don't intend to get in on the bidding for gunners
Nick Young
and
Jordan Crawford
, either.
There are, however, a handful of shooting guards who might fit the Mavs, if they fall through the cracks in free agency:
Avery Bradley:
As one of the best on-ball defenders in the NBA, Bradley would directly address one of the Mavs' most glaring weaknesses. But he's a restricted free agent, and it's hard to imagine Boston letting a 23-year-old contributor go if all the Celtics have to do to keep him is match a bargain offer.

Rodney Stuckey:
Remember when he was one of the NBA's best young guards? His production for the Pistons plummeted the past couple of seasons (13.9 ppg, 2.1 apg, .436 FG in 2013-14), and he lost his starting job, but the 6-foot-5, 205-pound Stuckey is still only 28 years old and versatile enough to play multiple positions. He might benefit from a change of scenery.
Jodie Meeks:
He's a shooter who averaged a career-best 15.7 points per game for a terrible Lakers team this past season and made 46.3 percent of his field goal attempts and 40.1 percent from 3-point range. He's never been confused for a lockdown defender, but he's not awful on that end of the floor either.
C.J. Miles:
The Mavs had talks with Miles, a 6-foot-6 lefty who grew up in Dallas, when he was a free agent two summers ago. He's a nine-year veteran but only 27 years old, he can play both wing positions, and he is a good perimeter shooter. He hit 39.3 percent of his 3-pointers this past season, when he averaged 9.9 points for the Cavaliers.
Thabo Sefolosha:
The 6-foot-5 Sefolosha could be considered a bigger, more physical and more experienced version of Ellington. He lost his 3-point touch in 2013-14 (31.6 percent) after shooting better than 40 percent from long distance the previous two years. He's a 3-and-D player who is strictly a spot-up shooter on offense, but he's among the NBA's better wing stoppers.
June, 26, 2013
6/26/13
10:13
AM CT
The third in ESPNDallas.com's position-by-position series previewing the free agency market that opens July 1:
This isn't an immediate need for the Mavericks … unless they move
Shawn Marion
to create more space under the salary cap.
Another possible scenario: The Mavs could decide to move the 35-year-old Marion and his $9.32 million salary after acquiring a small forward they feel is an upgrade.
There are only one or two small forwards on the market – depending on a decision made in Boston – who are in that class. A look at those players and some other small forwards who low-dollar fits for the Dallas bench: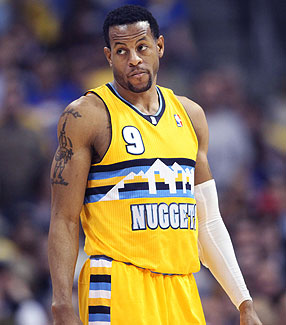 Chris Humphreys/USA TODAY SportsAndre Iguodala is an outstanding finisher at the basket and is one of few wings who are arguably better perimeter defenders than the Mavericks' Shawn Marion.
Andre Iguodala:
You can make a strong case that he's the third-best player in this free agency class behind
Chris Paul
and
Dwight Howard
. The 29-year-old Iguodala's athleticism, defensive prowess and passing certainly make him intriguing to the Mavs' front office.
The 6-foot-6, 207-pound Iguodala is a premier athlete, blessed with speed, quickness and leaping ability that allow him to excel in transition and as a defender.
Iguodala's explosiveness makes him an outstanding finisher. According to hoopdata.com, he made 74.1 percent of his shots at the rim last season. Only five starting wings (including Marion, by the way) converted a higher percentage of those rim attacks.
Iguodala is one of precious few wings who are arguably better perimeter defenders than Marion, although Iguodala doesn't have the versatility to occasionally cover power forwards. Former Nuggets GM Masai Ujiri called Iguodala's omission from the All-Defensive team "mind-boggling," pointing out that the U.S. Olympic team called on him when it needed a defensive stopper.
PODCAST
Chuck Cooperstein joins the show to talk about the Dallas Mavericks and how he thinks the NBA draft will turn out.

Listen

Other than
LeBron James
, there isn't a better passing wing in the NBA. Iguodala averaged 5.4 assists per game last season, which is about the norm for him over the last seven years. He's intelligent, unselfish and has the ability to create for himself and others.
Iguodala's biggest flaw: He's a below-average perimeter shooter (31.7 percent on 3s, 31.0 percent on long 2s last season). That limits him as a halfcourt offensive threat and would make it difficult to play him with Marion if the Mavs ended up with both players on their roster.
Iguodala isn't going to come cheap, either. He exercised his early termination option instead of making a $16.2 million salary in Denver next season. He won't get that much per year again, but he'll get at least $40 million over four years.
Paul Pierce:
It remains to be seen whether the longtime Celtics star will hit the open market. He's due to make $15.3 million in the final year of his deal this season, but Boston can buy him out for $5 million as the Celtics begin the rebuilding process. Pierce has also been the subject of a lot of trade talks.

The Mavs almost traded for Pierce at the deadline last season, but the Celtics backed out of a deal that would have sent Atlanta's
Josh Smith
to Boston and Pierce to Dallas. The security of Pierce's buyout was a small factor in the Mavs' interest at the time.
There is no question that Pierce, who turns 36 in October, can still play. He averaged 18.6 points, 6.3 rebounds and 4.8 assists for a playoff team last season. But does he fit Mark Cuban's two-year plan?
Even if the Mavs pursue Pierce, the interest might not be mutual. At this point of his career, would a two-year plan to contend appeal to him? Of course, the fact that the Mavs could offer more money than most, if not all, readymade contenders could affect Pierce's thought process.
Carlos Delfino:
He was relatively effective as a 3-point-firing sixth man for the Rockets, but Houston will decline his team option as they try to carve out enough cap space to get in the Dwight derby. Donnie Nelson says you can never have enough shooters, and the 6-foot-6, 230-pound Delfino hit 37.5 percent of his 421 long-range attempts last season. He's also a savvy player, which makes him intriguing as the Mavs attempt to drastically improve their basketball IQ.
But Delfino is limited athletically, can be exposed defensively and has seen his rebounding numbers drop significantly in recent years (3.3 per game in 25.2 minutes last season). The room midlevel exception ($2.652 million) might be a decent value for Delfino.
Chase Budinger:
He could be a good buy as a low-risk, high-upside guy. The 25-year-old Budinger has good size (6-foot-7, 218 pounds) and is a great leaper. He's shown the ability to score (9.4 points in 21.6 minutes per game in his career), but his offensive game could certainly benefit from the kind of one-on-one time
Corey Brewer
put in with Rick Carlisle. There are knocks on Budinger about his inconsistent motor, and he went into free agency on a low note after injuries limited him to 23 games for Minnesota last season.
C.J. Miles:
It's uncertain whether the Dallas Skyline product will be a free agent. He's Cleveland property, but his $2.25 million salary is fully unguaranteed. The Mavs had discussions with Miles last summer. He's a high-character guy who averaged 11.2 points and shot 38.4 percent from 3-point range for the Cavaliers last season. If nothing else, he'd be a great guy to have coming off the bench for the veteran's minimum.
Dorell Wright:
The 6-foot-9 Wright is just a perimeter shooter offensively. He's a decent rebounder and not a dreadful defender. If the money is right – meaning not much – he could make sense for the Mavs as a bench player.
Corey Maggette:
He has scored more than 13,000 points while playing most of his career on bad teams. He essentially took last season off, playing only 18 games for the Pistons. Not sure if the Mavs would want a declining player with a selfish rep on the roster, even at the minimum.
July, 27, 2012
7/27/12
12:30
PM CT
By
Jeff Caplan
| ESPNDallas.com
Deron Williams
was the obvious headliner among Dallas-area products who could potentially come home and play for the
Dallas Mavericks
next season.
Williams, the three-time All-Star who starred at The Colony High School, chose to remain with the
Brooklyn Nets
. Still, three other local lads also hit free agency on July 1, plus one former Mavs forward. All remain on the market.
Unfortunately for them, the Mavs have filled their 15-man roster.
Mavs coach Rick Carlisle had dinner in New York on July 1 with Skyline High star and
Utah Jazz
shooting guard
C.J. Miles
, who is just 25 years old. Dallas showed initial interest in
Minnesota Timberwolves
big man and Woodrow Wilson product
Anthony Randolph
, just 23. And the elder statesman of the Dallas group, power forward and Bryan Adams product
Kenyon Martin
, is still looking for work at 34.
Josh Howard
, drafted by the Mavs with the 29th pick in 2003, is also still without a team. He played last season with the Jazz.
July, 16, 2012
7/16/12
1:26
PM CT
By
Jeff Caplan
| ESPNDallas.com
Dallas Mavericks
coach Rick Carlisle and free agent
C.J. Miles
enjoyed sushi together in Manhattan on the first night of free agency. Carlisle, of course, was up there to meet with
Deron Williams
the next day.
PODCAST
Ben & Skin let you know how the newest Mavs will fit in next season.

Listen

Miles news since has been scarce as the former Dallas Skyline High School star remains an unrestricted free agent and no doubt still envisions playing for his hometown team. He's never been shy about talking up such a homecoming.
So the question is: Do the Mavs have real interest in bringing Miles home? That the 25-year-old, 6-foot-6 shooting guard plays the position Dallas most needs to reinforce only ramps up the intrigue.
Dallas has around $4 million in cap space, which could be right in Miles' wheelhouse considering he never earned more than $3.7 million in seven seasons with the Jazz. The Mavs, as we are aware, are keenly focused on limiting contracts to one year -- perhaps two if the price is right -- to keep maximum cap space available for next summer.
This, too, might work for Miles. We've seen contract lengths shortened under the new CBA, and Miles at this point might not be offered more than two years anywhere else. And anywhere else isn't home.
What the Mavs actually sorely lack at shooting guard is not necessarily bodies, but a bona fide dead-eye shooter, and that could be the biggest knock against seriously pursuing Miles.
A career 32.9 percent shooter from downtown, Miles isn't exactly a sharpshooter in the vein of
Jason Terry
or
Ray Allen
, and shooters with significantly higher career 3-point percentages are still out there, such as
Randy Foye
,
Leandro Barbosa
,
Courtney Lee
and Marco Belinelli.
However, Dallas might also be taking a deeper look at Miles' overall value to decide if he's the right fit. For instance, two seasons ago when he averaged a career-high 25.2 minutes a game, he put up 12.8 points, 3.3 rebounds and 1.7 assists. His per-36 minute stats, meaning when his minutes are extrapolated to that of a typical starter, his numbers come up pretty rosy at 16.0 points, 3.6 rebounds and 2.2 assists last season, and 18.3 points, 4.7 rebounds and 2.5 assists in 2010-11.
His production has increased with consistently increased playing time. When looking at his splits, Miles started 19 games in 2010-11 and averaged 31.8 minutes and 15.7 points. In 12 games that season in which he played between 30 and 39 minutes, Miles averaged 19.0 points, 4.2 rebounds and 2.7 points. Last season he played just three games between 30 and 39 minutes.
In playoff series against Denver and the Lakers in 2010, Miles averaged 33.7 minutes, 14.4 points, 2.5 rebounds and 2.8 points.
However, as intriguing as those stats might be, the one number that remains mostly constant regardless of playing time is his low shooting percentage.
For a team that desperately needs a marksman, that fact might be tough to reconcile.
July, 10, 2012
7/10/12
11:30
AM CT
By
Jeff Caplan
| ESPNDallas.com
After a big-money flurry during free agency's first week, things have slowed down considerably in week two, and those players still left on the market might be looking at lesser deals they didn't think they'd have to take.
With the coming crunch of the new tax penalty, teams are becoming increasingly wary of handing out multiyear contracts. As
Dallas Mavericks
fan have quickly come to realize, the local plan is to sign up players preferably on one-year deals. Dallas might be able to hand out a higher salary for the one year than a player might be able to make in the first year of a multiyear deal with another team, then setting the player up to become a free agent again in 2013.
That's the type of decision with which a player such as point guard
Ramon Sessions
is likely to grapple. He wants to start, and the security of a multiyear was initially high on his priority list. The Mavs can offer a starting job, but not the security.
Over the last few days, some players have been taken off the board and others added.
Here's a look at five players at each position who remain on the board. Some are realistic options for the Mavs and some might not be. Dallas, still with just seven players under contract -- plus three draft picks -- needs reinforcements just about everywhere.
Point guard
Ramon Sessions
Raymond Felton
Randy Foye
Leandro Barbosa
C.J. Watson
Shooting guard
Lou Williams
O.J. Mayo
C.J. Miles
Courtney Lee
Marco Belinelli
Small forward
Josh Howard
Sam Young
Anthony Tolliver
Donte Green
Matt Barnes
Power forward
Kenyon Martin
Carl Landry
Anthony Randolph
Jordan Hill
Ronny Turiaf
Center
Chris Kaman
Mehmet Okur
Daniel Orton
Nazr Mohammed
Tony Battie
July, 9, 2012
7/09/12
9:00
AM CT
By
Jeff Caplan
| ESPNDallas.com
Dominique Jones
doesn't take to his Twitter account (
@Dojo20
) all that often, so when he does, presumably he's got something important to say.
Take Saturday night for instance when he issued this tweet: "Heading to Vegas next week on business."
And he means business. At least he better.
Jones missed the NBA's Summer League in Las Vegas last July because of the lockout. Even though he's heading into his third season, he's
headed to the desert this week
with plenty at stake following the Mavs' remarkable roster shakeup during the first week of free agency.
For the first time in his young career, Jones won't be log-jammed by a veteran crew at both guard spots and has a legitimate shot to earn playing time. The Mavs might be desperate for him to step up and seize the opportunity.
With
Deron Williams
staying in Brooklyn,
Jason Terry
off to Boston and
Jason Kidd
heading to New York, the Mavs' offseason plans now seem to revolve around signing young talent to short-term deals.
Delonte West
remains a possibility to re-sign.
Ramon Sessions
is a free-agent target at point guard
. So is
Aaron Brooks
. Dallas native
C.J. Miles
and
Courtney Lee
, among others, are on the radar at shooting guard.
Rodrigue Beaubois
won't be on the summer squad, but for the fourth-year guard this is also a huge summer as he heads into the final year of his contract. Finally healthy enough to train all summer, he should have the opportunity to become a regular rotation player.
Neither one had a memorable 2011-12 season. Beaubois totaled 12 minutes in the first-round four-game playoff sweep against Oklahoma City. Jones wasn't even active for any of the games, surprisingly supplanted by
Kelenna Azubuike
, whom the Mavs sent to Cleveland on draft night simply to get rid of his $1 million salary.
Into the second week of free agency, the Mavs have signed no one and still have just seven players under contract. Rotation spots will be up for grabs at several positions. It will be up to Jones and Beaubois to prove they deserve the time, starting with strong summer showings.
July, 6, 2012
7/06/12
11:40
AM CT
By
Jeff Caplan
| ESPNDallas.com
The offseason plan
Dallas Mavericks
fans never envisioned has arrived with a thud.

The grand plan had its merits. Owner Mark Cuban saw the new collective bargaining agreement coming, understanding that significantly harsher tax penalties and more restrictive rules for luxury violators that void sign-and-trades and devalue exceptions would be the law of the land.
Cuban strategically organized his payroll to create cap space for this summer and beyond, the weapon needed to chase elite-level free agents like
Deron Williams
.
But what happens when the All-Star free-agent says no?
Mavs fans are finding out, and it isn't pretty. How can you not call the current state rebuilding? Meanwhile, around the league, money is being thrown around as if a bitter lockout never happened. Will the Nets, Knicks and Lakers get caught in an inflexible financial pickle in three or four years while the cautious Mavs have the last laugh?
Maybe. But Plan A was to land that star now to chase another title in the latter portion of
Dirk Nowitzki
's prime.
PODCAST
TNT NBA analyst Steve Kerr shares his thoughts on the Mavericks losing out on top free agents. Plus, Kerr says Steve Nash is the hardest-working player he's ever seen.

Listen

So what now?
Cuban is determined to keep cap space open for next summer when
Chris Paul
and
Dwight Howard
potentially hit the market. It's why he refused to engage in a bidding war for a player such as
Goran Dragic
, who signed a four-year, $34 million deal with Phoenix. Still, there are no guarantees that CP3 and D12 will ever reach free agency in '13. When Cuban decided not to re-sign
Tyson Chandler
after the 2011 title to pursue a star this summer, Paul and Howard were set to join Williams as free agents now.
Free agency now becomes a pursuit of young talent on the cheap, players the Mavs can sign for one season, maybe two depending on price, with an eye on next summer.
Dallas has interest in point guard
Ramon Sessions
, shooting guard and Dallas native
C.J. Miles
and small forward
Anthony Randolph
, among others. They have four of their own free agents still unsigned in
Delonte West
, who figures to be a strong candidate to return unless he gets the security of more years elsewhere, backup center
Ian Mahinmi
,
Brian Cardinal
and
Yi Jianlian
.
The Mavs have interest in claiming Philadelphia forward
Elton Brand
through the amnesty waiver process, according to ESPN.com's Marc Stein. Teams under the salary cap will have first shot to bid for Brand. The Sixers can't officially amnesty him until next Wednesday when the NBA resumes business operations.
It is indeed a new day for the Dallas Mavericks.
July, 1, 2012
7/01/12
9:46
PM CT
By
Jeff Caplan
| ESPNDallas.com
Either
C.J. Miles
and
Dallas Mavericks
coach Rick Carlisle just happened to bump into one another at a New York sushi joint or Miles' hometown team has an interest in bringing the free agent back to Dallas.
The
Utah Jazz
shooting guard who starred at Dallas Skyline High School tweeted Sunday night that he and Carlisle were having dinner together:
"Great dinner and meeting in NYC at Atlantic Grill w/ Coach Carlisle ... Sushi is amazing get the Sweet and Spicy roll!!
Miles followed that up with a second tweet:
"Can most definitely see why players like and play well for him .."
Miles, a former teammates of
Deron Williams
' with the Jazz, has long expressed a desire to play for his hometown team, something the Mavs certainly hope Williams will choose to do after Carlisle, president of basketball operations Donnie Nelson and special consultant
Michael Finley
meet with the All-Star point guard Monday in New York
.
However, if Williams opts to play for the Mavs, that could end their pursuit of the lanky, 6-foot-6 Miles because of limited cap space, said a source close to the situation. It's certainly not impossible depending on other roster maneuverings, including a possible sign-and-trade.
Miles, who has spent all seven of his seasons with the Jazz after entering to the NBA straight from high school in 2005, has interest from several other teams.
He averaged 9.1 points, 2.1 rebounds and 1.2 assists last season, playing 20.4 minutes a game, his low of the previous four seasons. He averaged a career-high 12.8 points in 2010-11. He's never been a terrific 3-point shooter, with a career percentage of 32.9 percent.
Still, at just 25 years old, Miles could provide Dallas with a young, athletic wing.
It's just might be difficult to pair up with his former teammate.
May, 11, 2012
5/11/12
12:13
PM CT
By
Jeff Caplan
| ESPNDallas.com
This is how
Shawn Marion
said he would implore free-agent-to-be point guard
Deron Williams
to sign this summer with his hometown
Dallas Mavericks
:
PODCAST
(May 2010) -- Dallas product, Jazz guard C.J. Miles joins GAC to chat about what the players think of Dirk and if he'd ever consider coming to play for his hometown Mavs.

Listen

"Get your a-- home. Home is where the heart is."
In less than two months we'll find out which way Williams' heart tugs.
There's also another local lad, a free-agent-to-be who has all along thought the idea of playing pro ball in his backyard would be pretty cool. In less than two months we'll find out how interested the Mavs are in bringing home
C.J. Miles
.
Drafted in 2005 by the
Utah Jazz
, the Skyline High School product has remained with the Jazz for his entire seven-year career, averaging 8.4 points in 19.3 minutes a game. At just 25 years old, Miles becomes an unrestricted free agent July 1 for the first time in his career. Of course, Miles and Williams were former teammates in Utah.
During a May 2010 guest appearance on ESPN Dallas 103.3 FM's "Galloway & Company," the 6-foot-6 shooting guard made it clear he'd like to play at home. Here's a snippet of how that conversation went:
"I definitely would want to do that at one point in my career. Just to have that feeling. That hometown feeling of having my friends and family behind me to see me play and see how I've grown. I definitely have that feeling sometimes."

As for what it would take to make it happen?

"I don't know. I guess I'd have to be free and, if they were interested, I'd definitely take it into high consideration."
With
Jason Terry
hitting free agency, will the Mavs be in the market for a young, athletic shooting guard? Miles, who earned $3.7 million this season, isn't exactly a sharpshooter, hitting for 38.1 percent overall this season and 30.7 percent from beyond the arc. His career numbers are just a few notches better at 41.9 percent and 32.9 percent, respectively.
Miles recently told the
Deseret News
that he is looking forward to exploring his options and that being reunited with Williams is an intriguing possibility.
"If that was an issue that came up I definitely would look at it. Who wouldn't, especially with the way that team is built now," Miles said. "They're aging a little bit and I'm pretty sure they're going to be looking for some guys that do some of the things I do."
Would the Mavs be interested? So much depends on if Williams signs, which players remain on the roster after any trades to create additional cap space and how much money the Mavs then have to fill out the roster.
Rodrigue Beaubois
and
Dominique Jones
both have a year left on their deals and
Vince Carter
will probably be returning.
Delonte West
joins Terry in free agency.
The Mavs shipped off athletic small forward
Corey Brewer
before last season, but there's no doubt they want an infusion of youth and athleticism in their backcourt.
Now it's all about how the dominoes fall.
April, 9, 2012
4/09/12
8:00
AM CT
We'll take a look at the games that impact the West playoff picture each morning for the rest of the regular season.
Mavs' spot in the standings:
They're sitting in seventh, a half-game behind the Rockets and a half-game ahead of the Nuggets. Dallas is 1 ½ games ahead of the Suns and two games ahead of the Jazz.
SUNDAY'S GAMES
Spurs 114, Jazz 104:
Tony Parker
and
Manu Ginobili
combined for 51 points in the first-place Spurs' 11th straight win. Utah guards
Earl Watson
(knee) and
C.J. Miles
(calf) left the game due to injuries.
Thunder 91, Raptors 75:
Oklahoma City went on a 24-0 run in the second half to turn a close game into a comfortable win.
Rockets 104, Kings 87:
Courtney Lee
scored 25 points to lead the Rockets in point guard Kyle Lowry's return after missing 15 games due to a bacterial infection.
TODAY'S GAMES
Lakers at Hornets
Thunder at Bucks
Clippers at Grizzlies
Warriors at Nuggets
Suns at Timberwolves
Spurs at Jazz
Rockets at Trail Blazers
If the playoffs started today:
Mavs vs. Thunder
March, 27, 2011
3/27/11
12:38
AM CT
By
Jeff Caplan
| ESPNDallas.com
SALT LAKE CITY --
Dallas Mavericks
coach Rick Carlisle called Saturday's 94-77 win against a depleted
Utah Jazz
team that led 70-68 with 6:21 to play a "great game."
In this case, great is relative.
"I felt like we were watching the NCAA tournament. At the end of the third quarter, it was 60-58," forward
Shawn Marion
said. "I was like, 'Whoa.' But, at least we hit 90."
But even Marion went on to say that it was a great win and a great way to start a six-game road trip that continues Sunday night at the
Phoenix Suns
.
"I thought we looked good. Besides the turnovers, we did good," Marion said. "It was a halfcourt game. It was a grind. It was a possession game throughout the whole time until we got that last six-minute stretch and we just opened it up. We did what we had to do to get the win."
The Mavs finally looked like a team serious about starting the playoffs in three weeks with a whirlwind final 6:21. It took shape with a lineup that may not have played together all season, and might never hit the floor together in a playoff game. Yet the three-guard lineup of
Jason Kidd
,
Jason Terry
,
J.J. Barea
, plus Marion and
Tyson Chandler
, finally fuel-injected the Mavs, who weren't thrilled by being pushed at home by the
Minnesota Timberwolves
just two nights earlier.
Playoff ready? Well, Carlisle and the Mavs, who are 6-5 in their last 11 games with three straight wins over lottery-bound teams, touted Saturday's game as a playoff-type slog -- physical, grinding and tight -- that they can carry forward.
"This is what we need," Carlisle said. "I mean this is a playoff-style game and very emotional. It's all about hanging in there."
If the 26-7 finishing kick is what Carlisle had in mind when he preached the importance of persistence heading into this season-long road trip, then chalk this one up as a momentous step forward. And maybe it will be a springboard to better basketball for a team trying to re-discover its edge and identity as the playoffs creep closer.
But it certainly wasn't pretty. There were 19 more turnovers -- five in the first half on offensive fouls -- that Utah only managed to turn into 12 points. The good news is only seven came in the second half when the Mavs played better defense, held the Jazz to 30 points and 30.8 percent shooting.
The pessimist will point out that the Jazz started a lineup of
Earl Watson
,
Raja Bell
,
C.J. Miles
,
Paul Millsap
and
Al Jefferson
.
Devin Harris
and
Andrei Kirilenko
were out with injuries as Utah fell for a fifth consecutive time and dropped their 17th home game at what was once one of the most intimidating venues in the NBA.
The Mavs again could not seize a lead and continually fell behind against an undermanned opponent, and managed just 15 points in a brutal third quarter in which the Jazz scored only 13. Both teams combined for 10 field goals and nine turnovers.
The optimist will point out that the Mavs (51-21) found a way to win when they didn't have it going offensively much of the night. Dallas won for only the 12th time this season when scoring less than 100 points (12-27). The Mavs hadn't held a single opponent under 80 points all season and now have done it twice in the last three games (holding Golden State to 73 points a week ago). And, it is the first time in franchise history to sweep a four-game season series from the Jazz. Energy Solutions Arena has been a house of horrors in the past.
"Tonight the level of intensity was like the playoffs, but as far us just getting out and getting a good lead on them, it wasn't happening for us, so that was kind of frustrating," said Jason Terry, who had a game-high 22 points on just seven shots. "But, there in the fourth quarter we locked in on both ends of the floor and did what we had to do to get the win."
Against better teams it might have been too late to salvage. For now, the Mavs have a game at Phoenix, an off-day Monday and a practice Tuesday in the desert, then a game at the
Los Angeles Clippers
on Wednesday to straighten out issues before another huge test against
Los Angeles Lakers
on Thursday. Again, that game could ultimately give the Lakers the No. 2 seed, or put Dallas on the brink of taking it back.
But before then, the fact of the matter is Dallas is finally fully healthy and just now working in another new lineup with Marion starting and
Peja Stojakovic
coming off the bench.
Rodrigue Beaubois
continues to try to find a comfort level and Carlisle is searching for stability with the rotation and roles.
That was blown out of the water early because of foul trouble to multiple players.
"We've got 10 games left and we've got to work through that," Kidd said. "But, we're a veteran ballclub and we understand that, again, we put ourselves in that position [against the Jazz] by turning the ball over. But, once we took care of the ball and got shots, we started to push forward and got a little breathing room."
The only problem is it took 41 1/2 minutes to do it.
May, 6, 2010
5/06/10
5:27
PM CT

Click here
to hear Utah Jazz guard C.J. Miles talk about taking on the Lakers in the playoffs, what the players think of Dirk and if he'd ever consider coming to play for the hometown Mavs.