Dallas Mavericks:

Calvin Booth
May, 14, 2010
5/14/10
12:18
AM CT
By
Jeff Caplan
| ESPNDallas.com
Fifth in a series chronicling the Mavericks' streak of 10 seasons with 50 or more wins (previous installments).
[+] Enlarge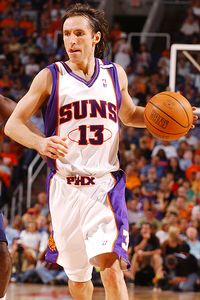 Barry Gossage/NBAE via Getty ImagesSteve Nash left the Mavericks for MVP pastures with the Suns.
The summer of 2004 will be remembered as the summer of Nash. No one ever imagined a scenario in which
Steve Nash
would leave the Mavericks. But the free agent, who had just come off a tough first-round series loss to
Mike Bibby
and the Sacramento Kings, was pursued by the Phoenix Suns, who swooped into Dallas armed with a big bag of cash.
When Mavericks owner Mark Cuban declined to counter with an offer anywhere close to the $65 million the Suns put on the table, Nash quickly made his call. The Big Three, one year removed from the West finals, was no more. Nash returned to Phoenix,
Dirk Nowitzki
lost his best friend and coach Don Nelson lost his point guard, and later would admit lost his enthusiasm to coach the new-look Mavs.
"It's exciting, but it's also bittersweet," Nash told ESPN.com at the time. "I'm really sad to leave my teammates, but I'm glad to be going somewhere where they really wanted me."
Cuban, who had not been shy in spending big money to acquire players, said no this time. He contended that Nash's body couldn't endure another five or six years playing the break-neck style that had come to define his game. At the time, it seemed many fans agreed.
President of basketball operations Donnie Nelson got to work and acquired streaky shooting Atlanta Hawks guard
Jason Terry
to run the point. He would join rookie guard
Devin Harris
. Veteran center
Erick Dampier
and ornery swingman
Jerry Stackhouse
came aboard via different trades.
The club thrived to win 58 games. The final 16 game under Avery Johnson, who took over when Nelson abruptly stepped down on March 19. The Mavs reached the second round, but in the end, it was Nash who got the last laugh, at least for one season, and set the stage for his double MVPs to come.
Coach:
Don Nelson (64 games)/Avery Johnson (18 games)
Record:
58-24 (2nd, Southwest Division)
Playoffs:
defeated Houston (4-3), lost to Phoenix (4-2)
Team payroll:
$91.9 million*
Highest-paid player:
Michael Finley ($14.6 million)*
[+] Enlarge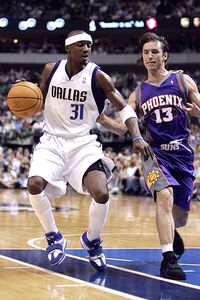 Brian Bahr/Getty ImagesThe Mavs brought in Jason Terry to replace Steve Nash, who nevertheless did a number on his former team in the Western Conference semifinals.
Offseason transactions:
Traded
Antoine Walker
and
Tony Delk
to Atlanta for Jason Terry and
Alan Henderson
; traded
Antawn Jamison
to Washington for No. 5 overall draft pick Devin Harris,
Christian Laettner
and
Jerry Stackhouse
; traded Laettner,
Luis Flores
,
Eduardo Najera
, cash, Mladen Sekularac, a 2007 first-round draft pick (Petteri Koponen) and a future first-round draft pick to Golden State for Erick Dampier,
Dan Dickau
and
Evan Eschmeyer (retired)
; traded
Danny Fortson
to Seattle for
Calvin Booth
;
D.J. Mbenga
(free agent); traded 2005 first-round draft pick (
Linas Kleiza
) to Utah for
Pavel Podkolzin
.
In-season transaction:
Dec. 3, 2004: Traded Dickau and a 2005 second-round draft pick (
Marcin Gortat
) to New Orleans for
Darrell Armstrong
; Feb. 24, 2005: Traded Calvin Booth and Alan Henderson to Milwaukee for
Keith Van Horn
.
The high:
The Mavs finished the season on a 9-0 run under Avery Johnson but lost their first two playoff games at home against Houston. Dallas rallied and won Game 7 at home by 40 points, the largest margin of victory in a Game 7 in NBA history. Dirk Nowitzki put together a remarkable regular season, averaging a career-best 26.1 points and 9.7 rebounds that would see him finish third in in MVP voting and make him the first Mavericks player to be named All-NBA first team.
The low:
Nash did it all in the West semifinal series against his old team, putting up the best numbers of his career. Nash averaged 30.3 points, 12.0 assists, and 6.5 rebounds a game. He recorded his first playoff triple-double and scored 48 points in Game 4, then followed it up with 34 points in Game 5 and 39 points in the series-clincher. In that Game 6 on the Mavs' home court, Nash hit the biggest shot of the series, nailing a game-tying 3-pointer from the top of the arc with 5.7 seconds left with Jason Terry -- who poured in 36 points -- drifting off of him to force overtime. The Suns had trailed by 16 points with four minutes remaining in the third quarter. The Nash 3-pointer to tie led Nowitzki to verbally berate his first-year teammate Terry on the court, a rare scene from the frustrated 7-footer. Losing Nash, then losing to Nash, did not foreshadow what was to come next for the Dallas Mavericks.
The roster:
F Dirk Nowitzki (26.1 ppg, 9.7 rpg)
G Michael Finley (15.7 ppg, 40.7% 3FG)
G/F Jerry Stackhouse (14.9 ppg as sixth man)
F Josh Howard (12.6 ppg, team-high 116 steals)
G Jason Terry (12.4 ppg, 42.0% 3FG)
F Keith Van Horn (12.2 ppg in 29 games with Dallas)
C Erick Dampier (9.2 ppg, 8.5 rpg)
G/F Marquis Daniels (9.1 ppg)
G Devin Harris (5.7 ppg, 19 starts in 76 games)
G Darrell Armstrong (2.3 ppg in 52 games with Dallas)
F Alan Henderson (3.5 ppg, 4.5 rpg, 15.4 mpg)
C Shawn Bradley (2.7 ppg, 2.8 rpg, 11.5 mpg)
C Calvin Booth (2.4 ppg in 34 games with Dallas)
G Dan Dickau (played just four games)
C DJ Mbenga (played just 15 games)
C Pavel Podkolzin (played five games)
May, 10, 2010
5/10/10
7:00
AM CT
By
Jeff Caplan
| ESPNDallas.com
The
Dallas Mavericks
achieved a rare feat in the NBA by winning at least 50 games for the 10th consecutive season. Only three other teams in league history have accomplished that: the
Boston Celtics
(1958-59 to 1967-68),
Los Angeles Lakers
(1979-80 to 1990-91) and
San Antonio Spurs
(1999-2000 to present).
[+] Enlarge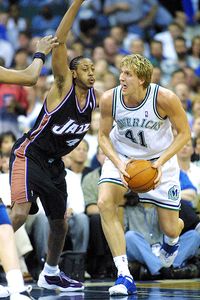 Ronald Martinez/Allsport Dirk Nowitzki had a team-high 21.8 points per game for the 2000-01 Mavs.
The one glaring difference between the Mavs and those teams are, well, championships. While Dallas continues to hunt for its first NBA title, the others have hung multiple banners. But, why quibble over small details? The Mark Cuban-era Mavs have been regular-season warriors and we thought it would be interesting to trace the history of the streak, looking back at the numerous players who have come and gone, such as
Christian Laettner
,
Evan Eschmeyer
,
Tariq Abdul-Wahad
,
Juwan Howard
(twice) and, of course,
Antoine Rigaudeau
; plus the highs, the lows and the missed opportunities.
So, here we go, starting where it all began with the 2000-01 season, Cuban's first full season since adding the title of ambitious owner to biggest fan. Twenty players dotted the roster and The Big Three started to take hold:
Coach:
Don Nelson
Record:
53-29 (T2nd in Midwest Division)
Playoffs:
Defeated Utah (3-2); lost to San Antonio (4-1).
Team payroll:
$51.4 million*
Highest-paid player:
Michael Finley
($8.4 million)*
The high:
Cuban bought the team in the middle of the previous season (Jan. 4, 2000) and the Mavs finished on a roll. The momentum carried over and the franchise finally ended an 11-year playoff drought, the longest in the NBA and then rallied from 2-0 deficit to stun Utah in the first round, 3-2 ... Only team in the league to finish in the top five in points per game (100.5, 4th), field-goal percentage (45.9, 5th), free throw percentage (79.4, 2nd) and 3-point field-goal percentage (38.1, 4th) ... It was the team's first 50-win season in 13 years and the franchise's third since joining the league in 1980.
[+] Enlarge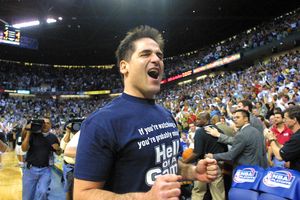 Ronald Martinez/Getty ImagesMark Cuban's investment in the Mavs paid off in his first full season, which saw Dallas upset Utah in the first round of the playoffs.
The Low:
The Mavs played their final home game at cozy Reunion Arena on April 18, 2001. Although the 120-100 win over Minnesota ended the regular season on a four-game win streak, leaving the team's original home -- which spawned the "Reunion Rowdies" -- always comes with a touch of sadness.
Major transaction:
February 22, 2001: Traded
Courtney Alexander
,
Hubert Davis
, Christian Laettner,
Etan Thomas
,
Loy Vaught
and cash to Washington for Juwan Howard,
Calvin Booth
and
Obinna Ekezie
.
Roster:
F
Dirk Nowitzki
(team-leading 21.8 ppg, 9.2 rpg and 151 3FGs)
G Michael Finley (21.5 ppg, lead team with 118 steals)
F Juwan Howard (17.8 ppg, 7.1 rpg in 27 games with Dallas)
G
Steve Nash
(15.6 points, team-high 7.3 assists)
G
Howard Eisley
(Started 40 games, played 82, second on team with 107 3FGs)
C
Shawn Bradley
(7.1 ppg, 7.4 rpg, team-high 228 blocks)
G
Greg Buckner
(Played in just 37 games)
C Calvin Booth (Always remembered for game-winning layup to defeat Jazz in Game 5)
C Wang Zhizhi (7-foot, second-round pick played in five games)
G
Vernon Maxwell
(Mad Max averaged 4.3 points in 19 games after being signed as free agent)
F
Gary Trent
(Injuries reduced him to just 33 games played)
F
Eduardo Najera
(Traded from Houston to Dallas in the summer; played 40 games)
F/C Obinna Ekezie (Played in just four games)
F
Donnell Harvey
(Played in just 18 games)
F/C
Mark Bryant
(Played in just 18 games, started one)
F Christian Laettner (7.5 ppg, 4.0 rpg before trade to Washington)
G Hubert Davis (Started seven of 51 games before trade to Washington)
G Courtney Alexander (Averaged 4.2 ppg before trade to Washington)
F Loy Vaught (Averaged 3.1 points before trade to Washington)
F
Bill Curley
(Played in five games)
*Source: Basketball-Reference.com
November, 3, 2009
11/03/09
5:54
AM CT
It's easy to forget that the Mavericks ran into the Los Angeles Lakers in the playoffs three times in a span of five years.

It's easy to forget that because the Lakers are one of only three Western Conference teams that Dallas hasn't faced in the playoffs this millennium.

Lakers. Clippers. Seattle/Oklahoma City.

That's it.

Those are the only three West foes that the Mavs haven't encountered in the postseason since their breakthrough squad of 2000-01 came back from 2-0 down to win a Game 5 in Utah on what is commonly referred to as the $35 million layup ... because that's roughly how much money Calvin Booth earned in a free-agent contract from the Sonics just a few months after his series-clinching bucket in Salt Lake City.

(An aside: I recently heard a story about that unforgettable series that I actually either can't remember hearing before or have simply deleted from my disintegrating memory. It seems that Don Nelson's speech to his team of playoff neophytes before Game 3, with the Jazz just one win away from the second round, came with a promise. "Win these two games at home," Nellie told the young Mavs, "and I'll figure out a way to win us a Game 5 in Utah." I wonder if he really believed it when he said.)

Anyway ...

I bring all of this up now because I'm still thinking of Friday's long-awaited Staples Center breakthrough against the Lakers. We repeat: It would be foolish to overstate the importance of one win in late October, especially with Pau Gasol out injured, meaning that L.A. was playing without its No. 2 difference-maker. All I'm saying is that the buzz you could feel through the TV on Friday night kept reminding me how overdue we are for a Mavs-Lakers series ... before we even bring up the Mark Cuban/Phil Jackson trash-talk factor that could only make the matchup wild after years of trash-talking from afar between rival owner and coach.

Here's the breakdown of the Mavs' playoff opposition in the West since 2001:
2-2 versus San Antonio (2001, 2003, 2006, 2009)
1-2 versus Sacramento (2002, 2003, 2004)
1-1 versus Phoenix (2005, 2006)
1-0 versus Memphis (2006)
1-0 versus Houston (2005)
1-0 versus Portland (2003)
1-0 versus Minnesota (2002)
1-0 versus Utah (2001)
0-1 versus Denver (2009)
0-1 versus New Orleans (2008)
0-1 versus Golden State (2007)