Dallas Mavericks:

Carlos Boozer
March, 30, 2013
3/30/13
3:40
PM CT
How it happened:
Dirk Nowitzki
dominated winning time, willing the
Dallas Mavericks
to a miraculous comeback win.
Nowitzki matched his season high with 35 points on 14-of-17 shooting, including 15 in the fourth quarter and eight in the final minute. He finished his clutch scoring flurry with the game-winning 3-pointer with less than three seconds remaining.
The Mavs stormed back from a 12-point deficit in the final minutes, finishing the game with a 15-1 run over the last 3:32.
Nowitzki's corner 3 with 53.5 seconds remaining made it a two-point game. After Chicago's
Carlos Boozer
split a pair of free throws, Nowitzki hit a one-legged fadeaway on the baseline to trim the deficit to one. He hit the game-winner the next possession.
Nate Robinson
was one of three Bulls to score 25 points, joining power forward Carlos Boozer and small forward
Luol Deng
, but the reserve point guard's ridiculous scoring flurry early in the fourth quarter appeared to be the turning point of the game.
Robinson took over right after the Mavs closed the third quarter with a 12-1 run to tie the game. He opened the fourth quarter with a 3-pointer from the right wing, starting a personal 11-2 run in the first 3:27 of the quarter to give the Bulls the lead for good.
Robinson finished his hot streak with one more 3, a ridiculous 32-footer with the shot clock ticking down midway through the quarter. He finished with 14 of his 25 points in the fourth. He was 9-of-16 from the floor and 7-of-7 from 3-point range in the game, 5-of-8 and 4-of-4 in the fourth.
But Dirk wasn't done.
Robinson had a chance to send it into overtime after Nowitzki's heroics, but his jumper at the buzzer clanked off the iron.
What it means:
The Mavs (36-37) pulled within a game of the
Utah Jazz
and
Los Angeles Lakers
in the fight for the West's final playoff berth, pending the results of Saturday night's games. Dallas won four of six games during the homestand, capping it with a thrilling victory over the 39-32 Bulls, the East's fifth-place team.
Play of the game:
How could it not be Nowitzki's game-winner with 2.9 seconds remaining? He drilled in in Luol Deng's face after
Vince Carter
found Nowitzki on the left wing.
Stat of the day:
Nowitzki has a season-high 35 points in two of the Mavs' past three games, lighting it up in heart-pounding wins over the Clippers and Bulls.
February, 21, 2011
2/21/11
10:32
AM CT
By
Jeff Caplan
| ESPNDallas.com
Yes, I said it last week on Galloway & Co.:
Dallas Mavericks
coach Rick Carlisle deserves to be on the short list of NBA Coach of the Year candidates.
[+] Enlarge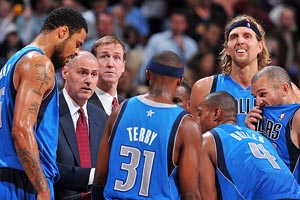 Garrett W. Ellwood/NBAE/Getty ImagesRick Carlisle has not only sold his Mavs on a winning plan, but he's listening to them too.
And I'm sticking to it.
In his third season, Carlisle has the club at a record of 40-16 and positioned in the No. 2 seed in the Western Conference. How he's gotten them to this point is what I find to be impressive.
First, consider how last season ended in San Antonio.
Shawn Marion
had his minutes slashed in the first-round series and left for the offseason seemingly confused and uncertain of his role.
Caron Butler
was benched for an entire half and, like Marion, had to wonder how he fit moving forward. Center
Brendan Haywood
and Carlisle didn't seem to see eye-to-eye (at the time, Haywood figured to be the best option as this season's starting center if he wasn't lost in free agency).
Jason Kidd
, who had an awful playoff series, didn't show for the team's final day when players clear out their lockers, meet with coaches and then give a parting interview to the media. Carlisle played down Kidd's absence due to him being ill. Every other player attended.
Then there was the
Roddy Beaubois
imbroglio. Carlisle, already being criticized for not playing Beaubois more during the regular season, was being roasted after Game 6 for removing Beaubois before the fourth quarter in favor of the cold-shooting
Jason Terry
. Beaubois nearly single-handedly rescued the Mavs from an embarrassing beginning to the game, and then Carlisle's trust in his veterans didn't pay off.
So why should Carlisle be among this season's candidates for Coach of the Year?
PODCAST
Ben and Skin caught up with Dirk Nowitzki over All-Star weekend and The Big German drops some DFW Digs Dirk lyrics on us. He also gives an answer that leaves us in awe of his greatness.

Listen

He's been criticized every which way for being somewhat aloof, perhaps a bit odd and mostly a poor communicator with players, which then rubs guys wrong and causes problems. That seemed to be what was bubbling with at least Marion and Butler. Well, if communication was Carlisle's Achilles' heel in the past, this season it has been his saving grace.
During the offseason, Carlisle visited with Marion and Butler on their turf, provided his vision for this season and got both players to buy into unaccustomed roles. Marion has been terrific coming off the bench while playing about 27 minutes a game. Butler, up until his knee injury on Jan. 1, was emerging as a major offensive threat despite often not playing at all in the fourth quarter.
Carlisle listened to Kidd, Terry and
Dirk Nowitzki
when they went to him early in the season and told him
DeShawn Stevenson
could do the job as the starting shooting guard. He listened and the move paid off.
Throughout the season, Carlisle has managed to get his team to buy into a defensive mentality and he's fostered a genuine one-for-all mentality on the team, which, to no small degree, has been hammered home by center
Tyson Chandler
in his first season with the team.
When Nowitzki went down on Dec. 27 with a sprained right knee and Butler followed two games later, the team went into a tailspin, losing six in a row and 10 of 14 all-in-all. Throughout, Carlisle remained positive, pumped up his guys and they responded, with Nowitkzki continually improving, to win 13 of 14 heading into the All-Star break.
For some media members -- and no need to embarrass anyone here -- who may have predicted a greater chance of an implosion situation than an emerging Western Conference contender, the record, the communication, the good vibe in the locker room can all in some way be attributed to Carlisle.
Here's my top candidates for Coach of the Year:
1. Tom Thibodeau, Chicago:
The first-year head coach has the Bulls at 38-16, three wins from matching last season's total. They've done it despite
Carlos Boozer
missing 18 games because of injury and
Joakim Noah
hasn't played since Dec. 15. Known as the defensive brains as an assistant under Doc Rivers at Boston, the Bulls rank second in both scoring defense and field-goal percentage defense. Of course, the Bulls are led by my leading MVP candidate
Derrick Rose
.
2. Erik Spoelstra, Miami:
The greatest team supposedly ever assembled (but hardly to coach) stumbled out of the gates to a 9-8 record, dropping to that mark after another embarrassing loss at Dallas that included the
LeBron James
(accidental?) body bump on his coach, then a closed-door team meeting. The next day reports surfaced that players didn't have confidence in their 40-year-old coach. But, Spoelstra never flinched, never got intimidated and has the Heat at 41-15 at the break.
3. Rick Carlisle, Dallas:
See above.
4. Gregg Popovich, San Antonio:
Blessed with good health this season, Popovich has the Spurs at 46-10, the franchise's best mark to this point and the best record in basketball. He has successfully transitioned the focal point of the offense from
Tim Duncan
to
Manu Ginobili
and
Tony Parker
, plus heavy doses of 3-point shooting, as the once-offensivelyboring Spurs are sixth in the league in scoring (103.5).
5. Doc Rivers, Boston:
The Celtics might be oldies, but they're goodies. Rivers shunned retirement to come back for at least one more season and has his team playing great defense again (despite losing Thibodeau off his bench) and bearing down on a third trip to the NBA Finals in four seasons.
5a. Nate McMillan, Portland:
To have that depleted roster sitting fifth in the West at 32-24 -- having won six in a row at the break -- is nothing short of miraculous, and he should probably be much further up on this list.
January, 20, 2011
1/20/11
2:01
PM CT
By
Jeff Caplan
| ESPNDallas.com
CHICAGO -- The
Dallas Mavericks
are still smarting from that 59-34 board whipping the
Chicago Bulls
put on them on Jan. 19 at the American Airlines Center.
The scene moves to the United Center tonight where the Mavs, 88-83 losers in the first meeting, might be getting the Bulls at just the right time. Bulls center
Joakim Noah
is sidelined after surgery to repair a torn ligament in his right thumb. Noah had 17 boards in the first game to go with 10 points and five assists.
Carlos Boozer
will likely miss his third consecutive game with a sprained ankle. He also missed the first meeting in Dallas.
Between Boozer and Noah, that's 21.8 front-line rebounds sitting on the bench.
However,
Taj Gibson
will be in the lineup. The 6-foot-9 forward is good rebounder, not tremendous, averaging 5.7 in 23.3 minutes a game. But, he played as though he was
Moses Malone
in the last game. He pulled down a career-high 18 rebounds and bounced all over the floor to nab eight of the Bulls' 20 offensive boards as Chicago benefitted from a 25-8 edge in second-chance points.
"They kicked our tails on the boards," Mavs coach Rick Carlisle said, "so that will be an emphasis."
December, 3, 2010
12/03/10
9:44
AM CT
By
Jeff Caplan
| ESPNDallas.com
The
Utah Jazz
have undergone some changes.
Carlos Boozer
and
Kyle Korver
defected to Chicago. But, in came big
Al Jefferson
and veteran agitator
Raja Bell
, and the Jazz might be better than ever.
With arguably the league's best point guard,
Deron Williams
, running the show, the Jazz are off to a 15-5 start, have won seven in a row and are always one of the most difficult road games for the
Dallas Mavericks
to leave a winner.
Also riding a seven-game win streak, the Mavs (14-4) will shoot for their first win at Utah in six games tonight in what should be an action-packed showdown at 9:30 p.m. (ESPN). Utah has won four straight at home. The Mavs are 6-1 on the road.
"They're winning games and we are, too," Mavs forward
Caron Butler
said, "so it should be a good one."
Utah has won 10 of the last 13 over Dallas at home and have had a habit of breaking out to fast starts, working their crowd into a lather while putting the Mavs on their heels. And, of course, strange things seem to happen in Utah. In successive years,
Dirk Nowitzki
left Salt Lake City with a one-game suspension. In 2007, a rough takedown of
Andrei Kirilenko
under the basket got Nowitzki suspended, but not ejected. The next season, an incident with
Matt Harpring
got him ejected and suspended.
Harpring no longer plays for the Jazz, but the always antagonistic Kirilenko does, although his new-look, long, stringy hairy makes him difficult to recognize.
'"They're always one of the best teams in the West, obviously well-coached," Nowitzki said. "They always play hard there, their fans are great, so it's definitely a great test for us. But, if we can just keep doing what we're doing we should be all right. If we defend well, get the rebounds and then spread the ball around, let everybody touch it, let everybody score, we're a tough team to beat."
The Mavs had serious interest during the offseason in dealing for the 6-foot-10 Jefferson, but the
Minnesota Timberwolves
preferred the Jazz's offer that included no salary dumps. The Mavs were determined to ship
Matt Carroll
and his overpriced salary in any trade. So Jefferson is with the Jazz and is averaging 16.8 points and 8.7 rebounds. He and
Paul Millsap
(18.4, 8.5) form a tough-to-handle combo at the 4-5 positions.
Dallas ended up trading Carroll's salary and
Erick Dampier
to
Charlotte
for 7-foot-1 center
Tyson Chandler
, and the Mavs are pretty happy with how that's worked out.
The Jazz make their first visit to Dallas in eight days, but in this first of four meetings, the Mavs are expecting a Jazz team to be at their high-energy, agitating best.
"They make you play on every single possession and in many cases they make you play 22, 23 seconds," Mavs coach Rick Carlisle said. "You can never relax against this team."
July, 5, 2010
7/05/10
11:01
AM CT
By
Jeff Caplan
| ESPNDallas.com
Eventually the top domino will fall and the momentum will set off the inevitable chain reaction. But, until
LeBron James
decides where he wants to continue his basketball career, the upper tier of free agency is at a virtual standstill.
Once James decides,
Dwyane Wade
and
Chris Bosh
will too, and then the trickle down will allow players like
Brendan Haywood
to chart their course.
Haywood and the Mavs are currently in contract negotiations, but teams like the Heat, Cavaliers and Knicks are interested, so Haywood is likely to wait and see what unfolds before choosing his destination.
James is hosting a three-day Nike hoops camp at the University of Akron starting today and he isn't expected to make a decision until after the camp. Wade is hosting a camp in South Florida on Tuesday through Thursday. It could take until late in the week to get the wheels turning.
Whether the extra time will afford the Mavs a chance to swoop in for a face-to-face interview with either player is uncertain. The agents for both players have not returned repeated messages and the Mavs are remaining mum. Early in the process, the Mavs contacted both players' representatives seeking an interview.
The Mavs can only acquire a top-tier free agent through a sign-and-trade, so they would have to convince James or Wade to demand the Cavaliers or Heat to trade them to Dallas.
Teams can continue to come to terms with their own free agents, such as the Mavs did with
Dirk Nowitzki
over the weekend and the Hawks did with
Joe Johnson
.
Some lower-level free agents will also continue to strike deals, but as far as the upper crust, including
Amare Stoudemire
and
Carlos Boozer
, and then the trickle-down free agents such as Haywood will likely be on hold until the lead domino tumbles.
There are rumblings that Stoudemire could be the first of the big names to agree to a new contract, with the Knicks, but that won't clear the logjam. Only James can do that.
March, 24, 2010
3/24/10
2:59
PM CT
Ex-Mav Jim Jackson played for an NBA-record 12 teams and shares that distinction with Chucky Brown and Tony Massenburg.
Drew Gooden
has played for nine teams in eight seasons and sees the inevitable.
[+] Enlarge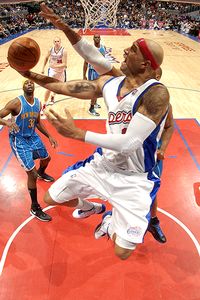 Andrew D. Bernstein/NBAE/Getty ImagesDrew Gooden has taken advantage of his time with the Clippers, averaging a career-best 14.7 points and 9.7 rebounds in his 16 games with L.A.
"I'm on my way to breaking that record," Gooden said with a laugh Tuesday night. "I'm on my ninth team now, and I'm a free agent this summer."
Gooden had just delivered his best individual performance of the season -- 26 points and 20 rebounds -- in the
Los Angeles Clippers
' 106-96 loss to the Mavericks, slamming home precisely why Dallas was so hopeful of re-signing him after Gooden was packaged with
Josh Howard
,
Quinton Ross
and
James Singleton
to Washington in the Feb. 13 trade that netted
Caron Butler
,
Brendan Haywood
and
DeShawn Stevenson
.
Had the Wizards reached a buyout with the veteran power forward, as they later did with
Zydrunas Ilgauskas
after acquiring Big Z from Cleveland in the
Antawn Jamison
deal, Gooden would almost certainly be back with a previous employer for the first time in his career. As he said many times before and after Tuesday's homecoming game at American Airlines Center, Gooden never wanted to leave Dallas and still hopes that the Mavs will consider re-signing him this summer.
The Wizards, though, didn't buy Gooden out. Instead they routed him to the Clippers as part of the three-way Jamison swap before the league's Feb. 18 trading deadline. And there would be no buyout in L.A. because the Clips, looking to bolster a front line weakened by rookie
Blake Griffin
's season-ending knee injury and the trade of
Marcus Camby
to Portland, told Gooden immediately that they needed to keep him for the rest of the season.
"It wasn't as easy it was last year for me with Sacramento," Gooden said, recalling how the Kings quickly bought out his contract after acquiring Gooden from Chicago at the deadline, enabling Gooden to sign with San Antonio for the stretch run.
"I think everybody knew that once I got a buyout that I would want to go back to Dallas and help [the Mavs] out even more. I think there [were] teams that didn't want Dallas to have their cake and eat it, too.
"I miss Dallas. I miss those guys over there. I committed myself to this team and left something on the table that was unfinished business for me. But that's the business."
The solace for Gooden is that his play with the Clippers isn't exactly discouraging the Mavs -- or prospective team No. 10 -- from keeping the 28-year-old in their offseason thoughts. Gooden is averaging a healthy 14.7 points and 9.7 rebounds in 16 games with the Clippers, which would represent the highest averages of his career in both categories if sustained for a full season.
"I've got to make sure I don't take for granted the opportunity I have now," Gooden said. "Even though, let's face it, we're not going to be a playoff team this year, I'm getting an opportunity to play and I'm going to do well.
"I do feel like I'm playing my best [basketball]. Maybe I don't jump as high as I used to, but my mental game is so much stronger than when I first got into the league. Even though I've been on a lot of teams, playing a lot of different roles, I've gotten better within those roles."
Asked if the Mavs miss Gooden's contributions off the bench,
Dirk Nowitzki
said: "Hell, yeah."
Oklahoma City's
Kevin Ollie
-- another Mavs alumnus -- has played for 11 teams, so Gooden isn't even No. 1 among active NBA vagabonds. The people who track such matters at the Elias Sports Bureau, furthermore, say Gooden doesn't get credit for making a stop in Washington because, even though he was issued a No. 90 jersey from the Wizards, he never played in a game for them.
Ollie, though, is 37. He's running out of time to get to 12 teams.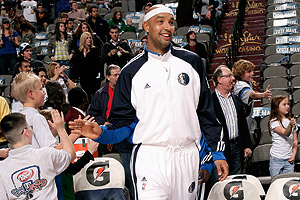 Glenn James/NBAE/Getty ImagesDrew Gooden misses the Mavericks, and his former teammates miss him. "I miss the guys over there," Gooden said. "I committed myself to this team and left something on the table that was unfinished business for me. But that's the business."
Gooden is nearly a decade younger and has only enhanced his reputation this season as a player who can produce when he starts and serve as the offensive focal point for a second unit. Playing for 13 teams certainly seems within reach, which isn't a prospect that insults Gooden.
"I was a victim of basketball [business]," Gooden said of the deal swung by the Mavs to get Butler and Haywood, which materialized about a month after Gooden and his partially guaranteed one-year contract in Dallas at $4.5 million was offered to Utah in an attempt
to swipe
Carlos Boozer
from the Jazz.
"I was never locked into a long-term deal," Gooden continued. "I was always a guy that was talked about at every trade deadline, no matter if I was playing well or not. But there's been nothing bad about what happened for me, playing on a lot of different teams."
He was quickly schooled on the business of basketball as a rookie, when Memphis -- after taking Gooden with the fourth overall pick in the 2002 draft -- traded him to Orlando before his first season was finished.
"That was a situation that I kind of liked [being traded]," Gooden said. "All the other times that I got traded, I didn't want to get traded. But it wasn't the right situation for me in Memphis. I was playing small forward and I felt like I was more of a power forward playing out of position."
Gooden's selection by then-Grizzlies president Jerry West in West's first draft in Memphis is one of the few second-guessed picks of West's storied front-office career, since the Grizz already had
Pau Gasol
and
Stromile Swift
on the roster.
"I didn't think I was going to have that Memphis hat on long that night that I got drafted," Gooden said. "But Jerry West always said he was going to take the best player available."
Marc Stein covers the NBA for ESPN.com and is a frequent contributor to ESPNDallas.com.
February, 1, 2010
2/01/10
3:54
PM CT
SALT LAKE CITY -- The
Dallas Mavericks
are fresh off allowing a decent point guard to light them up for 52 points.
If
Andre Miller
can torch the Dallas defense like that, just imagine the possibilities for an All-Star like
Deron Williams
.
"Actually, to me, he's probably the best point guard in the league right now,"
Dirk Nowitzki
said of the Jazz star. "I'd actually take him over [Chris] Paul and the rest of them because he's a big guard who can do it all."
Williams had a career-high 41 points against the Mavs a couple of seasons ago. He's also had a 17-assist game against Dallas.
The Mavs won't have to worry about Jazz power forward
Carlos Boozer
, but they don't get a break with his backup. Utah's
Paul Millsap
had 32 points, 14 rebounds and seven assists in Friday night's win over the Kings, which Williams missed to attend a family funeral.
February, 1, 2010
2/01/10
10:40
AM CT
SALT LAKE CITY -- Jazz forward
Carlos Boozer
won't play against the Mavericks tonight because of a strained right calf.
That shouldn't provide any comfort to the Mavs.
After all, the Mavs have managed to lose to a handful of teams playing without their stars this season. They're coming off a loss to the Trail Blazers without
Brandon Roy
. They opened the season by losing to the Wizards without
Antawn Jamison
. They lost in San Antonio with
Tim Duncan
and
Tony Parker
watching from the bench in street clothes. And
Corey Maggette
was included in the half of the Golden State roster that wasn't available when the Warriors won at the American Airlines Center.
January, 13, 2010
1/13/10
10:34
AM CT
Utah general manager Kevin O'Connor loudly insisted Monday that those of us who presume that the Jazz will do anything they can to get under the luxury-tax line between now and June 30 have it way wrong.

The Dallas Mavericks got the same message when they tested Utah's resolve early last week.

The Mavs made a long-shot attempt to convince Utah to part with Carlos Boozer by proposing an all-about-money trade that would have provided the Jazz with another sizable chunk of payroll relief to follow up the significant savings from their recent swap with Oklahoma City, ESPN.com has learned.

Yet sources close to the situation say that the Jazz weren't about to be tempted.

Using Drew Gooden's partially guaranteed contract and two players it wound up trading to the New Jersey Nets days later – Kris Humphries and Shawne Williams – Dallas could assemble a package of contracts high enough to reach the salary range of Boozer's $12.3 million expiring contract to make the trade math work ... but low enough to net an initial savings of $2.5 million for the Jazz.

Waiving Gooden before last Wednesday -- which was the last day he could be released and still clear waivers -- would have then sliced another $2.6 million from Utah's payroll to essentially take the Jazz out of tax territory. It's believed that the Mavericks also would have been prepared to throw in some cash to help offset the $3.2 million due to Humphries next season.

The Jazz, though, have been telling teams for months that they won't give Boozer away. A recent slump that dragged its record to 19-17 before Saturday's thumping win over the Mavs in Dallas apparently hasn't changed that stance.

As noted in this cyberspace when Eric Maynor and retirement-bound Matt Harpring were dealt to the Thunder in December -- which sliced its luxury-tax bill this season from $12.6 million to a much more manageable $4.8 million -- Utah set itself up to be a lot more choosy when such attempts to steal Boozer inevitably rolled in.

Since the summer we've heard repeatedly that the Jazz want at least one keeper in return in addition to payroll relief if they're going to consent to a Boozer deal. And that was when their luxury-tax bill was going to approach $13 million.

Now?

ESPN The Magazine's Chris Broussard reported Monday night that Jazz coach Jerry Sloan is hoping any decision about Boozer's future is put off until free agency starts July 1.

Sloan's superiors might ultimately decide they want to move Boozer before the Feb. 18 trading deadline, but they certainly don't have to if. Instead they might deem a tax payment in July in the $5 million range – even though that's way more tax than the Jazz want to pay – to be a one-season hit they can absorb to let the current group finish the season.

O'Connor tried to get that across in Monday's media session when he said: "I think you guys are so focused on the luxury tax. We're not." The Salt Lake Tribune's ever-sharp Ross Siler also quoted O'Connor as saying that the Jazz are not determined to getting under the luxury-tax threshold "at all costs."

Only that sort of mentality would have led Utah to seriously consider this offer from the Mavs, who are presumed to be out of any upcoming Boozer bidding now.

They're no longer in a position to pitch the same sort of payroll-relief package because Humphries and Williams became Nets property as of Monday and since Gooden's $4.5 million expiring contract became guaranteed Jan. 10.

Offering one of its core pieces for Boozer, meanwhile, would appear to make little sense for Dallas. Erick Dampier and Josh Howard both possess what amount to expiring contracts, since neither's salary is guaranteed in 2010-11, but how could the Mavs part with either one for Boozer when – before we even get to the basketball concerns – they'd have no guarantee of re-signing the free agent-to-be this summer?

The idea that Gooden would be the best player Dallas surrenders in a Boozer swap is one thing. Given Utah's need to immediately release Gooden to maximize its savings, there might even have been a chance to re-sign Gooden after a 30-day wait.

A hypothetical Howard-for-Boozer swap, by contrast, would obviously force Dallas to surrender one of its two best trade chips for a player who – even if everything clicked offensively – would make the Mavs defensively vulnerable if they tried to finish games with a frontcourt tandem of Boozer and Nowitzki.