Dallas Mavericks:

Casey Smith
February, 18, 2014
2/18/14
12:46
PM CT
DALLAS --
Dwight Howard
wasn't the only big-name big man that the Mavericks tried to sign this summer.
The Mavs were also in the mix for
Greg Oden
, the oft-injured No. 1 overall pick in the 2007 draft who ended up signing with the
Miami Heat
. In fact, Oden said his decision came down to Dallas or Miami.
"It's just a good organization," Oden said of the Mavs. "I know the training staff and I know they're really good. Their track record shows it. That was the main thing."
Mavs head athletic trainer Casey Smith, who also works with Team USA, is immensely respected around the NBA. The Mavs' recruiting pitch to Oden included a detailed plan of how Smith's staff would help his continued recovery from multiple microfracture knee surgeries and mentioned how the Mavs' training staff helped
Tyson Chandler
re-establish himself as a high-caliber starting center after arriving in Dallas with an injury-prone tag.
Oden, who made his Heat debut Jan. 15 and has played in nine games for Miami, opted to go to the two-time defending champions in large part because he wanted a chance to win a title.
"I'm happy about that," said Oden, who has 23 points, 21 rebounds and six blocks in 73 minutes this season. "I'm on this team and we're still working towards that. That's the goal and that's the plan. For them, they want to get three. For me, I want to get one."
Oden has found a good fit in Miami, but he's only under contract with the Heat for the rest of the season, having signed a one-year deal for the veteran's minimum. With the Mavs sure to be searching for center depth again this summer, it wouldn't be surprising if they engage in conversations with the 7-footer again.
July, 4, 2013
7/04/13
7:42
PM CT
As far as Mark Cuban is concerned, the Dallas Mavericks' silence about their meeting with
Dwight Howard
is simply smart business.
The Mavs' silence isn't just by design in this instance. It's team policy.
PODCAST
ESPN's Marc Stein joins Fitzsimmons and Durrett to discuss the latest news on the Mavericks' meeting with Dwight Howard.

Listen

"This is always our approach," Cuban said Thursday in an email to ESPNDallas.com. "We never talk about what we do. We don't test the waters in the media. We don't troll on twitter.
"The approach I learned from Donnie [Nelson] is that more teams will talk to you and be more open with you when they know they won't read about it. Same with players.
"The two things I hate the most are leaks to the media and the wave."
Officials, players and others from the
Houston Rockets
and
Los Angeles Lakers
have commented publicly about their meetings with the free-agent All-Star center.
The moment that the free agency period officially began a minute after midnight Eastern Monday, Houston general manager Daryl Morey created a "#dwighttohouston" Twitter hashtag and requested that Rockets fans send messages to Howard's account. After the Rockets' meeting with Howard ended hours later, Morey tweeted about
Hakeem Olajuwon
and
Clyde Drexler
telling Howard how he could form the "next gr8 big/wing combo" with
James Harden
. Many details of those closed-door sessions with Howard and his representatives have been leaked to the media.
The
Houston Chronicle
quoted anonymous Rockets representatives and
reported intricate details of the team's presentation
, such as video visits from former Houston centers
Yao Ming
and
Dikembe Mutombo
and pushing the marketing potential of playing for a franchise with great popularity in China.
Lakers general manager Mitch Kupchak released a statement after L.A.'s meeting with Howard, while point guard
Steve Nash
talked to reporters on his way out of the building. ESPNLosAngeles.com and other media outlets, citing sources, have reported
specific details about Howard's conversations
with Nash and
Kobe Bryant
during the meeting.
Meanwhile, the Mavs' only comment thus far about their meeting -– on or off-the-record -- was the usually outspoken Cuban mumbling, "It was fun," when encountered by ESPN's Shelley Smith and camera crew on the way out of Tuesday's meeting with Howard. Dallas superstar
Dirk Nowitzki
, part of the Mavs' six-man recruiting contingent, joked that he wasn't in the meeting when asked for comment.
Cuban had been upfront about the Mavs' plan to pitch prospective free agents, particularly Howard, on a two-year plan to rebuild a championship contender. It's been widely known that the Mavs would sell the franchise's championship pedigree and the ability to add more talent next summer, when Nowitzki's contract expires and he intends to re-sign for a drastically reduced salary.
The details of the Mavs' pitch to Howard, however, have successfully been kept a secret. That could be appealing to a superstar whose dirty laundry was aired publicly during the latter stages of his tenure with the
Orlando Magic
, most memorably when then-coach Stan Van Gundy told the media after a shootaround that Howard went to the front office in an attempt to get him fired. The ensuing group interview of Howard, who was unaware of Van Gundy's revelation moments earlier, was off-the-charts awkward.
Cuban, Nowitzki, president of basketball operations Nelson and coach Rick Carlisle headlined the Mavs' recruiting contingent. They were joined by Dallas athletic trainer Casey Smith, who has a relationship with Howard from their time together with Team USA, and director of analytics Roland Beech.
The only reason Smith and Beech are known to have participated in the meeting is because they were filmed by the ESPN camera crew leaving with the rest of the Mavs' representatives. If Cuban had his way, their presence wouldn't even be public knowledge.
July, 3, 2013
7/03/13
1:07
PM CT
We've known for weeks that the Mavericks' sales pitch to
Dwight Howard
would be headlined by their four horsemen.
PODCAST
ESPN's Marc Stein joins Fitzsimmons and Durrett to discuss the latest news on the Mavericks' meeting with Dwight Howard.

Listen

Who were those other two guys with Mark Cuban, Donnie Nelson, Rick Carlisle and
Dirk Nowitzki
? And what could they have contributed to the pitch?
The other two members of the Mavs' party were head athletic trainer Casey Smith and director of basketball analytics Roland Beech.
As far as their contributions go, we don't know for certain because the Mavs have been mum about their meeting with Howard, as opposed to the Rockets and Lakers, who made official statements and leaked all kinds of details about their pitches. We can offer some informed speculation, though.
The Mavs consider Smith the league's premier athletic trainer and see him as a recruiting asset, especially for veteran big men who have had injury issues. They can use his impact on Tyson Chandler's career as evidence.
When Chandler arrived in Dallas, he was an overpaid, oft-injured center who missed a total of 68 games with ankle and foot problems the previous two seasons and flunked a physical to kill a trade that would have sent him to Oklahoma City. When Chandler left Dallas, he was an NBA champion with a four-year, $56 million contract.
Howard obviously doesn't need any help getting paid, but he is a season and a half removed from back surgery and fought through shoulder injuries for most of 2012-13. It'd be a wise move to have Smith map out a potential treatment plan to not only keep Howard healthy for the next four years but extend his career as long as possible.
Plus, Howard and Smith, who is extremely popular with players he's worked with, probably have a good relationship from their days together on Team USA. (The fact that Smith has that job indicates that the Mavs aren't the only ones who consider him to be elite in his profession.) It can only help to have a friendly, familiar face in the room with Howard.
Beech could have been a counterpunch to the Rockets and MIT-educated general manager Daryl Morey's claim to being ahead of the analytical curve. Of course, Cuban was at the forefront of the NBA's statistical revolution long before Morey even had a job in the league.
Beech's role could have been as simple as offering statistical support throughout the course of the meeting, including when the Mavs presented various scenarios for how they could build a contender around Howard.
But I'd be willing to bet that Beech's numbers included some stats that hammered home the Mavs' contention that Dirk Nowitzki was much better suited to complement Howard's offensive skills than ball-dominating shooting guards
Kobe Bryant
and
James Harden
.
Smith and Beech certainly aren't nearly as well known as, say,
Hakeem Olajuwon
and
Clyde Drexler
. But the two relatively anonymous Mavs staffers very well could have given Howard more to think about than the two Houston legends who were part of the Rockets' pitch in L.A.
December, 11, 2012
12/11/12
12:15
AM CT
DALLAS -- Mavericks big man
Chris Kaman
has scored 38 points on 18-of-26 shooting in 40 minutes the last two games.
[+] Enlarge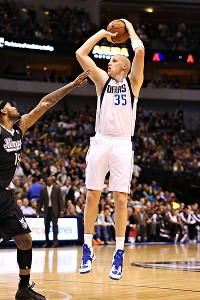 Matthew Emmons/USA TODAY SportsChris Kaman expected to miss up to four weeks with a "glowing purple" ankle, but medical guidance from Dirk Nowitzki has the big man on his feet quicker than expected.
"I should roll my ankle more often, right?" Kaman cracked.
As far as Kaman is concerned, it's a minor medical miracle that he didn't miss a game after spraining his left ankle late in Thursday's win over the Suns. Or it's at least evidence that the Mavs have an outstanding medical staff.
When Kaman went down, he thought he'd be out for three to four weeks. He'd been totally off his feet for four or five says when he suffered similar sprains in the past.
Coach Rick Carlisle credited
Dirk Nowitzki
, who has a history of recovering quickly from ankle sprains (if not arthroscopic knee surgery), for giving Kaman advice that helped speed up the healing process.
It turns out that Nowitzki just encouraged Kaman to follow head athletic trainer Casey Smith's orders to wake up every two hours to treat the ankle with a compressed ice machine that first night.
"Then Dirk said, 'Yeah, do what he said. That'll really work,'" Kaman said.
Well, it did work.
"The first night is the most important night," said Kaman, whose routine now is to wake up once per night to ice. "It blows my mind still. I just learned that after 10 years. I wish I would have known that a long time ago."
Kaman is far from healthy. His ankle is still "a glowing purple," to borrow Carlisle's descriptions, and his lateral movement and explosiveness are limited. (Kaman admittedly doesn't "really do a lot of exploding anyways.") He's dealing with soreness and stiffness.
But Kaman has been a big factor for the Mavs, who have won three straight games to bump their record above .500 again, despite the bad wheel.
Kaman has done most of his damage recently with midrange jumpers. He'd like to get a few more post-up opportunities, but he's found a nice niche in the flow of the Mavs' offense.
"Ankle hurting or whatever, he's been great for us, hitting that midrange shot, facing up, not doing too much when they're crowding or double-teaming him,"
Elton Brand
said. "We need him to continue to play like that for us to continue to win. He's been great."
Credit modern technology and some good medical advice for the assist.
March, 24, 2012
3/24/12
10:57
PM CT
HOUSTON -- Dirk Nowitzki's potential career as a model took another hit during Saturday night's overtime period, when he got caught with an errant elbow above the right eye.
"Just four stitches," Nowitzki said after getting postgame medical treatment. "I'll be all right."
Nowitzki was bleeding profusely after the cut was opened up with 47.9 seconds remaining in overtime. He thought he got hit with an elbow by Houston point guard
Goran Dragic
, who was called for an offensive foul. However, it appeared that it was actually teammate Brandan Wright's elbow that did the damage during a scramble for a loose ball.
Not that it mattered much after the Mavs pulled out the 101-99 win.
"It was an offensive foul," Nowitzki said, "and we moved on from there."
Mavs athletic trainer Casey Smith made like a cut man in a boxer's corner during the timeout after Dragic got whistled for the foul. He managed to stop the bleeding, allowing Nowitzki to get back on the court for the next possession, when
Jason Terry
hit a pull-up jumper off a pick-and-roll with Nowitzki to give the Mavs the lead for good.
"Hats off to the training staff for getting the blood stopped," coach Rick Carlisle said. "[Nowitzki] being able to go back into the game created that scoring opportunity for Jet, because [Marcus] Camby was hugging Dirk so closely that it created a double screen and Jet got a really good look to put us in strong position."
January, 14, 2012
1/14/12
11:29
PM CT
DALLAS --
Jason Kidd
felt so fresh after a four-game break that he actually made a layup.
Believe it or not, his breakaway off a steal in the first quarter Saturday night was Kidd's first two-point bucket of the season.
"Showed off my speed," the 38-year-old Kidd deadpanned.
In all seriousness, there were no signs of the back spasms that sidelined Kidd for a week. He said he "felt great" while scoring five points on 2-of-2 shooting, dishing out six assists and swiping six steals in 29 minutes during the blowout win over the Kings.
"He looked good to me," Mavs coach Rick Carlisle said. "I thought he moved well. He had good balance. The two shots he took went in. … His presence on the floor is irreplaceable."
Kidd said he was ready to play Friday night against the Bucks, but Carlisle and head athletic trainer Casey Smith opted to hold him out one more night to make sure he'd be fresh for the upcoming four-game road trip that begins with a Martin Luther King Day matchup against the Lakers.
"They felt going back-to-back, there was no need to," Kidd said. "Going tonight, there was a green light. I could have played as many minutes [as Carlisle wanted], because I felt good."
April, 9, 2011
4/09/11
3:27
PM CT
By
Jeff Caplan
| ESPNDallas.com
DALLAS --
Jason Kidd
's vacation is over.
"It was a much-needed break," Kidd said after he participated in the
Dallas Mavericks
practice Saturday morning.
Kidd hasn't played since last Sunday's blowout loss to the
Portland Trail Blazers
that ended the rigorous six-game, 10-day road trip.
Kidd's return Sunday night (6:30 p.m. tip) against the
Phoenix Suns
will give the Mavs a full roster for one of the few times in more than a month.
Tyson Chandler
returned Friday night after missing two games with a bruised tailbone.
As for the Mavs' floor general, they're hopeful the rest will allow Kidd to relocate his 3-point shot. After shooting it better than 40 percent the past two seasons, he currently sits at 34.1 percent after his worst shooting month of the season. Kidd was 23-of-88 (26.1 percent) from 3-point range in March and tacked on a 0-of-10 in the two games he's played in April.
He averaged a season-low 7.1 points a game last month, which dropped his season scoring average to a career-low 7.9 points a game, while he committed a season-high for any month with 40 turnovers.
"I feel fresh. I feel great," Kidd said. "Six [games] in 10 days is a lot, but overall I would take a break somewhere at the end of the season to get ready for the playoffs. The schedule fit perfect for us of having almost a whole week off. That's what coach [Rick Carlisle] and [head athletic trainer] Casey [Smith] talked about and I was in agreement with them, so it was good."
Kidd would not rule himself in for the remaining three games. The Mavs play at the
Houston Rockets
on Monday and Kidd said if Wednesday's finale against the
New Orleans Hornets
is meaningless, it is possible that he could sit that one out.
December, 29, 2010
12/29/10
11:00
AM CT
DALLAS -- Consider Monday's mostly Dirkless win over the
Oklahoma City Thunder
an inspirational aberration.
The truth of the matter is that the Mavericks aren't very good without MVP candidate
Dirk Nowitzki
. Actually, that's putting it a bit too gently.
This is a bad basketball team when Nowitzki isn't on the floor, especially on the offensive end.
When their superstar is a spectator, the Mavs get outscored by 13.7 points per 48 minutes, according to the Elias Sports Bureau. They outscore their opponents by 13.3 points per 48 minutes with Nowitzki in the lineup. That 27-point differential is the highest among qualifying players this season.
The Mavs are actually worse defensively without Nowitzki, which might be considered a mild surprise. But it should shock absolutely nobody that Dallas' offense totally goes in the tank when the franchise's all-time leading scorer sits.
With Nowitzki, the Mavs are an efficient offensive machine, averaging 104.7 points per 48 minutes while shooting 49.9 percent from the floor and 38.5 percent from 3-point range. Without him, the Mavs are an inefficient offensive mess, averaging 83.9 points per 48 minutes while shooting 42.1 percent from the floor and 29.0 percent from 3-point range.
And the Mavs were even worse than that while setting a new season scoring low during Tuesday night's 84-76 loss to the injury-ravaged
Toronto Raptors
.
"I thought we were in too much of a try-and-make-things-happen mode and not enough trusting the team and the system and really working together," coach Rick Carlisle said. "It's one of those things that can happen, and it hurt us. It's on me for not doing a better job to avert it."
Carlisle sure could use an assist from Casey Smith, the Mavs' head athletic trainer widely considered one of the league's best at his job.
The Mavs have proven scorers other than Nowitzki. However, the 7-footer is arguably the Mavs' best bet to create his own shot, at least until dynamic guard
Rodrigue Beaubois
recovers from a broken foot that has sidelined him all season. There's no debate that Dirk's presence provides guys like
Jason Terry
and
Caron Butler
a lot more room to work.
Nowitzki looked nice on the bench with his gray suit and lavender tie and pocket square, an outfit that was the source of much amusement among the Mavs just before tipoff. And the goofy German did an excellent job entertaining the television audience during his third-quarter stint as a color commentator on the broadcast.
But the Mavs hope Nowitzki can put his modeling and broadcasting careers on hold as soon as possible and get back to his day job of filling up the basket. He's considered day-to-day with a mild sprain of his right knee, making him questionable for Thursday's wild West showdown with the
San Antonio Spurs
.
"We're going to have to get used to playing without the big fella for a while," big man
Tyson Chandler
said after the ugly loss to the Raptors. "We had trouble adjusting with our floor spacing and getting off good shots, and I think it caught up to us by the end of the game. ...
"Taking him out of the equation changes a lot of things. We're going to have to make adjustments."
There isn't an offensive scheme that can replace perhaps the most unique 7-footer in NBA history. That was made painfully obvious while Nowitzki nursed his sore knee Tuesday night.
September, 3, 2010
9/03/10
12:06
PM CT
By
Jeff Caplan
| ESPNDallas.com
The trade that more or less swapped aging center
Erick Dampier
for oft-injured center
Tyson Chandler
didn't exactly set off fireworks around town, even though the
Dallas Mavericks
spun the deal as a defensive upgrade in the case the Mavs meet the front-court rich
Los Angeles Lakers
in the playoffs.
Since Chandler joined the Mavs and then started workouts with Team USA in Las Vegas in late July, reviews of the 7-foot-1 center have been mixed. Initially, USA Basketball chairman Jerry Colangelo said Chandler needed to get in basketball shape. Mavs owner Mark Cuban quickly responded with positive feedback from other observers in Vegas, including Mavs head athletic trainer Casey Smith, a member of the Team USA medical staff.
As the lone true center on the roster, Chandler figured to nail down the starting job, but he has come off the bench in all five of Team USA's games during the ongoing FIBA World Championships, and he hasn't played more than 15 minutes in any single game and twice played fewer than 10 minutes.
ESPN.com Insider contributer
Tom Haberstroh questions Chandler's productivity
and suggets that at Chandler's current pace, the Mavs might regret taking a chance on him.
Here's Haberstroh's take:
3. What happened to Tyson Chandler's defense?
Here are Chandler's numbers after nine games and 94 minutes of FIBA action this summer: 22 points on 10-of-14 shooting, 28 rebounds and nine blocks. Oh, and 21 personal fouls.
In fact, Thursday's four-point, two-foul performance against Tunisia finally gave Chandler more points than fouls this summer in FIBA competition. Do the math and Chandler's FIBA foul rate has sky-rocketed to 8.9 personal fouls per 40 minutes, which nearly doubles the already steep 4.7 fouls per 40 minute rate he committed last season for the
Charlotte Bobcats
.
It wasn't long ago that Chandler was considered a top post defender in the NBA, but that was before ankle injuries over the past two seasons sidelined him and sapped his effectiveness down low.
After taming his foul-happy ways in New Orleans, it's a bit unnerving to see international big men give him so much trouble, especially coming off a disappointing season in Charlotte. It's not uncommon to see big men overcompensate for their gimpy feet by being overly aggressive with their hands, but Chandler needs to be more conservative with the fouling if he wants to come close to regaining the starting role he enjoyed at the outset.
At the rate Chandler is going, the Dallas Mavericks could soon wish they had reacquired Bobcat and notorious hacker
DeSagana Diop
in the offseason instead.
I wouldn't go so far as to suggest the Mavs might be better off with the happy-go-lucky Diop, who owns career marks of about two points and three rebounds. If Chandler doesn't pan out, the Mavs still could come out winners. First,
Brendan Haywood
is signed long-term to man the middle, plus the Mavs have two developmental centers on the roster. More important, Chandler is entering the final year of his deal worth $12.6 million, a very attractive expiring contract when the NBA trade deadline rolls around in February.
The Mavs will get their first up-close look at Chandler after the World Championships when he begins workouts prior to the start of training camp on Sept. 28.
July, 13, 2010
7/13/10
10:55
PM CT
By
Jeff Caplan
| ESPNDallas.com
New Maverick
Tyson Chandler
has been invited to the Team USA training camp in Las Vegas and will begin workouts there Friday, said
Dallas Mavericks
president of basketball operations Donnie Nelson.
It will give Chandler's new bosses, assembled in Las Vegas for the NBA Summer League, a sneak preview of their 7-foot-1 backup center, who has battled foot and ankle injuries over the past two seasons.
"He is healthy for the first time in two years," Nelson said. "He feels great."
Chandler, traded Tuesday from Charlotte to Dallas, had a shot at making the 2008 Olympic team. Now fully recovered, he will try to make the 12-man roster that will comprise Team USA and compete in the World Championships on Aug. 28 - Sept. 12 in Turkey.
If Chandler makes the team, one side benefit will be that he'll get a head start getting to know Mavs head athletic trainer Casey Smith, who is a member of the Team USA medical staff.
March, 3, 2010
3/03/10
11:19
PM CT
By
Jeff Caplan
| ESPNDallas.com
DALLAS -- It takes a lot for
Jason Terry
to take a pass on postgame interviews. On Wednesday night, Minnesota guard
Corey Brewer
's elbow to the left side of Terry's face did the trick. Terry politely asked out of interview duty following Dallas' 112-109 victory, its ninth in a row.
[+] Enlarge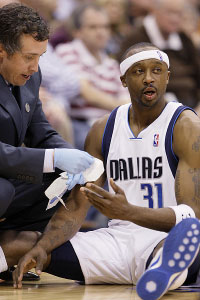 AP Photo/Tony GutierrezJason Terry took a Corey Brewer elbow to the face in the third quarter. He returned and played the entire fourth quarter, but his left eye was nearly swollen shut after the game.
Terry initially suffered a bloody nose, and after the game his left eye had nearly swollen shut. He will be re-evaluated Thursday morning.
"He's tough,"
Dirk Nowitzki
assured. "He'll be all right."
Brewer took the inbounds pass and held the ball with both hands at head level. As he tried to make a move around Terry, his arms made a windmill motion and his right elbow struck Terry's face at the 4:29 mark of the third quarter. For a short period Terry was sprawled on the floor with his hands cupped over his face. He was able to get up on his own and was taken to the locker room by trainer Casey Smith.
Three minutes later, with a wad of tissue stuck in his left nostril, Terry returned to the game. He finished with a game-high 26 points, including five 3-pointers on eight attempts. He played the entire fourth quarter and managed to score seven points, but was clearly feeling the effects of the blow. After going 7-of-11 from the field up the to point of the collision, Terry made just 2-of-7 in the fourth quarter, which included his fifth 3-pointer with 6:54 to play that put the Mavs up 97-95.