Dallas Mavericks:

Chandler Parsons
January, 29, 2014
Jan 29
11:52
PM CT
DALLAS -- Usually one of the league's premier bricklayers on free throws,
Dwight Howard
boasted that he "looked like
Reggie Miller
from the line" after knocking down 9 of 11 Wednesday night.
Nevertheless, an angry, sarcastic Rick Carlisle claimed he was happy he employed the Hack-a-Dwight strategy late in his Dallas Mavericks' shootout setback against the
Houston Rockets
.
[+] Enlarge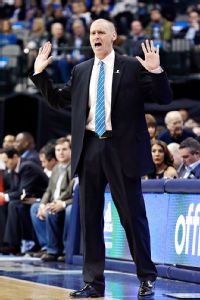 AP Photo/LM OteroMavs coach Rick Carlisle was in a bit of a sarcastic mood after watching his team play porous defense in a close loss to the Rockets.
"I don't know how many times they blew by us, but I'm glad we started fouling Howard, because I was starting to get the chills over there from all the blow-bys," Carlisle said after the Mavs' too-little, too-late rally fell short in a 117-115 loss at the American Airlines Center. "It saved our guys the embarrassment of getting blown by two or three times in a row."
If Dallas' players have any sort of defensive pride, those comments from Carlisle will sting.
Carlisle, who also mentioned he didn't think the Mavs played hard until they faced a double-digit deficit in the final few minutes, wasn't the only one who questioned the team's will to defend.
Dirk Nowitzki
also broached the subject without prompting after his 38-point, 17-rebound performance went to waste.
The Rockets had seven scorers in double figures, shot 55.4 percent from the field and had 56 points in the paint. Just imagine how bad it would have been had Rockets star
James Harden
suited up instead of sitting out because of a sore thumb.
This was ridiculous even by the sinking defensive standards of a Dallas squad that allows the most points per possession of any NBA team with a winning record this season.
"The defense was horrible all night," Nowitzki said. "I mean, every time down somebody was in the paint laying the ball up. On transition, on drives, pick-and-roll plays. If you give up 117 at the house, you're gonna lose."
Is the issue effort? Execution? Ability?
All of the above.
August, 9, 2013
8/09/13
1:54
PM CT
By
Zach Lowe
| ESPNDallas.com
Ricky Ledo
's contract negotiations were going badly. Which sounds a little ridiculous. The Mavs selected Ledo with the 43rd pick in the draft, meaning he was a second-rounder with very little leverage and almost certainly no place else to go if he wished to play in the NBA anytime soon. His track record to that point was spotty. He played for several high schools and logged zero minutes in college after being ruled academically ineligible. He looked so disinterested in some pre-draft workouts that officials from two teams told me they'd concluded that Ledo was "undraftable."
And yet Ledo and his agent, Seth Cohen, were locked in fairly contentious negotiations with Dallas officials during much of the NBA's Summer League in Las Vegas. Those negotiations, and several others, shined a light on the NBA subculture of second-round picks — an asset type teams have found increasingly valuable under the restrictive new CBA, and one that brings a bit more negotiating wiggle room than a first-round pick with a set salary slot, according to several team executives and player agents. Want to know how smart your favorite team is with the cap, or how much it values a particular second-round pick? Pay attention to the nuances of that player's contract and salary.
The handsome personage of
Chandler Parsons
hovered around the Ledo talks and many other second-round negotiations. The Rockets drafted Parsons with the 38th pick in 2012 and signed him to a four-year that guaranteed Houston could keep him with a salary under $1 million in each of those four seasons. It wasn't the first four-year deal for a second-round pick, but as Parsons emerged into a well-rounded NBA starter, it quickly became the most famous-slash-infamous of such deals. Cap experts and union officials estimate that about a half-dozen second-round picks have received four-year deals in the last half-decade, and Houston helped pioneer the process before Parsons in deals for
Chase Budinger
,
Joey Dorsey
, and Jermaine Taylor. (The Spurs also did this with
DeJuan Blair
, as did the Kings with
Hassan Whiteside
.)
Those contracts give teams control over cheap second-rounds for an unusually long time. (Teams can control first-round picks for four seasons, but those players carry larger salaries that increase at set annual rates.) Most of the players upon whom Houston used the Parsons Plan did not really work out, but Parsons has, rather spectacularly, and the league has taken notice in pursuit of copycat deals, officials say. "With players we think have a big upside, we will only do three- or four-year deals," Mark Cuban, the Mavs owner, tells Grantland. "If their agents don't like it, we let them go overseas."
Go to Grantland.com to read the rest of the story.
March, 6, 2013
3/06/13
10:11
PM CT
How it happened:
The Mavericks got their measure of revenge.
A few days after their defensive debacle in Houston, the Mavs won a wild rematch with the Rockets.
It isn't like Dallas shut down Houston in this game, but this was a drastic defensive improvement after allowing 136 points a few nights before. And the Mavs got the critical stops they needed down the stretch.
With less than a minute remaining and the Mavs protecting a two-point lead,
Shawn Marion
harassed
James Harden
into air-balling a 3-pointer. After the ball went out of bounds off a Maverick, Harden's driving layup attempt came up short because of
Brandan Wright
's challenge at the rim.
The Mavs were an efficient offensive machine, shooting 54.2 percent from the floor and 42.3 percent from the 3-point line, with five Dallas players scoring in double figures.
Marion and
Dirk Nowitzki
led the Mavs with 22 points apiece.
Vince Carter
added 16 points, highlighted by a flurry of 3-pointers in the late third and early fourth.
O.J. Mayo
had 13 points -- seven in the fourth quarter -- and a career-high 12 assists.
Harden scored 28 points, but he was only five for 17 from the floor. Houston's
Chandler Parsons
followed up his career-high 32-point performance with 23 points.
What it means:
The playoffs appear to be a pipe dream, but at least the Mavs showed some pride, rebounding after being routed by the Rockets on Sunday. Dallas (27-33) is still 4½ games out of eighth place, looking up in the standings at the
Los Angeles Lakers
and
Portland Trail Blazers
. The seventh-place Rockets (33-29) missed an opportunity to distance from the eight-place
Utah Jazz
, who lost Wednesday night in Cleveland.
Play of the game:
Mayo made sure the Rockets didn't lead for long in the fourth quarter. Mayo responded to Harden's go-ahead 3 by drilling a 3 from the top of the arc on the next possession. That gave the Mavs the lead for good with 3:14 remaining.
Stat of the night:
The Mavs have won 10 of the past 11 meetings with the Rockets. That run includes three of four this season, although the Rockets outscored the Mavs by a total of 17 points in those four games.
March, 5, 2013
3/05/13
3:27
PM CT
DALLAS – For better or worse, the Mavericks get a rematch with the
Houston Rockets
.
OK, it can't get much worse than Sunday's defensive debacle, when the Rockets torched the Mavs for 44 points in the third quarter en route to a 136-103 blowout.
PODCAST
ESPN.com senior NBA writer Marc Stein joins Fitzsimmons and Durrett to talk about the Mavericks and what it might take to fix their problems.

Listen

"It was like Meadowlark Lemon was out there throwing behind-the-back passes and the music was playing," coach Rick Carlisle said, referring to the famous former Harlem Globetrotter. "That's how it looked. We got to do better than that."
The Mavs are actually excited about the scheduling quirk of having a home-and-home series with the Rockets, who will be American Airlines Center visitors Wednesday night. It's an opportunity for Dallas to at least partially restore its defensive dignity.
The Mavs were embarrassed by their sloppy, uninspired, pathetic performance Sunday night, as they should be. For the last two days, they have had to live with the shame of allowing 57.5 percent shooting from the floor, 41.2 percent 3-point shooting and 40 free throw attempts.
"I don't think you wash the taste out of your mouth from a loss like that," said
Elton Brand
, who strangely didn't play a second during that miserable third quarter. "You let it linger and use that as kind of motivation."
What went wrong for the Dallas defense in Houston? In a word, everything.
More specifically, the Mavs failed miserably to keep
Jeremy Lin
(21 points, nine assists in 25 minutes) and
James Harden
(21 points, seven assists in 30 minutes) out of the paint and
Chandler Parsons
(32 points, 12-13 FG) from getting a lot of great 3-point looks and easy dunks and layups.
"It's an individual challenge,"
Shawn Marion
said. "I think some people are able to do it more than others, of course, but at the same time, you still have to take the challenge of just doing it. …
"It ain't hard if you're putting the effort out there. When you put the effort out there, good things happen for you. You've got to go out there and compete. We didn't and it showed."
Dirk Nowitzki
thinks the Mavs' season-long defensive woes, which hit a low Sunday, are a little more complicated.
"We're missing coverages," Nowitzki said. "Sometimes it takes us too long to think ahead and get in our coverages and call out our coverages. We have to protect the paint better. We haven't really done a great job all season. Usually when our man-to-man was struggling, we could always rely on our zone, but that isn't even good this year. We've got to make our man-to-man work and call out the coverages early and execute the coverages."
Generally speaking, the Mavs must improve every facet of their defensive game to avoid looking like the Washington Generals again.
March, 4, 2013
3/04/13
9:00
AM CT
HOUSTON – How did things go so humiliatingly haywire for the Mavericks in the third quarter of what could be considered a high-stakes game?
"I don't have an explanation for it," coach Rick Carlisle said after the Mavs' 136-103 loss Sunday to the Rockets, "other than they picked up their game and we didn't match it."
The Mavs have been a bad defensive team all season, giving up the fourth most points in the NBA, but allowing the Rockets to rip off 44 points in a dozen minutes was rock bottom.
It isn't like Houston suddenly got hot, either. The Rockets had a 64-61 halftime lead after small forward
Chandler Parsons
put up 18 points, 3.2 more than he averages per game.
But the Rockets' efficiency in the third quarter, which they opened with a 15-0 run, was just ridiculous. Houston was 14-of-20 from the floor, 6-of-10 from 3-point range, 10-of-13 from the line and didn't commit a single turnover.
Parson, who finished with a career high 32 points on 12-of-13 shooting, had 11 points in the frame and wasn't even Houston's leading scorer for the quarter.
James Harden
, who actually had a rough first half, had 14 of his 21 points and four of his seven assists in the third.
"It was just a damn layup drill and wide-open 3s,"
Dirk Nowitzki
said. "That was embarrassing."
A few more notes from this miserable night for the Mavs:
1. Dirk's dud:
A dominant Dirk couldn't have overshadowed this dreadful defensive performance, but Nowitzki's off night didn't help matters.
Nowitzki, who had scored at least 20 points in four of the previous five games, was held to only eight points on 2-of-8 shooting.
"I never got any good looks," Nowitzki said. "They played me with a smaller guy. Every time I took him to the post, they were digging deep, the same thing really Memphis was doing.
"They're not going to leave me much in pick-and-rolls any more. They're going to make other guys make plays. Everything I get, I basically have to work for. I still should have made a couple of those shots I took in the second half."
This was the second time in three games that Nowitzki didn't have a field goal in the second half. He was also 0-for after halftime in the Mavs' loss in Memphis.
"Maybe when the game goes like this, I've got to be aggressive earlier and not just take one shot in the first quarter to kind of get us going more," Nowitzki said. "But I felt like we were scoring there at a decent clip in the first half, so I kind of let the other boys do it.
"Once we needed my scoring in the third quarter, I didn't really have much going. Maybe I've got to establish myself earlier and we'll see how that works."
2. Adding injury to insult:
O.J. Mayo
left the Toyota Center with a hard plastic splint protecting his right thumb.
Mayo said he sprained the thumb in the first half, but he didn't expect to undergo an MRI to determine the severity of the injury.
"I'll be all right," said Mayo, who had 18 points on 6-of-9 shooting.
3. Another German import:
Tim Ohlbrecht, Dirk Nowitzki's teammate on the German Olympic team, made his NBA debut against the Mavs.
Ohlbrecht, a center signed recently by the Rockets after a stint in the D-League, scored three points in 5:37 of garbage time. He was greeted warmly by Nowitzki before the game and waited outside the Mavs' locker room afterwards to meet with the German legend.
"Of course I'm going to look up to him," Ohlbrecht said. "I'm just proud to make it in the same league as him."
March, 3, 2013
3/03/13
10:57
AM CT
HOUSTON -- If the
Dallas Mavericks
manage to sweep the home-and-home series with the
Houston Rockets
over the next four days, we can continue entertaining their slim hopes of making the playoffs.
The reality, however, is that Dallas' 12-year postseason streak is on its deathbed.
Really, there shouldn't be any shame to that. It was a remarkable run that featured 11 50-win seasons, two Finals appearances and one title. All great things must come to an end.
Granted, the
San Antonio Spurs
might be an exception to that. They're about to win 50 games for the 14th consecutive season. The last time the Spurs failed to win at least 50, they celebrated the first of their four NBA titles, parading down the RiverWalk after Tim Duncan's lockout-shortened sophomore season.
It's been a hard fall for the Mavs over the past 21 months. They've gone from the NBA penthouse, popping a $90,000 champagne bottle in a Miami Beach club while celebrating the franchise's first title, to the Lone Star State cellar.
And the Mavs have their work cut out for them if they're going to catch the Rockets, much less the Spurs, anytime soon.
The Spurs' ability to sustain excellence is unparalleled in today's NBA. That will be tested when
Tim Duncan
and
Manu Ginobili
call it a career, but it'd be foolish to doubt a franchise with the league's best coach (Gregg Popovich) working with a brilliant front office.
The Rockets, who have won only one playoff series since two-time champion
Hakeem Olajuwon
left town, appear poised to soar again soon.
After three frustrating years of being better than .500 but not good enough to make the playoffs, Houston general manager Daryl Morey made a breakthrough move just before this season started. He acquired the bearded face of the franchise,
James Harden
, in a blockbuster deal with the
Oklahoma City Thunder
.
The 23-year-old Harden, who is averaging 26.3 points and 5.7 assists per game, has proved to be a legitimate superstar after getting out of the shadows of
Kevin Durant
and
Russell Westbrook
. He's surrounded by a good, young supporting cast that is locked into reasonable contracts (26-year-old center
Omer Asik
and 24-year-old point guard
Jeremy Lin
) or rookie deals (small forward
Chandler Parsons
, power forward
Donatas Motiejunas
, power forward
Thomas Robinson
, etc.).
And the Rockets will have the cap space to be major players in free agency again this summer, when they can potentially acquire a co-star for Harden.
Of course, there are no guarantees for Houston, which will have to fight to stay in the playoff picture with the
Los Angeles Lakers
making a charge. There have been many young teams that looked great on paper that fizzled out, but Houston has an excellent plan and has already executed several steps.
The Mavs, on the other hand, have a plan that has been publicly questioned by its superstar, the lone player on the roster who is a sure bet to still be a Dallas resident in two years. As
Dirk Nowitzki
has said several times, this is a big summer for the Mavs.
Much work must be done for the Mavs to approach the high standard they established over the past dozen years.
This isn't a franchise that will be satisfied to fight for eighth place in the West or settle for third place in the state of Texas.