Dallas Mavericks:

Channing Frye
June, 26, 2014
6/26/14
8:00
AM CT
The
Dallas Mavericks
haven't had a real backup power forward behind
Dirk Nowitzki
for years.
Shawn Marion
has typically slid over to power forward over the last five years when Nowitzki rested. The Mavs would love to continue that type of rotation with
LeBron James
or
Carmelo Anthony
, both of whom have significant experience playing power forward in small-ball lineups.
[+] Enlarge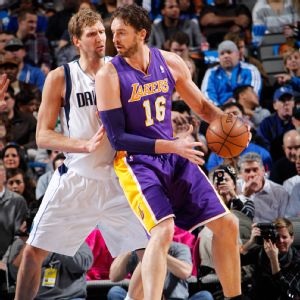 Glenn James/NBAE/Getty ImagesPau Gasol could be an option for the Mavs if they can't lure LeBron James or Carmelo Anthony.
It's also possible if the Mavs sign
Luol Deng
or bring back Marion. Maybe it'd work at times with
Trevor Ariza
, although he's awfully slender to play power forward.
The Mavs certainly wouldn't mind having a legitimate power forward with a reliable jumper to spell Nowitzki without requiring a change in offensive philosophy.
Some of those possibilities:
Pau Gasol:
The Mavs believe
the trade
for
Tyson Chandler
increases their odds of reeling in one of the big fish, but sources told ESPNDallas.com that it did not eliminate their interest in Gasol.
Landing James or Anthony is the Mavs' clear-cut priority, and there'd be no room left for Gasol if they were successful. However, the two-time champion with the Lakers could factor into the Mavs' backup plans, in free agency and on the floor next season.
It's unknown whether Gasol would be willing to come off the bench at the age of 34, but it's feasible to project him playing about 28 minutes per game for the Mavs. The Mavs don't want Nowitzki averaging more than 32 minutes, so Gasol could play 16 minutes per game at power forward. He'd likely get another dozen or so minutes at center, maybe more against certain matchups.
The way the Mavs' rotation is structured, Gasol and Nowitzki could play some together against opposing second units, diminishing the concerns about their flaws as a defensive duo.
The Mavs would hope to get Gasol, who averaged 17.4 points, 9.7 rebounds and 3.4 assists last season, for about $8 million per year.
Channing Frye:
Frye, who declined an option to make $6.8 million from the
Phoenix Suns
next season, could be a similar two-position fit in the Mavs' rotation.
The 6-foot-11 Frye is a poor rebounder for his size (5.1 per game last season), but he's one of the best stretch-shooting bigs in the league. He has a career 3-point percentage of 38.5, a fraction of a percentage better than Nowitzki.
At this point in his career, Frye launches more than half his field-goal attempts from 3-point range. The Mavs can use all the shooting they can get after giving up 3-point marksman
Jose Calderon
in the Chandler deal.
Marvin Williams:
He never lived up to expectations as a No. 2 overall pick, but Williams is a decent rotation player who can be used at either forward position, averaging 9.1 points and 5.1 rebounds in 25.4 minutes per game last season. He could be an option at a relatively low salary.
Anthony Tolliver:
He's a little undersized for a power forward at 6-foot-8, but he's a floor-spacer who might be available for the minimum. He shot 41.3 percent from 3-point range as a Charlotte reserve last season, shooting almost exclusively from long range. The 29-year-old journeyman had a season-high 22 points against the Mavs.
Boris Diaw:
It's unlikely he'd leave San Antonio after his career revival and the Spurs' title run. If he looked for another home for some reason, his passing and shooting would fit well in Rick Carlisle's flow system.
January, 23, 2012
1/23/12
9:53
PM CT
How it happened:
Shawn Marion
looked like the Matrix of old.


This was a performance reminiscent of Marion's time as a four-time All-Star for the
Phoenix Suns
. He scored a season-high 29 points -- matching his most in a
Dallas Mavericks
uniform -- and dominated the third quarter to allow Dallas to turn a tight game into a comfortable lead.
Marion had 14 points in the fourth quarter. He made five of eight shots in the frame, including all three 3-pointers he attempted, a pair coming on consecutive possessions that pushed the Mavs' lead to 15.
Marion was one of five Mavs to score in double figures, a quintet that included big men
Ian Mahinmi
(17 points, nine rebounds and three blocks) and
Brendan Haywood
(10 points, six rebounds).
It was pretty much a typical performance for the NBA's third-stingiest defense. The Mavs extended their streak of holding foes under 100 points to 15 games.
What it means:
The Mavs have already matched their Dirk-free win total from last season. They were 2-7 without Nowitzki when he sat with a sprained knee a year ago. They've won both games that he's watched from the bench so far this season.
Play of the game:
Add another high-flying finish to Mahinmi's highlight reel. This one came off a transition pick-and-roll with
Jason Terry
from the left wing. Terry drew big man
Robin Lopez
to the middle of the floor and dumped the ball to Mahinmi, who took off from near the block for a hard one-hand throwdown over helpless help defender
Channing Frye
to stretch Dallas' lead back to double digits with about eight minutes remaining.
Stat of the night:
Based on his production since joining the Mavericks, Shawn Marion made a season's worth of 3-pointers in this game. Marion, flashing back to his days in Phoenix as a prolific 3-point shooter, was 4-of-6 behind the arc against the Suns. He was 8-of-52 from long distance during the 2009-10 and 2010-11 seasons.
January, 4, 2012
1/04/12
8:08
PM CT
By
Jeff Caplan
| ESPNDallas.com
DALLAS -- A sloppy start for both teams turned into a mildly entertaining first quarter in which neither team led by more than five points and they combined for 12 turnovers.
Hakeem Warrick hit a corner 3 off a pass from
Steve Nash
to tie it up. Dallas shot just 42.3 percent (again), and made just 1-of-5 shots from beyond the arc, while the Suns are at 47.6 percent.
Dirk Nowitzki
leads Dallas with seven points.
Brendan Haywood
has four points and six rebounds.
Marcin Gortat
has eight points for Phoenix and
Channing Frye
has seven.
Dallas has already used several linup combinations and six players off the bench.
July, 2, 2010
7/02/10
10:43
AM CT
By
Jeff Caplan
| ESPNDallas.com
Well, that was fun. Nothing like a little mystery and intrigue to kick off free agency. Not that the
Dallas Mavericks
were particularly thrilled with the ever-changing travel itinerary of No. 1 free-agent priority
Dirk Nowitzki
.
Throughout the ordeal, the Mavs, at best, looked disorganized.
There is ample bewilderment about Nowitzki's handling of this, too. His adviser
Holger Geschwindner told ESPN.com's Marc Stein
that three last-minute changes were simply due to a "tight" travel schedule. The mystery there is why did Nowitzki have such a tight travel schedule? July 1, such a critical day in Nowitzki's and the franchise's future, had been circled on everyone's calendars for a long, long time.
None of it makes much sense. But, nonetheless, Nowitzki is in Dallas and there remains little reason to believe he won't soon be agreeing to a new four-year contract worth as much as $96 million. Yes, while in New York, Nowitzki visited old buddy
Steve Nash
, who looks to be on the verge of losing pick-and-roll pal
Amare Stoudemire
.
Amare out, Dirk in?
Not so fast. The best news of the free-agency period so far for the Mavs happens to be as warped as the past 48 hours. When the Suns agreed to re-sign 3-point shooting center
Channing Frye
, it absolutely blew up any potential salary-cap space maneuvering that might have reunited Nash and Nowitzki.
Now we wait for Nowitzki to meet with Donnie Nelson and Mark Cuban today. The club can't announce contract status until July 8, but Nowitzki can announce his allegiance to the Mavs anytime. It would figure a quick resolution is coming. But, we still don't know exactly what's running through Nowitzki's mind, and so far, nothing has been easy to figure.
May, 10, 2010
5/10/10
2:51
PM CT
By
Jeff Caplan
| ESPNDallas.com
The No. 2 seed
Dallas Mavericks
made themselves feel better by referring to the
San Antonio Spurs
as no ordinary No. 7 seed.
And then the
Phoenix Suns
quickly reminded everyone that throughout the regular season the Spurs were a mediocre defensive club, had trouble integrating a slew of new players, most notably
Richard Jefferson
, and often couldn't get out of their own way.
And, really, only a final-week collapse by the young
Oklahoma City Thunder
prevented San Antonio, which did play better in the final month-and-a-half of the season -- mind you, without the injured
Tony Parker
-- from finishing as the No. 8 seed in the tightly contested West.
So how do the Mavs reconcile their 4-2 first-round defeat to the Spurs, whose supposedly stalwart defense so short-circuited Dallas' offense, after the run-and-gun Suns took the broom to San Antonio?
It's not rocket-science. The Suns (109.5) averaged nearly 17 points more a game than the Mavs (92.8) by excelling in three areas in which Dallas failed.
One and Two: Sensational offensive production at the point guard and post positions. At 36,
Steve Nash
might be at his all-around best. He averaged 22.0 points and 7.7 assists against the Spurs. His uncanny ability to slice the defense, get into the lane and score, or force defenders to collapse for kick-outs to open shooters or dump-offs to
Amare Stoudemire
, torched San Antonio. Stoudemire is the second aspect. He averaged 20.5 points and 9.3 rebounds in the four games. Stoudemire is a powerful force coming off the pick-and-roll and he's become an efficient shooter off the pick-and-pop.
The Mavs did not get
Jason Kidd
at his best, having averaged 8.0 points and 7.0 assists. Kidd could not get into the lane and create for others and he was way off with his 3-point shot. And, the Mavs got nothing in the post. While
Dirk Nowitzki
was able to drive and get some scoring in the paint, he's obviously a player who lives by the step-back jumper. That leaves offensively limited centers
Erick Dampier
and
Brendan Haywood
to score down low. How'd that go? The pair combined to average 6.0 points in the six-game series. Dampier did not have a single field goal. During the series, Nowitzki acknowledged that the Spurs weren't even guarding the Mavs' centers, allowing for more pressure on the perimeter.
At those two critical positions, the Suns averaged nearly 30 points more a game than the Mavs.
Third: 3-point shooting. The Mavs want to play like the Suns, but lacking a point guard that can get into the lane and with no inside scoring threat to run the offense through, perimeter shooting better be near-perfect. Dallas shot 32.8 percent from beyond the arc against San Antonio. If
Jason Terry
and Kidd aren't hitting 3s, as they weren't, the Mavs are in trouble.
Caron Butler
is not a consistent 3-point shooter and
Shawn Marion
hasn't shot them since he left Phoenix.
The Suns, meanwhile, as they have done all season, shot a blistering 41.2 percent from long range for the series with a bevy of different players -- Nash,
Jason Richardson
,
Goran Dragic
,
Channing Frye
and
Jared Dudley
all producing on the big stage.
Those are big holes the Mavs will try to address this summer. They can thank the Suns for making it all the more apparent now that they've exposed the Spurs as a true No. 7 seed.
May, 7, 2010
5/07/10
2:51
PM CT
By
Jeff Caplan
| ESPNDallas.com
A reunion of best buddies and former
Dallas
running mates is certainly interesting to think about, as ESPN The Magazine senior writer
LZ Granderson does here
, but the real chance of that happening is awfully slim.
We will always wonder what might have been had
Steve Nash
and
Dirk Nowitzki
, with three MVPs between them since their Mavericks breakup, remained together. But, everyone knows how that story ended following the 2003-04 season. Mavs owner Mark Cuban, unwilling to pay the jackpot the Suns had offered the then-30-year-old point guard, allowed Nash to walk to Phoenix.
Could Nash and Nowitzki win an elusive championship if reunited in
Phoenix
? Well, maybe. But, don't expect Nowitzki to go house hunting in Nash's desert neighborhood any time soon.
First, the Suns next season are already locked into more than $63 million for 11 players, assuming player options are all exercised by
Amare Stoudemire
($17.7 million),
Grant Hill
($3.2 million) and
Channing Frye
($2.1 million). Now, if Stoudemire opts out -- which is isn't expected -- then suddenly the Suns have money to throw around.
Otherwise, Nowitzki, due to earn $21.5 million next season with the Mavs, would have to accept a drastically reduced salary, and that's something he said he's not ready to do. Nowitzki turns 32 in June and believes he still has prime career years in front of him.
"That's somewhere maybe down the line a couple more years when stuff hasn't really worked out the way I want it to," Nowitzki said the day after the Mavs bowed out of the playoffs in six games to the Spurs. "But, at this point, I'm still in my prime. I feel like I've got a couple good years left, so I think that's a decision that's way down the line."
Still, deep down, Nowitzki must wonder what it would be like to again play pick-and-roll with Nash, 36, who continues to play at an elite level. Nash has his Suns leading the Spurs in their Western Conference semifinal playoff series. During the Mavs' final interviews of the season last week, Nowitzki was asked if a certain Canadian point guard might try to recruit him this summer.
"All that is, as of right now, everything is speculation," Nowitzki said. "I always said I want to finish my career here in Dallas. It wouldn't feel the same putting on a different uniform. That really was always my plan, so we'll just have to wait and see."
January, 28, 2010
1/28/10
11:47
AM CT
The Mavericks left for Phoenix uncertain whether center
Erick Dampier
would play against the Suns.
The left knee effusion continues to bother Dampier, who sat out Sunday's rout of the Knicks and limped through 35 minutes during Tuesday's win over the Bucks.
Dampier's availability is kind of an all-or-nothing deal. When he suits up, coach Rick Carlisle doesn't want Dampier on the bench for extended stretches.
"Part of the issue is if you pull him out and sit him for a long time, then it stiffens up," Carlisle said.
It might be in the best interests of the Mavs and the big man if Dampier takes Thursday night off.
Dampier doesn't match up well with the Suns, especially when he's hobbled. Asking him to defend
Amare Stoudemire
doesn't seem fair. Putting him on perimeter-shooting center
Channing Frye
takes Dampier out of his defensive comfort zone.
Drew Gooden
is much better suited to match up with the Suns than Dampier.
Tim Thomas
is more than capable of serving as a reserve center. Let Dampier rest his sore left knee for another night.