Dallas Mavericks:

Chuck Hayes
December, 28, 2012
12/28/12
3:26
PM CT
The Mavericks' front office prides itself on being opportunistic, has financial flexibility and desperately needs to add a premier young talent to the roster.
So it'd make perfect sense for the Mavs to make a run at troubled Kings big man
DeMarcus Cousins
, the supremely talented, extremely immature 22-year-old former fifth overall pick whose stint in Sacramento seems destined for an ugly divorce.
There's no guarantee Cousins would come close to achieving his immense potential in Dallas. After all, he's been suspended three times this season – twice by the league, once by the Kings – and Sacramento coach
Keith Smart refused to bring Cousins on the road trip
after his recent suspension was lifted.
There's no question that Cousins ranks among the NBA's biggest knuckleheads. But the skilled 6-foot-11, 270-pounder also ranks among the league's most talented big men.
Could the Mavs get Cousins' career on the right track? Could no-nonsense coach Rick Carlisle get through to him with the help of veteran leaders such as
Dirk Nowitzki
,
Shawn Marion
,
Vince Carter
and
Elton Brand
and team sports psychologist Don Kalkstein (who should demand a raise if this deal actually happens)? Could Cousins thrive in the Mavs' culture?
It's sure as heck worth the risk for Dallas, considering all the Mavs would really be sacrificing is some of Mark Cuban's money and the pipe dream of signing
Chris Paul
or
Dwight Howard
this summer.
So, could the Mavs actually pull off a deal for Cousins? That depends on whether the Kings, if they decide to deal him, actually get any decent talent-based offers for their troublemaker. The Mavs would have to try to talk the Kings into making a deal that would be a major money-saver for the financially-strapped Sacramento franchise.
(It is worth noting that Cousins recently switched agents, hiring Dan Fegan, who happens to have a long-standing, excellent relationship with the Mavs. If Fegan gets involved as a deal broker, that'd definitely increase Dallas' odds of landing Cousins.)
The Mavs wouldn't want to take on any deals that don't expire in the summer of 2014, when the only guaranteed deal on Dallas' books will be Jared Cunningham's rookie contract. Cousins' rookie contract also expires that summer.
However, the Kings would surely insist on the Mavs taking back at least one of their bad contracts with another two seasons remaining on them.
The contract of small forward
John Salmons
, who is dangerously close to being paid a million bucks for each point he averages per game, would be relatively easy to stomach because he's guaranteed only $1 million in 2014-15, according to the
invaluable Sham Sports database
.
If the Kings want to drive a hard bargain, they'd probably insist on the Mavs taking either undersized forward/center
Chuck Hayes
($5.96 million in 2014-15) or swingman
Marcus Thornton
($8.6 million in 2014-15).
The Kings might also want to dump
Jimmer Fredette
, a bench-riding lottery pick who has a $3.11 million team option in 2014-15.
The Mavs are loaded with expiring contracts, all of whom would be available with the likely exception of
O.J. Mayo
(a potential building block) and Brand (ineligible to be traded due to amnesty waivers rules). They Mavs are also under the salary cap, so they can make the math work in many ways.
One imaginary proposal that might make sense for both teams:
Chris Kaman
,
Dahntay Jones
,
Darren Collison
,
Rodrigue Beaubois
and
Jae Crowder
for Cousins, Salmons, Hayes and Fredette.
The Kings would be getting back a bargain role player (Crowder) and a bunch of expiring contracts. The Kings would save around $2 million this season and at least $26 million in the future. Oh, and the Kings' would get chronic headache relief.
Such a deal probably wouldn't make the Mavs much better immediately. In fact, it'd make them worse right away, according to
John Hollinger's calculations
. But it's not as if they have any realistic chance of being championship contenders this season anyway.
This is about the Mavs getting a prime opportunity to land a potential superstar at a discount price.
It'd be a high-risk, high-reward move, but the whole point of creating financial flexibility was to acquire a franchise player type of talent. Cousins might be the Mavs' best shot despite – or, actually, because of – all his flaws.
December, 2, 2011
12/02/11
8:00
AM CT
By
Jeff Caplan
| ESPNDallas.com
If the
Dallas Mavericks
dip into the free-agent market beyond their own guys seeking deals, they'll be looking for short-term, cheap labor. Whether center
Tyson Chandler
re-signs or not, the Mavs could be interested in a power forward that can do some pounding and boarding when
Dirk Nowitzki
takes a breather.
The Mavs relied on
Shawn Marion
to move between small and power forward, which he did so admirably, but Dallas could use some more beef in that role.
Carl Landry
, 28, is a quality garbage man that can score and grab some boards, but he's not a minimum guy. That doesn't mean the Mavs couldn't go after him with their mid-level exception ($5 million, if they don't go more than $4 million over the $70 million luxury tax threshold -- meaning no Chandler -- or $3 million if they do spill over).
Chuck Hayes
, also 28, is another quality guy always around the action. He can board and he improved his scoring last season, but he is also not a minimum-salary player.
Speaking of veteran-minimum guys, hard-nosed
Brian Cardinal
is always an option to bring back on a one-year, minimum contract and the Mavs have reached out to agent Mark Bartelstein. Still, Dallas could also take a look at others, especially if Chandler walks and rebounding becomes a higher priority. Here's two home-staters to consider:
Jeff Foster
, 6-11, 236
The soon-to-be 35-year-old has spent all 12 years of his career with the
Indiana Pacers
, including four seasons playing for Rick Carlisle. He's a classic heart-on-his-sleeve grinder who'll give all he's got every game. Foster, born in San Antonio and played at the since-renamed Southwest Texas State, last season averaged 3.3 points and 6.3 rebounds in 16.8 minutes a game, which breaks down to 13.4 rebounds and 6.1 on the offensive glass per 36 minutes.
Kurt Thomas
, 6-9, 230
It might a few years too late for the 39-year-old former TCU and Dallas Hillcrest star. He always seemed a perfect fit over the years for the Mavs, but he never quite made it (OK, he did play five games with Dallas in 1997-98). Thomas did have two brief stints with the
San Antonio Spurs
a few years ago, but didn't get the championship his career still lacks. Thomas, 39, would be a perfect fit in the locker room and if he's got anything (he did average 22.7 minutes, 4.1 points and 5.8 rebounds in 52 games) he could finally be a fit.
July, 5, 2011
7/05/11
2:30
PM CT
By
Jeff Caplan
| ESPNDallas.com
A summer ago the
Dallas Mavericks
made hard pushes for free-agent power forwards
Al Harrington
(chose to sign with the
Denver Nuggets
) and
Udonis Haslem
(re-signed with the
Miami Heat
).
Obviously, a guy named
Dirk Nowitzki
has the position pretty well locked down, but could the Mavs again be in the market for more of a traditional power forward -- perhaps a
Carl Landry
,
Chuck Hayes
or short-time Mav
Kris Humphries
-- to back up Dirk? Remember, for much of the season small forward
Shawn Marion
shifted between the two forward positions.
Or did the little-used, yet ever-ready
Brian Cardinal
, also a free agent, secure his return to the team next season and potentially bigger minutes after filling such a vital role in the NBA Finals?
For starters, scratch high-priced free agents such as
Kenyon Martin
and
David West
off the wish list. The Mavs will not be dipping into the deep end of that pool, and there's obviously no reason for entrenched starters to join Dallas.
With that, here's a somewhat intriguing list of power forwards that will hit the open market whenever the lockout comes to an end:
April, 12, 2011
4/12/11
8:31
AM CT
By
Jeff Caplan
| ESPNDallas.com
Finally, we are down to one last regular-season game before it is proving time. It has been a strange stretch run to say the least. The Dallas Mavericks have played some of their most uninspired basketball of the season, only to be outdone by the previously unbeatable Los Angeles Lakers.
The Mavs picked up an ugly overtime victory in Houston Monday night courtesy of Chuck Hayes' awful foul on Jason Terry with 1.5 seconds to play. Of course, what happened at the free throw line is whole other story. The bigger story was the win moved Dallas back into the No. 2 seed, at least for now.
Can they keep it? Join me for the last regular-season edition of Mavs chat at 2 p.m.
To submit your questions now, click
here
.
November, 11, 2009
11/11/09
11:03
AM CT
Houston's visit to American Airlines Center figured to be another prime opportunity for Mavs coach Rick Carlisle to take a couple in-game looks at the most potent offensive lineup he can put on the floor: Jason Kidd and Jason Terry in the backcourt, Josh Howard and Shawn Marion at the forwards and Dirk Nowitzki masquerading as a center.

Yet we never saw that unit.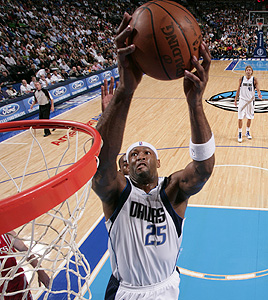 Glenn James/NBAE/Getty Images
Erick Dampier had 14 points, 20 rebounds and three blocks in the Mavericks' win over Houston on Tuesday.
After testing that group out twice in Saturday's cakewalk against Toronto, Carlisle didn't see an opening or need to bring it back in Tuesday night's 121-103 trouncing of the Rockets, even though Houston routinely plays plenty of small ball with Yao Ming out for the season and the undersized Chuck Hayes and Carl Landry serving as its main Yao fill-ins.

The reason?

It would appear that Erick Dampier convinced his coach not to go that route.

Dampier was so dominant against the Rockets -- with 14 points, 20 boards and three blocks -- that Carlisle was understandably motivated to ride him. On the occasions Dallas did go small against Houston, Drew Gooden was given the opportunity to log nearly 17 minutes of center play after missing four games with a strained rib-cage muscle.

The Mavs, though, still have high aspirations for what Kidd simply refers to as a "dangerous lineup for us." Howard's slower-than-expected recovery from offseason ankle and wrist surgery wiped out that the fivesome's opportunity to get reps in the exhibition season, but the brief glimpses against Toronto were well-received by the coaching staff.

In a lot of ways, Marion -- not Nowitzki -- takes on most of the responsibilities of a center for that unit. He can start the fast break with his rebounding ability to push the ball and has already impressed folks internally with his passing touch and knack for getting inside on pick-and-rolls. Marion, furthermore, is the Mav most likely to be guarded by opposing centers in that alignment, because teams aren't about to keep a five man for long on the versatile Nowitzki. Dirk's role and offensive approach, remember, don't change even when he's the biggest Mav on the floor.

But there's also little reason to stray from the conventional when Dampier is playing like this. It's still way early, obviously, but he's giving Dallas even more than even the biggest optimists out there -- knowing that the 34-year-old has to deliver in what's effectively a contract year -- were expecting.

Dampier ranks No. 1 among Western Conference centers in blocked shots (2.57 swats per game), second in rebounding (11.1 boards per game) and tops the entire league in shooting percentage (70 percent from the floor) while averaging 9.6 points. He's also rung up three double-doubles in just seven games after averaging only 8.6 double-doubles per season in his first five seasons as a Mav.
Marc Stein covers the NBA for ESPN.com and contributes to ESPNDallas.com.