Dallas Mavericks:

Corey Maggette
June, 26, 2013
6/26/13
10:13
AM CT
The third in ESPNDallas.com's position-by-position series previewing the free agency market that opens July 1:
This isn't an immediate need for the Mavericks … unless they move
Shawn Marion
to create more space under the salary cap.
Another possible scenario: The Mavs could decide to move the 35-year-old Marion and his $9.32 million salary after acquiring a small forward they feel is an upgrade.
There are only one or two small forwards on the market – depending on a decision made in Boston – who are in that class. A look at those players and some other small forwards who low-dollar fits for the Dallas bench: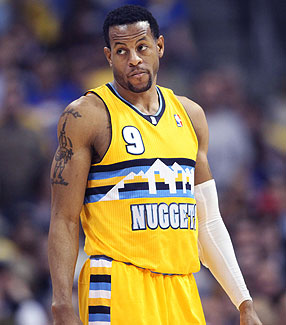 Chris Humphreys/USA TODAY SportsAndre Iguodala is an outstanding finisher at the basket and is one of few wings who are arguably better perimeter defenders than the Mavericks' Shawn Marion.
Andre Iguodala:
You can make a strong case that he's the third-best player in this free agency class behind
Chris Paul
and
Dwight Howard
. The 29-year-old Iguodala's athleticism, defensive prowess and passing certainly make him intriguing to the Mavs' front office.
The 6-foot-6, 207-pound Iguodala is a premier athlete, blessed with speed, quickness and leaping ability that allow him to excel in transition and as a defender.
Iguodala's explosiveness makes him an outstanding finisher. According to hoopdata.com, he made 74.1 percent of his shots at the rim last season. Only five starting wings (including Marion, by the way) converted a higher percentage of those rim attacks.
Iguodala is one of precious few wings who are arguably better perimeter defenders than Marion, although Iguodala doesn't have the versatility to occasionally cover power forwards. Former Nuggets GM Masai Ujiri called Iguodala's omission from the All-Defensive team "mind-boggling," pointing out that the U.S. Olympic team called on him when it needed a defensive stopper.
PODCAST
Chuck Cooperstein joins the show to talk about the Dallas Mavericks and how he thinks the NBA draft will turn out.

Listen

Other than
LeBron James
, there isn't a better passing wing in the NBA. Iguodala averaged 5.4 assists per game last season, which is about the norm for him over the last seven years. He's intelligent, unselfish and has the ability to create for himself and others.
Iguodala's biggest flaw: He's a below-average perimeter shooter (31.7 percent on 3s, 31.0 percent on long 2s last season). That limits him as a halfcourt offensive threat and would make it difficult to play him with Marion if the Mavs ended up with both players on their roster.
Iguodala isn't going to come cheap, either. He exercised his early termination option instead of making a $16.2 million salary in Denver next season. He won't get that much per year again, but he'll get at least $40 million over four years.
Paul Pierce:
It remains to be seen whether the longtime Celtics star will hit the open market. He's due to make $15.3 million in the final year of his deal this season, but Boston can buy him out for $5 million as the Celtics begin the rebuilding process. Pierce has also been the subject of a lot of trade talks.

The Mavs almost traded for Pierce at the deadline last season, but the Celtics backed out of a deal that would have sent Atlanta's
Josh Smith
to Boston and Pierce to Dallas. The security of Pierce's buyout was a small factor in the Mavs' interest at the time.
There is no question that Pierce, who turns 36 in October, can still play. He averaged 18.6 points, 6.3 rebounds and 4.8 assists for a playoff team last season. But does he fit Mark Cuban's two-year plan?
Even if the Mavs pursue Pierce, the interest might not be mutual. At this point of his career, would a two-year plan to contend appeal to him? Of course, the fact that the Mavs could offer more money than most, if not all, readymade contenders could affect Pierce's thought process.
Carlos Delfino:
He was relatively effective as a 3-point-firing sixth man for the Rockets, but Houston will decline his team option as they try to carve out enough cap space to get in the Dwight derby. Donnie Nelson says you can never have enough shooters, and the 6-foot-6, 230-pound Delfino hit 37.5 percent of his 421 long-range attempts last season. He's also a savvy player, which makes him intriguing as the Mavs attempt to drastically improve their basketball IQ.
But Delfino is limited athletically, can be exposed defensively and has seen his rebounding numbers drop significantly in recent years (3.3 per game in 25.2 minutes last season). The room midlevel exception ($2.652 million) might be a decent value for Delfino.
Chase Budinger:
He could be a good buy as a low-risk, high-upside guy. The 25-year-old Budinger has good size (6-foot-7, 218 pounds) and is a great leaper. He's shown the ability to score (9.4 points in 21.6 minutes per game in his career), but his offensive game could certainly benefit from the kind of one-on-one time
Corey Brewer
put in with Rick Carlisle. There are knocks on Budinger about his inconsistent motor, and he went into free agency on a low note after injuries limited him to 23 games for Minnesota last season.
C.J. Miles:
It's uncertain whether the Dallas Skyline product will be a free agent. He's Cleveland property, but his $2.25 million salary is fully unguaranteed. The Mavs had discussions with Miles last summer. He's a high-character guy who averaged 11.2 points and shot 38.4 percent from 3-point range for the Cavaliers last season. If nothing else, he'd be a great guy to have coming off the bench for the veteran's minimum.
Dorell Wright:
The 6-foot-9 Wright is just a perimeter shooter offensively. He's a decent rebounder and not a dreadful defender. If the money is right – meaning not much – he could make sense for the Mavs as a bench player.
Corey Maggette:
He has scored more than 13,000 points while playing most of his career on bad teams. He essentially took last season off, playing only 18 games for the Pistons. Not sure if the Mavs would want a declining player with a selfish rep on the roster, even at the minimum.
March, 11, 2012
3/11/12
10:50
PM CT
By
Jeff Caplan
| ESPNDallas.com
And so it's back to work after the most grueling and disappointing stretch of the season for the
Dallas Mavericks
.
[+] Enlarge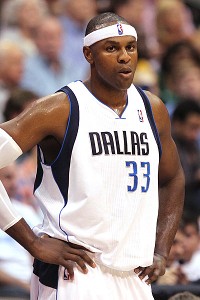 Matthew Emmons/US PresswireCenter Brendan Haywood could soon return from his ankle injury and provide a boost to the Mavs.
As
Jason Terry
said after Saturday's third consecutive loss that dropped Dallas to 23-20 with 23 games left in the regular season, it's time to let reality set in and move on.
Coach Rick Carlisle beat the drum of positivity after completing the 2-7 stretch.
"We went through this, it was tough, it was disappointing, but we have to move forward and keep our spirits up and stay upbeat about the week ahead," Carlisle said. "I'm going to be optimistic and positive with the guys, as well as being truthful. Monday is a big day for us."
It's big because it begins a new stretch of games and because the Mavs could find out that they'll soon be whole again. Starting center
Brendan Haywood
could get the go-ahead to return and
Brandan Wright
could, as well.
Delonte West
, so important to this team's defensive attitude as well as backing up
Jason Kidd
on the offensive end, will have his broken right ring finger examined.
PODCAST
Senior NBA writer Marc Stein on whether the Mavs be major players at the NBA trade deadline.

Listen

"We've got to fight through some injuries,"
Dirk Nowitzki
said, "and hopefully we get the guys back soon and make a push."
Then come two games that should get the week off to a good start if the Mavs are unified and truly engaged in making a push during the final third of the season.
The
Washington Wizards
and
Charlotte Bobcats
are at the American Airlines Center on Tuesday and Thursday, respectively. These two teams have combined for 14 wins, or as many as the
Sacramento Kings
. They have five road wins between them. Only one team (Sacramento) allows more points per game than Washington. Only Charlotte averages fewer than 88 points.
Two wins could jump-start some momentum before the
San Antonio Spurs
come to town Saturday night to kick off a highly competitive stretch of 12 games. A loss to either could serve as a fatal blow to a fragile team.
Tuesday:
vs. Washington Wizards (9-30), 7:30 p.m.
TV/Radio:
FSSW/ESPN Dallas 103.3 FM; 1270 AM (Spanish)
What to watch:
The Wizards are actually on one of their better stretches, which is what you have to call going 2-2 after a six-game losing streak. Those wins both came at home against Cleveland and the
Los Angeles Lakers
. Washington plays at San Antonio on Monday and will be playing a third game in four nights against a Mavs team that will have had two full days to recover. The Wizards have four players that score in double figures, led by a trio of guards --
John Wall
(17.4),
Nick Young
(16.6) and
Jordan Crawford
(12.9).
Thursday:
vs. Charlotte Bobcats (5-34), 7:30 p.m.
TV/Radio:
FSSW/ESPN Dallas 103.3 FM; 1270 AM (Spanish)
What to watch:
The league's worst team is 2-19 on the road, ranks dead last in scoring and 27th in points allowed. One player,
Corey Maggette
, averages more than 15 points a game (16.2). They've lost nine of 10 entering tonight's game at New Orleans and 24 of 26. They somehow rallied from a 20-point deficit in the first half to beat the
Orlando Magic
by 16 on March 6. They've lost three in a row since, to Utah, New Jersey and Oklahoma City. The Bobcats' stop in Dallas will be the finale of a four-game road swing and fifth game in seven nights.
Saturday:
vs. San Antonio Spurs (26-13), 7:30 p.m.
TV/Radio:
FSSW, NBA TV/ESPN Dallas 103.3 FM; 1270 AM (Spanish)
What to watch:
It's been a strange first two games in this series, with the Spurs raining 3s in a blowout win at San Antonio and the Mavs taking the second meeting in Dallas in overtime. Dallas blew an 18-point lead in the second half as Gregg Popovich rolled with his hot-shooting reserves for the final quarter-and-half. Danny Green thought he hit the game-winner at the buzzer, but replays showed he got the shot off a split-second too late. The Spurs will have
Manu Ginobili
for the first time this season against the Mavs, who should have the benefit of a day of rest while San Antonio will be coming of Friday night game at Oklahoma City. If the Spurs were pull off the road win, it would make it very difficult for Dallas to make a run at the Southwest Division crown.
January, 11, 2012
1/11/12
2:00
PM CT
By
Jeff Caplan
| ESPNDallas.com
As we all know, the Elias Sports Bureau comes up with some amazing stats and information that makes you wonder, how'd they find that?
Here's a few tidbits as the
Dallas Mavericks
look for a three-game winning streak to move above .500 for the first time this season when they play at the
Boston Celtics
tonight (7 p.m., ESPN):
* The Mavs made their first eight shots from the field Tuesday night against the Pistons. It was the longest such streak to begin a game for any NBA team this season and was the first time that Dallas started a game 8-for-8 or better from the floor since March 15, 2011 at Portland, when the Mavs made their first 11 shots, but lost the game, 104–101.
*
Dirk Nowitzki
has more
assists
on 3-point field goals this season (16) than he has on two-pointers (10). Nowitzki's total of 3-point assists is a team high (next-most:
Jason Terry
, 13).
* Jason Terry's 14.1 PPG scoring average in 344 career games
off the bench
is the highest among active players who have played at least 300 games as a non-starter. The next-highest career scoring averages off the bench for active players belong to
Leandro Barbosa
(12.0 PPG),
Jamal Crawford
(12.0),
Corey Maggette
(12.0) and
Jerry Stackhouse
(11.8).
* North Carolina has produced 12 current NBA players, but the Mavericks are the only team with as many as three former Tar Heels:
Vince Carter
,
Brendan Haywood
and
Brandan Wright
.
* The Celtics have been credited with assists on a league-high 66 percent of their field goals this season and the Mavs have the second-highest percentage in the league (64 percent). The league average for assisted field goals this season is 57 percent.
*
Mickael Pietrus
could make his Celtics debut tonight. Pietrus would be the fourth French-born player in Celtics history, joining
Dominique Wilkins
,
Jerome Moiso
and
Michael Stewart
. The Mavs have two players with French roots, center
Ian Mahinmi
and guard
Rodrigue Beaubois
.
* Rick Carlisle is 13–11 in games coached against Doc Rivers. Their coaching rivalry dates back to November 2001, when Carlisle was with Detroit and Rivers coached Orlando. Rivers was hired as the Celtics head coach on April 29, 2004. The only NBA head coach with a longer tenure in his current job than Rivers is Gregg Popovich (hired December 10, 1996). Despite Rivers' long tenure with Boston, he is
younger
than 16 current NBA head coaches.
* And finally, the Celtics are 1–5 in
home
games against defending NBA champions over the last six seasons. Boston's lone home win over a defending champion over that span (2005–06 through 2010–11) was against San Antonio on February 10, 2008.
January, 16, 2011
1/16/11
4:03
PM CT
Dirk Nowitzki
says the Mavs hit "rock bottom" with the setback in Memphis that saddled injury-riddled Dallas with its first five-game losing streak since Rick Carlisle's first month on the job in November 2008.
Mark Cuban tweeted a "hang in there" message to Mavs fans minutes after the defeat.
The quiet word in Mavsland, meanwhile, continue to suggest that no trade is imminent, no matter how jittery those fans might be in the wake of a 2-8 slide that began with the losses of Nowitzki (for nine games) and
Caron Butler
(for the rest of the season) to knee injuries.
Sources close to the situation say that the Mavs are indeed in the mode of assessing their trade options through discussions with numerous teams. But they also prefer to see how things look with Nowitzki back before committing to any trigger-pulling … and Nowitzki's comeback only lasted 15 minutes in Memphis thanks to his third-quarter ejection. The Mavs thus believe it's still too soon, in other words, to draw deep conclusions about where they are (without Butler and
Roddy Beaubois
) compared to where they were at 24-5.
[+] Enlarge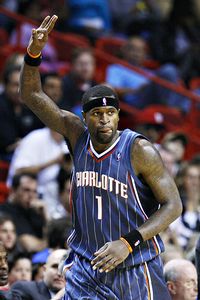 AP Photo/Wilfredo LeeWould the Bobcats part with Stephen Jackson, and would the Mavs want to take on his contract?
It is not too soon, however, to assess some of the names that have emerged as potential Mavs targets. A big second-half comeback from Beaubois remains their dream scenario, but plenty of time looms for them to change course and go the trade route, with 39 days left before the Feb. 24 trade deadline.
So here are five of the names, for starters, on the Mavs' radar:
Charlotte's Stephen Jackson:
As
ESPNDallas.com reported Jan. 5
, there is an undeniable level of sentiment within the Mavericks' organization to make a run at the 32-year-old swingman. Yet there are two nagging impediments despite the fact that Jackson – with his undeniable 3-point range and unforgettable insistence that he's uniquely wired to "make love" to playoff pressure – is the most intriguing name on this list.
Dallas remains unsure whether taking on Jackson's contract, which has two more years to run on a three-year deal worth nearly $28 million, is a gamble that can definitely restore the Mavs to their 24-5 form and get them out of the West. Cuban would have to be convinced on those fronts before a serious push is made for Jackson.
Bobcats officials are telling teams, with a 6-4 record under new coach Paul Silas and the playoffs again within sight, that they do not want to surrender Jackson or Gerald Wallace in a mere salary dump. Although there is undeniable skepticism around the league about Charlotte's position – there are teams out there who do indeed believe that Bobcats owner Michael Jordan will be willing to move Jackson or Wallace in a deal that saves a lot of money between now and the deadline – Dallas would have huge resistance to giving up anything more valuable than Butler's expiring contract in a Jackson deal.
Detroit's Tayshaun Prince:
Prince isn't nearly the threat offensively that Jackson would be, which is a problem because Dallas' needs are primarily on the offensive end. But Prince is in the final year of his contract ($11.1 million) and thus combines affordability with his proven playoff resume. The more immediate roadblock to acquiring the lanky lefty, sources say, is that the Pistons have been reluctant to consider Prince trade scenarios while waiting to see if the three-way deal for
Carmelo Anthony
involving
Rip Hamilton
finally gets done after a week-plus of trade limbo.
[+] Enlarge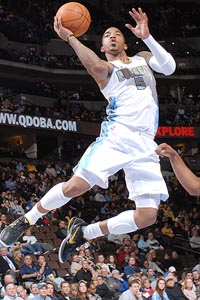 Garrett W. Ellwood/NBAE/Getty ImagesDenver's J.R. Smith wouldn't be a big financial risk, but it's uncertain how the enigmatic guard would affect the Mavs' chemistry.
Denver's J.R. Smith:
Sources say the Mavericks have likewise discussed the possibility of trading for the enigmatic Smith with the Nuggets. Denver, though, has taken a similar approach with the likes of Smith and veteran center Nene as Detroit with Prince, telling teams it wants to let the Melo Drama reach a conclusion before seriously contemplating trades with other Nuggets. From the Mavs' perspective, furthermore, Smith is unquestionably more affordable than Jackson or even Prince – with an expiring contract valued at $6.7 million – and has seemingly limitless 3-point range. But he's also the riskiest name on the board when it comes to fit and chemistry. The Mavs' in-house harmony isn't nearly what it was when they got off to the 24-5 start, but Smith's on- and off-court unpredictability rank as certain sources of hesitation.
Milwaukee's Corey Maggette:
ESPN The Magazine's Ric Bucher mentioned in a
Thursday night visit with 103.3 FM's Ian Fitzsimmons
that the Mavs and Bucks have discussed Maggette's availability. Maggette, though, is even more expensive than Jackson, with more than $21 million left on his contract through 2012-13 after this season. Jackson is likewise a far better fit with his ability to stretch the floor, passing eye, defensive ability and proven toughness. If Philadelphia's younger and more versatile
Andre Iguodala
is too expensive, Maggette is way too expensive for what he can deliver.
New Jersey's Devin Harris:
As noted in this cyberspace a week ago
, Dallas does have legit interest in a Harris reunion. Sources say that the Mavs have discussed the idea with the Nets and, upon being informed that New Jersey has to keep the 27-year-old to plug into Melo scenarios, have let Denver know that they are interested in talking about Harris if he winds up a Nugget.
The Mavs, though, are realistic. They know there will be strong interest in Harris -- whether he stays with the Nets or lands with the Nuggets -- that will make it tough to reacquire the 2009 All-Star because Dallas isn't overflowing with trade assets. The Mavs also concede that -- as confident as they are that Harris could play alongside
Jason Kidd
and
Jason Terry
just like
J.J. Barea
does because Harris is a better scorer on the drive and a quicker defender than any of those guys – they have a greater need for an athletic small forward who can score and stand up to playoff tension than what Harris can give them.
The most appealing aspect of trying to get Harris back might be the fact that moving him on again, if necessary, wouldn't be hard given the leaguewide appetite for lead guards.
February, 8, 2010
2/08/10
9:19
PM CT
OAKLAND -- The Warriors will have a totally different dynamic than the team that played in the American Airlines Center last week.

Small forward Corey Maggette is out because of a dislocated left ring finger. Anthony Morrow recently returned after missing 10 games with a sprained knee.

Essentially, Golden State swaps an elite slasher for an elite shooter. It wouldn't be stunning for the Warriors to jack up 30 3-pointers tonight.

"Morrow might be the best shooter in the league in terms of percentage over the last couple of years," Mavs coach Rick Carlisle said. "He's a terrific player. When he lines it up, very rarely does he not have it right in the slot.

"Tonight when we commit two to the ball with Ellis, we're going to have to scramble and find the Morrows and the Currys. Those guys are both great shooters."