Dallas Mavericks:

Damian Lillard
March, 5, 2014
Mar 5
8:00
AM CT
DENVER --
San Antonio Spurs
point guard
Tony Parker
's return from his midseason rest came just in time to torment the
Dallas Mavericks
.
Now comes the
Denver Nuggets
'
Ty Lawson
, who didn't look real rusty in his first game back after missing a few weeks because of a fractured rib, tuning up for Wednesday's game against the Mavs with a 31-point, 11-assist performance Monday against the
Minnesota Timberwolves
.
[+] Enlarge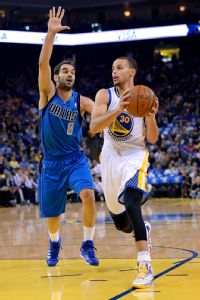 Thearon W. Henderson/Getty Images
Mavericks point guard Jose Calderon, left, has had trouble this season keeping up with elite point guards such as Steph Curry.
And the point guard problems will keep coming for Dallas. The
Portland Trail Blazers
'
Damian Lillard
, the
Golden State Warriors
'
Stephen Curry
and the
Oklahoma City Thunder
's
Russell Westbrook
are all on the schedule over the next two weeks.
Jose Calderon
, who occasionally resembles a bullfighter on defense, would have his hands full with all of these explosive point guards if he could stay close enough to get a paw on them.
"For sure, it's an individual challenge," Calderon said. "You don't want to get beat there by anybody. You're going to play as hard as you can against great players in this league. I feel pretty comfortable. The team has been helping me a lot. This year, some days are going to be a tougher challenge. You feel better or worse. But at the end of the day, it's about team defense."
The Mavs were well aware of Calderon's defensive limitations when they signed him to a four-year, $29 million deal last summer. They considered his lack of lateral quickness a flaw they could live, considering it came in a package with his savvy offensive decision-making and elite perimeter shooting.
Calderon has been as billed for the Mavs, for better and worse. He ranks third in the league in 3-point percentage (44.9) and fourth in assist-to-turnover ratio (3.94-to-1). He also has the worst defensive rating (107.1) among guards on winning teams.
While Calderon is a plus overall, it will be especially difficult to mask his defensive flaws during this stretch, which started with Parker's 22-point, seven-rebound performance Sunday in the Spurs' win.
December, 12, 2013
12/12/13
1:18
AM CT
The clutch dominance of
Stephen Curry
put a spotlight on one of the
Dallas Mavericks
' biggest problems.
This team has tremendous trouble trying to defend explosive point guards.
Really, Dallas' entire 2-2 road trip served as a pretty good illustration of that issue. Curry just capped it off in spectacular fashion Wednesday night by accounting for the
Golden State Warriors
' final 19 points, including a game-winning jumper off the dribble to send the Mavs home with a 95-93 loss.
[+] Enlarge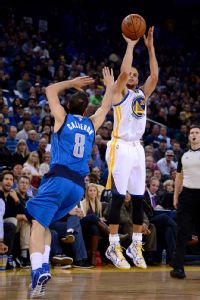 Kyle Terada/USA TODAY SportsThe 33 points and 10 assists that Stephen Curry put up Wednesday on the Mavericks is evidence of an alarming trend: They just can't handle explosive guards.
The average outing by an opposing point guard on the road trip: 28.9 points, 9.0 assists, 51.3 percent shooting from the floor.
Dallas survived a 26-point, nine-assist night by the
New Orleans Pelicans
'
Jrue Holiday
and a 32-point, five-assist performance by the
Portland Trail Blazers
'
Damian Lillard
, pulling out a couple of heart-pounding wins to make the trip a modest success. But the Mavs were torched for 24 points and 12 assists by the
Sacramento Kings
'
Isaiah Thomas
and 33 points and 10 assists by Curry in the two losses.
The Mavs can't consider any of this even mildly surprising. It's a flaw they've been well aware of since constructing their roster this summer.
They knew when they signed
Jose Calderon
to a four-year, $29 million deal that he lacked the lateral quickness to be an adequate defender. That's been part of his scouting report since he entered the league.
It certainly hasn't helped that Calderon is coming off a bone bruise in his right ankle that caused him to miss a Nov. 30 loss. The fact that
Samuel Dalembert
, who was signed primarily to be the rim-protecting backbone of a flawed defense, has been a disappointment recently makes matters worse.
Monta Ellis
might fare better defensively against point guards, but he's far from a defensive stopper. Plus, it's probably asking too much to expect Ellis to exert the kind of defensive energy required to slow down high-caliber point guards in addition to being the Mavs' primary offensive initiator while playing 37 minutes a game.
The Mavs can utilize their
Shawn Marion
, their 6-foot-7, do-it-all defender, against point guards on occasion. That, however, causes all kinds of cross-matching issues. And remember that Marion is a 35-year-old forward, so it's a stretch to think he can keep up with lightning-quick point guards in their prime.
In case you forgot, watch Curry's game winner again. Marion ended up switching on to him after a pick and didn't get any help against the hot hand. The result was predictable: Curry created his own shot, dribbling to a spot a few feet above the right elbow, pump-faking to get Marion to fly ball and swishing a jumper.
Little
Shane Larkin
has pest potential, but a rookie generously listed at 5-foot-11 will be exploited defensively in extended stretches.
Help is on the way with
Devin Harris
. He hopes to be able to play before Christmas and will immediately be the Mavs' best defensive guard, but he's also a guy who hasn't played a game in months and is coming off of toe surgery. Harris, 30, also might be better suited to defend shooting guards at this point of his career.
This isn't an issue the Mavs can avoid. Look at all the scoring threats playing quarterback in the West: Oklahoma City's
Russell Westbrook
, San Antonio's
Tony Parker
, the Clippers'
Chris Paul
, Denver's
Ty Lawson
, Phoenix's
Goran Dragic
and
Eric Bledsoe
, Memphis'
Mike Conley
, plus the four the Mavs faced on this trip.
If the Mavs can't figure out how to slow down good point guards, it'll be awfully difficult to move up the West standings.
February, 4, 2013
2/04/13
9:38
AM CT
Coach Rick Carlisle will join an exclusive club with his next win, which will be the 500th of his career. Only 27 coaches in NBA history have reached that milestone.
It won't be easy for Carlisle to make it 28 this week.
The Mavs face three opponents with winning records this week, including two of the Western Conference's top five teams. Here's a quick look at the Mavs' competition this week:
Oklahoma City Thunder, 7 p.m. Monday, Chesapeake Energy Arena:
The 35-12 Thunder are in a slump of sorts, losing four of their last seven games, with all the setbacks coming on the road. It's awfully tough for road teams to win in Oklahoma City, however. The Thunder are 14-1 at home this season. The Mavs have been surprisingly competitive against the defending West champions this season, losing to OKC in overtime in both of their meetings. NBA scoring leader
Kevin Durant
averaged 46.0 points in those games, including a career-high 52-point performance Jan. 18 in Dallas, featuring 21-of-21 shooting from the free throw line. Thunder point guard
Russell Westbrook
, who made headlines last week by throwing a temper tantrum during a timeout, is one of only two players to rank in the NBA's top 10 in scoring (22.6 ppg) and assists (8.3 apg) this season.
Portland Trail Blazers, 7:30 p.m. Wednesday, American Airlines Center:
Ex-Mavs assistant Terry Stotts has done a terrific job during his first season as Portland's head coach, but the thin-benched Blazers might be running out of gas. Portland (24-23) has lost eight of its last 12 games to fall out of the West's top eight. One of their wins during that stretch was a controversial 106-104 victory over the Mavs last week, when
LaMarcus Aldridge
hit a buzzer-beater after a charge call on
O.J. Mayo
that the league office later admitted was wrong. Aldridge earned his second straight All-Star bid, averaging 20.5 points and 9.0 rebounds. He's the headliner on a heck of a frontcourt that also features center
J.J. Hickson
(13.0 ppg, 10.8 rpg) and do-it-all small forward
Nicolas Batum
(15.9 ppg, 6.1 rpg, 4.9 apg, 1.4 spg, 1.1 bpg). Point guard
Damian Lillard
(18.4 ppg, 6.5 apg) is the Rookie of the Year frontrunner, but he's been outplayed by
Darren Collison
in both Mavs-Blazers meetings this season.
Golden State Warriors, 7:30 p.m. Saturday, American Airlines Center:
The Warriors (30-17) have morphed from a perennial lottery squad into a team that looks like it has the potential to do some playoff damage. All-Star power forward
David Lee
leads the league with 31 double-doubles, averaging 19.4 points and 11.1 rebounds. Guard
Stephen Curry
is the best player who didn't make the All-Star team this season, putting up 21.1 points and 6.5 assists per game. Both Mavs-Warriors games this season have gone down to the wire. Golden State won in overtime Nov. 19 in Dallas, and the Warriors squeezed out a 100-97 win in Oakland last week, when Curry and
Dirk Nowitzki
sat out due to injuries and Carlisle criticized the officiating after a critical no-call with six seconds remaining.
January, 30, 2013
1/30/13
9:57
AM CT
The Seagoville silencer struck again against his hometown team.
Just like last April at the American Airlines Center,
LaMarcus Aldridge
knocked down a buzzer-beating turnaround jumper to beat the Mavericks.
[+] Enlarge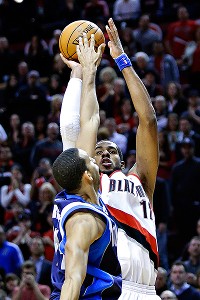 AP Photo/Don RyanLaMarcus Aldridge hit a turnaround jumper over Brandan Wright as time expired to spoil the Mavs' night.
Aldridge, who joins Miami's
Chris Bosh
as Dallas ISD products headed to the All-Star Game, capped a crazy game at the Rose Garden by calmly knocking down a turnaround jumper over
Brandan Wright
as time expired. Aldridge spoiled
Dirk Nowitzki
's best performance of the season – and what could have been Dirk's first clutch dagger in 2012-13 – by scoring five points in the final five seconds to allow the Trail Blazers to win a game they trailed by 21 points.
"This is what you live for," Aldridge said of his game-winner, according to
SI.com
. "That one felt great. That one felt real easy."
With 1.5 seconds remaining, Mavs coach Rick Carlisle opted to defend Aldridge with Wright, who had been relegated to the end of the bench for weeks until the last couple of games. Aldridge marched Wright down to his sweet spot just above the block before catching the inbounds pass and launching his go-to shot, a turnaround over his right shoulder.
"I was surprised I caught it so deep and I just turned," said Aldridge, who had 29 points and 13 rebounds. "I was very surprised."
Said Carlisle: "We had our longest guy on him, but he just made a better play."
A few more notes from the Mavs' critical, crushing loss:
1. Big man committee continues:
Chris Kaman
(concussion) is sidelined indefinitely, but the Mavs still went three-deep at center.
Rookie second-round pick
Bernard James
started his second consecutive game, and the minutes were distributed pretty evenly between Wright,
Elton Brand
and James.
The energetic, athletic James scored a career-high 10 points on 5-of-9 shooting, grabbed three rebounds and blocked a shot in 15 minutes. The Mavs were plus-3 with him on the floor.
Wright got his most playing time in a month, putting up eight points on 3-of-5 shooting and eight rebounds with a block and a steal in 15 minutes. The Mavs were plus-15 with him on the floor.
Brand, who had been a key to the Mavs' recent success, had his worst performance in weeks. He had only two points and two rebounds, shooting 1-of-6 from the floor. The Mavs were outscored by 15 in his 17 minutes.
Defending the Blazers' bigs was a problem for all of the Mavs' centers and Nowitzki. Aldridge (19 points, 13 rebounds) and
J.J. Hickson
(26 points, 15 rebounds) combined to shoot 63.6 percent from the floor (21-of-33).
2. Mayo's late misery:
For most of the night,
O.J. Mayo
played a terrific all-around game, scoring 15 points on 5-of-9 shooting, dishing out nine assists and grabbing seven rebounds. Too bad he committed five turnovers, including three in the final 77 seconds.
Mayo lost the ball on the dribble with 1:17 to go, had a poor inbounds pass stolen by
Wesley Matthews
with 55 seconds remaining and was called for a questionable charge with 1.5 ticks on the clock.
"You can't do that," Mayo told reporters. "I'll take this one on the chin."
3. Collison vs. the kid:
Portland point guard
Damian Lillard
is the runaway Rookie of the Year favorite, but
Darren Collison
has gotten the best of him in both Mavs-Blazers meetings this season.
Collison had 17 points on 6-of-10 shooting with nine assists Tuesday night, compared to Lillard's 10-point, 3-of-11, eight-assist performance.
The matchup was much more lopsided during the Blazers' November visit to Dallas, when Lillard had an off night after lighting it up in the first three games of his NBA career. Lillard had 13 points on 2-of-13 shooting with five assists that night, while Collison put up a 14-point, 13-assist double-double while going 5-of-8 from the floor.
November, 5, 2012
11/05/12
2:36
PM CT
DALLAS -- Coach Rick Carlisle refers to the
Portland Trail Blazers
as the best offensive team the Mavericks have faced this season.
That's partially because Carlisle has such immense respect for Terry Stotts, who left his post as the Mavs' offensive coordinator to become Portland's head coach this summer. But it's mostly because the Blazers have some bona fide weapons.
LaMarcus Aldridge
is an All-Star power forward who is averaging more than 21 points per game for the third consecutive season. He appears to have a legitimate co-star now in rookie point guard
Damian Lillard
, who averaged 21.3 points and 9.0 assists in the first three games of his NBA career.
Shooting guard
Wesley Matthews
, small forward
Nicolas Batum
and athletic center
J.J. Hickson
give the Blazers a few nice complementary weapons.
But the Blazers lack offensive threats off the bench. Dallas, even with
Dirk Nowitzki
out and
Rodrigue Beaubois
questionable, is a much deeper team.
Records:
Mavs (2-1); Trail Blazers (2-1)
When:
7:30 p.m.
Where:
American Airlines Center
TV:
FSSW
Radio:
ESPN Dallas 103.3 FM/1270 AM (Spanish)
What to watch:
Aldridge, a Seagoville and Texas product, loves playing in front of his hometown crowd. He has averaged 30.3 points in his last four games at the AAC, hitting a game-winning buzzer-beater to cap his last trip here. His ability to play facing the basket or as a post-up threat makes him an especially tough matchup for the Mavs. He can shoot over
Elton Brand
or muscle
Brandan Wright
. And Aldridge is an outstanding pick-and-roll player, particularly now that he has a dangerous partner in Lillard.
Key matchup:
Darren Collison
vs. Damian Lillard -- This matchup should be a ton of fun to watch, featuring a pair of point guards who are off to phenomenal starts in their new homes. Darren Collison has given the Mavs a dynamic penetrating threat, averaging 17.3 points and 7.0 assists while shooting 61.1 percent from the floor. Lillard, the sixth overall pick out of Weber State, looks like a young Isiah Thomas.
Injuries:
Mavs -- PF Dirk Nowitzki (knee) is out. G Rodrigue Beaubois (ankle) is questionable. Trail Blazers -- G Elliott Williams (Achilles tendon) is out.
Up next:
vs.
Toronto Raptors
, 7:30 p.m., Wednesday