Dallas Mavericks:

Damian Lillard
February, 4, 2013
Feb 4
9:38
AM CT
Coach Rick Carlisle will join an exclusive club with his next win, which will be the 500th of his career. Only 27 coaches in NBA history have reached that milestone.
It won't be easy for Carlisle to make it 28 this week.
The Mavs face three opponents with winning records this week, including two of the Western Conference's top five teams. Here's a quick look at the Mavs' competition this week:
Oklahoma City Thunder, 7 p.m. Monday, Chesapeake Energy Arena:
The 35-12 Thunder are in a slump of sorts, losing four of their last seven games, with all the setbacks coming on the road. It's awfully tough for road teams to win in Oklahoma City, however. The Thunder are 14-1 at home this season. The Mavs have been surprisingly competitive against the defending West champions this season, losing to OKC in overtime in both of their meetings. NBA scoring leader
Kevin Durant
averaged 46.0 points in those games, including a career-high 52-point performance Jan. 18 in Dallas, featuring 21-of-21 shooting from the free throw line. Thunder point guard
Russell Westbrook
, who made headlines last week by throwing a temper tantrum during a timeout, is one of only two players to rank in the NBA's top 10 in scoring (22.6 ppg) and assists (8.3 apg) this season.
Portland Trail Blazers, 7:30 p.m. Wednesday, American Airlines Center:
Ex-Mavs assistant Terry Stotts has done a terrific job during his first season as Portland's head coach, but the thin-benched Blazers might be running out of gas. Portland (24-23) has lost eight of its last 12 games to fall out of the West's top eight. One of their wins during that stretch was a controversial 106-104 victory over the Mavs last week, when
LaMarcus Aldridge
hit a buzzer-beater after a charge call on
O.J. Mayo
that the league office later admitted was wrong. Aldridge earned his second straight All-Star bid, averaging 20.5 points and 9.0 rebounds. He's the headliner on a heck of a frontcourt that also features center
J.J. Hickson
(13.0 ppg, 10.8 rpg) and do-it-all small forward
Nicolas Batum
(15.9 ppg, 6.1 rpg, 4.9 apg, 1.4 spg, 1.1 bpg). Point guard
Damian Lillard
(18.4 ppg, 6.5 apg) is the Rookie of the Year frontrunner, but he's been outplayed by
Darren Collison
in both Mavs-Blazers meetings this season.
Golden State Warriors, 7:30 p.m. Saturday, American Airlines Center:
The Warriors (30-17) have morphed from a perennial lottery squad into a team that looks like it has the potential to do some playoff damage. All-Star power forward
David Lee
leads the league with 31 double-doubles, averaging 19.4 points and 11.1 rebounds. Guard
Stephen Curry
is the best player who didn't make the All-Star team this season, putting up 21.1 points and 6.5 assists per game. Both Mavs-Warriors games this season have gone down to the wire. Golden State won in overtime Nov. 19 in Dallas, and the Warriors squeezed out a 100-97 win in Oakland last week, when Curry and
Dirk Nowitzki
sat out due to injuries and Carlisle criticized the officiating after a critical no-call with six seconds remaining.
January, 30, 2013
Jan 30
9:57
AM CT
The Seagoville silencer struck again against his hometown team.
Just like last April at the American Airlines Center,
LaMarcus Aldridge
knocked down a buzzer-beating turnaround jumper to beat the Mavericks.
[+] Enlarge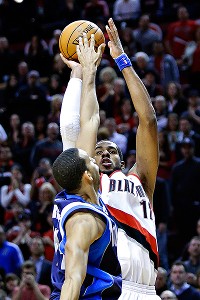 AP Photo/Don RyanLaMarcus Aldridge hit a turnaround jumper over Brandan Wright as time expired to spoil the Mavs' night.
Aldridge, who joins Miami's
Chris Bosh
as Dallas ISD products headed to the All-Star Game, capped a crazy game at the Rose Garden by calmly knocking down a turnaround jumper over
Brandan Wright
as time expired. Aldridge spoiled
Dirk Nowitzki
's best performance of the season – and what could have been Dirk's first clutch dagger in 2012-13 – by scoring five points in the final five seconds to allow the Trail Blazers to win a game they trailed by 21 points.
"This is what you live for," Aldridge said of his game-winner, according to
SI.com
. "That one felt great. That one felt real easy."
With 1.5 seconds remaining, Mavs coach Rick Carlisle opted to defend Aldridge with Wright, who had been relegated to the end of the bench for weeks until the last couple of games. Aldridge marched Wright down to his sweet spot just above the block before catching the inbounds pass and launching his go-to shot, a turnaround over his right shoulder.
"I was surprised I caught it so deep and I just turned," said Aldridge, who had 29 points and 13 rebounds. "I was very surprised."
Said Carlisle: "We had our longest guy on him, but he just made a better play."
A few more notes from the Mavs' critical, crushing loss:
1. Big man committee continues:
Chris Kaman
(concussion) is sidelined indefinitely, but the Mavs still went three-deep at center.
Rookie second-round pick
Bernard James
started his second consecutive game, and the minutes were distributed pretty evenly between Wright,
Elton Brand
and James.
The energetic, athletic James scored a career-high 10 points on 5-of-9 shooting, grabbed three rebounds and blocked a shot in 15 minutes. The Mavs were plus-3 with him on the floor.
Wright got his most playing time in a month, putting up eight points on 3-of-5 shooting and eight rebounds with a block and a steal in 15 minutes. The Mavs were plus-15 with him on the floor.
Brand, who had been a key to the Mavs' recent success, had his worst performance in weeks. He had only two points and two rebounds, shooting 1-of-6 from the floor. The Mavs were outscored by 15 in his 17 minutes.
Defending the Blazers' bigs was a problem for all of the Mavs' centers and Nowitzki. Aldridge (19 points, 13 rebounds) and
J.J. Hickson
(26 points, 15 rebounds) combined to shoot 63.6 percent from the floor (21-of-33).
2. Mayo's late misery:
For most of the night,
O.J. Mayo
played a terrific all-around game, scoring 15 points on 5-of-9 shooting, dishing out nine assists and grabbing seven rebounds. Too bad he committed five turnovers, including three in the final 77 seconds.
Mayo lost the ball on the dribble with 1:17 to go, had a poor inbounds pass stolen by
Wesley Matthews
with 55 seconds remaining and was called for a questionable charge with 1.5 ticks on the clock.
"You can't do that," Mayo told reporters. "I'll take this one on the chin."
3. Collison vs. the kid:
Portland point guard
Damian Lillard
is the runaway Rookie of the Year favorite, but
Darren Collison
has gotten the best of him in both Mavs-Blazers meetings this season.
Collison had 17 points on 6-of-10 shooting with nine assists Tuesday night, compared to Lillard's 10-point, 3-of-11, eight-assist performance.
The matchup was much more lopsided during the Blazers' November visit to Dallas, when Lillard had an off night after lighting it up in the first three games of his NBA career. Lillard had 13 points on 2-of-13 shooting with five assists that night, while Collison put up a 14-point, 13-assist double-double while going 5-of-8 from the floor.
November, 5, 2012
11/05/12
2:36
PM CT
DALLAS -- Coach Rick Carlisle refers to the
Portland Trail Blazers
as the best offensive team the Mavericks have faced this season.
That's partially because Carlisle has such immense respect for Terry Stotts, who left his post as the Mavs' offensive coordinator to become Portland's head coach this summer. But it's mostly because the Blazers have some bona fide weapons.
LaMarcus Aldridge
is an All-Star power forward who is averaging more than 21 points per game for the third consecutive season. He appears to have a legitimate co-star now in rookie point guard
Damian Lillard
, who averaged 21.3 points and 9.0 assists in the first three games of his NBA career.
Shooting guard
Wesley Matthews
, small forward
Nicolas Batum
and athletic center
J.J. Hickson
give the Blazers a few nice complementary weapons.
But the Blazers lack offensive threats off the bench. Dallas, even with
Dirk Nowitzki
out and
Rodrigue Beaubois
questionable, is a much deeper team.
Records:
Mavs (2-1); Trail Blazers (2-1)
When:
7:30 p.m.
Where:
American Airlines Center
TV:
FSSW
Radio:
ESPN Dallas 103.3 FM/1270 AM (Spanish)
What to watch:
Aldridge, a Seagoville and Texas product, loves playing in front of his hometown crowd. He has averaged 30.3 points in his last four games at the AAC, hitting a game-winning buzzer-beater to cap his last trip here. His ability to play facing the basket or as a post-up threat makes him an especially tough matchup for the Mavs. He can shoot over
Elton Brand
or muscle
Brandan Wright
. And Aldridge is an outstanding pick-and-roll player, particularly now that he has a dangerous partner in Lillard.
Key matchup:
Darren Collison
vs. Damian Lillard -- This matchup should be a ton of fun to watch, featuring a pair of point guards who are off to phenomenal starts in their new homes. Darren Collison has given the Mavs a dynamic penetrating threat, averaging 17.3 points and 7.0 assists while shooting 61.1 percent from the floor. Lillard, the sixth overall pick out of Weber State, looks like a young Isiah Thomas.
Injuries:
Mavs -- PF Dirk Nowitzki (knee) is out. G Rodrigue Beaubois (ankle) is questionable. Trail Blazers -- G Elliott Williams (Achilles tendon) is out.
Up next:
vs.
Toronto Raptors
, 7:30 p.m., Wednesday