Dallas Mavericks:

Daniel Gibson
June, 24, 2013
Jun 24
10:10
AM CT
The first in ESPNDallas.com's position-by-position series previewing the free agency market that opens July 1.
Barring a one-in-a-million type of miracle, the Mavericks must move on to Plan B.
With Doc Rivers re-locating to Los Angeles,
Chris Paul
maximizing his money by re-signing with the Clippers is all but a done deal. There's a steep drop from CP3 to the rest of the point guards available in free agency -- and maybe the Mavs acquire their starter via a trade – but upgrading this position ranks right up there with center among the Mavs' top priorities.
A look at potential PG fits for the Mavs in free agency:
Jose Calderon:
The Mavs were intrigued enough by the 31-year-old Spaniard to engage in trade talks about him with the Raptors before and during last season. Calderon, who has a career assist-to-turnover ratio of 7.2/1.7, would give the Mavs a significant boost of basketball IQ and get
Dirk Nowitzki
the ball at the right spot and right time on a regular basis. Calderon can also consistently knock down open jumpers, as evidenced by his career percentages that are outstanding by point guard standards (.483 FG, .399 3s).
The concerns with Calderon: He'll remind Mavs fans of the biggest flaws of the two best point guards who have played with Dirk. Calderon has never been a good creator or defender, and that's putting it kindly. His hesitation/inability to penetrate is Kidd-like; his 0.9 attempts per game at the rim were the lowest among starting point guards last season, according to hoopdata.com. He's a Nash-like liability at the defensive end, especially against explosive guards. Those issues aren't going to improve as Calderon ages.
Nevertheless, Calderon could be the best fit for the Mavs in the market, assuming the price drops significantly from the $11 million he made last season. Estimated cost: three years, $18 million.

Monta Ellis:
He's the most talented point guard in the market who isn't a perennial All-Star. The problem: It's a stretch to call Ellis a point guard. He's a scorer first and foremost, probably best suited for a
Jason Terry
-type of role as instant offense off the bench.
The Mavs have major question marks about how Ellis would fit as the starting point guard alongside Nowitzki. Ellis is a premier penetrator in his prime, which makes him intriguing, but he's never averaged more than six assists per game and is a high-volume, low-efficiency jump shooter. His 3-point percentage last season (.287) was the worst among any player with more than 170 attempts. He shot more long 2s than any point guard other than
John Wall
but hit only 34 percent of them, per hoopdata.com.
Ellis gets a lot of steals, but he'll never be confused with a defensive stopper.
He'd give the Mavs the kind of athleticism they haven't had at point guard since
Devin Harris
. Of course, you might remember Nowitzki lobbying hard behind the scenes for the Jason Kidd trade because he wanted a more cerebral partner at point guard.
The Mavs will pass if Ellis gets something close to the four-year, $40 million deal he's rumored to be seeking. If he slips through the cracks like
O.J. Mayo
last season, the Mavs could be waiting with a short-term offer in the $6 million-per-year range.
Jarrett Jack:
He excelled as the Warriors' sixth man this season, often running the point next to
Stephen Curry
during crunch time. That's a role that suits him well.
While he struggles to defend quick foes and isn't a pass-first guy, there are reasons to be intrigued about the 29-year-old Jack's potential as the Mavs' point guard. He's an outstanding midrange shooter (48 percent last season) and has a knack for knocking down floaters in the lane. Those are the kind of shots that come in bunches when running pick-and-pops with Dirk. And Jack has the type of tough-minded mentality that would mesh well with the Mavs' vets and coach Rick Carlisle.
A four-year, $24 million deal for Jack would make sense for the Mavs. However, it's a long shot at best that he'd leave Golden State for that kind of money. With Golden State's ownership promising to spend to sustain success now that the Bay Area is buzzing about the Dubs, another team would probably have to overpay to get Jack.
Mo Williams:
The 30-year-old Williams is really a score-first combo guard, not a pure point. He's a good catch-and-shoot 3-point shooter (.386 career) who also likes midrange jumpers off the dribble but isn't much of a threat to drive. He's an average passer (6.2 assists per game last season) and mediocre defender. And he's injury prone, missing at least a dozen games in seven of the last eight seasons.
Williams would be a stopgap starter, not a long-term solution. The Mavs probably wouldn't be willing to pay more than $5 million per year for his services.
Brandon Jennings:
The Mavs had mild interest in Jennings before the trade deadline and he's made it clear that he'd love to play in Dallas. Let's hold off on the debate about how much the 6-foot-1, 169-pound, lightning-quick, low-percentage-shooting Jennings would benefit from playing with Dirk. Jennings, a restricted free agent, is expected to sign an offer sheet to play one more season with the Bucks before having the freedom to be a free agent with no strings attached. If he's a Mav this season, it almost certainly means there's been a trade. (Same goes with Sacramento's
Tyreke Evans
, but we'll classify him as a shooting guard.)
Jeff Teague:
There's a lot to like about a 25-year-old who averaged 14.6 points and 7.2 assists while playing good defense for a playoff team, which is why Atlanta is expected to re-sign the restricted free agent. He's only an option for the Mavs if the Hawks strike it rich in free agency and are forced to renounce Teague's rights. You could do a lot worse than signing Teague to a four-year, $30 million deal.
Darren Collison:
He clearly considers himself a starting point guard and will search for a team that agrees with him this summer. The Mavs do not. If he slips through the free agency cracks, the Mavs would welcome him back as a backup for the kind of money that reflects that role.
Devin Harris:
There's a lot of love in the Mavs organization for Harris as a person. However, he isn't perceived to be a starting point guard at this point of his injury-prone career. He averaged 9.9 points and 3.4 assists as a part-time starter for the Hawks last season. The Mavs wouldn't mind bringing Harris back to Dallas, but it'd have to be as a $3 million-per-year backup.
Nate Robinson:
He's like a turbo edition of
J.J. Barea
with baggage that has caused Robinson to bounce around to five teams in the last five seasons. He was arguably the best minimum-salary bargain in the league last season, averaging 13.1 points and 4.4 assists off the bench for the Bulls and starring in some playoff wins. How much did Robinson boost his value? The Mavs wouldn't spend big on him, but if he's in the $2 million salary range, he'd be a great fit.
Chauncey Billups:
His career really took off during his season playing for Rick Carlisle with the Pistons, so there's a strong tie there. But he's 36 years old and wasn't close to being the same player when he came back from a torn Achilles tendon last season. The Mavs might value his veteran savvy enough to offer Billups the bi-annual exception of a little more than $2 million.
Shaun Livingston:
The 6-foot-7 former straight-outta-high school high lotto pick whose career was destroyed by a devastating knee injury wouldn't be a bad, low-dollar backup. He's not a good shooter, but Livingston is a solid defender, passer and rebounder.
Will Bynum:
The 30-year-old, who averaged 9.8 points and 3.6 assists off the Pistons' bench last season, is a poor man's Barea. If he's getting offers for the minimum, the Mavs should be interested.
Mike James:
The 38-year-old who ended the season as the Mavs' starter is an option as a minimum-salary backup.
Daniel Gibson:
"Boobie" is a bench shooter who would pique the Mavs' interest as a minimum guy.
May, 24, 2010
5/24/10
7:45
AM CT
By
Jeff "Skin" Wade
| ESPNDallas.com
For Part III of our
fantasy offseason series
we'll try and work some angles brought up by our homie Timmy Mac in
this post on
LeBron James
.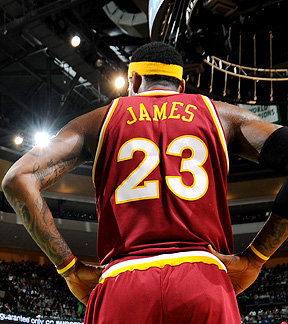 Brian Babineau/NBAE/Getty ImagesIf LeBron James demands a sign-and-trade to the Mavericks, here are two possible scenarios in which the deal could get done.
Obviously any King James-to-Dallas talk would only be possible if James forced the Cavs' hand and demanded a sign-and-trade to the Mavs. It's been brought up many times that not engaging in any sign-and-trade discussions is the only real leverage the Cavs have, thus forcing LeBron to pass on about $30 million to go elsewhere. Then again, getting nothing for LeBron and being left with
Antawn Jamison
,
Mo Williams
and about $12 or $13 million in cap room to lure free agents to one of the least desirable places to live in the NBA doesn't exactly give Cleveland the hammer in these negotiations? If LeBron demands an S&T to Dallas, Cavs owner Dan Gilbert will have to play ball and get some assets back in return. There are two main angles here: Cleveland rebuilding while staying competitive; and Cleveland tearing this bad boy down. We'll tackle both.
The Basics #1:
I've never been a Jamison fan, but he can still get you 20 a night. And even though he's overpaid, his contract only has two years left on it. I don't see him being as big an albatross as others might. In fact, if acquiring LeBron means the Mavs must give up
Rodrigue Beaubois
, as most have theorized, then I'd suggest that Mo Williams and his likely three remaining years is a bigger issue for Cleveland moving forward than Jamison.
The How #1:
If the Mavs were to offer Erick Dampier's non-guaranteed contract, Beaubois,
DeShawn Stevenson
(final year of a deal with $4.1 million on it) and a future pick or two for James and the complete waste of money that is Daniel Gibson's deal (three more years with almost $11 million guaranteed), then I'd think Cleveland would have to roll with that considering holding an empty bag is also an option.
The Why #1:
I'd think Cleveland could still be competitive with this deal while they rebuild around Beaubois, JJ Hickson and cap space using Jamison, Williams and Andy Varejao to bridge to the future. If Cleveland demanded
Caron Butler
in the trade to get more value, then The Mavs would have to counter that
Delonte West
be included in the deal in place of Gibson since he's only guaranteed $500,000 for 2010. But if I'm Dallas, I have James' camp force the issue that he wants to play with Butler. Remember that Roddy B and picks beats nothing in return.
[+] Enlarge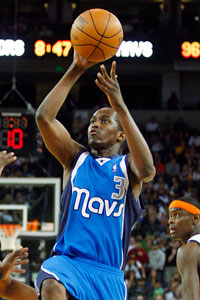 AP Photo/Ben MargotOne scenario: Trading Rodrigue Beaubois, Erick Dampier, DeShawn Stevenson and a pick or two to the Cavs for LeBron James and Daniel Gibson. But if the Mavs were forced to take on Antawn Jamison, then they shouldn't have to trade Roddy B.
The Basics #2:
If The Cavs are completely tearing down, then they'd want to jettison Jamison and Williams. Varejao has five years left, but doesn't make outrageous dough for what he brings, and his energy will still translate to rebuilding. The Mavs could do either variation of trade idea #1 and then swap out
Jason Terry
for Williams and the Cavs could save some money. But if Cleveland insisted on a Jamison/LeBron $31 million megabomb, then I'd think the Mavs would have to play it this way.
The How #2:
Dampier's non-guaranteed contract, Butler in the last year of his deal and Matt Carroll's descending contract (very much in the Boobie Gibson realm) and two future picks for Jamison/LeBron. But NO Roddy B if you have to take on Jamison.
The Why #2:
Jamison is a completely useless player for the Mavs at his salary and really hurts the finances of the team. If Dallas has to take him on, then they shouldn't have to come off of Beaubois, too. Butler will give the Cavs similar production to Jamison at about $18 million less. Honestly, Cleveland would be better taking the first incarnation of Deal 1 and then sending Jamison, Williams, West and
Jamario Moon
to Philly for
Elton Brand
,
Samuel Dalembert
, Jason Kapano and the #2 pick. They take a financial hit this season, though they wouldn't come close to luxury tax territory and then they'd rebuild around the undeniable backcourt of Roddy B and Evan Turner with over $20 million in cap space next summer. Now that'd be fun to watch.
The Bottom Line:
The Mavs can get LeBron if he wants to come here. Who knows if Dallas is even on his radar. But if Cleveland plays it right, they could be competitive quickly. Which is all you can ask when you lose one of the best players in the world in his prime.