Dallas Mavericks:

Danilo Gallinari
April, 5, 2013
4/05/13
9:00
AM CT
DENVER – What happened to one of the great closers in NBA history during the fourth quarter of Thursday's down-to-the-wire loss?
Dirk Nowitzki
essentially disappeared on the offensive end in the final dozen minutes.
PODCAST
Rick Carlisle joins Galloway & Company to discuss changing up his starting lineup, Brittney Griner possibly playing for the Mavericks and much more.

Listen

Nowitzki didn't score a single point in the final frame of the 95-94 loss to the Nuggets. He attempted only two shots in the quarter. His biggest impact play was a turnover with 19.9 seconds left.
What did the Nuggets do to shut down Dirk?
"Just front me in the post," said Nowitzki, who finished the game with 13 points on 6-of-10 shooting. "I did have one catch down there and shot a fadeaway. I should have made a stronger move than that. Other than that, just front me, backside help. That was really about it."
Not coincidentally, the Mavs' offense was miserable in the fourth quarter, scoring only 17 points on 7-of-19 shooting.
Nowitzki got one really good look … and somehow airballed a straightway 3 with 10:33 remaining. He didn't get another shot until his failed fadeaway with 46.8 seconds to go.
Coach Rick Carlisle tried to give Dirk a chance to deliver the dagger, but that turned into disaster. With the Mavs clinging to a one-point lead, Dallas ran an isolation play for Nowitzki near the top of the key, but ex-Mav
Corey Brewer
swiped the ball when Nowitzki made a spin move.
"I thought actually I could quick dribble it and spin before Brewer gets the ball," Nowitzki said. "I saw him right there, but as soon as I put it down, he's so quick. That's what he does. He dove in there and got his hands on it. At that point, probably the wrong move. It was so clogged, the only thing I had was just the spot-up shot. I probably should have just shot over him."
It was clogged because the Mavs had poor spacing on the play. Instead of overloading one side to give Dirk room to work, the Mavs had two players on each side of the court.
"That's on me," Carlisle said. "It's a case of, yeah, we always want to get him the ball when we can. When we can't, he affects the game in a way that helps other guys get shots. That's when we need other guys to step up."
Nowitzki was not involved in the play when the Mavs had a chance to win the game on the final possession, standing on the opposite side of the court while Anthony Morrow's desperation 3-pointer got blocked.
A few more notes from yet another frustrating Mavs loss:
1. Final failure:
With 2.8 seconds remaining and the Mavs trailing by one, Carlisle didn't want rarely used reserve
Anthony Morrow
shooting a contested 3-pointer off the dribble. That's what happened, with Brewer blocking Morrow's shot.
What did Carlisle want in that situation?
"Not what happened," Carlisle said. "Again, I'm responsible for that. That's as far as I'm going to go with it."
Nowitzki, who had a nice view from the opposite side of the court, shed some light on what was supposed to happen.
"The play was for Vince (Carter) coming off and curling to the corner, but
Andre Miller
was right there and took that away," Nowitzki said. "(Morrow) ran a circle and came back up, wasn't really free but tried to make the best out of it and got a shot up and got it blocked."
2. Brewer's big game:
Brewer, whom the Mavs traded to Denver along with
Rudy Fernandez
for a 2016 second-round pick in a salary-dump deal before last season, torched his former team.
Brewer scored 23 points in 35 minutes off the bench, stepping up after small forward
Danilo Gallinari
suffered what appeared to be a serious knee injury in the second quarter.
Brewer also made three critical plays in the final 19.9 seconds: stealing the ball from Nowitzki, grabbing the offensive rebound to make Andre Iguodala's game-winning drive possible and blocking Morrow's shot.
"He's a good player," Nowitzki said. "You've got to give him credit. He played well."
3. Foul night for Mayo:
It's never good to finish with more fouls than points. That was the case for
O.J. Mayo
, who matched a season low with four points and fouled out for only the fifth time in his career.
Mayo picked up his fourth foul 58 seconds after halftime and sat out the rest of the third quarter. He was whistled for his fifth foul 54 seconds into the fourth quarter and fouled out on an and-1 pull-up jumper by Andre Miller with 1:48 remaining.
"You're going to have nights like that," Mayo said. "You try to play hard even though you have some fouls, try to stay aggressive, but the whistles didn't go my way tonight."
August, 20, 2012
8/20/12
12:01
AM CT
By
Jeff Caplan
| ESPNDallas.com
First in a series looking at the five teams ahead of the Dallas Mavericks in our early 2012-13 Western Conference rankings and how the revamped Mavs match up.
No. 5 Denver Nuggets
George Karl's group plays it fast and loose and likes to have fun -- and Karl is having more fun ever since the exits of
Carmelo Anthony
and
J.R. Smith
. The Nuggets showed it in a steamroller performance on Dec. 26, the second game of the season, with a 115-93 whiplashing of the Mavs. Of course, the Nuggets weren't as good as that game might have suggested and the Mavs weren't as bad. Dallas took the next three meetings with both teams missing various key players in each game. Much has changed since their last meeting on March 19 starting with center
JaVale McGee
's arrival and
Nene
's departure a few days earlier -- although the sometimes comically erratic McGee didn't play in that series finale against Dallas -- as both squads bring new looks into the 2012-13 season.
[+] Enlarge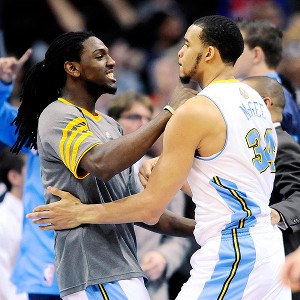 Ron Chenoy/US PresswireLast season's addition of JaVale McGee, right, gives Denver a long and versatile frontcourt.
Last season's results (Mavs won 3-1)
Nuggets 115, @Mavs 93
Mavs 105, @Nuggets 95
@Mavs 102, Nuggets 84
Mavs 112, @Nuggets 95
This season's games
Dec. 28: @Nuggets
April 4: vs. Nuggets
April 12: vs. Nuggets
What's changed?
The Nuggets had a deep roster dotted with impressive players last season, but boasted not an All-Star among them. That changed last week with the four-team blockbuster
Dwight Howard
deal that sent longtime 76ers wing
Andre Iguodala
to Denver with the Nuggets sending shooting guard
Arron Afflalo
and reserve forward
Al Harrington
to Orlando. Iguodala, a 2012 All-Star and member of gold-medal winning Team USA, will share the backcourt with speedster point guard
Ty Lawson
and he'll bring a missing defensive mentality that can only help the league's top scoring team last season that finished 29th in scoring defense. A long and versatile frontcourt includes
Danilo Gallinari
,
Wilson Chandler
,
Kenneth Faried
and the 7-foot McGee. Denver also made a nice pickup with 6-11 Dallas native
Anthony Randolph
to add to a solid bench that includes ever-steady point guard
Andre Miller
, Chandler -- if Karl chooses to make him the sixth man --
Corey Brewer
and a couple of 7-footers in
Timofey Mozgov
and
Kosta Koufos
.
How the Mavs match up
New Mavs point guard
Darren Collison
, a 6-foot, 180-pound blur, certainly gives the Mavs more backcourt speed than ever before to stick with the shifty 5-foot-11 Lawson. That should come as music to the ears of small forward
Shawn Marion
, who too many times last season was asked to take the opposing point guard because
Jason Kidd
and
Vince Carter
simply couldn't. Marion won't be singing long now that Iguodala gives the Nuggets a formidable trio at the wing with Gallinari and Chandler now potentially popping off the bench. This type of squad could be a situation in which Mavs rookie forward
Jae Crowder
becomes a valuable addition as a strong, 6-6 wing defender to assist Marion. Shooting guard
Dahntay Jones
also gives Dallas another defensive option on the perimeter it didn't have last season. Iguodala really helps the Nuggets' defensive situation. Against the Mavs he'll be able to stick
O.J. Mayo
, who the Mavs hope will emerge as the second scorer behind
Dirk Nowitzki
. Denver still has no answer for Dirk, not that many teams do. Last season against the Nuggets, Nowitzki averaged 22.5 points in 29.3 minutes and shot 53.8 percent from the floor, well above his season average of 45.7 percent.
March, 19, 2012
3/19/12
1:00
PM CT
By
Jeff Caplan
| ESPNDallas.com
Mavericks forward
Dirk Nowitzki
has scored 27 points in each of the last three games. In three games this season against tonight's opponent, the
Denver Nuggets
, Nowitzki has averaged 19.0 points a game on 50 percent shooting, a number that is rather remarkable considering he is 1-of-10 from beyond the arc in those games.
PODCAST
ESPN Dallas 103.3 FM's Ben & Skin wonder about Jason Terry's mouth and play Dirk Nowitzki's reaction to Jet's talk.

Listen

And that's exactly from where the Nuggets better be wary of the 7-footer.
Once shooting the 3-ball at about 18 percent, Nowitzki is now shooting it at a much more respectable 35.6 percent. To raise his percentage that much means he's been dropping the 3 at a tremendous rate recently.
He hit his only two attempts in the second half of Saturday's win over the Spurs. In his last four games he's connected on 8-of-16. In 10 games in March, he's 20-of-41 (48.8 percent).
Records:
Mavs (26-20); Nuggets (25-20)
When:
9:30 p.m.
Where:
Pepsi Center
TV:
TNT
Radio:
ESPN Dallas 103.3 FM; 1270 AM (Spanish)
What to watch:
With
Shawn Marion
(sore left knee) out of the lineup for a second consecutive game, will coach Rick Carlisle give
Rodrigue Beaubois
another start? It would make sense considering the quickness of Nuggets point guard
Ty Lawson
.
Vince Carter
, who started at small forward against the Spurs on Saturday, will be needed to guard hot-shooting
Danilo Gallinari
, who is averaging 18.0 points in the last three games.
Key matchup:
Danilo Gallinari vs. Vince Carter/
Lamar Odom
Carter, who started at small forward against the Spurs on Saturday, will be needed to guard the hot-shooting Gallinari, who is averaging 18.0 points in the last three games after getting off to a slow start in his return from a sprained ankle. Gallinari won't have to deal with Marion's long arms and he'll have a quickness advantage over Carter. Odom has had trouble guarding small forwards.
Injuries:
Mavs - G
Delonte West
(fractured right ring finger) is out; C
Brendan Haywood
(sprained right knee) is out; F Shawn Marion (sore left knee) is out. Nuggets - None.
Up next:
Los Angeles Lakers
at Mavs, 8:30 p.m., Wednesday
March, 19, 2012
3/19/12
9:00
AM CT
By
Jeff Caplan
| ESPNDallas.com
Of the four teams the
Dallas Mavericks
face this week, three coming on the road, only the
Denver Nuggets
can claim to be hotter, as well as more mysterious.
More mysterious? The Nuggets, winners of seven of their last 10, did just make the most stunning trade at the deadline, sending
Nene
to Washington for talented, but blooper-reel center
JaVale McGee
. They also just reached a long-term deal with forward
Wilson Chandler
, who headed to China during the lockout. Both players are expected to be available for tonight's game.
As for the Mavs, with 20 games left can anyone claim to pinpoint where this team is headed -- down the drain or on their way to another championship? Injuries are again forcing odd lineups such as this one that actually got some run twice and held its own against the Spurs on Saturday:
Jason Terry
,
Rodrigue Beaubois
,
Brian Cardinal
,
Lamar Odom
and
Brandan Wright
.
Dallas might have to go there again tonight at Denver. They know center
Brendan Haywood
(sprained right knee) won't play and guard
Delonte West
remains out. It was against the Nuggets more than a month ago that West's right finger bent in a way it never should when he reached out try to make a steal.
The big question is whether small forward
Shawn Marion
(sore left knee) will be back after missing his first game of the season against the Spurs. Dallas needs him badly on the road to help defend
Danilo Gallinari
, whose sprained ankle kept him out of the last matchup, and possibly even point guard
Ty Lawson
, who Marion held to three points and two assists last month.
Since West's injury, Marion has been charged with guarding point guards, which begs the question in tonight's game -- with or without Marion -- if Beaubois will make his second consecutive start after stringing together four impressive outings.
Coach Rick Carlisle doesn't divulge plans for starting lineups, but he did suggest that he might not be particularly hip to the idea of starting Beaubois at shooting guard.
"One of the downsides to starting him is his minutes get run way up," Carlisle said. "He's not used to playing 35, 36 minutes a game. We've got to be mindful of it because of the frequency of games."
At 23, who better to run up big minutes, especially if Beaubois is playing well? The Mavs have two back-to-backs in the next seven games, which isn't crazy by their recent standards.
Beaubois played 35 minutes against the Spurs, recording 16 points and eight rebounds, and he might have gone longer than that had his 3-pointer with about four minutes to go in the game hadn't of missed the basket entirely. Carlisle used that as a cue to get him out of there. In his other recent start at New Orleans on March 2, Beaubois scored 25 points in 31 minutes.
The announcement of tonight's starting lineup will be interesting. Will he or won't he be in it?
Tonight: at Denver Nuggets (25-20), 9:30 p.m.
TV/Radio:
TNT/ESPN Dallas 103.3 FM; 1270 AM (Spanish)
What to watch:
Gallinari is back from an awful ankle sprain and after a four-game breaking-in period in which he averaged 4.5 points on 5-of-25 shooting, his touch has returned over the last three games as he's averaged 18.0 points on 17-of-36 shooting, including 7-of-16 from beyond the arc. A rare site on the Nuggets' game-day notes is a blank injury box. The Nuggets, already one of the deeper teams in the league before bringing Chandler back into the fold, hit hard times without Gallinari but seem to be hitting their stride again. They'll push the tempo all night and force the Mavs to keep up.
Wednesday: vs. Los Angeles Lakers (28-17), 8:30 p.m.
TV/Radio:
ESPN, FSSW/ESPN Dallas 103.3 FM; 1270 AM (Spanish)
What to watch:
The Mavs know they won't have to worry about a late 3-ball again from
Derek Fisher
. The Lakers shipped him out at the deadline in favor of younger, more athletic point guard
Ramon Sessions
, who comes to Tinseltown via Cleveland. L.A. saw its five-game win streak snapped Sunday night against the Jazz. It was only the Lakers' third loss in 22 games at home. On the road, L.A. hasn't exactly been Showtime at 9-14. The Mavs will get the Lakers on the second night of a back-to-back -- they're in Houston on Tuesday. Led by
Pau Gasol
and
Andrew Bynum
, L.A. did get a 96-91 road win at Dallas in the final game before the All-Star break and it sent the Mavs spiraling down a bad path. Odom left on a personal leave prior to that game, but the former Laker is expected to be around for this one.
Friday: at San Antonio Spurs (29-14), 7:30 p.m.
TV/Radio:
ESPN, FSSW/ESPN Dallas 103.3 FM; 1270 AM (Spanish)
What to watch:
Tony Parker
claimed that he and the boys were worn out from a playoff-atmosphere win at Oklahoma City on Friday and didn't have the energy they needed to win at Dallas on Saturday. It is certainly true that the Mavs were happier about getting that much-needed win than the Spurs were unhappy about dropping it. San Antonio will be better rested for this one. They face Minnesota at home on Wednesday night.
Stephen Jackson
will also be better integrated into whatever role coach Gregg Popovich sees fit for him. This will be the final game of four this season with the Spurs looking to gain the split. And don't look now, but a first-round playoff series is not out of the question.
Saturday: at Houston Rockets (24-22), 7:30 p.m.
TV/Radio:
ESPN, FSSW/ESPN Dallas 103.3 FM; 1270 AM (Spanish)
What to watch:
Wait, these guys are still in the NBA? The Rockets are the only Western Conference team the Mavs haven't faced this season despite being division foes. Dallas might be getting them at the right time, although the week will ultimately bare that out. Houston has played beyond expectations for most of the season but is dangerously close to being knocked out of the playoff mix by the red-hot
Phoenix Suns
. If the Rockets have an advantage in this one, it will come on two fronts. One, Houston does not play a back-to-back this week and it will be at home all week. Two, it added center
Marcus Camby
at the deadline to back up
Samuel Dalembert
. Along with clever power forward
Luis Scola
, the Rockets might be able to take advantage of a Mavs team that is expected to still be without Haywood and coming off Friday's game at San Antonio.
February, 16, 2012
2/16/12
12:08
PM CT
By
Jeff Caplan
| ESPNDallas.com
DALLAS -- After the
Dallas Mavericks
held the league's highest-scoring team to 20 points below its season average and to 35.7 percent shooting,
Denver Nuggets
coach George Karl couldn't help but state the obvious.
"Dallas has turned into an incredibly good defensive team," Karl said after Wednesday night's 102-84 Mavs win. "I think we're a pretty good offensive team and we couldn't find many things."
Karl's team was also playing extremely shorthanded with starters
Danilo Gallinari
, Nene and
Timofey Mozgov
all injured. Still,
Shawn Marion
and company limited explosive point guard
Ty Lawson
to a single field goal and three points and two assists.
The rest of the league is realizing that Dallas is one of the tougher defenses in the league to get good looks against and score against. In fact, they just might be the toughest.
The team that looked as disorganized defensively as any in the first two games now shares the top spot of the NBA rankings in field-goal defense. The Mavs and
Los Angeles Lakers
are both holding opponents to 41.7 percent shooting. That's better than the
Boston Celtics
(41.8), the
Miami Heat
(42.5), the
Chicago Bulls
(42.7) and the
Philadelphia 76ers
(42.1), Friday's hard-nosed opponent.
Dallas also continues to move up the rankings in points allowed, giving up 91.3, tied for fifth with the
Orlando Magic
. Only Boston (87.1), Philadelphia (87.3), Chicago (88.0) and the Los Angeles Lakers (90.5) give up fewer points on average.
During this season-high-tying five-game win streak, the Mavs have allowed 92.4 points and 40.4 percent shooting. At the other end, Dallas has averaged 100.8 points, a significant uptick for a team that's been middle of the pack at around 94 or 95 points a game.
"Right now our efficiency on offense really helps our defense," Mavs coach Rick Carlisle said after the Mavs shot 46.2 percent against Denver with 28 assists on 37 field goals. "It's going to be even more pronounced when we get on the road. It's important that we're tight in all areas. Philadelphia is going to be a different kind of team than [Denver] -- same kind of quickness, but a little different style."
February, 8, 2012
2/08/12
2:00
PM CT
DENVER -- Some guy named
Julyan Stone
is expected to start at small forward for the
Denver Nuggets
tonight.
Never heard of him? Don't feel too bad. He's an undrafted rookie out of UTEP who has spent a good chunk of this season playing for the D-League's Idaho Stampede.
Stone made his NBA starting debut in Monday's loss against the
Houston Rockets
, filling in for shooting guard
Arron Afflalo
with a two-point, 1-of-5 shooting, two-rebound, one-assist performance in 20 minutes. Stone is expected to slide over to small forward against the Mavs, replacing Denver scoring leader
Danilo Gallinari
(severe sprained ankle) and allow Nuggets coach George Karl to keep
Al Harrington
and
Rudy Fernandez
as part of a potent bench.
Rick Carlisle's scouting report on the 6-foot-7, 200-pound Stone: "He's an athletic, aggressive wing player who is a capable scorer and a guy we have to respect. He's a little like the kid Forbes who played here last year, but not as tall."
The comparison to
Gary Forbes
ought to get the Mavs' attention. Now with the Raptors, Forbes was an unknown and scored 20 points on 9-of-16 shooting in 36 minutes over two games against the Mavs in early November last season.
February, 8, 2012
2/08/12
9:00
AM CT
DENVER – There are a lot easier places to snap a losing streak than the Pepsi Center.
The Nuggets are an NBA-best 140-36 (.795) on their high-altitude home court since the beginning of the 2007-08 season. They've won six of the last eight meetings against the Mavs in Denver.
Plus, the Nuggets have established themselves as a superstar-less threat in the Western Conference. The first four-game losing streak of the Dallas' season is a distinct possibility, especially if the Mavs can't figure out how to avoid repeating their recent post-halftime horror shows.
Then again, this is as good a time as any to face the Nuggets, who will be missing scoring leader
Danilo Gallinari
for about a month due to a severe left ankle sprain and have a few other rotation players nursing injuries. Denver has lost five of its last six games, including three in a row at home.
Records:
Nuggets 15-10, Mavs 14-11
When:
8:00
Where:
Pepsi Center
TV:
FSSW
Radio:
ESPN Dallas 103.3 FM; 1270 AM (Spanish)
What to watch:
The Mavs will try to get out of a nasty offensive rut – averaging only 87.0 points during their three-game losing streak – against the NBA's highest-scoring team. They better hope that Dirk Nowitzki's sudden groove continues and that the guys who stepped up while the Mavs' MVP was struggling can get going again.
Key matchup: Ty Lawson vs. Delonte West/Rodrigue Beaubois
Lawson, who has emerged as one of the West's best young guards, presents a whole different set of problems for the Mavs' combo guards, who are struggling to fill
Jason Kidd
's shoes. The lightning-quick Lawson is averaging 15.5 points and 6.4 assists, and he's the primary reason the Nuggets average an NBA-best 21.2 fast break points per night. He'll have the ball in his hands even more often with Gallinari sidelined. Lawon had 27 points on 10-of-15 shooting in the Nuggets day-after-Christmas rout in Dallas. West and Beaubois had enough on their plate anyway, struggling with the burden of orchestrating the Mavs' out-of-sync offense while Kidd recovers from a strained right calf.
Injuries:
Mavs – G Jason Kidd (right calf strain) is doubtful. Nuggets – F Danilo Gallinari (ankle) is out; C/PF Nene (heel) is questionable; C
Timofey Mozgov
(ankle) is out; SF
Corey Brewer
(personal reasons) is doubtful; SG
Arron Afflalo
(ankle) is probable; SG/SF
Rudy Fernandez
(back) is probable.
Up next:
Mavs at
Minnesota Timberwolves
, 7 p.m., Friday.
February, 7, 2012
2/07/12
12:15
PM CT
By
Jeff Caplan
| ESPNDallas.com
DALLAS -- The Western Conference is besieged by key injuries. Two of the
Dallas Mavericks
' upcoming opponents were hit hard Monday night. Wednesday's opponent, the
Denver Nuggets
, lost leading scorer
Danilo Gallinari
to a fractured ankle. The Los Angles Clippers, in town next week, fear
Chauncey Billups
could miss the rest of the season with an Achilles injury.
PODCAST
ESPN NBA analyst Marc Stein dishes on Dirk saying he doesn't deserve to be in the All-Star Game, on the absence of Jason Kidd, the play of Roddy B and much more.

Listen

The list is long: Oklahoma City backup point guard
Eric Maynor
is out for the season. San Antonio's
Manu Ginobili
continues to sit with a broken hand. Memphis lost
Darrell Arthur
for the season and
Zach Randolph
is still out with a knee injury.
Of course, Dallas has not been immune.
Vince Carter
missed five games,
Jason Kidd
will likely miss his 10th game over two injury stints on Wednesday at Denver, and
Dirk Nowitzki
appears to be returning to form after a four-game hiatus.
The Mavs might be in the best of shape of the aforementioned teams, needing only Kidd to return -- and that will be soon if not imminent --to be back to full strength.
Nowitzki said Monday that his progress is coming more rapidly now, but he's not out of the woods just yet.
"I came out of halftime [at Cleveland] and was a little stiff, shot like 0-for-5," Nowitzki said. "Next thing you know, we were down eight or down 10. There's always room to improve, room to get better."
Nowitzki again showed he's gaining confidence in his troublesome right knee when he took Cavs forward
Antawn Jamison
off the dribble and converted at the rim.
"I'm definitely getting better, moving better, I thought, finally being able to put the ball a little bit on the floor again, getting to the basket some," Nowitzki said. "That was a big part of my game the last couple of years. When people take my jump shot away I've got to be able to get to the basket some, make some moves."
Remarkably, as Nowitzki's game has finally taken off the last two games with 30 and 24 points on a combined 21-of-32 shooting, the Mavs' offense has backfired. After scoring more than 100 points in three consecutive games, Dallas has slowed to 86, 87 and 88 points in three consecutive losses.
"I'm getting more confident in my ability to move again. That's big, but it doesn't help if we lose," Nowitzki said. "Either way, we've got to find a way to all play at a high level. If I'm playing better now, we can't have other guys go down. It's got to be collectively playing well, especially defensively and rebounding and get back to doing some of the stuff we were doing when we were winning."
January, 31, 2012
1/31/12
11:31
AM CT
By
Jeff Caplan
| ESPNDallas.com
About this time a year ago, my esteemed colleague Tim MacMahon, contended that
Dirk Nowitzki
didn't need to be anywhere near the All-Star Game
. He argued this because Nowitzki was coming off a right knee sprain that sidelined him for nine games in January, a time in which the team practically went belly-up, and if a championship run was going to be had, the Mavs had to have Nowitzki at full strength.
Nowitzki, who was playing at an MVP level prior to the injury, could simply use the weekend off to rest, MacMahon essentially wrote. And Nowitzki, essentially, ignored the plea. The Western Conference coaches selected him to a 10th consecutive All-Star squad and Nowitzki proudly represented the West. And then he ran roughshod over the league to capture his first championship.
A year later, the tone has changed. It's no longer a question of should he play because of his current knee/conditioning issue, but is his season even worthy of selection among the West's loaded field of forwards?
The suspense of Nowitzki being voted a starter by the fans for the first time in his career never materialized.
Los Angeles Clippers
forward
Blake Griffin
quickly filled the void left by
Carmelo Anthony
's defection to the Eastern Conference. Starters will be announced Thursday night and the all-Oklahoma City duo of Thunder superstar
Kevin Durant
and Griffin, an OKC native, have those spots sewn up.
The issue facing West coaches in selecting the seven reserves is what to do with Dirk? The reigning NBA Finals MVP and an All-Star mainstay would typically be a no-brainer selection based on history, even if his numbers aren't quite up to typical standards.
However, Nowitzki has had a most unusual season that now includes a mid-season, week-long hiatus and behind-the-scenes personal training camp, plus the lowest marks since his rookie season in scoring average (16.7), rebounds (5.8) and shooting percentage, both overall (44.8) and behind the arc (20.0).
Last year's All-Star team included Nowitzki,
Tim Duncan
and Griffin selected as reserve forwards with
Kevin Love
officially handed the forward-center tag and
Pau Gasol
granted a spot at center (
Yao Ming
was voted the starter, but was injured and later retired).
We know this: coaches are not going to leave
Portland Trail Blazers
forward and Dallas native
LaMarcus Aldridge
off the team after last season's snub. Mavs coach Rick Carlisle has said he voted for Aldridge and had no idea how he didn't make the team. Aldridge is averaging 22.6 points and 8.8 rebounds and he will be wearing an All-Star uniform for the first time in Orlando on Feb. 26.
Love, the
Minnesota Timberwolves
' double-double machine, is averaging 25.5 points and 13.5 rebounds and is another lock.
Memphis'
Rudy Gay
(17.8 ppg, 6.2 rpg), Utah's
Paul Millsap
(17.1, 9.4) and Gasol (16.6, 9.5) are all candidates. And what about
Danilo Gallinari
(17.9, 5.3) with Denver? The Nuggets have the second-best record in the West at the moment and might not possess an All-Star.
Of course, if Nowitzki doesn't get in, the defending champs will almost assuredly not be represented at the NBA's showcase event, and that seems highly unlikely. If he does get in, it could come at the expense of a more deserving younger player.
The number of players selected at guard (for instance,
Deron Williams
is now in the East and
Manu Ginobili
is injured) and center (which will include
Andrew Bynum
as a starter and perhaps
Marc Gasol
as a reserve) will also play a role.
Not everyone can get in. There's always snubs. Perennial All-Stars tend to get the nod and particularly ones that are also the reigning Finals MVP. But, in this most unusual, lockout-delayed season, Nowitzki has followed suit with a most unusual and unexpected one.
Will it cost him an 11th consecutive All-Star selection? If it does, don't expect Nowitzki or owner Mark Cuban to protest too loudly. For them, the ring is the only thing.
Reserves will be announced on Feb. 9.
December, 26, 2011
12/26/11
7:20
PM CT
By
Jeff Caplan
| ESPNDallas.com
DALLAS --
Corey Brewer
wishes he was still in Dallas, but he's still smiling with the
Denver Nuggets
.
Rudy Fernandez
said his agent had found him a home ready to move into until the
Dallas Mavericks
traded him and Brewer to Denver a few days into training camp.
"I was surprised they got rid of both of us," Brewer said in the visitors locker room of the American Airlines Center Monday prior to facing his former team. "Not a bad package."
When the Mavs signed 34-year-old
Vince Carter
and then traded for
Lamar Odom
, Fernandez and Brewer, two of the Mavs' younger players, became expendable. Denver was taker for Fernandez, but wanted Brewer in the deal. The Mavs, who acquired the lanky, 6-foot-8 wing last season and signed him to a three-year deal, decided to make the move.
"I was surprised," Brewer said. "I was really looking forward to being here. Donnie [Nelson] called me and they decided they were going in another direction, which I respect that."
The Mavs received a 2016 second-round draft choice in return. Dallas has spun the trade as another step to create more cap space for next summer. Brewer, 25, will earn $3.1 million this season, so the Mavs save that amount, plus another $3.1 in luxury tax. Fernandez is in the final year of his deal and will make $2.2 million. Carter signed with the Mavs for $3 million, plus two more partially guaranteed seasons.
"From a basketball standpoint it's tough," coach Rick Carlisle said of losing Brewer, a player in which he invested a lot of one-of-one time. "From a business standpoint it's easy because it's, in luxury tax money, it's a $6 million contract instead of a $3 million contract, so I understood it. Corey got better. He was an important guy here, the minutes he had that one game against the Lakers (Game 1 of the West semifinals) may well have been the key game in the entire playoff run, you never know."
The deal could be a good one for Brewer and Fernandez. They join a young squad that will run the floor under coach George Karl. Both figure to receive solid minutes off the bench behind Aaron Afflalo and
Danilo Gallinari
, and contribute to a team shifting out of an era that included
Carmelo Anthony
,
Kenyon Martin
and
J.R. Smith
.
"I like the style of play," Brewer said. "It's a bunch of guys that like to get up and down, two good point guards, both of them like to push it, so you get a chance to run in this system."
As for Fernandez, he said he had already selected a home in Dallas and was prepared to join the defending champions despite reports out of Spain for much of the offseason that he was more interested in remaining in his home country and playing for Real Madrid.
"When Vince Carter signed with Dallas it probably meant less minutes for me," Fernandez said. "Right now Denver is really interested in me and Brewer and ... we have the opportunity to be an important part of this team."
Brewer got in a good look at the championship banner raised Sunday and at his name stitched around the border with his former teammates. But, there is one thing missing: Brewer, a two-time NCAA champion at Florida, didn't get sized for his championship ring before the trade.
"I've got two already," Brewer said, "so I can send them my size."
December, 26, 2011
12/26/11
11:00
AM CT
By
Jeff Caplan
| ESPNDallas.com
The 2011-12 season has lifted off and the high-speed ride has only just begun. Following Sunday's Christmas Day opener that included a rousing championship banner-raising ceremony, there is no time to even exhale.
About 27 hours after the players left the American Airlines Center after the 105-94 loss that was actually much worse than the final score against the
Miami Heat
, they'll be tipping off against the
Denver Nuggets
in the first back-to-back of 20 on the season.
Every Monday we'll break down the week ahead. This should be a fun one with a stop at the Okahoma City Thunder on Thursday, a visit by former Mavs assistant Dwane Casey and his new team the
Toronto Raptors
and a visit up north to say hello to old friend
J.J. Barea
and his new pal
Ricky Rubio
with the
Minnesota Timberwolves
on New Year's Day.
Here's a look:
Today: vs. Nuggets, 7:30 p.m.
TV/Radio:
FSSW/103.3 FM ESPN; 1270 AM (Spanish)
What to watch:
Who are these guys? Nene returned to anchor coach George Karl's latest incarnation, one that does not include
Chauncey Billups
,
Carmelo Anthony
,
J.R. Smith
or
Kenyon Martin
. Still,this is an intriguing club with Nene, Aaron Afflalo,
Danilo Gallinari
,
Ty Lawson
and Mavs castoff
Corey Brewer
. Expect an up-tempo game that play into the hands of the Nuggets because while it is their season opener, the Mavs will be coming off the big Christmas Day game against the hated Heat.
Thursday: at Thunder, 7 p.m.
TV/Radio:
TNT/103.3 FM ESPN; 1270 AM (Spanish)
What to watch:
The Thunder beat up Dallas pretty good in two preseason games, building 23-point leads in both contests. But, while OKC played its regular rotation, the Mavs didn't show much.
Dirk Nowitzki
and
Jason Kidd
sat out the first game and illness forced out
Jason Terry
and
Delonte West
in the second game. The Thunder will have to scour tape of the Mavs' games against the Heat and Nuggets to get an idea of Dallas' rotation. The Mavs should have fresh legs and they'll need them because OKC will be primed to run and gun its West finals ouster out of the building.
Friday: vs. Raptors, 7:30 p.m.
TV/Radio:
FSSW/103.3 FM ESPN; 1270 AM (Spanish)
What to watch:
Former Mavs assistant and defensive architect Dwane Casey has his own club again north of the border. He doesn't have a lot to work with and his first season will certainly be challenging. He'll have his new club up to play the defending champs and might even show off a new defensive wrinkle or two.
Sunday: at Timberwolves, 6 p.m.
TV/Radio:
FSSW/103.3 FM ESPN; 1270 AM (Spanish)
What to watch:
No longer is it safe to assume that a trip to Minneapolis will be a walk in a snowy park. This is an interesting team under the guidance of Rick Adelman. Barea joins the rookie Rubio in the backcourt and
Kevin Love
and
Michael Beasley
up front with a few other exciting young players. Another second night of a back-to-back could turn into a track meet, and that's never easy for the older team, even this early into the season.
February, 13, 2010
2/13/10
8:50
PM CT
We are getting closer to the main event, the slam dunk contest, so now we got the three-point shootout.
After the first round,
Stephen Curry
of Golden State leads with 18.
Boston's
Paul Pierce
and Denver's
Chauncey Billups
are tied with 17.
Up next is
Danilo Gallinari
,
Channing Frye
and
Daequan Cook
.
UPDATE: Pierce, Billups and Curry reached the finals.
Cook, Frye and Gallinari finished with 15 points and were eliminated.