Dallas Mavericks:

Danny Fortson
December, 15, 2011
12/15/11
12:01
AM CT
DALLAS -- All bets are off for the
Dallas Mavericks
if the remarkably durable
Dirk Nowitzki
suffers a significant injury this season.

Let's assume Nowitzki, who has never missed more games in a season than the nine games he sat out last season after spraining his knee, stays healthy. The defending-champion Mavericks are at the minimum a playoff team.
The worst-case scenario is that they'll be another version of the 2003-04 Mavs. That one-and-done playoff squad will always be remembered for the Antoines. Or the Antawns.
See, they couldn't even get on the same page regarding the spelling of the shared first name for their two major offseason additions. Adding
Antoine Walker
and
Antawn Jamison
to the mix was a failed chemistry experiment.
The Mavs hope that isn't the case with
Lamar Odom
and
Vince Carter
, a couple of similarly accomplished players who are a little further along in their careers.
"That's fair," Mavs president of basketball operations Donnie Nelson said. "The problem with that is we had two guys who couldn't pass. One wasn't willing, and one wasn't able."
Nelson laughed as he made the point, but he's not kidding when he says he thinks Odom and Carter have the unselfish mentality to mesh well with the Mavs, who became the symbol for the power of team basketball while beating the superstar-studded
Miami Heat
in the NBA Finals.
Another significant difference between these Mavs and their '03-04 predecessors is that coach Rick Carlisle knows he has a starting-caliber center in
Brendan Haywood
. Don Nelson went the "mad scientist" route at center in that season, splitting time between wide-body
Danny Fortson
, creaky
Scott Williams
, 7-foot-6 stiff
Shawn Bradley
and various small-ball lineups. The result then was a defensive disaster, as the Mavs ranked second to last in points allowed.
The Mavs'
Tyson Chandler
-led defense made a parade in downtown Dallas possible last season. If Haywood can step up to provide a stiff defensive backbone, the Mavs could be the team to beat in the Western Conference. If he can't, the Mavs could revert back to one-and-done mode.
September, 16, 2010
9/16/10
3:45
PM CT
By
Jeff Caplan
| ESPNDallas.com
ESPN.com Insider Tom Haberstroh has written a complementary piece to ESPN.com's "
Franchise Five
," feature that allows you to select your team's best all-time player at each position. Haberstroh goes the other way with "The Feeble Five."
That's right, the least productive five for every franchise.
Haberstroh certainly had a long list to work with for the
Dallas Mavericks
. After all, not every franchise can be considered the worst in all of sports for an entire decade (1990s). So, there is definitely room to argue with his picks. To see his five most feeble all-time Mavs, click
here
.
I'll debate one in particular:
Darrell Armstrong
. Sure, Armstrong didn't do a whole lot on the floor for the Mavs -- although I do recall a key charge he took a midcourt -- but he wasn't acquired to be a key cog in the rotation. He was a veteran presence, a leader in the locker room, a guy who could show the young guys, oh, like
Josh Howard
to act like a professional -- and dress like one, too. OK, so maybe that didn't work out so well, but you can't blame Armstrong, or his wardrobe.
Bottom line is the energetic Armstong was a highly likable player in Dallas and he was on the NBA Finals roster in 2006. He returned to the Mavs last year as an assistant under Rick Carlisle and now has a young, very coachable guard in
Roddy Beaubois
under his wing.
I mean, really, can Armstrong make the list of five most feeble Mavs and
Randy White
skates? Too bad a player must have 100 games with the organization to get recognized. There's no way
Danny Fortson
should escape this one.
May, 14, 2010
5/14/10
12:18
AM CT
By
Jeff Caplan
| ESPNDallas.com
Fifth in a series chronicling the Mavericks' streak of 10 seasons with 50 or more wins (previous installments).
[+] Enlarge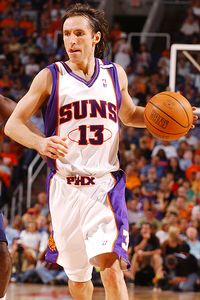 Barry Gossage/NBAE via Getty ImagesSteve Nash left the Mavericks for MVP pastures with the Suns.
The summer of 2004 will be remembered as the summer of Nash. No one ever imagined a scenario in which
Steve Nash
would leave the Mavericks. But the free agent, who had just come off a tough first-round series loss to
Mike Bibby
and the Sacramento Kings, was pursued by the Phoenix Suns, who swooped into Dallas armed with a big bag of cash.
When Mavericks owner Mark Cuban declined to counter with an offer anywhere close to the $65 million the Suns put on the table, Nash quickly made his call. The Big Three, one year removed from the West finals, was no more. Nash returned to Phoenix,
Dirk Nowitzki
lost his best friend and coach Don Nelson lost his point guard, and later would admit lost his enthusiasm to coach the new-look Mavs.
"It's exciting, but it's also bittersweet," Nash told ESPN.com at the time. "I'm really sad to leave my teammates, but I'm glad to be going somewhere where they really wanted me."
Cuban, who had not been shy in spending big money to acquire players, said no this time. He contended that Nash's body couldn't endure another five or six years playing the break-neck style that had come to define his game. At the time, it seemed many fans agreed.
President of basketball operations Donnie Nelson got to work and acquired streaky shooting Atlanta Hawks guard
Jason Terry
to run the point. He would join rookie guard
Devin Harris
. Veteran center
Erick Dampier
and ornery swingman
Jerry Stackhouse
came aboard via different trades.
The club thrived to win 58 games. The final 16 game under Avery Johnson, who took over when Nelson abruptly stepped down on March 19. The Mavs reached the second round, but in the end, it was Nash who got the last laugh, at least for one season, and set the stage for his double MVPs to come.
Coach:
Don Nelson (64 games)/Avery Johnson (18 games)
Record:
58-24 (2nd, Southwest Division)
Playoffs:
defeated Houston (4-3), lost to Phoenix (4-2)
Team payroll:
$91.9 million*
Highest-paid player:
Michael Finley ($14.6 million)*
[+] Enlarge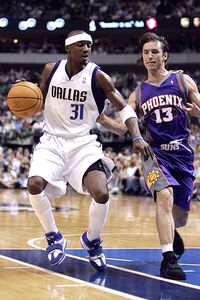 Brian Bahr/Getty ImagesThe Mavs brought in Jason Terry to replace Steve Nash, who nevertheless did a number on his former team in the Western Conference semifinals.
Offseason transactions:
Traded
Antoine Walker
and
Tony Delk
to Atlanta for Jason Terry and
Alan Henderson
; traded
Antawn Jamison
to Washington for No. 5 overall draft pick Devin Harris,
Christian Laettner
and
Jerry Stackhouse
; traded Laettner,
Luis Flores
,
Eduardo Najera
, cash, Mladen Sekularac, a 2007 first-round draft pick (Petteri Koponen) and a future first-round draft pick to Golden State for Erick Dampier,
Dan Dickau
and
Evan Eschmeyer (retired)
; traded
Danny Fortson
to Seattle for
Calvin Booth
;
D.J. Mbenga
(free agent); traded 2005 first-round draft pick (
Linas Kleiza
) to Utah for
Pavel Podkolzin
.
In-season transaction:
Dec. 3, 2004: Traded Dickau and a 2005 second-round draft pick (
Marcin Gortat
) to New Orleans for
Darrell Armstrong
; Feb. 24, 2005: Traded Calvin Booth and Alan Henderson to Milwaukee for
Keith Van Horn
.
The high:
The Mavs finished the season on a 9-0 run under Avery Johnson but lost their first two playoff games at home against Houston. Dallas rallied and won Game 7 at home by 40 points, the largest margin of victory in a Game 7 in NBA history. Dirk Nowitzki put together a remarkable regular season, averaging a career-best 26.1 points and 9.7 rebounds that would see him finish third in in MVP voting and make him the first Mavericks player to be named All-NBA first team.
The low:
Nash did it all in the West semifinal series against his old team, putting up the best numbers of his career. Nash averaged 30.3 points, 12.0 assists, and 6.5 rebounds a game. He recorded his first playoff triple-double and scored 48 points in Game 4, then followed it up with 34 points in Game 5 and 39 points in the series-clincher. In that Game 6 on the Mavs' home court, Nash hit the biggest shot of the series, nailing a game-tying 3-pointer from the top of the arc with 5.7 seconds left with Jason Terry -- who poured in 36 points -- drifting off of him to force overtime. The Suns had trailed by 16 points with four minutes remaining in the third quarter. The Nash 3-pointer to tie led Nowitzki to verbally berate his first-year teammate Terry on the court, a rare scene from the frustrated 7-footer. Losing Nash, then losing to Nash, did not foreshadow what was to come next for the Dallas Mavericks.
The roster:
F Dirk Nowitzki (26.1 ppg, 9.7 rpg)
G Michael Finley (15.7 ppg, 40.7% 3FG)
G/F Jerry Stackhouse (14.9 ppg as sixth man)
F Josh Howard (12.6 ppg, team-high 116 steals)
G Jason Terry (12.4 ppg, 42.0% 3FG)
F Keith Van Horn (12.2 ppg in 29 games with Dallas)
C Erick Dampier (9.2 ppg, 8.5 rpg)
G/F Marquis Daniels (9.1 ppg)
G Devin Harris (5.7 ppg, 19 starts in 76 games)
G Darrell Armstrong (2.3 ppg in 52 games with Dallas)
F Alan Henderson (3.5 ppg, 4.5 rpg, 15.4 mpg)
C Shawn Bradley (2.7 ppg, 2.8 rpg, 11.5 mpg)
C Calvin Booth (2.4 ppg in 34 games with Dallas)
G Dan Dickau (played just four games)
C DJ Mbenga (played just 15 games)
C Pavel Podkolzin (played five games)
May, 13, 2010
5/13/10
12:28
AM CT
By
Jeff Caplan
| ESPNDallas.com
Fourth in a series chronicling the Mavericks' streak of 10 seasons with 50 or more wins (previous installments).
The
Dallas Mavericks
were fresh off an exciting run to the Western Conference finals and motivated by the belief that had
Dirk Nowitzki
not suffered a knee sprain in Game 3, they would have defeated the
San Antonio Spurs
and advanced to the franchise's first NBA Finals.
[+] Enlarge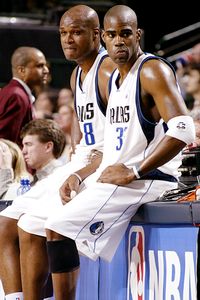 Glenn James/NBAE/Getty ImagesMark Cuban's changes in 2003-04 included adding Antoine Walker and Antawn Jamison.
(And, wow, how might the landscape have changed throughout the 2000s had the Mavs won that series? The Spurs went on to beat New Jersey for their first of three titles in five seasons.)
But, Mavericks owner Mark Cuban made wholesale changes that he would later say were a mistake. The Big Three of Nowitzki,
Steve Nash
and
Michael Finley
returned along with
Shawn Bradley
and
Eduardo Najera
.
The rest of the roster received a major makeover, namely with two lanky, head-band wearing rookies and two big-name acquisitions named Antoine, er, Antawn.
All-in-all, the 2003-04 season would prove to be a disappointing watershed year for Nash, Nowitzki, Don Nelson and the franchise as a whole.
Coach:
Don Nelson
Record:
52-30 (3rd, Midwest Division)
Playoffs:
Lost to Sacramento (4-1).
Team payroll:
$76.5 million*
Highest-paid player:
Antoine Walker ($13.5 million)*
Offseason transactions:
F/G
Josh Howard
(drafted in first round, 29th pick); G/F
Marquis Daniels
(rookie free agent); G
Travis Best
(free agent); traded
Evan Eschmeyer
,
Avery Johnson
,
Popeye Jones
,
Antoine Rigaudeau
and
Nick Van Exel
to Golden State for
Antawn Jamison
,
Chris Mills
,
Danny Fortson
and
Jiri Welsch
; traded
Raef LaFrentz
, Mills, Welsch and a 2004 first-round draft pick (
Delonte West
) to Boston for
Antoine Walker
and
Tony Delk
.
In-season transaction:
Jan. 30, 2004: Signed Scott Williams (free agent).
[+] Enlarge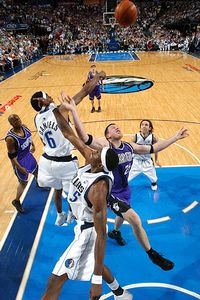 Ronald Martinez/Getty ImagesMarquis Daniels (6) and Josh Howard (5) would join the Mavs' fray in 2003, but it was the beginning of the end for Steve Nash in Dallas.
The high:
The Mavs won their first 10 games at home on their way to a franchise-best 35-6 home record. Antawn Jamison accepted a reserve role and was named the Sixth Man of the Year. Josh Howard and Marquis Daniels made the All-Rookie second team. On Nov. 17, 2003, Steve Nash recorded the first triple-double in American Airlines Center history (14 points, 12 assists, 10 rebounds). Dallas led the league in scoring (105.2) for a third consecutive season. On Dec. 12, 2003, one year and a few days after blowing a 30-point lead at the L.A. Lakers, Dallas finally ended an agonizing, 26-game road losing streak to the Lakers, a string that stretched exactly 12 seasons. On Dec. 15, coach Don Nelson surpassed Pat Riley for second place on the all-time coaching wins list.
The low:
The new lineup some called the 'Fantasy Five' just didn't click. After winning 60 games the prior season, the Mavs dropped by eight wins and settled for the No. 5 seed. Nelson often liked to go with a small lineup with Walker at center -- in fact, Nelson made Walker agree to play center in the final 10 games just for him to get on the floor -- but that didn't stop Walker from hoisting 305 3-pointers, (he made 82 of them) second on the team behind Michael Finley's 370. Nash received heavy criticism for his defense on Sacramento guard
Mike Bibby
in the five-game, first-round loss. Bibby outscored Nash in the series, 23.6 to 13.6, and went off for six 3-pointers and 36 points in the Kings' series-clinching victory. Nelson, as well as many of the Mavs players, ended the season with a cloudy future. To be sure, an offseason of change was on the horizon again, but no one saw the biggest change of all coming.
Roster:
F Dirk Nowitzki (team-leading 21.8 ppg and 8.7 rpg)
G Michael Finley (18.6 ppg, 40.5% 3FGs)
F Antawn Jamison (14.8 ppg, 53.5% FG)
G Steve Nash (14.5 ppg, team-leading 8.8 apg)
F Antoine Walker (14.0 ppg, 26.9% 3FG)
F/G Josh Howard (8.6 ppg, 23.7 mpg)
G/F Marquis Daniels (8.5 ppg, 18.6 mpg)
G Tony Delk (6.0 ppg)
F Scott Williams (3.0 ppg in 27 games with Dallas)
F Danny Fortson (3.9 ppg, 4.5 rpg)
C Shawn Bradley (3.3 ppg, 74 blocks in 66 games)
F Eduardo Najera (3.0 ppg, 2.7 rpg in 58 games)
G Travis Best (2.8 ppg, 1.8 apg in 61 games)
*Source: Basketball-Reference.com