Dallas Mavericks:

Daryl Morey
October, 7, 2014
Oct 7
8:00
AM CT
DALLAS -- Not many NBA preseason openers get this much hype.
Chandler Parsons
, the Dallas Mavericks' prized free-agency acquisition, understands that the hype is primarily fueled by the fact he will be facing his former team, the
Houston Rockets
.
"It's funny how they scheduled that," Parsons said with a grin.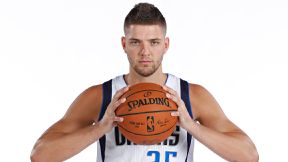 Glenn James/NBAE/Getty ImagesChandler Parsons insists the Mavs' preseason opener against the Rockets is important because it's his first game with Dallas and not because it's against his former team.
Parsons insists, however, that Tuesday night's game at the American Airlines Center isn't important because of the opponent. It's important because it's his first game in a Mavs uniform and his first chance to play in true game conditions with his new teammates (although
Dirk Nowitzki
will sit out to rest his sore right hip).
Of course, it's also a golden opportunity to rehash the rather entertaining and tense public exchanges Parsons had with some Houston folks after the Rockets declined their right to match the Mavs' three-year, $46 million offer to the restricted free agent.
Highlights included Houston general manager Daryl Morey's day-after statement that the Rockets let Parsons leave so his large salary wouldn't prevent them from pursuing a third star to pair with
James Harden
and
Dwight Howard
, along with Harden's comments that Parsons was merely a replaceable role player. In both instances, Parsons fired back via the media, offended that the Rockets didn't realize he was developing into that third star.
"I don't understand why it got messy," Parsons said. "It wasn't my choice, it was their choice to not pick up the option, so I don't understand why there's hard feelings toward me. But I haven't thought about it. At the end of the day, I'm excited because it's a game.
September, 29, 2014
Sep 29
3:04
PM CT
DALLAS --
Dallas Mavericks
owner Mark Cuban and Rockets general manager Daryl Morey, the faces of a rather fierce front-office rivalry between the two franchises, can agree on one thing.
"I am a bully," Cuban said, smiling. "I just can't help myself."
Morey has had just about enough of Cuban's public jabs, firing back in an interview with Yahoo! Sports. Cuban found many of Morey's comments to be humorous, particularly the part about "directing his bully pulpit onto us" because the
San Antonio Spurs
aren't an easy target.
Of course, Cuban has long been a villain in San Antonio, angering the entire city with by criticizing the uncleanliness of the River Walk during a playoff series several years ago.
"See, that's Daryl, right?" Cuban said. "He doesn't really have a concept of what's really happened in life. I mean, anybody who's walked by the river ... Let's put it this way: I don't go close to the river for fear I'll be pushed in."
This is the first time that Morey has publicly fired back directly at Cuban, who has been taking jabs at the Rockets for more than a year, dating to center Dwight Howard's decision to go to Houston instead of Dallas in free agency. Cuban claims that Morey "kind of got it started" when he sent a text inquiring about Dirk Nowitzki's availability in a trade after Howard's decision, which Cuban took as a taunt. Cuban also didn't appreciate Morey's statement after Chandler Parsons' departure to Dallas this summer that the Rockets would prefer to develop players of that caliber than sign them to rich contracts.
"I don't know who (the Rockets) have developed that's on his roster right now," Cuban said. "If you throw the punches ... I just don't think he realized he threw them, so I had some fun responding."
July, 15, 2014
Jul 15
10:50
AM CT
The
Houston Rockets
did
Chandler Parsons
two huge favors this summer.
First, the Rockets exposed Parsons to restricted free agency, allowing the small forward to test the market instead of exercising the team option to pay him six figures in the final season of his rookie contract. That move, the biggest mistake of the NBA offseason, ultimately resulted in Parsons getting a 1,500 percent raise from the
Dallas Mavericks
.

As a parting gift, Houston general manager Daryl Morey made sure that Parsons still had plenty of motivational fodder after cashing in with a three-year, $46 million deal.
Morey's message got through to Parsons loud and clear: The Rockets don't consider him to be good enough to be the third-best player on a championship contender. The Rockets would rather have hope of landing a proven superstar such as
Rajon Rondo
or
Kevin Love
than Parsons clogging their salary cap.
That's why the Rockets declined their right to match the offer from the Mavs, who admittedly bid a bit higher than Parsons' market value to maximize their chances of getting a 25-year-old small forward who fits so well in coach Rick Carlisle's flow offense.
The Mavs are betting that Parsons will keep getting better after averaging 16.6 points, 5.5 rebounds and 4.0 assists per game for a 54-win, first-round-exiting team last season. He has improved in each of those categories in each of his three NBA seasons after suffering the indignity of slipping to the second round despite being the SEC player of the year.
July, 14, 2014
Jul 14
10:53
AM CT
Houston Rockets
general manager Daryl Morey referred to Chandler Parsons' three-year, $46 million deal as "one of the most untradeable" NBA contracts he's ever seen.
Consider that a kind of twisted compliment to the Mavericks' front office that signed the restricted free-agent small forward to the offer sheet the Rockets ultimately declined to match, allowing Parsons to leave for Dallas.

The contract was designed to be as difficult as possible for Houston to match. That's why it includes a 15-percent trade kicker and a player option for the third season. Had Parsons returned to Houston, which declined a team option to pay him $965,000 next season to make him available in restricted free agency, the Rockets also could not have traded him without his permission this season due to restricted free agency rules.
Houston would not have been able to bid on a star free agent next summer with center
Dwight Howard
, shooting guard
James Harden
and Parsons combining to count more than $53 million against the Rockets' salary cap. Morey opted to replace Parsons with a less expensive option, signing small forward
Trevor Ariza
to a four-year, $32 million deal, and maintain the Rockets' flexibility in the future.
"The Mavericks are a smart organization," Morey said on SportsTalk 790 AM in Houston. "They obviously wanted to get him. That structure of that [contract] is literally one of the most untradeable structures that I've ever seen. That's why it came down to a bet of Harden, Howard and Parsons being the final piece, because we would have had no ability to do anything after that. And Harden, Howard, Parsons could have been good enough. I think Parsons is a tremendous player and is going to keep getting better.
"The question is, is it better with that core or is it better with Ariza plus the hundreds of moves that might be able to upgrade us in the other scenario. And there's really no moving -- that core was going to be the core that we had to have, because if we ever wanted to move off and go after the other stars, if we ever wanted to go after a different core, it wasn't going to be possible. A small-market team that might want a Chandler, he can opt out and leave, so they wouldn't want him. A big-market team that's planning for free agency, maybe for the elite free agents coming up in the future, he can opt in. There's a trade bonus in there. Even if the cap is going to go up likely, we're just guessing likely significantly in the future, his trade bonus makes his contract go up in lockstep with that.
"I've seen some speculation, OK, that we could just do this and just move on to something else if it didn't work. The reality is that we couldn't. This would have been our team. That would have been the team that we had and we had to be on bet on. We had to bet on that team or all the multitude of options we could have generated in the other scenario."
Morey had publicly vowed to match any offer for Parsons before the Mavs called the Rockets' bluff, a big bet that paid off for Dallas.
Mavs president of basketball operations Donnie Nelson doesn't know if there's such a thing as an untradeable contract in the NBA, but he isn't trying to prove Morey wrong in this case.
"First of all, we're not looking to trade Chandler Parsons," Nelson said later Monday on ESPN Dallas 103.3 FM. "Flat out, we want him to be here for a long, long time. In terms of the tradeability, e've had some pretty interesting contracts in the past and were able to get off of them, so I think there's no such thing as an untradeable contract. Clearly that's not the spirit of what we're doing. We're really excited and not looking to move Chandler Parsons at all."
July, 11, 2014
Jul 11
5:34
PM CT
Now what will Daryl Morey do?
The
Houston Rockets
were willing to step into luxury-tax territory to exercise their right to keep
Chandler Parsons
if they were first able to sign
Chris Bosh
to a near-max deal. That scenario is off the table, however, after Bosh's decision to take more money to stay in Miami.
Will the Rockets still match the Dallas Mavericks' three-year, $46 million offer to the restricted free-agent small forward? At this point, the only sure thing is that we will find out by 10:59 p.m. CT Sunday night.
The Rockets were willing to pay a steep price for Parsons if they succeeded in their offseason mission to add a stretch-shooting All-Star power forward to complement their current stars, shooting guard
James Harden
and center
Dwight Howard
. But that plan was messed up when Houston missed out on Bosh.
Maybe Morey, the Rockets' ultra-aggressive general manager, will decide to keep the core of Houston's 54-win team from last season together. Perhaps he'll swallow hard and agree to pay Parsons more than $15 million per year, knowing that would take the Rockets out of the
Kevin Love
sweepstakes if there is one next summer.
This certainly isn't the decision Morey thought he'd have to make this summer.
First, Morey couldn't have anticipated Parsons signing such a massive offer sheet when the Rockets made him a restricted free agent by declining the team option to pay him $965,000 next season in the final year of the former second-round pick's rookie contract. Mark Cuban and the Mavs threw a major wrench in the Rockets' plans by getting Parsons to agree to a near-max offer as soon as a deal could be signed.
Morey also believed he'd have a premier stretch-shooting power forward in place -- a perfect fit with Harden and Howard -- before the clock ran out on the Rockets' right to match Parsons. Pat Riley and the Heat threw a wrench into those plans by making Bosh a lot richer.
The Mavs and Heat, two-time Finals foes, formed a tag team of sorts to make Morey's job as hard as possible this summer.
How will Morey respond? Stay tuned.
July, 11, 2014
Jul 11
9:43
AM CT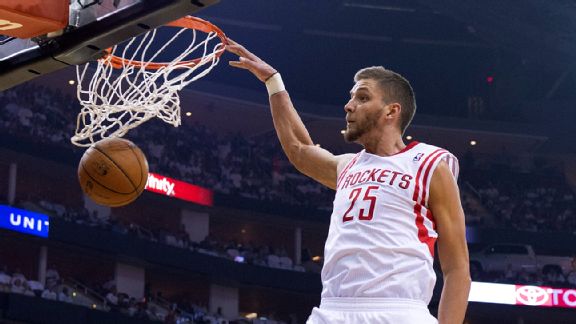 George Bridges/MCT/Getty ImagesDallas' offer sheet to Chandler Parsons further intensifies the rivalry between the Mavs and Rockets.
This
Chandler Parsons
offer sheet is business for the
Dallas Mavericks
, but if Mark Cuban is being honest, it's also personal.
Cuban might never admit this publicly, but he's surely taking great pleasure in forcing
Houston Rockets
general manager Daryl Morey to scramble.
There is mutual respect between the front offices in Dallas and Houston, two franchises that have been at the forefront of the NBA's analytics revolution, with tech-geek Cuban and MIT-educated Morey leading the way. There is also a pretty intense rivalry brewing between those front offices and particularly the two men who are accustomed to being the smartest guy in the room.
Remember that
text message Morey sent Cuban
last summer inquiring about a deal for
Dirk Nowitzki
? Cuban took it as a taunt after
Dwight Howard
declined overtures from Dallas and others to head to Houston. Morey later claimed that it was a panicked plea when he momentarily thought the Rockets didn't win the Dwight sweepstakes. Sure.
What about the leaks this summer that the Rockets would love to pay Nowitzki like a superstar? Dirk's intention to give the Mavs a massive hometown discount had been on the record for a full year.
Of course, Cuban is far from an innocent victim in all of this. His recruiting pitch to Howard took shots at the Rockets, such as referencing the fact that Houston has won a grand total of one playoff series in the last decade and a half, contrasting that to the championship culture the Mavs have created. You can bet that got back to Morey.
July, 10, 2014
Jul 10
8:21
AM CT
By no means did the
Dallas Mavericks
enter the summer planning to pay more than $15 million per year to a small forward who has never played in an All-Star Game.
[+] Enlarge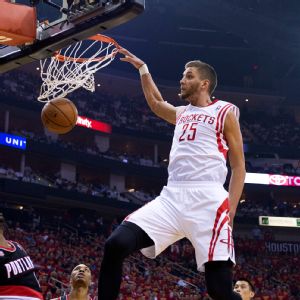 George Bridges/MCT/Getty ImagesBy signing Chandler Parsons to a $45 million offer sheet, the Mavs have set up a difficult decision for the Rockets.
A strong argument can be made that
Chandler Parsons
will be overpaid while earning more than $45 million over the next three seasons, the value of the offer sheet the restricted free agent signed Wednesday night. But making the deal so big was a calculated business move by owner Mark Cuban and the Mavs.
Simply put, the Mavs wanted to make it as painful as possible for the
Houston Rockets
to exercise their right to match the offer to Parsons, the promising, productive small forward who is just entering his prime at 25.
As
detailed by dallasbasketball.com
, the Mavs have thrown a major wrench into the rival Rockets' offseason plans. The offer sheet to Parsons, along with the max salaries of
Dwight Howard
and
James Harden
, makes it practically impossible for Houston to execute the one-two punch of signing
Chris Bosh
to a max deal and keeping Parsons, even if the Rockets shed the salaries of every other player on the roster.
Houston general manager Daryl Morey has been forced into making difficult decisions the next few days. Does he scramble to dump salaries, attempt to talk Bosh into taking a less-than-max deal, and enter luxury-tax territory by matching the offer to Parsons? Does Morey swallow hard and pay Parsons much more than the Rockets planned while keeping their bargain-priced role players, sacrificing the ability to make a major addition to the core of a team that failed to get out of the first round of the playoffs?
These can't be the kinds of decisions Morey saw coming when he declined the option to pay Parsons $965,000 next season, a move the Rockets' front office surely regrets right now.
Maybe Morey believed that having the restricted tag on Parsons, who would have been an unrestricted free agent next summer if he completed his rookie deal, would depress his value in the open market. It had the opposite effect, as was the case with
Utah Jazz
small forward
Gordon Hayward
, who signed a four-year, $63 million offer sheet with the
Charlotte Hornets
.
Morey clearly hoped that Parsons would play ball with the Rockets, waiting until Houston had taken care of its other major business before cashing in with a big contract. However, Parsons obviously felt the need to put pressure on the Rockets to get paid as much as possible.
If the Mavs are being honest, they'll admit that Parsons will be overpaid, no matter the market trend. They pegged the Plan B tier of small forwards in free agency -- Parsons, Hayward,
Trevor Ariza
and
Luol Deng
-- as a group whose value ranged from $8 million to $12 million per year.
Parson was the Mavs' preferred target among the Plan Bs, but they had to go big if they were going to roll the dice on a restricted free agent who fits in the plans of his current team. The asking prices of Ariza and Deng are higher than the Mavs' perceived value of those players, so Dallas was going to have to bid higher than they hoped to get any small forward in that tier. If that's the case, it makes the most sense to do so with Parsons, whose arrow is going up after averaging career highs of 16.6 points, 5.5 rebounds and 4.0 assists last season.
The hometown-discount deal of
Dirk Nowitzki
gives the Mavs the luxury of overpaying to upgrade at small forward. Nowitzki's new three-year deal will pay him in the neighborhood of $10 million per season, a number the Rockets would double in a heartbeat if they could get their hands on the sweetest-shooting 7-footer in NBA history.
Parsons at $15 million per year? That's an awfully steep price.
A Nowitzki-Parsons forward pair at $25 million per year? That's an awesome value.
November, 22, 2013
11/22/13
11:12
PM CT
DALLAS – Dirk Nowitzki's list of concerns does not include a trash-talking trade inquiry from Rockets general manager Daryl Morey this summer.
Owner Mark Cuban informed Nowitzki of Morey's presumably sarcastic text message at the time, which was hours after
Dwight Howard
decided to sign with Houston over the Mavs and other suitors. Nowitzki, who has a no-trade clause and has made it clear that he intends to play his entire career for the Mavs, hadn't really given the subject a lot of thought until he was asked about it Friday night following Cuban's pregame revelation to the media.
"I wasn't really worried about it much, to be honest," Nowitzki said after the Mavs improved to 9-4—a game ahead of Houston in the West standings – with a 103-93 win over the
Utah Jazz
. "I guess it stays longer in Cuban's mind. To me, it was kind of in and out.
"We were frustrated at the time, but I think then we did some great moves, signing Jose [Calderon] first and then [Monta] and the rest of the gang. So I didn't even think twice about it and then kind of moved along my way. I guess Cubes doesn't forget that easy."
Dalembert's dandy:
Center
Samuel Dalembert
scored a season-high 18 points, grabbed 12 rebounds, blocked two shots and made all eight of his shots from the floor.
"I just saw that," Dalembert said when asked about his perfect shooting percentage. "I was surprised, too."
It marked the most field goal attempts for Dalembert in a game without a miss in his career. He twice was 7-of-7 from the floor during his Philadelphia tenure.
Ouch:
Dalembert was wincing and holding his side when he left the floor in the final minute of the game. He took an inadvertent elbow to the ribs from Utah center
Enes Kanter
.
Dalembert iced his ribs, which were already tender from an elbow a few games ago, for several minutes after the game. He said he'll wear a padded vest for Saturday night's game in Denver.
"I tried to go out there like Robocop," Dalembert joked. "I'm going to wear a pad next game. I learned my lesson."
July, 4, 2013
7/04/13
7:42
PM CT
As far as Mark Cuban is concerned, the Dallas Mavericks' silence about their meeting with
Dwight Howard
is simply smart business.
The Mavs' silence isn't just by design in this instance. It's team policy.
PODCAST
ESPN's Marc Stein joins Fitzsimmons and Durrett to discuss the latest news on the Mavericks' meeting with Dwight Howard.

Listen

"This is always our approach," Cuban said Thursday in an email to ESPNDallas.com. "We never talk about what we do. We don't test the waters in the media. We don't troll on twitter.
"The approach I learned from Donnie [Nelson] is that more teams will talk to you and be more open with you when they know they won't read about it. Same with players.
"The two things I hate the most are leaks to the media and the wave."
Officials, players and others from the
Houston Rockets
and
Los Angeles Lakers
have commented publicly about their meetings with the free-agent All-Star center.
The moment that the free agency period officially began a minute after midnight Eastern Monday, Houston general manager Daryl Morey created a "#dwighttohouston" Twitter hashtag and requested that Rockets fans send messages to Howard's account. After the Rockets' meeting with Howard ended hours later, Morey tweeted about
Hakeem Olajuwon
and
Clyde Drexler
telling Howard how he could form the "next gr8 big/wing combo" with
James Harden
. Many details of those closed-door sessions with Howard and his representatives have been leaked to the media.
The
Houston Chronicle
quoted anonymous Rockets representatives and
reported intricate details of the team's presentation
, such as video visits from former Houston centers
Yao Ming
and
Dikembe Mutombo
and pushing the marketing potential of playing for a franchise with great popularity in China.
Lakers general manager Mitch Kupchak released a statement after L.A.'s meeting with Howard, while point guard
Steve Nash
talked to reporters on his way out of the building. ESPNLosAngeles.com and other media outlets, citing sources, have reported
specific details about Howard's conversations
with Nash and
Kobe Bryant
during the meeting.
Meanwhile, the Mavs' only comment thus far about their meeting -– on or off-the-record -- was the usually outspoken Cuban mumbling, "It was fun," when encountered by ESPN's Shelley Smith and camera crew on the way out of Tuesday's meeting with Howard. Dallas superstar
Dirk Nowitzki
, part of the Mavs' six-man recruiting contingent, joked that he wasn't in the meeting when asked for comment.
Cuban had been upfront about the Mavs' plan to pitch prospective free agents, particularly Howard, on a two-year plan to rebuild a championship contender. It's been widely known that the Mavs would sell the franchise's championship pedigree and the ability to add more talent next summer, when Nowitzki's contract expires and he intends to re-sign for a drastically reduced salary.
The details of the Mavs' pitch to Howard, however, have successfully been kept a secret. That could be appealing to a superstar whose dirty laundry was aired publicly during the latter stages of his tenure with the
Orlando Magic
, most memorably when then-coach Stan Van Gundy told the media after a shootaround that Howard went to the front office in an attempt to get him fired. The ensuing group interview of Howard, who was unaware of Van Gundy's revelation moments earlier, was off-the-charts awkward.
Cuban, Nowitzki, president of basketball operations Nelson and coach Rick Carlisle headlined the Mavs' recruiting contingent. They were joined by Dallas athletic trainer Casey Smith, who has a relationship with Howard from their time together with Team USA, and director of analytics Roland Beech.
The only reason Smith and Beech are known to have participated in the meeting is because they were filmed by the ESPN camera crew leaving with the rest of the Mavs' representatives. If Cuban had his way, their presence wouldn't even be public knowledge.
July, 3, 2013
7/03/13
1:07
PM CT
We've known for weeks that the Mavericks' sales pitch to
Dwight Howard
would be headlined by their four horsemen.
PODCAST
ESPN's Marc Stein joins Fitzsimmons and Durrett to discuss the latest news on the Mavericks' meeting with Dwight Howard.

Listen

Who were those other two guys with Mark Cuban, Donnie Nelson, Rick Carlisle and
Dirk Nowitzki
? And what could they have contributed to the pitch?
The other two members of the Mavs' party were head athletic trainer Casey Smith and director of basketball analytics Roland Beech.
As far as their contributions go, we don't know for certain because the Mavs have been mum about their meeting with Howard, as opposed to the Rockets and Lakers, who made official statements and leaked all kinds of details about their pitches. We can offer some informed speculation, though.
The Mavs consider Smith the league's premier athletic trainer and see him as a recruiting asset, especially for veteran big men who have had injury issues. They can use his impact on Tyson Chandler's career as evidence.
When Chandler arrived in Dallas, he was an overpaid, oft-injured center who missed a total of 68 games with ankle and foot problems the previous two seasons and flunked a physical to kill a trade that would have sent him to Oklahoma City. When Chandler left Dallas, he was an NBA champion with a four-year, $56 million contract.
Howard obviously doesn't need any help getting paid, but he is a season and a half removed from back surgery and fought through shoulder injuries for most of 2012-13. It'd be a wise move to have Smith map out a potential treatment plan to not only keep Howard healthy for the next four years but extend his career as long as possible.
Plus, Howard and Smith, who is extremely popular with players he's worked with, probably have a good relationship from their days together on Team USA. (The fact that Smith has that job indicates that the Mavs aren't the only ones who consider him to be elite in his profession.) It can only help to have a friendly, familiar face in the room with Howard.
Beech could have been a counterpunch to the Rockets and MIT-educated general manager Daryl Morey's claim to being ahead of the analytical curve. Of course, Cuban was at the forefront of the NBA's statistical revolution long before Morey even had a job in the league.
Beech's role could have been as simple as offering statistical support throughout the course of the meeting, including when the Mavs presented various scenarios for how they could build a contender around Howard.
But I'd be willing to bet that Beech's numbers included some stats that hammered home the Mavs' contention that Dirk Nowitzki was much better suited to complement Howard's offensive skills than ball-dominating shooting guards
Kobe Bryant
and
James Harden
.
Smith and Beech certainly aren't nearly as well known as, say,
Hakeem Olajuwon
and
Clyde Drexler
. But the two relatively anonymous Mavs staffers very well could have given Howard more to think about than the two Houston legends who were part of the Rockets' pitch in L.A.
May, 24, 2013
5/24/13
4:34
PM CT
It's been widely reported that the
Houston Rockets
are a team that intrigues
Dwight Howard
. The Rockets might even rank ahead of the Bird-rights-owning
Los Angeles Lakers
as the Mavericks' primary competitors for the perennial All-Star big man.
PODCAST
Rick Carlisle joins Fitzsimmons & Durrett to discuss the latest Mavericks news, Dirk Nowitzki and much more.

Listen

Here's one problem for Houston: The Rockets would have to do some significant payroll slashing to be positioned to offer Howard a max contract.
Howard's max salary next season would be $20,513,178. The salary cap is expected to be set between $58.5 million and $60 million. The Rockets have $48,571,158 worth of contracts on the books, assuming they decline Francisco Garcia's $6.4 million team option.
It doesn't take an MBA from MIT -- which Rockets general manager Daryl Morey happens to have -- to figure out that the math doesn't add up for Houston and Howard.
Morey made sure the Rockets had some built-in wiggle room with seven nonguaranteed deals on the roster, although that list includes six-figure bargains
Chandler Parsons
,
Patrick Beverley
and
Greg Smith
that are inexpensive, integral parts of James Harden's supporting cast. Houston might have to sacrifice one of their major additions from last summer to make room for Howard.
That could mean trading point guard
Jeremy Lin
or center
Omer Asik
to a team with cap space for no immediate return. That is a nice way to say dumping an $8,374,646 million salary, the amount both Lin and Asik are due in the second season of their identical three-year, $25.12 million contracts.
Such a salary dump would put the Rockets close to being able to afford Howard, but they'd still have some work to do.
They could waive sixth man
Carlos Delfino
($3 million) and/or reserve point guard
Aaron Brooks
($2.5 million), both of whom have June 30 deadlines before their salaries become guaranteed, meaning a decision would have to be made before the Rockets are allowed to meet with Howard. The nonguaranteed salaries of young projects Tim Ohlbrecht ($788,872) and
James Anderson
($916,099) could also create the necessary space depending on where the cap falls, although the Rockets would pick up a cap hold of $490,180 in the process if they cut both because their roster would dip under 12 players. A salary-dump deal that would send 2012 No. 5 overall pick
Thomas Robinson
($3.53 million) to his third team is another alternative.
A much less attractive option than finding an under-the-cap trade partner to take on the contract of Lin or Asik: Waiving one of them and using the stretch provision.
In that case, the Rockets would still have to pay the $16.75 million remaining on the contract, but they would be allowed to spread the cap hit over five years (twice the length remaining on the contract plus one year). So Houston would create a little more than $5 million in cap space with such a move – and then have to get rid of nonguaranteed salary and/or make salary-dump deals to ship off young talent (Robinson,
Terrence Jones
,
Donatas Motiejunas
).
The
Mavs would also have to do some maneuvering
to give Howard a max contract, but not nearly as much as the Rockets.
The Rockets can free up enough money for Howard, but it would require slicing into the supporting cast of a playoff team -- and perhaps paying a $16.75 million tax in addition to his max deal.