Dallas Mavericks:

DeAndre Jordan
April, 3, 2014
4/03/14
8:00
AM CT
DALLAS -- Father Time is a tough enough foe when he isn't teaming up with a couple of young, athletic freaks.
Imagine how hard it must be for a 35-year-old to finish a game strong after banging and running with Lob City high-rise residents
Blake Griffin
and
DeAndre Jordan
all night long.
[+] Enlarge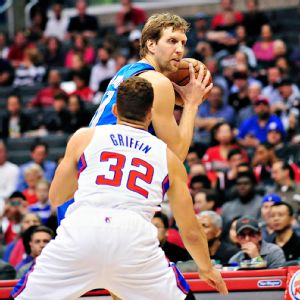 Gary A. Vasquez/USA TODAY Sports Dirk Nowitzki has struggled in the fourth quarter against the Clippers this season.
Or, if you dare, just look at
Dirk Nowitzki
's fourth-quarter numbers against the
Los Angeles Clippers
this season. One of the elite closers in NBA history has scored a grand total of 10 points in 27 minutes in the final frames of the Mavs' three come-from-ahead losses to the Clippers, making only two of 17 shots from the floor.
The Mavs melted down in the final five minutes of each of those tight losses, getting outscored by a total of 38 points in those 15 minutes. Nowitzki had more turnovers (three) than points (two) and had a single-digit shooting percentage (1-of-11) down the stretch of those defeats. He even missed a couple of late free throws in last week's loss to the Clippers, a sure sign the big German had run out of gas.
But you won't hear Nowitzki blame Father Time for those failures. He's not looking for excuses. He's looking forward to his next opportunity to finish against the Clippers, which comes Thursday night at Staples Center.
"I've just got to do it," said Nowitzki, whose clutch shooting percentages have dipped significantly from his career norms this season. "I keep working on it. I do extra sessions to stay in the best shape that I can stay at this age. Keep attacking. There's been games it's been working and a lot of games it hasn't been working.
"All I can do is look forward to the next one and see what happens. Go in with a fresh mindset. That's what all shooters and playmakers have to do. Don't worry about what happened the last game. Just go in there and let it rip."
Those losses to the Clippers, of course, don't fall solely at the feet of the face of the franchise.
None of the other Mavs filled the scoring void when Nowitzki's shots weren't falling, as
Monta Ellis
has done many times. Nowitzki was asked to create his own shot too often. And Dirk's crunch-time scoring droughts could have been overcome without defensive disasters.
"We've got to get him better looks and we've got to get a couple more stops," coach Rick Carlisle said. "Then it's a different story. Simple as that.
"I'm always looking for ways to get him more open looks. It's difficult. He's one of the top 12 players of all time and people are going to be draped on him. We've got to work to combat that and find ways to make that a positive for us, to maybe spring other guys open or whatever."
Nowitzki is willing to give credit to Jordan and Griffin for their late defensive work against him. They've been able to challenge many of those shots, but he has made hundreds of contested, clutch shots in his Hall of Fame career.
"I don't shy away from taking tough shots," Nowitzki said. "I make tough shots. But maybe sometimes I force it too much if the tough shots are not going. I'm not sure, but I'm still going to attack the way I always have and maybe be a little smarter down the stretch."
The Mavs will gladly take their chances getting Nowitzki the ball in the clutch against the Clippers again.
Recent results be darned, it never seems smart to bet against Nowitzki in those situations, no matter how much help Father Time has that night.
March, 27, 2014
3/27/14
11:34
AM CT
DALLAS – Mavericks center
Samuel Dalembert
woke up with a stiff back and will be a game-time decision Thursday night against the
Los Angeles Clippers
.
"We'll try to get him ready to play tonight," coach Rick Carlisle told reporters after Dalembert was moving gingerly at shootaround.
UPDATE:
Dalembert said pregame that he will play.
Dalembert is having an outstanding homestand, averaging 7.8 points, 10.6 rebounds and 2.8 blocks in 23.3 minutes over the last five games. That includes a 12-point, 15-rebound, seven-block performance in Sunday's overtime loss to the
Brooklyn Nets
.
The Mavs especially need Dalembert's interior presence and ability to protect the rim against the Clippers' physical, high-flying frontcourt tandem of
Blake Griffin
and
DeAndre Jordan
. Griffin, the league's sixth-leading scorer, averages 24.3 points and 9.7 rebounds. Jordan, the league's leading rebounder, averages 10.1 points and 13.7 rebounds.
"Right now, [Dalembert is] one of our really important guys with what he's giving us," Carlisle said. "There aren't many guys that can match up with Jordan's size in length, and Sam at least approaches it."
May, 23, 2013
5/23/13
8:00
AM CT
ESPNDallas.com will compare the Mavericks and Clippers in five facets -- other than money -- that could play a role in Chris Paul's free agency decision in a one-per-day series: owners/front office, coaches, co-stars, supporting casts and franchise tradition. We'll focus on Dwight Howard next week.
Here's where the Mavs have to make a heck of a sales pitch.
PODCAST
Rick Carlisle joins Fitzsimmons & Durrett to discuss the latest Mavericks news, Dirk Nowitzki and much more.

Listen

It wouldn't be difficult for the Mavs to
create enough cap space to give
Chris Paul
a max deal while keeping
Shawn Marion
and
Vince Carter
. That might give the Mavs a chance to be competitive next season, but the opportunity to play with a couple of savvy veterans with expiring contracts isn't going to convince Paul to leave Los Angeles.
To have any hope, the Mavs must make Paul believe in their ability to build a legitimate contender around him next summer. And that's where the dollars difference between
Dirk Nowitzki
and
Blake Griffin
might matter.
Nowitzki is on record as saying he'll take a "significant pay cut" when he re-signs with Dallas next year, which guarantees that the Mavs can be major players again in the 2014 free agency market. Griffin's five-year max deal kicks in next season, starting with a $13.7 million salary that increases by a little more than $1 million each year.
Worry about the semantics of what "significant" means if you wish, but Nowitzki has made it clear that his salary won't get in the way of the Mavs making major upgrades after his current contract expires. The Clippers won't have nearly as much flexibility with two max players plus center
DeAndre Jordan
due to make $21.4 million over the next two seasons.
PODCAST
ESPN NBA Insider Chad Ford joins Fitzsimmons & Durrett discuss the upcoming NBA draft and possible moves the Mavericks could make.

Listen

It's not enough to get Paul to envision the personnel possibilities in Dallas. The Mavs brass has to get CP3 excited about them. It's a virtual lock that Dallas will be a preferred destination if Paul is running the point and the Mavs have ample cap space.
Hey, did you know CP3 and
LeBron James
(who can opt out of his contract next summer) are great buddies? Too far-fetched? OK, how about
DeMarcus Cousins
coming to Dallas as a restricted free agent?
The Clippers have a couple of complementary talents in addition to Griffin already locked up. You can argue that Jordan is overpaid, but he's a young big man with freakish athleticism.
Jamal Crawford
, who has three years remaining on his midlevel deal, is a perennial Sixth Man of the Year candidate.
The Clippers also have a couple of assets that could be extremely attractive in the trade market this season: restricted free agent-to-be point guard
Eric Bledsoe
, who is stuck as Paul's backup but good enough to start for a lot of teams; and the $8 million expiring contract of
Caron Butler
.
The Clippers' supporting cast looks better on paper. The Mavs leave a lot more room for the imagination.
EDGE:
Clippers, unless Mark Cuban manages to convince CP3 otherwise.
March, 26, 2013
3/26/13
11:51
PM CT
How it happened:
Dirk Nowitzki
proved he can still slam the door on a contender.
Nowitzki dominated the overtime period to carry the Mavs to a much-needed upset over the
Los Angeles Clippers
in a wild game that featured a Western Conference playoff-intensity feel.
Nowitzki scored eight of his season-high 33 points in the extra period. His 16-footer with 3:28 remaining gave the Mavs a lead that they never relinquished.
The Mavs had to overcome a phenomenal clutch flurry by perennial All-Star point guard
Chris Paul
, who scored the Clippers' last 10 points in regulation. That offensive outburst by Paul, who matched Nowitzki with a game-high 33 points, lasted 4:13 and ended with a go-ahead floater in traffic with 5.3 seconds remaining.
But
O.J. Mayo
answered by driving past Paul on the baseline and hitting a crafty left-handed layup to tie it up with 0.6 ticks on the clock. The game went into overtime after
Blake Griffin
's bucket off a full-court, inbound pass from
Matt Barnes
was wiped out due to Griffin pushing Nowitzki before catching the ball.
Paul drilled a midrange jumper on the Clippers' first overtime possession, but that was Los Angeles' last bucket of the game until 6.7 seconds remained. The Clippers' lone points in the final 4:17 came on a
DeAndre Jordan
free throw and a Griffin jumper in the final seconds. The Clippers missed seven straight shots from the floor, none of which were attempted by Paul.
Barnes air-balled a 3-pointer that would have tied the game with 22.9 seconds remaining.
Nowitzki scored the Mavs' first eight overtime points, going 3-of-3 from the floor and 4-of-4 from the free throw line before
Darren Collison
sealed the win with four free throws.
What it means:
The Mavs (35-36) are a win away from shaving those .500 beards, and, more importantly, only one game behind the eighth-place
Los Angeles Lakers
in the West standings. The Mavs have won nine of the past 12 games to breathe life into their playoff hopes. They're now 2-13 against the top five teams in the West this season.
Play of the game:
Nowitzki's overtime heroics wouldn't have been possible without Mayo's game-tying drive in the final seconds of regulation. Mayo spun past Paul on the baseline, dribbling with his right hand, took off with his right foot, twisted his body to get a good angle and dropped in a lefty layup off the glass.
Stat of the night:
With his second bucket of the night, Nowitzki moved past Patrick Ewing into 17th place on the all-time scoring list. Nowitzki has 24,845 points and counting.
December, 5, 2012
12/05/12
1:02
PM CT
The Clippers' big men jump over cars. The Mavs' big men might be able to jump over a credit card.
The Mavs can't match the athleticism of
Blake Griffin
and
DeAndre Jordan
, Lob City's frontcourt finishers. For that matter, they're at a major quickness disadvantage when
Derek Fisher
is defending
Chris Paul
.
The Mavs will have to figure out other ways to compete with the Clippers.
"These guys are as dynamic and athletic as they come, so we're going to have to approach it with a team game," Mavs coach Rick Carlisle said. "That's how we have to do things. We've got to do things hard. We've got to do things together."
Records:
Mavs (8-9); Clippers (11-6)
When:
9:30 p.m.
Where:
Staples Center
TV:
ESPN/FSSW
Radio:
ESPN Dallas 103.3 FM/1270 AM (Spanish)
What to watch:
Can
O.J. Mayo
keep the hot hand? He busted out of his first mini-slump as a Mav by lighting up the Pistons for 24 points in the second half of Saturday's win. Mayo, the league's eight-leading scorer at 20.2 points per game, is shooting the 3 with historic efficiency. According to the Elias Sports Bureau, among the 300 players who have attempted at least 80 3-pointers in the first 17 games of their season, Mayo has hit the highest percentage (52.7). The next 3 Mayo makes will be his 50th of the season, which would make him the fastest Mav to that milestone if it comes on this road trip.
Key matchup:
Derek Fisher vs. Chris Paul – The 38-year-old Fisher was pleased with his conditioning in his first game of the season Saturday night. It'll really get tested tonight, when he has to chase around arguably the NBA's premier point guard. However, don't totally dismiss the old head. The last time Fisher started against Paul, the Clippers' star was held to four points in a loss to the Lakers, although Paul did have 12 assists and zero turnovers in that game last season.
Injuries:
Mavs – PF
Dirk Nowitzki
(knee) is out. Clippers – F
Grant Hill
(knee) and F
Trey Thompkins
(knee) are out.
Up next:
at
Phoenix Suns
, 9:30 p.m. Thursday
August, 22, 2012
8/22/12
12:01
AM CT
By
Jeff Caplan
| ESPNDallas.com
Third in a series looking at the five teams ahead of the Dallas Mavericks in our early 2012-13 Western Conference rankings and how the revamped Mavs match up.
No. 3 Los Angeles Clippers
There is not a more beleaguered coach in the league than Vinny Del Negro. During a particularly trying spell last season in which the Clippers went 7-12 bridging February and March, some pundit on a daily basis was calling for Del Negro's head on a platter, and it even seemed as though the players were fed up, too. But then something happened.
Chris Paul
,
Blake Griffin
and Co., won six in a row to right the ship, and they closed out the final 19 regular-season games with a 14-5 record. They produced one of the most remarkable comebacks in playoff history in Game 1 on the
Memphis Grizzlies
' floor and then won there again in Game 7 despite Paul and Griffin being badly banged up. Sure, the Clips were easy pickings for the rolling
San Antonio Spurs
in the second round, but Del Negro -- for better or worse -- kept his job. The Clippers, who won 40 games for the first time since 2006-07 despite playing just 66 games and at least that many for just the sixth time in Clippers franchise history, look to have the pieces in place to build upon that this season.
[+] Enlarge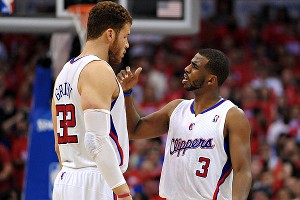 Kirby Lee/US PresswireThe Clippers hope Blake Griffin is healthy and can expand his offensive game, which would make him and Chris Paul an even more formidable combo.
Last season's results (Clippers won, 2-1)
@Clippers 91, Mavs 89
@Mavs 96, Clippers 92
Clippers 94, @Mavs 75
This season's games
Dec. 5: @Clippers
Jan. 9: @Clippers
March 26: vs. Clippers
What's changed?
First off, the Clippers hope the knee injury Griffin sustained in July working out with Team USA is a non-issue when training camp opens (as well as Paul's surgically repaired thumb). It might also serve as another signal for Griffin to find less violent ways to play the game and score the basketball. The All-Star power forward is widely criticized for possessing little offensive prowess outside of catching lobs and punishing defenders on his way to a posterizing dunk. Even so, Griffin has averaged a double-double in each of his first two seasons, averaging at least 20 points in both. He averaged 22.5 points and 12.1 rebounds last season, so if he does develop a true low-post game, the 6-foot-10, 251-pounder will be downright scary if not indefensible. The Clippers believe they've enhanced their roster, starting with the return of veteran guard
Chauncey Billups
, who missed 46 games last season with an Achilles injury.
Grant Hill
is one of several new additions. The 39-year-old was brought on board for his heady defense and his steady head. They also signed sharpshooter
Jamal Crawford
to replace
Randy Foye
and
Mo Williams
. The wild card acquisition was taking
Lamar Odom
off the Mavs' hands. The Clips will pay Odom his full $8.2 million and they hope to get a rejuvenated effort out of one of the league's most versatile forwards.
How the Mavs match up
No one can seriously claim they match up well with CP3, but as with the Nuggets'
Ty Lawson
and the Spurs'
Tony Parker
, Dallas can now at least shadow Paul with the youth and quickness of
Darren Collison
, as well as
O.J. Mayo
. L.A.'s backcourt could be dynamic with Paul fresh off winning the gold medal, Billups returning,
Eric Bledsoe
healthy again and Crawford popping 3s off the bench. The front court will also be a load. Mavs center
Chris Kaman
will likely be assigned to Griffin, just as
Brendan Haywood
was last season, allowing
Dirk Nowitzki
to handle the mostly negligible offensive threat of Clips center
DeAndre Jordan
. Sturdy defender
Elton Brand
will be a welcome addition to take turns on Griffin as well as Odom, whom Mavs president of basketball operations Donnie Nelson has predicted a big season for in his return to his cherished L.A. And then there's still the toughness of
Caron Butler
, who played in the postseason with a broken wrist, and the declining but still dangerous mid-range game of old man Hill. At least
Shawn Marion
knows he won't have to tackle Paul this time around. All-in-all, the Mavs possess more speed and athleticism on the perimeter to play with the Clips, but this looks to be a very difficult matchup, particularly in a seven-game playoff series.
Previous entries
No. 5: Denver Nuggets
No. 4 San Antonio Spurs
July, 18, 2012
7/18/12
12:08
PM CT
By
Jeff Caplan
| ESPNDallas.com
Delonte West
's unique personality, his, ahem, avant-garde appearance and on-court toughness quickly endeared him to
Dallas Mavericks
fans as much as to
Dirk Nowitzki
and fellow
Boston Celtics
draft pick coach Rick Carlisle.
[+] Enlarge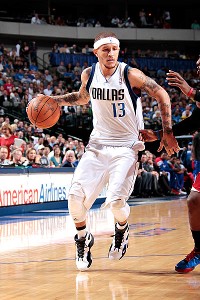 Danny Bollinger/Getty ImagesThe Mavs have expressed interest in bringing Delonte West back, but there might not be enough cap space.
Mavs president of basketball operations Donnie Nelson has maintained the club's interest in bringing West back. Yet, as the current roster stands, combo guards aren't lacking, bolstered by Monday's signing of
O.J. Mayo
. Financially, Dallas has exhausted its cap space. The options available to sign players are a $2.5 million "room" exception and veteran minimum contracts.
Nelson has also maintained that West, 28, has other options on the table. Those options might include multiyear offers, something West made a high priority and something Dallas, at this point, is doubtful to provide.
As worthwhile as it might be -- not to mention a load of fun -- to have the hard-nosed, two-way guard on the team, would the Mavs be wiser to focus attention elsewhere, such as acquiring additional frontline help, and specifically an above-average rebounder?
Dallas was not a good rebounding team last season, and most teams aren't when their small forward leads the category.
Shawn Marion
did that, in the regular season and postseason, and by a decently substantial margin.
Consider:
* The Mavs ranked 11th in the league in rebounds per game last season, averaging 42.8 a game. Not terrible, right? Well, not compared to ranking 26th in boards allowed, 43.9, and thus 21st in rebound differential, -1.1.

* Particularly late in the season, Dallas was brutalized by opponents' second-chance points. They gave up too many and rarely scored their own, ranking 27th in offensive rebounding.

* The Mavs' revamped frontline of Nowitzki, Chris Kaman and Elton Brand all appear to have seen their best rebounding days pass them by. Nowitzki has been on a steady decline, from 7.7 in 2009-10 to 7.0 in 2010-11 to a career-low 6.8 last season; Kaman has dropped from 9.3 in 2009-10 to 7.0 in 2010-11 and 7.7 last season; and Elton Brand hasn't reached his 9.4 career average since 2006-07 (9.3, close enough) and has posted career-lows in two of the last three seasons.

* Injury concerns also must be considered, particularly in regard to Kaman, 30, who has had his troubles staying on the court throughout his career. Brand, 33, has been quite durable over the last three seasons and Nowitzki, despite his brief right knee issue last season, rarely misses time. Still, all three players are getting older and only frail Brandan Wright and rookie Bernard James serve as reinforcement.
If Dallas wants to add some free-agent brawn, quality role players specializing in board work remain on the market. Here's a look at a half-dozen:
[+] Enlarge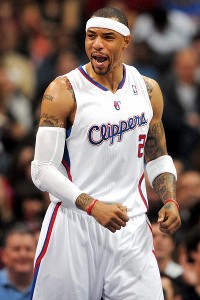 Kelvin Kuo/US PresswireDallas Bryan Adams product Kenyon Martin has averaged 7.1 rebounds for his career.
Kenyon Martin --
If the Mavs aren't bringing home local products
Deron Williams
or
C.J. Miles
(it would appear), why not the former Dallas Bryan Adams star? He's averaged 7.1 rebounds for his career. His return from China landed him with the Clippers where he put up a career-low 4.3 boards a game, but also played with
Blake Griffin
and
DeAndre Jordan
. However, it might take more than $2.5 million to nab the 12-year vet. Then again, in this market, it might not.
Ronny Turiaf --
Dallas had interest in him when Denver waived him in March, but the 6-10, 249-pound power forward signed with the
Miami Heat
instead. The Mavs still have interest in the veteran who could eat up six or 10 or 12 minutes a game as necessary, simply to rebound. When his career stats are extrapolated over 36 minutes per game, the average minutes of a starter, he's averaged 7.7 rebounds and 9.4 in 13 games with the Heat.
Louis Amundson --
One of the more under-the-radar players in the league, this six-year vet of five NBA teams simply knows how to get position to rebound. In 60 games last season for the
Indiana Pacers
, the 6-9 forward averaged 10.6 boards per 36 minutes and his career mark is 10.0.
Nazr Mohammed --
The 6-10 center has bounced around the league a long time and Oklahoma City's drafting of Baylor's
Perry Jones
and signing of disappointing, but young big Hasheem Thabeet made Mohammed expendable. Still, as a career backup, he's averaged 10.7 rebounds per 36 minutes and averaged 9.7 and 8.8 rebounds per 36 minutes in his two seasons with the Thunder.
Joel Przybilla --
Dallas had interest him last season when he made his return and eventually signed up with Portland. The rugged, 7-1 center might be a health risk at this stage, but he'd provide physical minutes at center and his 11.1 rebounding average per 36 minutes shows he can still pound the glass. He could also possibly be had on a veteran minimum deal.
Jordan Hill --
Signs point to this athletic youngster signing somewhere on the West Coast, but he is certainly an energetic talent that would be a strong addition to a plodding front line on the down side of its rebounding prowess. Hill gave the Lakers a spark on the boards after arriving from Houston in the
Derek Fisher
trade, averaging 12.2 rebounds and 12.7 points per 36 minutes.
Honorable mention --
Darko Milicic
, Andray Blatche (must clear amnesty bidding process), Chris "Birdman" Andersen (must clear amnesty bidding process).
February, 13, 2012
2/13/12
7:05
PM CT
By
Jeff Caplan
| ESPNDallas.com
DALLAS -- Lob City is in town and if the
Dallas Mavericks
aren't careful, it could get ugly. In L.A., the
Chris Paul
-less Clippers still struck for five dunks and three alley-oops -- in the first half.
"They have maybe the two best guys we've seen in some time to go up and get it in [Blake] Griffin and [DeAndre] Jordan," Mavs coach Rick Carlisle said. "And [Chris] Paul's maybe the best guy I've ever seen throwing them. So, they've got the components to make life miserable for you."
It certainly isn't shocking to learn that Griffin, the former Player of the Year at Oklahoma, and Jordan are the top dunking duo in the league with 129 rim-rattlers between them. Griffin shares the league dunk lead with
Dwight Howard
with 70.
Here's some perspective on just how often Griffin and Jordan throw it down. Together they have 38 more dunks than
Brendan Haywood
(27),
Ian Mahinmi
(25),
Shawn Marion
(16),
Brandan Wright
(16) and
Vince Carter
(7) combined.
Now, Haywood and company have done an extremely good job of limiting points in the paint. The Mavs have been one of the best such units all season. And the Clippers, surprisingly, are not a high points-in-the-paint scoring team. It just seems that way because of the propensity of the dunk.
Still, it's a shot, and the alley-oop in particular, that is best to try to avoid -- if only for morale.
"It's really important that we're very detailed and on point with what we're doing defensively," Carlisle said. "Tonight's a good example. If you're not completely tied together these guys will be throwing lobs and dunking the ball and it's upsetting to watch."
January, 20, 2012
1/20/12
2:30
PM CT
Brendan Haywood
just can't catch a break around here. When he showed up in the
Josh Howard
trade with
Caron Butler
and
DeShawn Stevenson
, he quickly caught everyone's eye with some impressive play.
Then
Erick Dampier
got healthy, got his starting job back and Haywood was perceived to have sulked. That summer, with Dampier on his way out, Haywood thought he had the starting job sewn up, and why not, coach Rick Carlisle promised it to him. Along comes
Tyson Chandler
, who goes on to change everything we always thought we knew about the Mavs.
Now Chandler's gone and this 6-foot-11, energetic French kid is stealing the spotlight.
But Haywood isn't letting
Ian Mahinmi
's surprise rise get him down. The 7-foot veteran is just going about his business and getting the job done on the defensive end, a significant reason why the Mavs are the third-ranked defensive team in the league.
Haywood, bouncing back from tough night against skilled Lakers center
Andrew Bynum
, logged two of his higher-minute games in the back-to-back set against the Clippers and Jazz, and for good reason.
Wednesday night in L.A., coach Rick Carlisle tried to give
Dirk Nowitzki
a break by putting him against offensively limited center
DeAndre Jordan
while the 7-foot Haywood took on athletic and rugged power forward
Blake Griffin
, who averages 21 points and 12 rebounds.
Haywood, playing 26 minutes, used his size effectively and held Griffin to 14 points on 6-of-15 shooting (Griffin did miss some point-blank attempts and he did get to the free-throw line eight times, making just two). And what happened with Jordan, who averages 7.8 points a game? He went off for a season-high 19.
In the big win Thursday at Utah, Haywood logged 29 minutes -- nine more than his season average -- and made smooth-scoring center
Al Jefferson
work for his 22 points on 18 shots. Haywood also supplied three assists and he was a perfect 4-of-4 -- no kidding -- from the free-throw line.
Carlisle called Haywood's game against Jefferson and the Jazz probably his best work of the season.
On the surface, Haywood's 4.3 points and 6.7 rebounds in the first three games of the road trip don't leap off the screen, but he's been a steady presence in the paint, the area of top concern entering the season.
January, 18, 2012
1/18/12
10:45
PM CT
By
Jeff Caplan
| ESPNDallas.com
LOS ANGELES -- The
Dallas Mavericks
thought they caught a break with
Chris Paul
sitting out a third consecutive game with a hamstring injury. Then they were reminded that
Chauncey Billups
loves to shoot against them and that
Mo Williams
can still play in this league.
Williams and Billups combined for 32 points 12-of-18 shooting, including a blistering 7-of-7 from Williams, who hit from just about everywhere on the floor.
The Mavs are hanging in this one, and really had the lead for much of the second quarter, thanks to some high-scoring from one of their guards.
Delonte West
leads Dallas with 17 points on 6-of-11 shooting.
The Mavs though are stuck in another poor shooting game overall, connecting on just 41.7 percent. But, they've been hot from beyond the arc, hitting 5-of-10 to match the Clippers' five from deep.
Blake Griffin
has been held to just six points and
DeAndre Jordan
has 10 points and rebounds.
Dirk Nowitzki
is 4-of-11 from the field for 10 points.
Shawn Marion
has six points and seven rebounds.
Jason Terry
is scoreless and took just two shots in the first half.
January, 26, 2011
1/26/11
8:59
AM CT
By
Jeff Caplan
| ESPNDallas.com
DALLAS --
Tyson Chandler
stood at his locker shaking his head.
"Man, I know," Chandler said. "If I could have just stayed on the floor I could have had a huge night."
Tuesday night against the
Los Angeles Clippers
was pretty big as it was for the
Dallas Mavericks
' 7-foot-1 center, who slammed, quite literally, 21 points on the Clips in 17 minutes. He didn't miss a shot, making all five field goals -- four dunks (two alley-oops) and a finger roll -- and all 11 free throws.
If he had come anywhere close to his 27.8-minute-a-game average, he likely could have shattered his career high of 27 points way back on New Year's Eve 2002.
It was Chandler's first 20-point game with the Mavs and his first since 2008. The athletic big man was no match for Clippers center and Texas A&M one-year-wonder
DeAndre Jordan
. In the first quarter, Chandler had 10 points, which were among the team's first 14. While the rest of the Mavs got off to another sluggish start, Chandler was bringing the energy that allowed Dallas to trail by just eight at the end one.
After L.A. scored the first bucket of the third quarter, Chandler scored seven of the Mavs' first nine points on a dunk, a finger roll and a monstrous alley-oop from
DeShawn Stevenson
for an and-1. But, with 7:19 left in the period, Chandler, who picked up three first-half fouls, got
Blake Griffin
for his fourth.
Backup
Brendan Haywood
was having so much success on the defensive end against Griffin, and the Mavs' offense finally opened up that coach Rick Carlisle stuck with Haywood. Chandler's night was over after just 17 minutes off the floor time. But, what a thrilling 17 it was.
"It's definitely frustrating because you want to be on the floor when you're rolling like that," Chandler said. "I thought I picked up some ticky-tack fouls, but sometimes it goes that way."