Dallas Mavericks:

Derek Harper
October, 25, 2013
10/25/13
3:47
PM CT
DALLAS –
Derek Harper
's No. 12 will be raised to the American Airlines Center rafters this season.
Mavericks owner Mark Cuban, who strongly hinted at the possibility last season, confirmed Friday that the team would retire Harper's number. Cuban said no date has been planned for the ceremony.
Harper was the team's first-round pick in 1984 and played point guard for the Mavs for 12 seasons during two stints in Dallas. He holds the franchise career records for assists (5,111) and steals (1,551), and ranks fourth in team history in scoring with 12,597 points.
Harper will join former teammates
Rolando Blackman
and Brad Davis as players whose numbers have been retired by the Mavs.
July, 6, 2013
7/06/13
11:30
PM CT
With the
Dallas Mavericks
winning their only championship just a few years ago, it should come as no surprise that three key components of that squad are featured in our Mavericks Rushmore. Here are the four we chose and why:
Dirk Nowitzki:
The best player in franchise history and future Hall of Famer has spent his career in Dallas and become part of the fabric of the community. Rather than his face, Nowitzki's one-legged fadeaway should probably be on Mavericks Rushmore. Nowitzki has defined the Mavericks since this century began, and he has his ring now, too.
Mark Cuban:
When he bought the Mavericks, they had spent way too much time at or near the bottom of the NBA. Cuban immediately changed that by pumping resources into the team. He has shown a willingness to do whatever he can to make his team a championship contender and put Dallas in the category of the elite. Cuban's goal now, after two disappointing seasons, is to return the Mavs to elite status.
Rolando Blackman:
When you think of the 1980s Mavericks, Blackman is one of the first names that comes to mind. He played in Dallas from 1981 to 1992, was an All-Star four times and played on six Mavericks playoff teams.
Jason Terry:
If you take Terry's entire stay in Dallas, it's actually a full season longer than Jason Kidd's two stints. Terry appeared in two NBA Finals and was critical in the club's championship run in 2011. That's why he's got a spot on this monument.
Others considered (in no particular order):
Jason Kidd:
A case could certainly be made after he spent the beginning and much of the end of his career in Dallas. The trade to bring him back to Big D was a difference-maker, as the point guard made the right moves in pressure situations to help the Mavericks win the title. He is moving from a 19-year playing career into coaching with the
Brooklyn Nets
.
Don Carter:
He founded the expansion Mavericks with Norm Sonju in 1980.
Derek Harper:
He made a Western Conference finals appearance with the Mavericks, and the team's record books are littered with his name. He and Blackman helped excite fans in the 1980s.
Brad Davis:
His No. 15 jersey is retired, but his numbers don't stack up with other Maverick greats to push him into the top four.
Steve Nash:
Had Nash stayed in Dallas, maybe he would be on the monument. But he wasn't here long enough and left before the title run.
Michael Finley:
You could make the argument that outside of Nowitzki, Finley was the most important player in getting the Mavericks back to respectability in the NBA after Cuban bought the team.
Mark Aguirre:
He was the first overall pick in the 1981 NBA draft when the Mavs were struggling. Later in the decade, Aguirre was a leader on a team that took the Lakers to Game 7 of the Western Conference finals.
December, 13, 2012
12/13/12
9:00
AM CT
BOSTON -- There has been a lot of talk about retiring numbers since
Jason Terry
and
Jason Kidd
left Dallas this summer.
Another former Mavs guard should see his number raised to the American Airlines Center rafters soon.
"I'll deal with
Derek Harper
before I deal with any of those guys," Mark Cuban said.
Asked when Harper's No. 12 would be retired, Cuban said, "Some day."
It will be long overdue. There is little doubt that No. 12 belongs up there with Rolando Blackman's No. 22 and Brad Davis' No. 15. Harper set several franchise records while playing for the Mavs from 1983-94 and 1996-97, including career assists (5,111) and steals (1,557). He scored 12,597 points for the Mavs and was a critical part of teams that made six playoff appearances in seven years, peaking with a trip to the Western Conference finals.
Cuban indicated it's simply a matter of picking the right time to retire Harper's number.
"That's beautiful," Harper said before working as the color commentator for the Mavs' TV broadcast of the double-overtime loss to the Celtics. "Ooh, I get goosebumps right now, you know what I mean? It's special. The goofy thing to do is try to downplay it like it's not a big deal. It is a big deal.
"You put your time in, man. All it does is show that the organization appreciates the time that you put in. I would be honored. I would truly be honored. I would be tickled pink, blue, yellow, all of it, for it to happen."
August, 21, 2012
8/21/12
11:16
AM CT
Mark Cuban is so bitter about Jason Kidd's departure from Dallas that the Mavericks' owner says there is "no chance" of ever raising the point guard's No. 2 to the American Airlines Center rafter.
PODCAST
Mavs owner Mark Cuban on why he feels the team is better without Deron Williams, why Jason Kidd's jersey will never hang in the rafters and more.

Listen

That was Cuban's initial comment about Kidd during his hour-plus-long appearance Tuesday on ESPN Dallas 103.3 FM. Cuban quickly left himself a little wiggle room, but he's clearly perturbed about Kidd signing with the
New York Knicks
after committing to return to the Mavs.
"I was more than upset," Cuban said. "I thought he was coming. I was pissed. …
"J. Kidd is a big boy; he can do whatever he wants. But you don't change your mind like that. That was … yeah. I'm sure I'll get over it at some point, but as of now, I wouldn't put J. Kidd's number in the rafters."
Kidd, whose second stint in Dallas was highlighted by him playing a key role in the franchise's only NBA championship, agreed to sign a three-year, $9.5 million deal to stay with the Mavs, informing Cuban of his plans the morning of July 5. Those plans changed that afternoon.

Kidd called Cuban, but Cuban did not take the call because he was in a Washington, D.C. museum with his family. Cuban learned later that Kidd had changed his mind and agreed to go to the Knicks for the same money.
Cuban admitted that Kidd's decision "hurt my feelings" because he thought they had developed a strong relationship and that the 39-year-old point guard was committed to the organization.
"He's a good guy, but I just thought that was wrong," Cuban said. "You can't put a guy's number in the rafters when he decides he doesn't want to be there."
On the other hand, Cuban said he would consider retiring the No. 31 worn by
Jason Terry
, who signed with the
Boston Celtics
this summer after the Mavs declined to match a three-year, midlevel-exception offer. Cuban praised Terry for being "honest" and "straightforward" throughout the free agency period.
"Putting somebody up in the rafters, that's something sacred in my mind," Cuban said. "You don't just do it just to do it, to have a big ceremony, to sell tickets. You haven't seen me decide yet. I go back and forth on
Derek Harper
all the time, but Harp will be up there before J. Kidd will.
"I've always said my prerequisite was that you played on a championship team for the Mavs. I'd say Jet's got a shot, Dirk's an obvious, but as of right now I wouldn't put J. Kidd up there."
It's possible, perhaps even probable, that the Mavs could issue Kidd's No. 2 this season.
Darren Collison
, the point guard the Mavs acquired to replace Kidd, wore No. 2 for the Hornets and Pacers.
July, 2, 2012
7/02/12
9:24
AM CT
By
Jeff Caplan
| ESPNDallas.com
The third member of the
Dallas Mavericks
' recruiting team in New York today has taken some by surprise. In the Big Apple today to sit down with top free-agent target
Deron Williams
is president of basketball operations Donnie Nelson, head coach Rick Carlisle and ...
Michael Finley?
As one clever Twitter hand typed, guess that answers the old question, Where's Fin?
The Mavs have quietly brought aboard the former shooting guard in a role the team has not quite defined well enough to boil down for a business card.
When Nelson was asked the name of the position Finley holds, the GM said, ahem,
"(rear-end) kicker."
Perhaps that means Finley's the man to finish the job and bring Williams home.
At any rate, it certainly seems that Finley is now the first of the Mark Cuban-era Mavs to join old-schoolers
Derek Harper
,
Rolando Blackman
and Brad Davis as working closely with the organization.
May, 31, 2012
5/31/12
12:01
AM CT
By
Jeff Caplan
| ESPNDallas.com
Fourteenth in a 15-part series ranking the Mavericks' 2011-12 roster in importance of bringing back next season.
By garnering enough votes from the media to finish eighth for Defensive Player of the Year and enough votes from the 29 other league coaches to finish among the "others receiving votes" for the NBA's two all-defensive teams,
Shawn Marion
ranks among the greatest
Dallas Mavericks
defenders in team history.
Tyson Chandler
set the bar for frontcourt players last season when he finished third in DPOY voting (he won it this season with the
New York Knicks
) and made the all-defensive second team. The only other Mavs player ever to make an all-defensive team was
Derek Harper
(twice) more than 20 years ago.
There's plenty of folks within the Mavs organization that believe Marion should have made an all-defensive team for his work this season that for a good stretch included defending some of the game's top point guards. Marion's all-around value last season (he led the Mavs in rebounding at 7.4 a game) can't be overstated, and it's a run that really started last season and through the championship when he played MVP-type defense on
Kobe Bryant
, then
Kevin Durant
and then
LeBron James
.
It's been an interesting three seasons for the Matrix in Dallas. After the first season, which ended with the disappointing first-round exit to the
San Antonio Spurs
, Marion seemed more like a short-timer here, an aging forward whose better days were behind him and whose long and relatively expensive contract would surely serve only as an albatross.
Now it would seem counterproductive -- and even more unjust -- if the Mavs were to depart with their versatile small forward either by way of the amnesty clause or a trade to create additional cap space.
"I don't know, this is a business. It's a business first," Marion said after the season. "I look at it like that, that's what it is. I know that. I've adjusted to that throughout my career. That's what you have got to take it as first, everything else comes second. It's a business first, it means you've got to have that mindset going into, you know that, that's what you've got to take it as."
If Marion becomes another veteran cast aside in this summer of cap space designed to rebuild quickly around
Dirk Nowitzki
, the Mavs will have a difficult time replacing the qualities the Matrix delivers on a nightly basis on and off the floor.
The Countdown nears its end at No. 2 ...
SHAWN MARION
Pos.:
SF/PF
Ht./Wt.:
6-foot-7, 228
Experience:
13 years
Age:
34 (May 7, 1978)
2011-12 stats:
10.6 ppg (44.6 FG%), 7.4 rpg,
Contract status:
Signed through 2013-14
2011-12 salary:
$8.0 million
2012-13 salary:
$8.65 million
[+] Enlarge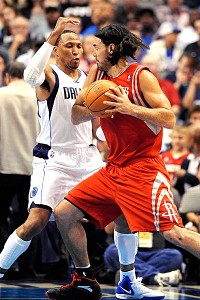 Jerome Miron/US PresswireShawn Marion became a defensive stalwart for the Mavs this season, often taking on the opposition's best player.
His story:
In his three seasons with the Mavs, Marion has really re-cast his career like few would have believed he could. He made his name with the run-and-gun Suns, rightly or wrongly portrayed as something of a third wheel behind
Steve Nash
and
Amare Stoudemire
. Once he left Phoenix after eight-and-a-half seasons -- and some near-misses at playing in the NBA Finals -- as part of the deal to Miami that sent
Shaquille O'Neal
to the desert, Marion's career flattened out. Miami traded Marion to Toronto and then in a convoluted four-team trade, the Mavs acquired Marion on July 9, 2009. In Dallas, he's sacrificed scoring and 3-point shooting (he averaged 18.4 points and more than 230 3-pointers a season in Phoenix) to become more of a post-up player who mostly scores on slashing to the basket and cleaning up around it, and specializes in defense.
His outlook:
His chances of remaining in Dallas next season certainly seem much better now than earlier in the season when Marion figured to be the logical choice to be waived via the amnesty clause. After all, as valued as Marion is, it's still harder to go out and get a big body to patrol the paint than to find another small forward. But
Brendan Haywood
took a significant downturn as the season wore on and he lost favor with the home fans with his mostly non-existent play in the first round against the Thunder. If Mavs management needs to go to the route of the amnesty -- and they will if
Deron Williams
is going to sign -- then they'll have a lot of explaining to do to the fan base if they amnesty Marion over Haywood. Now, there also is the possibility that Marion could be moved as part of a package deal if it means the Mavs are able to get young impact players in return.
No. 15
Lamar Odom
No. 14
Brian Cardinal
No. 13
Yi Jianlian
No. 12
Dominique Jones
No. 11
Brendan Haywood
No. 10
Kelenna Azubuike
No. 9
Ian Mahinmi
No. 8
Vince Carter
No. 7
Rodrigue Beaubois
No. 6
Brandan Wright
No. 5
Jason Terry
No. 4
Delonte West
No. 3
Jason Kidd
No. 2
Shawn Marion
No. 1 Coming Friday
November, 29, 2011
11/29/11
11:43
PM CT
By
Jeff "Skin" Wade
| ESPNDallas.com
We started this little flashback column to help us deal with the devastatingly chilly fallout of the NBA Nuclear Winter. The good news is that this is the last one because the NBA is coming back on X-Mas day. Just as we did last week, we got help from the Mavs site created by the great Patricia Bender.
Dec. 2 is a particularly eventful day in Mavs history. It's littered with brilliant performances from names like
Mark Aguirre
and
Jason Kidd
, great honors for folks like Don Nelson and
Steve Nash
, and sadly also includes yet another tragic turn for
Leon Smith
. But two things jump out and grab me as fantastic moments in Mavericks history.
[+] Enlarge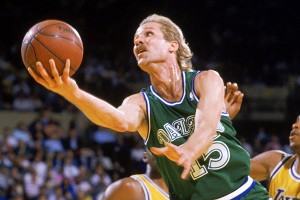 Stephen Dunn/Getty ImagesOn Dec. 2 of their inaugural season, the Mavericks signed former Lakers first-round pick Brad Davis, who went on to become one of the best guards in team history.
In 2004, we were treated to an epic scorers' duel between
Dirk Nowitzki
and then-Houston Rocket
Tracy McGrady
that felt like one of those great 80s battles between the elite scoring forwards of that decade. McGrady was unstoppable, draining 3s from all over the floor -- pulling up and bombing off the dribble no matter how tightly contested -- en route to 48 in an overtime loss. That's right, the ROX took the L because Dirk was even better, dropping 53 and grabbing 16 boards in front of a primetime national audience on a Thursday night TNT joint the Mavs won 113-106. It was one of the most entertaining Mavericks games of the decade.
But I also wanted to note that on Dec. 2 of their inaugural season, Dallas signed former Lakers first-round pick Brad Davis. Davis had bounced around the League and spent time in the CBA and was on the verge of retiring when he gave pro basketball and the Mavericks one last chance. He went on to become one of the best guards in team history and the first player to have his jersey retired.
When I think of Davis' playing days the images that flood my mind include:
1. Davis taking violently vicious charges
2. Catching and shooting that crank behind his head and fling jumper after Aguirre passed out of double teams
3. The chomping of that gum being exaggerated due to the wicked mustache game he was throwing down
4. That Toyota commercial in which he unleashed the Camry Jam and Corolla Rolla dunks on an 8' goal
5. That perm, yo!
Some so-called Mavs fans that either don't know any better, weren't old enough to remember, or just plain weren't paying attention at the time view Davis as some sort of Bill Bates hustle type that was only out there cuz he played really hard and set a good example. They think that it's somewhat shameful that his number is retired.
Those people are just wrong. Davis was a baller.
About a month ago, FSSW re-aired the classic Moody Madness game and it was great to watch it for a number of reasons, but I really dug watching Brad's game again. He did for the Mavs during that era what Mo Cheeks was doing for Philly. He ran the show and orchestrated the offense. And he made perfect entry passes to Aguirre who was just devastating on the block.
Ask
Derek Harper
how difficult Davis was to play against. He went against him every day in practice and has enormous respect for his game.
"And if you don't know, now you know …"
June, 20, 2011
6/20/11
8:00
AM CT
Maybe
Jason Terry
has a post-NBA career as an interior decorator. He's already making plans to spruce up the American Airlines Center.
PODCAST
ESPN Dallas released their "Take 'em or Trash 'em" piece this morning and Jeff Caplan and Tim MacMahon hop on to share their thoughts.

Listen

"There's some new jerseys coming to town!" Terry said during the post-parade ceremony as he pointed up toward the AAC rafters.
Of course, Jet assumes that his No. 31 will someday be hanging next to Rolando Blackman's No. 22 and Brad Davis' No. 15, among others. He's certainly on the short list after a seven-season stint in Dallas that has featured two Finals appearances and one championship.
Here's a six-pack of candidates for AAC immortality, listed in order of the likelihood of having their number retired by the Mavericks:
Dirk Nowitzki:
It's just a matter of when and where to put the statue of by far the best player in franchise history. (I'd recommend right in the middle of Victory Plaza, for what it's worth.)
Jason Kidd:
His two tenures in Dallas, separated by more than a decade, have spanned parts of seven seasons and he'll probably last at least two more. He ranks third in franchise history in assists with 3,947 and is a good bet to break that record. He's also third with 872 steals. And his intangibles played an immeasurable role in the franchise's first championship. Plus, Mark Cuban, the one-man selection committee, originally bought Reunion Arena nosebleed season tickets because he wanted to watch Kidd and took the biggest risk of his ownership tenure to bring Kidd back to Dallas.
Jason Terry:
Depending on the length of the lockout, Terry should become the sixth player to score 10,000 points in a Mavericks uniform next season. He's made it clear that he hopes to retire here, so it's feasible that he could climb to third or fourth on that list. Jet clearly believes his performance this postseason punched his ticket to the rafters. He's probably right. After all, the way he came through in the last few games of the Finals -- after boldly questioning whether
LeBron James
could keep up with him -- was the stuff of legends.
Derek Harper:
This one is long overdue. No offense to Davis, but Harper was unquestionably the better player. He holds the franchise records for assists (5,111) and steals (1,551) and ranks fourth in points (12,597). Harper is also a class act who remains on good terms with the Mavs, as evidenced by his broadcasting role.
Michael Finley:
His post-Dallas time in San Antonio can't be held against him. It's not as if he asked to be released as an amnesty clause casualty. Finley was the cornerstone of the teams that turned the franchise from a league laughingstock to a perennial playoff squad. He was a true pro who helped Nowitzki make the tough transition from a midlevel European league to the NBA. And Finley was a two-time All-Star who ranks fifth in franchise history with 12,389 points.
Mark Aguirre:
Don't hold your breath for this to happen despite Aguirre's 13,930 points for the Mavs, which ranks behind only Nowitzki and Blackman in franchise history. The way Aguirre essentially forced his way out of Dallas is held against him.
September, 21, 2010
9/21/10
12:56
PM CT
Through the magic of ESPN.com, you can now vote for
your favorite all-time starting lineup
for the Dallas Mavericks, as well as every other NBA team.
That's right, the most productive five for every franchise. Or maybe we should just call it "Dirk and his four friends."
So who makes the cut? Who do you like at point guard: Derek Harper, Steve Nash, Brad Davis or Jason Kidd?
Shooting guard also is a tough pick: Michael Finley, Rolando Blackman, Jim Jackson or Jason Terry?
You pick at every position, so
cast your vote for your all-time Mavs Fab Five.
June, 17, 2010
6/17/10
12:12
PM CT
To celebrate the storied histories of the franchises in the Finals, ESPN.com let fans pick the all-time starting five for the
Celtics
and
Lakers
.
My immediate thought was, man, this wouldn't be nearly as fun with the Mavericks.
But it's not like we've got much better things to do while we wait for the NBA offseason to officially start. So here's one man's opinion on the best players at each position in Mavs less-than-legendary history:
POINT GUARD
Candidates:
Jason Kidd
,
Devin Harris
,
Steve Nash
,
Derek Harper
, Brad Davis
The nod here goes to Derek Harper despite the fact that he never played in an All-Star Game. This is based solely on contributions to the Mavs, so Kidd's prime years and Nash's two MVP seasons weren't considered. Longevity gives the edge to Harper, who holds the franchise career records for assists and steals. Harper also averaged 14.4 points per game during his Dallas tenure, a tick below Nash's average in a Mavs uniform. Of course, if Mark Cuban and Co. didn't let Nash return to the desert, this would be a no-contest.
SHOOTING GUARD
Candidates:
Jason Terry
,
Michael Finley
,
Rolando Blackman
This is the best debate of the bunch. Blackman and Finley were cornerstones of eras when the Mavs went from one of the league's worst teams to winners. Finley's regular-season numbers with the Mavs (19.8 ppg, 5.2 rpg) are slightly better than Blackman's (19.2 ppg, 3.6 rpg). Blackman was a more efficient scorer and made four All-Star appearances, twice as many as Finley. And Blackman's numbers went up in the postseason, when Finley's went down a notch. I'll go with Ro.
SMALL FORWARD
Candidates:
Josh Howard
,
Jamal Mashburn
,
Mark Aguirre
Like Howard, Aguirre's time in Dallas had too much drama toward the end and ended with a trade after he got on bad terms with the team. But Aguirre was by far a better player. He averaged 24.6 points per game with the Mavs, including a franchise-record 29.5 in 1983-84. A strong case can be made that No. 24 ought to be in the AAC rafters.
POWER FORWARD
Candidates:
Dirk Nowitzki
,
Roy Tarpley
,
Sam Perkins
This is a no-brainer, which is also an accurate way to refer to X-ray results from Tarpley's head. Who knows how great Tarpley could have been if he kept his nose clean? Dirk is without a doubt the best player in franchise history, having set all sorts of franchise record while building his Hall of Fame resume. There haven't been many power forwards in NBA history better than Dirk.
CENTER
Candidates:
Erick Dampier
,
Shawn Bradley
,
James Donaldson
Not exactly Mikan/Chamberlain/Kareem/Shaq, huh? One-time All-Star James Donaldson, who averaged 8.8 points and 9.5 rebounds during his Dallas tenure, is the default winner.
January, 3, 2010
1/03/10
10:18
PM CT
By
Jeff Caplan
| ESPNDallas.com
Not that he'll remember Sunday night's start-to-finish blowout loss at the hands of the
Los Angeles Lakers
, but
Dirk Nowitzki
did hit a career milestone.
The
Dallas Mavericks
power forward played in his 872nd career game with the Mavs, tying Derek Harper for second-most in franchise history. Nowitzki, assuming he remains in good health, will surpass leader Brad Davis (883) later this month.