Dallas Mavericks:

Derrick Favors
November, 1, 2012
11/01/12
8:00
AM CT
By
John Coon / Special to ESPNDallas.com
SALT LAKE CITY -- No one needed to tell
Dallas Mavericks
coach Rick Carlisle that trying to beat the
Utah Jazz
on the glass would be a tough task.

After the Mavericks lost to the Jazz 113-94 on Wednesday night, Carlisle came away feeling like it was an impossible mission.
Utah outrebounded Dallas 61-40 through four quarters. All of the Jazz's big men joined in on the fun.
Paul Millsap
had 15 rebounds to go along with 13 points.
Al Jefferson
had 14 boards and 12 points.
Derrick Favors
and
Enes Kanter
chipped in 10 and seven rebounds off the bench, respectively.
"This is probably the toughest team to deal with on the boards because they come with waves of energy out of their big men," Carlisle said. "We got off to a bad start. I mean Millsap had six offensive rebounds in the first five minutes and it didn't get better from there."
Individually, only
Shawn Marion
shined in the paint. He pulled down a team-high 11 rebounds for the Mavs. The rest of the team offered little resistance in letting the Jazz have their way down low.
It went a long way to give Utah plenty of extra looks and more chances to put some distance between it and the Mavericks. When it finally happened, Dallas could only look to its struggles cleaning up the glass as a major culprit.
"Everything that could have went wrong, went wrong," Marion said. "It happened and we couldn't bounce back from it."
October, 31, 2012
10/31/12
10:43
PM CT
By
John Coon / Special to ESPNDallas.com
How it happened:
The
Dallas Mavericks
appeared to have retained some of its magic from the win over the
Los Angeles Lakers
early after making five straight shots to open the game. The Mavs eventually cooled off after shooting 10-of-16 from 3-point range in the first half, only to see the
Utah Jazz
heat up and run away with it late in the third quarter.


Jazz newcomers
Mo Williams
and
Marvin Williams
did the bulk of the damage in helping their team rally from an eight-point halftime deficit. Mo and Marvin each finished with 21 points, combining to shoot 48.3 percent from the field and 57.1 percent from 3-point range.
It was too much for the Mavs to handle when their own offense went to sleep. Utah outscored Dallas 37-13 in the third quarter after the Mavericks converted just 5-of-22 FG attempts.
Darren Collison
and
Brandan Wright
provided the only bright spots by building on strong opening-night performances against Los Angeles. Collison scored a team-high 17 points on 6-of-12 shooting and dished out seven assists. Wright added 15 points on 7-of-8 shooting.

What it means:
Life without
Dirk Nowitzki
and
Chris Kaman
is going to provide rocky moments. The Mavs just simply don't have enough frontcourt strength to adequately compete with dominant low-post teams when those two aren't healthy. Utah proved it by controlling the glass for four quarters. The Jazz outrebounded the Mavs 57-35.
Paul Millsap
(15 rebounds),
Al Jefferson
(14) and
Derrick Favors
(10) all reached double figures on the glass. Only
Shawn Marion
proved able to match that effort for the Mavs with 11 boards.
Play of the game:
Mo Williams showed late in the third quarter why the Jazz wanted so badly to bring their former draft pick back into the fold. Williams buried a 3-pointer to break a 74-74 tie. Then, after
Gordon Hayward
stripped the ball on the other end, Williams drilled another one to ignite a decisive 18-2 quarter-ending run that put Utah ahead for good.
Stat of the night:
Dallas won eight straight Halloween night games before Utah brought an abrupt end to the streak Wednesday night.
October, 31, 2012
10/31/12
8:17
PM CT
By
John Coon / Special to ESPNDallas.com
SALT LAKE CITY -- Forget ghosts and goblins. The
Dallas Mavericks
are facing something much scarier on Halloween night: Figuring out how to contain an opponent that makes a living around the basket, even while two of their best big men nurse injuries.
The
Utah Jazz
have a quartet of big men who are as talented as any in the NBA.
Al Jefferson
is a prolific low post scorer.
Paul Millsap
is a defensive nightmare.
Derrick Favors
is the future face of the franchise and
Enes Kanter
looks like a rising star after an impressive preseason.
"They're a wrecking crew in the paint as always," Mavs coach Rick Carlise said. "Their stats point to an all-out brawl in there the entire game. They're extremely effective."
The Mavs must find a way to gain an upper hand in that brawl without either
Chris Kaman
or Dirk Nowitizki in the lineup. That's where
Elton Brand
and
Brandan Wright
come into the picture. Both did a serviceable job in Dallas' 99-91 victory over the
Los Angeles Lakers
on Tuesday night. Brand had eight points and 11 rebounds in 36 minutes. Wright scored 14 points and collected five boards and three blocked shots in 20 minutes.
A similar level of production is crucial if the Mavericks hope to also subdue the Jazz. Carlise feels confident Brand and Wright can make it happen
"They compliment each other well," Carlise said. "There's enough length there to compete on the boards. We can get the ball in the basket if we move the ball."
Wright admits going up against the likes of Jefferson and Millsap is a huge motivator. The Mavs want to prove they can thrive against all types of opponents during Nowitizki's absence.
"You tend to focus more when you play more dominant players," Wright said. "It's just the nature of the beast. Our coaches do a good job of keeping us involved and keeping us focused on the task at hand."
For Dallas, it will come down to being tenacious on defense and being scrappy on the glass to keep Utah from having its way in the paint for four quarters. Accomplish that and the Mavs can start to feel good about how this team will look when Nowitzki and Kaman finally return to full health.
February, 23, 2011
2/23/11
3:25
PM CT
Much-needed speed in the backcourt. Character they can already vouch for. And zero fear that he could function well next to
Jason Kidd
.
PODCAST
ESPN.com's Marc Stein joins GAC to discuss how the Mavs' interest in Devin Harris hoped to help them land Deron Williams.

Listen

Those were some of the reasons that the Mavericks,
as we've been saying here since January
, registered interest with New Jersey in reacquiring
Devin Harris
via trade.
But not
the
biggest reason.
Sources close to the situation told ESPN.com that the standout justification for chasing a reunion with Harris played out Wednesday morning, when the
Utah Jazz
stunned the entire NBA by dealing
Deron Williams
to New Jersey for a package of assets co-headlined by the former Mav.
The Mavericks, though, were among the league's least surprised by this blockbuster development. Why? Mavs officials have known, going back to when Harris was Dallas property, that the Jazz were fans of his.
[+] Enlarge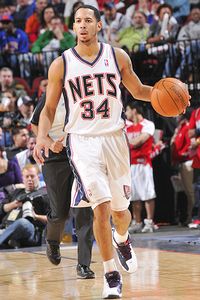 David Dow/NBAE/Getty ImagesA Devin Harris reunion in Dallas may have hinged on a potential deal for Deron Williams.
See where this is going?
Like most rival teams, Dallas believed that Utah wouldn't even consider D-Will trades until closer to the draft, given that Jerry Sloan resigned only 13 days ago and figuring that the Jazz didn't want to go through two major shakeups so quickly after two decades of stability. So the plan, sources said, was making a hard run at acquiring Harris now not only to make the Mavs deeper for the stretch run and playoffs … but also to have a prime piece to offer Utah in June in a potential D-Will deal.
That's why the Mavericks – who have taken a general posture of swearing off the trade pursuit of players such as
Stephen Jackson
, Rip Hamilton and
Gerald Wallace
because of the long-term contracts they possess – weren't afraid to take on the two years and nearly $18 million left on Harris' contract after this season. They were convinced that Harris would not only help in the short term in three-guard lineups with the likes of Kidd, J.J. Barea and
Jason Terry
but also appeal to the Jazz as a trade chip at season's end.
Sources say Dallas was likewise convinced that the market for Harris would always be good – even if Utah didn't want him in June and even in the more restrictive new landscape forthcoming in the next labor agreement – because he's a 27-year-old lead guard with a good resume and a salary under $10 million. Unlike the swingmen we just listed.
Utah, though, clearly didn't want to wait to start over. And New Jersey, frankly, has a lot more to offer in terms of immediate assets to send to the Jazz, as evidenced by the multiple lottery picks and inclusion of
Derrick Favors
with Harris that torched Dallas' dream scenario.
PODCAST
Mavericks GM Donnie Nelson joins Ben and Skin to discuss the looming trade deadline and to weigh in on the Carmelo deal.

Listen

The Mavs' fantasy only could have developed into something tangible if: (A) Utah wanted to take its time before deciding to end the D-Will Era; and (B) Dallas managed to take Harris back from New Jersey now so it had a prime chip to plug into multi-team scenarios down the road. Sources confirmed Wednesday that the Nets were demanding a future first-round pick and rookie guard
Dominique Jones
, along with the expiring contract belonging to the out-for-the-season
Caron Butler
, in exchange for Harris … but it suddenly sounds like a small price to pay now knowing how high Utah is on Harris.
None of the above, mind you, means that the Mavs have to completely abandon their dreams of luring Williams – who starred in high school at The Colony – back to the Metroplex. The Nets only have him under contract for one more season, so expect Dallas to remain on the short list of teams with New York that get brought up whenever D-Will's future comes up … until the Nets get the 2012 free agent signed to a contract extension or he's traded again.
Yet it's safe to say that the Mavs would have liked their chances better if they had reacquired Harris this week, three trade deadlines removed from dealing him to New Jersey originally.
February, 23, 2011
2/23/11
10:46
AM CT
By
Jeff Caplan
| ESPNDallas.com
In a mind-blowing, out-of-the-blue trade Wednesday morning, the
Dallas Mavericks
lost out on two hoped-for point guards. The Mavs had interest in bringing back
Devin Harris
in a steal in the short-term (before Thursday's trade deadline) and, like every other team in the league, had long-range hopes to land
Deron Williams
(a free agent in the summer of 2012), The Colony product considered one of the league's top players at the position.
Neither looks like it will come to pass now as the
New Jersey Nets
and
Utah Jazz
have apparently
pulled off a stealth deal that sends Williams to the Nets
and Devin Harris,
Derrick Favors
, last summer's No. 3 overall draft pick, and draft picks to Utah. Even more stunning is that the Jazz shipped Williams just two weeks after Hall of Fame coach Jerry Sloan stepped down. Williams can still become a free agent after next season and bolt (the Mavs would have to clear plenty of cap room to sign him or somehow swing an improbable sign-and-trade), but the Nets will have money and Williams should be able to recruit players to Brooklyn (assuming the move really happens). Players want to play with D-Will.
The move impacts the Mavs in other ways beginning with tonight's game against the Jazz at the American Airlines Center. After Tuesday's practice, Dallas coach Rick Carlisle cautioned that reeling Utah would be seething to get the post-All-Star break portion of the schedule up and running. The Jazz have an 11 a.m. shootaround scheduled at the AAC.
"They're a very motivated team," Carlisle said. "They're going to come in here razor sharp."
That still could be the case considering the beat down the depleted
Denver Nuggets
put on the
Memphis Grizzlies
Tuesday, one night after
Carmelo Anthony
and
Chauncey Billups
were dealt to the
New York Knicks
. The obvious difference is the Melo drama lingered all season with players knowing he would be gone. The Jazz, which will be vastly undermanned tonight, must be in a state of shock.
The trade continues to beef up the East while the bottom half of the Western Conference playoff picture takes another hit. The Mavs, the No. 2 seed in the West, would play the No. 7 seed if they remain in that slot. Denver is currently No. 7 and Utah is No. 8. The Grizzlies and
Phoenix Suns
will be targeting those spots.
In a conference where 50 wins has been the standard bearer for playoff inclusion, it might not take 45 this season, and it would appear -- although the Mavs will tell you from experience that anybody can beat anybody regardless of seeding -- that the top four teams in the West should advance to the second round with little problem.
December, 23, 2010
12/23/10
11:15
PM CT
The
Mavericks'
not-so-secret hopes of forcing their way into the
Carmelo Anthony
sweepstakes and corresponding willingness to trade for him without Melo signing an extension as part of the trade have been addressed numerous times in this cyberspace (
here
and
here
) and even on the air in a recent
interview
on 103.3 FM with Mavs owner Mark Cuban.
The concept, in other words, is hardly new.
The reality for the Mavs, furthermore, is that essentially nothing has changed over the past few weeks with regard to their chances of emerging as a feared factor in the Melo bidding.
The subject nonetheless received a significant (and overstated) amount of national attention this week until things came to deeply sad halt Wednesday, when the
Nuggets
began to inform teams that Anthony trade talks were being placed on an indefinite hold out of respect to their All-Star forward after the death of his 36-year-old sister caused by a pre-existing medical condition.
The following five-point update is where a variety of trade issues stood from the Mavericks' perspective before the sudden and tragic halt to the Melo trade chase, which is expected to put all Anthony-related discussions on hold until after Christmas:
* The Nuggets, according to sources briefed on the teams' discussions to date, have greeted the Mavericks' inquiries with "nothing but pushback" every time they've called to check on the status of Anthony's availability. Reason being: Dallas can't come close to the package the
New Jersey Nets
can assemble, which includes two probable lottery picks in addition to prized rookie
Derrick Favors
. One source close to the process says Denver remains "heavily" focused on trying to complete a deal with New Jersey, while
New York
obviously continues to rank as the other standout team in the Melo chase because the Knicks are overwhelmingly regarded around the league as Anthony's favored destination. Most GMs agree that, at this point, there is no No. 3 option … Dallas or otherwise.
* There's really only one way that the Melo landscape can change sufficiently for Dallas (or
Houston
,
Charlotte
and anyone else willing to "rent" Melo) to get seriously involved: New Jersey would have to pull completely out of the bidding. And that would only happen if Melo tells the Nets face to face that he is refusing to sign a three-year, $65 million contract extension as part of an "extend-and-trade," which is what Boston pulled off in July 2007 when it acquired
Kevin Garnett
from Minnesota and got his signature on a new deal in the process. ESPN.com's Chris Sheridan reported Dec. 12 that Anthony plans to do just that if the Nuggets and Nets finally reach terms on a trade -- which might or might not involve other teams as facilitators -- because of his deep desire to join
Amare Stoudemire
with the Knicks. The Nets, though, continue to believe that Anthony's stated determination to sign the extension before the next labor deal kicks in (June 30 is the deadline) and the ability of Nets owner Mikhail Prokhorov and part owner Jay-Z to sell him on the team's future in Brooklyn will sway him when the time comes.
[+] Enlarge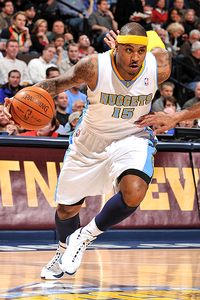 Garrett W. Ellwood/NBAE via Getty ImagesCarmelo Anthony is a hot commodity, but as it stands, the Nets still have the upper hand if the All-Star gets moved.
* It is generally assumed that the Mavericks' best offer for Melo would feature the expiring contracts of
Caron Butler
and
DeShawn Stevenson
, multiple future first-round picks (albeit none of them projected to be in the lottery), $3 million (which is the league max for cash sweeteners) and prized youngster Roddy Beaubois. That, again, will only be enough to get in the game if the Nets pull out and the Nuggets are forced to start seriously looking at trade partners from the "rent-a-player" list, as Cuban described it in his radio interview with 103.3 FM on Nov. 30. Bear in mind, though, that Beaubois' biggest fan in the organization happens to be Cuban. So it should be noted that Cuban giving up on Beaubois for a Melo rental can
not
be regarded as an automatic surrender without some background work first. The odds would certainly strongly favor Dallas surrendering Beaubois if the talks ever get that far, given how much trouble they've had over the years trying to acquire a second star on
Dirk Nowitzki
's level. Yet you can rest assured that Mavs officials would want to talk directly with Anthony before pulling the trigger to find out how much of a chance he'd legitimately be willing to give Dallas -- with Nowitzki and Team USA pal
Jason Kidd
heading the welcoming party -- to win him over long-term during whatever's left of the season after a trade.
* Even the Mavericks' appetite for smaller deals, according to sources with knowledge of the team's thinking, has lessened somewhat thanks to a scorching 23-5 start that has made it Dallas' growing priority to preserve the team's current chemistry. Reserve center
Alexis Ajinca
, for example, has been available since Dallas acquired him as a throw-in from Charlotte in the
Tyson Chandler
deal and remains the most likely Mav to be dealt. The Mavs, though, are said to be getting more choosy about what they'd expect in exchange for Ajinca, since there will always be a premium on a still-developing young big man in the NBA.
* You probably won't be surprised to hear that there is essentially no external interest bubbling for
Brendan Haywood
, given that this is Year 1 on a contract with $41.7 million guaranteed over five years and the swiftness with which Haywood (shooting 25.5 percent from the free-throw line) has fallen behind Tyson Chandler in the Mavs' pecking order. Orlando just proved no one is untradeable with the
Rashard Lewis
-for-
Gilbert Arenas
deal, but Haywood is high on the list of
trade improbables
with so many teams out there averse to taking on long-term contracts when they don't know how restrictive the next collective bargaining agreement will be. I've likewise been assured in the strongest terms that Houston, even after losing
Yao Ming
to a potentially career-ending setback, is not looking at Haywood as a potential replacement and has made that clear to the Mavs, despite what has been reported in some precincts locally. "Less than zero interest" is the way one source with knowledge of the Rockets' thinking jokingly described it. Which is why the similarly reported notion that offering up Haywood could somehow put the Mavs in play for longtime Mavs favorite
Kevin Martin
-- whom Dallas pursued unsuccessfully last season before the Rockets acquired Martin from Sacramento -- has been politely ignored here.
(PS -- For those of you who love NBA contract minutiae, Haywood's $10,522,500 salary in 2015-16 is fully unguaranteed as long as he is waived on or before Aug, 1, 2015.)
December, 9, 2010
12/09/10
11:41
PM CT
By
Jeff Caplan
| ESPNDallas.com
DALLAS --
Jason Terry
picked off a pass with 5.9 seconds left in the first half, and
Caron Butler
had the ball at the right wing with the clock ticking down. He could have launched a 3-pointer with a defender running at him, and no one would have thought twice about his decision.
But Butler spotted
Jason Kidd
wide open to his right, tossed it underneath the oncoming defender and Kidd splashed the 3-pointer at the buzzer for a 55-40 lead. Butler raised both arms in the air as the Mavs jogged off to the locker room.
It was one of four assists for Butler and one of a season-high 31 on 41 baskets for the
Dallas Mavericks
as they won for the 11th time in a row, 102-89, over Avery Johnson's young and struggling
New Jersey Nets
.
Butler's extra pass seemed to define what this win streak that started Nov. 20 has been all about: A bunch of veterans coming together under one common belief.
"It's the way our season's been going. It's the identity of our team, making the extra pass and playing unselfish basketball," said Butler, who had 15 points on 7-of-11 shooting in 27 minutes. "We're doing a great job, and it's rubbing off on everybody."
The team concept is in full bloom for the Mavs (18-4), but the petals nearly came off in the third quarter after the Nets turned a 21-point laugher into a five-point ballgame with 2:13 to go in the period. But yet another aggressive drive by Jason Terry, a 19-foot jumper by
Dirk Nowitzki
and an 18-footer from Terry put the Mavs back up 10 heading into the fourth quarter.
Yes, the Mavs again couldn't keep a bad team down on their home floor, but after the Nets' big run in the third in which they made 15-of-18 free throws to cut into the deficit, the Mavs put it out of reach again rather quickly.
Unfortunately for the Nets, they lost point guard
Devin Harris
to a sprained left shoulder in the first quarter after he crashed hard to the floor. They were also without third-overall pick
Derrick Favors
, who was out with thigh bruise.
For much of the fourth quarter, Mavs coach Rick Carlisle went with a rather odd group of J.J. Barea, Terry,
Shawn Marion
, Nowitzki and
Ian Mahinmi
.
Carlisle only reluctantly went back to foul-plagued starting center
Tyson Chandler
after Mahinmi committed a silly foul that allowed
Brook Lopez
to get a dunk and convert a three-point play with 4:25 to go to cut the lead to 96-84.
"We made it a little harder on ourselves there in the second half," said Nowitzki, who had 21 points on another red-hot shooting night, hitting 8-of-10. "But at this point we'll take a win and get ready for a big game Saturday."
It wasn't a thing of beauty, which seemed to at least somewhat bother Carlisle in his postgame session. He wasn't exactly thrilled that the Nets made it a game in the third quarter or that turnovers, 15 of them, cropped up again.
"I'm very happy we won. As I said, it wasn't an easy game and when you're on a streak you're going to get everybody's best game," Carlisle said. "Right now it's all about continuing to study ourselves and making sure we know what's going on with the next opponent coming in."
The fourth quarter belonged to Barea. He notched a career high with 13 assists and allowed Kidd to sit the entire fourth quarter, an important factor with the
Utah Jazz
, as Nowitzki and Carlisle alluded to, coming to town Saturday for a rematch. The Mavs snapped the Jazz's seven-game win streak last Friday in Salt Lake City. The Jazz will be completing a tough back-to-back with a home game Friday night against the
Orlando Magic
.
Barea was doling out dimes to just about everyone. He made a no-look pass to Mahinmi for a slam dunk with 7:02 to play, and his final assist of the night appropriately went to Shawn Marion for a layup. Marion continued his terrific play with 18 points on 8-of-10 shooting. He made his first six shots and had 14 points at halftime.
Marion added six rebounds and four steals for another complete effort. It wasn't always pretty or easy, but the Mavs continue to display an all-around team game, which is pleasing as the wins mount.
"It's great ball movement, that's what we need," Marion said. "The more we move the ball and and help each other, the harder it is for [the opponent] to guard us. You've got to learn from every game, take positives and negatives from it. But ain't nobody going to go out and play a perfect game, but you have to learn from it and try not to make certain things happen and try to build off it."
December, 8, 2010
12/08/10
2:40
PM CT
By
Jeff Caplan
| ESPNDallas.com
DALLAS -- Mavericks starting center
Tyson Chandler
participated in today's practice after missing Tuesday's game and Monday's practice with a stomach illness.
Coach Rick Carlisle wouldn't rule Chandler in for Thursday night's game against the
New Jersey Nets
and the return of Avery Johnson and
Devin Harris
, but Carlisle did say it looks favorable.
"He's not completely 100 percent, but hopefully by tomorrow he'll keep improving," Carlisle said. "We hope he'll play. At this point it looks favorable, but I always hold the caveat that it may not happen for whatever reason."
The 7-foot-1 Chandler would come in handy against New Jersey's big men, including
Brook Lopez
(18.9 ppg, 6.1 rpg),
Kris Humphries
(7.4, 8.3) and rookie
Derrick Favors
(6.5, 5.3).