Dallas Mavericks:

Devin Ebanks
January, 14, 2014
1/14/14
12:30
PM CT
DALLAS -- A couple of the wins weren't works of art and the loss was awfully ugly, but the Mavericks just finished a 4-1 run in a span of seven days.
Suddenly, they're alone in seventh place in the West as the midseason point approaches.
The prospects for a playoff appearance are pretty bright. A playoff run? Well, let's not get too carried away quite yet. But we'll get to that in a bit.
On to your questions ...
@coffeesodabeer on Twitter: If Dirk is still a legitimate superstar, why aren't the Mavs as good as they were in 2008-2010?
Are the Mavs really that far off from what they were from 2008-10? They averaged 52 wins and won one playoff series in that three-season span. They're on pace for 48 wins now.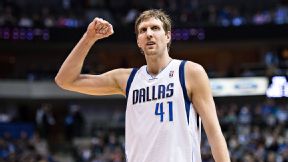 Jerome Miron/USA TODAY SportsDirk Nowitzki acknowledges that he can't be as consistently dominant as in the past, but it'd be hard to find a coach who would say he's dropped from superstar status.
I'd say that parallels pretty well with the decline in Dirk's game. He doesn't play as many minutes (roughly five fewer per game) and readily acknowledges that he can't be as consistently dominant as he used to be. He's also not nearly as good a rebounder as he was five years ago.
But we're talking about a dude who ranks 14th in the league in scoring with 21.2 points per game, ninth in Player Efficiency Rating (23.77) and has a legitimate chance to have the 11th 50/40/90 season in NBA history. (That's 50 percent field goal shooting, 40 percent 3-point shooting and 90 percent free throw shooting.)
We can get into a semantics discussion about what a superstar is, but I don't believe you will find a coach in the league who would say Dirk has dropped out of that class.
@JohnnyPablo_ on Twitter: Can the Mavs make an impact if they reach the playoffs or are we looking for a first-round exit?
It's hard to envision a scenario in which the Mavs can make it out of the first round.
Perhaps they'd have a puncher's chance against Portland, a team that has precious little playoff experience. That'd probably be the best possible first-round matchup for the Mavs, assuming they aren't going to be able to move up from the seventh seed.
San Antonio or Oklahoma City? The Spurs or Thunder could very well be busting out the brooms. The Mavs are 1-12 against OKC since the title run, including a sweep in the 2012 first round. The Spurs have a seven-game winning streak against the Mavs, including four blowouts.
January, 7, 2014
1/07/14
12:00
PM CT
You folks come off as a pretty pessimistic bunch this week. Might have something to do with the Mavericks losing four straight home games.
Let's get right to the questions.
@JohnnyPablo_ on Twitter: With the aging Shawn Marion and Vince Carter, what do you feel would be the way the Mavs should go once they retire?
First of all, don't assume that this will be the final season for Marion and/or Carter with the Mavs. Their contracts expire this summer, but Mark Cuban reiterated this week that he'd like both of the old guys to return next season.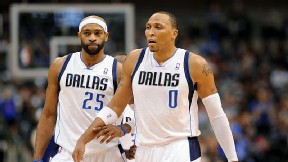 Jerome Miron/USA TODAY SportsMark Cuban has said that he'd like both Vince Carter and Shawn Marion to return next season.
"Absolutely," Cuban said. "Knowing how to play, there's value. As long as you surround them with the right guys and they don't have to play as many minutes, then it works out great. Those guys are hard to replace."
The Mavs hope that
Jae Crowder
, whose plus-minus is much more impressive than his traditional stats, continues to develop and earns an increased role next season.
Of course, the Mavs would be fools not to explore opportunities to upgrade at small forward.
Luol Deng
would probably be the best fit in free agency, but he won't come cheap, having reportedly turned down a three-year, $30 million extension offer from the
Chicago Bulls
before being traded to the
Cleveland Cavaliers
.
Danny Granger
will be on the market, too, but he'll be 31 with a frightening injury history. And you can't completely rule out
Carmelo Anthony
, although it's debatable whether giving a 30-year old Melo a supermax contract would be a wise move for a franchise trying to build a contender.
In other words, Marion and/or Carter might be back with the Mavs, but the future of the small forward position in Dallas is wide open.
KG (Baltimore): At what point do we stop calling Vince's year a "slump?" He shoots a team-low among guys with 12+ MPG (39% FG, 34% 3PT), he needs 9.6 attempts to score 11.1 points, and he has the second highest turnover rate. Love Vince, but we can't have that bad of a production from a sixth man, especially when Dirk Nowitzki sits and given that Monta Ellis is not a pure shooter. Is there a plan in the coaches' mind, a trade, or give somebody else more minutes?
Carter is the Mavs' sixth man this season. Period. I don't see that changing under any circumstances other than injury.
If Carter can perform like he did in December on a consistent basis, he'll be one of the West's best sixth men. He averaged 11.7 points and 3.9 assists while shooting 44 percent from the floor and 36.2 percent from 3-point range while the Mavs went 8-5 last month. Unfortunately, December has been the exception for Carter this season, but the Mavs have a lot of confidence in him.
October, 22, 2013
10/22/13
5:07
PM CT
The Mavericks released four players on Tuesday, requesting waivers on forward
Renaldo Balkman
, forward
Devin Ebanks
, wing
D.J. Kennedy
and center
Fab Melo
.
All four players were invited to camp on nonguaranteed deals and played sparingly during the preseason.
The Mavs' roster now has 16 players, one more than the maximum for the regular season. That includes 15 players with guaranteed contracts.
September, 13, 2013
9/13/13
4:06
PM CT
The Mavericks signed forward
Devin Ebanks
to a non-guaranteed deal, essentially inviting him to training camp.
The 6-foot-9 Ebanks played three seasons for the
Los Angeles Lakers
after being selected with the 43rd overall pick in the 2010 draft. He has career averages of 3.6 points and 1.9 rebounds in 63 games.
The addition of Ebanks gives the Mavs 19 players under contract, including 15 with guaranteed deals.
April, 15, 2012
4/15/12
2:01
PM CT
By
Jeff Caplan
| ESPNDallas.com
LOS ANGELES --
Rodrigue Beaubois
won't play in today's game against the Lakers because of the strained calf he sustained Friday night at Portland.
Coach Rick Carlisle said the belief is that the injury is not serious and the hope is that Beaubois will be in uniform for Monday night's game at Utah. It's a tough time for Beaubois to be dealing with an injury as he tries to solidify a postseason rotation spot in a crowded backcourt.
For the Lakers,
Kobe Bryant
will sit out his fifth consecutive game with a left shin injury. That means Mavs defensive stopper
Shawn Marion
's duties will shift to second-year to
Devin Ebanks
and
Metta World Peace
, who has been hot lately
"I didn't think he was going to miss this one," Marion said in the pregame locker room.
Marion has had tremendous success guarding Bryant going back to last year's second-round playoff sweep. In two games this season, both in Los Angeles, Marion limited Bryant to 14.5 points and on less than 28 percent shooting. In the Lakers' 16-point win in Dallas last month, Bryant went off for 30 points while Marion sat out nursing a sore knee.